Best LEGO subscription boxes
Lego is a fantastic toy for both kids and adults and it's not going to be surprising if anybody wants to get on a monthly subscription of new Lego bricks. Personally, having those little pieces of awesomeness is something to reckon with at any point in time. Now, getting something new to play with every month is just orgasmic.
Lego subscription boxes will give you Lego bricks with which you can build almost anything you want. Some of them are set specific: this means that you'll get a particular set and related sets so that you can easily create scenes as much as you want.
In this article, we're going to consider some of the best Lego subscription boxes that you can find, so that you can also hop on the train of fun every month. Remember that what you get in the box isn't a product of your choices, but a product of what the company wants you to get creative with. Let's get right to it.

This is one of the first-ever Lego boxes that promote creativity in builders. If you're using Brixinit's monthly subscription, then you rest assured that you'll get challenging Lego pieces monthly.

Brixinit will send you brand new Lego pieces, which are usually all fashioned as one set. You're not going to be getting random pieces. What you'll be getting is around 400 to 600 Lego bricks that you can create a Lego set with.
You'll also get tips, challenges, minifigures (if needed for the set), and several other fantastic Lego elements that will blow you away. Imagine having something as interesting as this every month. Imagine what you can create at the end of 3 months. You'll have enough bricks and sets to create your own Lego movie.
The ood part of it all is that it's only going to cost $35. It doesn't get better than that, does it? Getting su a box of awesomeness monthly for a total of 35 dollars. I'm sure you want to subscribe to it right away.
As the name already suggests, it's going to be like a pirate's treasure. A box of wholesome goodness delivered to your doorstep every single month. Even Captain Jack Sparrow couldn't have racked up that much spoil in 10 years. 

In the box, you'll find up to 4 - 8 Lego elements, which could include brick swag, complete Lego sets, fun brick essentials, brick accessories, and a few other excellent Lego products. Bear in mind, however, that these items won't all come at once. You'll get a different fun item every month.
When you subscribe, you'll get a themed box. As mentioned earlier, every package contains new themes, so you're not getting the same thing twice. The themes that have come before include Food Cart Frenzy, Spies, Brick Loot Animals, Venice Park, and some others.
Brick Loot ensures that you get the best items in every box. The team is experienced in searching out the newest and coolest Lego bricks that will give you enough joy and satisfaction. In all your getting, get this box for maximum pleasure.
The name sounds straightforward and simple, doesn't it? Subscribe to Brick Box and be assured of bricks in a box every month. But what kind of bricks are you going to be expecting? Well, you can expect some of the coolest and newest. 

There are two plans. One that offers you a 30% discount on shipping when you subscribe to a 3-month plan. The other one is a 100% discount on shipping when you subscribe to a 12-month plan. That's one whole Lego-filled year for you.
Brick Box is an expert in carefully hand-picking some of the best and coolest Lego sets available. Once you subscribe, you're assured of a box with two Lego sets that you can build; sometimes, you only get one. In the same box, you'll find one or two minifigures, along with some other cool Lego collectibles to make your fun time even more fun.
The subscription costs $37 per month and will be shipped to you on the 21st of every month. Don't worry; Brick box keeps to days and time. This is a fantastic gift to present to your kids on their birthdays. If you think about it, it doesn't really cost that much.
This is one of the cheapest subscriptions on the list. With just $24, you'll be able to get a box of Lego's awesomeness every month. There is one difference, though; you would have to return the box before you get a new one because it's a rental, and it's not entirely yours.

In every set you pay for, you'll get ten new bricks to replace the old small sets of two hundred sets or less. For sets that are above two hundred, you'll get 20 new bricks. Whenever you subscribe, you'd have to state if you're to be billed monthly or every two months. Either way, you'll be allowed to maintain custody of the bricks for as long as you want.
For those who don't really love the idea of building Lego from scratch but still want to have all the fun that they can get, you can simply subscribe to this box. It's simple and completely affordable. It would have been the cheapest on our list so far, but because it doesn't really contain Lego bricks, we'll not compare its price. 

Minifigs, as the name already implies, is going to deliver to you a box containing Lego minifigures every month for a tiny sum of $20. Every box will include awesome Lego minifigures with inspiring themes. You may not even want to build any structure when you eventually find out that you can create as many scenes and as much awesomeness as you want with the minifigures.
If you're planning your toddler's birthday, then getting them a gift that they can enjoy until the next birthday is one that they'll definitely love. Minifigs will carefully select the best and coolest Lego minifigures that will thrill you or your kids.
Brick lovers, fanatics, and enthusiasts will definitely love this one. If you're not on a budget, you can get one of the boxes at the top of the list that doesn't come with minifigures and add this 17 dollar goodness to it. It's affordable and easy to arrange. Just four minifigures in one box every month. The price should clearly show you that.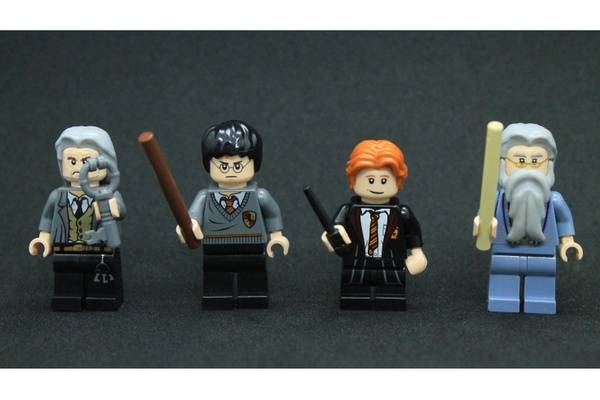 Some of the minifigures you will get will include figures from Harry Potter, Lego Ninjago, superheroes, Star Wars, Disney, Lord of the rings, and other collectible series. Every child will love the content of the box. Every minifigure in every box is perfectly fit for kids of every age.

Booster Bricks will deliver a box filled with over 300 Lego pieces to your doorstep every month for a minimum amount of $30. That is only if you're subscribing yearly. If you want to make your payment every month, you'll pay the sum of $40 before delivery.

The box will also contain five build challenges such as minifig challenge, MicroBuild challenge, Premier challenge, blindfold build, spotlight piece, and story booklet. You are going to get only five of these in a box.
Kids from ages 4 to 12 can enjoy the goodness from these boxes for a total of 12 months as long as you continue to renew. Compared to what you'll be getting in each box, the price is pretty fair and affordable.
8. Bricks-on-the-dollar subscription
Bricks on the dollar offer really fantastic bricks inside every box you get every month. The business is run by a Lego lover like you who's enthusiastic about delivering the best Lego sets and pieces in every box. You're assured of the best Lego content every single time. 

I'm pretty sure you haven't gotten a Lego box as cheap as this one. It's only $10 every month, and that is if you decide to pay every month. If you choose to go for a 12-month package, it would definitely cost less. You can also get posters for $13. Visit their website for more information and also to order for the bricks whenever you're ready.
You don't have to worry about what you're getting in the box. After the first delivery, you'll still get the goosebumps every time. The surprises, the thrills, and the fun ideas and scenes you can create from your head are so much more than fantastic.
9. Minifig club monthly subscription
Whenever you hear the word minifig, you just know what to expect. You should already be expecting a box full of minifigures, and if you're a minifigures fan, then you should count this your lucky day. I'm pretty sure you're going to get almost every minifigure that you love before your 12-year subscription is over.

This is an excellent birthday idea for your kids that are from the ages of 4 to 12. Even older kids would love the idea. You just have to present it well enough. The only downside to this box is that you're only going to get minifigures and nothing more. I would suggest that you add it to one of the other boxes that offer fun bricks from different themes. It would make the experience even more fun, and the scenes would be much livelier.
This box is also one of the cheapest on the list and I'm sure you already know that it is because you're only getting minifigures. If you've been a Lego lover long enough, you should already have some sets to match your Lego minifigures. The joy of having minifigures for toddlers is even more fantastic because building may not actually be a thing.
You'll find several other Lego subscriptions if you look deep enough. If you're not satisfied with the ones we have on the list, I'm pretty sure you'll not find one which is any better. These are some of the most affordable boxes you'll find both on the internet and in local stores.

Have you ever gotten yourself a box? If this is going to be your first Lego box ever, then you might want to consider choosing one as carefully as possible. Go for one of the top picks, and for a more fun experience, you might want to combine one of the boxes with minifigures with one that offers a lot of new and creative Lego pieces.
Don't forget that challenges are a part of the awesomeness of Lego products, the more challenging the boxes, the more the fun you're going to get. To test the sharpness of your kids, you might want to get them a subscription to one of these so that they're unaware of what is coming next. 
---
2 comments
---
---