Rebuild the most beautiful city in the world with the LEGO Dubai 21052 Set
When we talk about cities with grandeur and majesty, Dubai is often the first mentioned. And why not? This beautiful city is packed with lots of tourist attractions and marvelous architecture. And not to mention the array of bitches and restaurants where you could chill and have fun. And when we thought it was over, Dubai went a step further by designing and bringing to life one of the tallest buildings in the world, the Burj Khalifa, which is said to be about 829.8 meters, or 2,722 feet tall. And this is tall because the Building can be seen from inside clouds. People who have been to the top of this Building testify that it's like they have gone to heaven. Dubai is an ever-growing city with bigger advancements still yet to come. And with the advancements in this set, it is a very good place to visit this holiday.

Though Dubai is a very beautiful city to visit and live in, it could be difficult to acquire the savings needed to go on this glorious trip if you are an average earner. If you are in that situation, you would love the new Lego set, which allows you to feel like you are in Dubai. The set is named the Lego Dubai 21052 set. The set features many amazing details which make it look like Dubai, including the famous Burj Khalifa Hotel, the first noticeable Building you would see once the set is displayed. The Lego set also contains many other cool details, making it amazing, and most have set this year. If you have wanted to get this set but have yet to be convinced that this set is for you, stay till the end of this post because we will be covering everything there is to know about this set.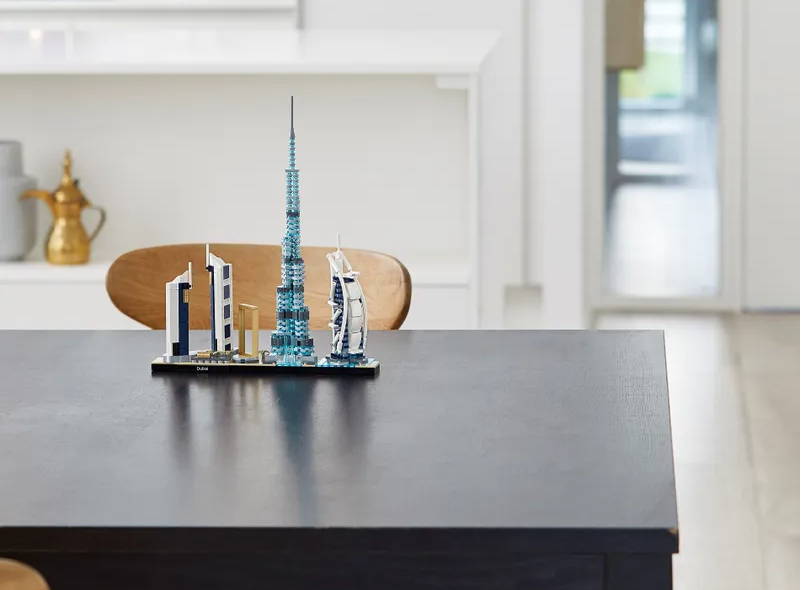 AN AUTHENTIC BUILDING EXPERIENCE FOR THE LEGO DUBAI 20152 SET.

The Lego Dubai 20152 set offers a very engaging building experience. The set is also packaged, so seeing it alone puts you in the mood to start building. The set comes well packaged in nylon bags. There are about two Nylon numbered bags that contain bricks used for the Building of the set. To build the set, you must first work on the base. Once you have carefully arranged the base, you can start building each Building while attaching them to the Lego set. The set allows you to recreate four main buildings, which is why Dubai has so many tourists visiting it. The Lego set comes with over 700 brick pieces that are of the best quality. This makes them very easy to use. The bricks are designed and packaged so that you can easily identify where each piece is most likely to fit. This makes your building process very easy and straight to the point.
The Lego Dubai set can be challenging to build, especially if you did not have any Building knowledge prior to your getting the set. The Lego team is aware of this and has included a manual you can use to put the Lego set together. This manual contains helpful and educative information about beautiful Dubai. But aside from this, the Lego set also contains lots of helpful information about the set, which would make your job much easier. So if you are new to this Lego set, you do not need to worry because you will pull through with the help of the manual this Lego set provides. And aside from an amazing building experience, this Lego set also has many cool features. The next section will cover what these features are.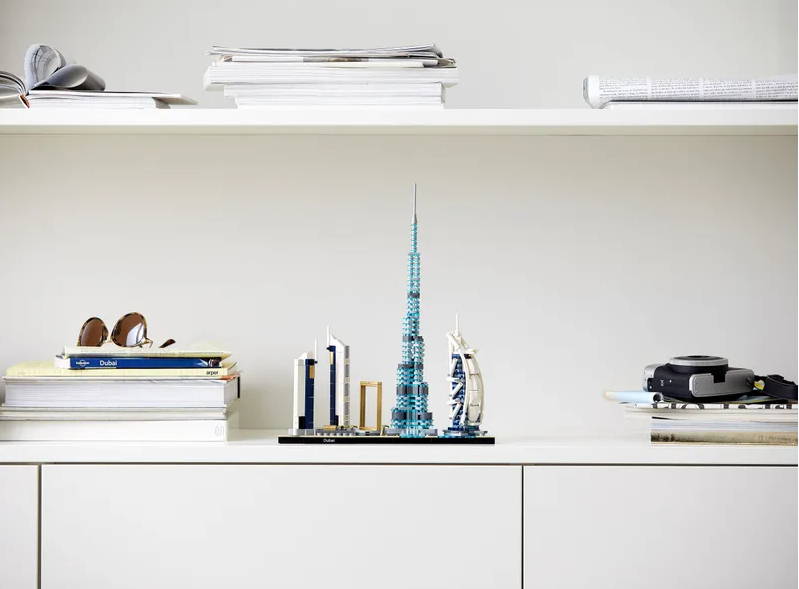 AMAZING FEATURES OF THE LEGO DUBAI 20152 SET.
AN AMAZING DISPLAY SET.

The Lego Dubai set is a set that comes with lots of amazing details, which ordinarily makes it a good display set. But that alone is not what makes this set a good display set. It is a good display set because of the way the set is designed. The set buildings are like that of other Lego Architecture sets, which display its buildings on the side and in a straight line. This makes all the buildings easy to see because not building blocks the other. There is also enough space between buildings, allowing you to see each Building from all angles. This amazing and thoughtful design by the Lego team makes this set one of the best to work with and display.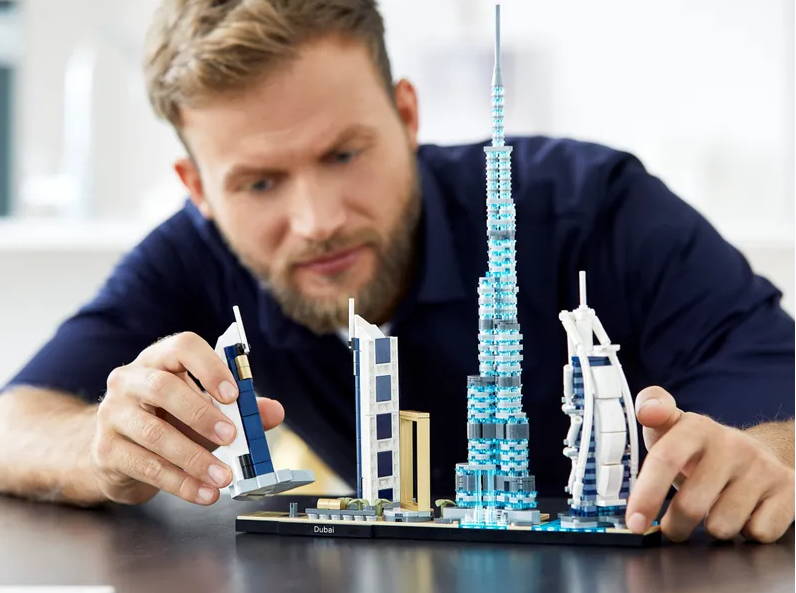 TOP QUALITY MATERIALS.
Aside from offering an amazing display, the Lego Dubai set is also of the best quality. This makes the Lego set very easy to use and capable of lasting a long period. In the production of this Lego set, the Lego team make sure all set pass through a strict quality assurance check. This helps make sure that every set produced is of the same high standards the Lego team is regularly known for.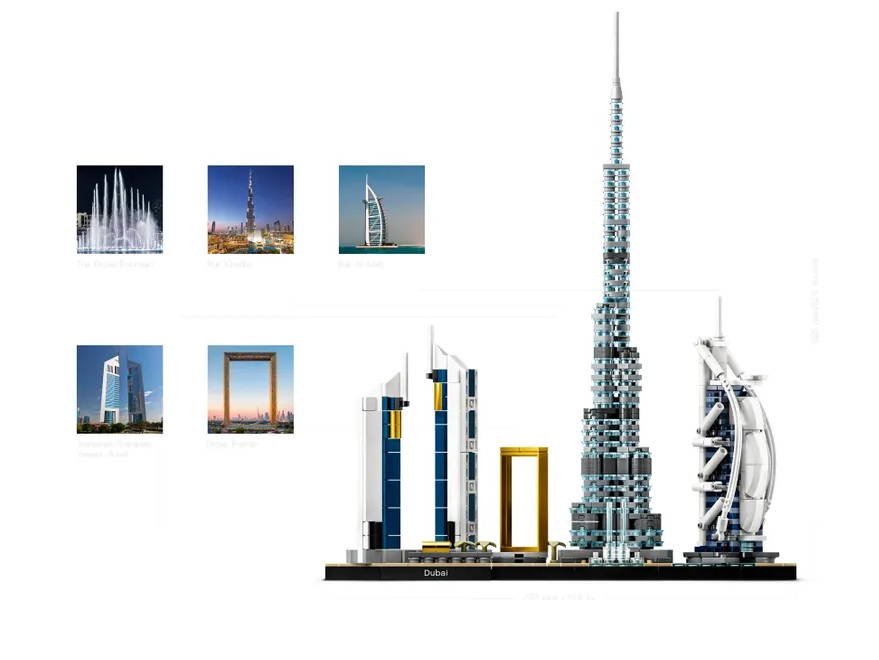 SET SIZE.
The Lego Dubai set comes with a total of 740 pieces. These pieces are used for the Building of the Lego set and all the other features found in the Lego set. When completely put together, the Lego Dubai set is 12 inches high, 8 inches long, and 2 inches deep. This size also means that you can it could be displayed where ever you want to.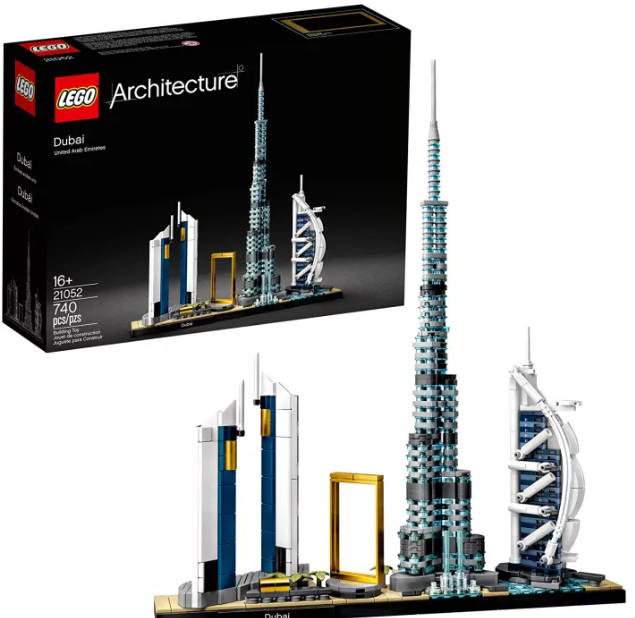 A RETIRED SET.
Sadly, the Lego Dubai set is retired, so you can no longer get this set from Lego stores in the US or UK. This also means that the Lego set can no longer be seen on the Lego website. So if you are interested in getting this set, you need to meet someone who is a collector and bought the set when it was available. You could also check other sites that sell used Lego sets. Once you have gotten yourself a set, remember to purchase our Lego lights.


MAKE YOUR LEGO DUBAI SET FEEL A TRUE WONDER CITY WITH OUR AMAZING LIGHT KITS.
You can make the Lego Dubai set look even more breathtaking with the help of our amazing light kits. And to get the best out of our lights, you should follow a few basic steps, which are listed below. But before that, it is important to note that amazing lights come in two main types: the basic and standard versions. The difficulty of your light kit installation often depends on the type you get. But regardless of the light kits, you get, here are a few helpful tips to make your installation process easier.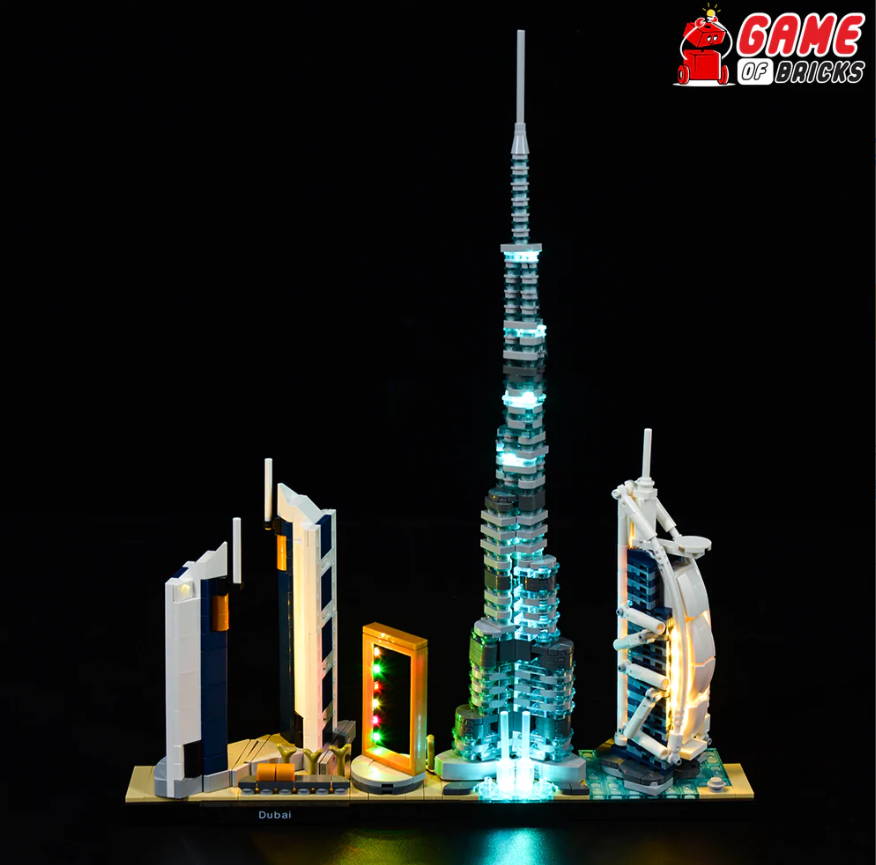 INSPECTION.
As soon as your Lego lights arrive, it would be safe for you to take a few minutes to inspect them. This ensures that all shipped lights and accessories look and are in perfect condition. It is not unusual for light kits to sustain damages during shipping. This is because our lights are very fragile. So To ensure you get premium quality Lego lights, make sure you inspect your package. If you notice any damages during the inspection, request a replacement using your 30days warranty card.

Inspection should include checking the batteries, wires, and power capacity. You would also need to look out for signs of short-circuiting. If, after your inspection, everything looks good, you can move on to the next stage.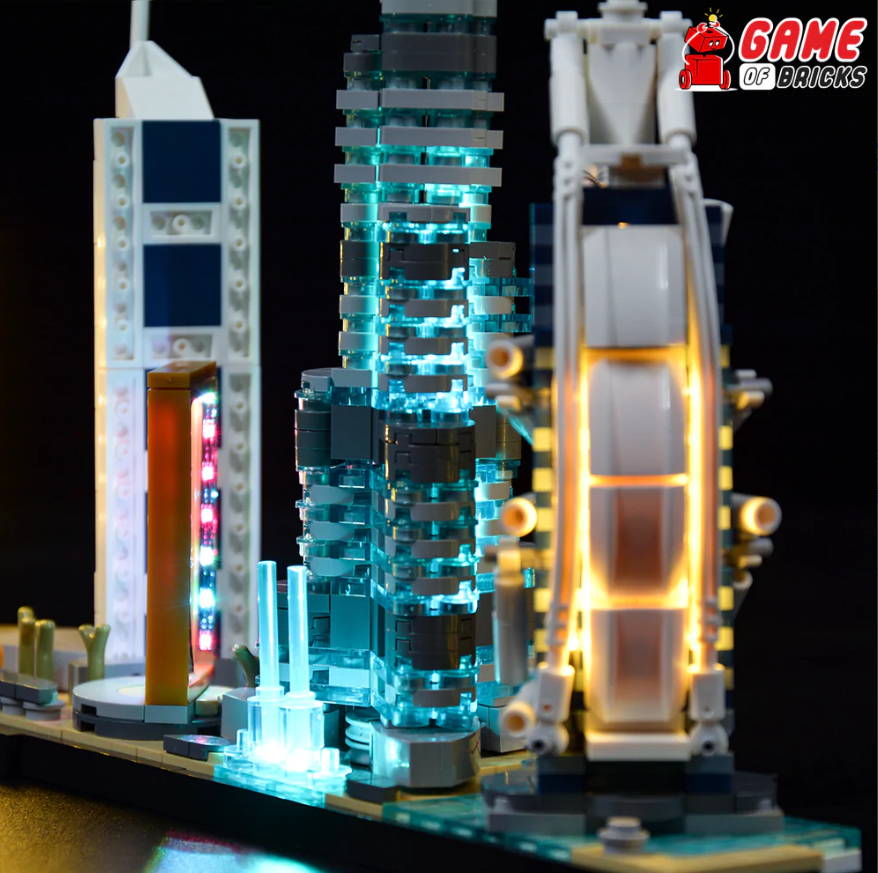 INSTALL.
You can only begin this process after completely building your Horizon Forbidden West Tall Neck set. To do this successfully, each light kit has a special blueprint manual to help you through the process. There are also many videos and articles you could watch and read on our website before embarking on this journey. Feel free to make use of all the recourses at your disposal.

TEST RUN.
Once you are done installing your Lego set, you can now take time off to test run it, making sure it is in the best condition. To do this, check for signs of short-circuiting, as this could help you quickly identify the problem. Once you have located the problem, be sure to fix it. Once you are sure everything is in the best condition, you can finally relive your Epic Horizon Forbidden West Tall Neck moment in style as you put this set on display.
---
1 comment
---
---