Celebrate the new year in style when you build the LEGO Money Tree 40648 Set.
By

Eve Alessa Arevalo
/
February 12, 2023
The New Year is one of the most important celebrations done by millions of people all over the world. Among all the countries in the world which hold New Year's so dear, it is safe to say that no country loves and appreciates this celebration more than the Chinese. They start their New Year's celebration much earlier than most countries. Nothing makes their celebration more satisfying and worthwhile than the Money tree. This amazing tree is said to make their New Year celebration more fun and promotes good fortune and prosperity for the New Year. This amazing tree is usually decorated with lots of money notes which are clipped to its leaves. This amazing tree also comes with tangerines, Coins, and envelopes. These are all items said to be signs of good fortune and prosperity as we dawn a New Year. Are you perhaps a Chinese, or someone who loves and respect Chinese culture, including their New Year celebration? If you are, then it may probably be your dream to engage in this celebration soon enough.

Well, recreating this celebration the way the Chinese do it could be quite a chore, especially if you do not live in China, and do not have access to all the instruments used for this special celebration. And most importantly, where the hell are you going to get your very own money tree? Well, with that little bit of problem, we can help. Since the popularity of the Money Tree has grown so much, the Lego team decided to replicate this amazing Tree in all its glory. This includes the replication of the tangerines and the money taped to the tree. The set is also named after the famous tree, the Lego Money Tree 40648 set. In this post, we are going to cover everything there is to know about this Lego set, from its features, building experience, and even how amazing our Lego lights look when installed on this set. If this is something that would interest you, stick around till the end of this post - you will not be disappointed.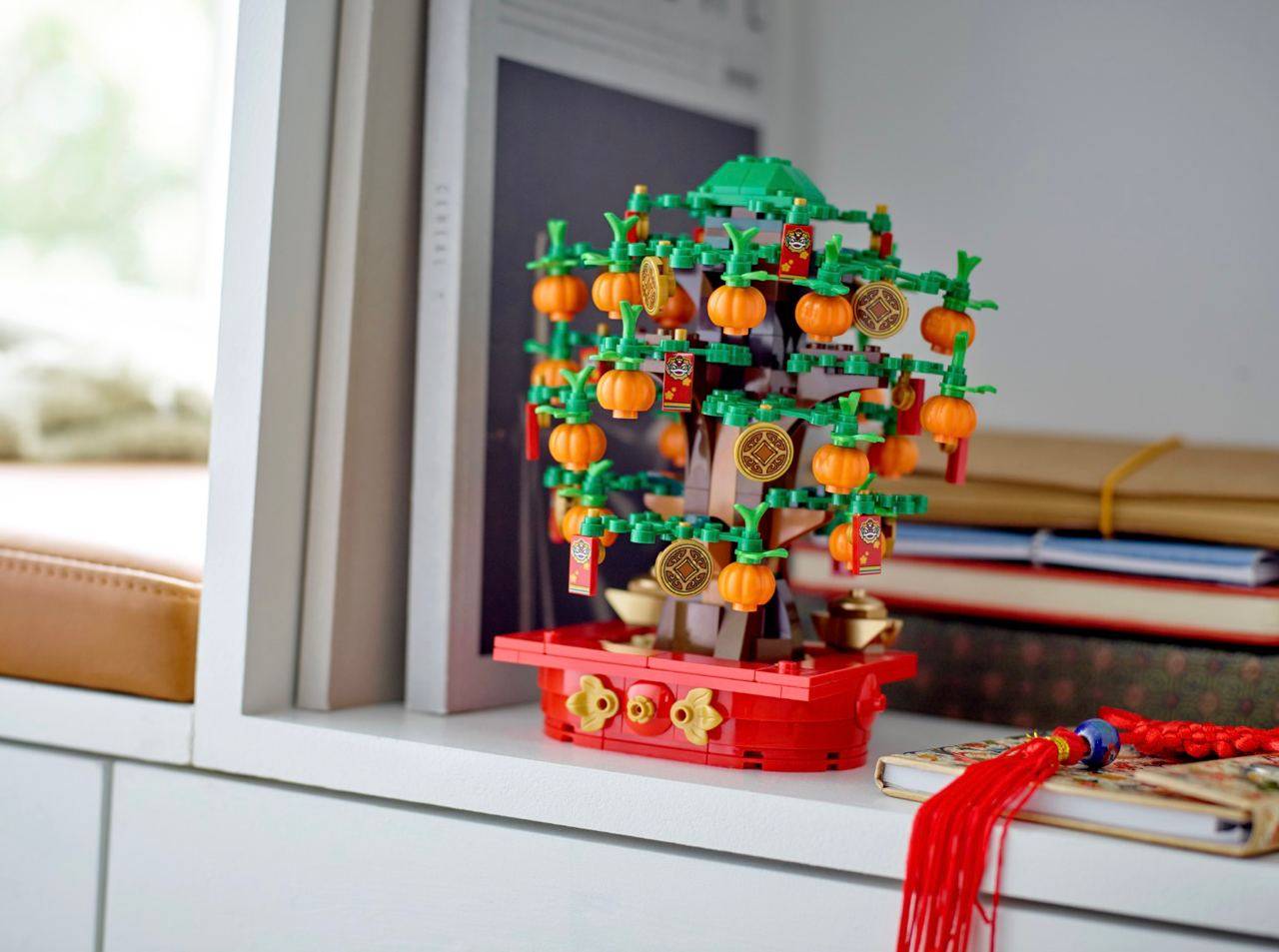 AN AMAZING BUILDING EXPERIENCE FOR THE LEGO MONEY TREE 40648 SET.
Well, as far as authentic sets go, the Lego Money Tree set is one of the most authentic, and well-designed sets you will ever come across. The set comes with a little 300 pieces, but this does not stop it from being packed with so many details. The Lego set also comes well packaged in the signature Lego box, with a picture of the Original Money Tree, and the one designed by the Lego team. The Lego set also features lots of building technics that are needed to bring this set to life. The building of this Lego set has also been broken down into stages. There are about three stages the building of this Lego set could be broken into. The first stage would be the building of the base of the set. The next step would be the building of the tree stumps and stems. And then the final stage would be the building of the leaves, tangerines, money, and coins. This stage of building is more of attaching and less of building and may be considered boring by some Lego builders.
But we can assure you, that's the only stage of building you are going to find boring. In addition, the Lego Money Tree set comes with a nice and well-documented manual that helps guide you through the building process. This manual also contains a brief history of the Lego set, and also properly helps divide your building project into stages. The manual is basically for all those who are new to Lego but not limited to them alone. Anyone, no matter their level of experience could encounter hiccups while building. So if you encounter any difficulties, be sure to use this nice well prepared manual. Overall, the Lego Money Tree offers a very fun and well-detailed building experience. The set also comes with many cool features. In the next section, we will look into every feature of the Lego set.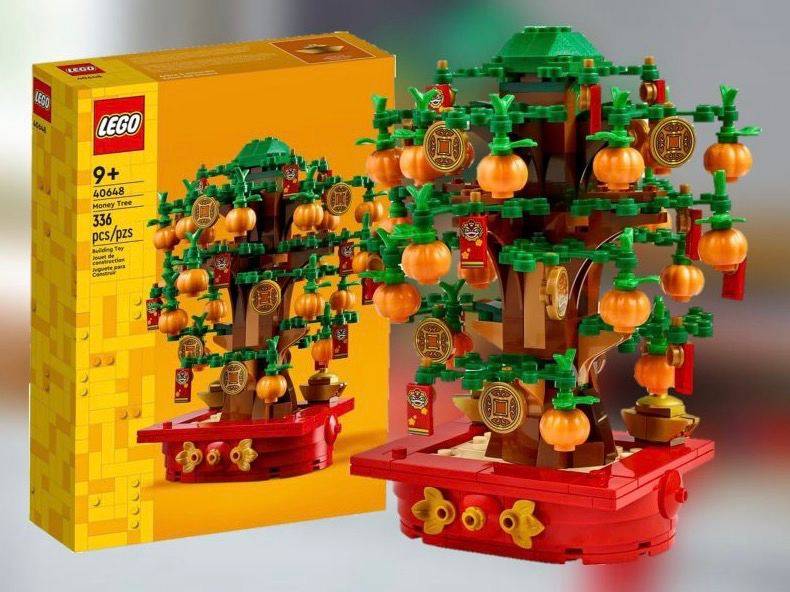 AMAZING FEATURES FOR THE LEGO MONEY TREE 40648 SET.
AUTHENTIC DETAILS.
The Lego Money Tree comes with lots of cool details which makes this set stand out in a crowd of Lego sets. For starters, this Lego set comes well-detailed - not missing a single detail from the original tree. Details This set comes with include tangerines, stapled money, and coins. The Lego set also comes in a variety of colors which makes it beautiful to look at. If you are a fan of Lego sets that are well-detailed and based on an authentic color scheme, this Lego set is the go-to set.
AN AMAZING DISPLAY.
The Lego Money Tree also offers builders an authentic display. The Lego set is built solely for that purpose and contains the details and size needed to make that possible. Though this set may be best displayed in addition to your New Year Celebration theme, you could also display this set as a monument of the great celebration. This means you could display this set on your office table, or alongside other Lego sets, like the Lego Christmas tree and so on.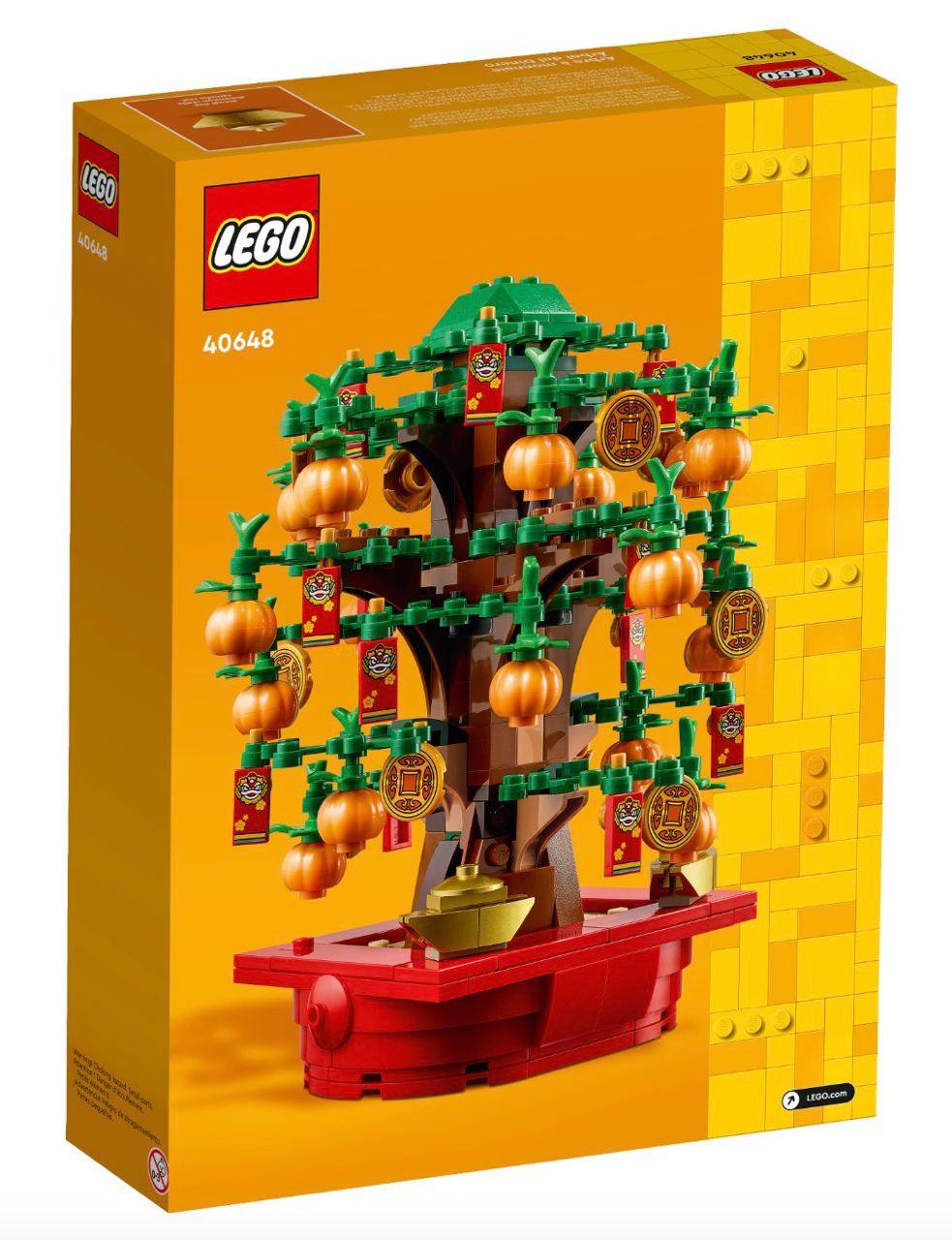 SET SIZE.
The Lego Money Tree set comes with a total of 336 brick pieces. These brick pieces are used in the building of the body and leaves of this Lego set. The Lego set also features Lego elements that make up the decorations of the set. These decorations include 20 Lego elements representing tangerines, 14 red envelopes, and 10 coins. This set size is one of the reasons why the Lego set offers an amazing display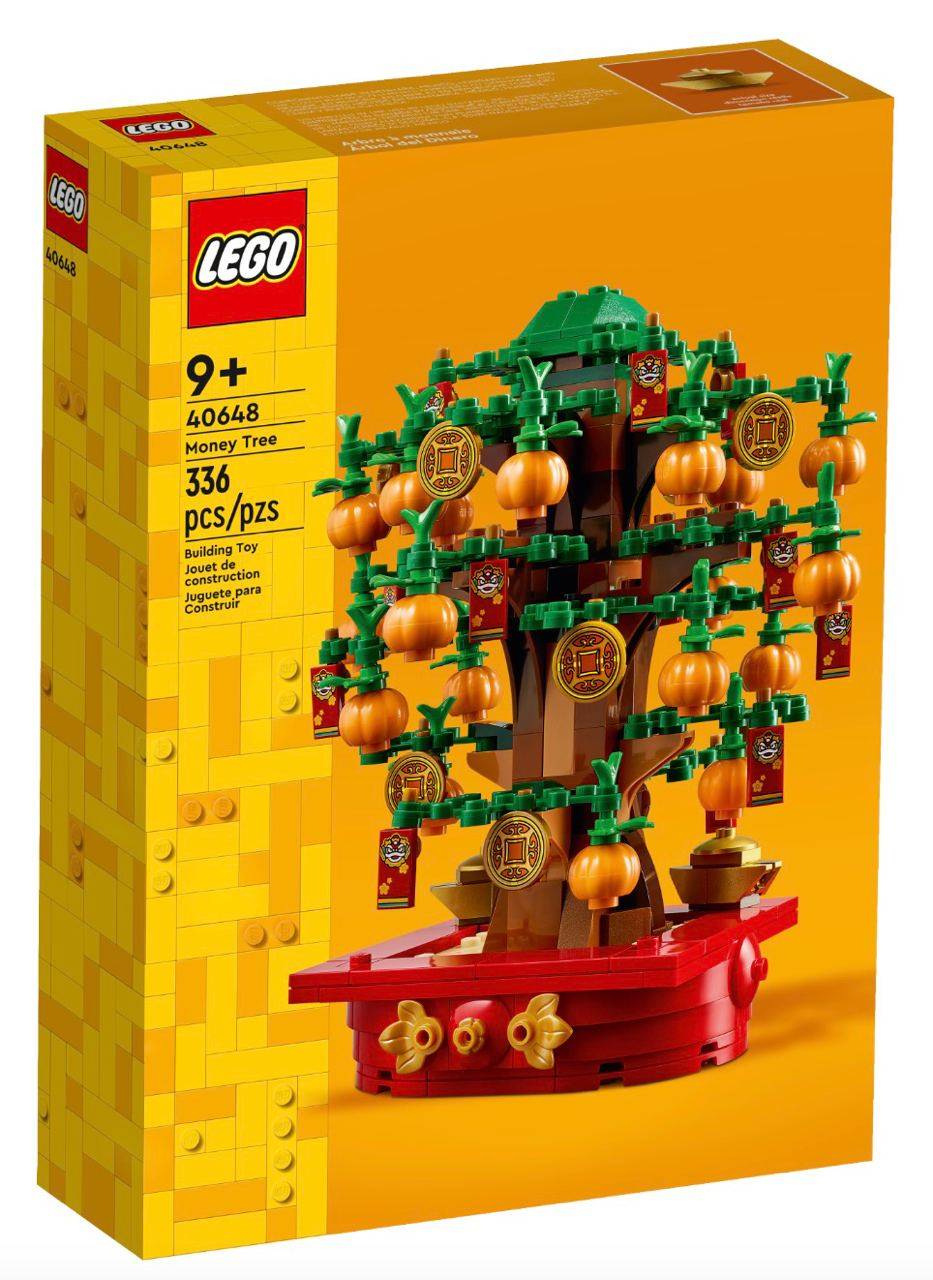 SET PRICE.
The Lego Money tree can be purchased directly from the Lego website or from any Lego store in the area you live. The Lego set could also be bought from Amazon and other Lego brick-affiliated websites. The Lego Money Tree set could cost anything from 50 to 100 dollars depending on the country, and the availability of the Lego set in that area. But is the Lego Money Tree set worth the price it's valued at? We highly believe so, because the set represents a very important celebration, is packed with lots of authentic details, offers a great display, and an amazing building experience. And with our amazing Lego lights by your side, you could enhance the overall look of the set further. How? You may wonder. The next section would answer that question.


MAKE THE LOOK OF YOUR LEGO MONEY TREE ALL THE MORE SATISFYING WITH OUR AMAZING LEGO LED LIGHTS.
The beauty of a finished Lego set could never be better than when our Lego lights are installed and active on the set. Our lights help bring out even the tiniest hidden details of the Lego set. These details are well enhanced without the light drawing attention to itself due to wires flying about. We have done our best to ensure our lights not only help enhance the beauty of your set but also offer a clean finish, as though they came with the set. The installation has never been easier thanks to the detailed and well-informed manual each set is gifted with. If all these cool features impress you, go ahead to our light page and get yourself one for start. If you like what you see, feel free to get yourself more of our amazing Lego lights to enhance other Lego sets you own. Well, to help guarantee getting the best out of our light kit installation process, here are a few things to keep in mind.

As soon as your Lego lights arrive, it would be safe for you to take a few minutes to inspect them. This ensures that all shipped lights and accessories look and are in perfect condition. It is not unusual for light kits to sustain damages during shipping. This is because our lights are very fragile. So To ensure you get premium quality Lego lights, make sure you inspect your package. If you notice any damages during the inspection, request a replacement using your 30 days warranty card. Inspection should include checking the batteries, wires, and power capacity. You would also need to look out for signs of short-circuiting. If, after your inspection, everything looks good, you can move on to the next stage.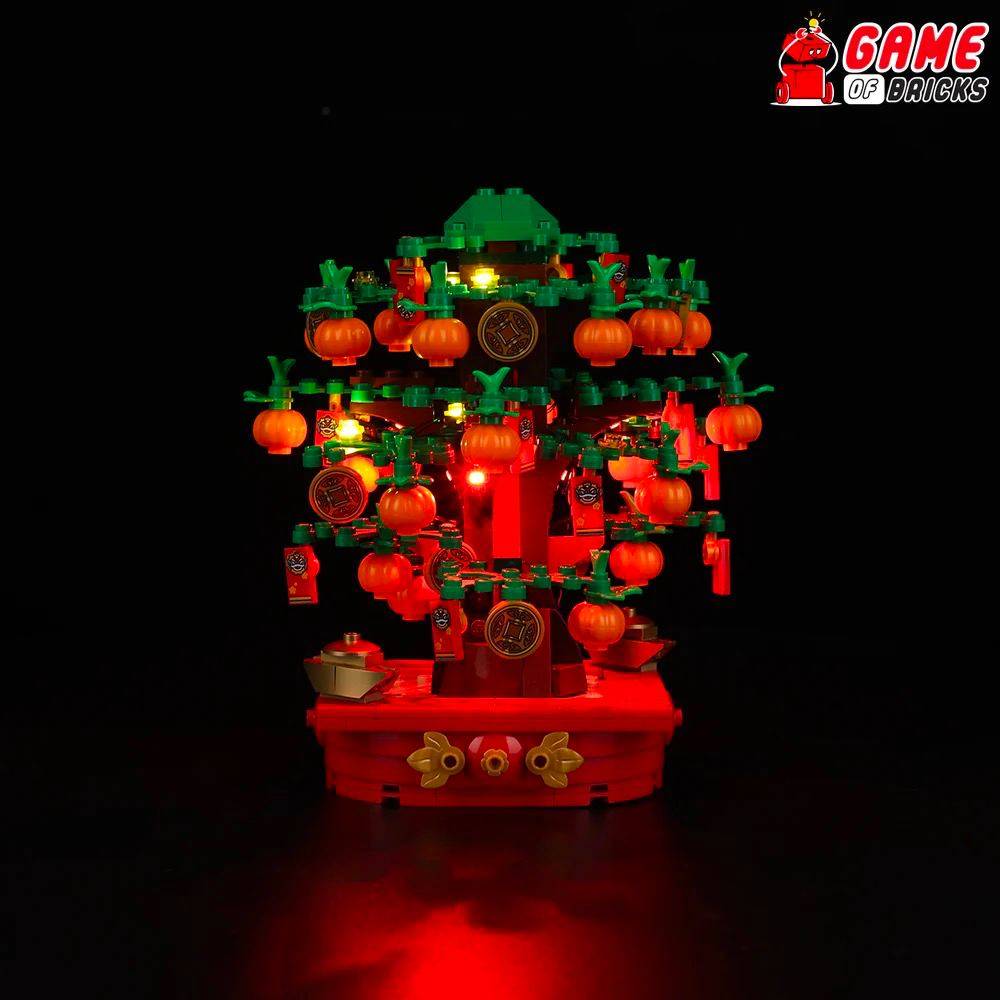 INSTALL.

You can only begin this process after completely building your Lego Money Tree 40648 set. To do this successfully, each light kit has a special blueprint manual to help you through the process. There are also a ton of videos and articles you could watch and read on our website before embarking on this journey. Feel free to make use of all the resources at your disposal.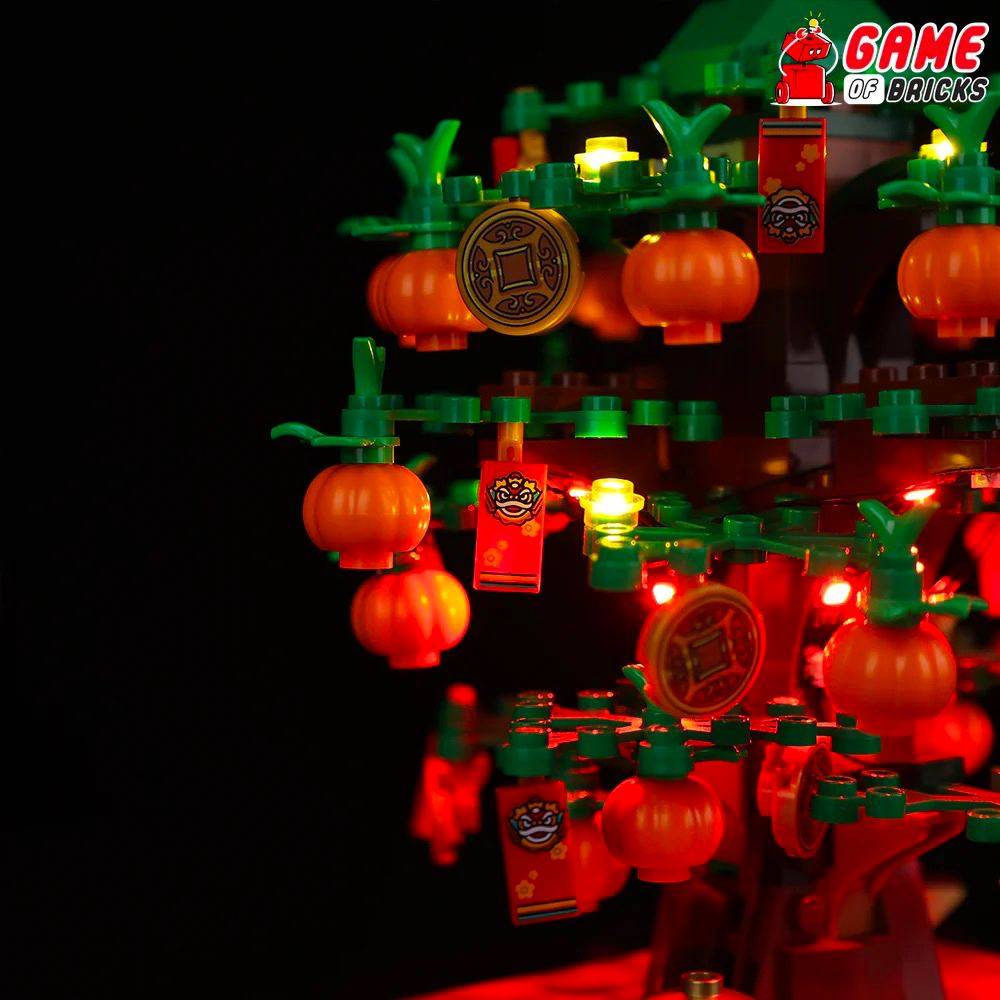 TEST RUN.
Once you are done installing your Lego set, you can now take time off to test run it, making sure it is in the best condition. To do this, check for signs of short-circuiting, as this could help you quickly identify the problem. Once you have located the problem, be sure to fix it. Once you are sure that everything is in the best condition, you can finally relive your Epic Lego Money Treeset moment in style as you put this set on display.