Upgrade your building experience with the LEGO Ghostbuster ECTO-1 10274 SET.
Many of us were a fan of the GHOSTBUSTERfranchise which aired in 1984. This movie was the first-ever comedy-drivenmovie with special effects. This movie was loved by so many and actually madebox office material.
The storyline saw a group of scientists whocall themselves Ghostbusters travel through the realm of another dimensionhunting down demonic beings that posed a threat to the outside world, or to therealm they resided in.
One thing that stood out, and wasconsistent in all the adventures of the Ghostbuster was their Ectomobile. Thiscare was very famous and had a hand in the death of so many demons in the Ghostbusterfranchise.

No wonder when Lego fans were so excited when Lego released the Ghostbuster ECTO-1 set in 2014 which coincided with the anniversary of the 1984 Ghostbuster franchise.
This set was designed to be as close as possible to the original Ectomobile in the Ghostbuster franchise. The set was designed with all the features of the original Ectomobile, with buildable features like the special pull-out rack, proton packs, and proton cannon. It also has special gadgets mounted on top of it.
This Lego Ghostbuster ECTO-1 can be a fun set to be built by both kids and adults, most especially Ghostbuster fans and car fanatics.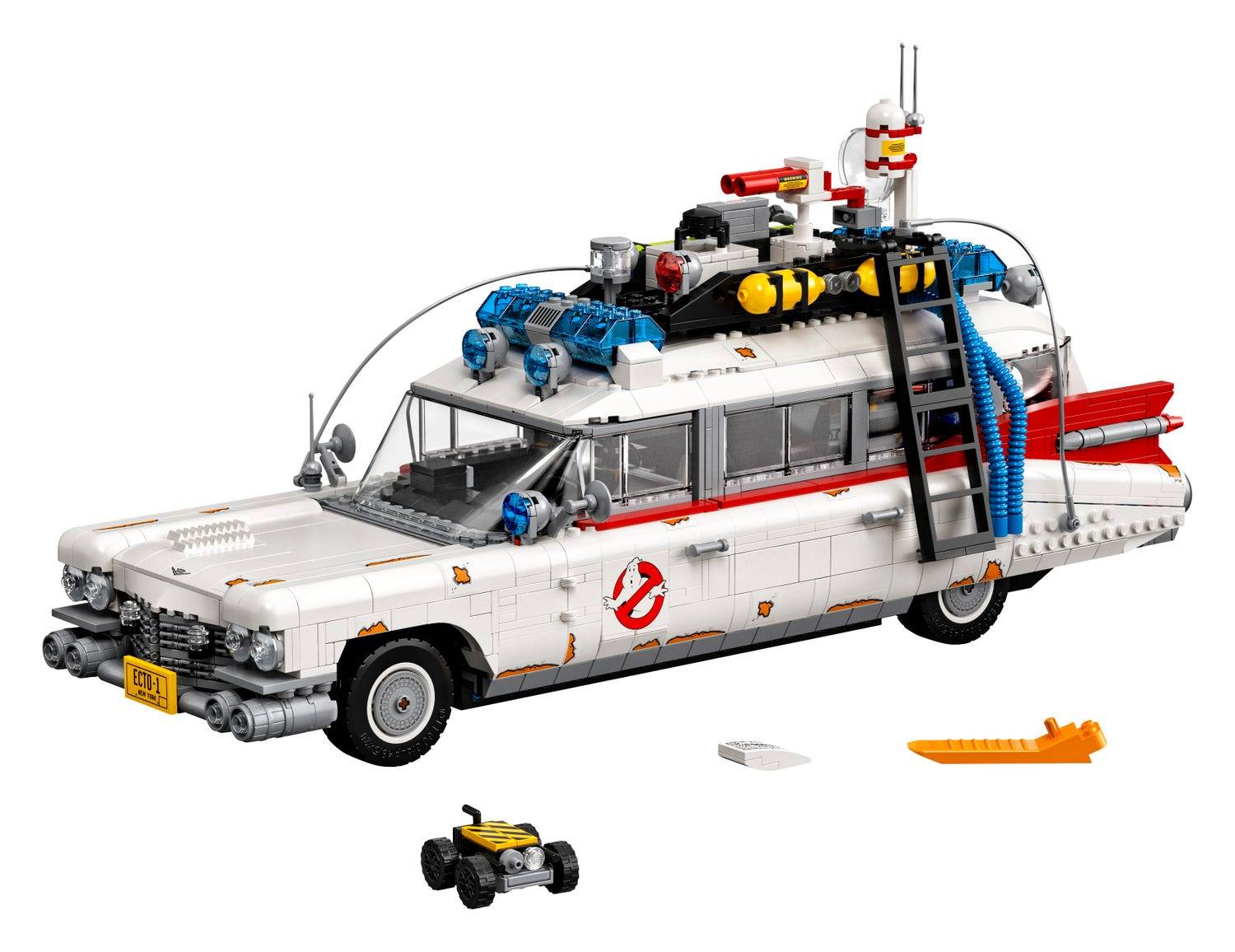 BUILDING EXPERIENCE FOR THIS SET.
This Lego Ghostbuster ECTO-1 10274 set is an amazing set to build and will be a fun set to build for any Ghostbuster fan. Say goodbye to boredom with this set as you Stand the chance to recreate scenes from the Ghostbuster movie afterlife.
This set will also be fun for Lego fans for it is a challenging set to couple and will challenge them on every level of building they have been used to.
What will be especially challenging in the building of this set is the implementation of all the details, to make it look as close as possible to the original Ectomobile from the 1959 Ghostbuster Afterlife movie.
This set was basically designed for adults who just want to relax after a stressful workday, and just want to have some alone time, to unwind and relax.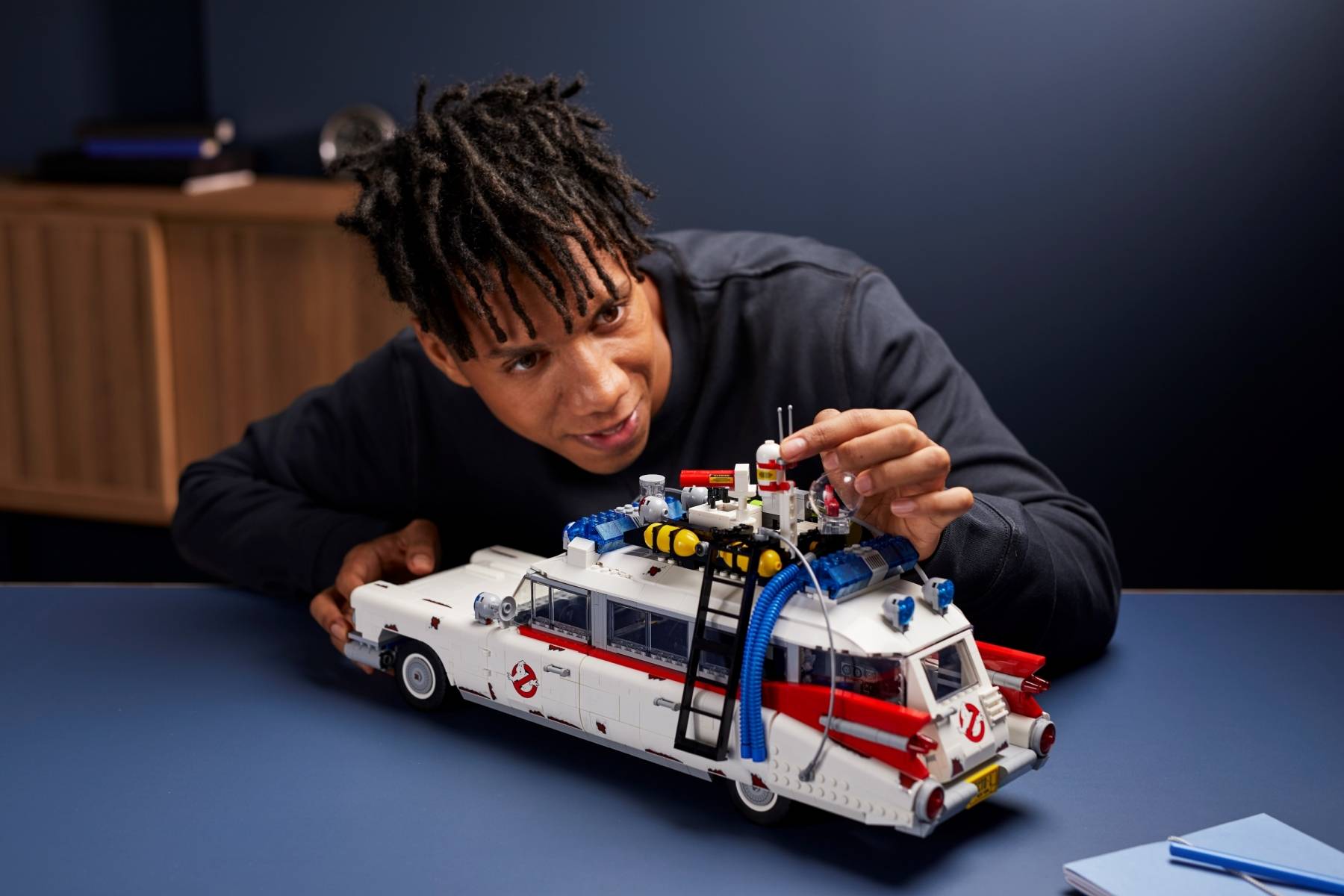 This set does require a collection of Lego sets to enjoy the building of this set. All that is required is a clean table and probably a Ghostbuster music soundtrack playing in the background and your good to go.
So if your looking for a Lego set to buy for your wife or husband who is either a Ghostbuster, Lego, or car fanatic, then this converted 1959 Cadillac Miller-Meteor Ambulance Ghostbuster ECTO-1 set is a great gift, and will surely light up his face.
FEATURES OF THE GHOSTBUSTER ECTO-1 LEGO SET.
This set has a lot of amazing features that add to the look and build of this set. This set is one of a kind when it comes to the Ghostbuster ECTO-1 building kit. This set is for both Lego fans and Ghostbuster fans and is designed for those Lego Ghostbuster fans who are looking to create their next model car or who just want to relax with an engaging project to help them forget the stress of the day.
This is why this set is designed with a lot of amazing features some of these include…
• Building Replication.
This Lego Ghostbuster set is the real deal for serious Lego builders and should not be considered a toy. This set is designed to look as close as possible to the Ectomobile of the 1959 Ghostbuster Afterlife movie. It features a working steering wheel, a trapdoor with ghost traps, an extending gunner seat, including a moving ghost sniffer and other paranormal detection equipment.
• Iconic Details.
This set is designed with a lot of iconic detailing. Some of these details include the color of the Ectomobile which is exactly the same as that of its movie counterpart. It also features a well-detailed Ghostbuster logo branded on the body of the Ectomobile. This Lego Ghostbuster set also features the exact number plate of the Ectomobile, with the exact numbers and plate color as featured in the movie.
This set also stays true to the shape of its original Ectomobile counterpart, with a high front and sloped back, making it look sharp and ready for battle.
• Impressive Functionality.
This set features a curved windshield, with modular steering wheels and bricks with Ghostbusters deco. It also features a seat that extends and rotates the rear seat.
All these details make the set a real deal for Lego Ghostbuster fans because it gives hours of and a building experience that appeals to adults. This set also gives Lego Ghostbuster fans the ability to recreate scenes from the Ghostbuster movies without stress.

• Size.
This set is quite large with over 2000 pieces and weighs about 7.93 pounds. It's is 22.91 inches long, 14.88 inches high, and 4.65 inches wide. This is a brick Lego set, with gives the set a more stander look once completed.
This set will take a substantial amount of time to complete but will be a fun building experience for Lego Ghostbuster lovers worldwide.
This set includes all the features of the Ghostbuster afterlife Ectomobile, which makes it very possible for you to recreate scenes from the movie. But unfortunately, this set does not come with a Minifigure so you may probably have to order that separately if you want to get a more enhanced experience.
• Price.
This set is quite expensive due to its impressive size and attention to detail and could vary depending on what county you are, and what store you plan on buying this set.
This set is sold at 199.99 in Lego stores In the US but goes for about 249.99 dollars On Amazon. This set is worth the price most especially if you are a fan of the Lego creator sets and also enjoyed the Ghostbuster franchise.
And don't forget the joy you will get once this set is finished. This set can also be further enhanced, how?
ENHANCE THE LEGO GHOSTBUSTER ECTO-1 SET WITH LEGO LIGHTS.
The Lego Ghostbuster ECTO-1 set can be made even more beautiful with the installation of Lego lights. These Lego light kits can be purchased from game of bricks at 39.99 dollars. This light kit will give even more satisfaction to the conclusion of your building set and will make every hour spent building it worthwhile.
Though installing of this light kit may not be new to some, these are a few tips to remember when installing this light kit.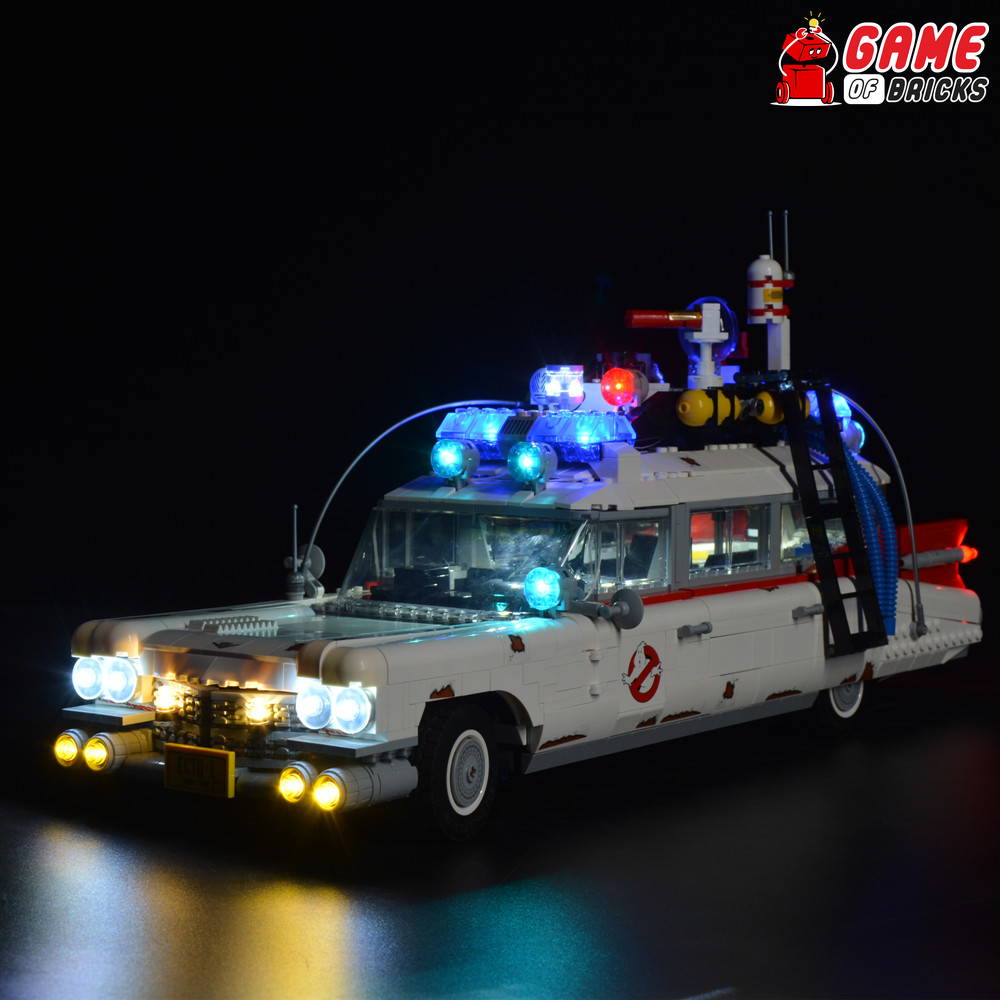 1. Complete the car before installing the lights.
This is the most basic rule that must be followed. So don't get too excited about installing the lights just yet. This is because if the building set is not completed you would have no idea what type of lighting style will better fit the project you are working on.
So make sure you are done building the set, and if you are done, then we can move over to the next stage.
2. Make sure the accessories are complete.
This is also a very important step for the proper installation of this light kit. It is common for pieces from the light kit to be misplaced during shipment. So ensure that all parts of the light kit are complete, and if not you can easily return it.
If you fail to carry out these checks and you move right into installation and you figure it out while installing, you stand the chance of damaging the light kit, making it difficult for you to return the set.
Once all these checks are done you can move over to the next stage.
3. Follow the Instruction Manual.
This will be highly needed most especially when installing the Lego Ghostbuster Standard light kit. This light kit gives you the ability to fully control your lighting experience and helps light kit fanatics to really get the best out of their light kit.
This Standard light kit has a different installation style than the regular Ghostbuster light kit, so if you are interested in that light kit then follow the instructions.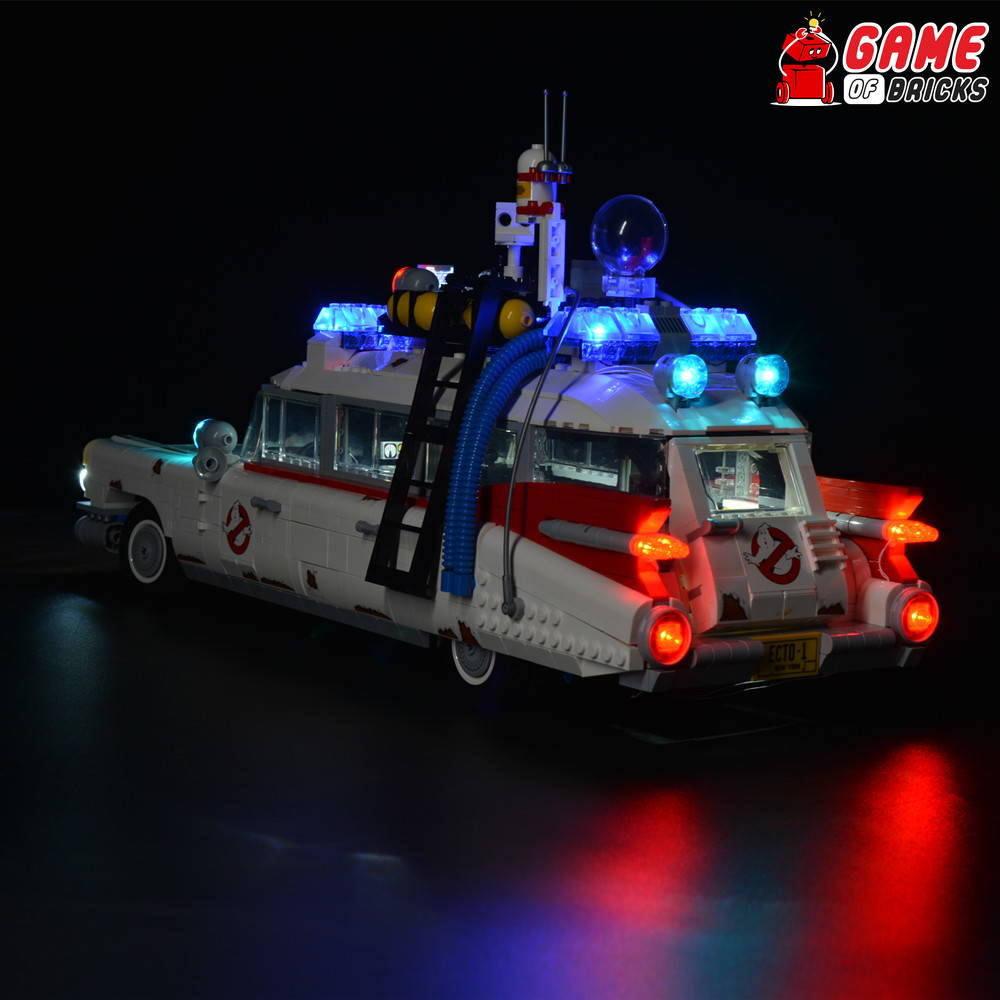 4. Pass the Lights and Wires Properly.
Lights and Wires are to be properly installed underneath the bricks and should not be pressed in to avoid short-circuiting.
Fortunately with the light kit purchased from game of bricks has a guaranteed fit and so you will not have to go through the process of trying to forcefully fit in wires. The light kit is also well powered to give effective lighting to the set.
5. Test the light.
By now you must have followed step on to four successfully, it is now time to do what you have been anticipating!!! Testing the light.
Testing of the light adds satisfaction to your heart, but it does more than that, it is an opportunity for you to detect any problem with your light kit.
Once this is done, you would be able to detect if the light is working properly and that there is no short-circuiting.
Light up your kit with the Lego Ghostbuster set with light kits, to both add to the beauty and overall look of the work.
---