Enjoy unstoppable horespower when you build the LEGO Stunt Racer 42095 Set.
The path through the desert could be rough and hard to drive through. The nature of the ground is so rough, that it would ruin even the strongest SUV in a matter of minutes. As a result of this obvious problem, the automobile company dimmed its fit to produce one of the toughest and badest Automobiles which is capable of withstanding the Toughest and harshest terrain. This badass automobile is the Stunt racer. The Stunt Racer comes with a powerful engine, good and tough bodywork, and a Tire that is so strong and grips perfectly on the ground. The Stunt Racer is not only capable of withstanding the toughest and ruffest terrain but is also a good choice for those who engage in desert racing. If you are a fan of Terrien Vehicles, you surely must have heard about and become a huge fan of this Vehicle. If that is the case, then you are going to love the Lego team's new addition. 

The amazing Lego group, after seeing how much the love for this vehicle has grown, decided to replicate this amazing vehicle using Lego bricks. The result is that you get a set that is packed with lots of cool and authentic details. The set also has the feature of remote control which makes play and engagement so much more fun. If you are a fan of the Stunt Racer, you are going to love this Lego set. And what is more, children could also enjoy building this Lego set thanks to the fact that the set comes with a little over 300 pieces. In this post, we are going to be looking at all the cool features of this set, including how amazing our Lego lights look when installed on the set. If this is something that would interest you, feel free to stick around.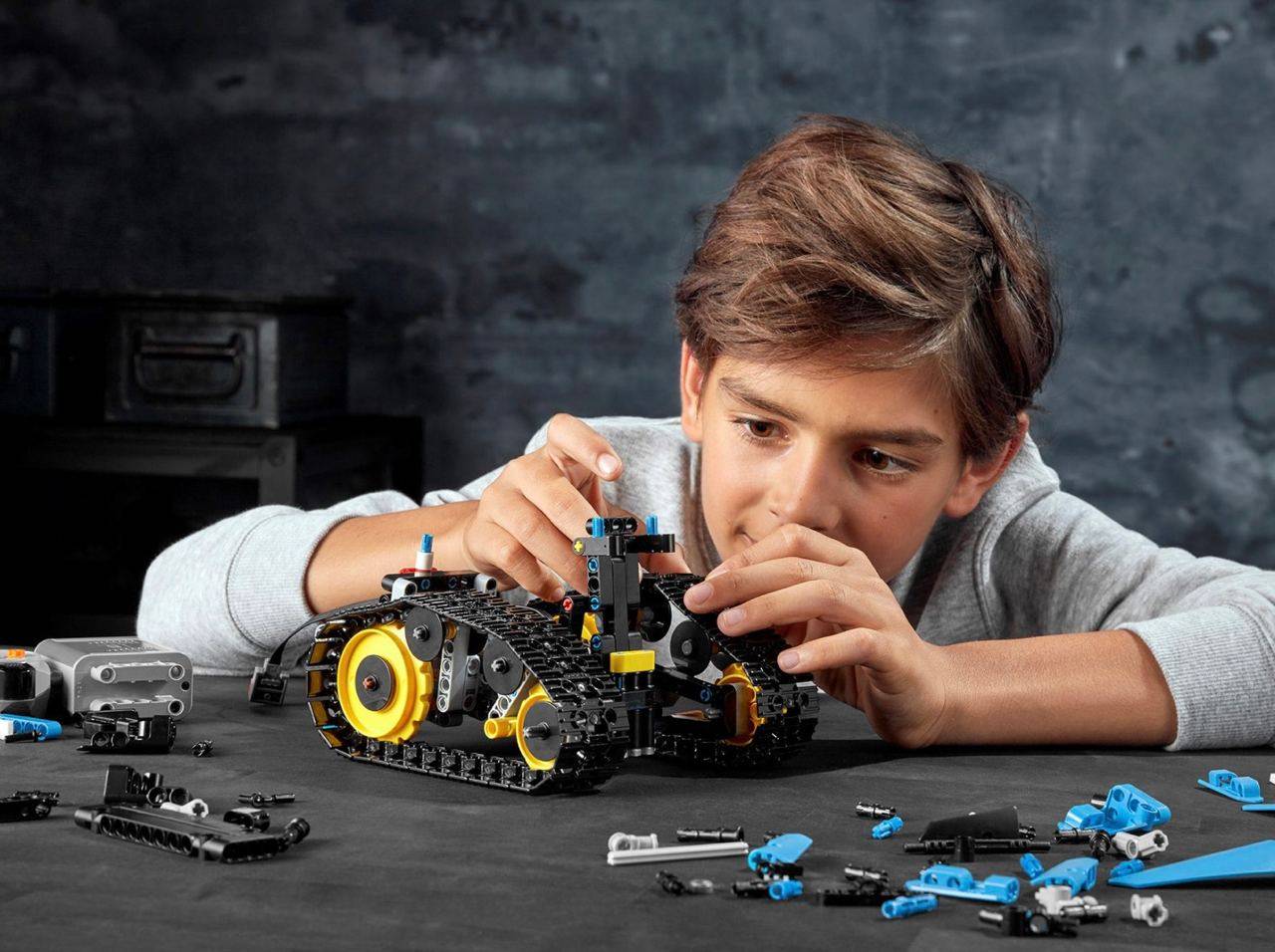 AN AMAZING BUILDING EXPERIENCE FOR THE LEGO STUNT RACER 42095 SET.
The Lego Stunt Racer set is truly very impressive, with over 300 brick pieces of pure authentic details. The set also features awesome stickers which help give the set a clean finish. This set though can be broken into two major stages. The first stage would be the engineering or wiring stage, while the next stage would be the building of the body and the overall look of the set. These stages are truly immersive and easy to get the hang of, most especially if you are already very familiar with how Lego building projects work. The Lego set come bagged in four separate numbered bags. Each of these bags contains pieces used for the building of this Lego set. When working with this set, it would be best you first arrange or sort each of the pieces according to size, and separate the wires. This has been seen to help reduce the amount of time you would spend trying to find a particular piece, which in turn, reduces your overall building time. This also ensures you get enough time to interact with the site once your building project is completed.
The Lego Stunt Racer set also comes with a nice, well-detailed instruction manual that covers all aspects of this Lego set and helps you identify what comes next at every stage of building. This makes working with this Lego set not only fun but truly satisfying. This also ensures you are well-engaged with the set every step of the way. The manual includes pictures, diagrams, and other fun and helpful information which helps you better understand the Lego set you are working with. So if you are a fan of Lego sets with lots of authentic details, you are going to love the building of this Lego set. The Lego Stunt Racer set also comes with lots of amazing features. Let's find out what some of these features are.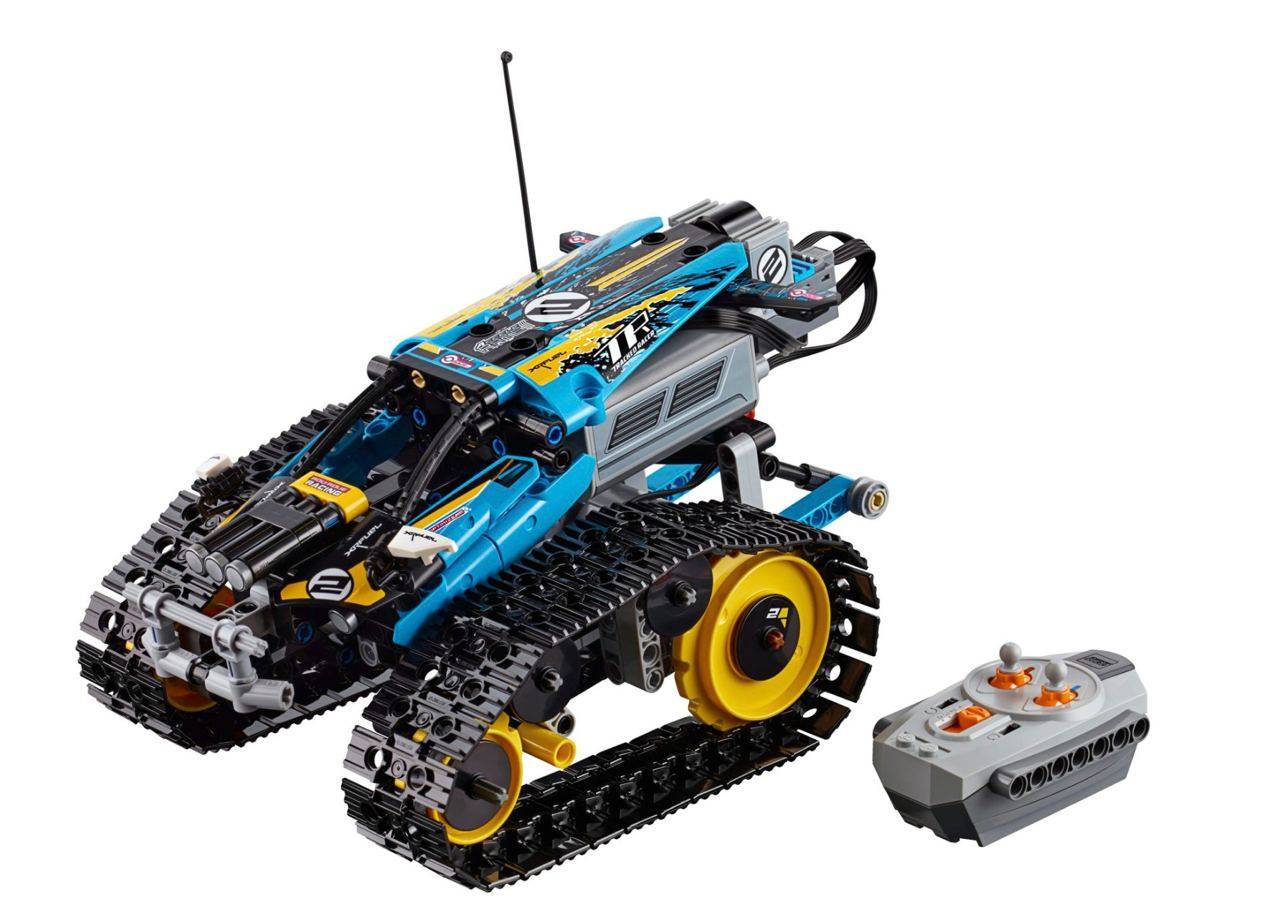 AMAZING FEATURES OF THE LEGO STUNT RACER 42095 SET.
STICKERS.

The Lego Stunt Racer set is packed with lots of stickers which are used to enhance the building of this set. The whole sticker application process can be daunting, but the result at the end is very satisfying. These stickers go on the body of the set, around the front bonnet, and the bodywork. The stickers are one of the reasons why this Lego set is so amazing to look at. So, we encourage you to not skip this part of the building process, because the result at the end would be more than satisfying.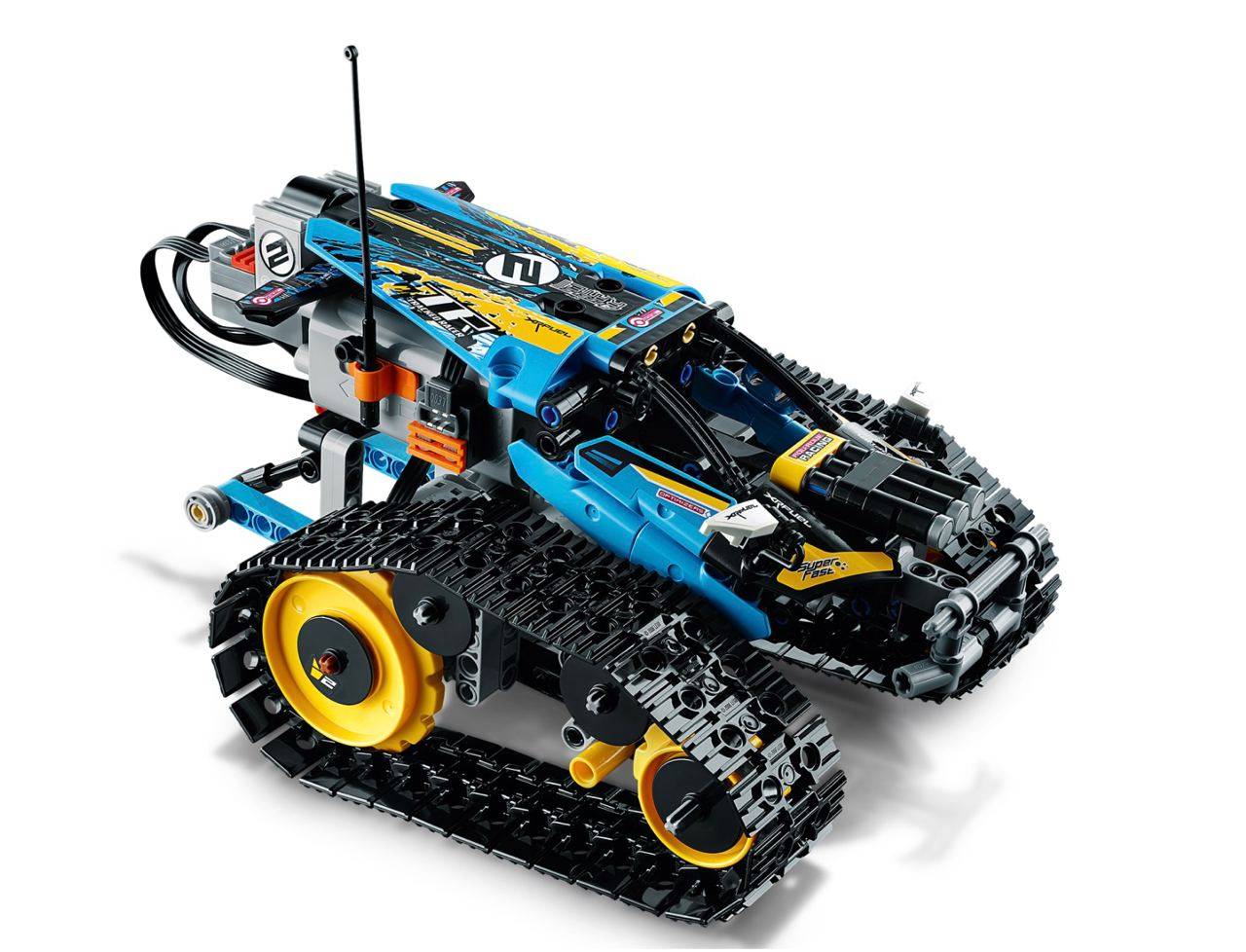 PERFECT ENGINEERING.
Another cool thing about this Lego set is the way it is engineered. This Lego set allows you to recreate your very own working engine from scratch. The engines of the set are connected to the steering wheels which also connect to the tires. This means that if you move the steering of the Lego Stunt car you are going to see the Lego sets tires moved.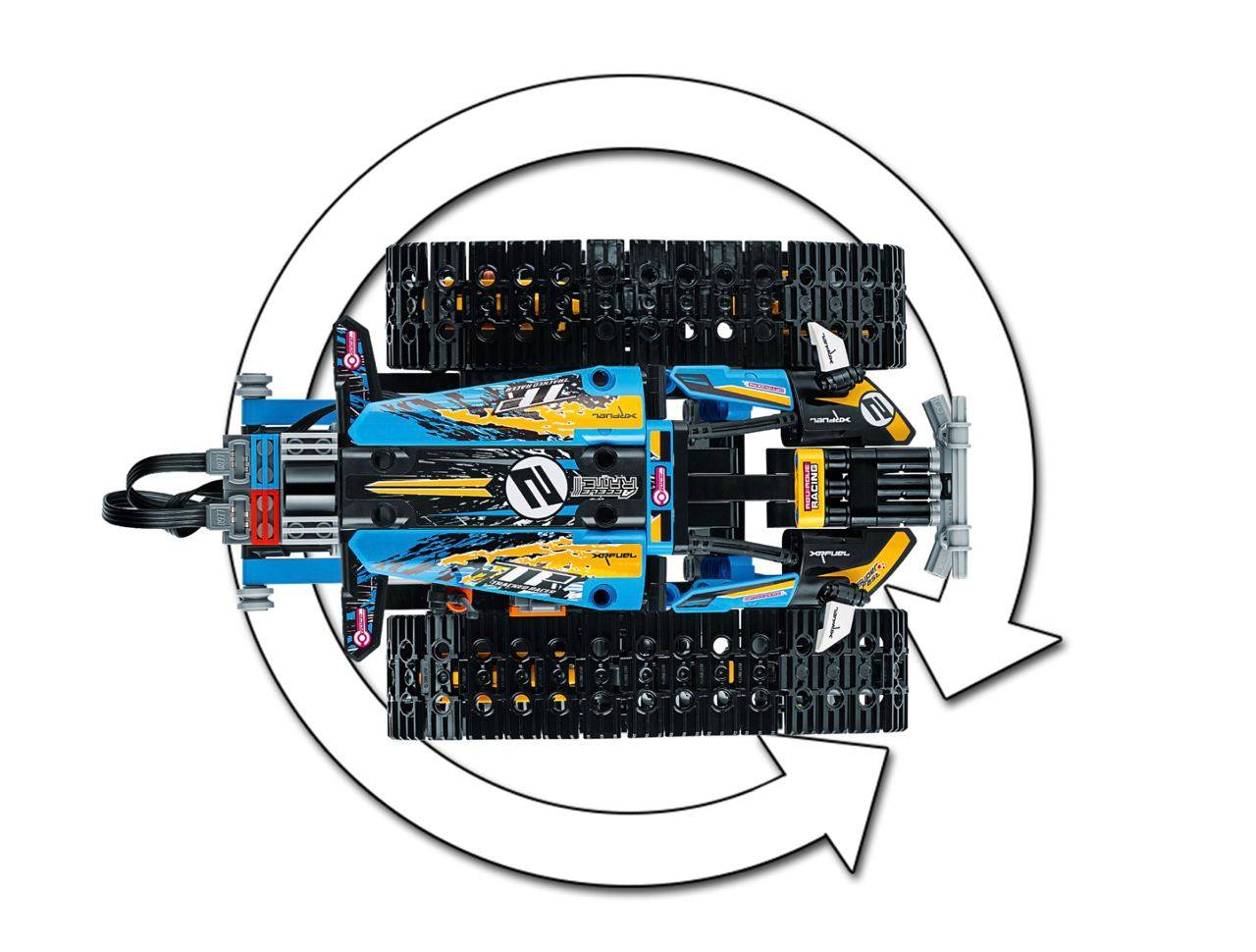 A REMOTE CONTROL FEATURE.
Unlike other Lego vehicle sets which contain only display features, the Lego Stunt Racer set comes with both an awesome display, but also a cool remote control feature. This is pretty awesome for kids and adults who love to have wholesome interactions with their Lego sets. The remote control feature will be fully attached by you as you build the set. This makes play all the more satisfying knowing that your wiring and engineering worked.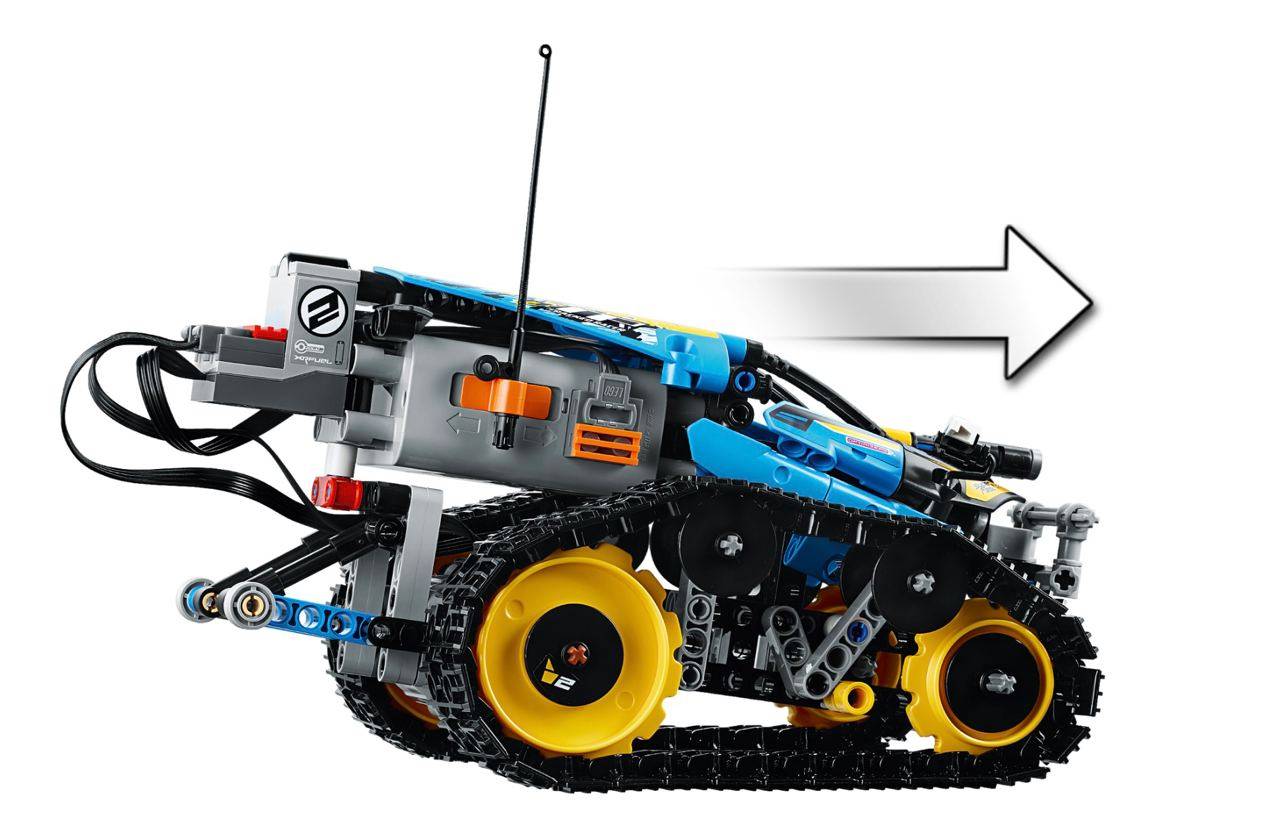 SET SIZE.
The Lego Stunt Racer set comes with a total of 324 pieces and is built for ages nine and above. It is for the sake of the kids who will be building this set that the Lego team decided to the Remote Controle feature. Though the Lego set comes with a small number of pieces, the set is slightly bigger than a toy car. When fully built, the Lego set measures a total of 6 inches high, 8 inches long, and 5 inches deep. The Lego Stunt Racer can also be converted into a normal racer car. And this one measures 4 inches high, 7 inches long, and 7 inches deep. You decide which set to build depending on your preference.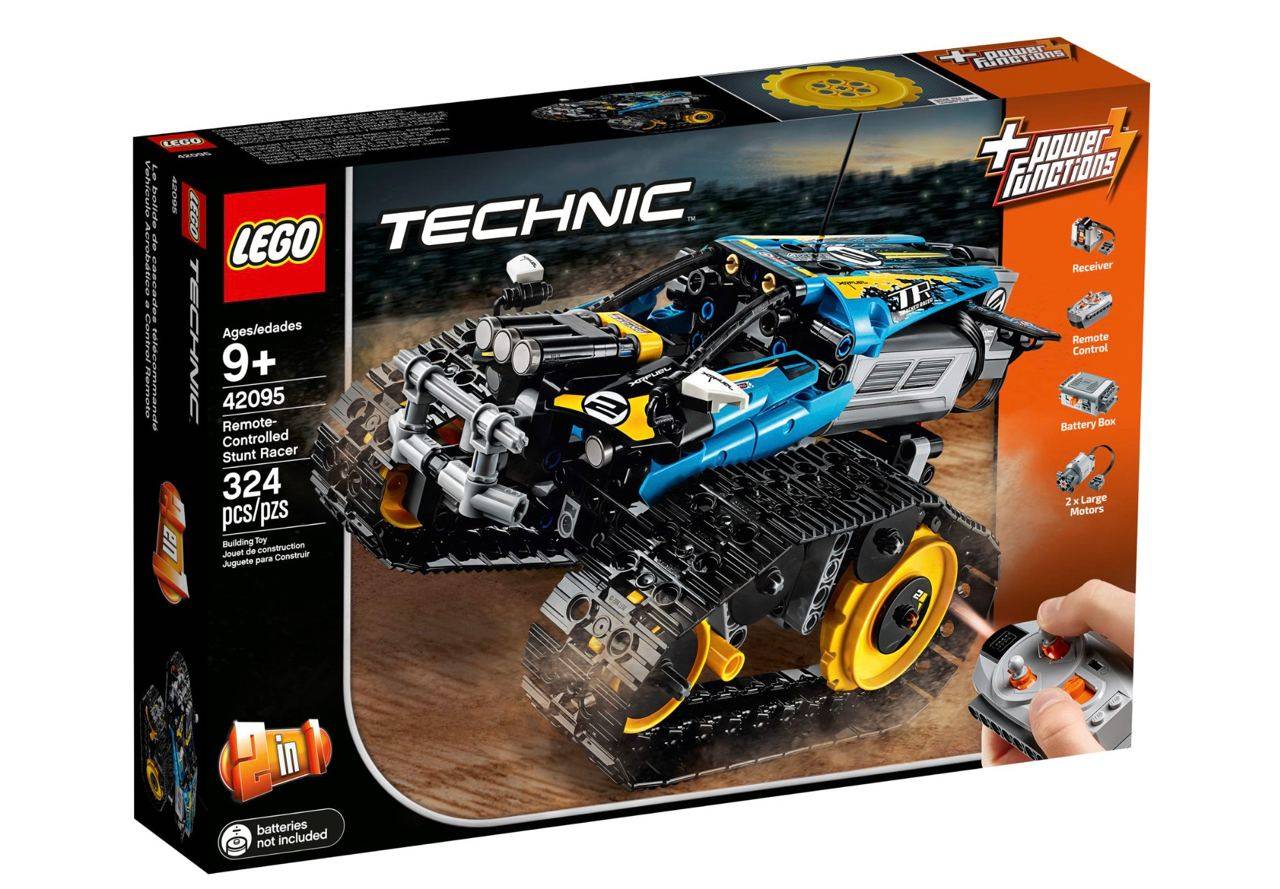 SET PRICE.
The Lego Stunt Racer set can be purchased directly from the Lego stores. But by now it would have probably been retired, due to a drop in sales. The Lego set though when still available was sold for an average price of 69.99 dollars. The set though is surely going to cost a lot more because the Lego set is retired. If you wish to get this set in 2023, be sure to save a whole lot of money. About 100 to 200 US dollars, would be a good price to get this set from local collectors of the set. If by some miracle you can get one of these sets, be sure to add our amazing light kits to your cart why? Let us find out.

MAKE YOUR LEGO STUNT RACER LOOK EVEN MORE AUTHENTIC WITH OUR AMAZING LIGHT KITS.
The Lego Stunt Racer set is truly fascinating to look at. But you could make this set look even more jaw-dropping by including special lights it. This is because our Lego lights help to enhance the overall look of your Lego set. Our set also offers a very clean and breathtaking finish. If our light kits are a feature you would like to try, head over to our light kit page and get yourself a pair. Now, that you have done so, here are a few steps and helpful tips for an easier installation process.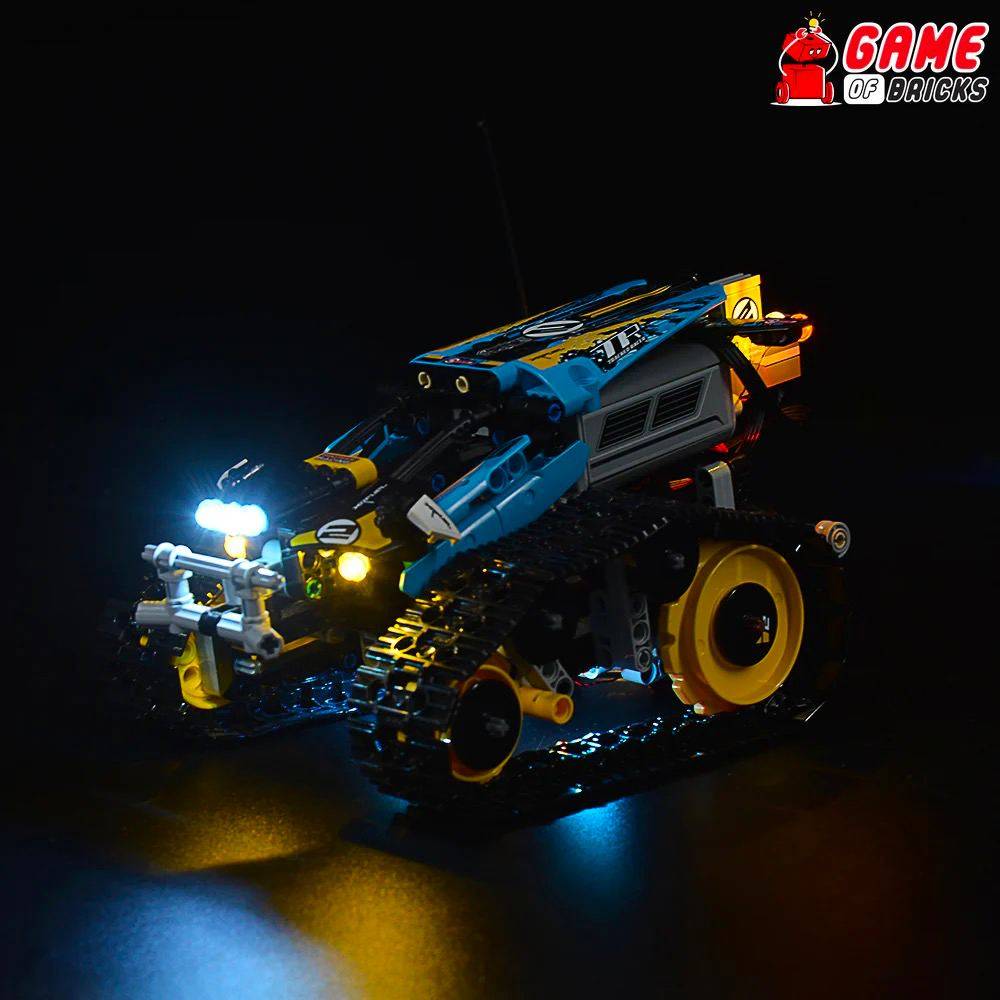 INSPECTION.
As soon as your Lego lights arrive, it would be safe for you to take a few minutes to inspect them. This ensures that all shipped lights and accessories look and are in perfect condition. It is not unusual for light kits to sustain damages during shipping. This is because our lights are very fragile. So To ensure you get premium quality Lego lights, make sure you inspect your package. If you notice any damages during the inspection, request a replacement using your 30 days warranty card. Inspection should include checking the batteries, wires, and power capacity. You would also need to look out for signs of short-circuiting. If, after your inspection, everything looks good, you can move on to the next stage.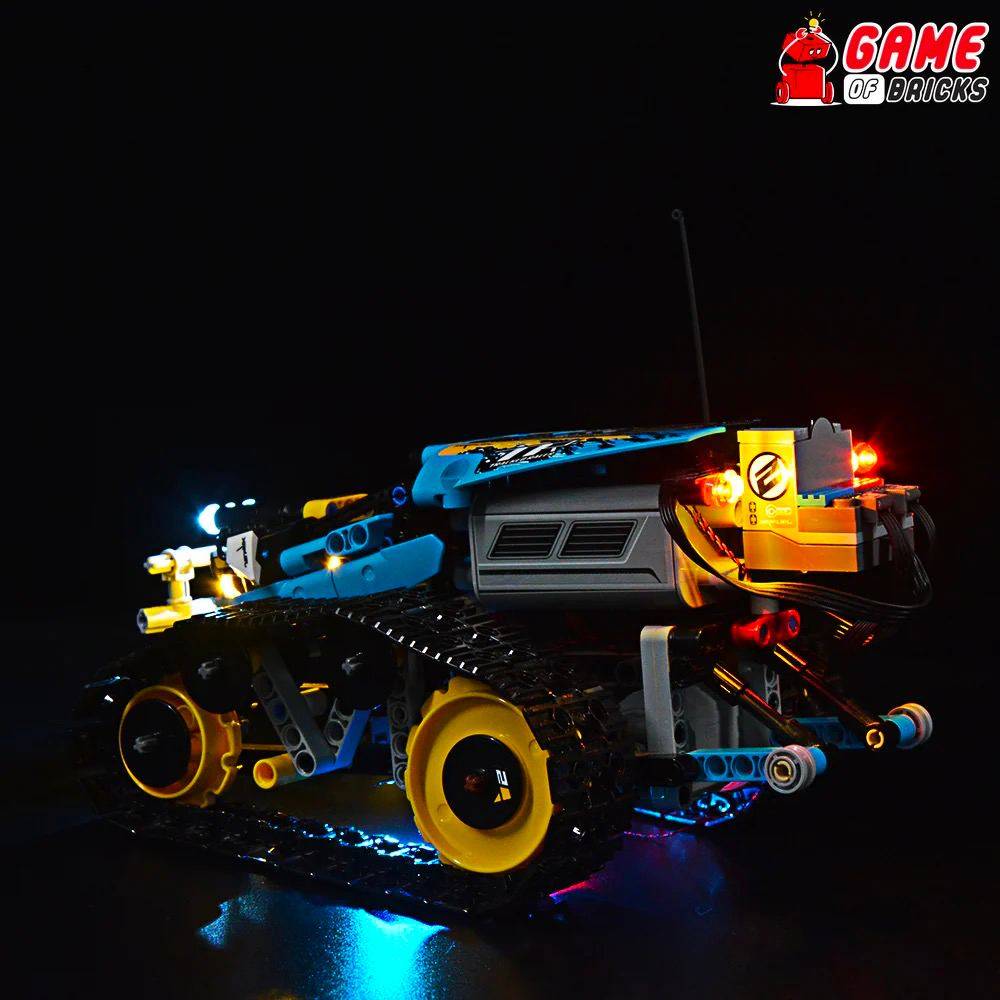 INSTALL.
You can only begin this process after completely building your Lego Spider-Man Carnage
set. To do this successfully, each light kit has a special blueprint manual to help you through the process. There are also a ton of videos and articles you could watch and read on our website before embarking on this journey. Feel free to make use of all the resources at your disposal.
TEST RUN.
Once you are done installing your Lego set, you can now take time off to test run it, making sure it is in the best condition. To do this, check for signs of short-circuiting, as this could help you quickly identify the problem. Once you have located the problem, be sure to fix it. Once you are sure that everything is in the best condition, you can finally relive your Epic Lego Spider-Man Carnage set moment in style as you put this set on display.

---