Unleashing Creativity and Adventure with LEGO Technic 4X4 X-treme Off-Roader 42099
By

Eve Alessa Arevalo
/
July 10, 2023
Bringing forth a remarkable fusion of intricate design and engaging playability, the LEGO Technic 4X4 X-treme Off-Roader 42099 is more than just a typical LEGO set. It's a multifaceted and interactive set that offers a rewarding and immersive experience, captivating both young builders and adult fans. Here's an in-depth review of the adventures that await with this impressive LEGO Technic offering.

Design and Features
a. Main components or areas The LEGO Technic 4X4 X-treme Off-Roader 42099 boasts a robust and intricate design that resembles a real 4X4 vehicle. With 958 pieces, the set features a high-rise independent suspension, huge wheels, and a modern-looking color scheme with decorative stickers that lend an authentic feel. The detailed chassis, all-wheel drive, gear sequences, and the unique Bluetooth controlled smart hub system for engaging in remote control action, round out the main components of this model.
b. Minifigures Unlike traditional LEGO sets, the Technic series, including the 4X4 X-treme Off-Roader, does not include minifigures. However, this focus on the machinery and engineering aspects, rather than character play, doesn't detract from the overall appeal of the set.
c. Accessories and decorations The 42099 kit offers several decorative stickers to enhance the vehicle's aesthetics and realism. Although no extra accessories are included in the conventional sense, the set's built-in motors and sophisticated Control+ system, accessible through a smartphone app, provide the necessary interactive features that boost the set's entertainment value.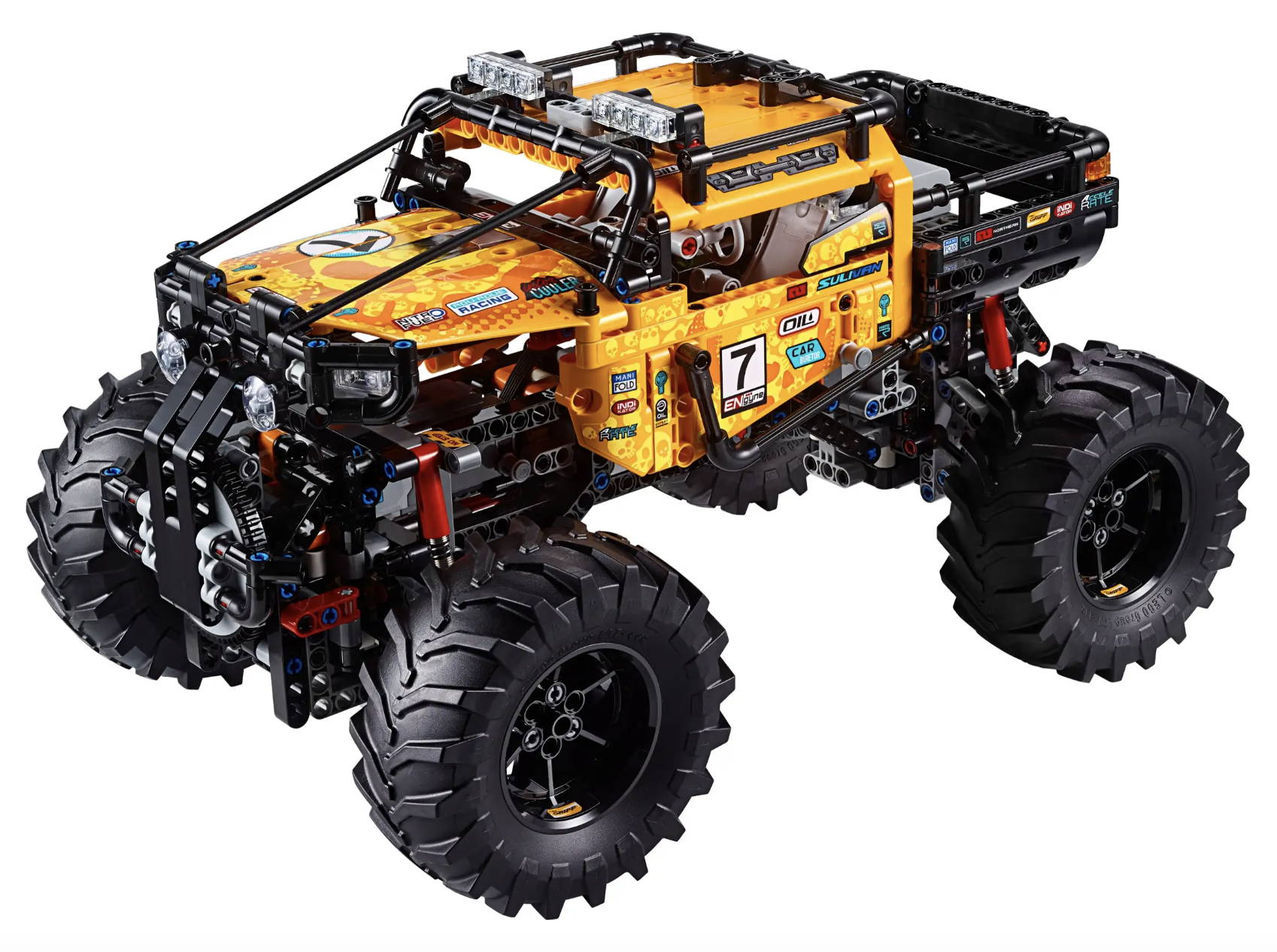 Building Experience
a. Complexity and engagement The 4X4 X-treme Off-Roader offers a complex yet engaging building experience. The set is challenging but not overwhelming, making it perfect for builders who appreciate detailed mechanical constructs. The intricate design ensures a rewarding experience upon completion, enhancing one's appreciation for engineering and mechanics.
b. Instruction manual and building process The instruction manual provides clear and detailed instructions, making the building process smooth. However, the highlight is the digital building instructions available via the LEGO Technic Control+ app, offering interactive 3D model viewing, which makes the assembly process even more exciting and educational.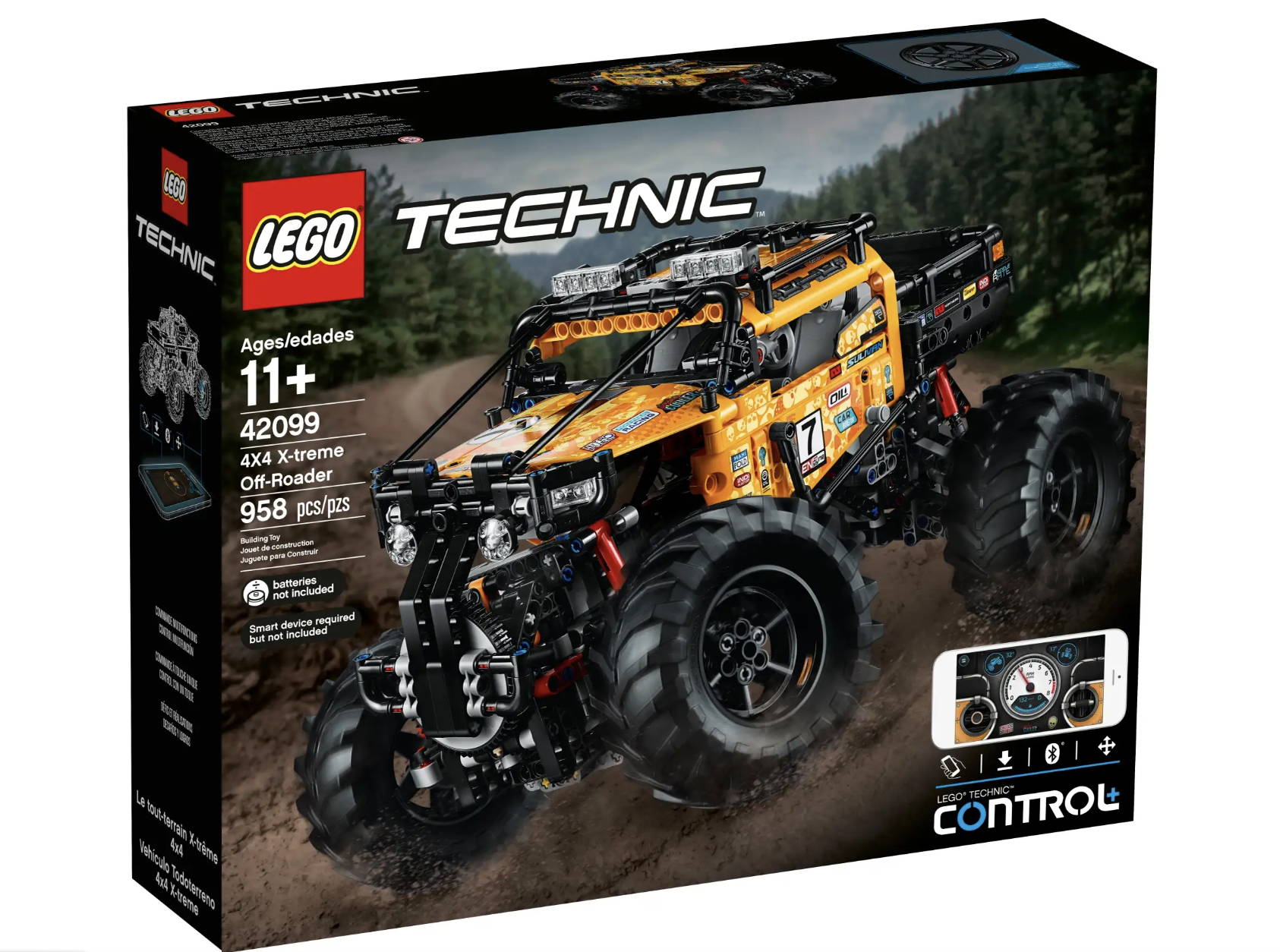 Playability and Entertainment Value
a. Interactive features The defining feature of the LEGO Technic 4X4 X-treme Off-Roader 42099 is its interactive Control+ system. This app-controlled system allows the user to steer and control the 4X4 on different terrains, engaging the high-rise independent suspension and all-wheel drive. The sense of control and interaction this feature provides greatly enhances the set's playability.
b. Opportunities for imaginative play and storytelling Although the set does not include any minifigures, the realistic design, moving parts, and remote control functionality offer plenty of opportunities for imaginative play and storytelling. Whether you're traversing rugged terrain or evading imaginary predators, the 4X4 X-treme Off-Roader brings any adventure scenario to life.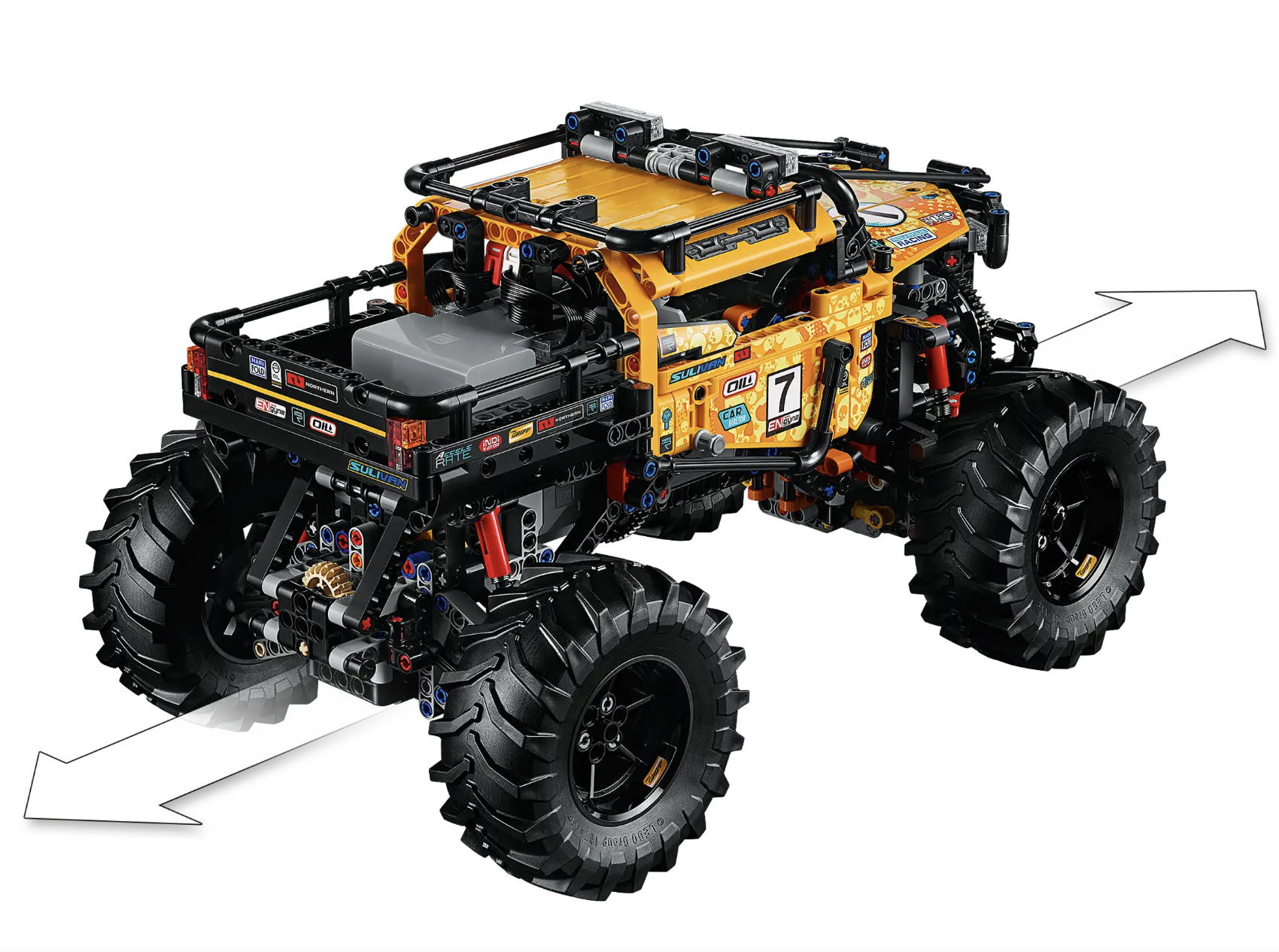 Value for Money
a. Number of pieces and design With nearly 1000 pieces and a unique smart hub system, the set offers great value for money. The model is quite large when built, adding to its appeal and justifying the price point.
b. Compatibility with other LEGO sets and themes Being a part of the Technic series, the 4X4 X-treme Off-Roader may not integrate seamlessly with other LEGO themes. However, it can combine with other Technic sets to create even more ambitious engineering projects, thereby expanding its value.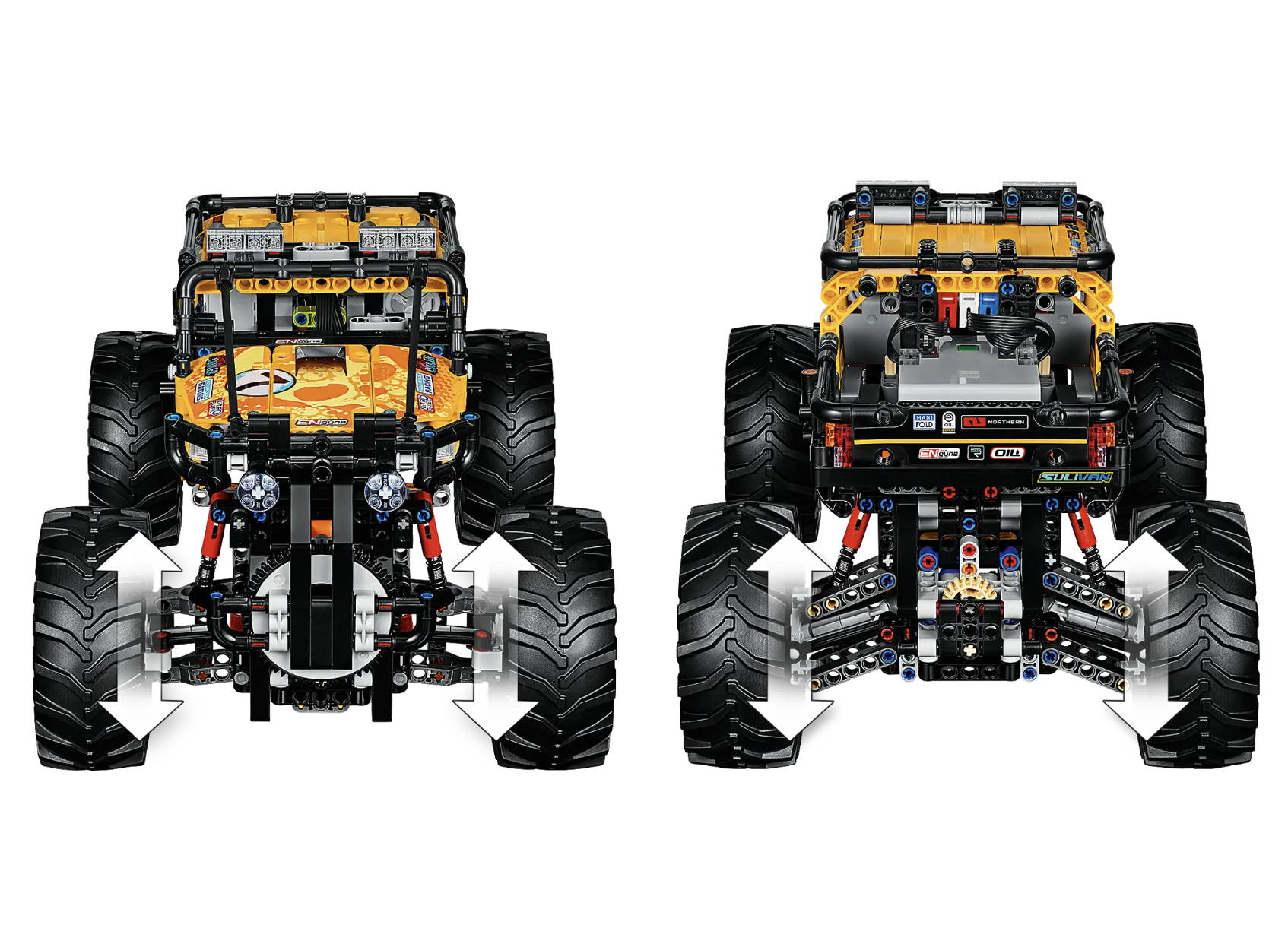 Pros and Cons
a. Pros
1. Detailed and realistic design, portraying a real-world 4x4 vehicle.
2. Engaging and rewarding building experience, suitable for intermediate and experienced builders.
3. High playability due to the interactive Control+ system.
4. Digital building instructions provide a more immersive and educational building experience.
b. Cons
1. Lack of minifigures could deter some younger LEGO fans looking for character play.
2. The set is primarily compatible only with other Technic sets, limiting its integration with other LEGO themes.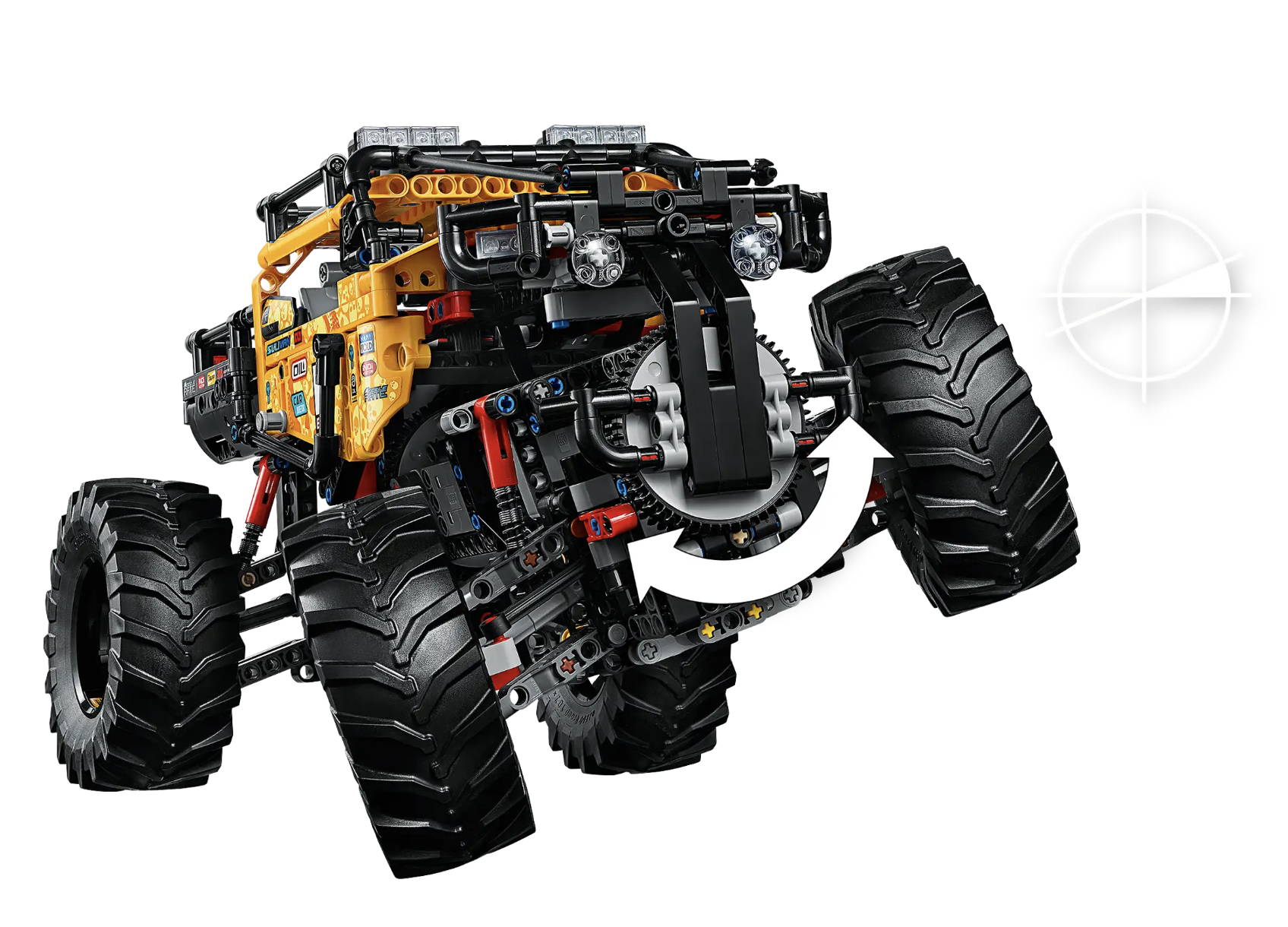 Final Thoughts and Recommendations
a. Summary of the set's appeal The LEGO Technic 4X4 X-treme Off-Roader 42099 is a compelling set that offers a unique blend of challenging construction, advanced technology, and high playability. Its realistic design, detailed features, and interactive Control+ system elevate the traditional LEGO building experience to an exciting new level. The 4X4 X-treme Off-Roader is not just a model; it's an adventurous and educational journey into the world of engineering and mechanics.
b. Target audience and overall value This set is an excellent choice for LEGO fans aged 11 and above, particularly those with a keen interest in vehicles and mechanics. It's also appealing to adult LEGO enthusiasts seeking a more complex and interactive building experience. While the lack of minifigures may disappoint some younger fans, the advanced features and interactive capabilities of the set more than make up for it. In terms of overall value, considering the high piece count, intricate design, and Control+ system, the 4X4 X-treme Off-Roader offers substantial value for its cost.
In conclusion, the LEGO Technic 4X4 X-treme Off-Roader 42099 is a remarkable set that challenges and engages builders in the best possible way. It's a testament to the innovation and ingenuity of LEGO, delivering an experience that transcends traditional LEGO building. Whether you're a seasoned LEGO Technic fan or a young builder ready for a new challenge, the 4X4 X-treme Off-Roader is a set that promises a thrilling and enriching building adventure.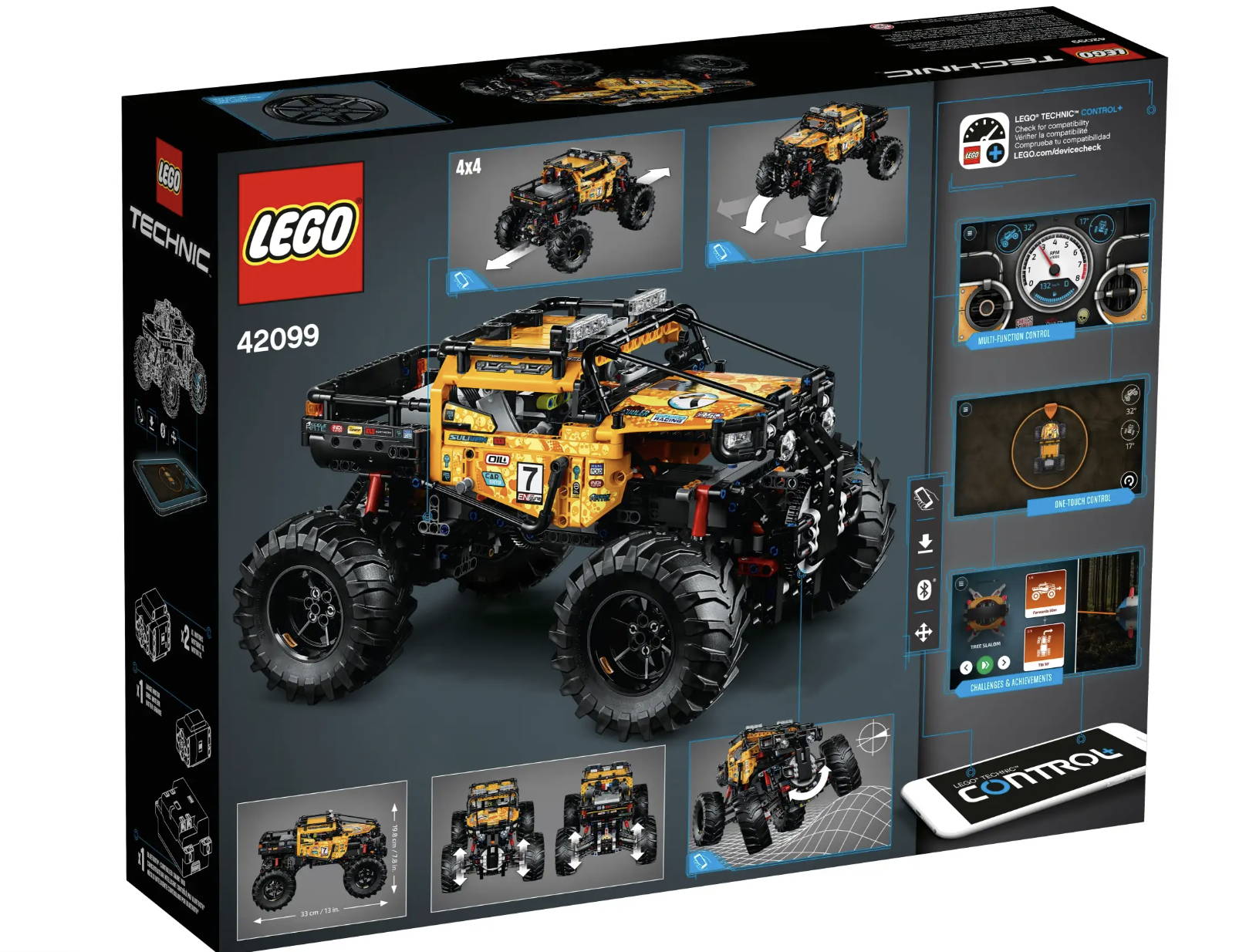 Illuminating the Rough Terrain: A Review of the Light Kit for 4X4 X-treme Off-Roader 42099 by Game of Bricks
Lego Technic's 4X4 X-treme Off-Roader 42099 is an unparalleled piece of art, a challenging but rewarding building set that blends realism and complexity. Game of Bricks, a company known for its premium lighting solutions, has designed a light kit to further enhance this intricate model. The result is a fascinating product that not only complements the Lego set but also enriches its appearance, augmenting every minute detail with stunning illumination.
Easy Installation
One of the most commendable attributes of the light kit is its user-friendly installation. The kit comes with a step-by-step guide, presenting clear and concise instructions that can be followed even by beginners. All components are appropriately labeled and segmented into separate packages to streamline the installation process. This ensures that no matter your level of expertise with Lego or light installations, you will find the process painless and straightforward.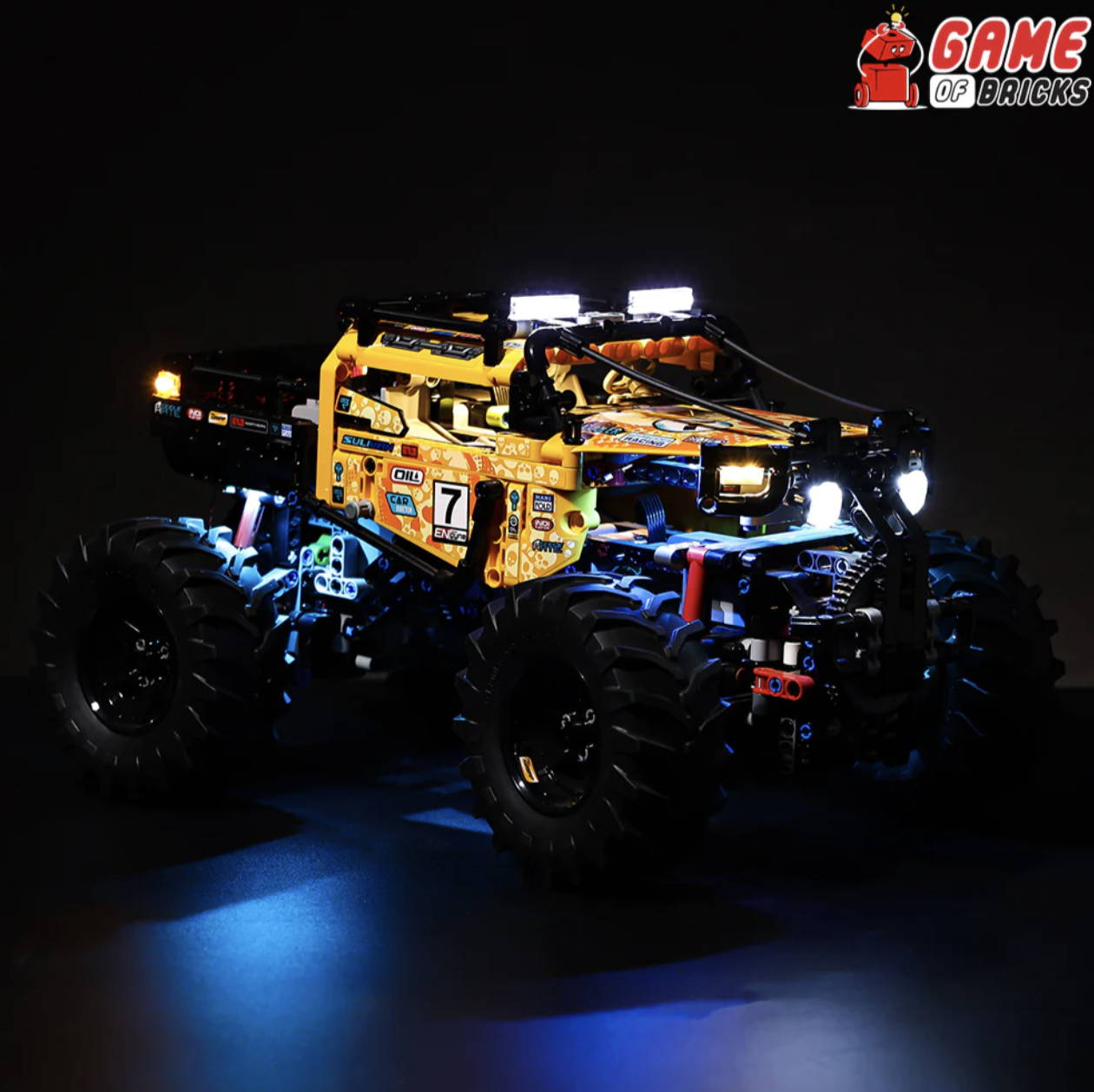 Enhanced Details
With the light kit installed, the 4X4 X-treme Off-Roader 42099 comes alive in the dark. The lights not only highlight the model's notable features, such as the chunky tires and the robust suspension system, but they also draw attention to less noticeable elements that might go overlooked. The headlights are brilliantly bright, adding to the realism, while the subtle undercarriage lighting lends an ethereal glow that accentuates the model's impressive build.
Customizable
The light kit is as customizable as it is spectacular. It provides an array of lighting options, allowing users to adjust brightness levels to their liking or change colors according to their mood or setting. This level of personalization gives users a chance to give their models a unique touch, making the play and display experience more enjoyable and personal.

Durability
Game of Bricks has a reputation for providing durable products, and this light kit is no exception. The high-quality LED lights are designed to last for a long time without losing their intensity. The cables are sturdy yet flexible enough to bend without breaking, ensuring they can withstand repeated modifications or adjustments.
Minor Downsides
Despite its many admirable qualities, the light kit for the 4X4 X-treme Off-Roader 42099 does have minor downsides. The light switch placement could be improved for easier access, and the power source—three AA batteries—are not included in the kit, which is a slight inconvenience. In addition, the sheer number of tiny components can be overwhelming, and extra care is needed to avoid losing any pieces during installation.
Overall, the Light Kit for 4X4 X-treme Off-Roader 42099 by Game of Bricks is an impressive product. The lighting quality, coupled with easy installation and a high degree of customization, make it a worthy addition to the Lego Technic model. It enhances the intricate details of the 4X4 Off-Roader and transforms it into a vibrant, illuminated masterpiece. While there are minor downsides, these are easily overlooked when considering the overall quality and the unique enhancement the kit offers. A perfect blend of functionality and aesthetics, this light kit is a must-have for Lego Technic enthusiasts, providing a captivating way to showcase their builds.