Engage in a truly satisfying building experience with the LEGO Avengers Tower Battle 76166 Set.
The Avengers are a group of Superheroes from the Marvel Comic-verse who came together the saving the world from impending doom. The Avengers are much like the Justice League from D.C. Comics. They were all brought together to defeat a great evil after each Superhero character had their own featured story. And just like the Justice League, the Avengers unanimously separated once the Avengers had defeated the great evil. One of the very first Avenger groups comprised The Green Hulk, Iron Man, Ant-Man, Wasp, Black Widow, and Captain America. And just like the Justice League, the Avengers needed a place where they could meet, plan, and regroup if their plans to defeat the enemies went awol.
For this reason
, the Avengers Tower was built by Tony Stack, or Iron Man, as he is popularly known. This main headquarters of the Avengers was located at the top of the Tower building. This tower served as a beacon of hope to New York and the world.

If you are a fan of the Marvel comics, then you would agree that the structure of the Avengers Tower building was peculiar to any other building in New York City. As a result of the TTower'samazing and unique structure, it has grown to be loved by all Marvel fans. And since you have been reading this post up to this point, we are sure that you are not only a Marvel fan but also a fan of the Lego group. If we guessed correctly, then the main purpose you are going through this post is that you are seeking to purchase the Lego Avengers Tower Battle 76166 set. Well, if that's why you are here, you have come to the right place. This post will consider everything you need to know about this set, from the building experience to the set's price and features. We will also consider the steps you need to take to install our Lego lights successfully. If this is something you would love, we advise you stick around. First, let us consider the building experience for the Lego Avengers Tower Battle set.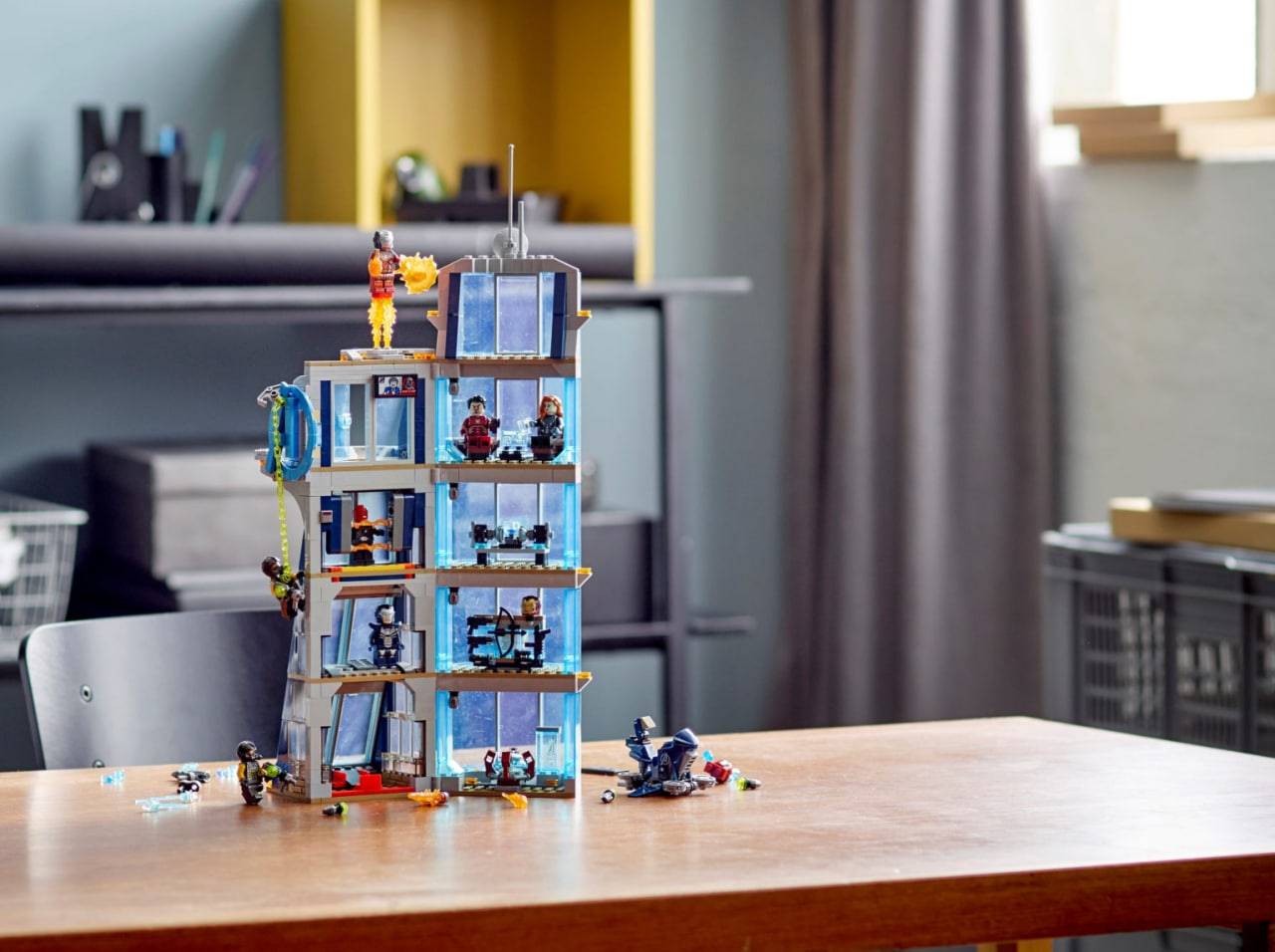 AN AMAZING BUILDING EXPERIENCE FOR THE LEGO AVENGERS TOWER BATTLE 76166 SET.
The Lego Avengers Tower Battle 76166 set comes with many impressive building techniques, making achieving the set's impressive structure very possible. The set comes with more than 600 pieces used to put together all parts of the set. The set also comes with Lego elements that represent furniture inside the Tower, So this Lego set allows you to put together both the inside and outside of the Legos set. The Lego set also comes with stickers which help add more details to the set and make it look as authentic as possible. The building of this set is also very organized. Each piece used for building this set is carefully arranged into numbered bags. The Numbered bags are six in total. Each numbered bag contains pieces used to build each floor of the Avengers Tower building. Once you are done building the set, you also get the opportunity to put together some Minifigures of Avengers characters.
If you are new to Lego, building this set may seem difficult. The Lego team is well aware of this fact and has added an instruction manual to the set to make building much easier. The instructions in the manual are broken into building stages; each of these stages are well explained and is accompanied by images or diagrams to help you fully understand what's expected of you in fully accomplishing each stage and moving to the next stage. Overall, the Lego Avengers Tower Battle set offers builders an experience that is both exhilarating and very satisfying. It is also very technical and requires you to take your time in the building process to get the most out of it. Aside from a great building experience, the set also contains amazing features that make it stand out as a unique set. What are some of these features? Let's find out.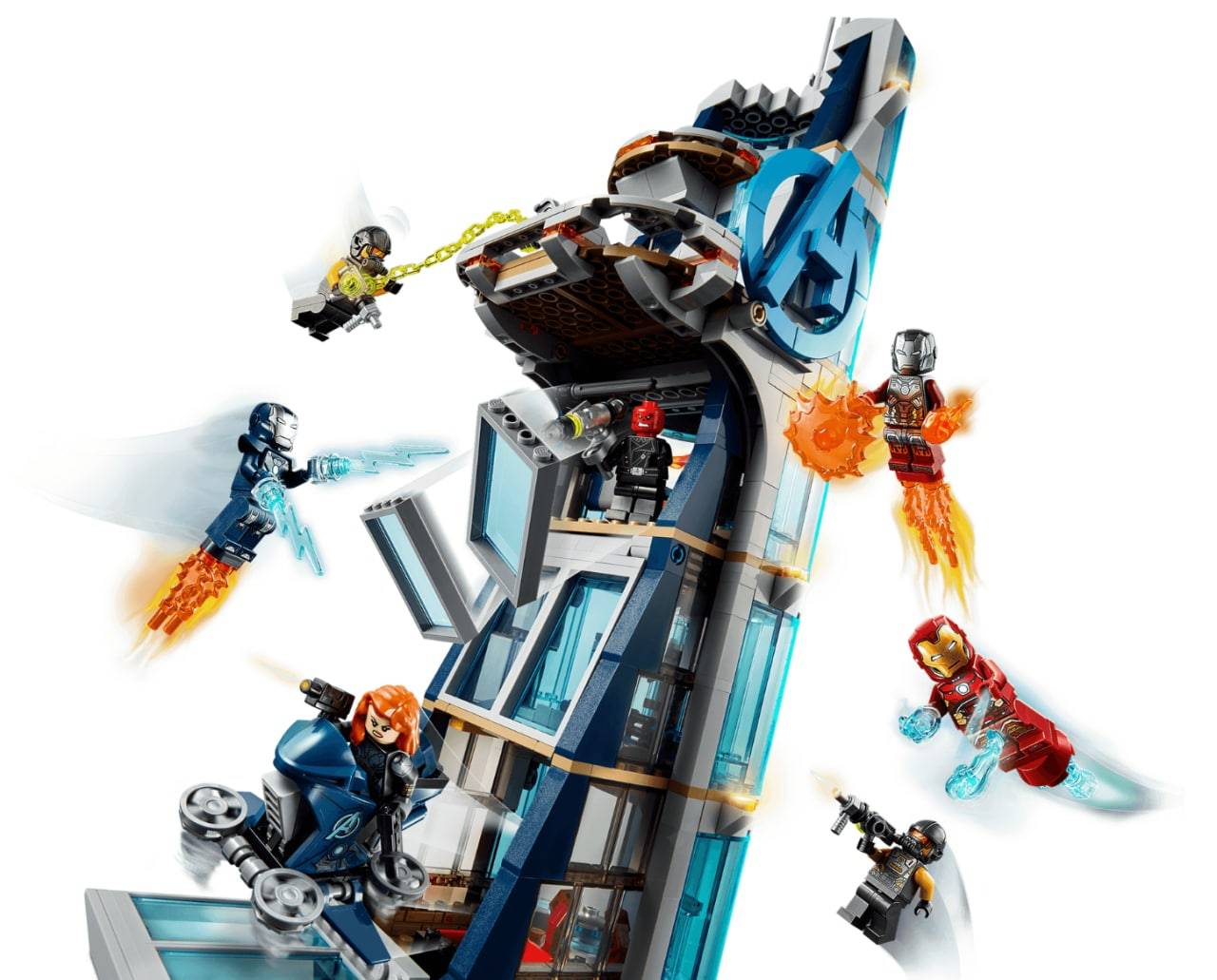 AMAZING FEATURES FOR THE LEGO AVENGERS TOWER BATTLE 76166 SET.
A NICE USE OF LEGO ELEMENTS AND STICKERS.
The Lego Avengers Tower Battle set has a very impressive display look. This is a result of so many factors. One factor that makes this possible is the Lego team's use of stickers and Lego Elements. Both Lego stickers and Elements add more details to each set's floor. You get to see the smart and technical use of Lego Elements as you build the inside of each set.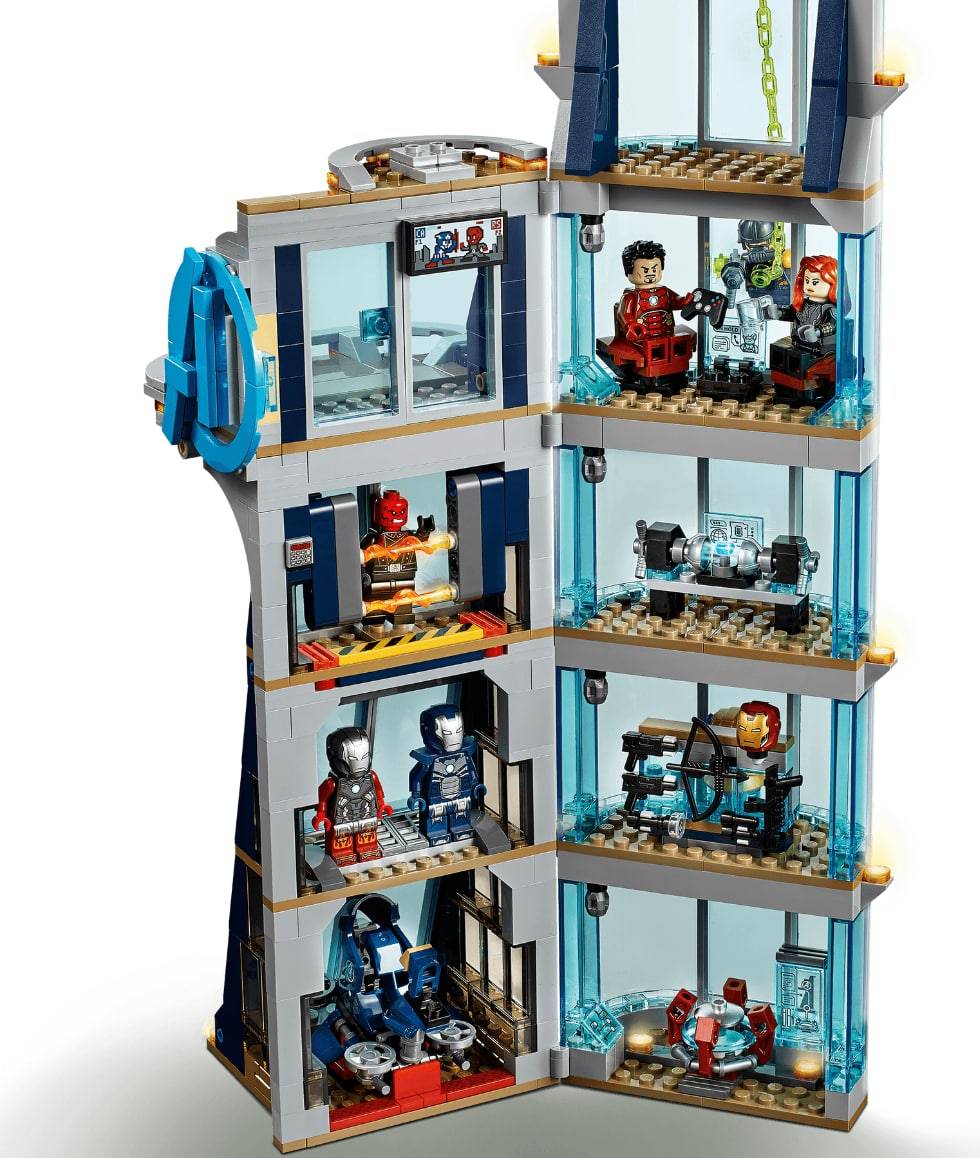 DETAILS ON EACH FLOOR.
Well, although the major attraction of the Lego Avengers Tower Battle is its external look, the Lego team also did their very best to ensure that the inside of each set is given as much consideration as the exterior details. From the bottom floor of the set to the top, you would see little details and easter eggs here and there. This you could catch sight of if you are a true Marvel fan. The inside of the set is also big enough to include the Minifigures that this Lego set comes with. All this makes the set all the more satisfying to build.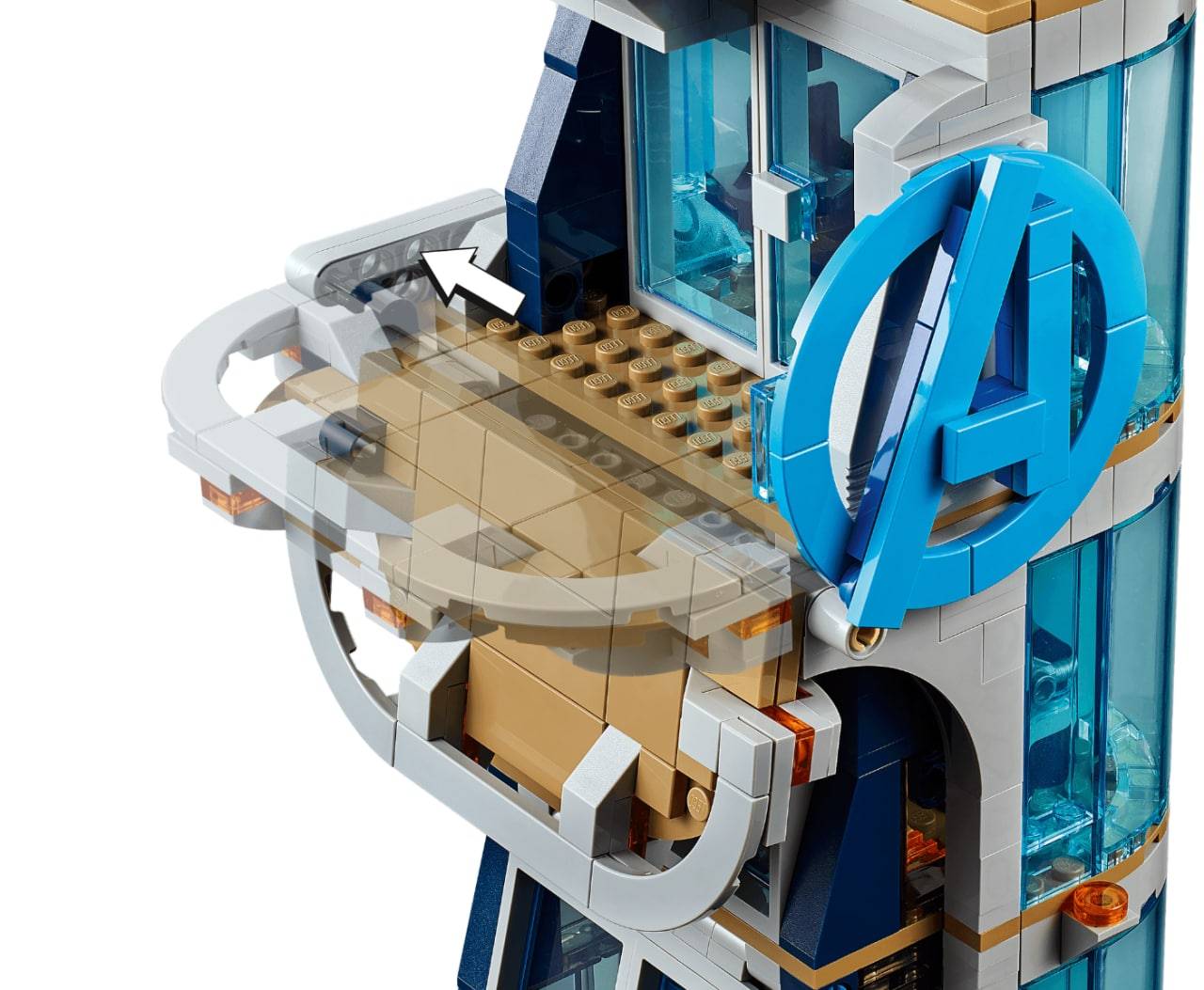 SET MINIFIGURES.
Another thing that makes this Lego set truly spectacular is that it comes with Minifigures. These Minifigures are included to help you recreate epic scenes from the Avengers movie. The Minifigures include Iron Man and Black Widow, battling against Evil Red Skull and his A.I.M. agents. You could display this epic fight scene throughout the Avengers Tower Building. This helps add even greater spice to the set and gives you more satisfaction.

SET SIZE.
The Lego Avengers Tower Battle set can be considered a medium size set. The set comes with a total of about 685 pieces. Because of the small number of pieces this Lego set comes with, the set is taller than huge. The Lego Avengers Tower battle measures a total of about 17 inches high. The set also contains five floors with lots of details. The floors are also big enough to display epic fight scenes on each floor.
A RETIRED PRODUCT.
Unfortunately, the Lego Avengers Tower Battle set is now a retired product. This means that the set is no longer available for download on Lego stores and on the Lego website. But you could purchase this set from a retailer at a very high price. The price of the former set ranged from about 100 dollars. The set could cost two times that price because the user is no longer in production. If you do manage to get one of these sets, do not hesitate to get our amazing Lego lights as a companion. Why? The next section will answer that question.


MAKE THE LEGO AVENGERS TOWER LOOK ALL THE MORE IMPRESSIVE WITH OUR LEGO LIGHTS.
The Lego Avengers Tower Battle is a truly unique set. You could richly enhance the set's beauty with the help of our amazing light kits. Our lights are designed so that they could be installed neatly as if they were part of your set. Our lights also come with instruction manuals that simplify the installation process. Without wasting time, hurry to the light kit page and order one. Now that you have done that, here are a few things to take to heart as you install.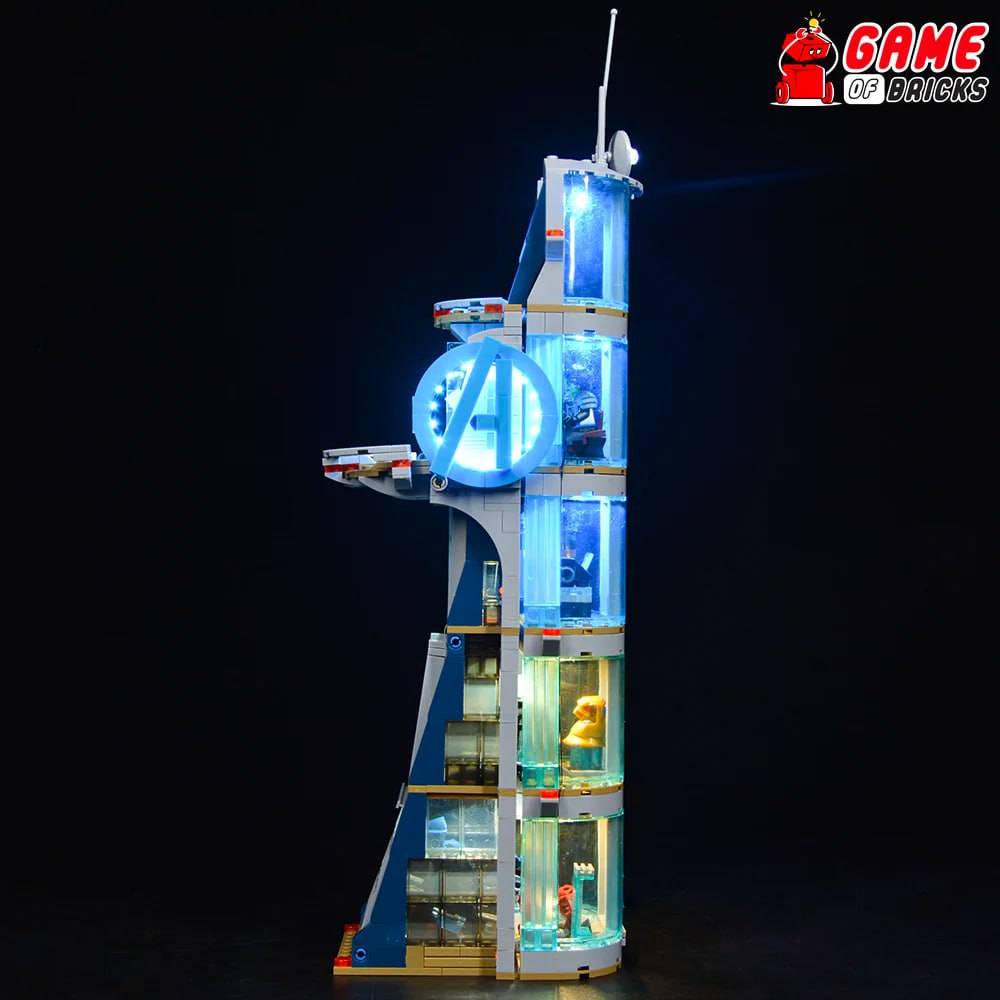 INSPECTION.
As soon as your Lego lights arrive, it would be safe for you to take a few minutes to inspect them. This ensures that all shipped lights and accessories look and are in perfect condition. It is not unusual for light kits to sustain damages during shipping. This is because our lights are very fragile. So To ensure you get premium quality Lego lights, make sure you inspect your package. If you notice any damages during the inspection, request a replacement using your 30days warranty card.
Inspection should include checking the batteries, wires, and power capacity. You would also need to look out for signs of short-circuiting. If, after your inspection, everything looks good, you can hop on to the next stage.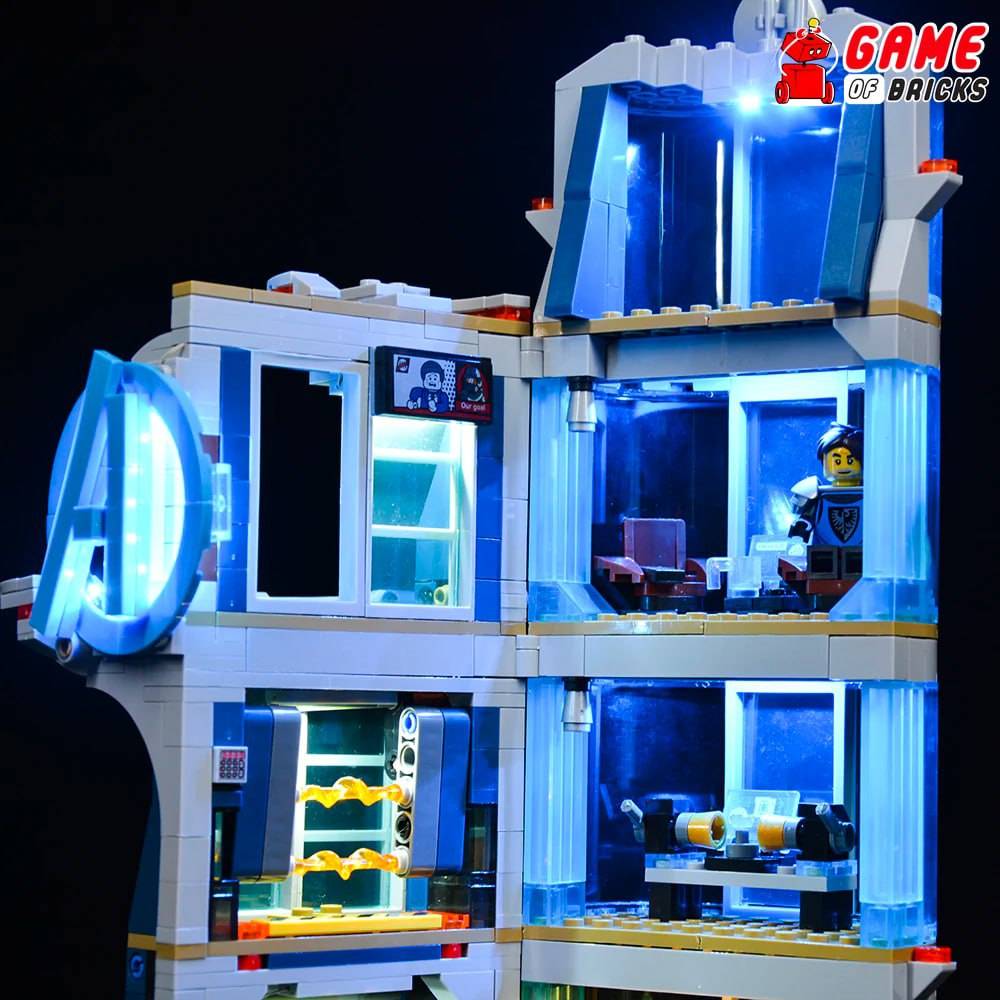 INSTALL.
You can only begin this process after completely building your Avengers Tower Battle set. To do this successfully, each light kit has a special blueprint manual to help you through the process. There are also many videos and articles you could watch and read on our website before embarking on this journey. Feel free to make use of all the recourses at your disposal.

TEST RUN.
Once you are done installing your Lego set, you can now take time off to test run it, making sure it is in the best condition. To do this, check for signs of short-circuiting, as this could help you quickly identify the problem. Once you have located the problem, be sure to fix it. Once you are sure everything is in the best condition, you can finally relive your Epic Horizon Forbidden West Tall Neck moment in style as you put this set on display.
---