Ride like a pro with the LEGO BMW M 1000 RR 42130 Set.
When we talk about race bikes, there is none more worthy of your attention than the BMW M 1000 RR. This incredible race bike is packed with excellent features that comfortably support intense racing. The motorcycle gives racers the confidence needed to win any race. But this bike also supports riders looking to ride casually down the street, maybe to work or just on a regular outing. So whether it is intense racing or just a regular ride down the road, this bike is perfectly built for the job. This bike also comes in different colors, allowing you to personify your race bike to fit your look. 

Do you desire to own one of these bad boys? What's holding you back? Could it be the expense of owning and maintaining one? Well, if that's your predicament, then Lego has provided you with just the right solution – the Lego Technic BMW M 1000 RR 42103 set. If you are a race bike fanatic or love bikes in general, the Lego Technic BMW M 1000 RR set is just right for you. It has all the cool features that perfectly replicate a real-life race bike. Do you have friends obsessed with racing bikes? Then why not try gifting him with this fantastic set and watch his reaction. This incredible Lego set also offers a satisfying building experience. How? Let's find out. 
BUILDING EXPERIENCE FOR THE LEGO TECHNIC BMW M 1000 RR 42130 SET.
The Lego BMW M 1000 RR is packed with authentic details, which keeps builders engaged for hours with let up. The set offers builders the opportunity to feel like an engineer by bringing this set to life. The set offers a challenging build and would require great focus from the builder's mind. This set is not one to be built in a hurry. So if you wish to develop this set successfully, you would need to clear out your schedule so you can have some alone time with your set. The set might seem challenging at times, but with the help of the instruction manual this set provides, you get just a bit of relief. The instructions from the manual are clear and easy to understand. It also features well-illustrated diagrams which break down the building process.

This set is also safe and can be worked on around children. So if you are a parent who can't seem to get time for your kids, then you do not need to worry. You could build this set even if your kids refuse to give you space. You could also create this Lego BMW M 1000 RR as a family. Making this set your family's next big project could be an excellent way to bond. This set is also perfect for display. It could be placed at the center of your office table, or maybe on your shelve, among other Lego sets. Overall, the Lego BMW M 1000 RR offers builders a satisfying build with incredible realism and beauty. So if you are looking for a set that would stand out, then this is the set for you. The Lego BMW M 1000 RR set also offers original set features. Let's find out what those cool features are.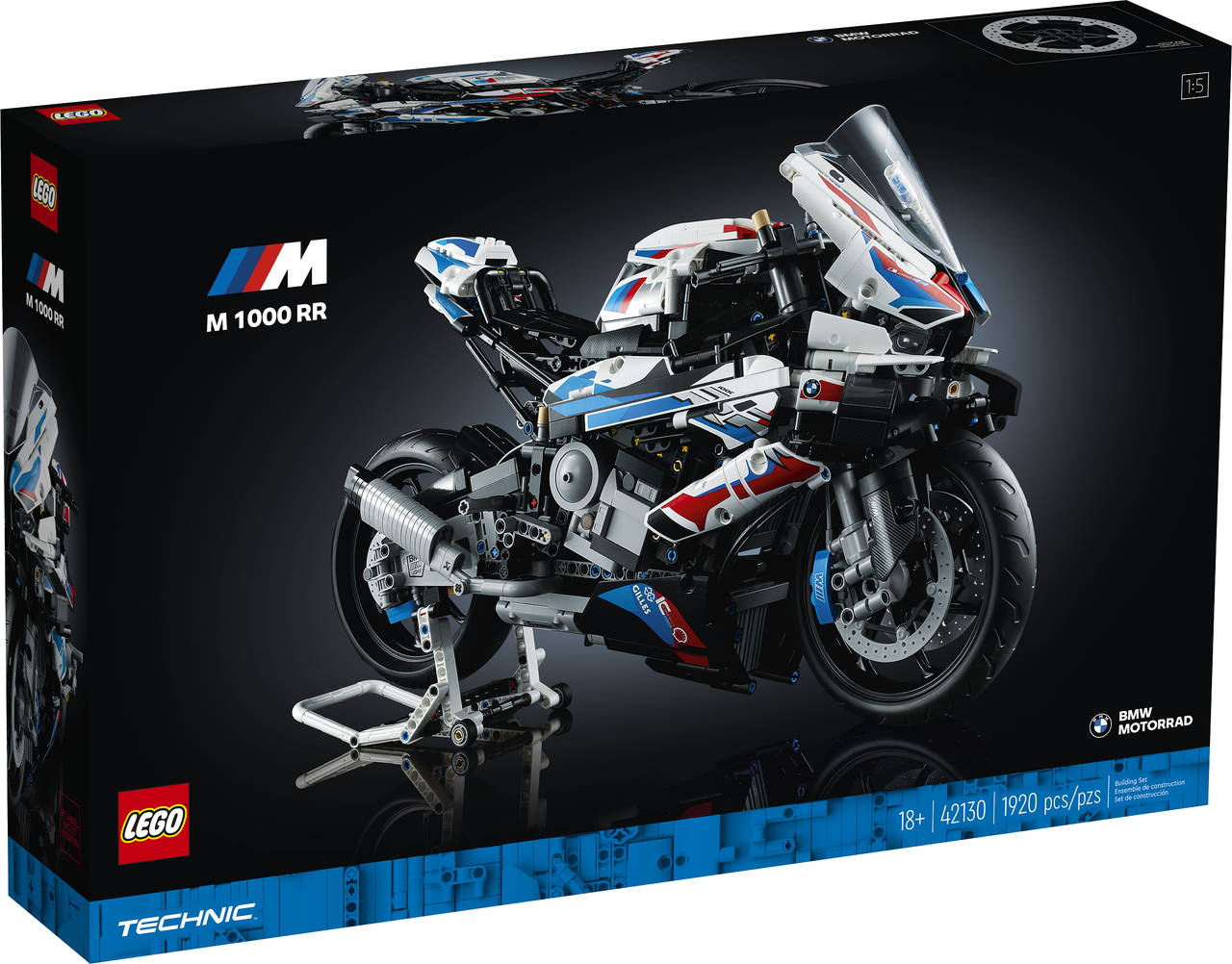 AUTHENTIC FEATURES FOR THE LEGO TECHNIC BMW M 1000 RR SET.

The Lego Technic BMW M 1000 RR set is packed with excellent and authentic details, which help depreciate this set from other Lego sets. These outstanding features also help bring it closer to an actual race bike's original look and build. Let's focus on some of these cool features.
• REALISTIC DETAILS.
The Lego Technic BMW M 1000 RR set is designed by the Lego Technic design team. This fantastic Lego team is known for bringing some of the most realistic vehicle-like features to life. And the BMW M 1000 RR Lego set is no different. This Lego team makes sure to pay attention to even the smallest of details. As a result, the Lego BMW M 1000 RR set was born. Some of the authentic information this set possesses includes 3 – speed + neutral gearbox, front and rear suspension, a steering, chain transmission, 4 – piston engine, and well-detailed tire textures. These features help bring this fantastic Lego set to life and give it its beauty.
• ADORABLE LOOKS.
This fantastic Lego set is realistic and features incredible looks, which makes it an excellent display set. The Lego set features three distinctive colors, white, red, and blue. This set's colors are scattered beautifully and uniquely. The set stand tells the whole story of just what type of bike the BMW M 1000 RR is.
• TOP-QUALITY MATERIAL.
The Lego BMW M 1000 RR is made of the best Lego bricks that fit the company standard. This makes the bricks very easy to work with. The set's bricks are easily detachable and attachable. This means you can easily put them together as you can dismantle them. The bricks have also been tested and proven safe for builders younger than 18.
• SET SIZE.
The Lego BMW M 1000 RR set could be considered a giant Lego set. It contains over 1000 pieces of pure, well-detailed bricks. The Lego BMW M 1000 RR comes with 1920 bricks, almost 2000 brick pieces. Though this set is set to replicate a real-life BMW Moto bike, it is not the same size as its real-life counterpart. The set is about 11 inches high, 7 inches wide, and 18 inches in dimension when fully built. This set's size makes it perfect as a display piece.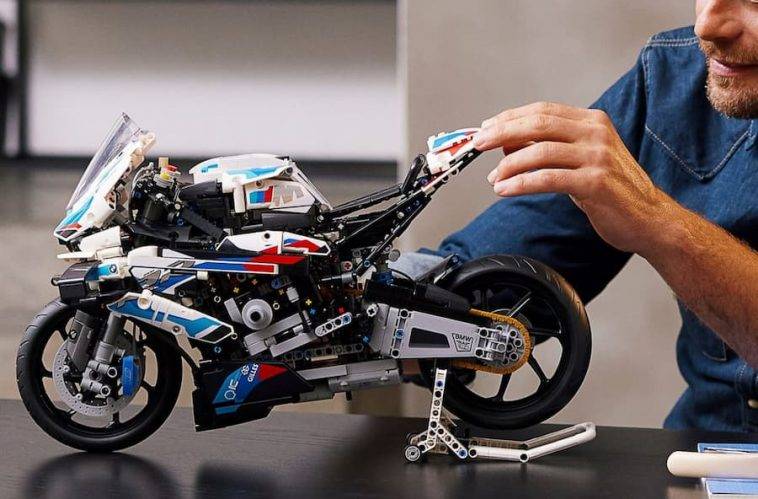 If you live in the US, you can easily purchase this set from Lego stores around your area or the Lego website. If you live in a country where Lego sets are not rampant, it would be best to purchase this set straight from the Lego website. If you decide to buy this set from the website, you should expect to get it at about 299.99 dollars, approximately 300 dollars.
MAKE THIS SET LOOK EVEN MORE CAPTIVATING WITH OUR AMAZING LEGO LIGHT KIT.
The Lego BMW M 1000 RR set is very realistic and offers builders a satisfying build. You could make this set look even more captivating with our Lego Light kite. Our Light kits are designed to fit perfectly and add to the beauty of the set. But before you can add these unique features to your set, you need to ensure your set is entirely built. So once you are done building this set, you can add our special light kits to it. Once the light kits arrive, make sure to inspect them for damages. If any, feel free to make good use of our warranty attached to each light kit. Once all looks good, then you can go further and install.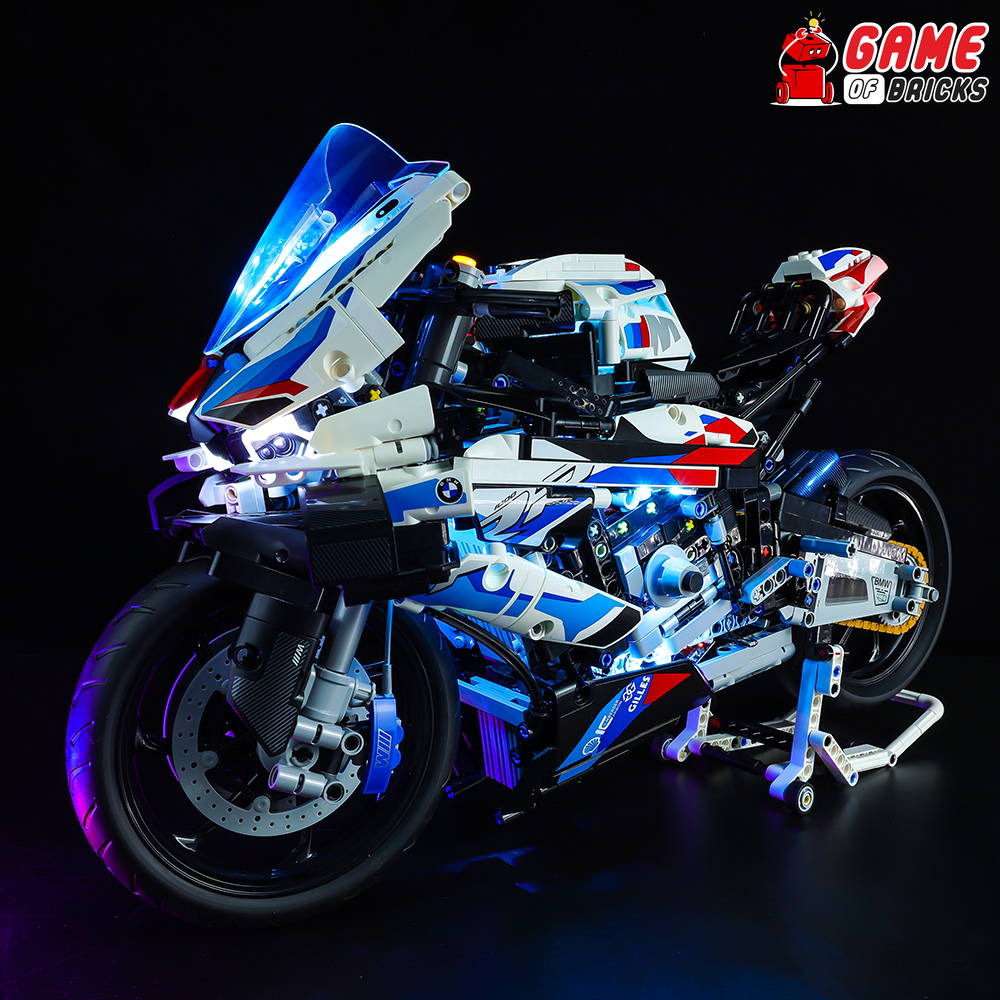 1. HOW TO INSTALL.
Our instruction manual has made installing our Lego light kits very easy. This manual contains step-by-step instructions. This manual would be suitable for those new to our light kit. If you are already used to our light kit, try installing a more advanced kit. Your light kit can get damaged if not handled with care. If you follow all the instructions from the manual successfully, you will successfully install your light kit.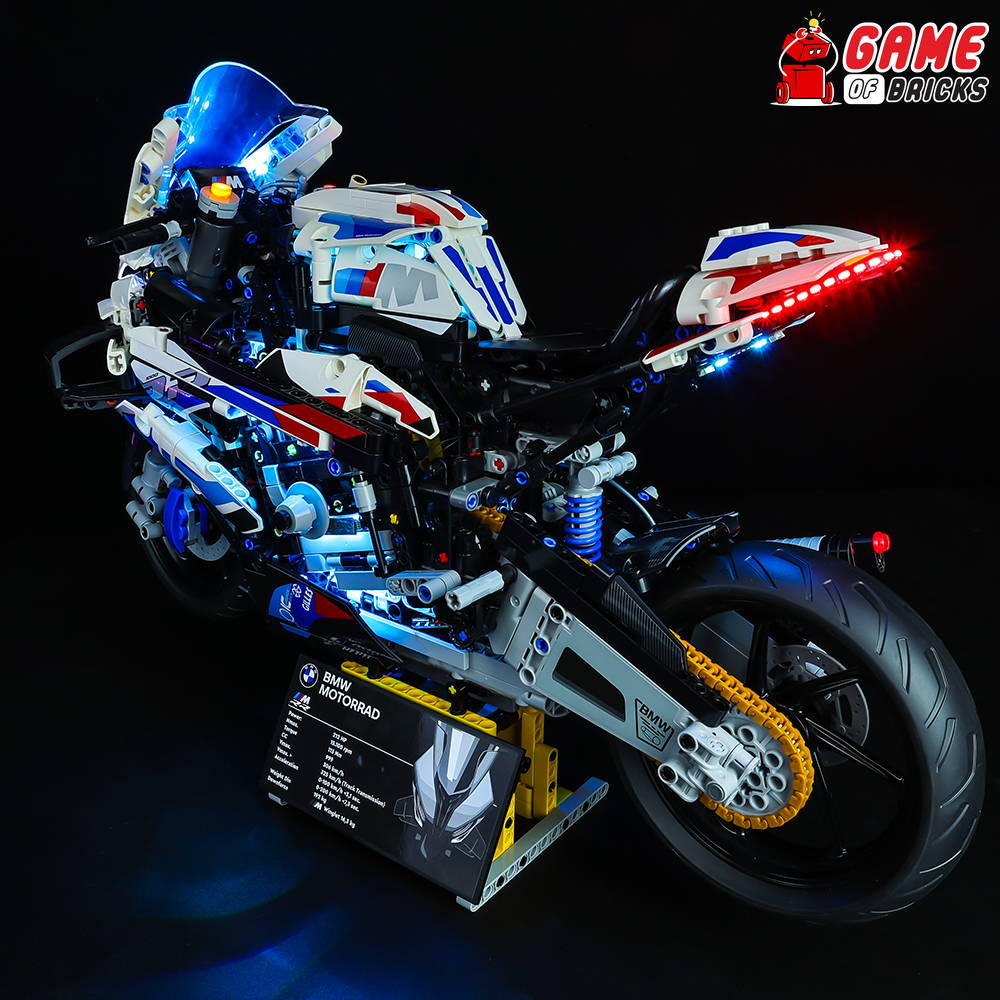 2. TEST OUT YOUR LIGHT KIT.
Immediately you are done installing our Lego light kit, you should take a little time to inspect each light kit and accessories. Check out for traces of sparks and signs of short-circuiting as you review. Your goal is to ensure that your light kits are safe and can be displayed anywhere and at anytime. If you notice anything harmful in your equipment, make sure to replace it or fix it. But if all looks good, then you are good to go. Put your Lego Technic BMW M 1000 RR set on display for all to see.
---