Feel inspired to get your kids presents this holiday with the LEGO Winter Toy Shop 10249 Set.
By

Eve Alessa Arevalo
/
November 23, 2022
The holiday season is fast approaching, and sooner or later, it will be time to get gifts for your friends and family. What better place to do this than a Toy Shop? The Toy Shops are a fun place to purchase lots of cool presents at a lower price this holiday. There are a lot of pros and. Discounts that will help even the most tight-pocket individuals feel free to purchase lots of cool presents. The same is true of the Lego Winter Village. Are you a fan of this amazing Christmas-themed collection? If yes, then you must have been updating your collection. The latest addition to this set's collection is the Lego Winter Toy Shop 10249. This set, an addition to the Lego winter theme collection, is designed in the same format. The set comes with a lot of cool features.

Some of these cool features are found in the additional accessories, which help bring this Lego set to life. Building this Lego set will be a good way to start if you are a fan of Lego sets with lots of cool additional features. The Lego set screams Christmas and is designed to get even the most uninterested person ready and excited for the holiday season. In this post, we will be looking at all you need to know about this Lego set, from its building experience, and all the other cool features the set posses. If this is something you would like to know, be sure to stick around till the end. So, Let's begin by considering why building this Lego set is nothing short of fun.
A FUN BUILDING EXPERIENCE FOR THE LEGO WINTER TOY SHOP 10249 SET.
The Lego Winter Toy Shop set has a very interesting building experience that will keep even kid Lego builders engaged. The set is also very colorful and has lots of cool parts, adding life and beauty to the set. The set also comes with Minifigures and accessories, adding beauty to the set. The set comes with more than 800 pieces used to bring the set to life. With this Let, you will have the major task of building the Toy Shop. But aside from that, you will also be engaging in building other parts of the set. As you build the set, you will notice that there is more to the set than just parts. You would begin to realize the Holiday vibes it gives off. You will also feel the urge to practice giving gifts this holiday season.
Building this Lego set has been made a breeze by the Lego team. They have taken their time to ensure they use a pattern of build that is easy for even kids. This means that adults new to Lego and desperately wanting to partake in this set build are welcome to try. And in case you get stuck, the Lego set also offers a nice instruction manual which will make building the set a whole lot easier. So if you have doubts about whether or not you are ready to build, be sure you can because the Lego team has provided you with all the help you need. So, building the Lego Winter Toy Shop is not only fun but also richly rewarding. But aside from an awesome building experience, what else does the Lego Winter Toy Shop offer? Let's find out next.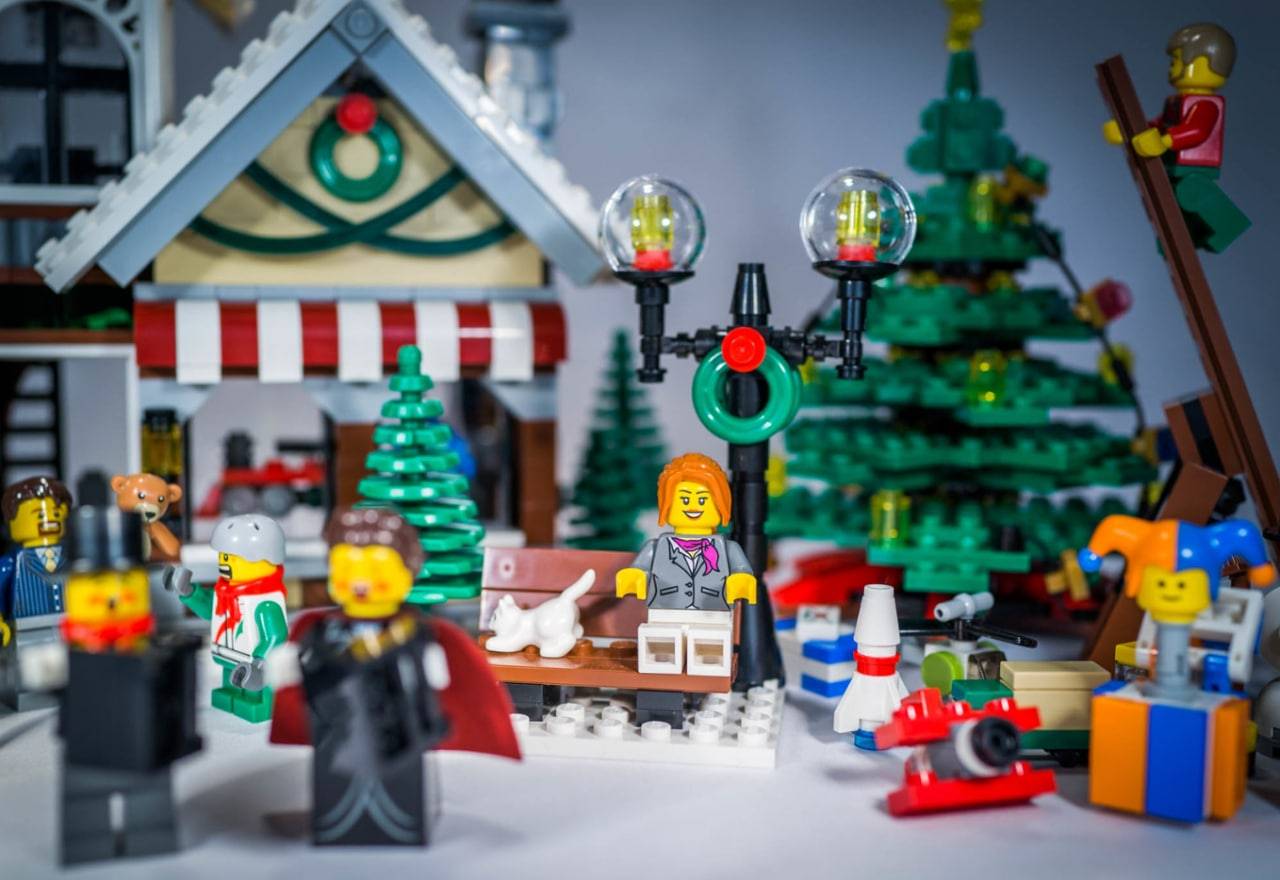 AMAZING FEATURES FOR THE LEGO WINTER TOY SHOP 10249 SET.
INCREDIBLE COLOR THEME.
Since the Lego Winter Toy Shop was originally designed as a holiday-themed set, it comes with lots of bright colors like red, green, and white, which all scream Christmas. The set also features nice detailing, which helps paint a perfect picture. This single feature alone makes the set a great choice for display. Imagine how beautiful this Lego set would be alongside your Christmas décor this holiday season – it will be truly epic!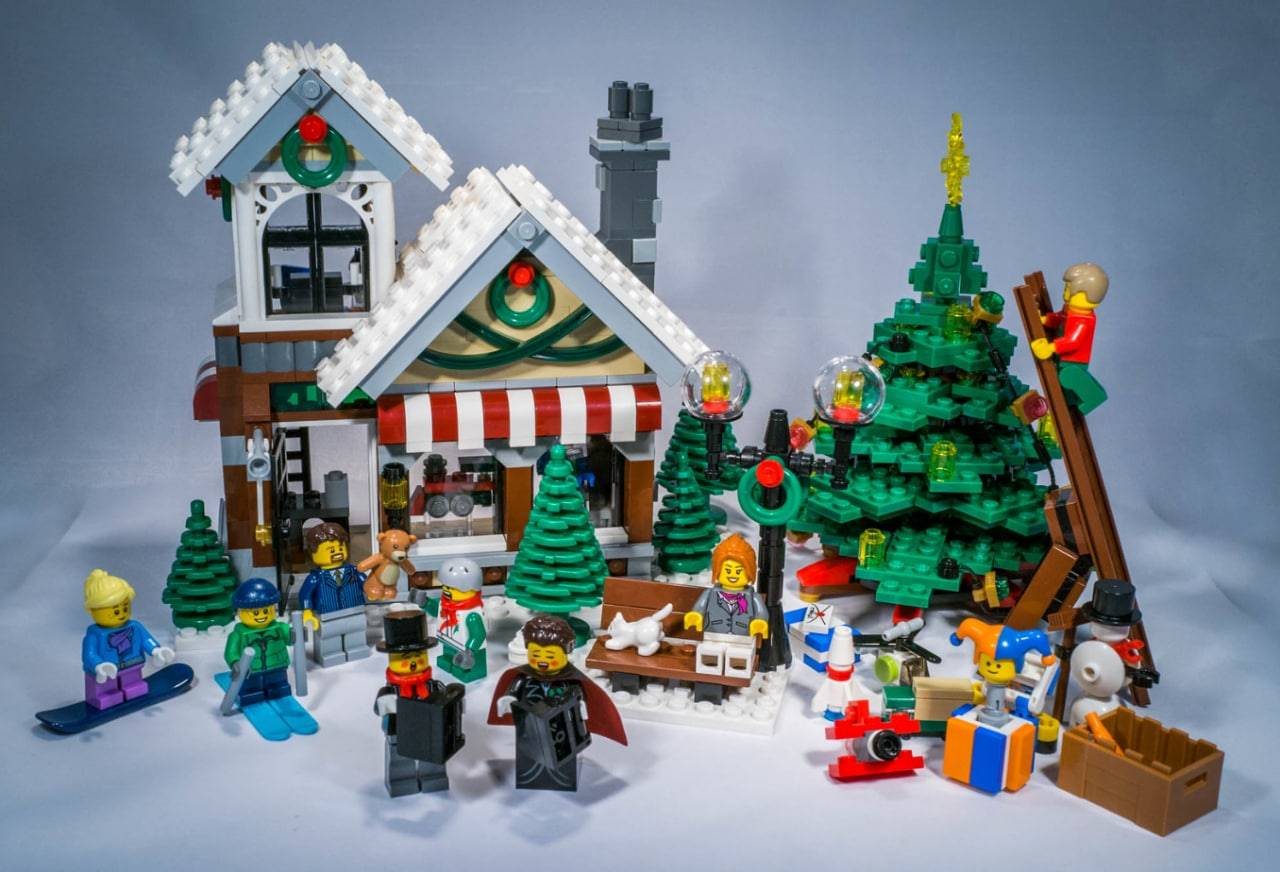 EIGHT MINIFIGURES.
Another cool thing about Lego Holiday Themed sets is their Minifigures, and this set has eight of them. These Minifigures include a Carrol man and woman, two men and boys, and a woman and a girl. These eight Minifigures help bring light to the set and open you to a world of other possibilities. Yes, with this cool feature, you can play about recreating the best holiday experience of your choice. It also helps spice up your display giving you a free hand to set the scene's mood. And the Minifigures are also helpful when displaying other Christmas-themed sets with little or no Minifigure.

TOP QUALITY MATERIALS.
The Lego Winter Toy Store set is also made from the best materials. This means that the Lego team has taken the time to ensure that all parts used for the building of this set function properly. They have also done their best to ensure the set is safe and fit for young kids to build. They have done this by only including tiny brick pieces when necessary. So if you are looking for a safe and durable set, then this Lego set is just the one you need.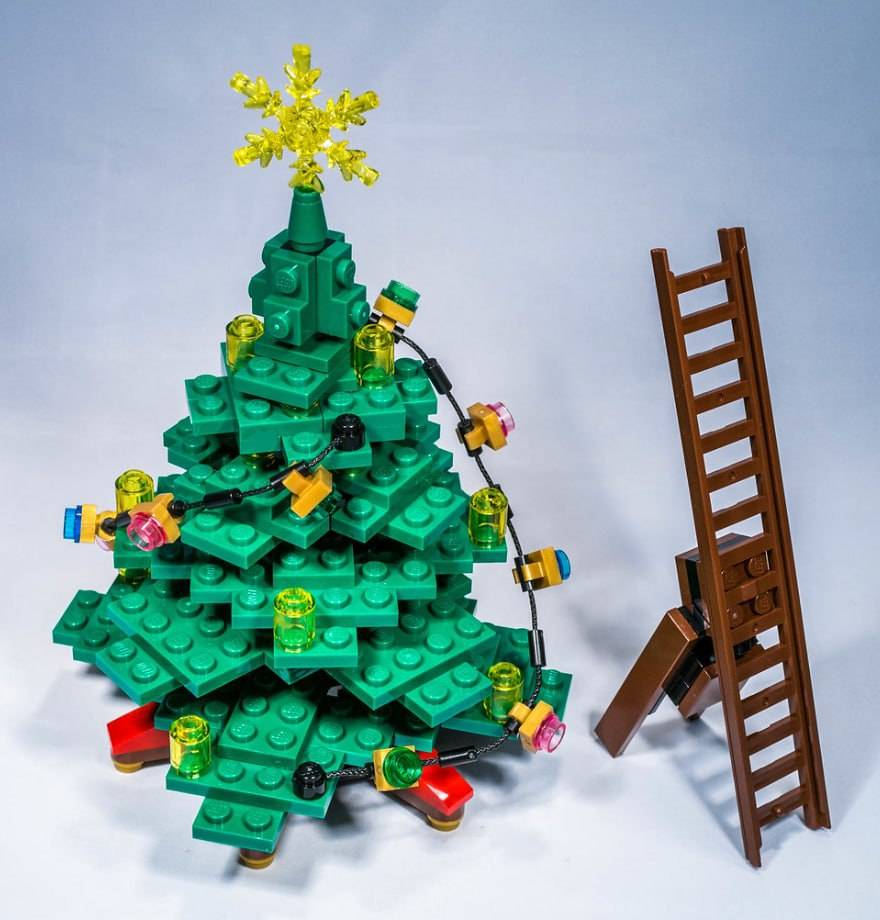 SET SIZE.
The Lego set could be considered a small project. The set comes with a total of about 867 pieces. These brick pieces include pieces for the Minifigure. Though the set is a small project, the scaling is quite sizable. When putting together, the Lego Winter tree measures about 6 inches high, 7 inches wide, and 3 inches deep. The set also comes with a holiday tree. When the tree is fully built, it measures 5 inches high, 4 inches wide, and 4 inches deep. This makes the set an awesome display model.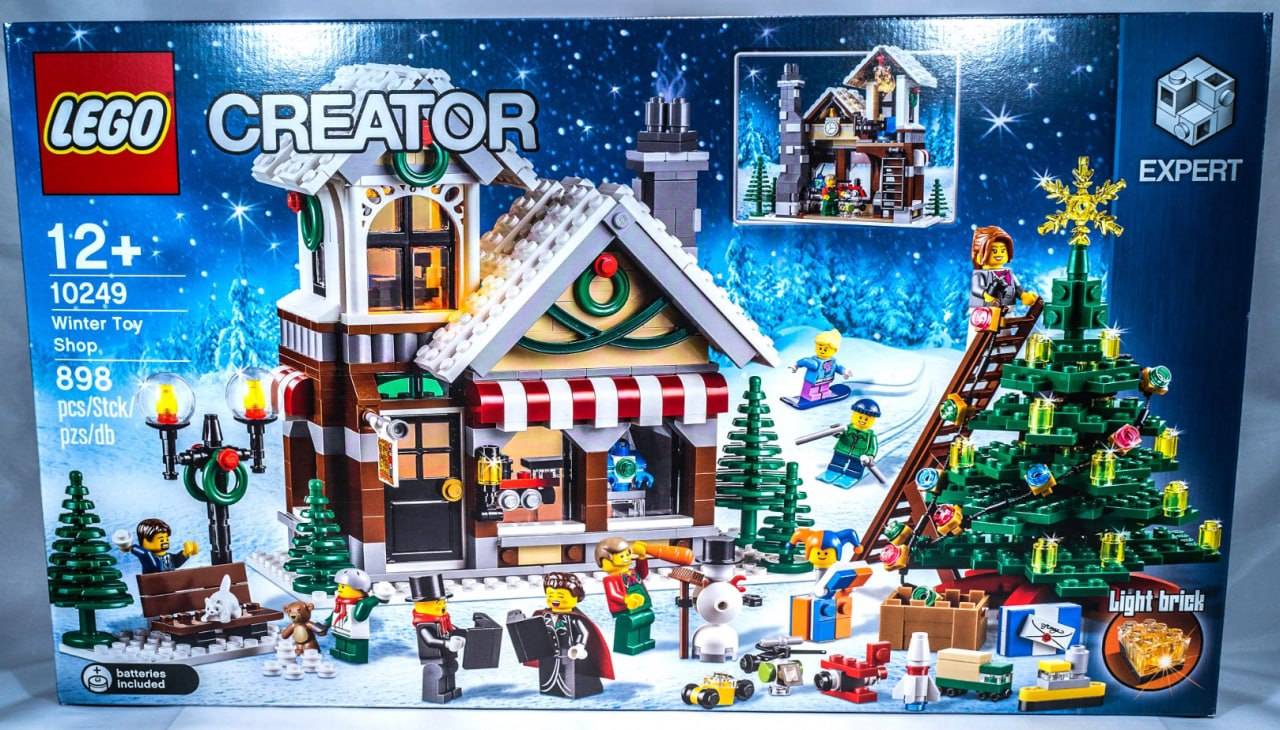 SET PRICE.
This Lego set is no longer available on the Lego website and in Lego stores all over the country. This is because the set is already a retired product. But you can still get this set if you are willing to pay more. You can buy the Lego set at a retail price from collectors and other fans who own one and is willing to sell it. If you own one of these sets and are willing to sell them, be sure to sell them reasonably to allow other users to benefit from the set. If you can successfully get your hands on one f these sets, we hope you welcome the idea of attaching our light kits. This would give you an immersive experience as you display your set.

INSTALL OUR LIGHT KITS IN YOUR WINTER TOY SHOP TO HELP IT STAND OUT.
Like the above statement denotes, our amazing light kits are designed to help each Lego set to reach its full potential and stand out. Our lights are made with Led properties which help them shine. They are affordable and can be bought by all Lego fans regardless of class. And what is more, this section will consider some information that will help any Installer become successful working with our light kits. So if this is something that interests you, stick around.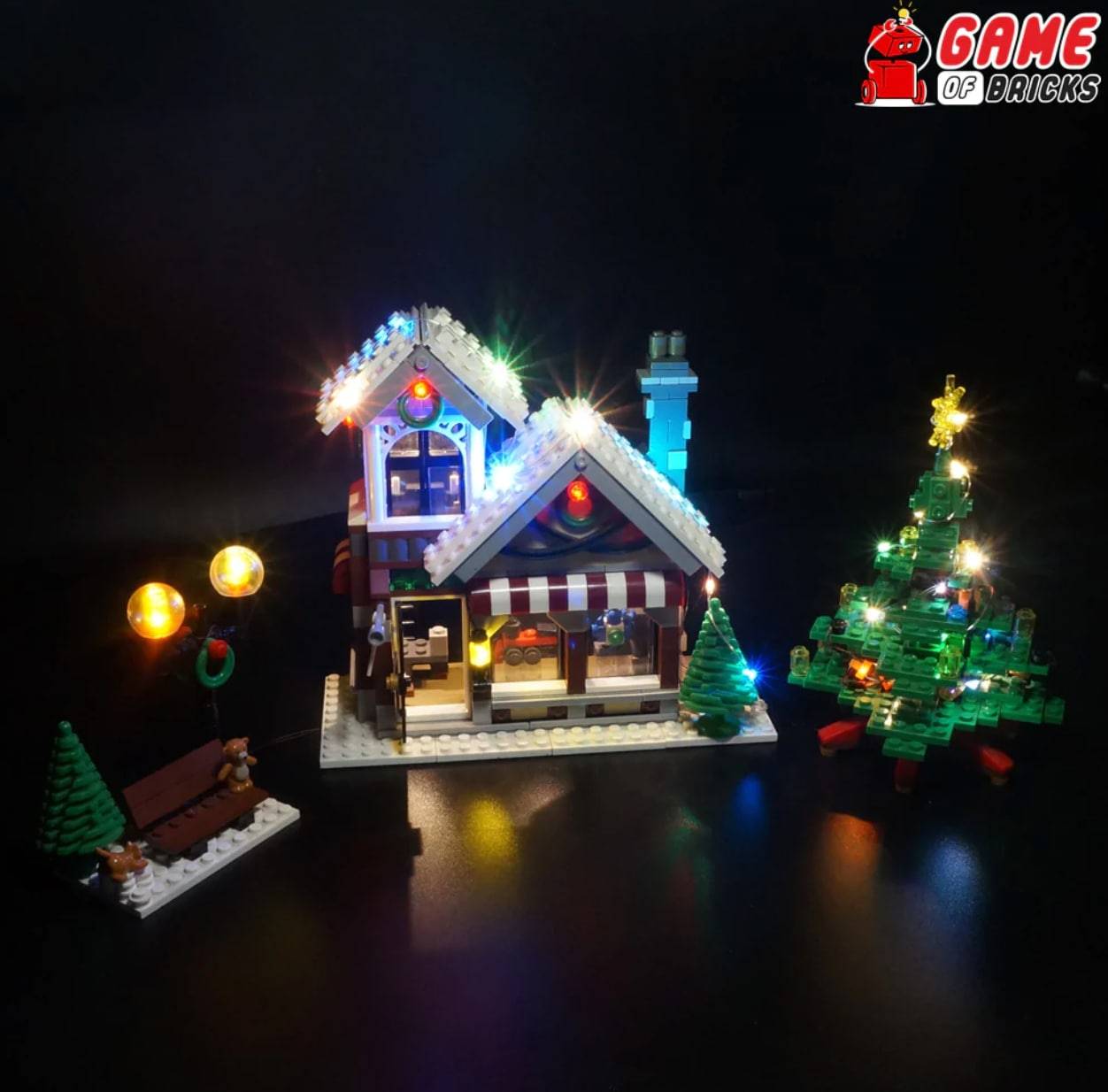 INSPECT AND INSTALL.
Once all your light kits have arrived successfully, make sure to take your time to inspect all of them carefully. This is very important because it is common for your light kits and accessories to get damaged during shipment. Use your light kit warranty card to request a replacement if they do. But if, after your inspection, all looks good, then you could go forward with installing.
The installation process has been made much easier by including an instruction manual. If you follow the instructions from the manual carefully, you will complete the installation of your light kit. As you install, handle each light kit and accessory with care. This would help ensure that each light kit and accessories stay intact during installation. Our Lego light kits are very easy to install, and with the help of the manual, they shouldn't take you much time.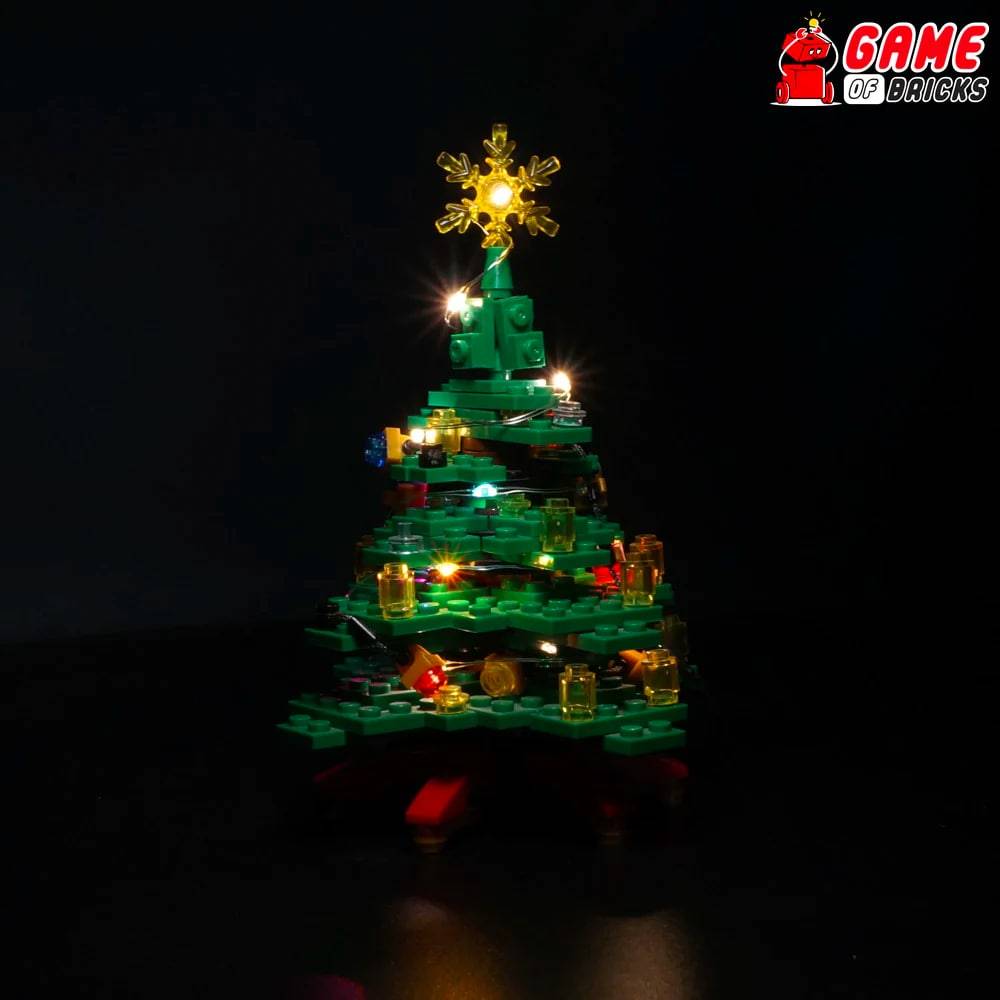 RUN TEST ON INSTALLED KITS.
Once you install all light kits and accessories, run tests to ensure they are safe for all to see. As you inspect, watch out for signs of short-circuiting. Also, make sure check to make sure you have installed works properly. Check the battery life and ensure it is strong enough to support the running of your light kit. Once all your checks are completed and all looks good, you can finally show off your Lego Boutique hotel for all to see.