Enter a world of unending fear with the LEGO Venom 76187 Set.
By

Mark Gini
/
October 11, 2022
The Marvel character called Venom has sufferedlots of contradictions throughout the Marvel movie Franchise. From 2010-2015 weknew Venom as the villain of Spider-Man. But then, when Marvel gave Venom hismovie, things drastically changed, and Venom suddenly became a Marvel hero.Since the alien Venom is a parasite that needs a host to survive, we have seenthe host of this alien parasite change from time to time. We have also noticedthat the parasite's behavior is often determined by the host it inhabits. Andsince the human host of the new Venom parasite has a relatively good heart,Venom's evil tendencies are somewhat subdued. So the Marvel character that wasonce hated by many Marvel fans is slowly becoming loved and respectedthroughout the Marvel Cinematic Universe.

The Venom movie was so successful that it madeover 854 million dollars worldwide, including over 200 million dollars in Chinaalone. Were you among the many Marvel fan who contributed to this anti-heromovie's success? Would you like to own a souvenir of this epic blog-bustermovie? Well, you can with the Lego Venom (head) 76187 set. This Lego set comeswith lots of cool details that are striking and very well-detailed. The set hasdetails that will be fun for any Lego fan to put together. Do you have kids whoare huge fans of Venom movies? If yes, you can consider getting them this Legoset to help keep them fun and engaged for long periods. Like any other Legoset, the Venom set is designed to help build healthy brain stimuli in kids andadults. But you might still be having doubts as to whether you should get thisLego set or not. This post will examine everything you know about the LegoVenom ( head) 76187 set. Let's start with the off with the Lego buildingexperience.
AMAZINGBUILDING EXPERIENCE FOR THE LEGO VENOM (HEAD) 76187 SET.
The Lego Venom headset comes with over 500pieces which Lego builders will use to bring this set to life. The set comeswith zero stickers which are good news to fans who are not fans of stickers. Nostickers mean that builders will only focus on bringing this brick set to lifewill all brick pieces are given. The set pieces are well arranged into threenumbered bags containing all the set's pieces. You will start up your buildingwith bag one. Both bags numbered one, are used to build the base to the neck ofthe set. Then with the second and third numbers bag, you get pieces used tobuild both the set's head and teeth. The set even has a drool element featurein the mouth, achieved with the help of Lego elements. Though this Lego setcomes with over 500 pieces, building the set can take some time to complete. Soto get the best out of your Lego set, it will be best for you to clear yourschedule. Doing so will give you the best experience possible.
The Lego Venom (head) set is rated an 18+ set,so if you are new to Lego sets, it may be hard to put them together. To gainexperience before building this set, use Lego sets that are much easier tobuild. Once you have gained a little experience from building smaller sets, youcan move over to bigger sets with more details of which this set is one. And tohelp make your building experience even better, Lego has provided you with aninstruction manual. The instruction manual contains valuable on how to build thisLego set successfully. Diagrams and illustrations accompany this Instruction ateach stage. So you can know what stage you are in your building. Whether youare old or new to this set, you can benefit greatly from building it. And thisLego set comes with an awesome display. Aside from an amazing buildingexperience, this Lego set also has intriguing features. Let's look at some ofthese features.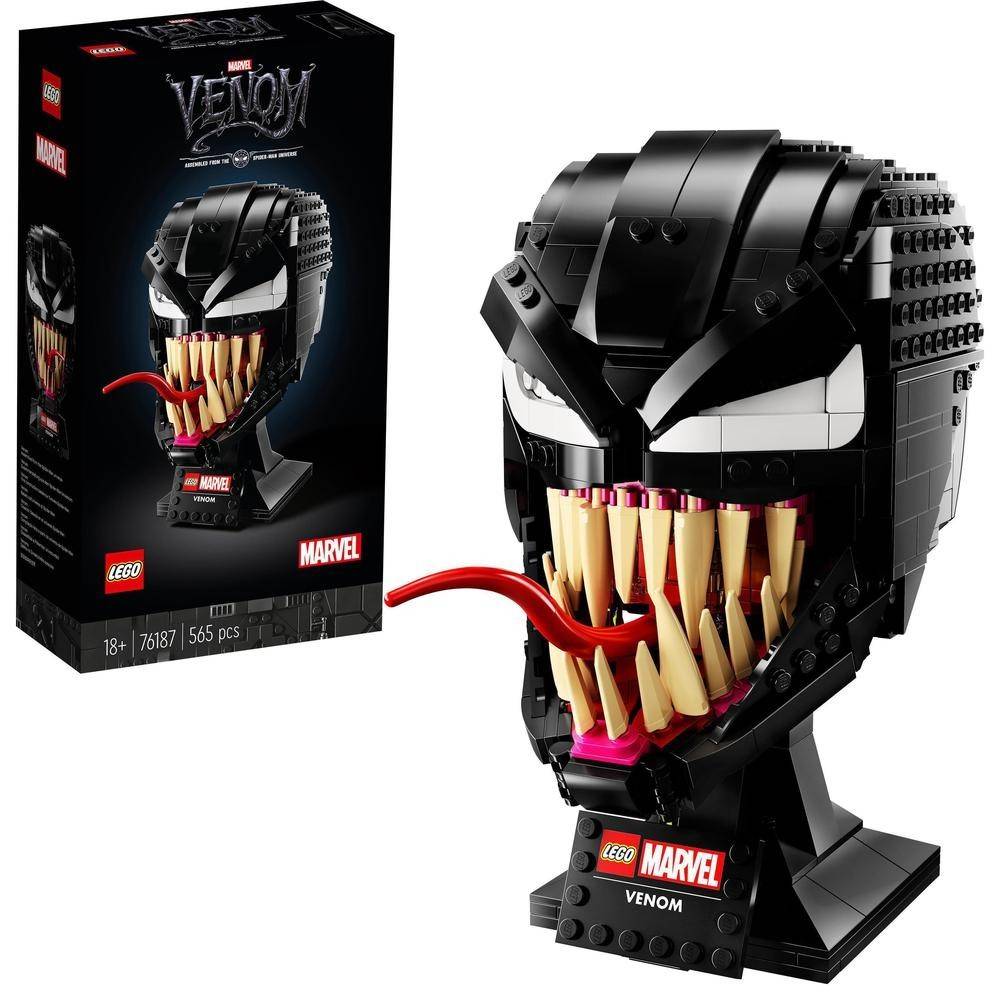 AMAZINGFEATURES FOR THE LEGO VENOM HEAD 76187 SET.
● COMPLETE DETAILS.
The Lego set has many cool details that makeit look close to the original Venom. The Lego set design is from Venom in TobeyMaguire Spiderman 3. The set contains all the features found in that particularVenom, including the Green colored drool and, of course, the long tongue. Thetongue can also be positioned in whichever way makes you feel better. So ifthese features are something you will love, make sure you rush and get yourselfbefore it is retired.
● BUILT FOR DISPLAY.
The Lego Venom Headset is a set built fordisplay. The set features many elements that make it display-worthy andcontribute to its overall look. These display features include a good colorscheme, a stand, and a board containing all information about this Lego set.The set's size is also very portable and adds to its display capabilities. Ifyou are a fan of collectibles and display Lego sets, then this Lego set shouldbe on the top list of sets you should be planning to get this month.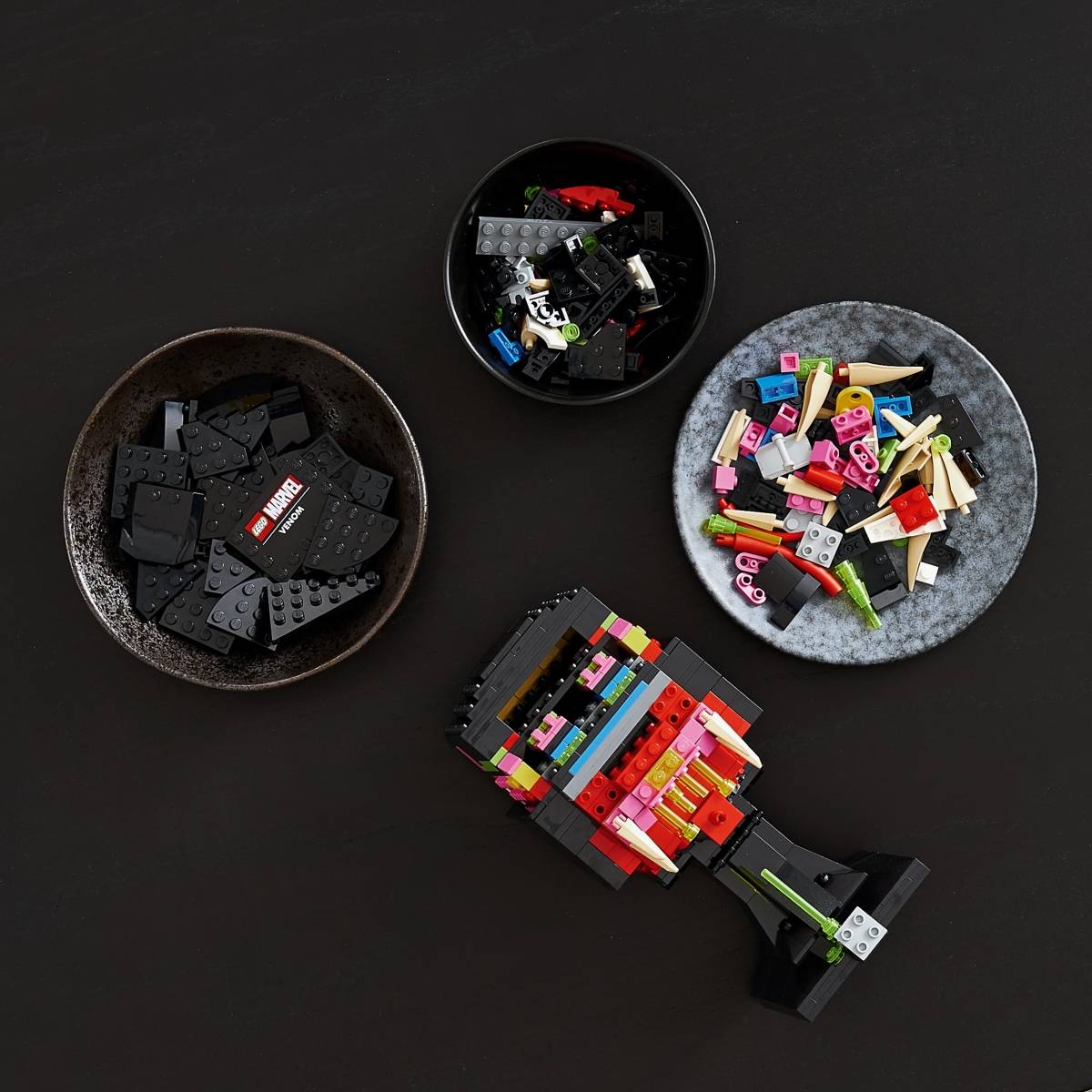 ● TOP QUALITY MATERIALS.
The Lego Venom headset catches the eye becausethe Lego team took their time to ensure that every material used in making theset has been tested to ensure that they are not only detailed but of the bestquality. This has been ensured by a team of quality control personnel whoensure that every set meets the Lego requirements for safety and efficiency.This means that you can expect the best experience building with this Lego set.The Lego team has done its best to ensure each brick piece is compatible. Theyalso ensure that they are user-friendly. So you have assured a set that willstand the test of time.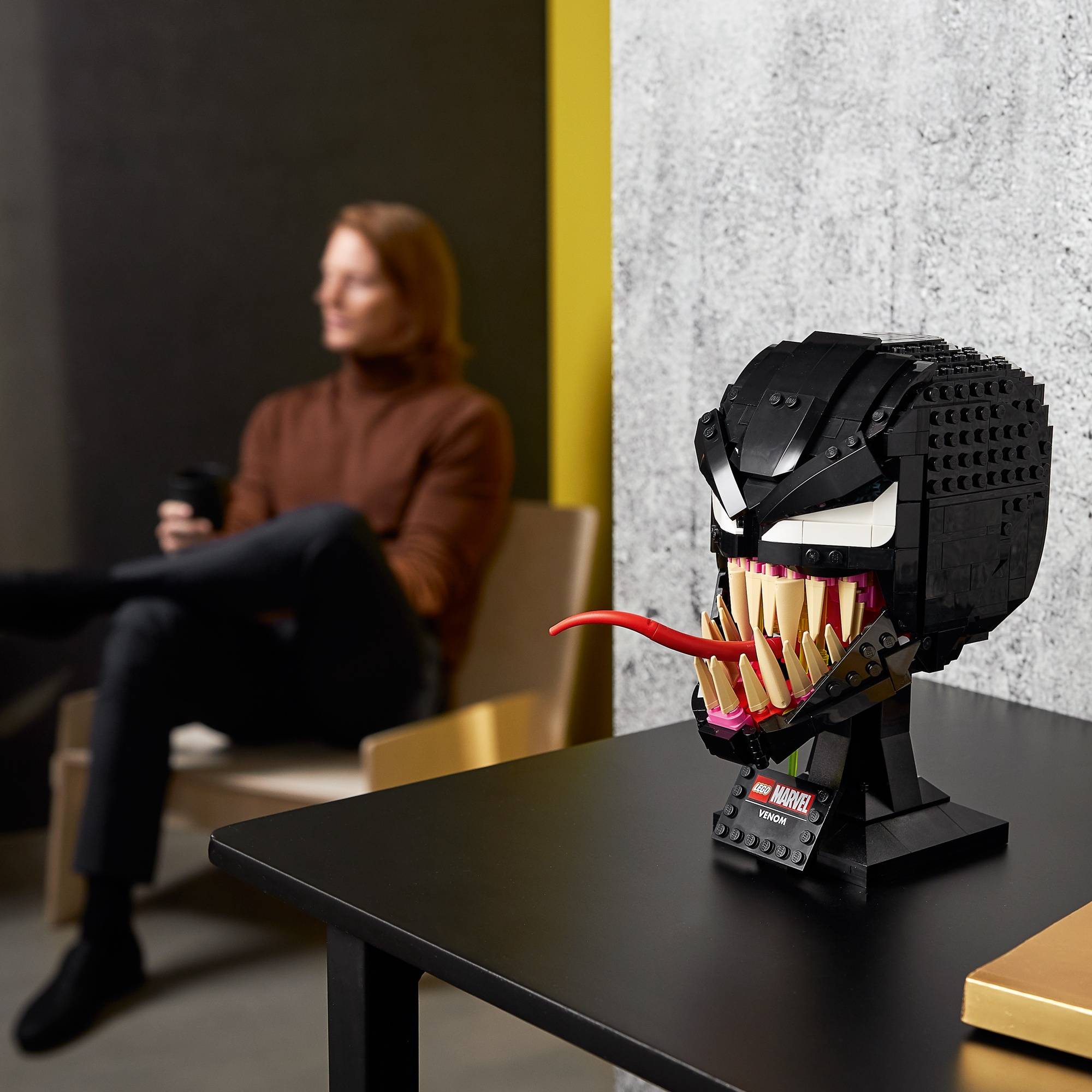 ● SET SIZE.
The Lego Venom set can be described as amedium size set. The set comes with a total of 565 brick pieces. Whencompletely built, the Lego set measures about 7 inches high, 3 inches wide, and7 inches deep. The set's size makes it very portable and easily displayable.The set's size makes it fit perfectly in any environment.
● SETS PRICE.
You can purchase the Lego Venom set directlyfrom the Lego website or any Lego store in your area. You can also buy the Legoset from online stores like Amazon and Brick City. The Lego venom 76187 setsare currently sold for about 69.99 US dollars. This price might come as asurprise to some who have seen this set completely built. The set is priced atthat price because it has less than a thousand pieces. When getting this set,ensure to include our light kits in it. Why? Let's find out.

MAKEYOUR LEGO VENOM SET LOOK FIERCE WITH THE HELP OF OUR SPECIAL LIGHT KITS.
The Lego Venom set already looks very awesomeand well-detailed. But you could make this Lego set look even more breathtakingthanks to the help of our light kits. Our light kits are designed for Lego setsand can be purchased from our website, here at Game of Bricks. If you are newto our Lego lights, you might find it a bit challenging to install. Here are sometips that can help.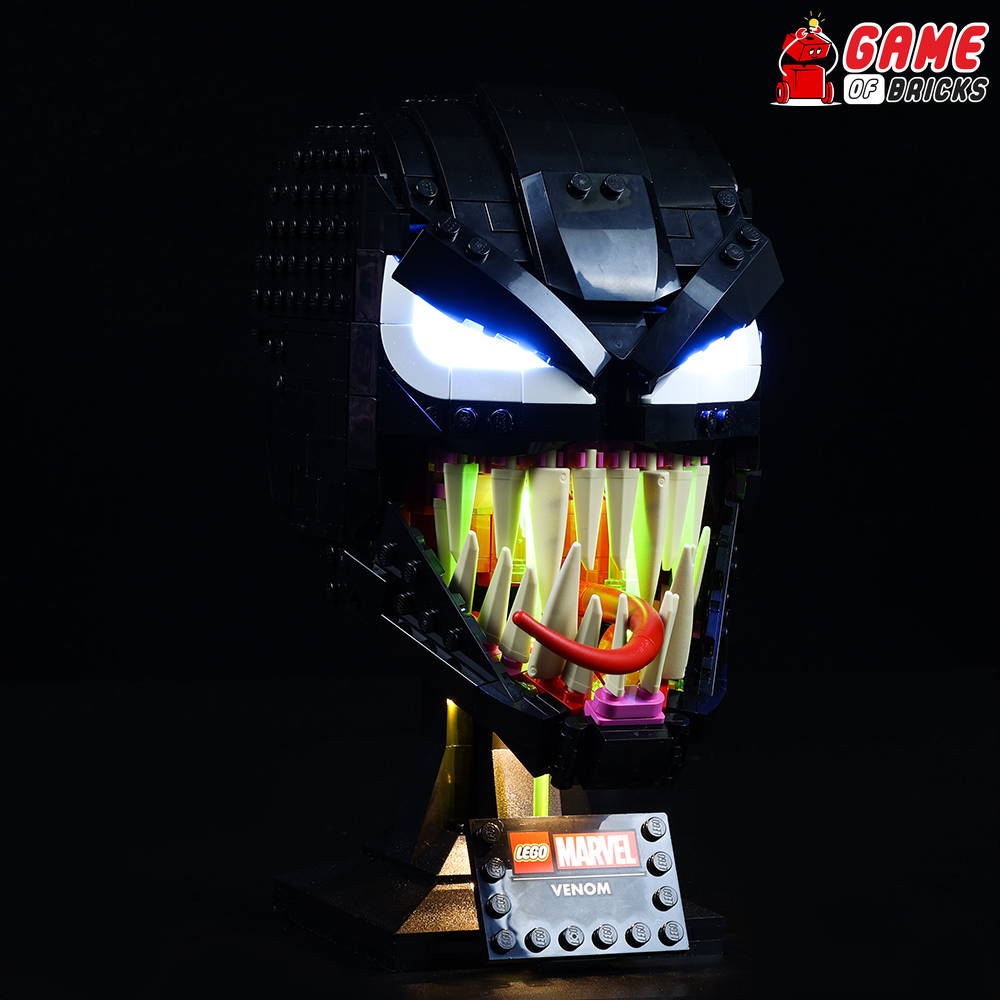 1. INSPECT.
Before you begin using our light kits, it would be best for you to take some time to inspect them. Our light kits are very delicate and can sustain some damage during shipment. And to ensure that your light kits are in good condition and would not cause building complications, it would be best to take time to inspect them. Once you are sure that your set is safe, you can go ahead and install it. But if you notice any problems with your Lego set, make sure to request a replacement using your warranty card.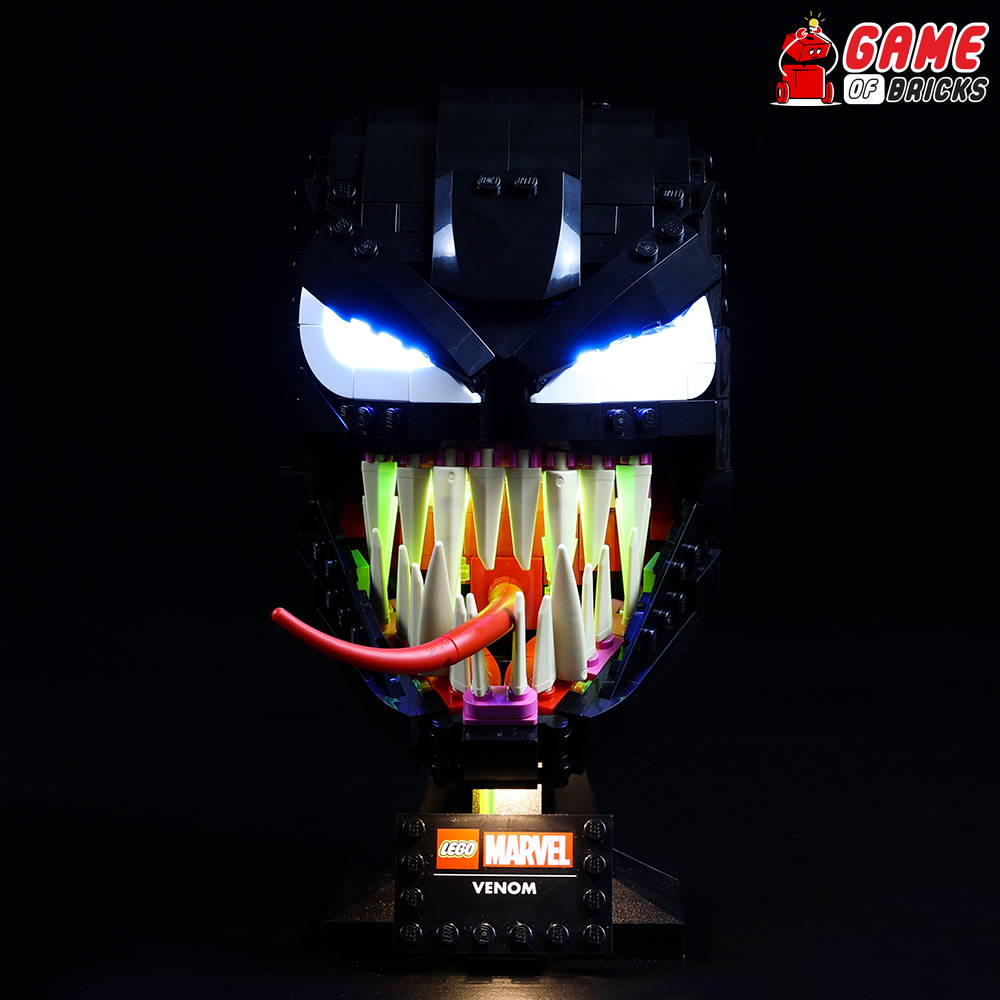 2. INSTALL.
Once you inspect your light kits, it's time to install them. To succeed in this process, it would be best to use the instruction manual. The manual would ensure you do not run into any roadblocks while installing. If you follow the instructions from the manual carefully, you will surely succeed.
3. TEST RUN.
Now that you have completed the installation of your Lego lights, it's time to test-run it. This is to ensure your light kits are safe and working perfectly. So search out for signs of short-circuiting. This would help you quickly spot any damages. Once you have spotted damage, be sure to fix it. Once your set is in perfect condition, put it on display for all to see.