Recreate an architectural gem when you build the LEGO Solomon R. Guggenheim Museum 21035 Set.
By

Eve Alessa Arevalo
/
December 21, 2022
The City of New York is wonderful, with lots of cool scenery, which makes it a great place to visit during your holiday. New York has been tagged as a city that never sleeps. But that is not the unique thing about this City. Like other Metropolitan cities, New York is known to have amazing tourist attractions like restaurants, Hotels, Beaches, and even Islands. New York is also known for the amazing way it approaches architecture and cultural diversity. But among all the architectural brilliance located in New York, few are as brilliant as the Solomons R. Guggenheim Museum. This impressive Museum not only offers tourists architecture to feast their eyes on, but it also contains the artwork of Guggenheim. The design of this iconic building is a result of the architectural brilliance of Frank Lloyd Wright. The first director Guggenheim Foundation personally requested him to design this Museum's structure, and her name was Hilla Von Rebay. She was aware of their talent of Lloyd and how his architecture was closely connected to nature and the arts.

The Museum was built in 1959, and since then, its popularity has grown and it has become one of the most popular buildings in New York and has brought many tourists. The Museum expresses art and nature. Inside and out. Many who have visited this Museum say that the structure of the Museum resembles a cupcake. But unfortunately, though, Frank Lloyd Wrights died some months before the completion of this great project and never got to see its true beauty. If you have been to this amazing Museum, you would surely wish to have a replica of this building for display. Getting a painting or picture of this set is a good idea. But you could get the Lego Solomon R. Guggenheim Museum instead. Why? Because with this Lego set, you get a replica of this historical building and the chance to build it yourself from scratch. If you are a true lover of this building, this is an experience you would not pass up for another. This post will consider everything you need to know about this set and why getting it is a good idea.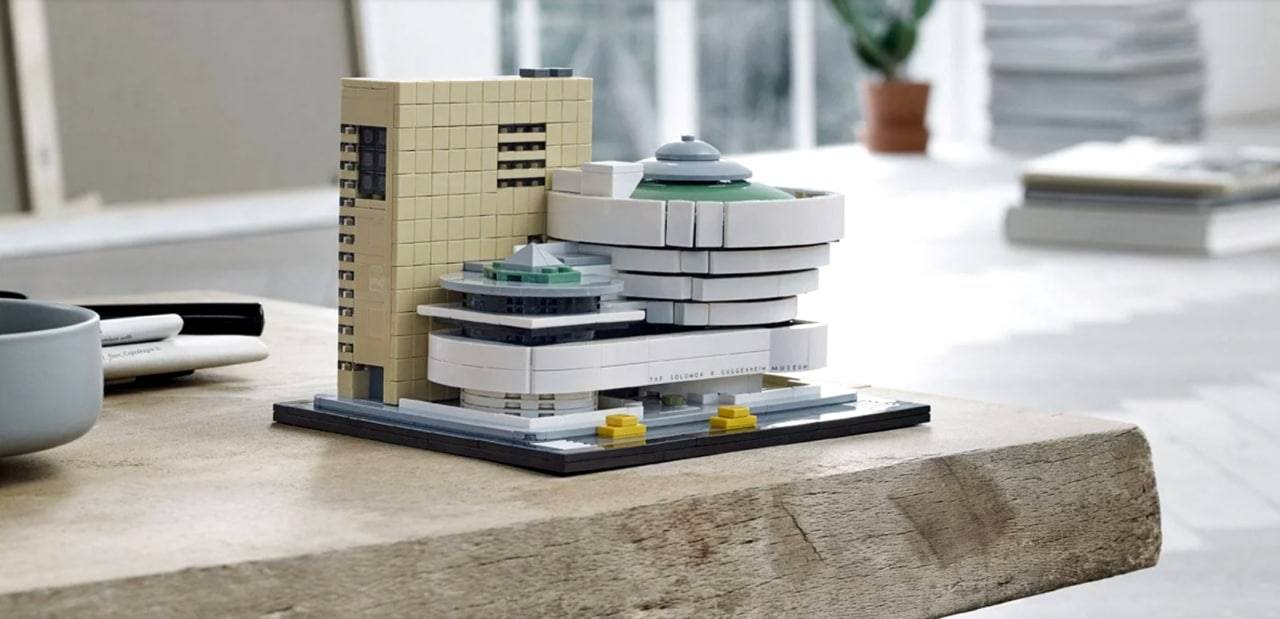 A BREATHTAKING BUILDING EXPERIENCE FOR THE LEGO SOLOMON R. GUGGENHEIM MUSEUM 21033 SET.
The Lego Solomon R. Guggenheim Museum is designed to replicate the real-life building perfectly. This could only be achieved using a series of Lego building Technics. Lego especially used these technics to Replicate the curves throughout the Lego set. The Lego set has over 700 brick pieces arranged into transparent nylon bags. The building of this set starts from the building of the black base plate. It is from that base plate the whole foundation of the set rests. Although the set comes with many curves, it also has some very straight and plum elements, which adds to the details and beauty of the set. So to get the most out of building this Lego set, it is best to take your time to build it. We recommend you set aside specific time for the building work. Doing so will help ensure you have enough time allocated for the building and would not need to rush through it. The building work can be very long and stressful, so if you want to get a lot out of it, you can stand and walk about anytime you feel stretched.
Because of the number of details present in this Lego set, it would be difficult to put it together without the help of the instruction manual. This manual contains instructions on how to build this Lego set and valuable information about the Solomon R. Guggenheim Museum, pieces of information you would find eye-opening. So if you run into any problems when you begin building your Lego Architectural set, feel free to consult the set manually. Overall, the Lego Solomon R. Guggenheim Museum set offers a very technical and satisfying building experience. And at the end of the day, you also get a very impressive display set that is clean and finished from every angle. But besides having a great building experience, what else does this Lego set offer? Let's find out next.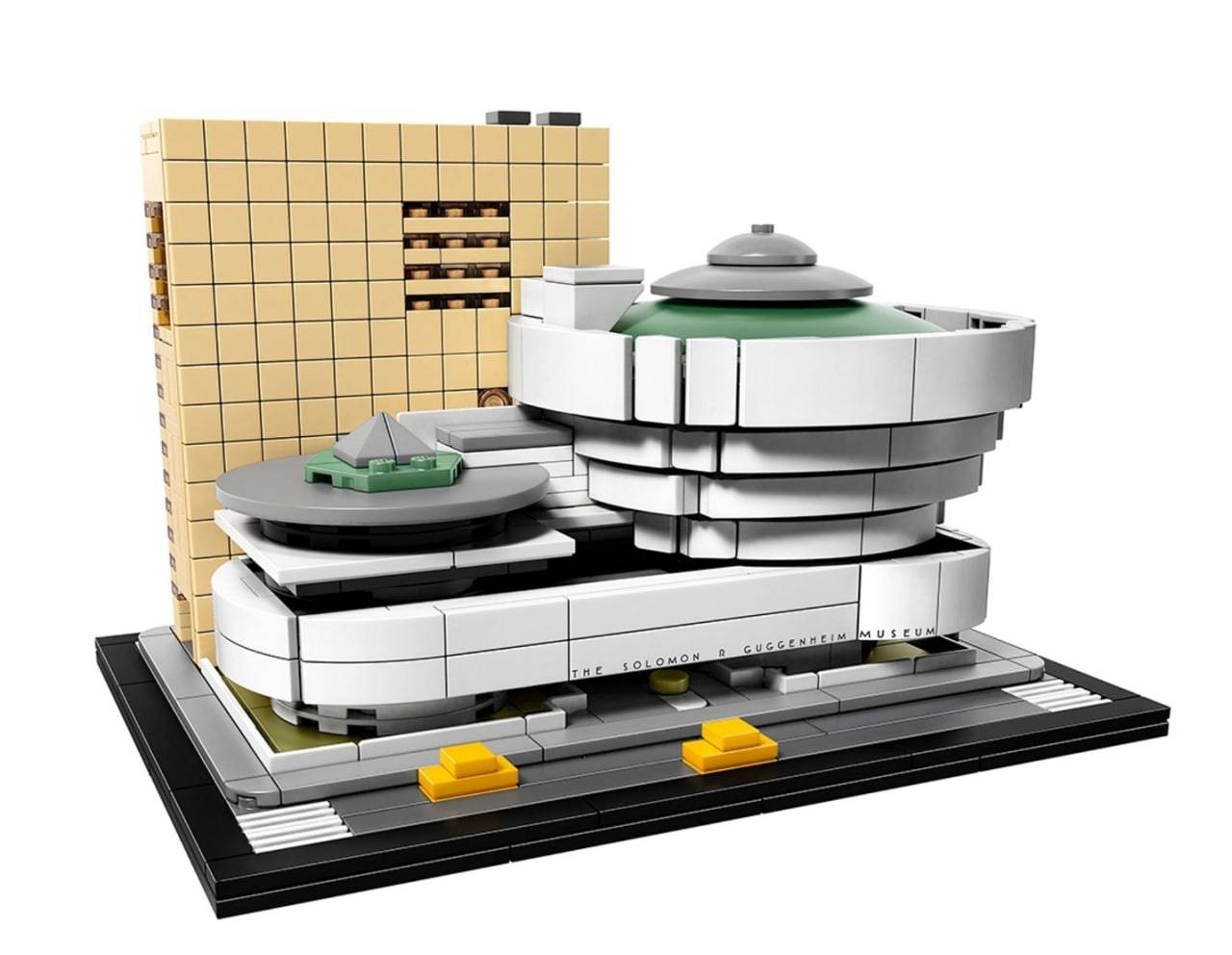 AUTHENTIC FEATURES FOR THE LEGO SOLOMON R. GUGGENHEIM MUSEUM 21033 SET.
A DURABLE SET.
This is a feature that is common among Lego architecture sets. The Lego Solomon R. Guggenheim Museum set is very sturdy and highly durable. This is because the set is designed using top-quality pieces. You will immediately notice the set's durability when you open the box. Another important thing to note is that when the set is completely built, there is nothing flimsy about it. This means you could easily carry the completely built set without fear of parts falling out. This means you could take this set on short trips and experiment with the right places to display the set easily.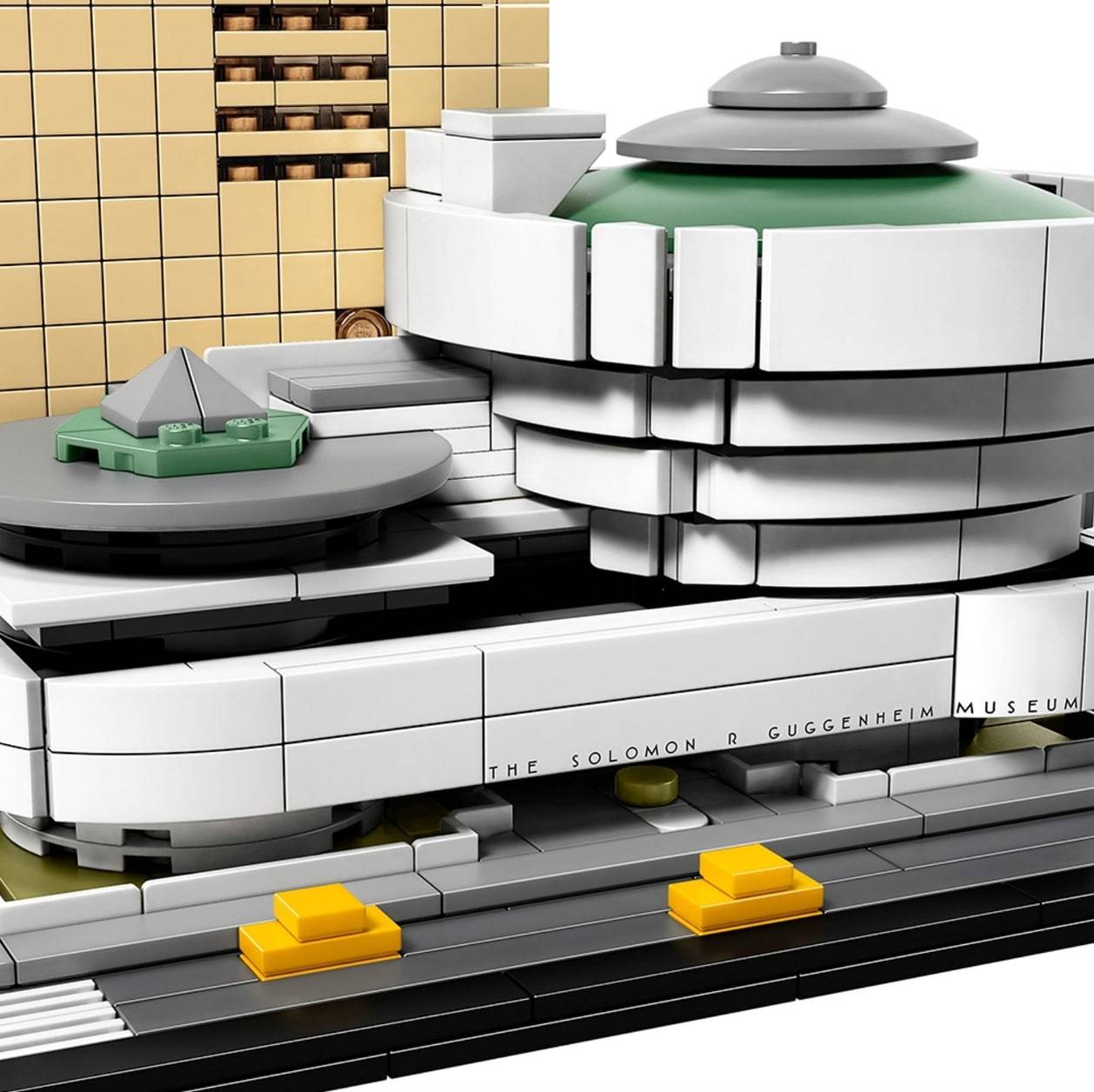 A DISPLAY SET.
Unlike some Lego Architecture sets, which may offer opportunities to recreate epic scenes, this set is purely for display purposes. You could only make the set look more impressive by finding a way to fit the set into your Lego city. Besides that, you can only display this set on its own. Though that is not great, it is okay too. As a display set, the Lego Solomon R. Guggenheim Museum set lacks nothing. The set is packed with lots of authentic eye-catching details and depth, which makes it good to look at. Plus, the set is clean from every angle, which means that no matter where you look at the set, you will be left speechless.
SET SIZE.
The Lego Solomon R. Guggenheim Museum comes with 744 pieces used to build the entire set. The set is pretty sizable and can comfortably be displayed in the corner of your center table. This is because the Lego set measures 4 inches high, 7 inches wide, and 5 inches in dimension. Enjoy having multiple display options with a Lego set that makes it portable.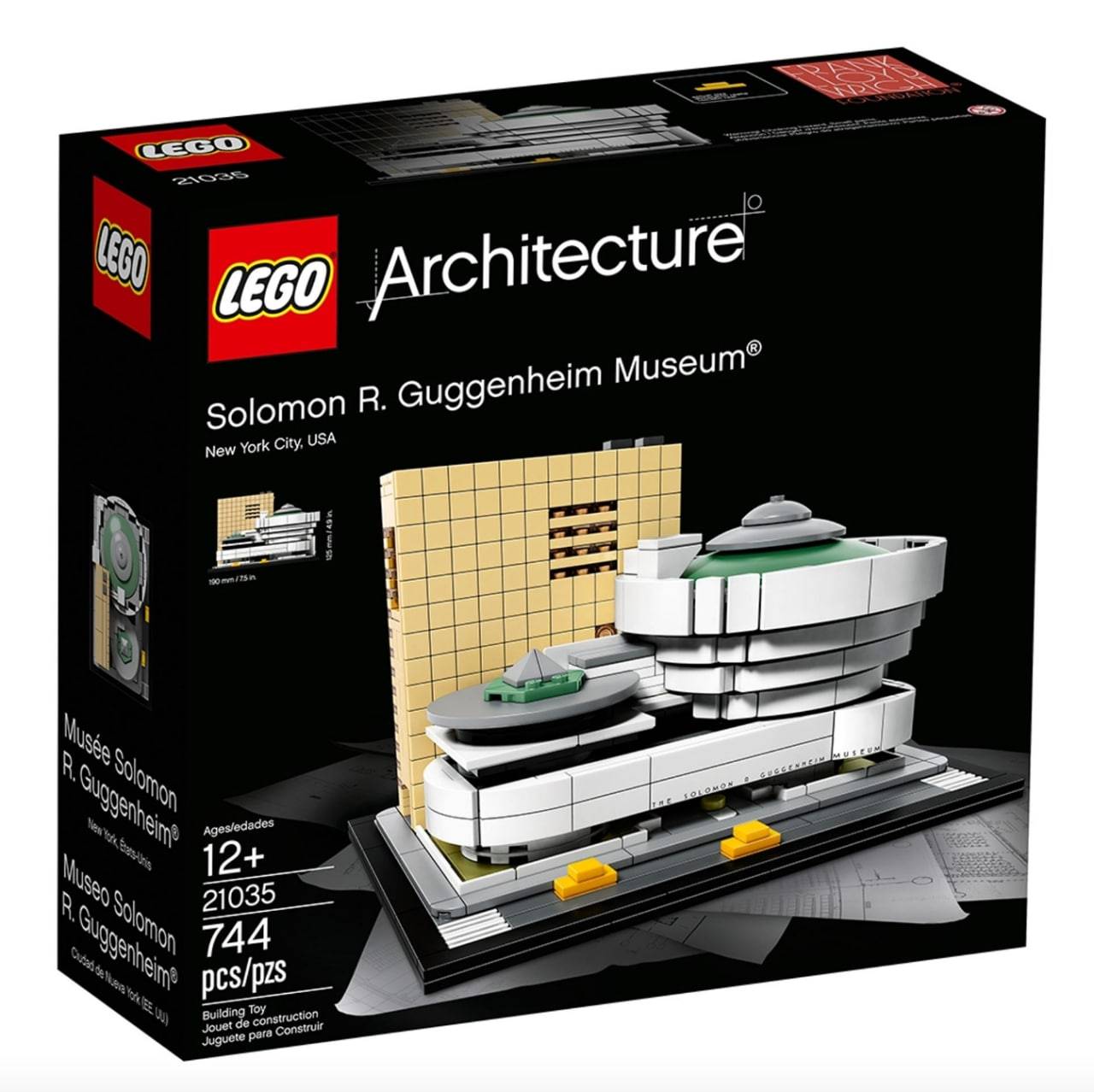 RETIRED PRODUCT.
Unfortunately, the Lego Solomon R. Guggenheim set is a retired product. This means that the set is no longer in production. At the time it was in circulation, though, the set cost about 79.99 US dollars. But now, since the set is retired, and judging by the fact that the set is pretty impressive, the Lego set may cost double the original price from retailers and collectors of the set. You can get this set from other Toy stores or from someone who collects Lego sets. If you already have this set and still need to install our Lego lights, now would be a good time to do that. Why? Let's find out.

MAKE YOUR LEGO SOLOMON R. GUGGENHEIM MUSEUM LOOK MORE REALISTIC WITH OUR LEGO LIGHTS.
Our Lego lights are made with Led, which makes them glow much brighter than other Lego lights. This is only part of what makes our lights stand out. They also come with small, flexible wires that You can easily hide to provide a professional look to your installation process. If you are new to the installation process, here are a few steps to make your installation much easier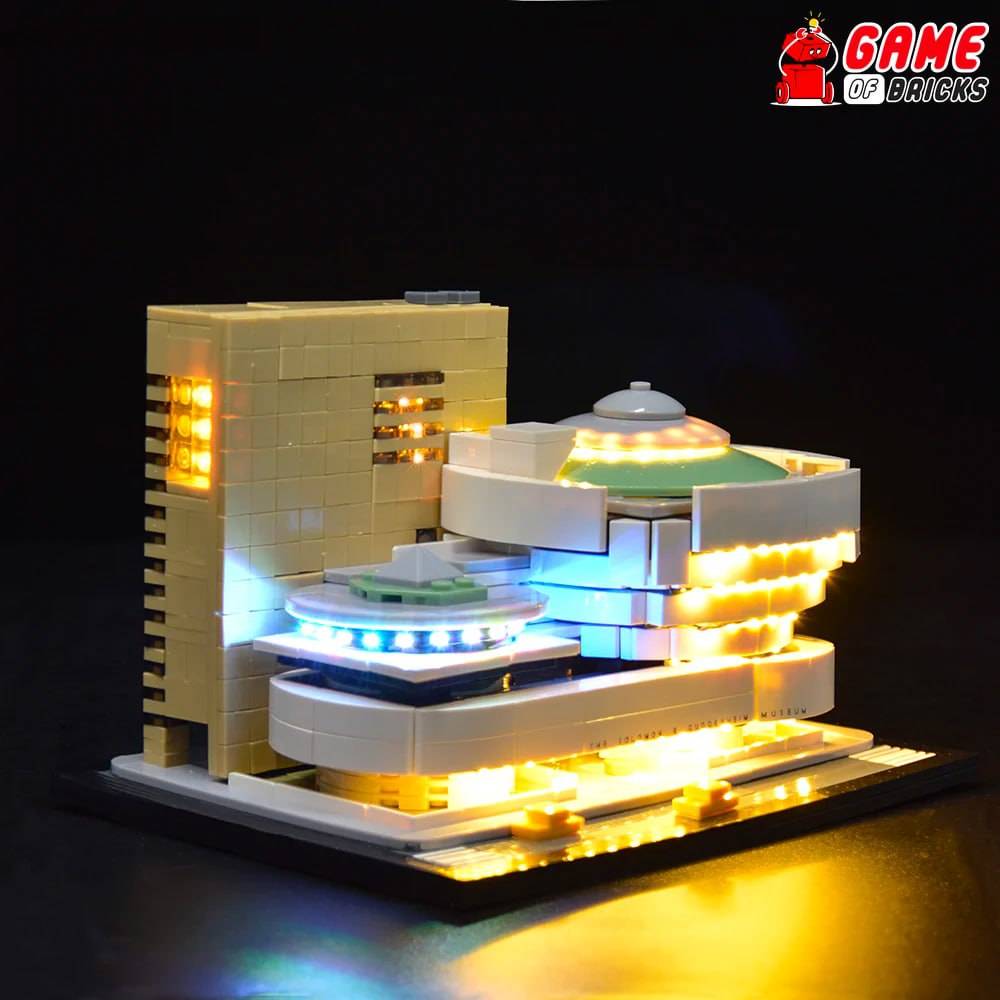 INSPECTION.
As soon as your Lego lights arrive, it would be safe for you to take a few minutes to inspect them. This ensures that all shipped lights and accessories look and are in perfect condition. It is not unusual for light kits to sustain damages during shipping. This is because our lights are very fragile. So To ensure you get premium quality Lego lights, make sure you inspect your package. If you notice any damages during the inspection, request a replacement using your 30days warranty card.
Inspection should include checking the batteries, wires, and power capacity. You would also need to look out for signs of short-circuiting. If, after your inspection, everything looks good, you can move on to the next stage.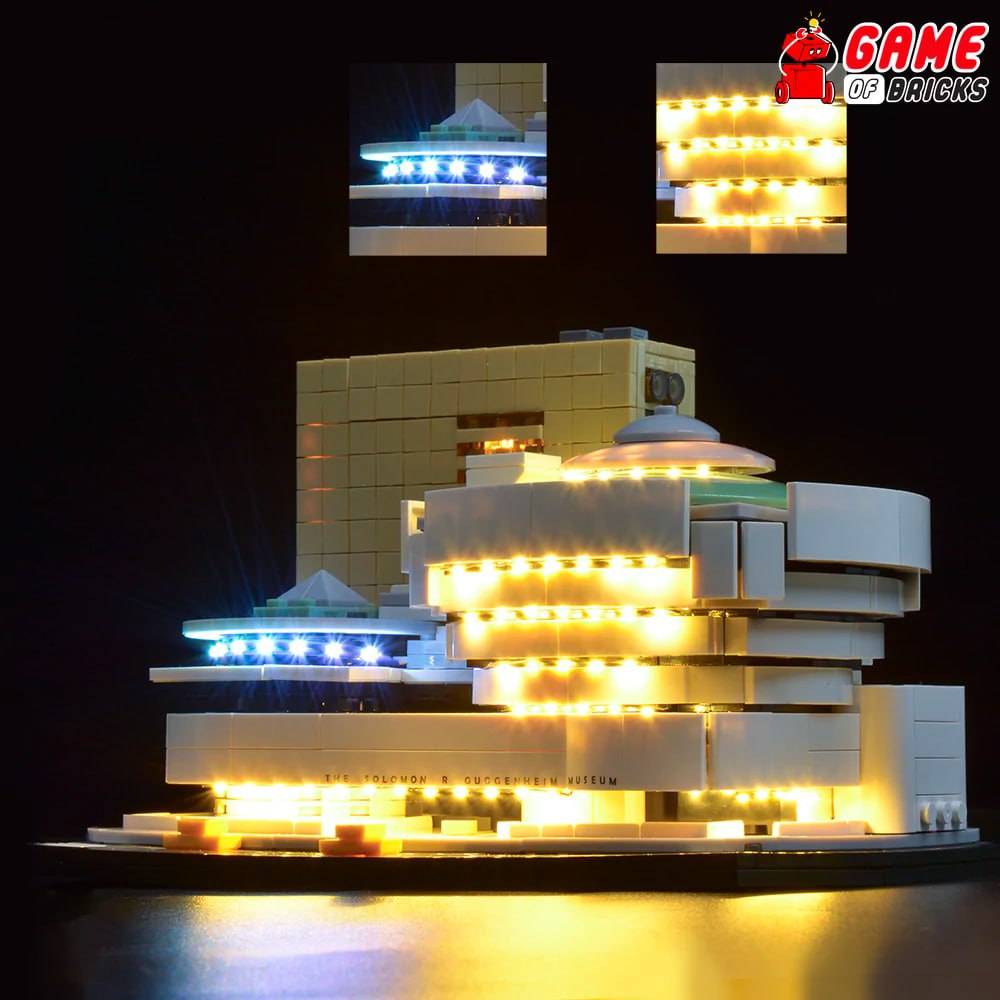 INSTALL.
You can only begin this process after completely building your Solomon R. Guggenheim Museum set. To do this successfully, each light kit has a special blueprint manual to help you through the process. There are also many videos and articles you could watch and read on our website before embarking on this journey. Feel free to make use of all the recourses at your disposal.
TEST RUN.
Once you are done installing your Lego set, you can now take time off to test run it, making sure it is in the best condition. And to do this, check for signs of short-circuiting, as this could help you quickly identify the problem. Once you have located the problem, be sure to fix it. Once you are sure everything is in the best condition, you can finally relive your Epic Horizon Forbidden West Tall Neck moment in style as you put this set on display.