Relive the most epic Avengers endgame moment when you build the LEGO Nano Gauntlet 76223 Set.
One of the most special movie scenes from the Avengers Endgame movie was when Iron Man usurped all the Infinity Stones into his Nano Gauntlet, saving the world and resetting the timeline with the snap of his finger. This scene was not only iconic but also very emotional. This is because doing this meant the end of one of the most iconic Marvel characters, The Iron Man. This scene left a lot of people feeling emotional and even in tears. Did this scene leave you in tears? Did you feel the loss of the Tony Stark or Iron Man character came a little too soon? If that's how you felt and still feel, you are not alone. Lego knows how you feel and have been moved to create a set to help you feel better.

So with no more delay, we introduce the Lego Nano Gauntlet 76223 set. And yes, you guessed correctly—the replica of the Nano Gauntlet worn by Iron Man when he acquired all the infinity stones. If you are a Lego fan with a strong connection to the Avengers Endgame movie, then this is a set you should consider getting. Do you have kids who love the Avenger Endgame movie? If you do, then you could get them this Lego set as a gift. There are many reasons you should consider including this Lego set in your collection. This article will examine whether it would be a great idea to include this Lego set in your collection this year, 2022. To do this, let's start with this set-building experience.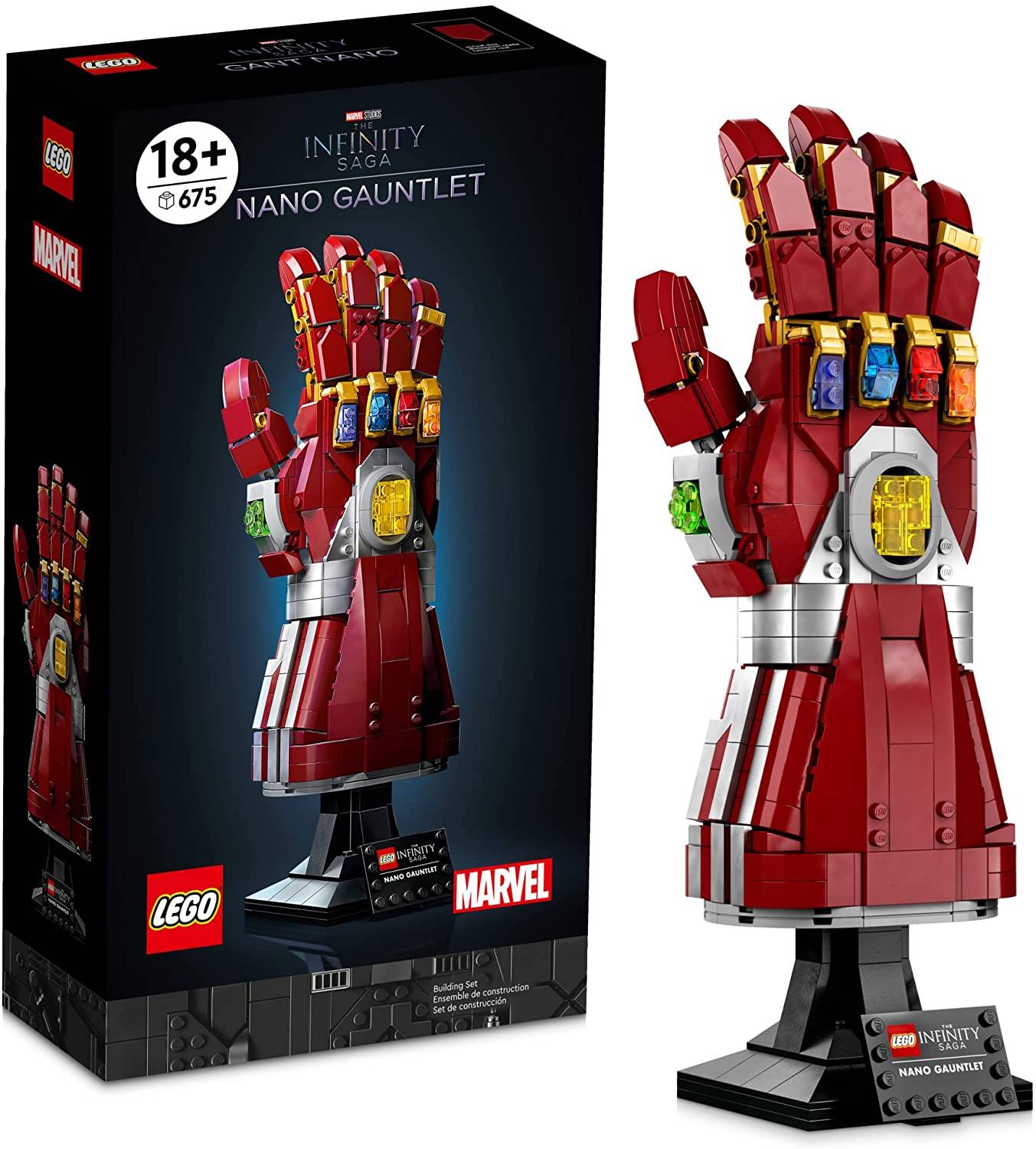 BUILDING EXPERIENCE FOR THE LEGO NANO GAUNTLET 76223 SET.
The Lego Nano Gauntlet set comes with a very impressive look that can be super exciting to bring to life. You can accomplish the set build with several building stages and interesting techniques. Some of those techniques would come into play when you try to execute the design of the hands. You can only achieve this by using various Lego techniques. If you are a fan of Lego techniques when you build and always love a challenge, this Lego set would be good for you. It is also important to note that you can not build this set on the run. Building this Lego set would require a great deal of focus and commitment. This means you would need to set out a specific time that would be convenient for you. Also, ensure that you build an environment free from distractions for better focus.
Lego has added a very easy-to-understand user manual to make your building work in the park. This manual contains many important details that help you avoid common building mistakes. The book also contains valuable information about all the processes the Lego company and their partners had to go through to make this set a reality. This information, when read, would help grow your appreciation for the Lego set and team. Overall, the Lego Nano Gauntlet worn by Iron Man would be super fun to build and bring you great satisfaction. But aside from a fun and rewarding build, this Lego set also comes with many cool features to make it stand out and look even more impressive than the Thanos Gauntlet designed by Lego. The next section will look into some of these features.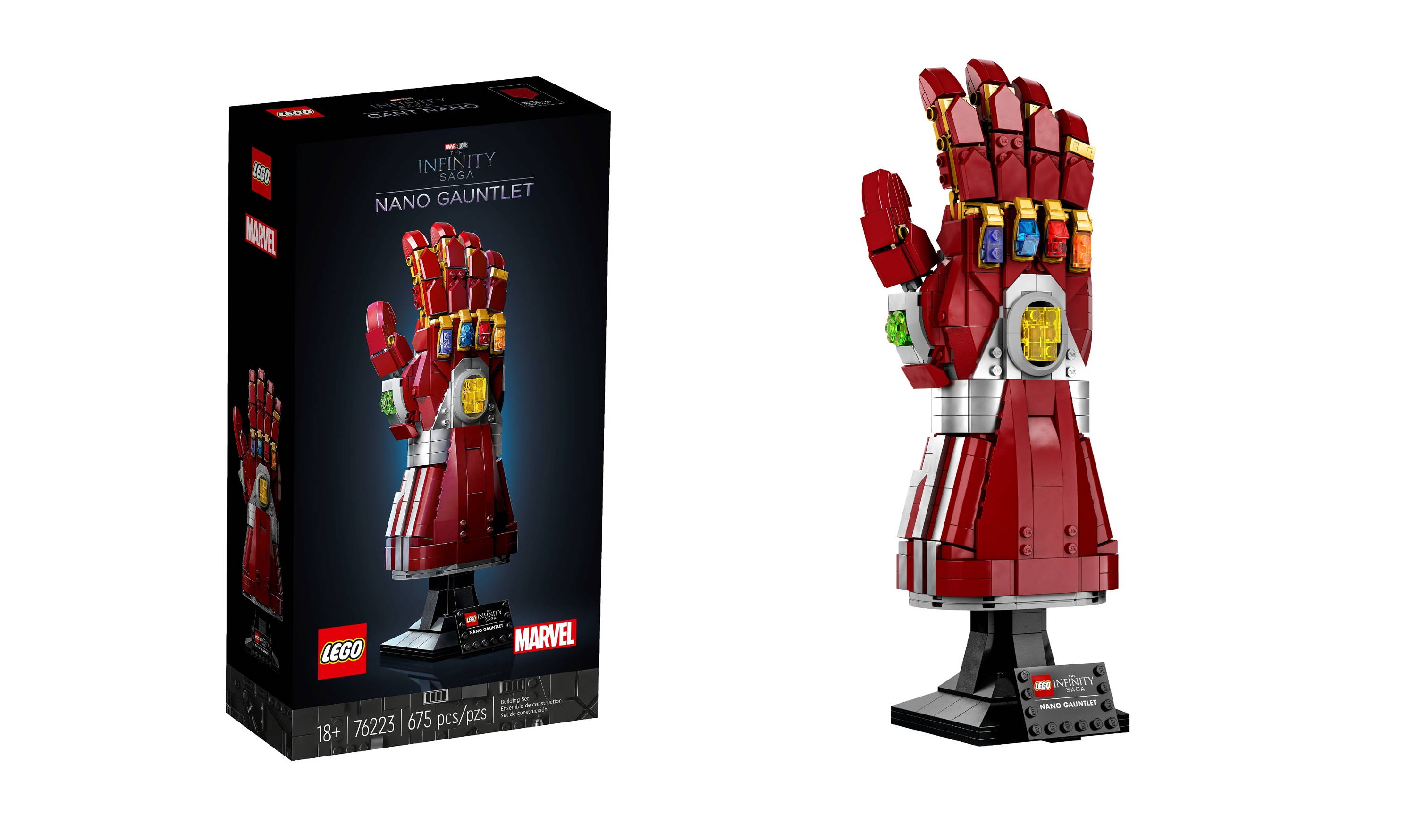 IMPRESSIVE FEATURES FOR THE LEGO NANO GAUNTLET 76223 SET.
● ALMOST LIVE SIZE.
One thing that stands out in this set is that it is almost life-size. This is because the set looks almost the size of the actual Nano Gauntlet used by Iron Man in the Avengers Endgame movie. The set size would help you feel even more connected to the Avengers Movie. If you are into Lego lifesize sets, then this Lego set is a good addition to your collection.
● MOVABILITY FEATURES.
Unlike the other Lego Gauntlet, this Lego Nano Gauntlet has more flexibility. The Lego set moves and acts like an actual arm. All fingers are movable, just like a real finger would move and operate. This makes it an awesome display set, seeing that you can move your arms in any direction suitable for you, giving you much more display options. And for fun, you could position the fingers to replicate Iron Man's snap at the end of the Endgame movie. This would make your set look even more desirable to the eye.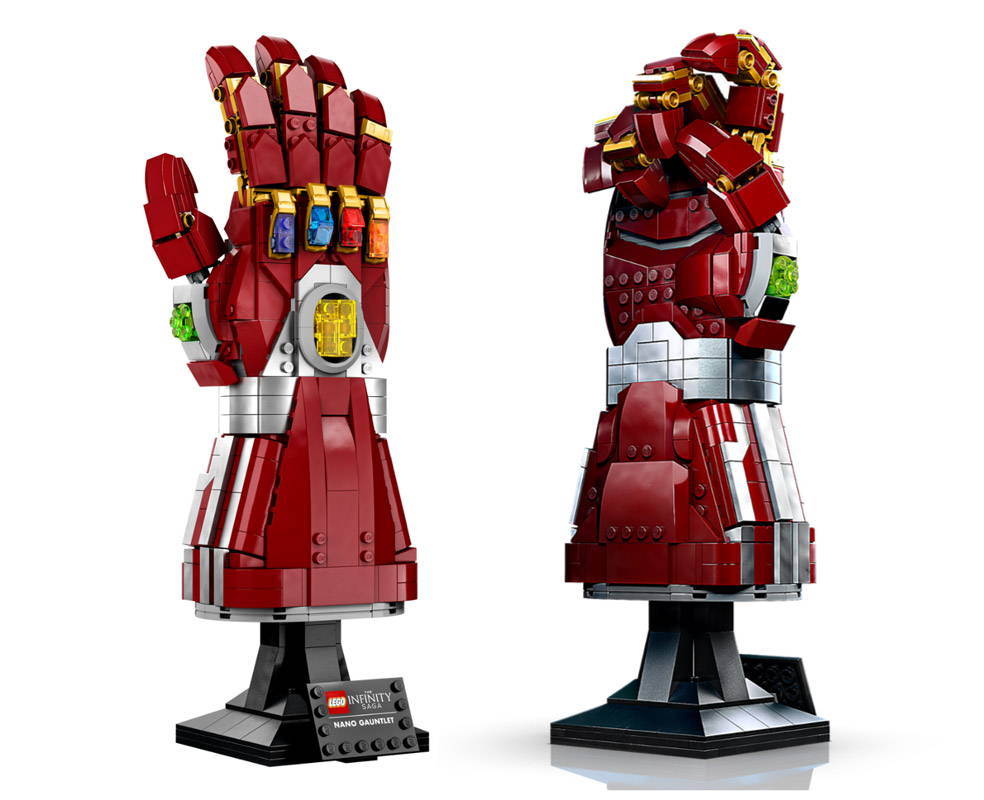 ● TOP QUALITY MATERIALS.
Like other Lego sets, the Lego Nano Gauntlet set is made from the best materials. Lego has taken extra care to ensure that the set meets all the requirements set by the company. This means ensuring that all brick pieces are compatible and work well together. Lego also ensures that the sets are user-friendly and would not be difficult to use. These Lego sets have also been made with safety in mind. That is why you get a list of does and don'ts on the packaging box that would help keep you and your household safe while you work with the set. So before you proceed to build with this Lego set, make sure you read and apply those precautions.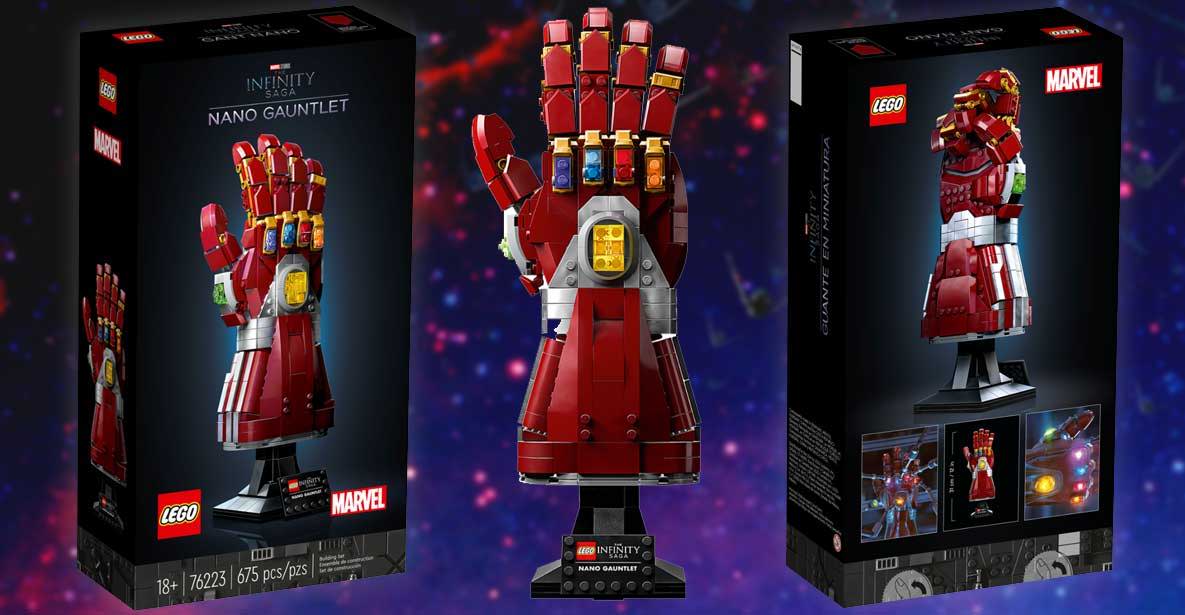 ● SET SIZE.
We have touched briefly on the set size, but we never really looked into the actual size of the set. Well, the Lego Nano Gauntlet set comes with a total of 675 pieces. The Lego Nano Gauntlet measures about 12 inches high, 4.5 inches long, and 3.5 inches wide. With these numbers and your ruler, you could see how big this Lego set is. What makes this set size so impressive is that you are using a few pieces to accomplish something almost lifesize.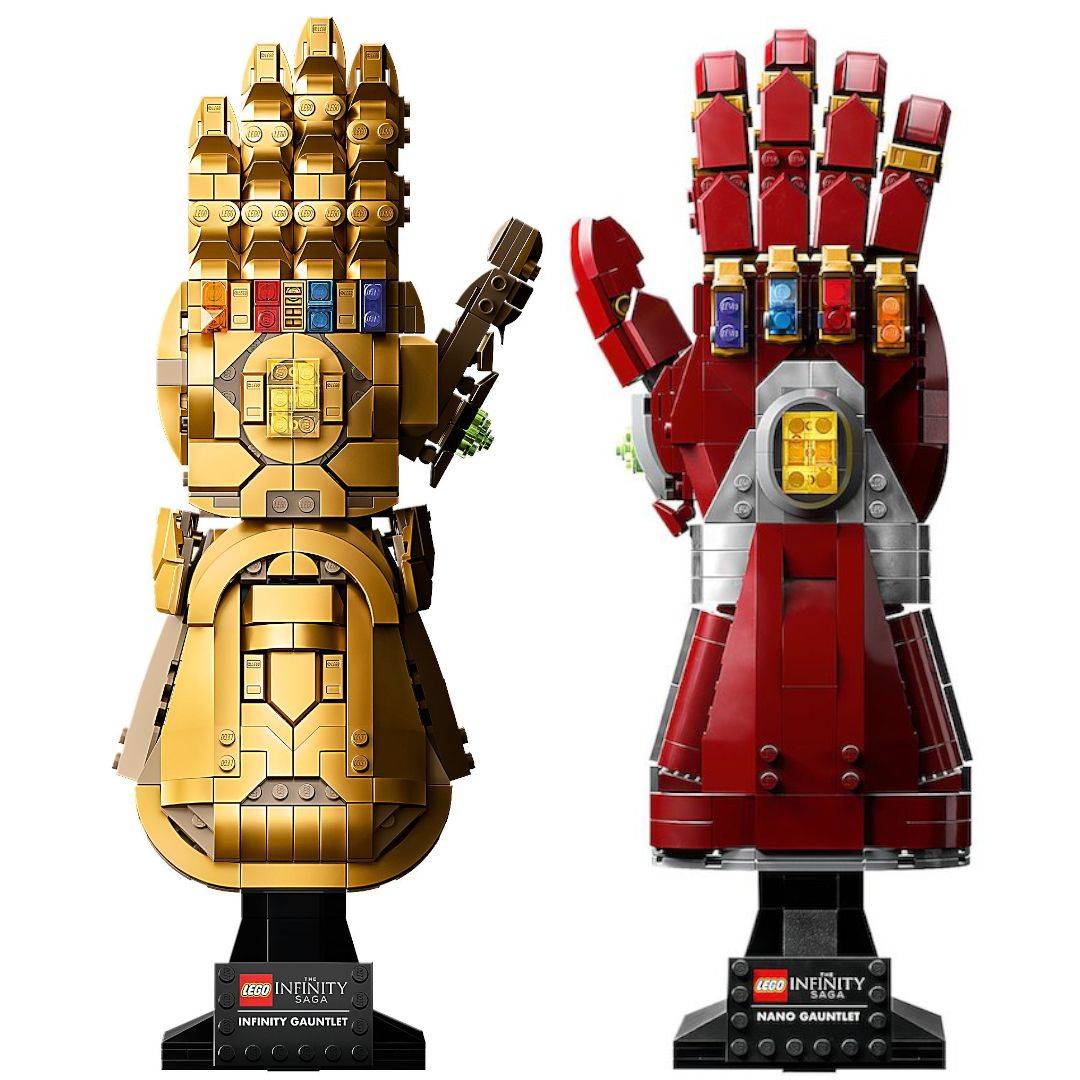 ● SET PRICE.
The Lego Nano Gauntlet is available now on the Lego website. You could also purchase it from any Lego store near you. If you do not have access to a Lego store in your area and are not a fan of online shopping, you could also check toy stores around you. Chances are you would get it in one of these stores. Make sure you are not buying a used or opened set but a brand new one. This would help you avoid problems like missing pieces and other items that come with your set. The Lego Nano Gauntlet can now be purchased from the Lego store for 59.99 dollars. This could cost higher or less depending on your location and currency value. After purchasing this Lego set, there is one more thing you would need to purchase to improve your overall experience with this Lego set. This special feature is our Lego light kit. How does our light kit work? And how can it enhance your set look overall? Let's find out.

MAKE YOUR LEGO NANO GAUNTLET FEEL MORE AUTHENTIC WITH OUR LEGOLIGHT KIT.

Once you have completed the building of your Lego Nano Gauntlet set, you might find yourself thinking about how your set could look any better. Well, it can look ten times better with the help of our amazing light kits. As the name suggests, our light kits are special light kits designed to work well with Lego sets. They help make Lego sets displayable at night and show off even the most hidden feature. Attaching our special light kit to your Nano Gauntlet would improve its overall look. But before you run off to install our light kits, here are a few things to keep in mind.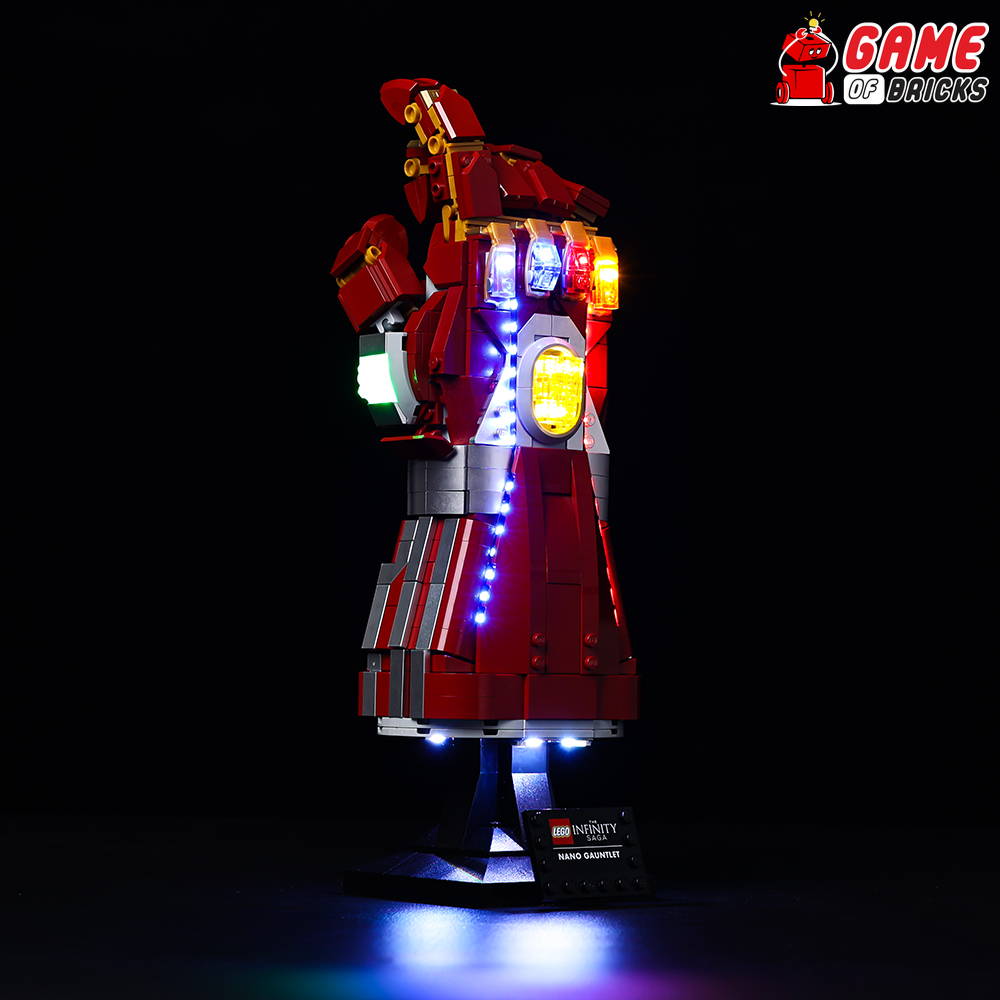 1. INSTALL WITH MANUAL.
If you are not conversant with our Lego lights, you have no experience. To ensure you get the installation right on your first try, it would be best to make good use of the manual. This means reading through it and understanding each step takes a few minutes. Also, go through the manual to ensure the diagrams ensure you understand each process. You could also watch videos if you still find it difficult to understand exactly how the process works. Once you understand the process, you can now install it. Make sure that you inspect all light kits and accessories. If you find any problem, request a replacement using your warranty card. If you follow all the instructions outlined, you are sure to find success.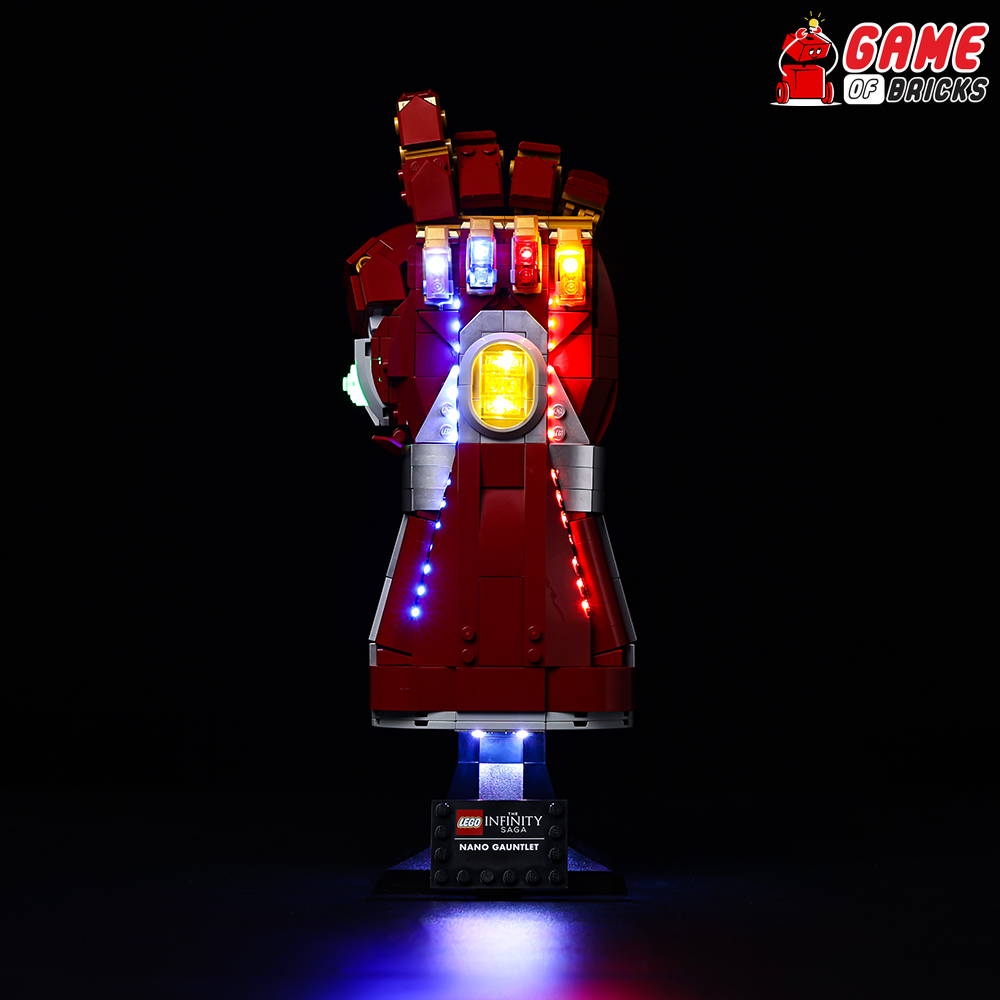 2. TEST RUN.
You must have successfully installed your light kit by following the instructions already outlined. Before you go and show off your set to the world, it would be wise to take a few minutes to test-run your light kit. You are doing this to make sure that everything works smoothly. Everything is likely working properly if you have inspected your light kit from the beginning. If it is, you are free to show your Lego Nano Gauntlet to the world.
---