LEGO Home Décor Ideas 2020
A lot of people are always searching for different amazing and beautiful ways to redesign and revamp their homes. Guess what? LEGO has made that possible. Now, homeowners can decorate their homes uniquely and however, they want. With so many shapes and colors, there are unlimited choices of design that one can customize to taste. While some people think that LEGO toys are created for children alone, other adults are getting creative with it. There have been lots of innovations with LEGO that are geared towards home decor. Instead of letting those beautiful and colorful plastic bricks waste off in your house, you could employ your time and use them to make something nice. 

There are so many creative things people have done with LEGO. Probably, after seeing them, you might just be tempted to make yours and give it a try. LEGO, over the years, has been known as an entertainment set for kids. There are several collections of toys and play items which kids love. On the other hand, you can use it for your home decoration. The bricks are in different colors and should do something more than just lying around in the living room.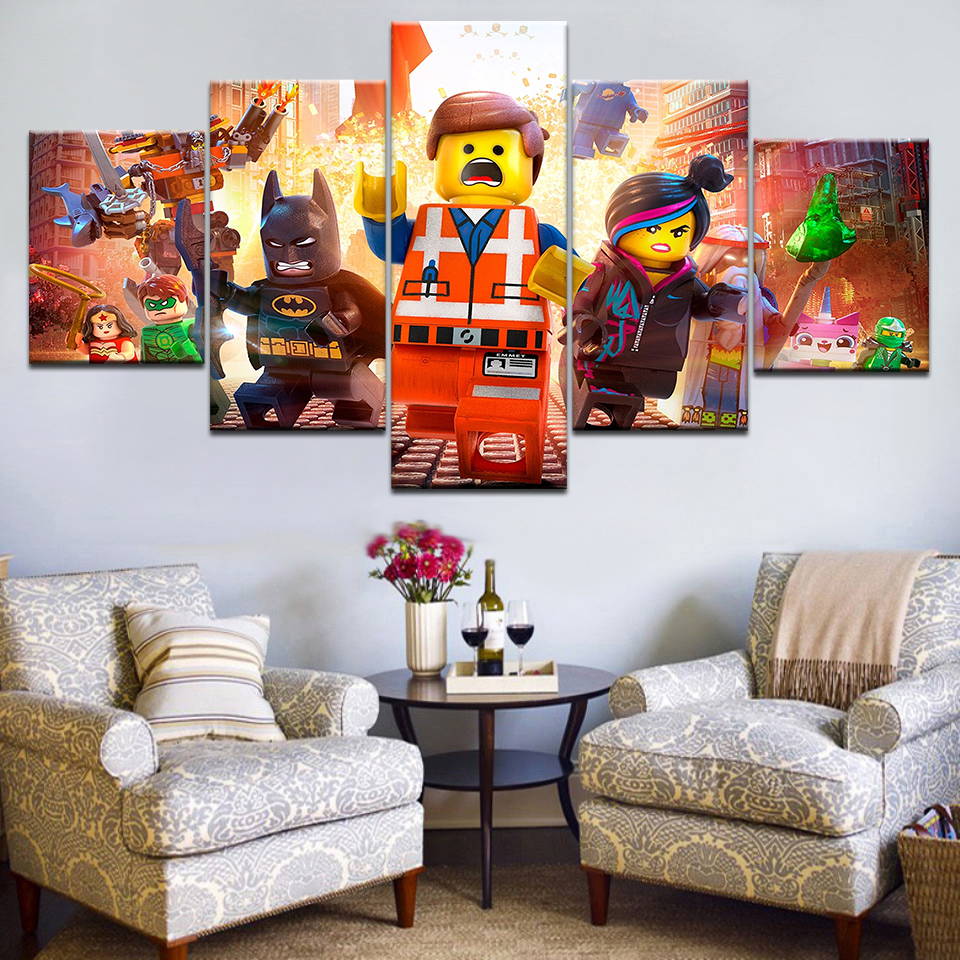 Do You Love Your Home Decor? 

Most people may not love their home interior decoration. However, they are used to what they have and feel there's no need in revamping or redesigning. It is not supposed to be so. If you don't love your home decor, you can always change it to what is appealing to you. Others may want to revamp but are thinking of the expenses. Here is great news for you--- you don't need to break the bank to add stylish designs to your home. Yes, you can do it on a budget alongside creativity. With the LEGO bricks, you can create any and everything you want as an addition to your home. After making what you want, you can place them in strategic parts of your home. Visitors to your home will be amazed at the great changes. They will be thrilled especially if they are told you made the changes yourself. Let's proceed to note a few things you can create with LEGO bricks. 

There are so many samples which people have already done and which you might want to try. You only need to pick one which appeals to you, looks easy to make and off you go! Here they are: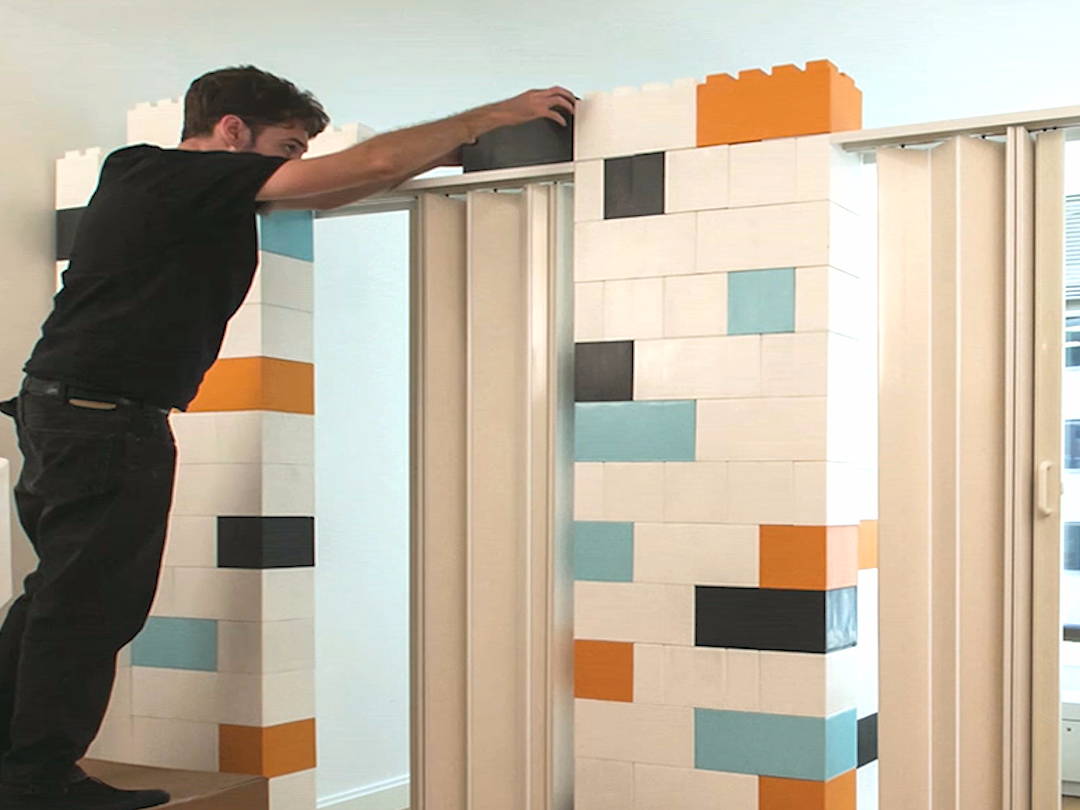 The thing about using LEGO for home decor is that you have to sacrifice some time to put it together. Since you're using building blocks, it is quite easy to put them together. Besides, it is fun too. You know how the building blocks or bricks work; there are provisions to stick them together to the desired shape. In that way, you can create so many things out of it. You can use the LEGO building blocks to make an open space more private. There are so many colors to select from and you can conveniently make your choice. You can select the colors in such a way that they will suit the paint already in your house. 
You can create room dividers or various compartments in your home. This will help you differentiate one section from another. In your living room, you can divide it in such a way that the kids will have their play area. In this way, they will know their space and not mess the whole living room up while playing. That sounds great, isn't it? Well, LEGO has made this possible.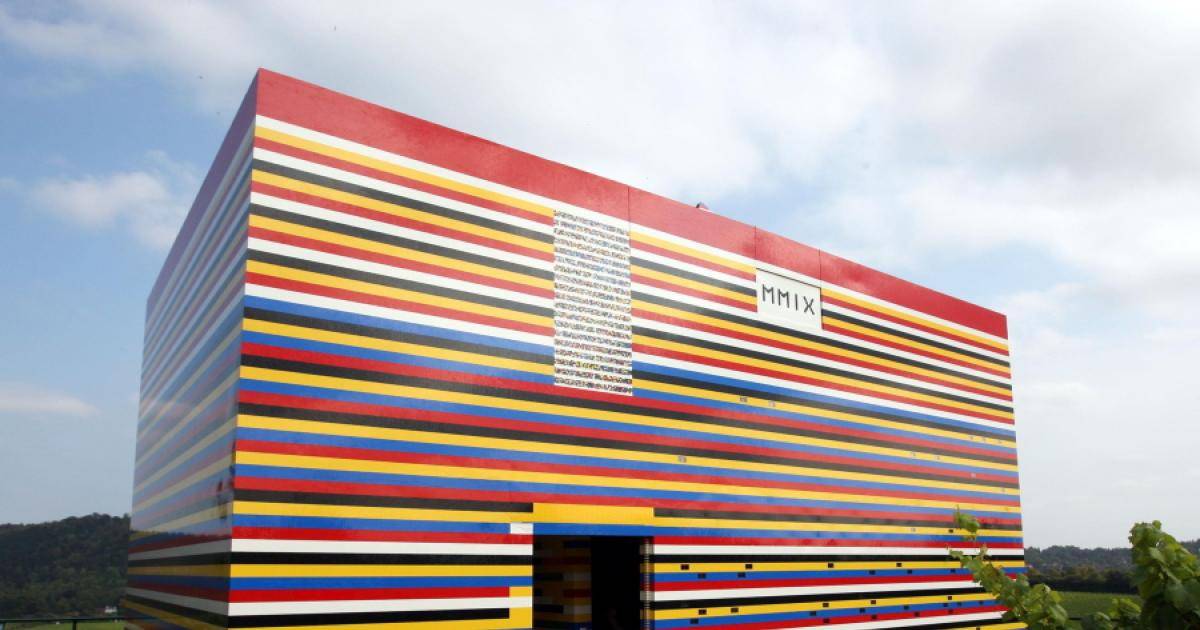 Yes, you can create a mini house using the LEGO set. It could be in the form of remembrance of the house you used to live in while growing up. It could be a treehouse, playhouse or any other sort of building. The LEGO set pieces can help you come up with your innovation. After which you can use the finished model as a centerpiece for your table. You can also help build a model for your kids which will be set up in their room. Note that it is the little things you drop here and there in your home that speaks volumes of it. You may think an item is irrelevant but in actual sense, it is making all the difference. 

Create that mini LEGO house with a combination of your favorite colors set it up and watch yourself admire it always.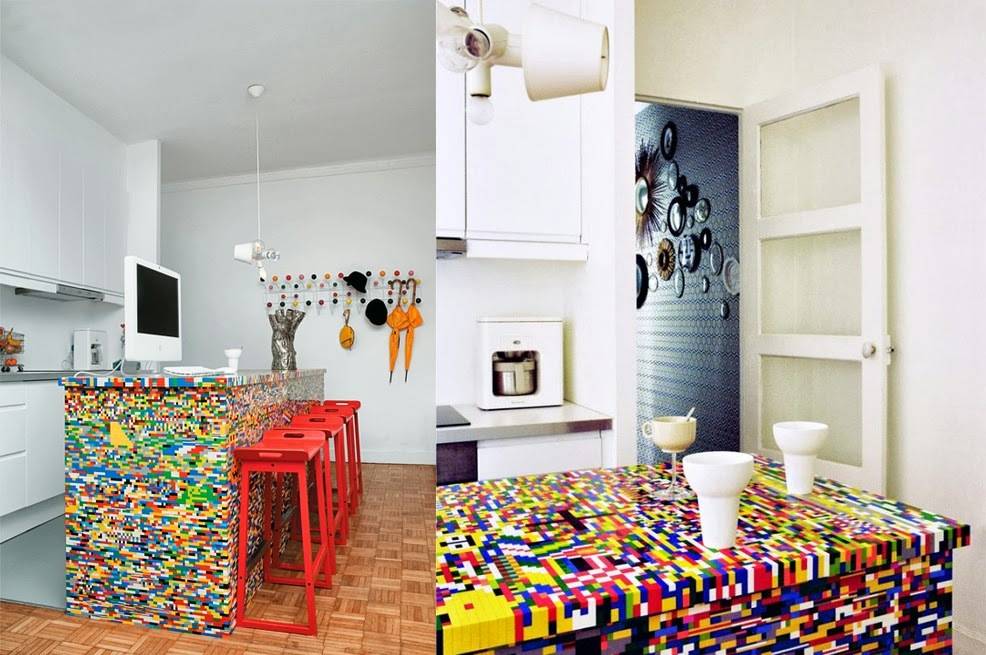 You can make a table entirely out of LEGO bricks. Yes, it is possible. A company in California has a receptionist desk that is entirely made of LEGO bricks. They used blue and white colors of the bricks to make the table. So also, you can create or make your desk. It could be a reading desk or just a desk to place things on. 

You need to know that using LEGO as a form of home decoration adds a different kind of stylishness to your home. It gives it a distinct creativity that you may not usually find in other homes. Therefore, make your home look stylishly beautiful today with LEGO. 

You can use a Lego table as a center table in your living room or dining room. You can also put it in your kitchen. Imagine a guest walking into your home and seeing a LEGO-themed table. By Jove, they will be impressed at your art and creativity. 

Don't forget that you can personalize the table to your unique taste. You can always choose your preferred color, shape, and size. You can decide also, where you want it to be. Use it as an accessory in your living room, guest room, or even the kids' room.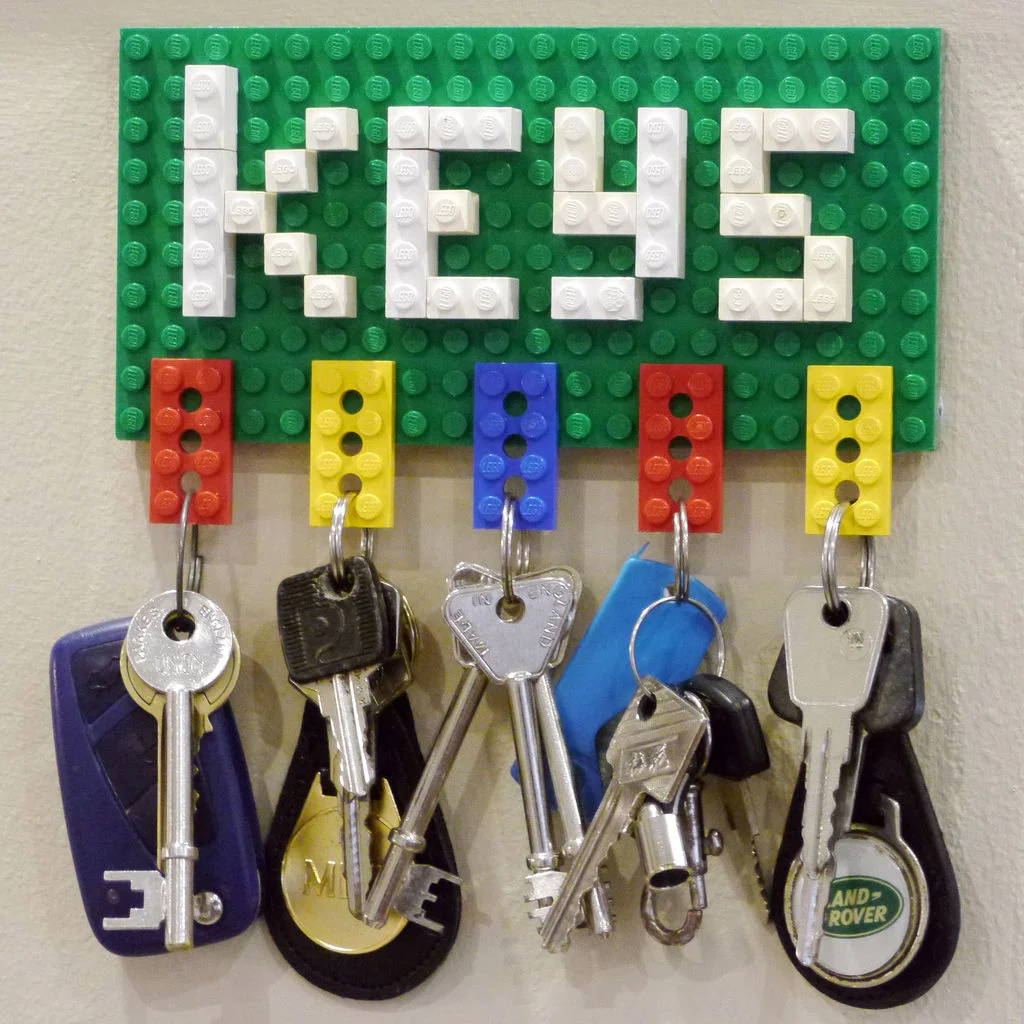 A lot of people are in a habit of misplacing their keys; house keys, car keys and the rest of them. How about having a home decoration that also has a useful purpose. Well, you cannot possibly underestimate the value of keys and how frustrated one can be when you start looking for a bunch of keys. With the LEGO building blocks, you can create a key holder. It is a home decoration that also serves as a functional key holder. With the LEGO bricks, you can always have your keys in place and walk up to them when you need it. You can, of course, use different colors to make it. 

You can choose how you want it to be. It can be high so it can be out of the reach of children. Children tend to carry things about and misplace them. This also includes keys but LEGO creates a chance to keep your keys safe and easy to find.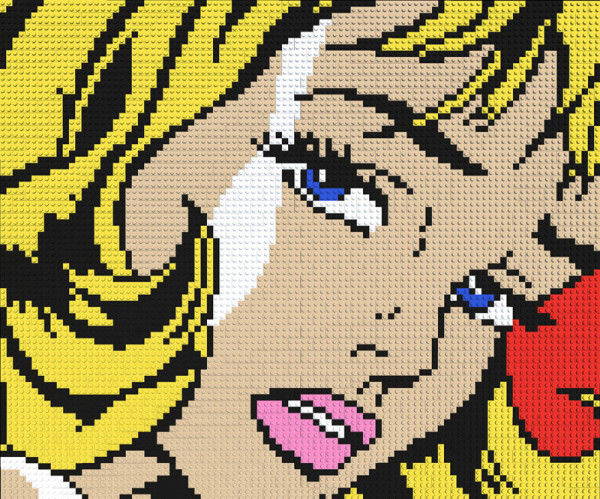 Create an artwork out of LEGO bricks by putting different set pieces together. You have an artistic side that you've not discovered yet. Let LEGO help you unleash it today. Of course, you can create an artwork to showcase on your wall at home or even in your office. 

Creating wall art with LEGO is a great feat to achieve. You can leave visitors to your house stunned with the beauty and style of your work. LEGO has just taken home decor up to another level.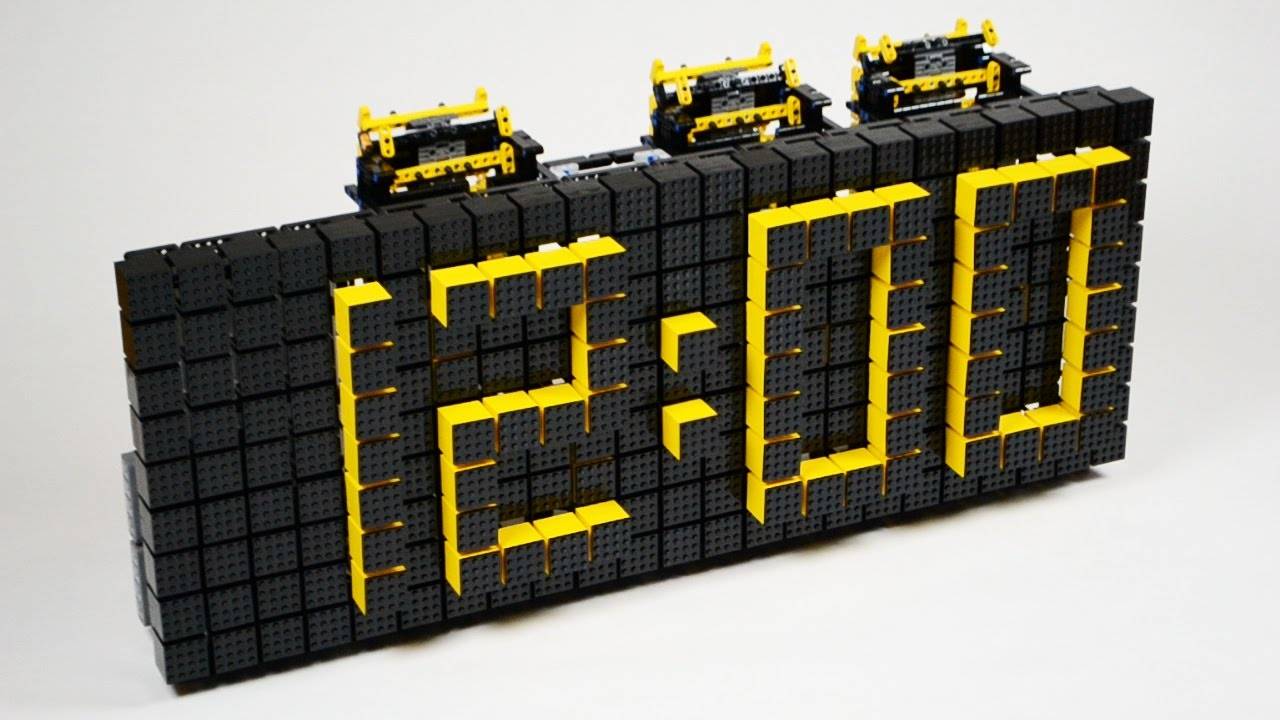 Style is evolving and innovations keep coming up. So also, everybody has their own different or unique style. What you want might not be what the next person wants. In this regard, if you need a bold clock, then you can use LEGO bricks to create it. It will be totally fun to create as you get to play around with different colors. You choose the exact style you want and can be sure it will fit in your house. Of course, you will admire the magnificence of the work after it is done.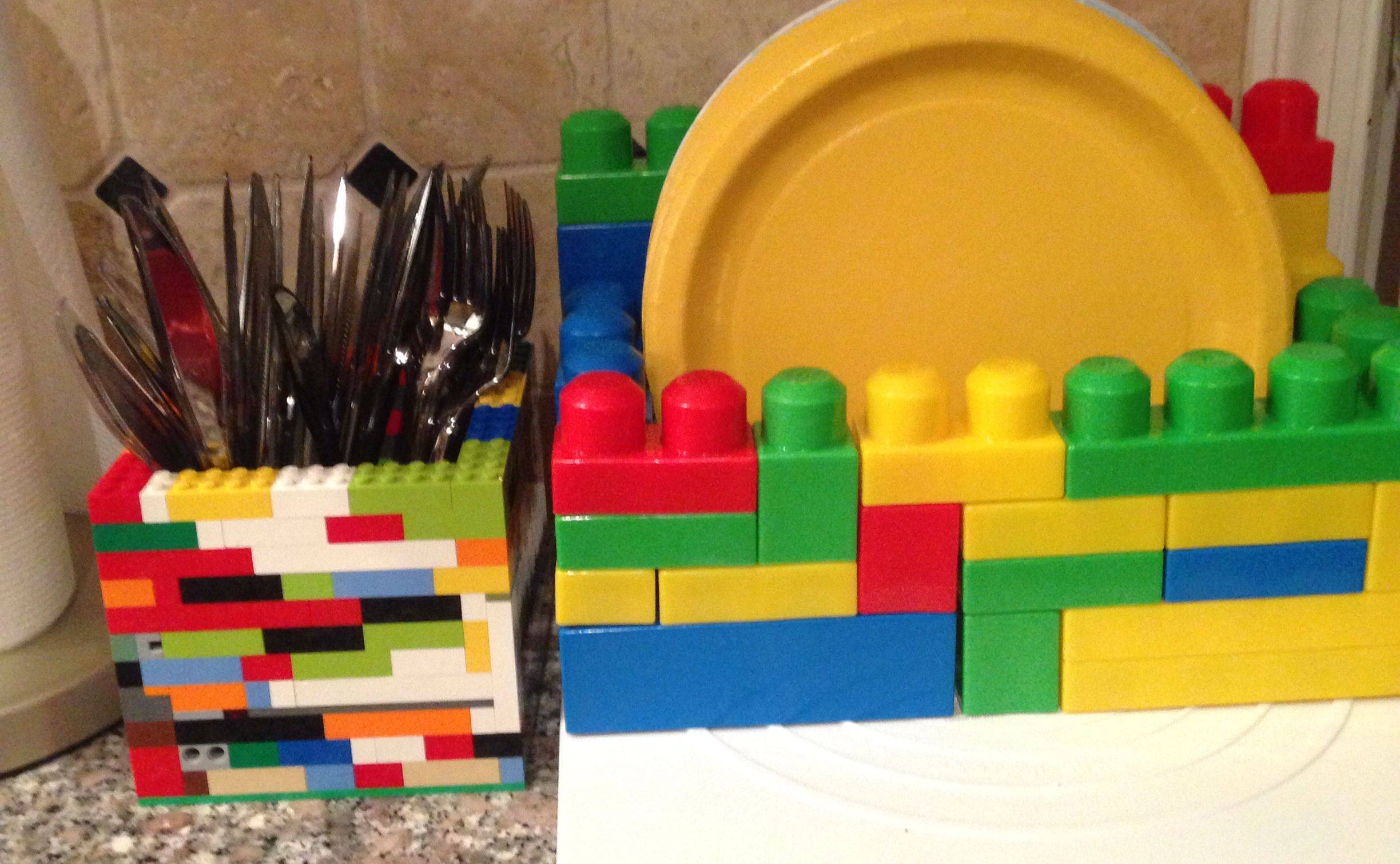 Still, on creativity, you can also make a utensil holder for your kitchen. You can experiment with different colors as it will make your kitchen vibrant with color combination. With the holder, you can store your big spoons, spatula, ladle, and other small kitchen equipment. Instead of letting them hang around, you can create a holder from LEGO bricks.
LEGO can do wonders not only in the living room or bedroom. You can also come up with an innovation for your kitchen. Well, it all depends on the extent you take your creativity to. You can create little storage items with the LEGO bricks. You could have one to hold small cutleries and another to hold big spoons. Make your whole house art with LEGO.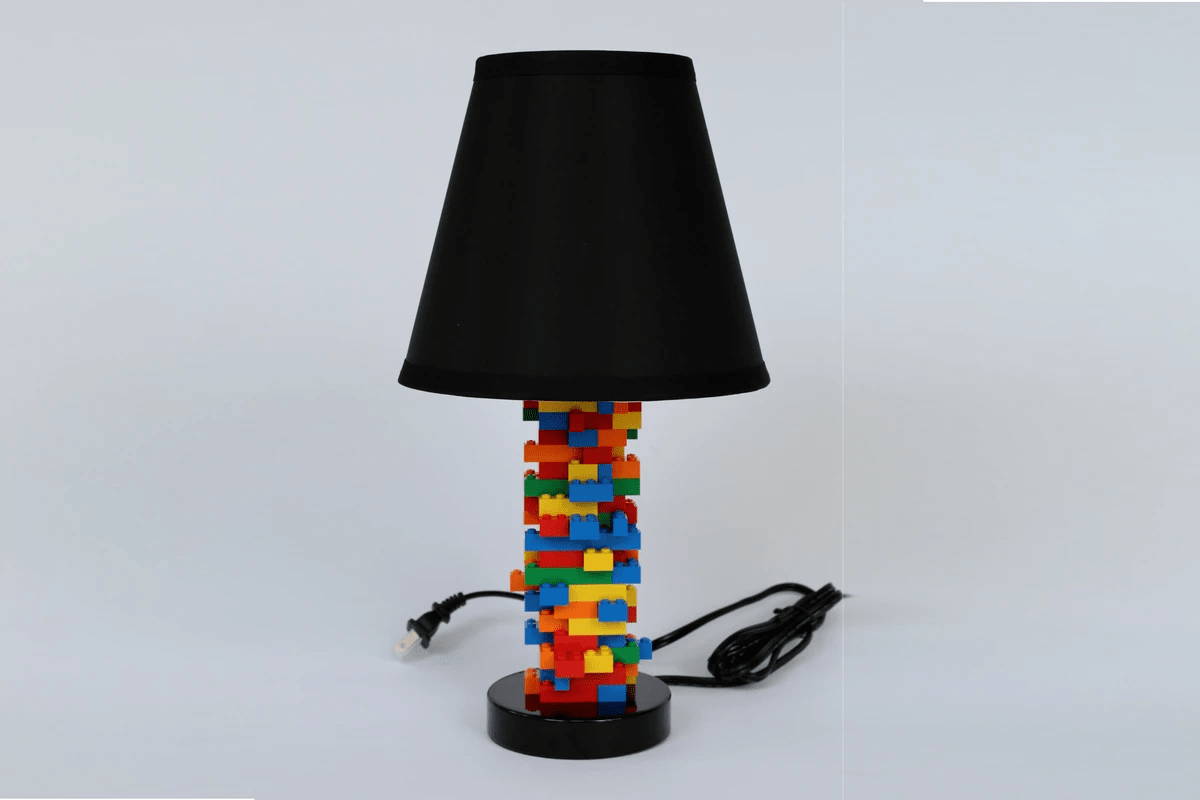 This is another wonderful innovation you can create with LEGO. Having a LEGO lamp will add a touch of class to your home decor. It is pretty easy to make and would look lovely in your bedroom. You can also leave it in your kid's bedroom with suitable colors.
A lot of bedrooms have table lamps which you switch off before going to bed. Reading desks also have lamps. You could create your lamp design with choice or preferred bricks color. After then, you can use it as a side lamp or as a desk lamp.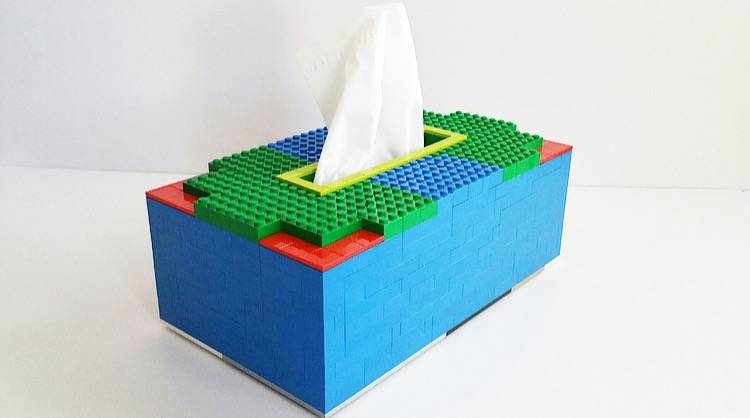 This is a new era and we are bidding farewell to boring household items. You can thrash your old tissue box and create a new one from LEGO. You can also build the new tissue box around the old one and then put in your tissue.
This will be another colorful item added to your home decoration.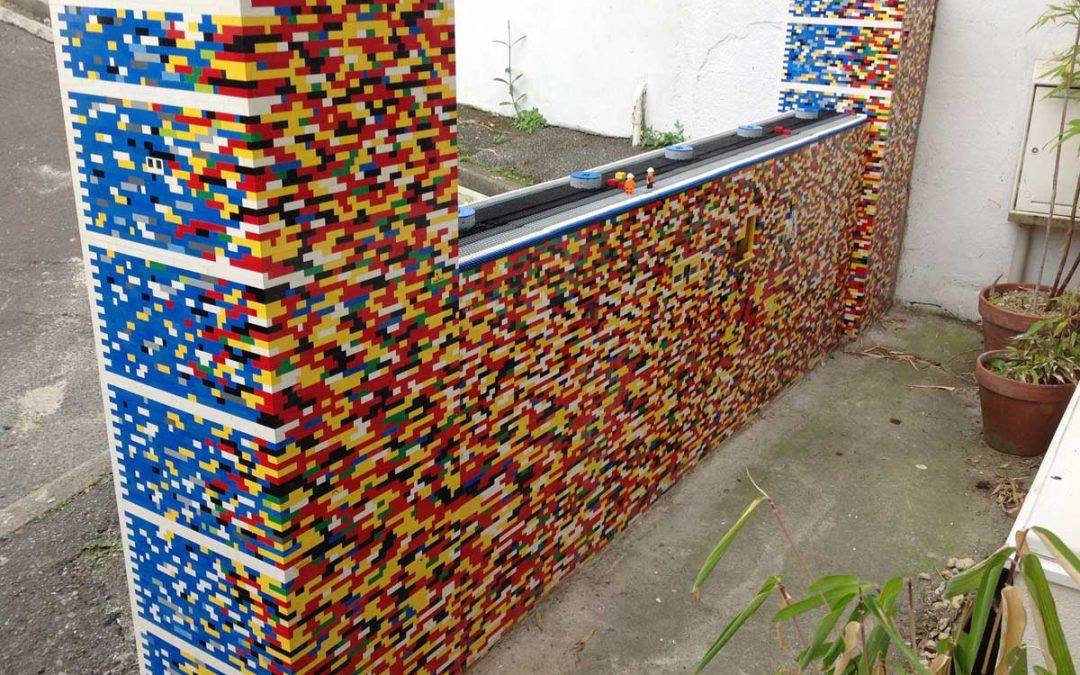 The last but not the least of our ideas on home decor is the LEGO wall. Does that sound impossible? Well, this is the 21st century and a lot of things are getting possible. All thanks to hard work, research, and creativity. There's a building with a LEGO wall; about 55,000 pieces of LEGO bricks were used to create it. That's quite massive, isn't it? Well, if you love LEGO, you'll have the patience to create that.
Walls are a very important part of a house. Without it, the shape of your house cannot be. Therefore, you need to be careful to ensure that everything concerning your walls turn out right. You can decide to make a LEGO wall for your house. This is a big project and can be time-consuming. Irrespective of that, you can have friends over to assist you and it will be fun all the way. At the end of the whole exercise, you'll have a stunning wall all to your house. Remember that you could use different colors and patterns to make it great.
Home Decor Is Everything! 

You have to note that home decoration should be done according to your taste. It is your home, your dwelling, a place you return to each day. In this way, you certainly need to feel at home when you get back. The bottom line here is that you should decorate your home in a way that will make you feel relaxed. Your home should be a place of solace for you. If you have a beautiful home with beautiful designs, you will be itching to come back home every day.
As regards this, you can give your home all that glamor by choosing LEGO. LEGO has a collection of bricks that you can use to style your home and upgrade your home decor. Companies and several homes today have used LEGO home decor ideas to spice up their interiors. And so, you can do that too by getting the LEGO bricks collection. You can use the ideas aforementioned or you can come up with yours. You'll be amazed at how creative you can be.
Therefore, think out of the box and come up with an idea. Put it to work and spice up your home decor. If you think it will be stressful, use more hands; your family members, friends and even the kids.
---