Control the race track like never before with the LEGO Ferrari Daytona SP3 42143 Set.
The Lego Technic group is here with another killer masterpiece: the Lego Ferrari Daytona Sp3 set. This set features lots of amazing details which makes it unique. If you are a Lego race car fanatic, then you love this set. This set comes with an authentic design, and color theme that helps gives this set a fears look. And since it's a Lego Technic set, you can be sure to have a lot of fun building this set.

Do you have a kid or family member who is a fan of race cars? Then why not gift him this amazing Lego Set this year. You would derive great joy and satisfaction from watching him putting a smile on his/her face. Once you are done building the set, you could also engage in tons of races around the track. Feel the satisfaction winning with a state-of-the-art race car brings. Well, by now you are probably convinced and going to get yourself one of these sets; but if not, let's dive even deeper into the specs of this set and what makes it so special, starting from its building experience.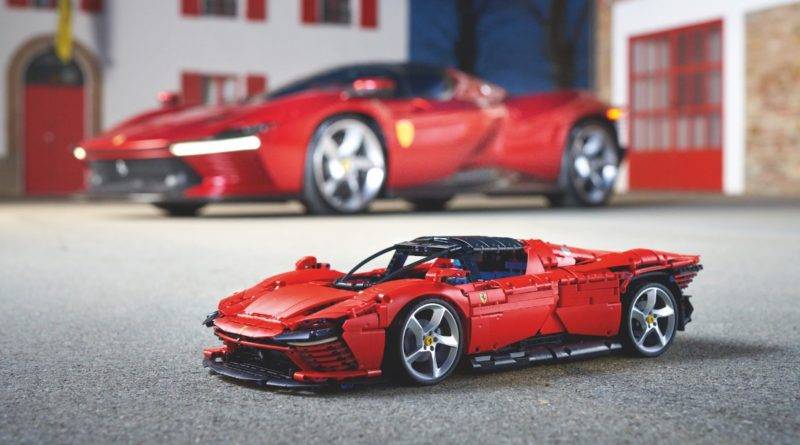 BUILDING EXPERIENCE FOR THE LEGO FERRARI DAYTONA SP3 42143 SET.
The Lego technic team is known for designing sets that are very fun and challenging to build. The Lego Ferrari Daytona SP3 set is no different. The set comes in a very nice package with a picture of the Lego Ferrari Daytona SP3 on it. Then when you open the bocks you are met with the picture of the real-life Ferrari Daytona SP3. With this idea from the Lego team, you get a full picture of how close the Lego design is to the original car, and that alone would build your enthusiasm to build. Looking inside the box, you are met with three additional smaller boxes each labeled one to three. Opening the first box, you are greeted with 2 instruction manuals. Inside these manuals, you have complete details of all you need to do to achieve success in your building. And the first pages introduce you to all the Lego Technic team had to go through to achieve this masterpiece. The manual also comes in two languages which are English and German. So if you are a German speaker, then you won't have problems reading the manuals.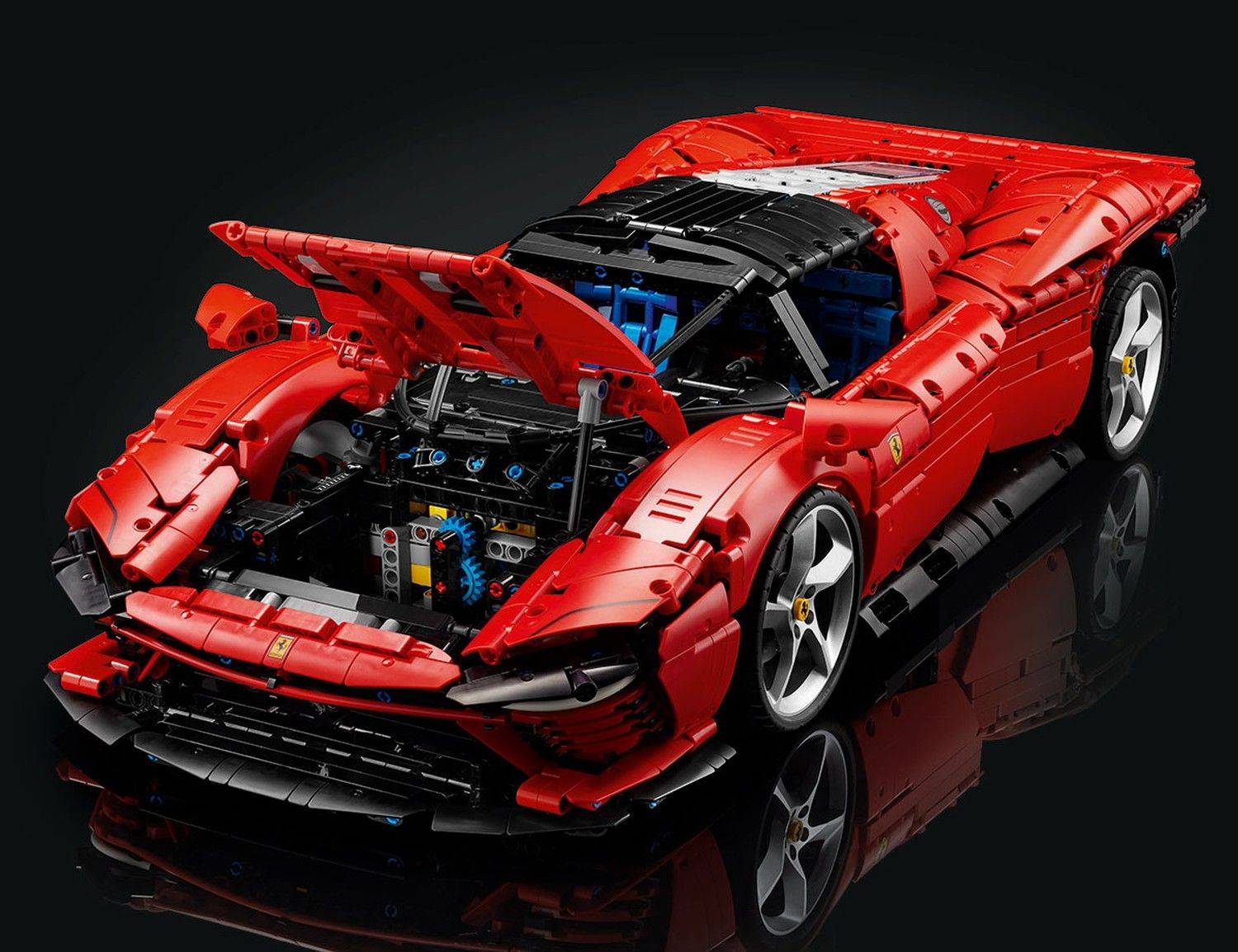 The Set has a total of 6 stages with more than 3000 pieces to play with. The first boxes reveal pieces for building the engine and gearbox. These pieces are wrapped in 8 transparent rappers and are labeled to help you easily identify what piece goes for what. The second box contains a total of 14 bags with pieces for building the front and back exterior. This can be done in a total of 4 building phases. Once you are done building that, your car would slowly begin to come to life. Then you can move over to the final building phases by opening the final box. Inside this box contains a total of 8 bags which contains building parts for both the tires and the rims. Overall, the building of the Lego Ferrari Bayona SP3 Set could be considered a very easy and fun build. With little complication here and there. 
These complications could be easily maneuvered with a little tweak here and there. Ohh and once you are done, you are going to have two panels fairing left, don't be alarmed, they are to cover the red axels underneath the tire. So go ahead and get that fixed. With this new Lego set you to enjoy a build that is not only fun but would give you overall satisfaction in the end. The set also has a cool feature that makes it stand out. Let's find out more.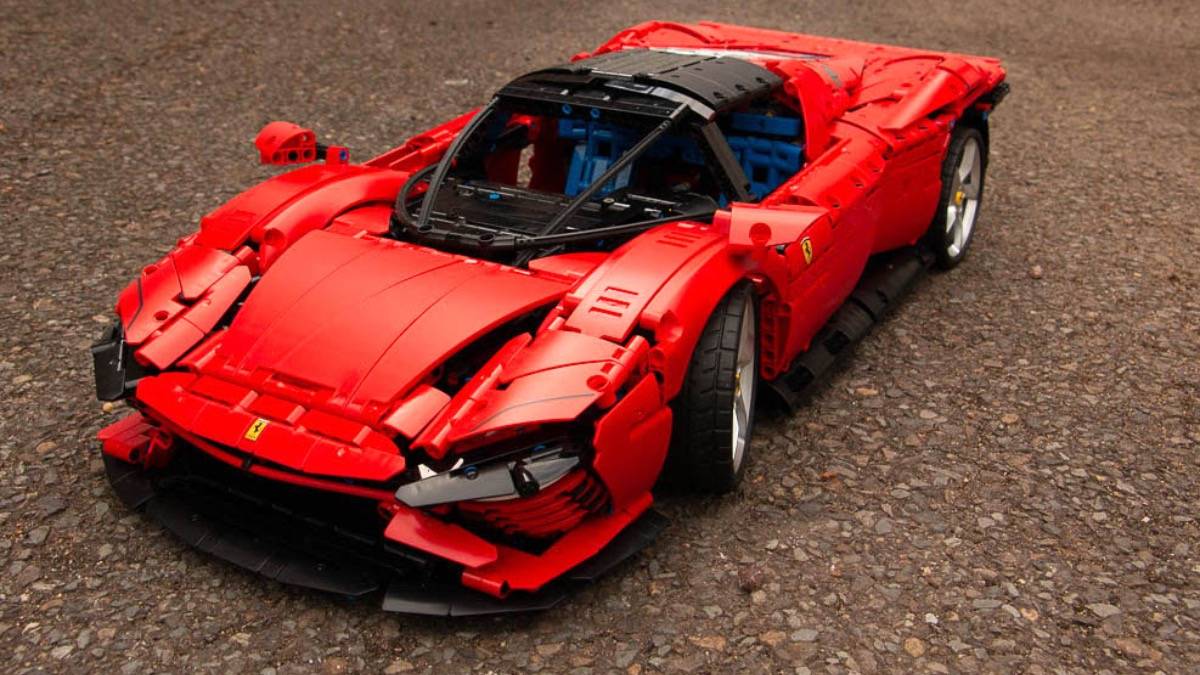 AMAZING FEATURES OF THE LEGO FERRARI DAYTONA SP3 42143 SET.
● AUTHENTIC DETAILS.
The Lego Ferrari Daytona SP3 Set comes with a lot of authentic details that make it look as close as possible to its real-life counterpart. Some of these details include a buildable replica of the famous V12 Engine, a gearbox, quality-looking seats, well-designed and detailed tires along with rims, and a steering wheel. This set is made even more realistic with a steering wheel that controls the two front tires. Because of the amount of time, it takes to build this set you could feel like an engineer bringing this set to life.
● NICE PACKAGING.
The Lego set comes in nice and needs packaging starting from an exterior box with a synthetic feel. The box has on its body a nice picture of the finished Lego car. Opening the main box, you would have access to the inner contents. Inside the box are three smaller boxes that contain all the building pieces with two instruction manuals. Lego went all out with the design of the manual.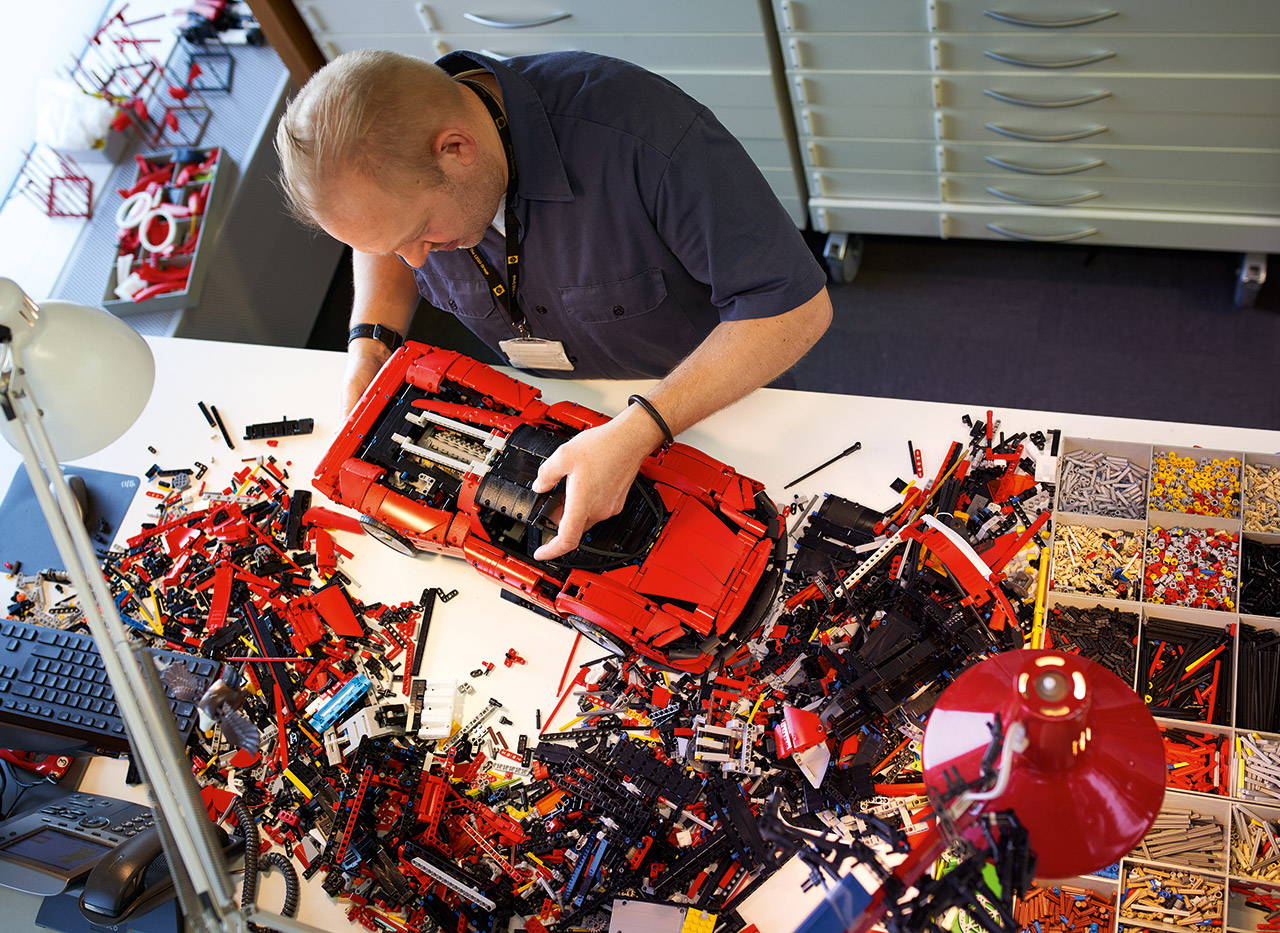 ● SIZE.
The Lego Ferrari Dayton SP3 set could be considered a medium size set. It comes with a total of 3,778 pieces. Each Set piece has been designed and tested to ensure that they are durable enough. They have been also designed to ensure they are safe and can be used around kids. When completely put together, the Lego Ferrari Daytona is about 6 inches high, 10 inches wide, and 24 inches deep.
● PRICE.
You can buy the Lego Ferrari Daytona SP3 in any Lego store in the Us and Europe. But in case you do not have access to any Lego stores in your area, you could buy this set directly from the Lego website. The set cost about 399.99 dollars but could be higher or lower depending on your location. With all the cool features and assured durability, there is no reason why you should not have this Lego Set on your shelf this year 2022. But there is one more thing you should add to this Lego set, and that is our special light kit.

MAKE YOUR LEGO FERRARI DAYTONA SP3 SET LOOK FANCIER WITH OUR GAME OF BRICKS LIGHT KIT.
Is your Lego Ferrari Daytona SP3 already looking great? Well, you could make it look even better with our special Lego lights. Our lights are additional and very beautiful features sold separately from the set. You could buy light kits for this Lego set anything from 20 to 24 dollars. Our light kits help make the set look a lot more elegant, and bring out the hidden details. If you are new to our light kits you are probably wondering how you could get started with the installation of this kit, here are a few pointers.
1. INSPECT ALL KITS.
Once your light kits arrive you would need to inspect them thoroughly. This is very important if you are going to get the best out of the installation of the kit. As you inspect, search out for signs of tampered sealings and missing wires, as this is the quickest way to detect that your kit has a problem. As soon as you discover a problem, be sure to quickly get it replaced by our team using the 30days warranty card each light kit comes with.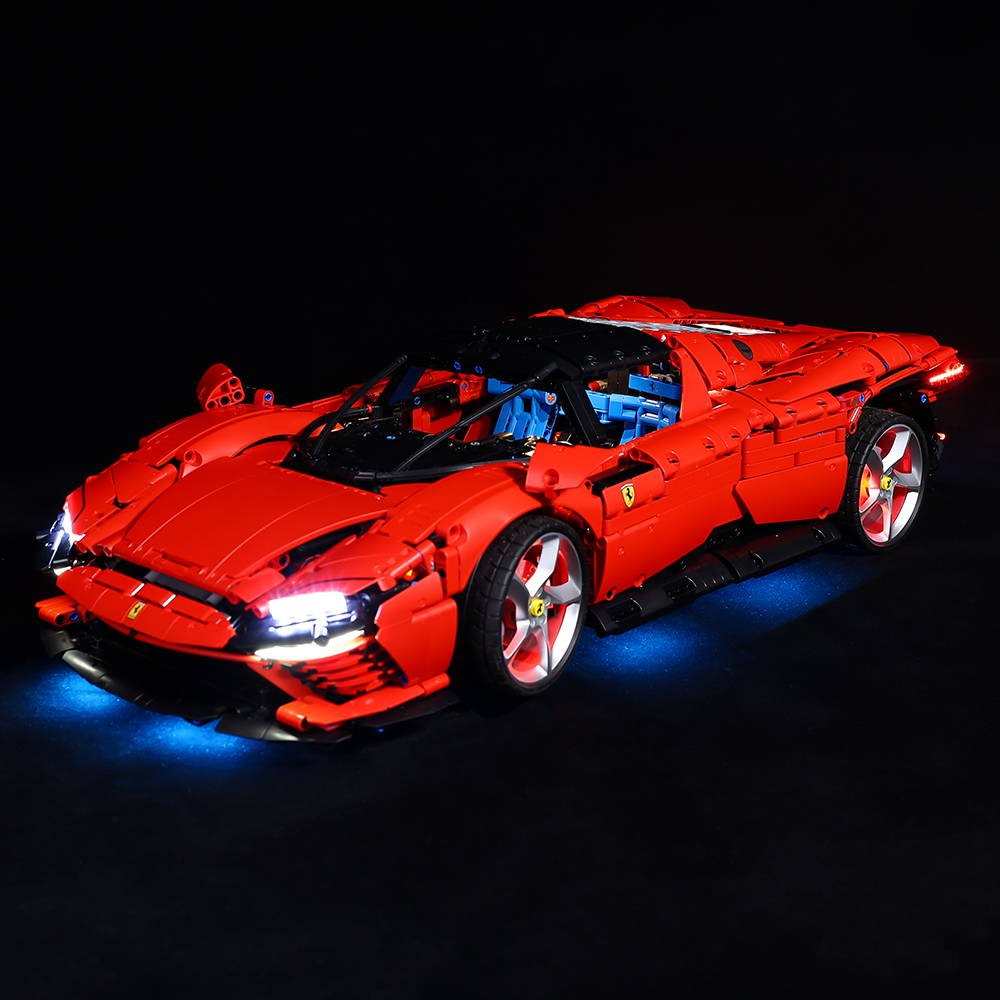 2. INSTALL WITH THE MANUAL.
A tip for those new to installation is to make sure you are done building your set before attempting to install. It is also best you make good use of your instruction manual. This would save you from hitting any roadblocks and ensure your installation process is as smooth as possible. Make sure that all wires for your kits are properly attached and fit properly. And to ensure you get the best results, it would be best to hide all the wires to give it that neat finish. And for the most part, try not to rush the process so you do not lose out on any detail.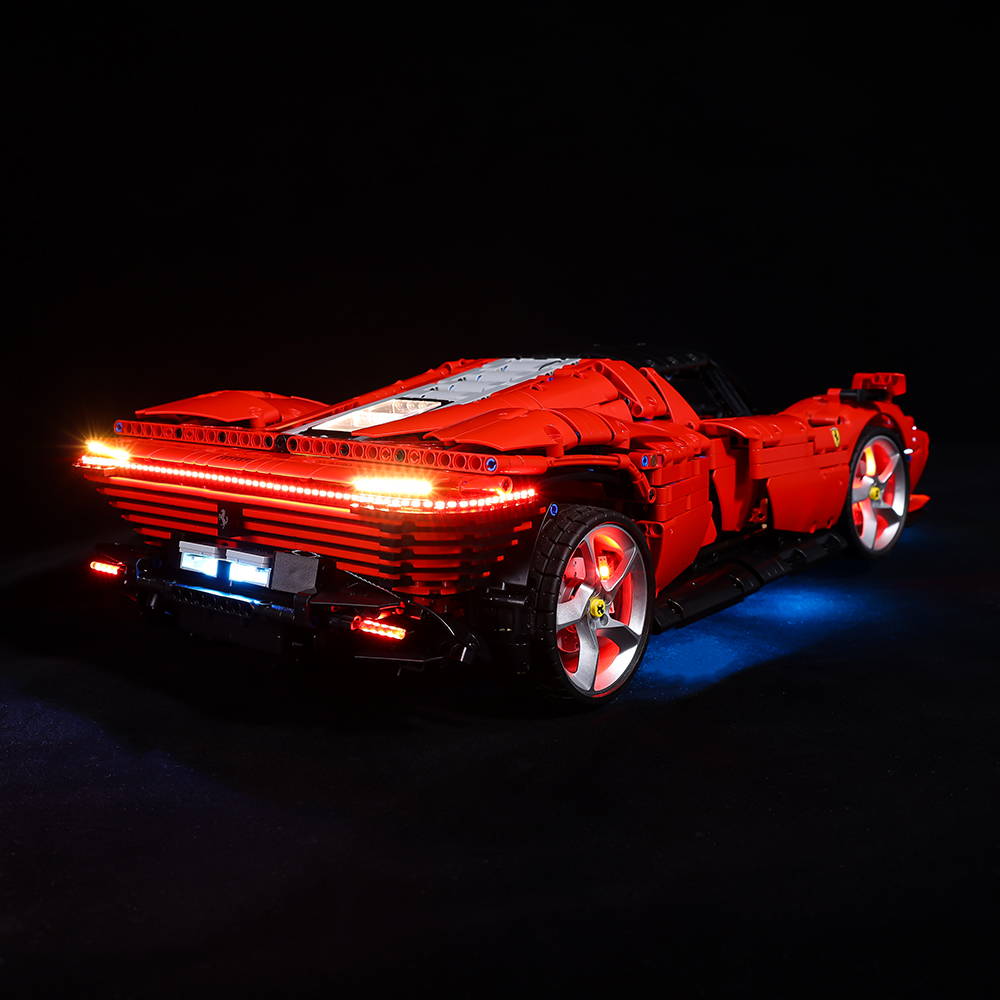 3. INSPECT ALL INSTALLED KITS
Once you are done installing your light kit, make sure to reinspect them for any missing or damaged parts. If you do notice any, be sure to get them fixed immediately. Among the things to look out for are signs of short-circuiting, as it could help you quickly detect where the problem is from. Once you have successfully inspected it and all looks good, make sure it is also safe and has the proper batteries to power it long-term. Once all this has been accomplished and all looks good, put your Lego set on display for all to see
---