LEGO Death Star 75159: Its Review
By

Nikita P.
/
January 19, 2020
The LEGO Death Star 75159 is a replication of the Death Star in the Star Wars franchise. Before it came out, a lot of fans waited patiently, hoping that it would meet up to expectation. We won't be wrong if we said that it did not.
Though it is a great set, a lot of fans didn't fancy it since it took the form of the 10188 Death Star which had been taken off the market a year before. Some fans were of the idea that it was a mere recycle done by LEGO. Is it really true?


Not minding that it elicited the poor response initially, a lot of LEGO and Star Wars fans feel incomplete if they do not have the LEGO Death Star 75159 in their collection.

The LEGO 75159 Death Star has a measurement of about 16" (41cm) high, and 16" (42cm) wide.

Have you looked at its box? There is a great chance that you will notice that it has some differences to that of the 10188 Death Star. It has a larger box, which shows the model using a familiar side. It shows you a number of laser blasts, as well as explosions that are appealing to the eyes. I fancied the glossy Star Wars logo that was shown at the top of your box. This makes it different from those seen in other LEGO Star Wars range.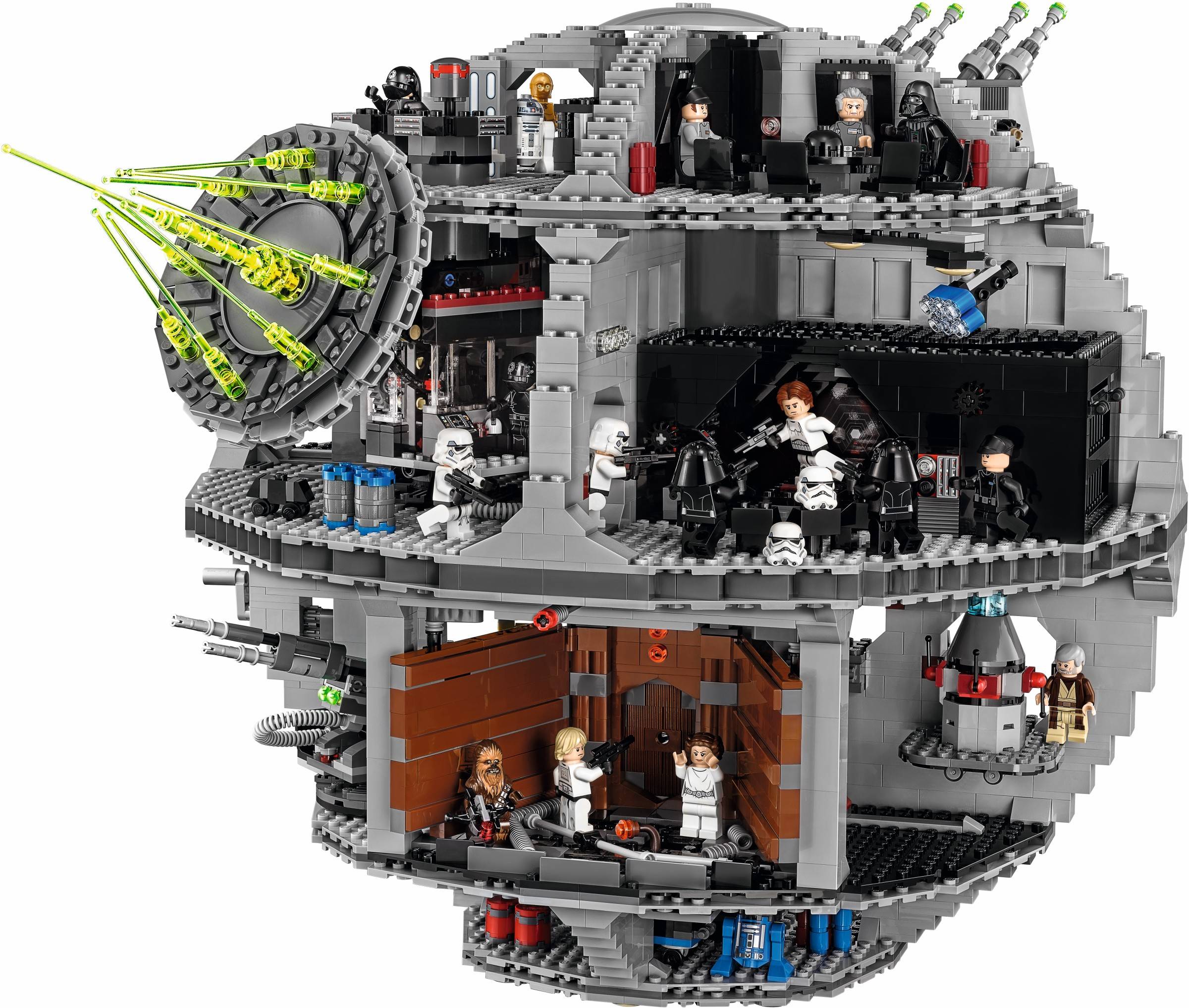 When you open it, you will see some bags that are numbered, as well as three white boxes.

Apart from that, you will come across an instruction manual that is filled in a box. The manual has 300 pages, with some pages containing interviews that were had with designers. You will see them stating the improvements that were made to this set compared to its predecessor, the 10188 Death Star.

In the box, you will see the sticker sheets, which have thirty-one stickers, as well as their instructions.

I would have preferred if they had printed pieces instead of stickers, but we have no choice but to make do with the stickers.


In this LEGO Star Wars, you will see a turbolaser that was created for the 75159 Death Star. We love the fact that they morphed the design to be more faithful to the source material. This is far better than what we saw in the previous model, and we are grateful for that. The turbo laser has two spring-loaded shooters instead of making use of big rubber missile that was hooked on the original model.
I couldn't get enough of the greebling that was seen on either part of the set. What about the hose? These were awesome.

You will see the sears created for two Minifigures, which both having consoles, where the turbolaser can be controlled on.

You could easily adjust the barrel's angle, while its emplacement moves on the turntable. This elicits a great number of motions. You could clip two additional missiles on the wall.

The turbo laser is designed to be hooked to the maintenance bay via a big doorway, as well as a yellow hazard strip that is moving through the floor to show that this area is out of bounds.

In the room, you will notice a massive yellow crane which is different to a large extent from the one seen in 10188 Death Star. This version comes with four claws that are used in crates, as well as other items.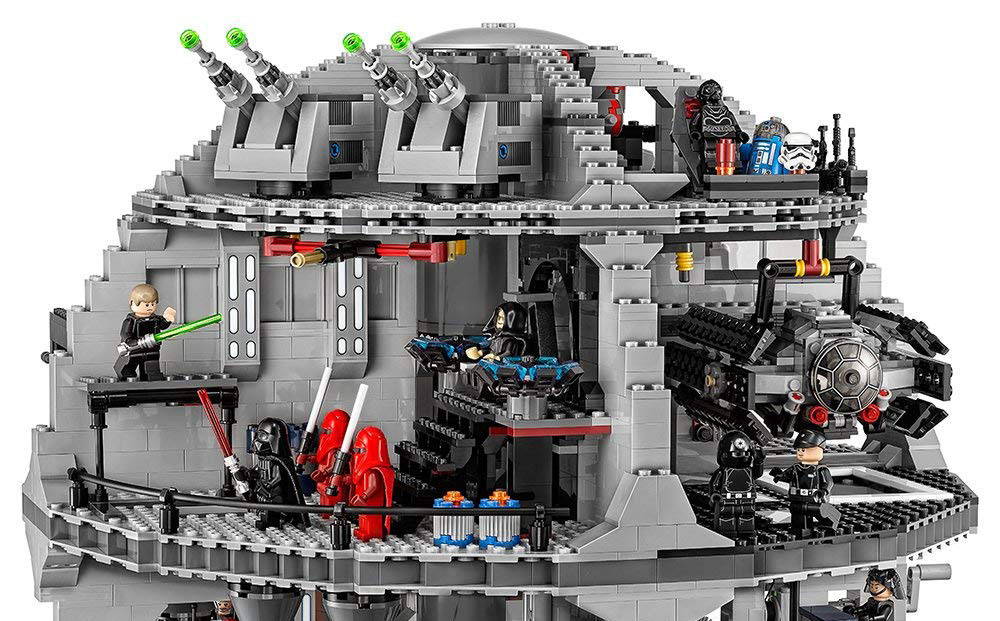 When you look at the back of the turbolaser, you will notice some barrels. The gun rack can be seen in the maintenance bay. This wasn't the arrangement in the previous model, but we are thankful for this arrangement. This is not far from the fact that this arrangement makes one to easily have access to the guns. For someone like me that loves to remove and replace them, this is out of the world.

You can get to the turbolift shaft via the corner. You will notice ladders that allow the Minifigures to climb towards the edges, where they can stare at the chasm.

You could operate the cargo lift by using the crank that is seen in the set. This permits your Minifigures to move from the hangar bay to the maintenance area, and vice versa.

The fact that the lift platform sits is too above the floor means that loading your cargo or troops won't be an easy feat. We are disappointed in this because we felt the manufacturers could do better. This same snag was seen in the previous model, and we expected that they had learned from it and rectified it.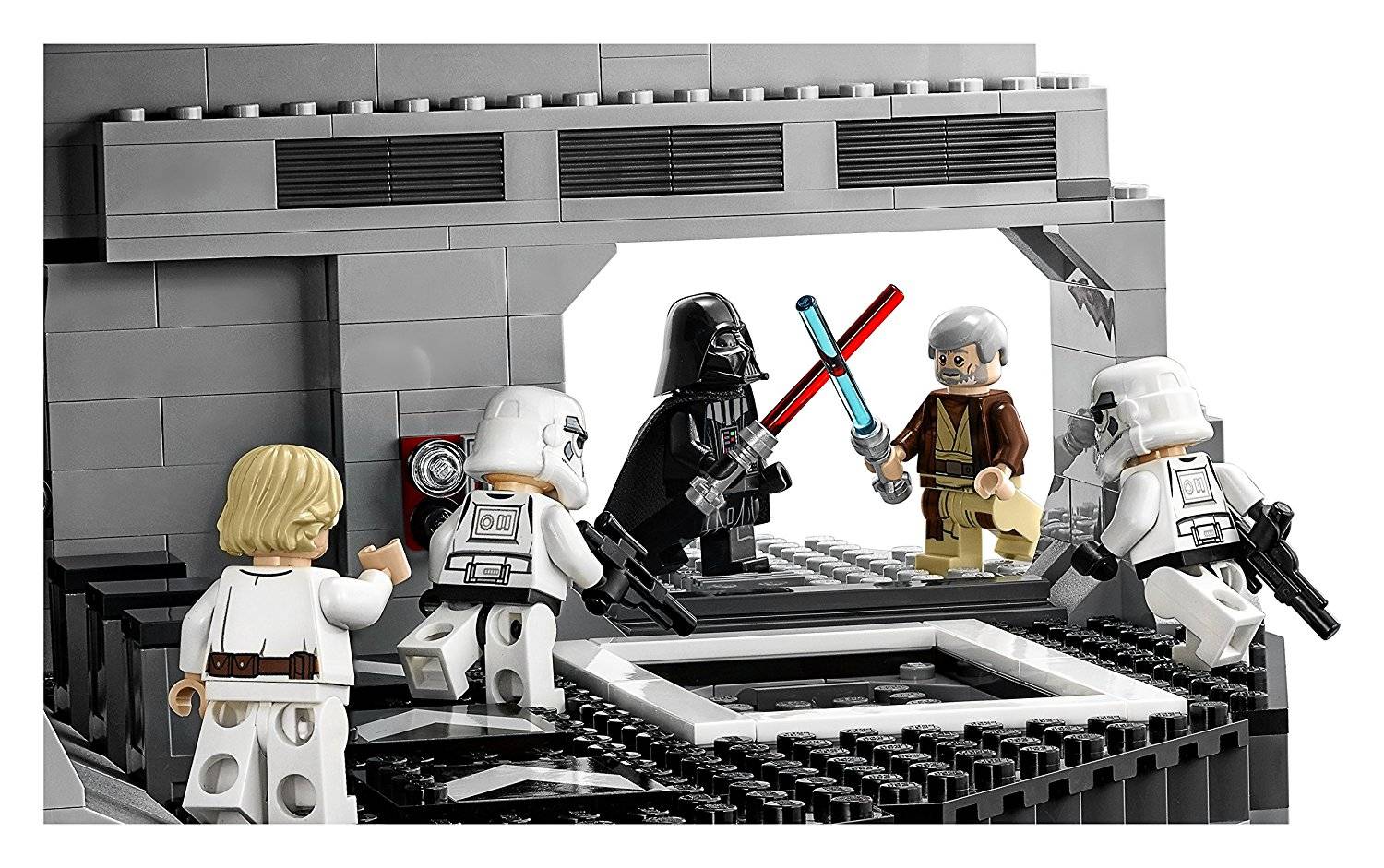 I would have preferred if the string was taken out, and a wall-climbing lift used instead. The latter should have been made to fit into a gear rack.

The big gaps can be seen around the lift platform once it gets to the upper part. To us, this isn't appealing to the eyes.
The string makes it not to be so rigid, which means that you will notice some lateral movement.
I feel that making use of a Technic mechanism would have taken care of this problem, ensuring that the lift is in one place.
Notwithstanding that, watching the lift work is intriguing, as you wind the crank.
The interior of this set has over twenty-three Minifigures, which are:
Darth Vader
Grand Moff Tarkin
2 Emperor's Royal Guards
Emperor Palpatine,
2 Death Star Troopers
Imperial Navy Officer
2 Death Star Gunners
Imperial Officer
Death Star Droid
Princess Leia,
Obi-Wan Kenobi
C-3PO
Chewbacca
Luke Skywalker (Tatooine),
Han Solo
R2-D2
Han Solo (disguise),
Luke Skywalker (disguise)
Imperial Astromech
Luke Skywalker (final duel), as well as a Dianoga trash compactor monster.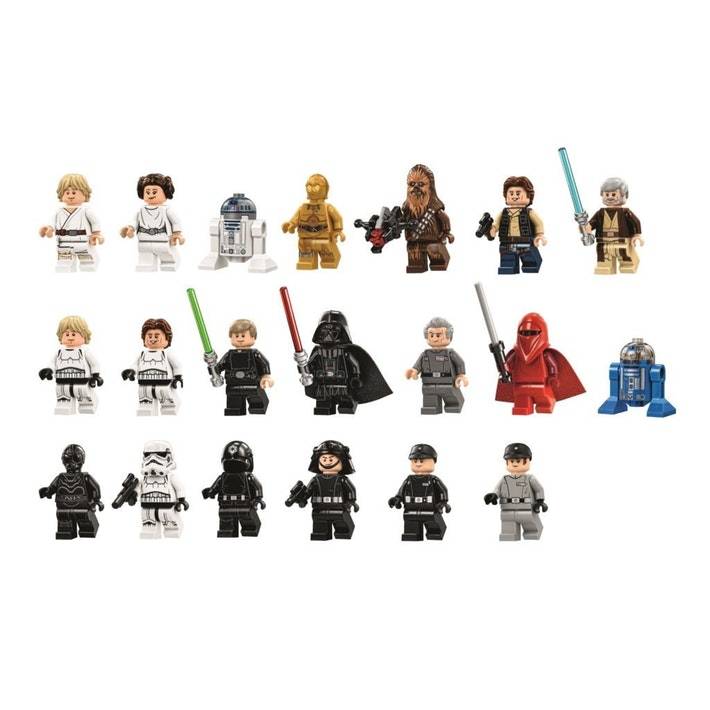 You will also see an Imperial conference chamber, a super laser control room, Emperor Palpatine's throne room, hangar bay, Droid maintenance room, trash compactor, detention block, and so on.

Other things you will see are:

Turbo laser,

Cargo area,

Turbo laser towers,

Death Star gunners,

Blaster rifles,

Lightsabers

Blasters

Force pikes

Blaster pistols.
This set comes with different play features. You could easily load up your turbo laser and have it fired to send the rebels away. Would you want the rebels overrunning you? Definitely not.

You could easily move the Lord Vader's TIE Advanced where you want it to be, and wait for your enemies to come near, while you prepare to attack.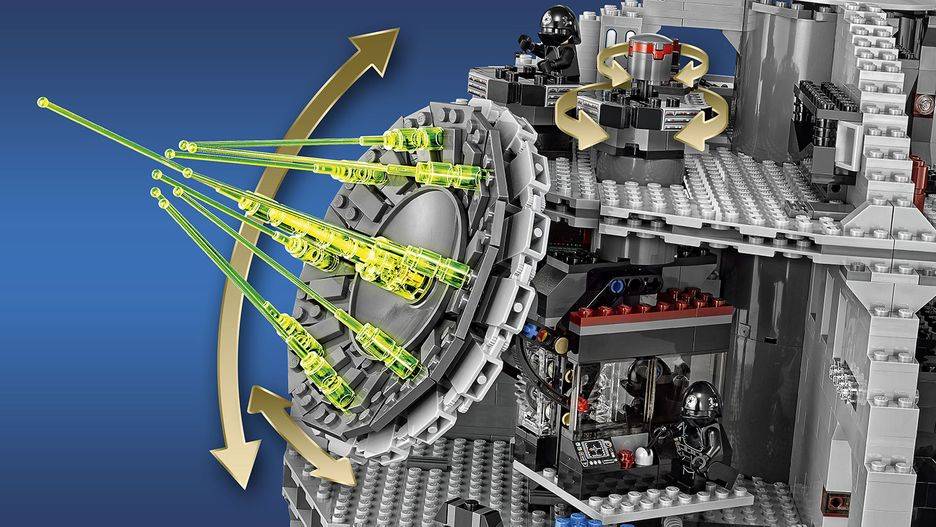 If you want, you could have a battle in the throne room, and fight off the Royal Guard and even Palpatine.

You could help Leia escape from where sue is being detained, and move to safety without falling into the chasm.

Can you help Obi-Wan team up with the rebels, as they fight off the Empire? What of the trash compactor monster? Can you sight it in the form of Dianoga?

You could easily create your favorite Star War scenes with this set.
Like earlier mentioned, this set has a manual book that has three hundred pages on the dot. Calm down!

Not every page is filled with a tirade of how to couple the pieces together. This means that you don't have to read a long instruction manual that will bore you to death. The instruction manual is designed in such a way that it is colorful and made of guidelines that you will easily understand. If reading is not your thing, you could consider streaming the video showing you how to couple them together.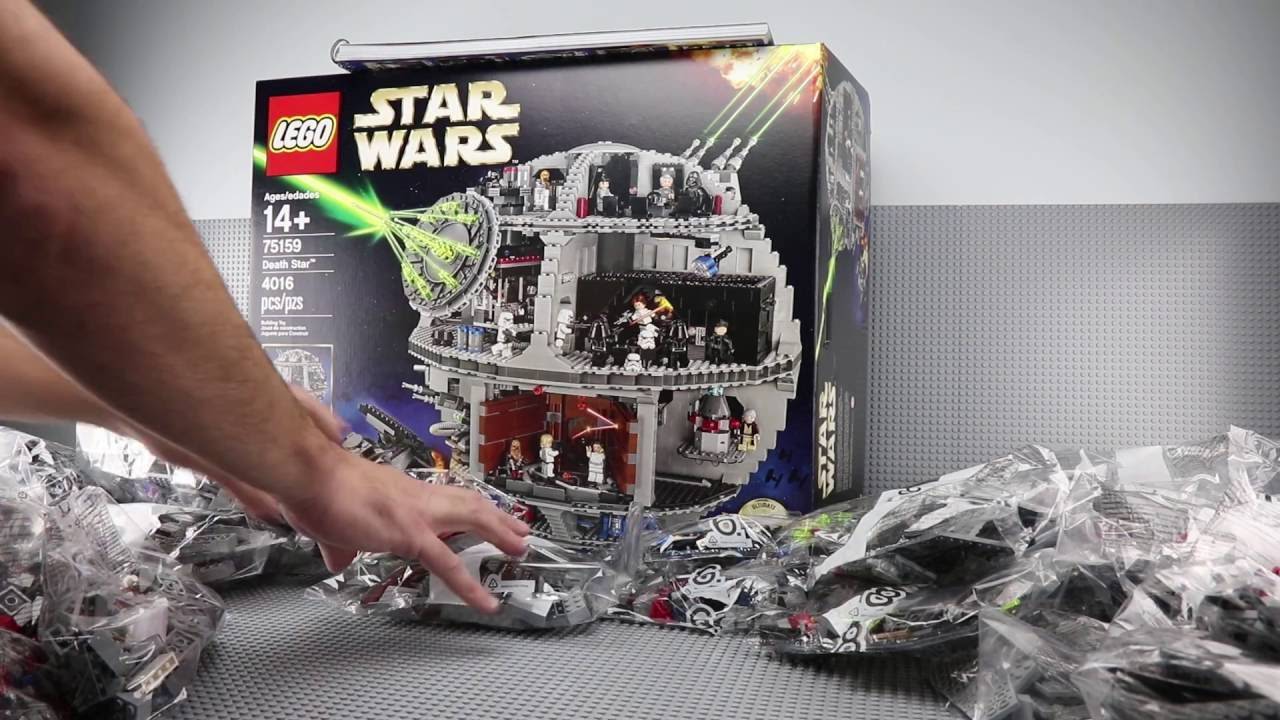 I, for one, love visual representation, and that was what I did. It took me a few hours to get this done.

I loved the coupling process to a large extent because it wasn't complicated. A kid could get it coupled together without breaking a sweat. When I was done, I had no choice but be proud of my architectural finish.

We love to display our completed set, and want them to look better than any other one that we have seen. You can do this by purchasing a unique set of light for it.

Apart from the aesthetic appearance that it brings, it allows others around you to know where your model is to prevent them from mistakenly messing up with it.

With the unique LEGO lights, you could kill multiple birds with a stone. Contact us today, we will live to hear from you.


The Deathstar is the ultimate symbol of unbridled power. LEGO with this unique set helps you experience some of the most heated and iconic moments in Star Wars Canon. If you want to see some of the inner workings of the dark side in the Galaxy Far Far Away, the LEGO Deathstar is your sure bet.