LEGO Car Transporter 42098: Its Review
By

Nikita P.
/
December 25, 2019
When you come across this set, there is a great chance that you may think that the LEGO 42098 Car Transporter may be a boring set. It is far from that. When you are done, you will be amazed at how beautiful it is. It offers great value for how much that you expend.

It offers numerous parts for those that love Technic building. Imagine building both a car and a transporter in this set. The Azure blue car is one exhilarating build, as well as the red car transporter. We are thankful to LEGO for this awesome set. Who wouldn't be?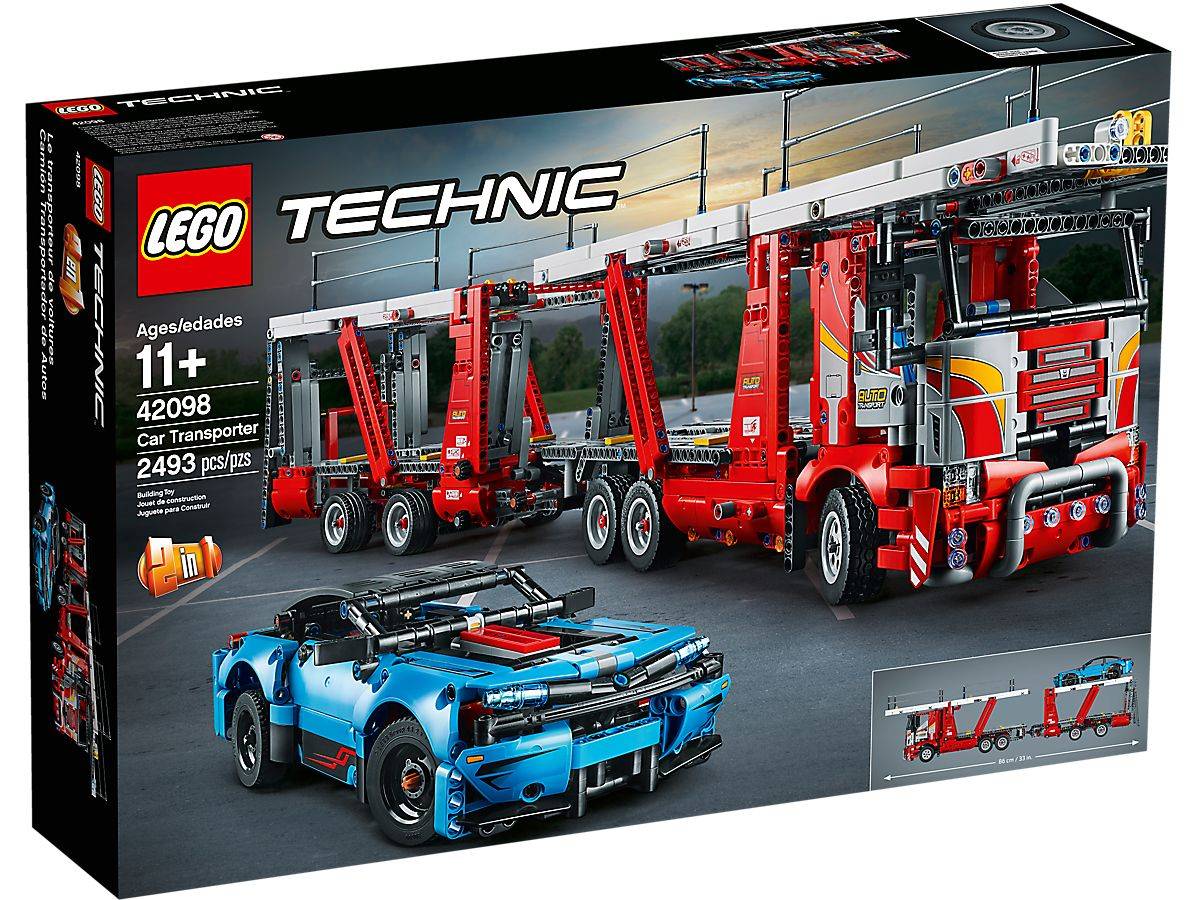 Like earlier mentioned, this set comes with 2,493 parts. You will come across a lot of beams, which are more than two hundred pieces. We are thankful that not a lot of them are of blackish hue. It may have a railing issue, but the issue can easily be solved.
It has a measurement of about 8" or 22cm high, 33" or 86cm long, as well as 5" or 13cm wide.
The azure blue car has a measurement of about 3" or 8cm high, 10" or 27cm long, as well as 4" or 12cm wide.
LEGO® Technic™ Truck & Show Cars have measurements of about 5" or 14 cm high, 34" or 87 cm long, as well as 5" or 15 cm wide.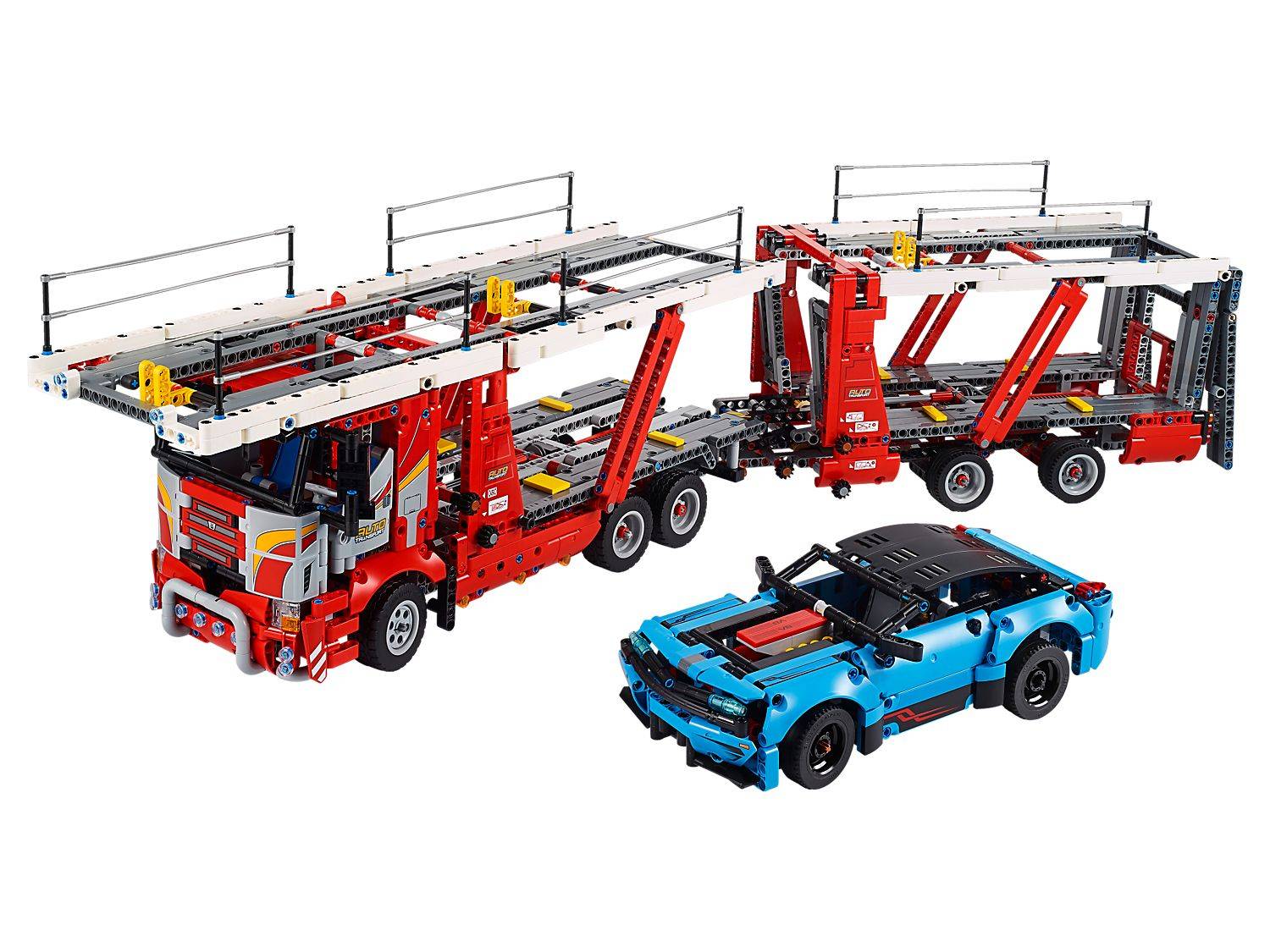 The interior of the car reminds us of a 42093 Chevrolet Corvette ZR1. There is a great chance that you may have it, as it came out the beginning of this year.
The engine and chassis remind of the model or this car, as they were built with similar mechanisms and techniques. Apart from that, they have similar sizes.
The engine has a crankshaft moves the 'cylinders' up systematically while they rotate. The back wheels are linked to the crankshaft, while the steering is linked to the backside of the car. This is steered by the gear that is sited at the backside.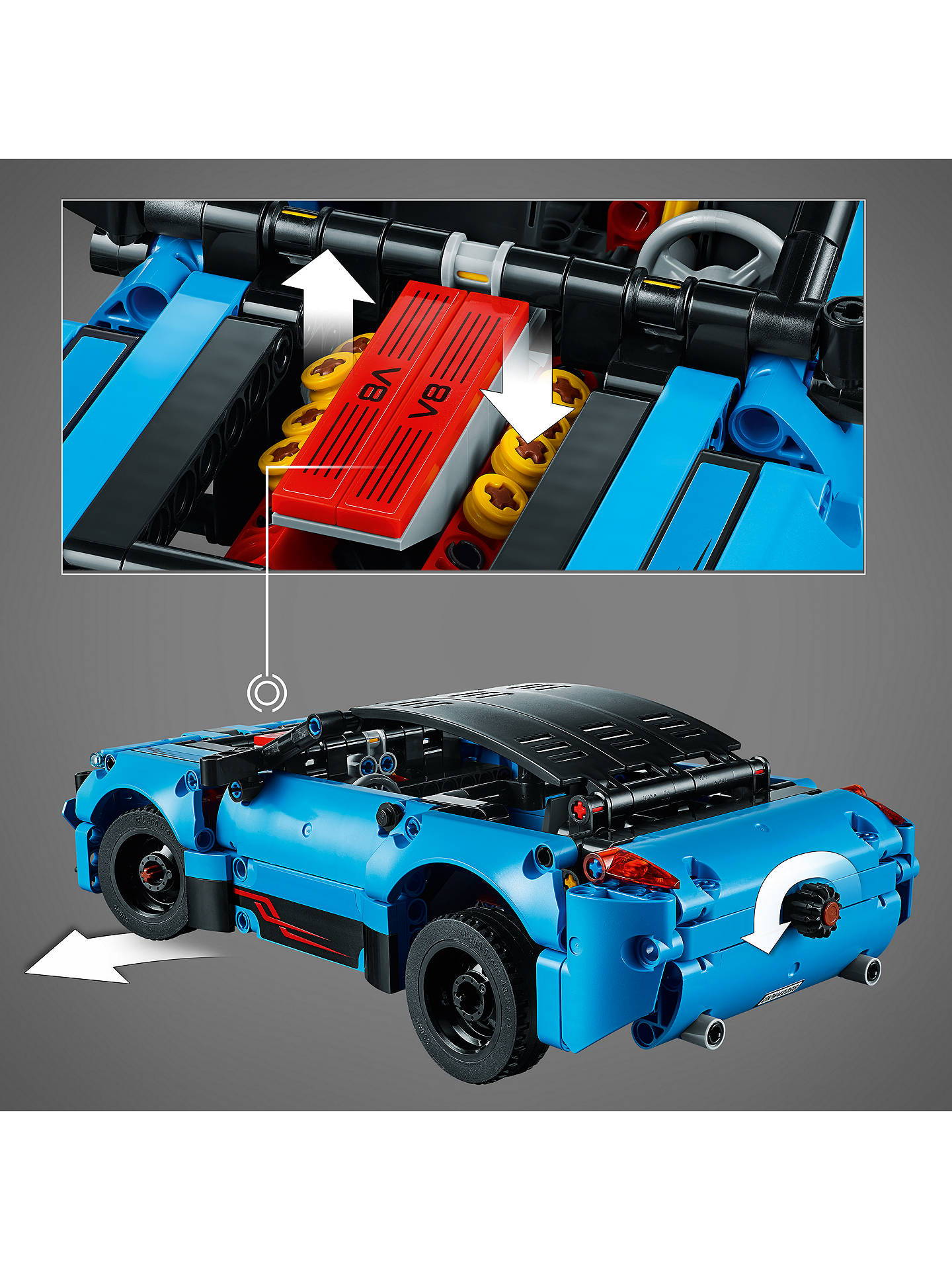 The car that will sit in the car transported has a nice dark azure bodywork that makes it seem expensive. It comes with a matching roof, and we are thankful for its blissful sight.
The car has a gear that controls its steering. We didn't fancy the stickers on the engine, as the V8 markings weren't properly aligned
If this car was a set on its own, we wouldn't mind buying it too. It was tastefully made. Imagine it in a car transporter, it is out of this world.
The car transporter comes with a moving cylinder engine that is similar to the one seen in the car. It comes with a rack and pinion mechanism at its rear to ensure that you could easily move the car deck.
Building this model is easy, though time-consuming.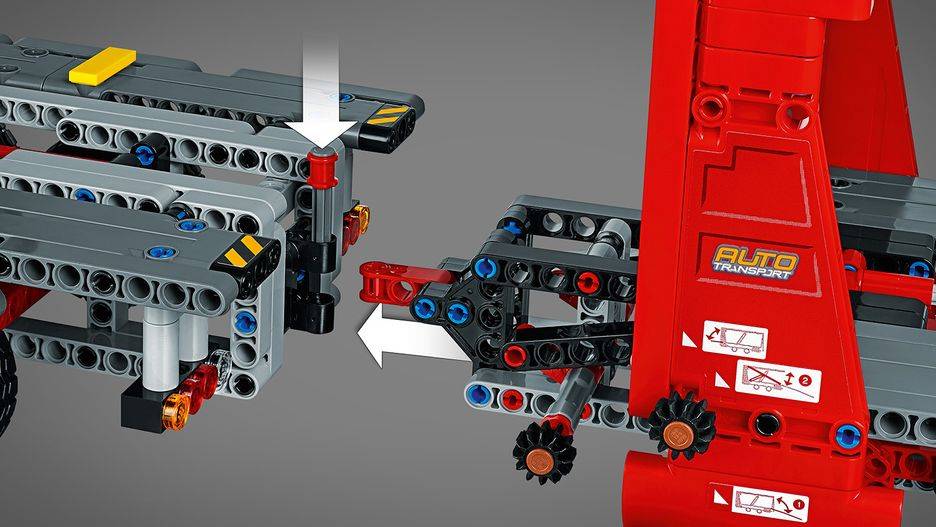 This set comes with realistic features that remind us of a true car transporter. You will have access to hours of playtime and can explore your life for design and engineering. This set is compatible to the LEGO® Technic™ 42093 Chevrolet Corvette ZR1, allowing you to have extra play opportunities.

It is a great way to improve your love for engineering, as you can easily lower or even raise your rear ramp and car decks. It comes with a seamless navigation system for both your upper and lower levels. To give the set more realism, you can have access to the red, gray and black hue scheme of stickers.

When you come across the LEGO Car Transporter 42098, you will realize that it was worth every step and inconvenience that you might have faced.

You will start constructing it by making use of the bags that have the number 1 attached to them. With this bag, you will craft out the Dark Azure car.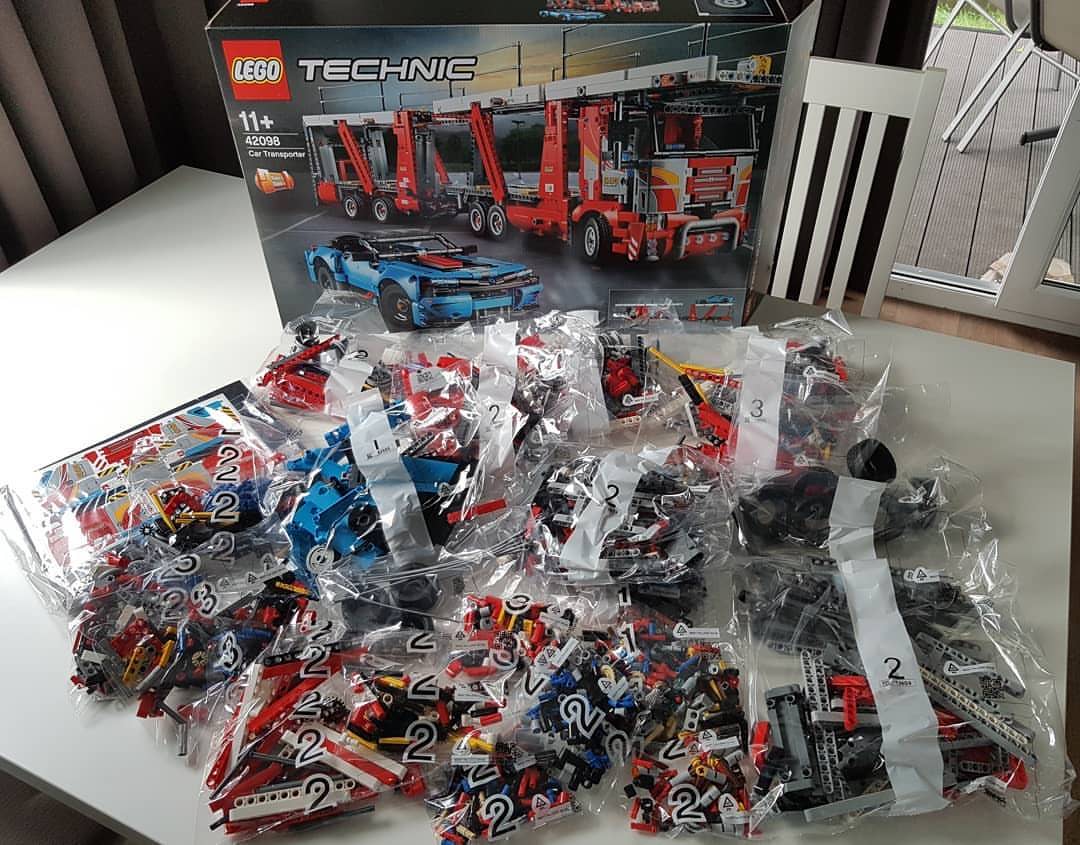 If you have ever crafted out the 42093 Chevrolet Corvette ZR1, building this would be a walk in the park for you, as there are similar steps used. The only differences may be different hues and tiny variation in the function implementation.
Both sets have a front-wheel steered that is steered by using the knob in the rear. Apart from that, they both have a little V8 engine driving, which operates the back wheels by making use of a differential.
Building this is quite easy, as you need only a few steps to get it done. When you start holding it, you won't have any choice but to fall in love with what you are creating. It reminds one of a car with sleek curves, as well as a boxy "muscle car" look.


When I came across the brick-built sides, I had no choice but to fall in love with it, as it was a great tool that aided the wide mudguards to move towards the narrow center.

Start building your truck. It is quite intriguing that you can raise and lower the upper deck by doing it in an indirect manner. All you have to do is to move the back arms' lower part of attachment either front or back.
Once you are done, building your axle-based assembly, which comes with its Bright Yellow 3M axle, as well as the Black connector, you should put the Bright Yellow axle into the major part.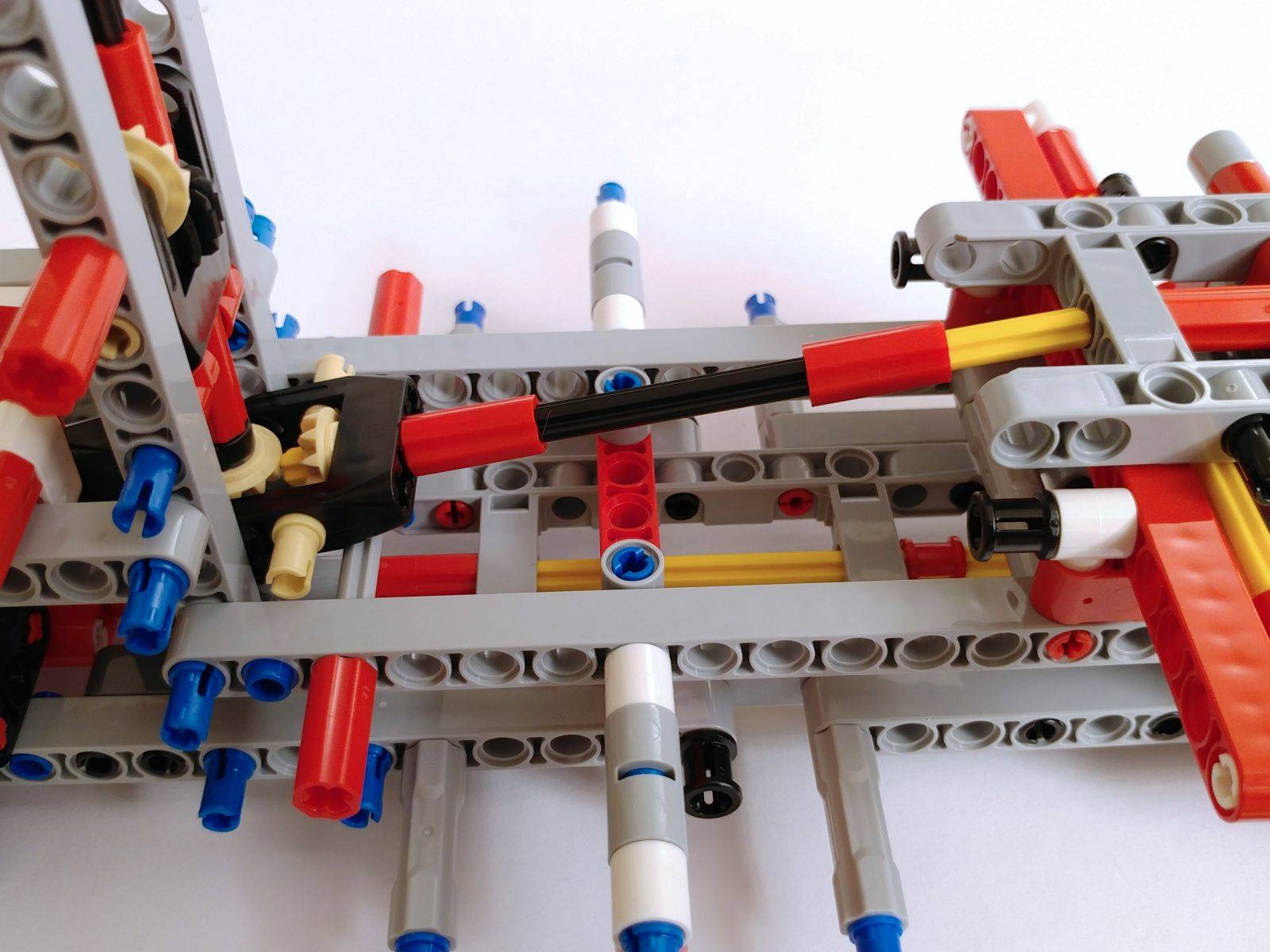 The space that you are meant to do this is quite small, meaning that you may have to insert the assembly at an angle.
The LEGO 42098 Car Transporter's angular panels have two stickers, which may have been better if it were a bigger one that would take that space.
Building the chassis of the truck is easy, as long as you follow the guidelines. You will need some parts to do this. Before you incorporate every wheel and panel, you will get to see every mechanism there, from the gear rack that ensures that the upper deck is lowered, and so on. You will come across the cabin tilt linkage, steering assembly, as well as the small V6 engine.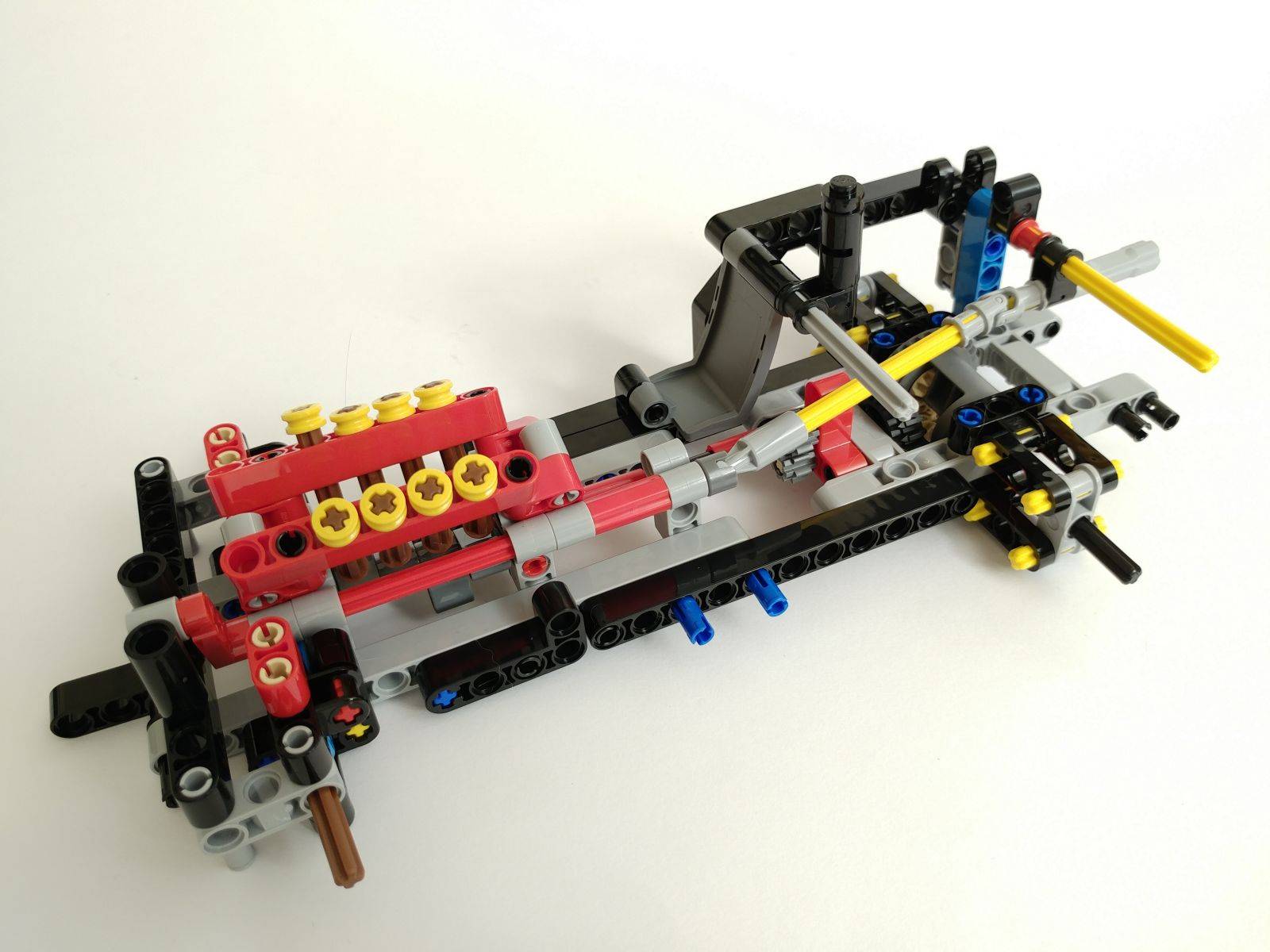 One thing that we advise builders to use while crafting this up is to make use of its instruction booklet or go to YouTube and watch the building process. It makes the process easy and fun to do. We won't be lying if we said that this is a complex build.
The instruction booklet has over 550 pages, which may be numerous to the average human being.
Do not be scared. If you have come across the average technic set of this size, you will realize that there are some similarities, and the booklet doesn't contain only the instructions needed in coupling the pieces together.
You will come across the functionalities of the sets, instructions, the inventory of the different parts of the set, as well as other LEGO Technic, sets that you can get.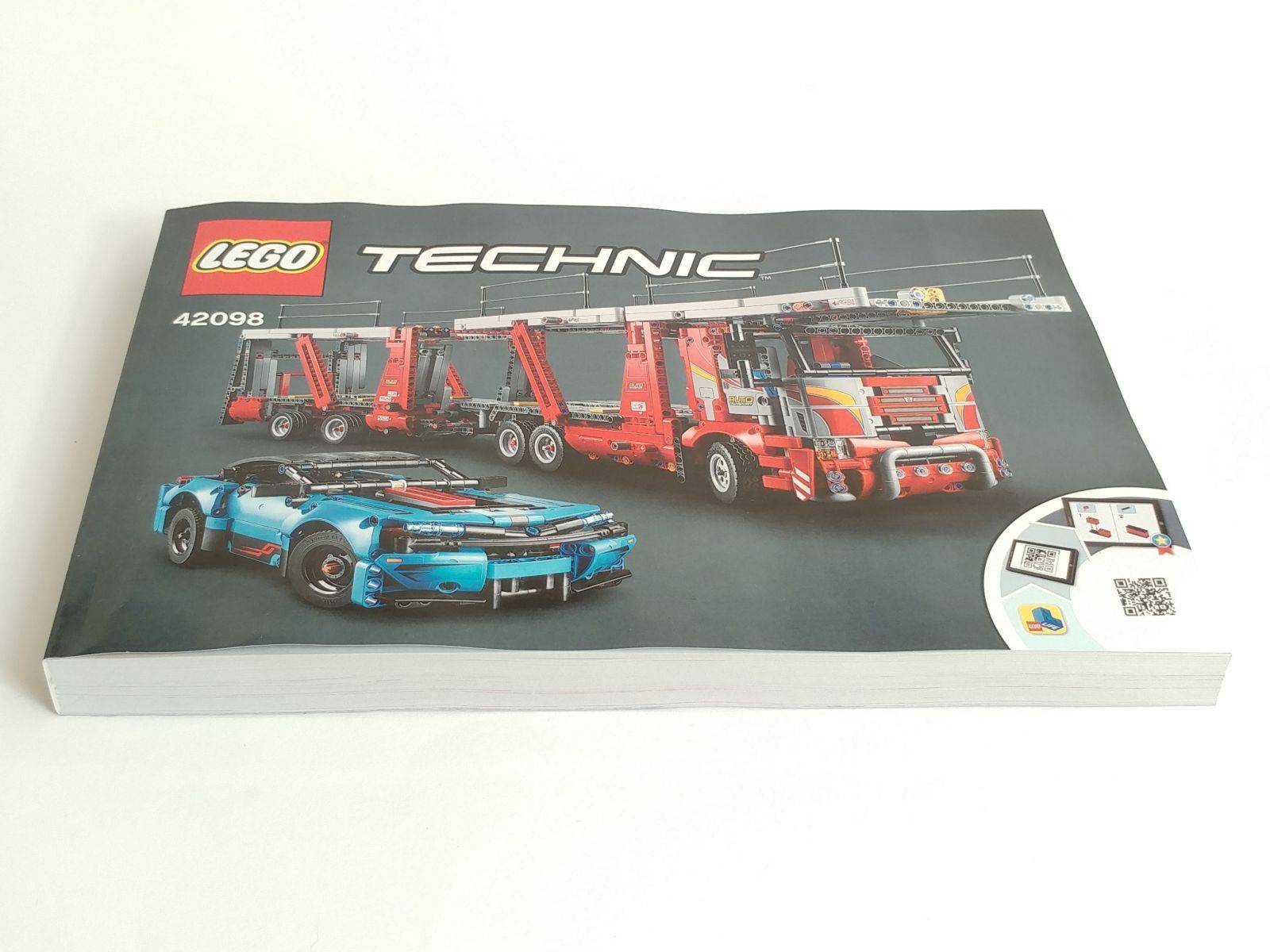 This set has over three independent models, and many had expected that it would have come with three different guideline booklets, instead of this big instruction booklet. This is a snag. Assuming it came with three different instruction booklets, it would have been easier for multiple people to couple this big set together. They would have looked at the different booklets while assembling it together. Not to worry, that is where YouTube comes into the equation. You could turn this into a family activity.
There are a number of stickers in this. Using the stickers will add the necessary details to what you are building, though not everyone may want to use them. You can use some and keep the rest.
Every LEGO set has a story to tell. You can make your own Car Transporter tell your own version of its story today with some of the most spectacular Light Kits you will only find in our stores. Let your collection be the envy of all eyes by adding our specially-created Lights that leave everyone with a wow impression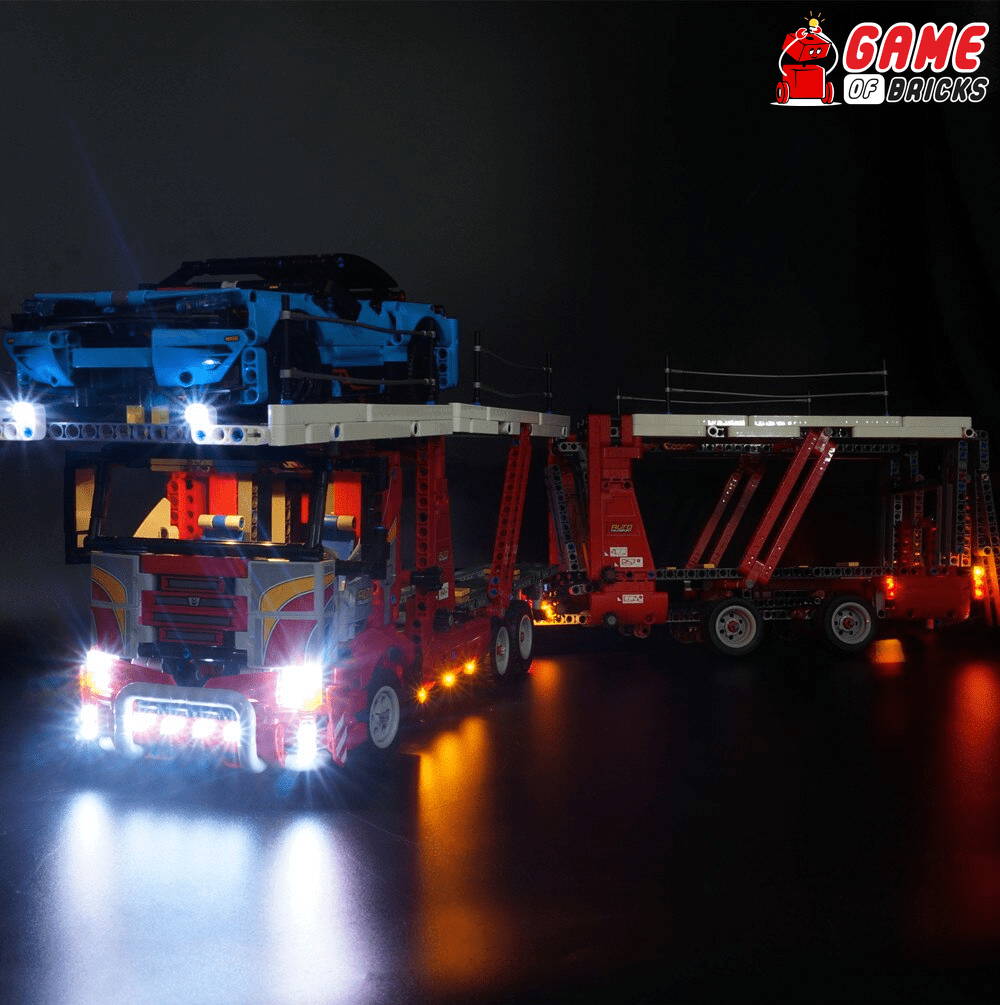 LEGO has numerous tricks, construction machines, as well as sports cars in its collection, and the LEGO transporter is a very unique one. There are not a lot of LEGO transporters out there, and it has only one counterpart, which is the B-model of the 8872 Forklift Transporter, which came out in 1993.

The LEGO Car Transporter 42098 has the usual parts that we see in Technic sets, and this was quite disappointing to some fans. Some expected that it would have had some of the new Double Beveled 28 Tooth Technic Gear, but it didn't come as envisaged.
The fact is that no new molds doesn't mean that this set isn't intriguing. You will also notice some new hues for the parts, which we are thankful for.
When we should compare the building experience and other pros of this build, we have no choice but to say that it is worth its price. We only hope that the new transporter set would incorporate new parts that will leave the universe and its fans grateful.