LEGO Bookshop 10270: Its Review
Growing up, I have always loved the bookshop. Well, it comes with the territory, I was a nerd. Alright, I agree, I am still a nerd. I loved going to the backstreet bookshop to stare at books, and buy the ones that I could afford. This was a reason I purchased the LEGO Bookshop 10270. It gave me that back street feeling, one that I could notice in a quaint town. 

You see something about a LEGO Modular Building, it is capable of leaving you so satisfied that you would want to buy more sets that fall into that category. Its appearance is appealing to the eyes that you wouldn't know when you buy more and more.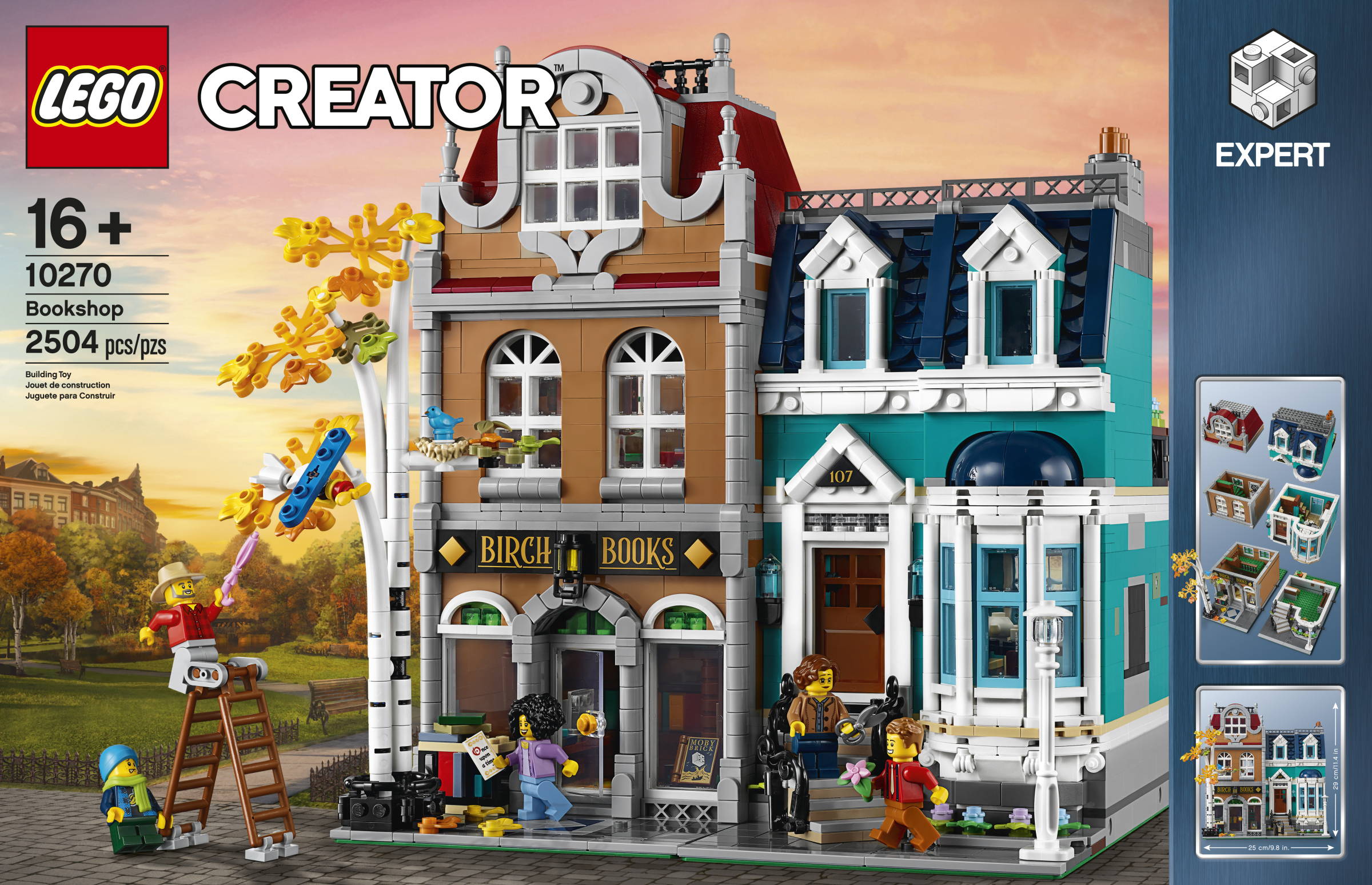 This bookshop is three storeys and has an adjacent modular townhouse building. It comes with intriguing details like the open-cut design, display window and so on. Truth be told, when I was done coupling the pieces together, I warned all my friends to steer clear of my LEGO Creator Expert set. No one was allowed to touch it. You wouldn't blame me. It is cute to the eyes and satisfying to stare at. 

Every collector, including me, love displaying our beautiful pieces, and one of them is this large 2,504-piece LEGO set. 

I think my LEGO Modular Buildings are the best things that have happened to me, as they are my pride and joy. 


Much time and effort were put in by their manufacturers in making this series. One great thing about the LEGO Creator Expert series is the fact that anyone could play with it, be it a teenager or an adult. 

If you are a fan of enjoyment and nostalgia, you should get this set. The LEGO 10270 Bookshop was worth every penny that I spent. 

The LEGO Bookshop 10270 has 12504 pieces, with the following measurements 29cm high, 25cm wide and 25cm deep. With the numerous pieces, you will spend days coupling this set together, no matter how astute you may be. 

This is why it is a fun activity that can be shared with your loved ones. You could have your friends come over and work on the structures with you. 
You will have access to minifigires like a boy, townhouse occupants, client and the owner of the bookshop.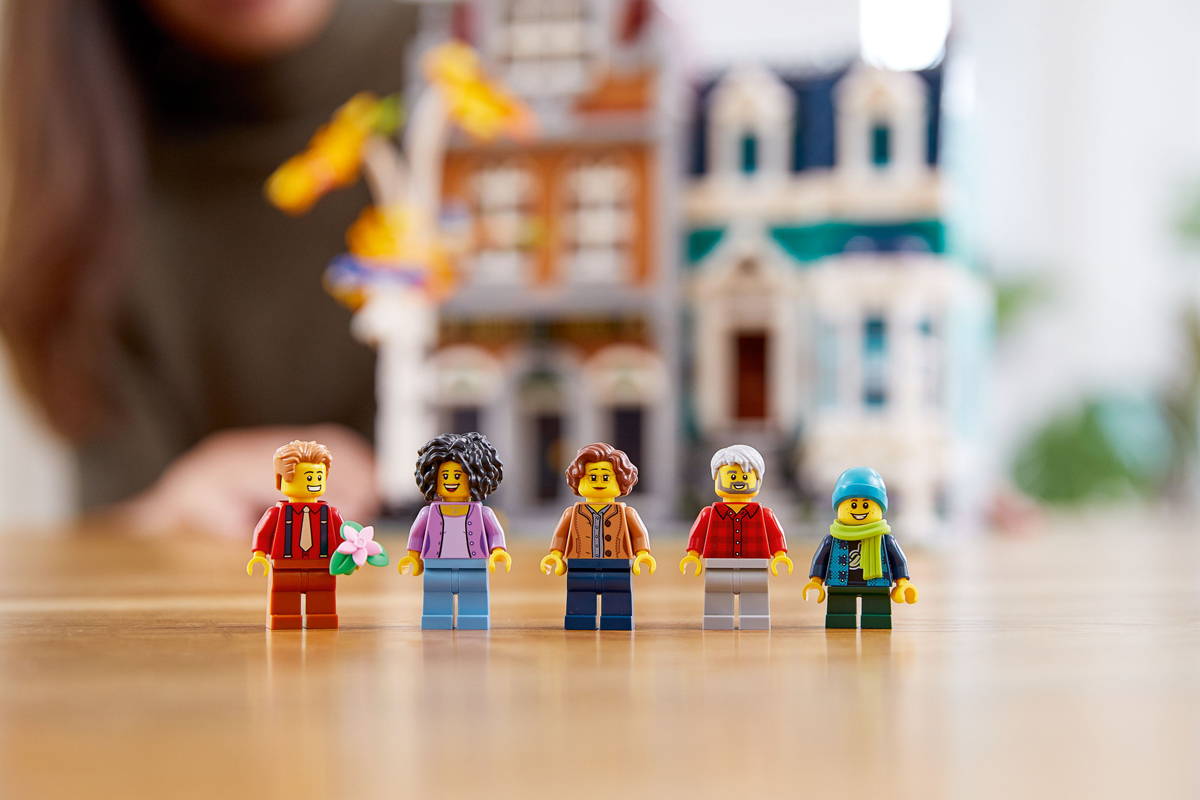 This set is tasteful to the eyes. There is hardly a soul that sees it that wouldn't confess that it is quite. 

It comes with numerous elements, and their placements have you cooking up a gorgeous LEGO architectural marvel. 

This structure comes with an appeasing stone archway that surrounds its doorway. Apart from that, you will notice flat curved plates that act as frames for the windows. Can I say that they left me breathless? 

At the front door, you will notice tiny steps that are fancy. For the railing, the beautifully colored vines took away my breath. 

A part of this structure that I fancied is the tiled roof. If I keep on writing about how cute this set is I won't stop writing. If you doubt me about its enticing appearance, soak in its beauty.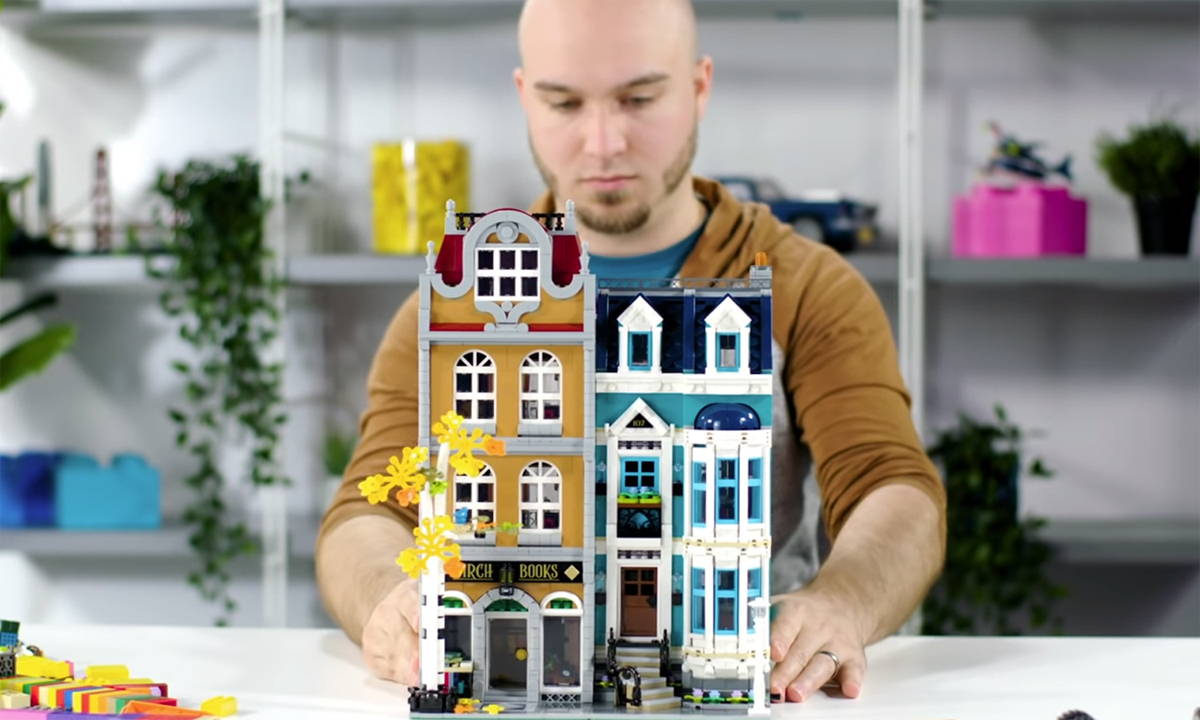 This set comes with two buildings that are equipped with similar items and different things. In the bookshop, you will see the usual bookshelves, armed with books. 

There are beds, chairs and so much more on the floors above the bookshop. Your eyes will wander towards the grandfather clock and other features contained on the second floor.
The next building is a tiny townhouse apartment, which is not as long as the bookshop. It has a tiny basement that comes with fun elements.

There is a small mousetrap that is armed with cheese to entice the rats. Apart from that, there are ladders around.
There is a living room space in the apartment which has a display cabinet, a tiny fireplace, a table that has an afternoon teacup on it, as well as a lounge chair in the bay window.
Underneath the stairs, you will notice a tiny cupboard. There is much more that you will enjoy in both the bookshop and the townhouse.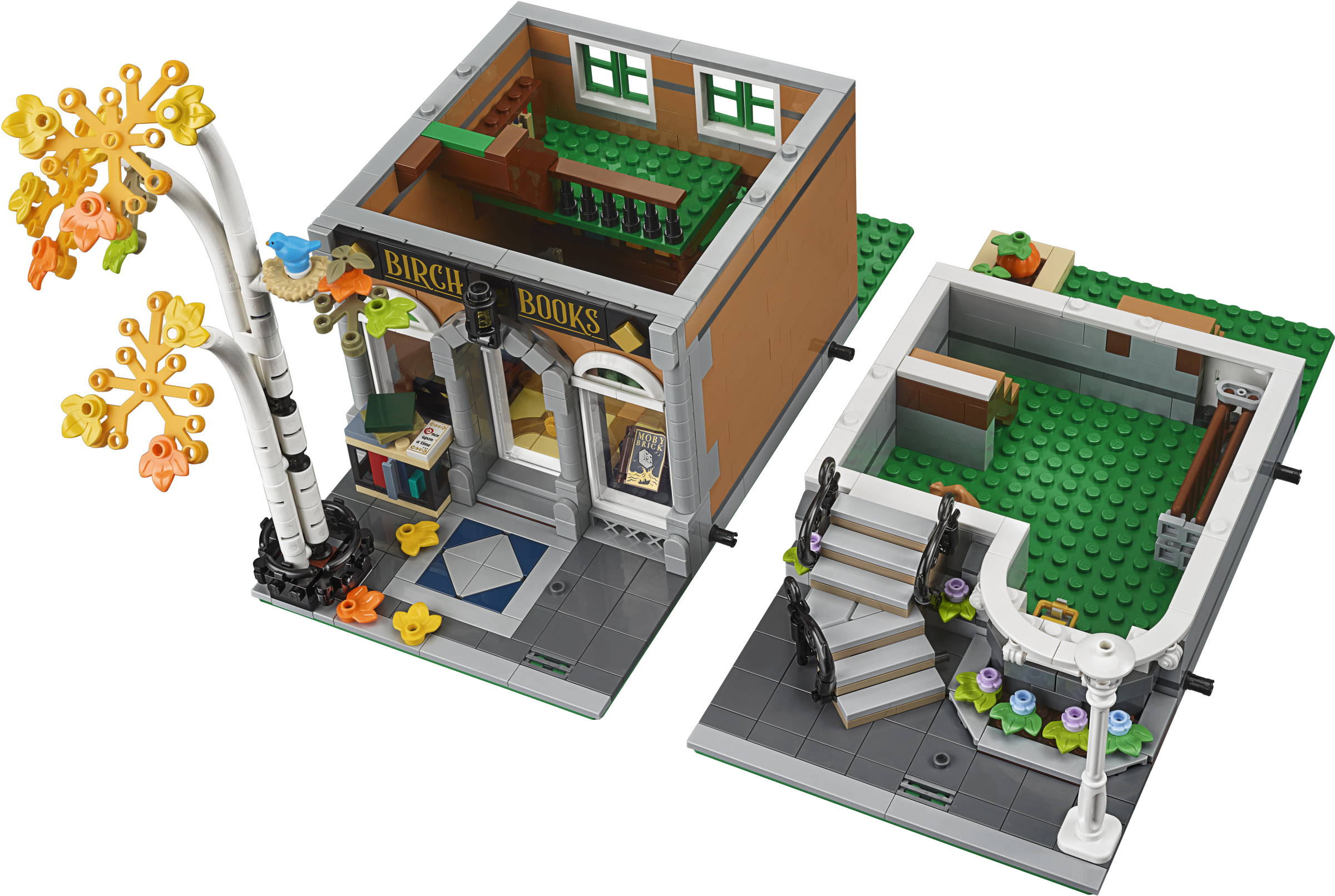 A lot of modular buildings tend to have one structure that is erected on a 32×32 baseplate. This is not the case with the Bookshop set. It comes with two 16×32 baseplates because of two structures. 

To build this set, you will start by building the Bookshop. This building comes with a loft space, as well as two floors.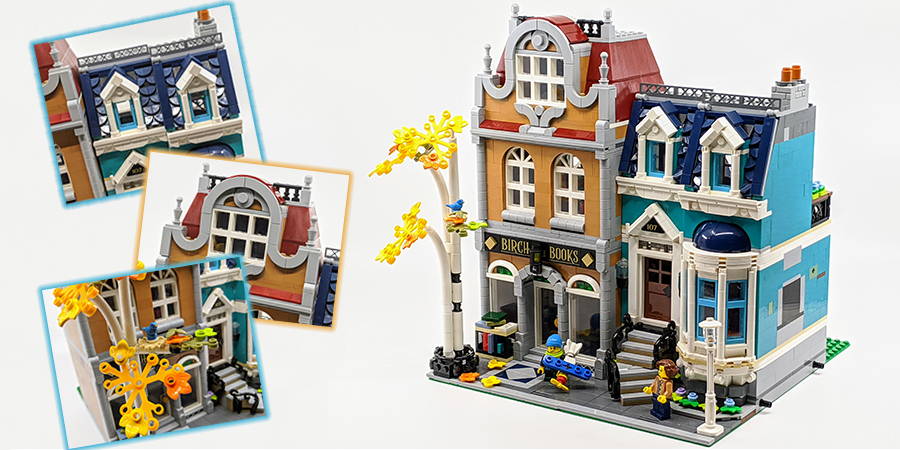 You will see the bookshop on the ground floor, having some shelves with books in them. Inside the shop, you will notice a nice tiled floor, as well as an awesome staircase. When you move up the staircase, you will get into the second floor.

When you are building the second floor, you will have to couple together with a recliner chair, a Grandfather clock, and so on. 
The staircase takes one up to the loft area. On the second floor, you will notice that it leads to a tiny outdoor balcony area. There, your eyes will glance at a number of plants and chairs. To me, I feel that clients can easily head there to read and interact while staring out of the balcony. 

The topmost level of your Bookshop building is the small loft apartment space. It isn't large, as it can only occupy a small bed, as well as a terrarium. The terrarium holds a tiny chameleon.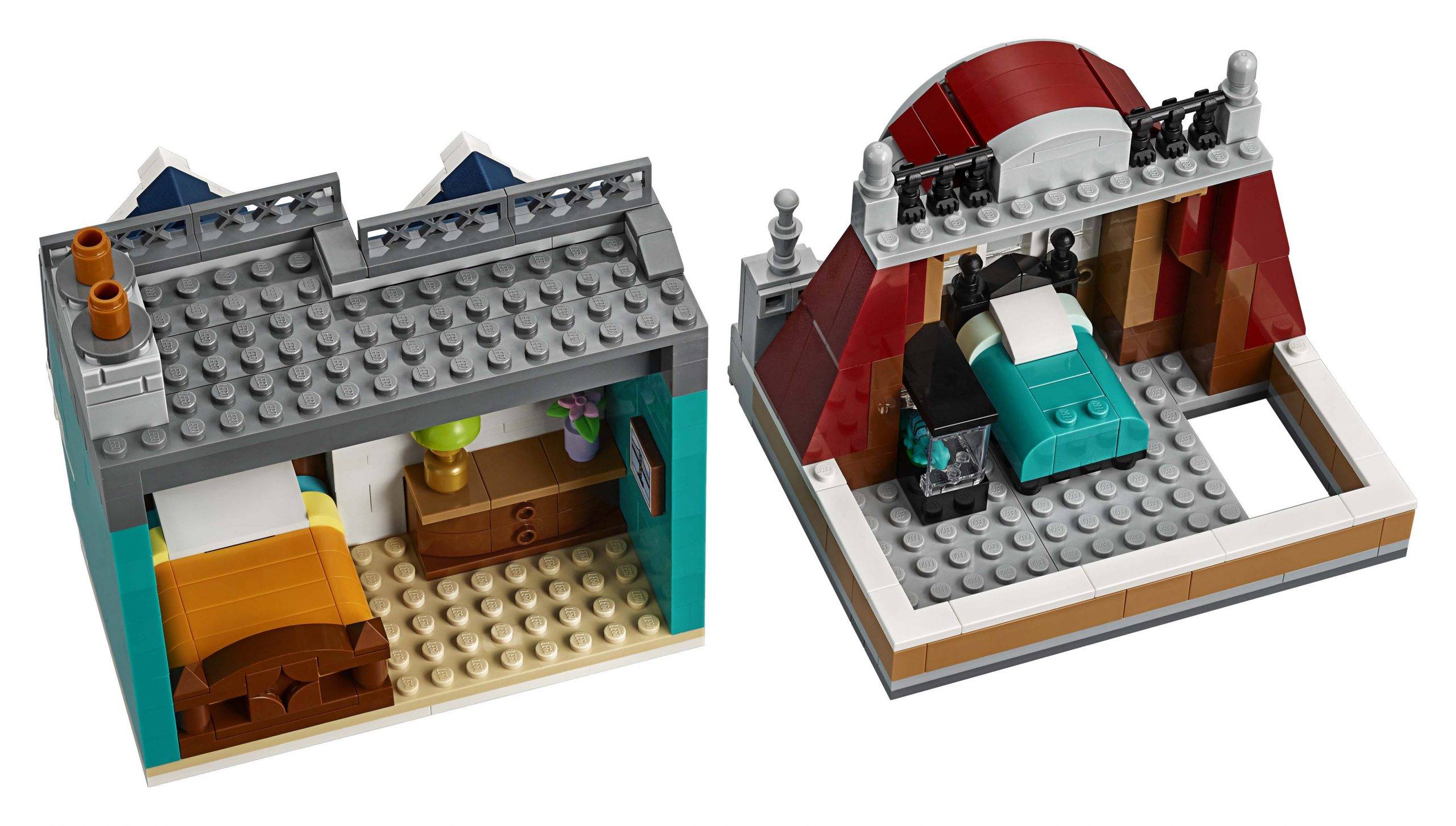 If I say building this is easy, I would be lying. This took me long hours that were spread through different days. The second building had similar building time. 

We love to display our completed set, and want them to look better than any other one that we have seen. You can do this by purchasing a unique set of light for it.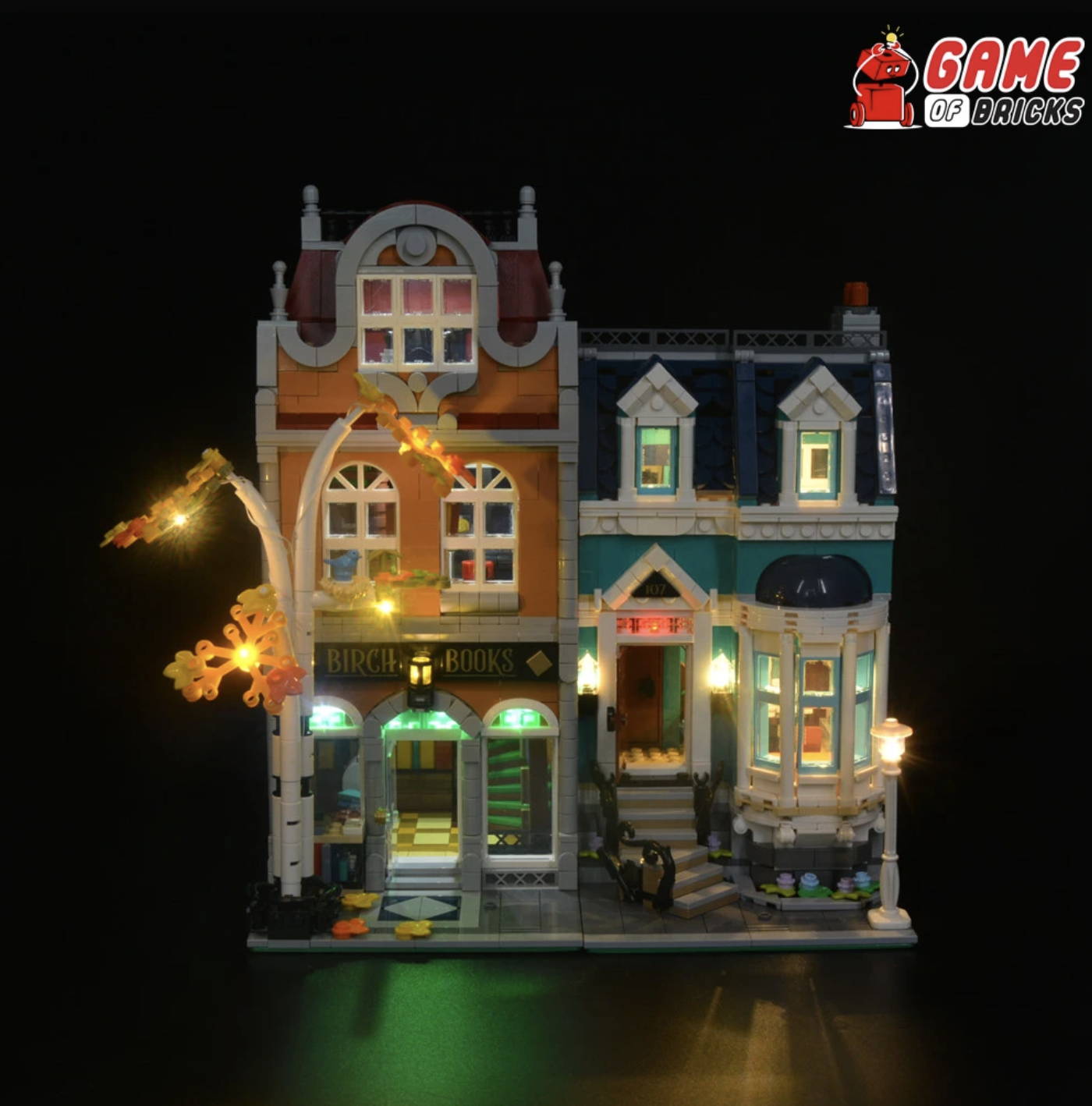 Apart from the aesthetic appearance that it brings, it allows others around you to know where your model is to prevent them from mistakenly messing up with it. 

With the unique LEGO lights, you could kill multiple birds with a stone. Contact us today, we will love to hear from you. 

The truth remains that I had excess expectations when I opened up the box, and when I didn't see what I expected, I felt a bit of disappointment. Well, they say that we shouldn't judge a book by its cover. This was the case.
I decided to begin building up my LEGO 10270 Bookshop. I had bought it, I had no choice.
Immediately I started coupling the pieces together, I started to understand why a lot of fans could not get enough of this set. The techniques used in building it are intriguing and can be confusing to some people. Well, that's where your instruction manual comes into play.
In the build, I noticed that even the tiniest detail could change the appearance of the buildings.
The back didn't come with a lot of details, as we get to see the front a lot. During the build, I noticed that some of the rooms didn't have a lot of features. This wasn't intriguing to me, but there was the silver lining. The other parts of the set interested me, and I loved coupling them together. Isn't that a win-win for me?
Now, let us analyze what I fancied in the set, and what I didn't like. 

One part that I fancied were numerous parts and how they were used. The architectural features intrigued me. They were tasteful to the eyes. I can't stop staring at them. It is no wonder a lot of us are stuck to modular building sets. Apart from that, the building experience was fun. 

An issue that I noticed was the fact that their rooms did not have a lot of features. If I look inside the bookshop, it seems like a room for me and not a bookshop. Where were the numerous books? Nowhere to be found. 

Another issue that I didn't fancy was the fact that it didn't come with Easter eggs like the others. 
---