Inspire greatness with the LEGO Everyone is awesome 40516 Set
Do you struggle with anxiety? Trying tofind yourself. Or are you the type that feels as though you always need toprove yourself worthy to live in a world of diverse people with differentcultures and backgrounds?
Well, the truth remains that every one ofus was created in our own unique way. We were also created to have ourstrengths and weaknesses, and we're also created to inspire change and greatnessanywhere we go.

Well, if you believe that's true, then it's time for you to start believing in yourself and others, remembering that we all come from the same place and we will all return to that same place. 
How can we show and inspire kindness and love for all people, no matter their race? Well, with the new and improved Lego, everyone is awesome set, we get the chance to show our support for positively and kindness. The set has a unique theme that inspires builders to work together while maintaining positivity and kindness in the family, community, and world as a whole.
So, don't build this set alone, but enjoy the fun that comes from building this multicolored Lego set, as you build it together with your family.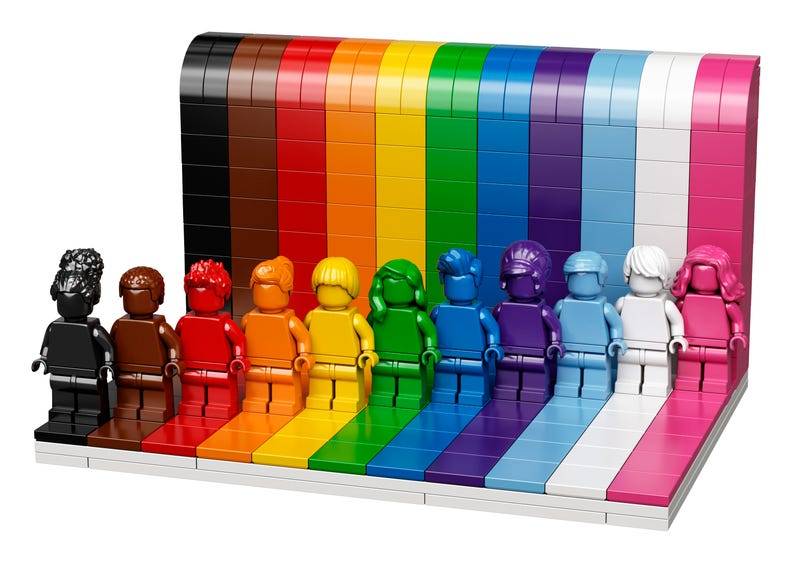 BUILDING EXPERIENCE FOR THE LEGO EVERYONE IS AWESOME 40516 SET.
Well, though this set is small, the sentiment behind its creation is great and awe-inspiring. This set with its over 300 pieces was designed to teach togetherness and shun racism. The set screams togetherness from its rainbow color scheme, down to the different colored monochrome Minifigures which form a big part of this set.
Putting together this set will inspire builders to do good to all, help bring people of diverse backgrounds together, while celebrating positively and kindness worldwide. With the building of this set, you also get to discover the secrete behind Legos succeeding in their mission to inspire builders of all races and cultural backgrounds, by working together to achieve their goal. 
Then just as a bonus, get simple a simple instruction manual on how to build a heart using regular bricks in your home. Well, overall, the building of this set will not only be engaging but also serve as an eye-opener, teaching builders the importance of togetherness and kindness in this world full of hate and racism. After building this set, you could put it on display to show your support for the fact that everyone is awesome.
FEATURES OF THE LEGO EVERYONE IS AWESOME 40516 SET.
Well, most of the features of this set can not be seen. Non the less, this section will focus on all the features of this set. Both the ones that can be seen and the ones that can be felt.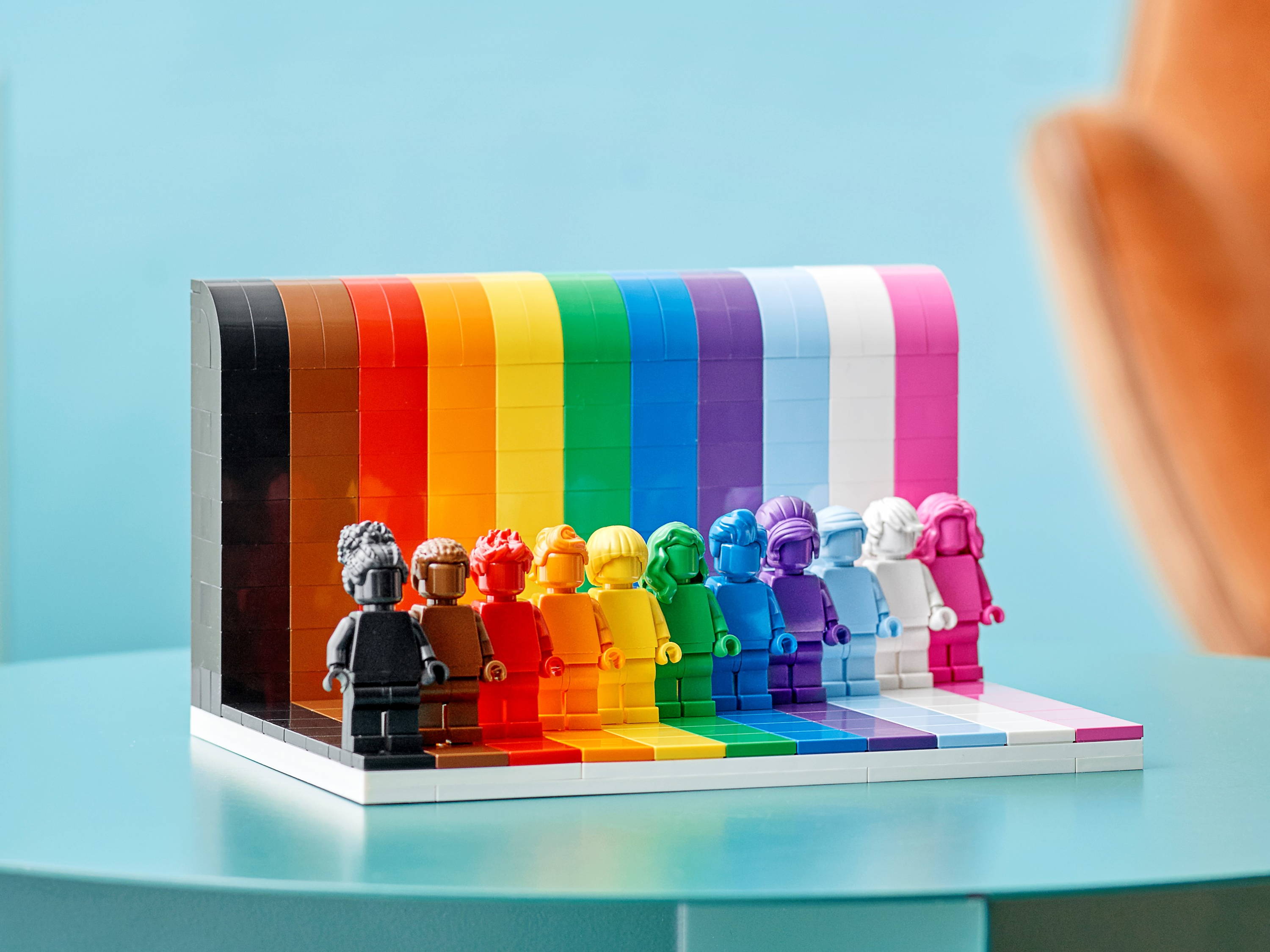 • A MEANINGFUL THEME.
The Lego everyone is awesome set is designed with a well-founded theme, which makes it stand out in the world of Lego sets. The set is designed to upbuild and inspire people of all races and backgrounds to work together, while also maintaining positivity and kindness on a global scale.
This set also reveals to the eye of the pubic Legos dreams to inspire builders to come together and work together. It also helps uncover how Lego has been able to achieve this, by working together, bring new unique sets that are available to all builders.
• AN INSPIRING COLOR SCHEME.
Well, nothing makes this set more striking and inspiring than its amazing color scheme. The set is designed to possess a rainbow-colored theme, with Minifigures representing each color.
This color scheme has a very deep and sensitive meaning, representing the diversity we find in the world around us.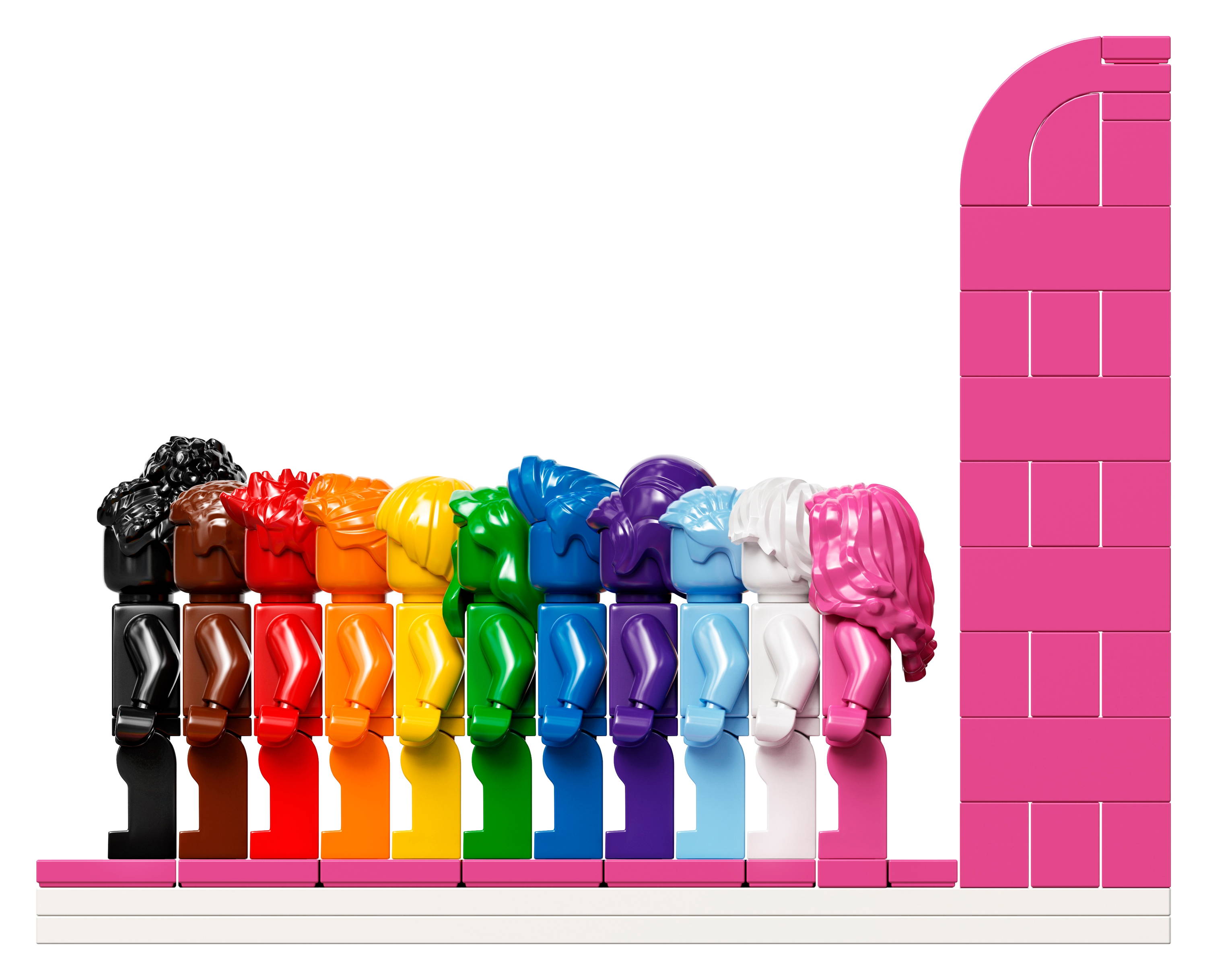 • MONOCHROME MINIFIGURES.
This set also comes with amazing monochrome Minifigures, about 11 of them. Each Minifigure comes with a color scheme unique to its section in the rainbow-colored set. All these Minifigures stand joined together by the rainbow platform they stand on.
This is more than just a decoration, but an illustration with a deep meaning. It highlights the fact that, though we are all different, and unique, we all have a role to play in the general success of our world. So we need to work together.

• SIZE OF THE SET.
This set is designed to be portable and can be carried with you everywhere you go, as a reminder to show kindness and maintain positivity. The set also comes with 11 Minifigures which help add to the overall look of the set.
Overall, the set has 346 pieces of brick and is about 4inches high, 8inches wide, and 4inches in dimension. It is a display set, so when you are not carrying it around you can put it on display on your office table, or the center table of your home. This will help not only inspire you to remain positive and kind to all but will also help inspire others.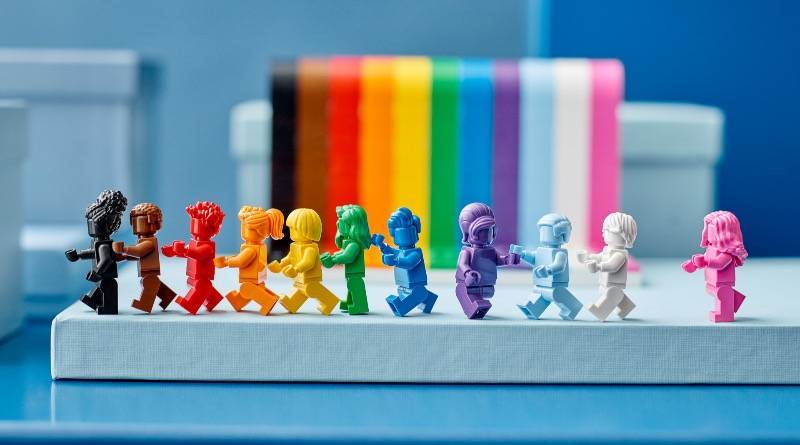 • PRICE OF THIS LEGO SET.
Well, this set is very affordable and can be purchased by all who would love to have this amazing and inspiring set. Well just like all Lego sets that differ in price depending on location and Lego store this set is no different.
This set can be bought at about 34.99 dollars in Lego stores in the US and Lego online stores. This set may cost slightly more in Australia because of restrictions in that part of the world. You can also purchase this set through Amazon, but you would need to pay slightly more. This is because the set is sold at about 64 dollars on Amazon.
No matter where you decide to purchase this set from, it is worth both the stress and the money for it is a set that inspires.
MAKE THIS SET EVEN MORE CAPTIVATING WITH OUR LEGO LIGHT KIT.
Well, the Lego everyone is awesome set is just amazing and captivating. This set has the color combination to live any Lego builder inspired to do good. But this set could be made to look even more captivating and inspiring with our Lego light kit.
The installation of this light kit is easy but could pose a challenge for new light kit users. Well, as a new light kit user, how can you make the best use of your light kit manual and get the best outcome on your first try? Well, this can be achieved by following a few universal steps which will be listed in this section of the article.
1. COMPLETE YOUR LEGO SET BEFORE INSTALLING YOUR LIGHT KIT.
This advice seems simple but is the most fundamental step to success as you install your light kit. The reason why most first-time light kit installers fail is overexcitement. They just want to see their set light up and so they cut corners just to make it a success.
But if you want to have success on your first try as a light kit installer, then you would need to take your time to ensure that your set is properly built. Then once you're done building, you can move over to the next stage.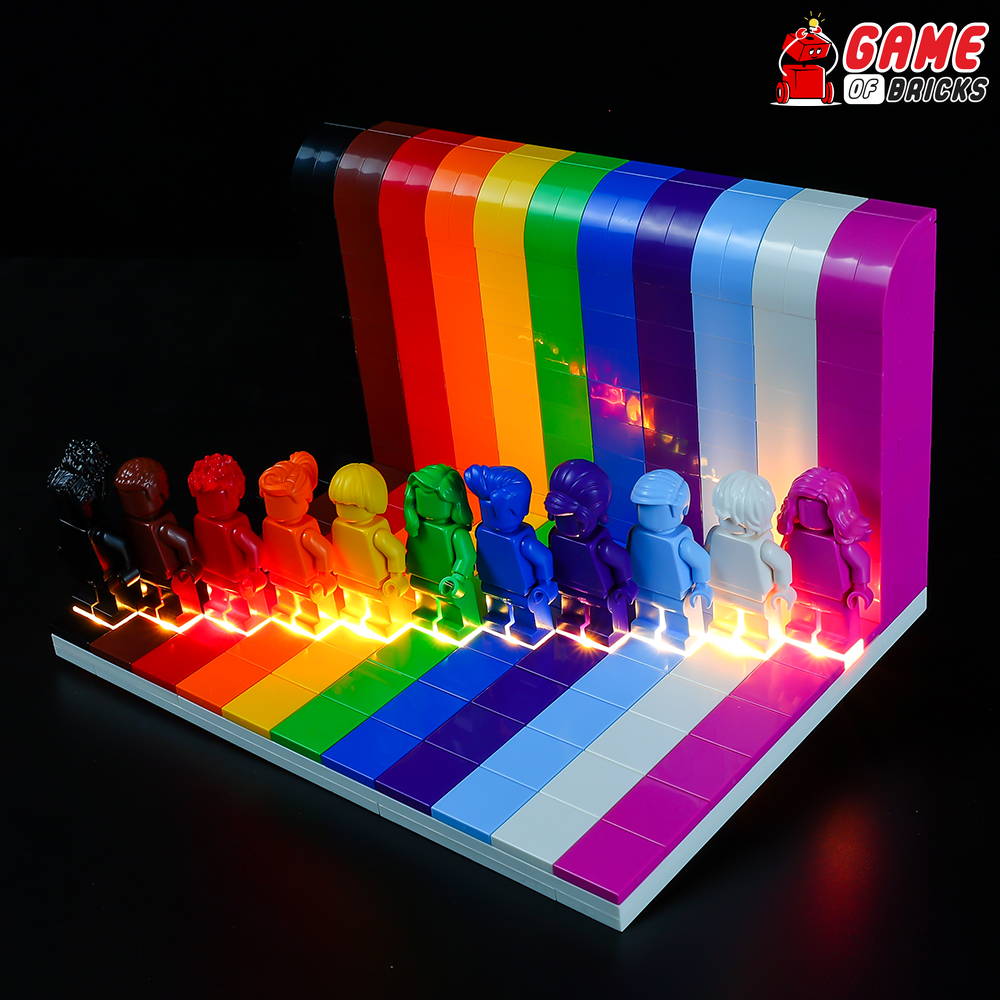 2. RUN THOROUGH CHECKS ON ALL LIGHT KITS AND ACCESSORIES.
Well, before you rush into installing your light kit, it is advisable to run a proper check on all light kits and accessories. This is important because it is common for light kits and accessories to get damaged or have some misplaced parts during shipment.
Taking time to run a thorough check will allow you to spot any damages early and take good advantage of the thirty days warranty card that comes with each of our light kits. Once all checks have been done and everything seems ok, then you can now move over to the next stage.
3. CAREFULLY INSTALL YOUR LIGHT KIT AND ACCESSORIES.
It is now time to install our light kit and accessories. This can be done easily by following the step-by-step instructions found in the manual. Make sure to follow the instructions to the latter, avoid cutting corners.
Also, remember that each light kit and accessories must pass neatly through each brick and must have a neat and clean finish once done. Each light kit is designed to fit properly through the right brick. So if a light kit doesn't fit properly don't force, try fitting it through another brick.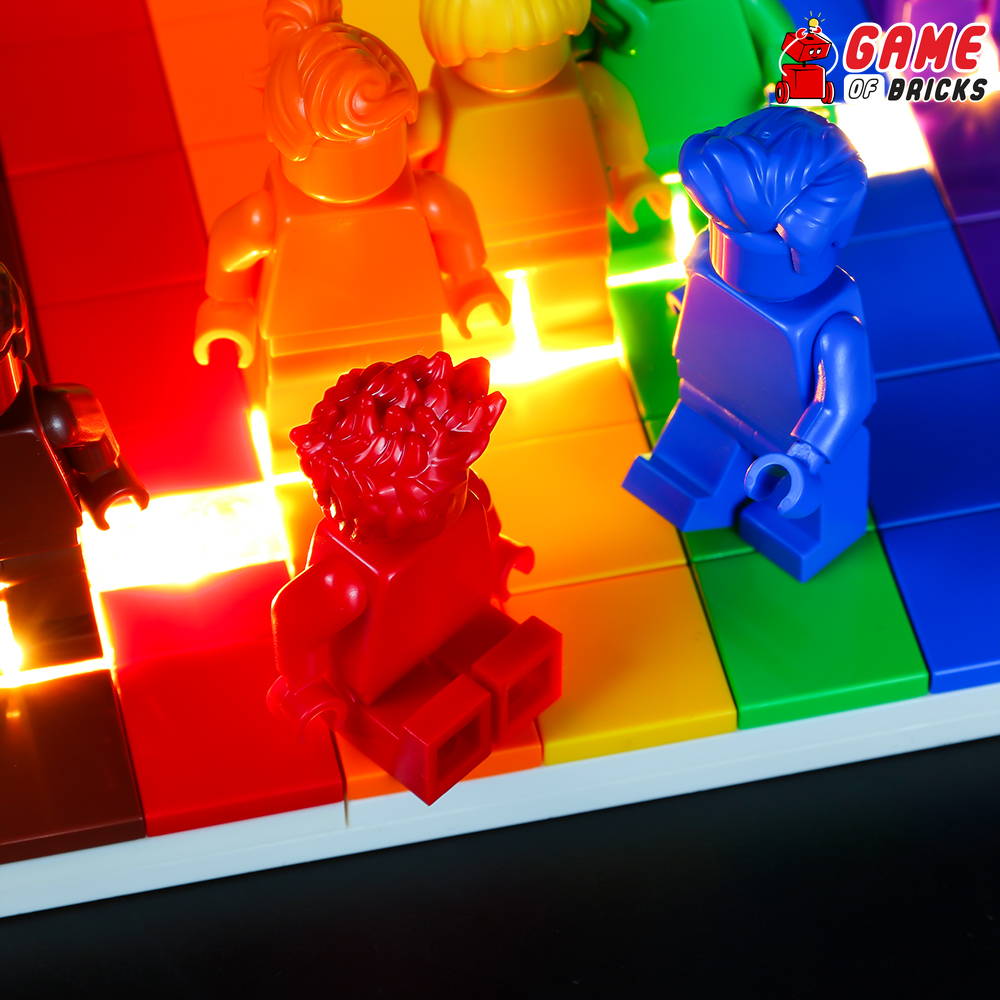 4. RUN FINAL CHECKS ON YOUR LIGHT KIT.
Well, after properly installing your light kit, it is only understandable that you run some final checks on your light kit. This will help ensure the overall safety and proper functioning of the set.
So don't get carried away by the overwhelming beauty of the set. Check to see if the set is lighting properly, ensure that the battery you use a strong enough to carry the load of the light kit. Look out for wires that are not connected properly or that are unnecessarily tangled, and ensure that they are no short-circuiting.
Once all these checks are completely light up and inspire kindness and positivity with this Lego set and our special light kit.
---