Ignite the Festive Season with  Lego Christmas Wreath 2-in-1 40426
By

Eve Alessa Arevalo
/
September 17, 2023
The holiday season is a time for joy, celebration, and creative decorations. What better way to usher in the festive spirit than with the Lego Christmas Wreath 2-in-1 40426 (Updated)? In this review, we'll dive deep into the design, building experience, playability, and overall value of this charming holiday-themed Lego set.

a. Main components or areas

The Lego Christmas Wreath 2-in-1 40426 features an intricate design that captures the essence of the holiday season. The set consists of 510 pieces, including various green elements for the wreath itself and colorful accessories to adorn it. The wreath's circular frame is built around a sturdy core, ensuring durability and stability once completed. The use of different shades of green and a mix of textured elements gives the wreath a lifelike appearance.
b. Minifigures
This set does not include minifigures, which is entirely understandable given its nature as a decorative piece. The focus here is on the wreath and its accessories, making it an ideal addition to your holiday decor collection.
c. Accessories and decorations
One of the standout features of this set is its versatility. You can choose to build either a traditional Christmas wreath or a charming winter wreath with snowflake accents. The set includes a selection of decorative elements like red bows, baubles, candles, and even miniature wrapped gifts. These accessories can be attached to the wreath using small hinges and clips, allowing you to customize your wreath's appearance to suit your holiday style. The inclusion of a white decorative ribbon adds a final touch of elegance.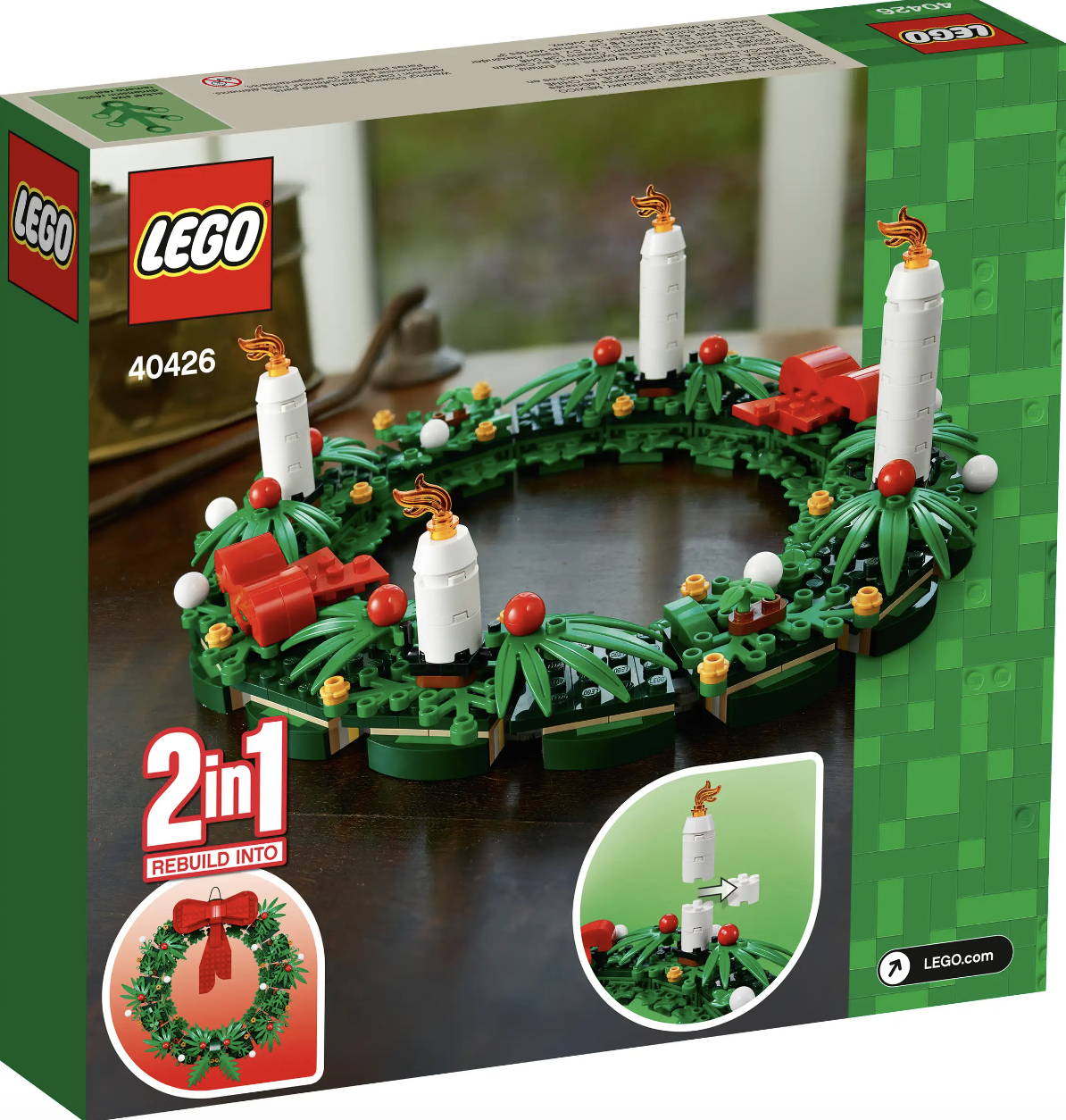 a. Complexity and engagement

The building experience of the Lego Christmas Wreath is a delightful blend of challenge and entertainment. While the set is designed for ages 9 and up, younger builders with some experience may also enjoy the project with adult supervision. The complexity arises from the intricate design of the wreath and the need for attention to detail.
The repetitive pattern of building the wreath leaves room for creativity, especially when arranging the decorative elements. This means you can personalize your wreath to create a unique centerpiece for your holiday festivities. The satisfaction of seeing the wreath take shape as you assemble it is genuinely rewarding.
b. Instruction manual and building process
Lego's instruction manuals are known for their clarity, and this set is no exception. The step-by-step instructions are easy to follow, with clear visual references for each stage of the build. The manual also provides suggestions for arranging the decorative elements, but the real joy lies in experimenting and creating your own design.
The building process is smooth, with pieces fitting together snugly. However, due to the intricacies of the wreath's design, younger builders might require some assistance from adults, especially when attaching the delicate decorations.
Playability and Entertainment Value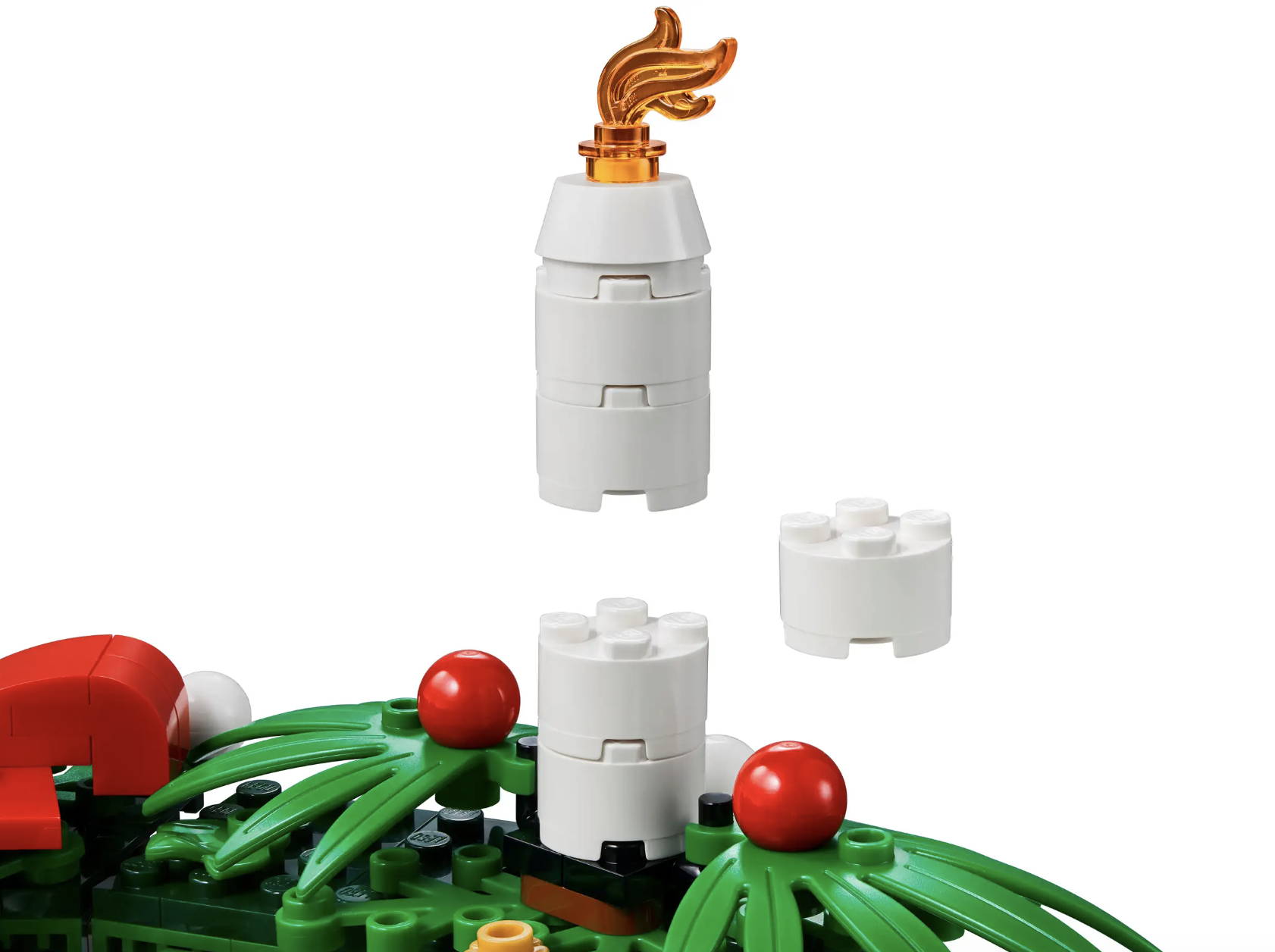 a. Interactive features

The Lego Christmas Wreath 2-in-1 40426 is primarily a decorative item, so its playability is limited compared to traditional Lego sets geared towards interactive play. However, its versatility allows for seasonal enjoyment, and you can change its appearance from year to year.
b. Opportunities for imaginative play and storytelling
While this set doesn't lend itself to traditional imaginative play, it provides an opportunity for creativity in decorating and arranging the wreath. Children and adults alike can use their imagination to craft a beautiful holiday centerpiece. Additionally, the act of displaying your creation and sharing it with friends and family can spark conversations and storytelling around the holiday season.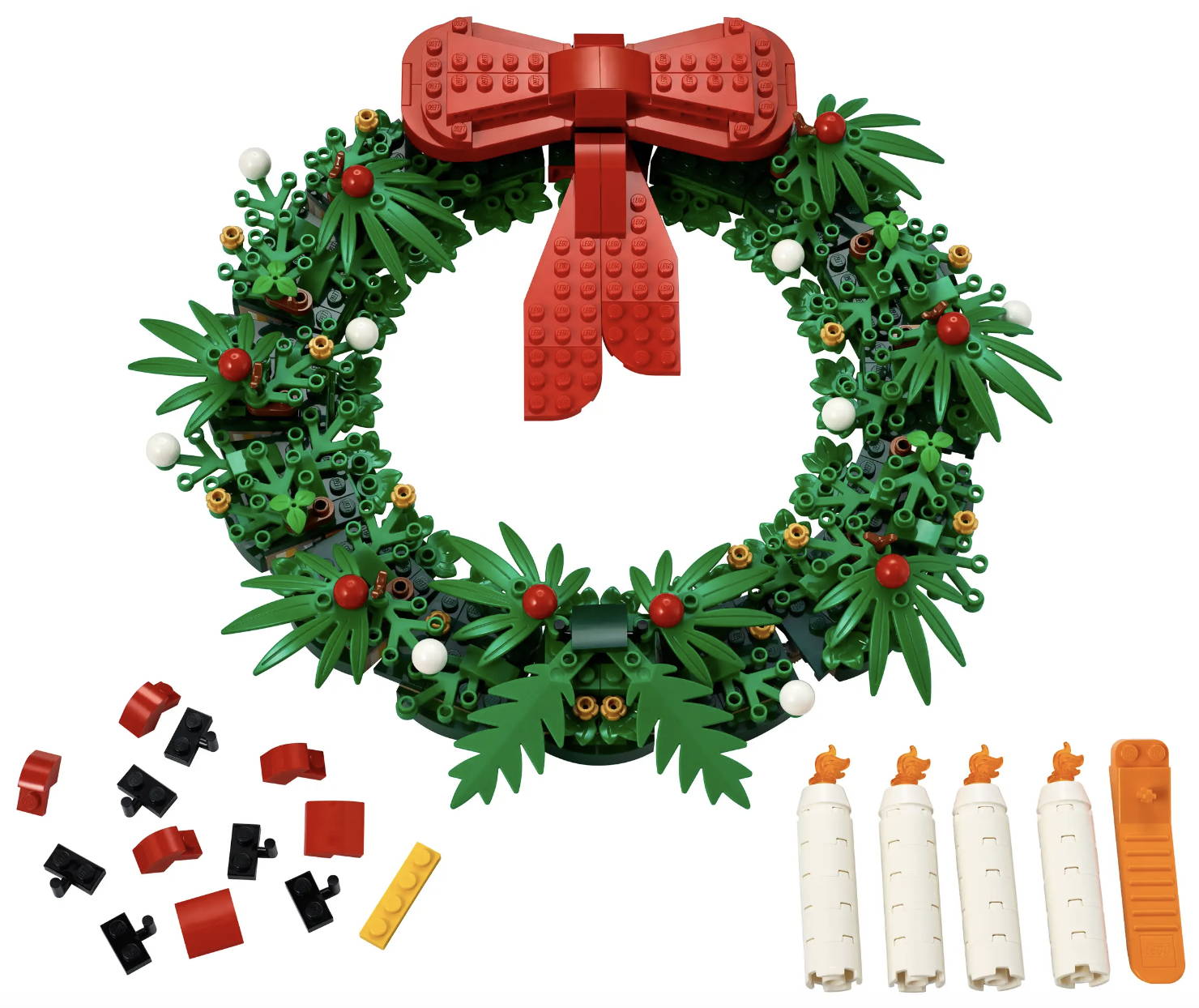 a. Number of pieces and design

With 510 pieces, the Lego Christmas Wreath 2-in-1 40426 offers good value for its price point. The intricate design of the wreath, along with the variety of accessories, provides a satisfying building experience and a beautiful holiday decoration that can be enjoyed for years to come.
b. Compatibility with other LEGO sets and themes
While this set isn't part of a specific Lego theme, its compatibility with other holiday-themed sets and accessories allows you to create a cohesive holiday display. Whether you have other Lego holiday sets or want to incorporate it into your existing Lego cityscape, the wreath's design ensures it complements various themes.=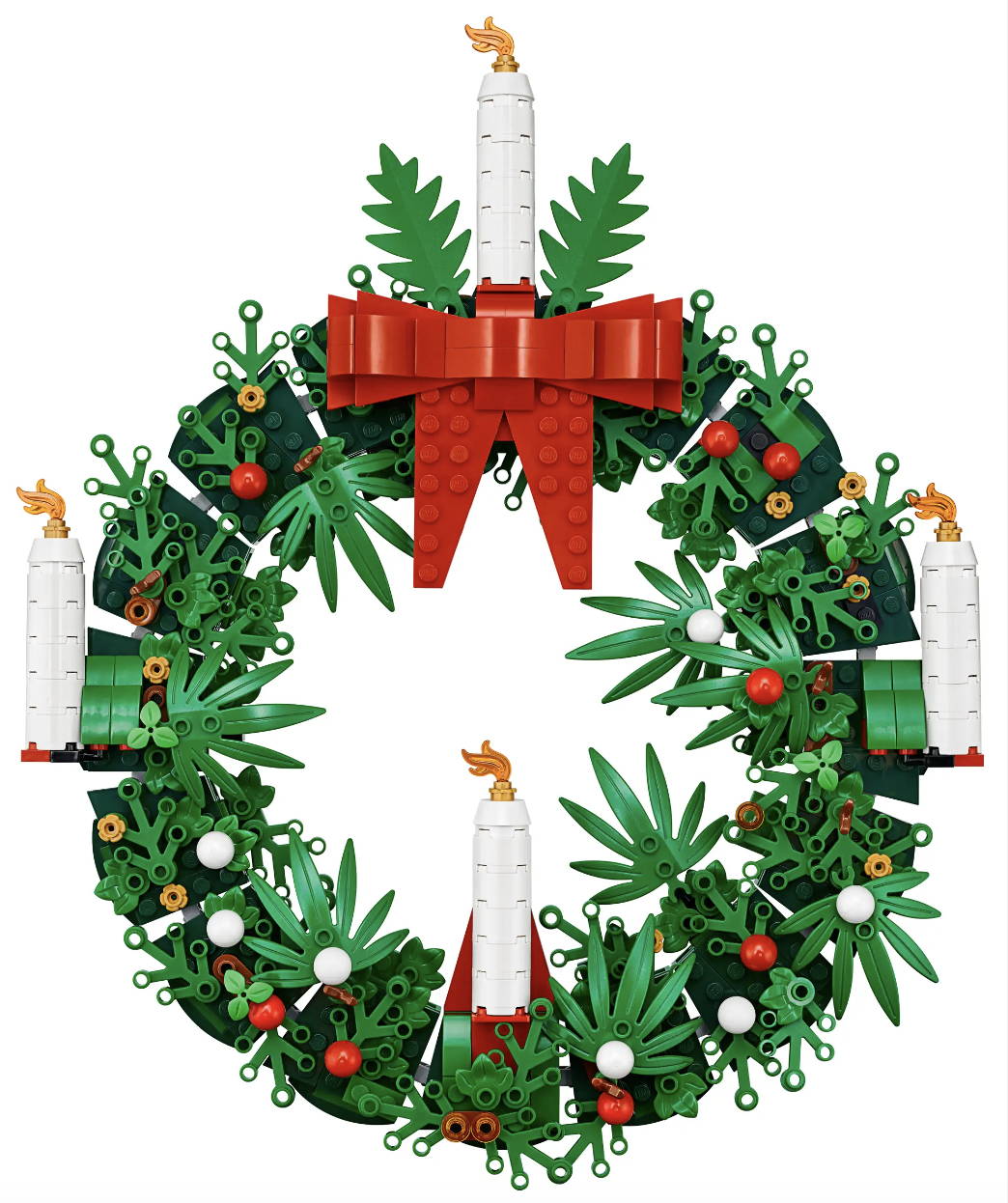 a. Pros

• Beautiful and versatile design with two build options.
• Inclusion of a variety of decorative elements for customization.
• Clear and user-friendly instruction manual.
• Excellent value for the number of pieces.
• Can be incorporated into various holiday-themed displays.
b. Cons
• Limited playability compared to traditional Lego sets.
• Younger builders may require adult assistance due to the intricate design.
• No minifigures included.
Final Thoughts and Recommendations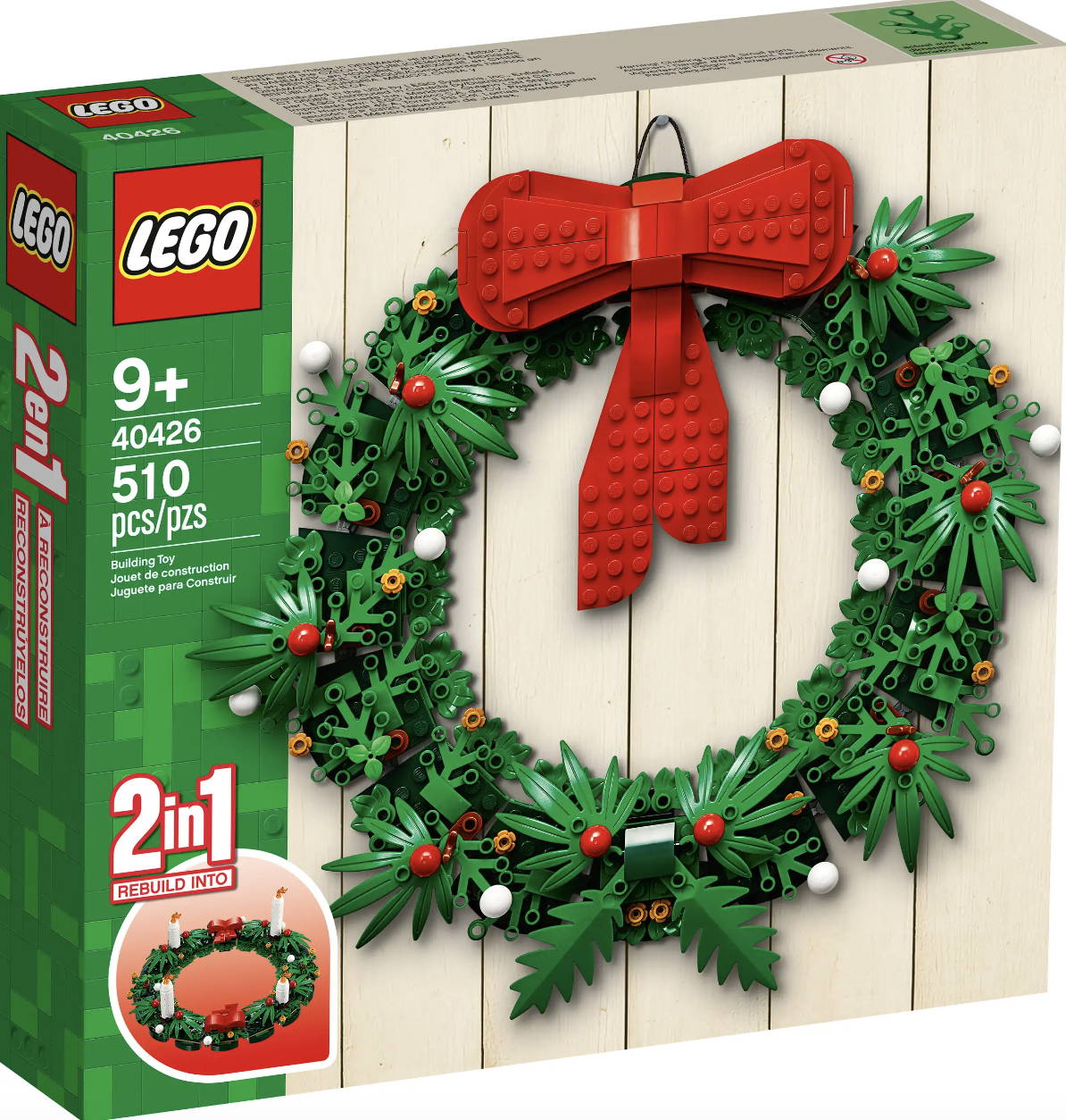 In conclusion, the Lego Christmas Wreath 2-in-1 40426 (Updated) is a delightful addition to any holiday decor collection. Its intricate design, versatility, and customizable features make it a must-have for Lego enthusiasts and holiday enthusiasts alike. While it may not offer extensive play opportunities, its value as a decorative centerpiece and the joy of building and personalizing it are undeniable.

This set is recommended for individuals and families looking to add a touch of Lego magic to their holiday celebrations. Whether you choose to build the traditional Christmas wreath or the winter-themed version, you'll be proud to display your creation year after year. Its compatibility with other holiday sets and themes also adds to its appeal, allowing you to create a festive Lego wonderland in your home.
So, embrace the holiday spirit and embark on a creative journey with the Lego Christmas Wreath 2-in-1 40426. It's a testament to Lego's commitment to spreading joy and fostering creativity during the most wonderful time of the year. Happy building and happy holidays!
Illuminate Your Holiday Spirit with Game of Bricks' 2-in-1 Christmas Wreath Light Kit (40426)
As the holiday season approaches, decking the halls and spreading cheer becomes a cherished tradition. One of the quintessential symbols of Christmas is the wreath, and what better way to elevate its festive charm than with the Game of Bricks 2-in-1 Christmas Wreath Light Kit (40426). This innovative lighting solution promises to transform your wreath into a radiant centerpiece. In this comprehensive review, we will delve into its features, ease of installation, enhanced details, customization options, durability, minor downsides, and ultimately, why this light kit is the perfect addition to your holiday decorations.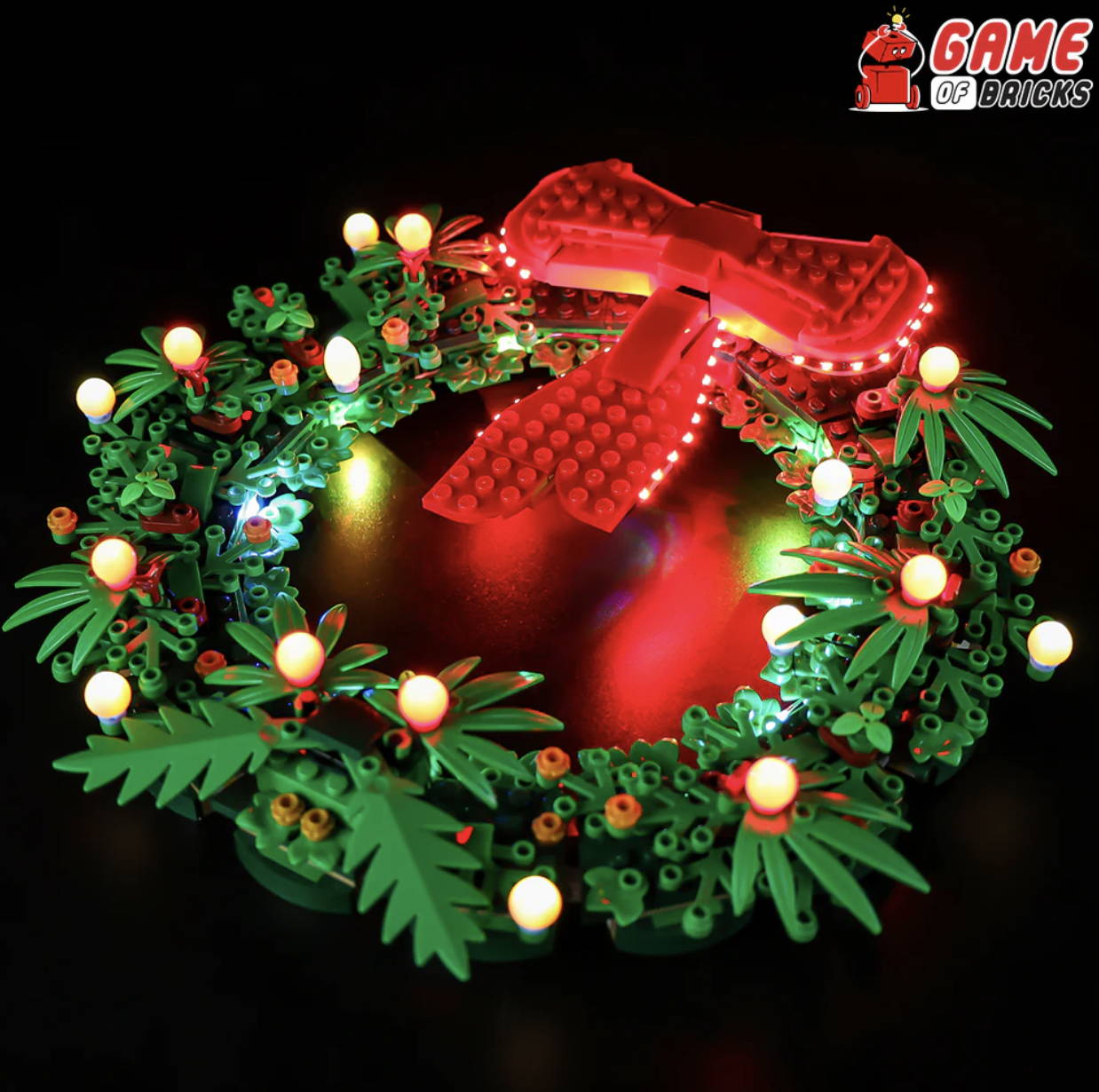 Easy Installation:
One of the standout features of Game of Bricks' 2-in-1 Christmas Wreath Light Kit is its user-friendly installation process. The kit comes with clear and concise instructions, ensuring that even those with limited DIY experience can successfully install it. The components are well-organized, and the wires are neatly bundled, making it a hassle-free experience. Additionally, the lights are pre-wired, eliminating the need for intricate wiring work. The entire setup can be completed in just under 20 minutes, allowing you to enjoy your beautifully illuminated wreath in no time.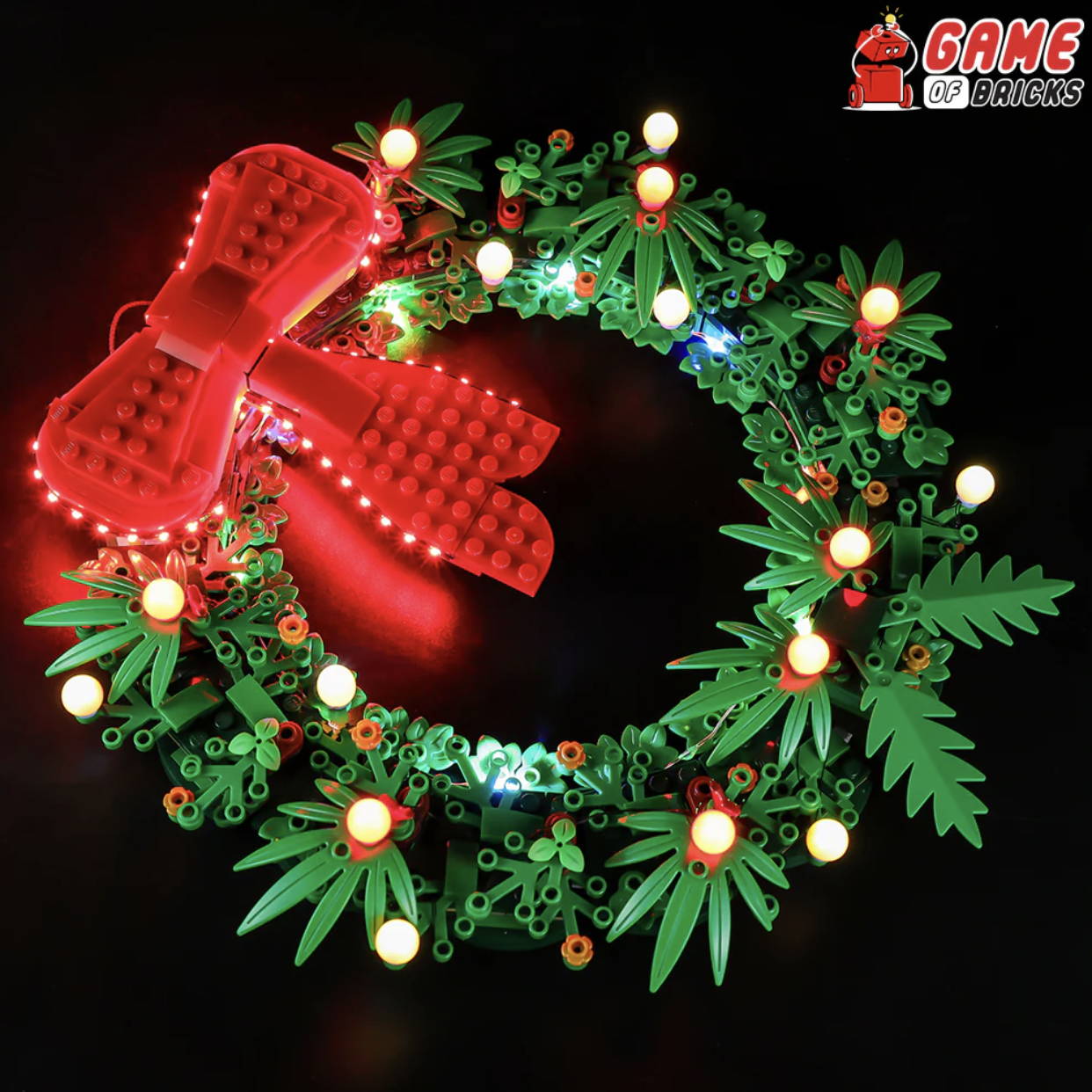 Enhanced Details:
The Game of Bricks 2-in-1 Christmas Wreath Light Kit excels in adding a touch of elegance to your holiday decor. The LED lights included in the kit emit a warm, inviting glow that beautifully highlights the details of your wreath. The LEDs are carefully spaced, ensuring even and balanced lighting, preventing any unsightly dark spots. What truly sets this kit apart is its attention to detail. The lights come with adjustable brightness settings, allowing you to create the perfect ambiance for your space. Whether you prefer a soft and subtle glow or a more vibrant display, this kit has you covered.

Customizable:
One size doesn't fit all when it comes to holiday decorations, and Game of Bricks understands that. This 2-in-1 Christmas Wreath Light Kit offers a high level of customization to cater to your unique preferences. The lights can be easily adjusted to fit wreaths of various sizes, making it versatile for different wreath designs and dimensions. Moreover, the kit comes with a remote control that allows you to change the lighting modes and brightness levels effortlessly. With multiple lighting options like steady glow, twinkling, and fading effects, you can create the perfect atmosphere to suit your holiday mood.
Durability:
When investing in holiday decorations, durability is a crucial factor. Game of Bricks has ensured that their 2-in-1 Christmas Wreath Light Kit (40426) is built to last. The LED lights are energy-efficient and have a long lifespan, so you won't have to worry about frequent replacements. The wiring and connectors are sturdy, designed to withstand the rigors of seasonal use. The kit is also weather-resistant, making it suitable for outdoor as well as indoor wreaths. Rest assured, your wreath will stay beautifully lit throughout the holiday season, year after year.
Minor Downsides:
While the Game of Bricks 2-in-1 Christmas Wreath Light Kit is an exceptional addition to your holiday decor, there are a few minor downsides to consider. Firstly, the remote control operates on batteries, which may require occasional replacements. Additionally, the kit does not include a timer function, so you'll need to manually turn the lights on and off. Finally, for those who prefer a cool white LED option, this kit only offers warm white LEDs. These downsides are relatively minor compared to the overall benefits and can be easily managed with some extra attention.
In conclusion, the Game of Bricks 2-in-1 Christmas Wreath Light Kit (40426) is a brilliant way to illuminate your holiday spirit. With its easy installation, enhanced details, customization options, and durability, it offers exceptional value for your holiday decorating needs. While it may have a few minor downsides, they are easily outweighed by its many advantages. Transform your Christmas wreath into a radiant masterpiece and create lasting memories with the warm and inviting glow of Game of Bricks' 2-in-1 Christmas Wreath Light Kit. This holiday season, let your wreath shine brighter than ever before.