Feel part of the music family when you build the LEGO Jazz Club 10312 Set.
Jazz is a moving type of music produced by skillfully using musical instruments. This popular type of music originated in the United States in the 1920s. This form of music took attention away from the singers and focused that attention on the sounds or rhythms emitted from the instruments being played. A skilled Jazz Musician was capable of keeping the audience engaged with only the soothing sounds produced by his instrument, without needing to use powerful Lyrics. Jazz Musicians often stayed in bands and played together in places called Jazz Clubs. These clubs' primary source of entertainment was Jazz Music, produced by Jazz Musicians. Popular instruments used for Jazz music include Drums, guitar, Double Bass, Piano, Trumpet, and Saxophone. These instruments, when used effectively by Jazz Musicians, can produce touching notes that are capable of leaving fans wanting more. 

Are you a fan of Jazz Music? If so, then you must have visited lots of Jazz Clubs in your lifetime. You probably still remember what drew you to your first Jazz Club. You remember that skillful and captivating use of musical notes that echoed at the entrance of the Jazz Club. You may also remember the unique and comfortable setting inside the Jazz Club that allowed the song being played to fill the room and penetrate deep into your soul. Wouldn't you like to relive that exact moment again? Well, what if we told you that that is possible? Would you jump at the opportunity? Well, if you would, let nothing stop you from getting the Lego Jazz Culb 10312 set. This Lego set allows you to recreate the fun and lively scenes present at a Jazz Club. The finished look of this set using Lego bricks would shock any true Jazz fanatic. This is because of the amount of internal and external details the Lego team can accomplish using this set. In this post, we are going to be covering every feature of this Lego set. Starting from the sets building experience, all the way to the Lego sets features, and then how our amazing Lego Lights look when installed on it. So please don't go anywhere as we develop these points one after the other.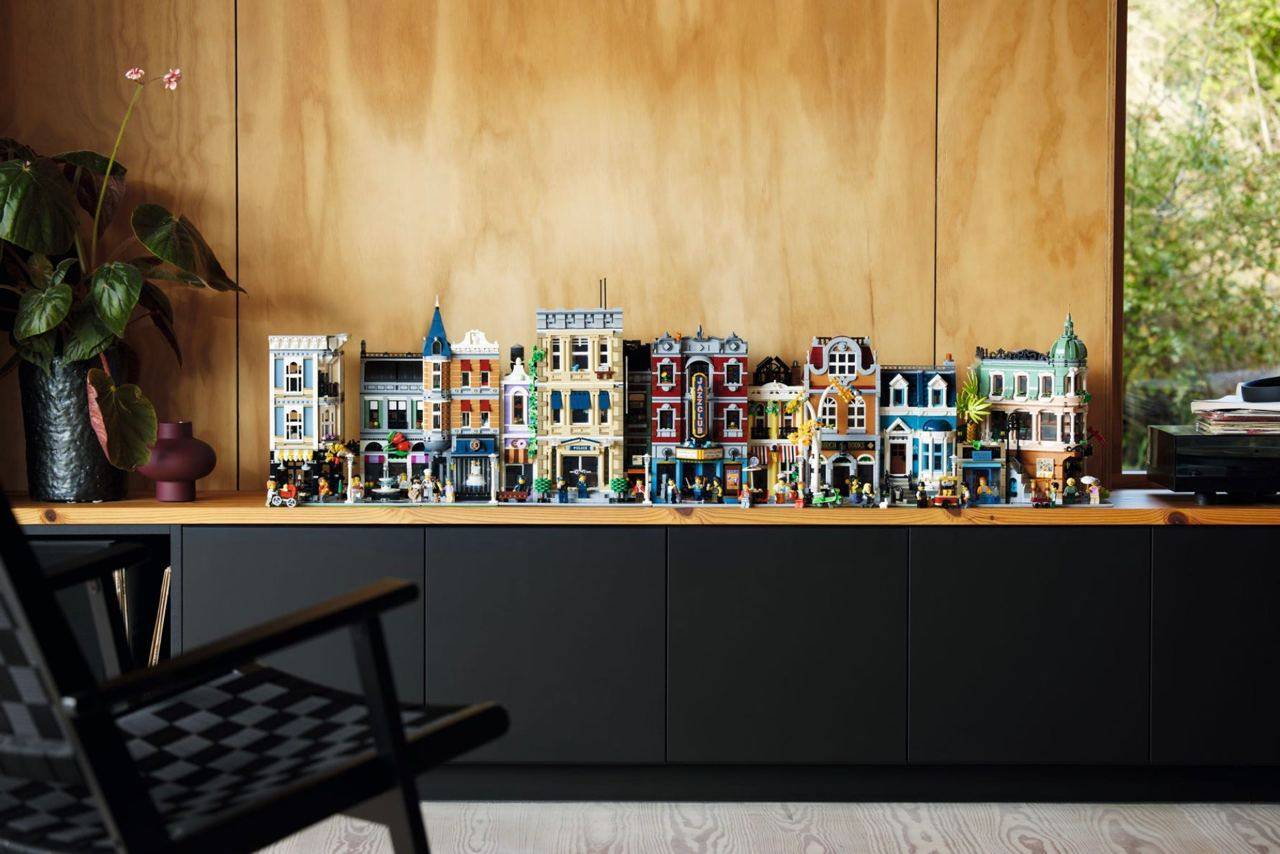 AN AMAZING BUILDING EXPERIENCE FOR THE LEGO JAZZ CLUB 10312 SET.
The Lego Jazz Club is a very well-built Legos set with lots of authentic details that make it look as close as possible to a real-life Jazz Club. The set comes in a very well-designed, top-quality box that features both the picture of the completed set and the picture of a real Jazz Club. This Picture allows you to compare the finished set with the real-life representation. It also allows you to know how your set would look once you are done building. This very feature has been seen to be the main motivation to help get people started on their building projects. The Lego set is also well packaged neatly in transparent nylon numbered bags. The set is packaged this way to help you organize, and easily find each brick piece you would be needed at a particular time. This cool feature helps speed up your building project and reduces the initial time you are to spend build building this Lego set.
But if you are to get the best out of your building project you would need to set aside specific time for the building project. Doing so would ensure you are completely focused when building. The Lego Jazz Club set also comes with a manual that is designed to help make building very easy to achieve. This manual would be very perfect for helping those new to Lego build like a pro. The sets manual also contains valuable information about all the work that went into the building of this Lego set. This means that aside from getting helpful building tips, you also get additional information you might or might not have known before about the Lego set. Overall, your building project is going to be fun, brain-taxing, and as straight to the point as possible. If that is something you would like, then waste no time in purchasing this Lego set. Now, Let's look at some of the amazing features this Lego set possesses.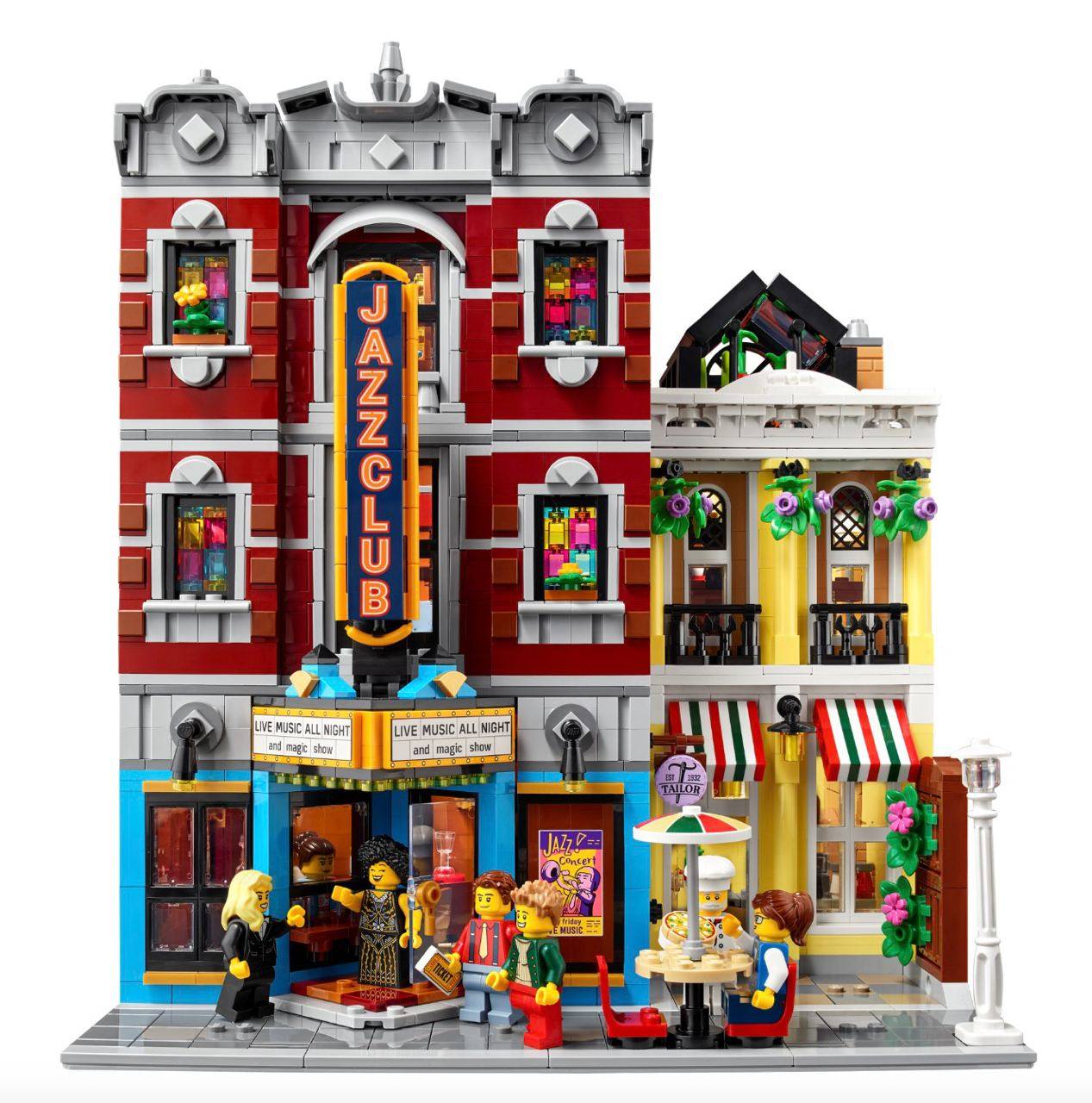 AWESOME FEATURES FOR THE LEGO JAZZ CLUB 10312 SET.
AUTHENTIC DETAILS.
The Lego Jazz Club set is a very huge project packed with lots of authentic details which makes it look like an actual Jazz Club. The set contains some amazing internal details. These details include a Rooftop garden, a Sidewalk Cafe, and a lovely greenhouse where you can grow beautiful crops for your kitchen. These details help makes this set stand out in a crowd of sets. It also makes it easily noticeable, which improves its overall details.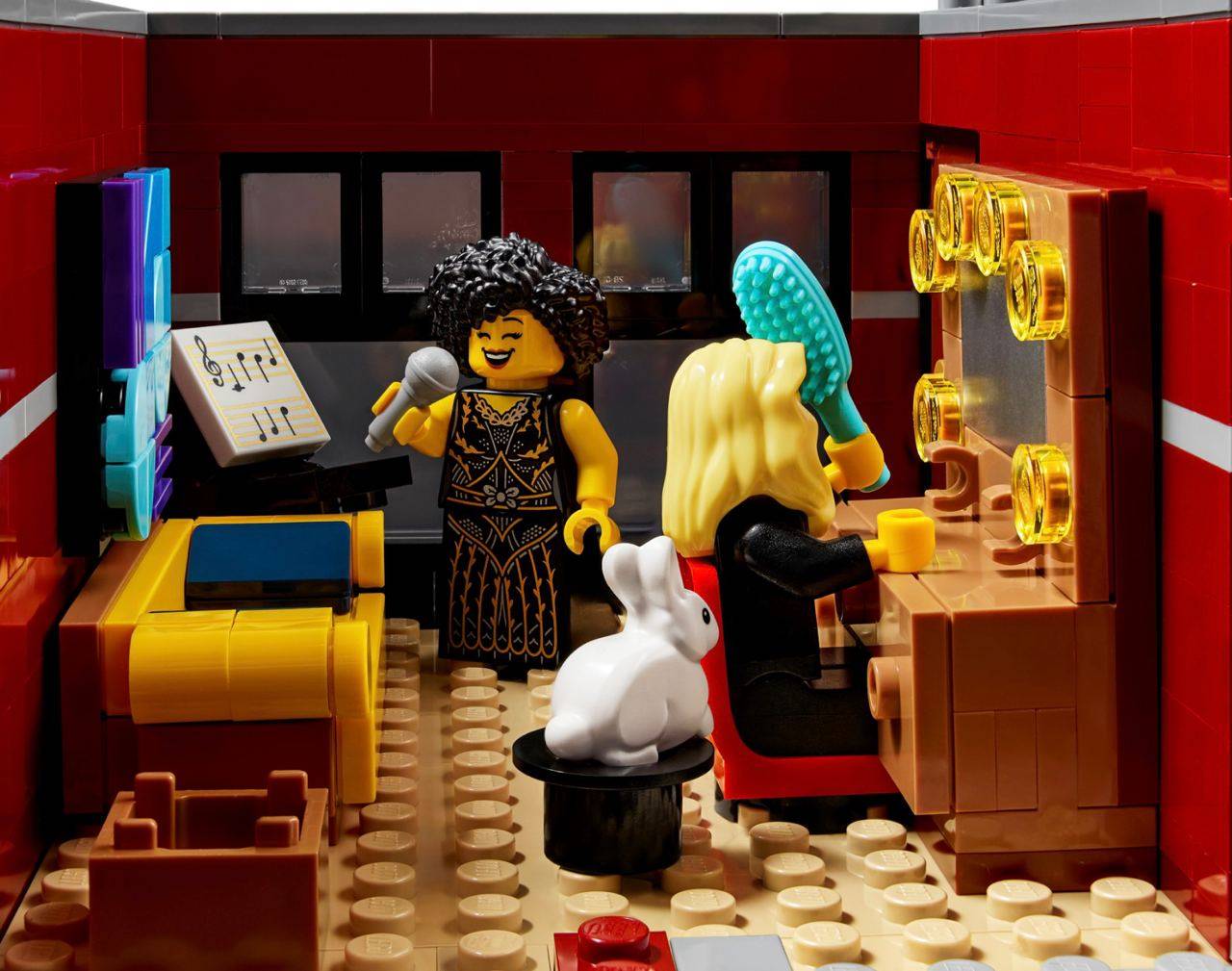 CLASSIC ARCHITECTURE.
You would immediately notice this fact about the Lego Jazz Club once you are done building. The Lego team tried as much as possible to make this set as close as possible to an old architectural framework. The plan is that once you look at the Lego building it immediately takes your mind back to an actual Jazz club from the 90s, and thus, brings back fond memories. If you have ever visited a Jazz Club in the past, we are confident you are going to feel this way as well.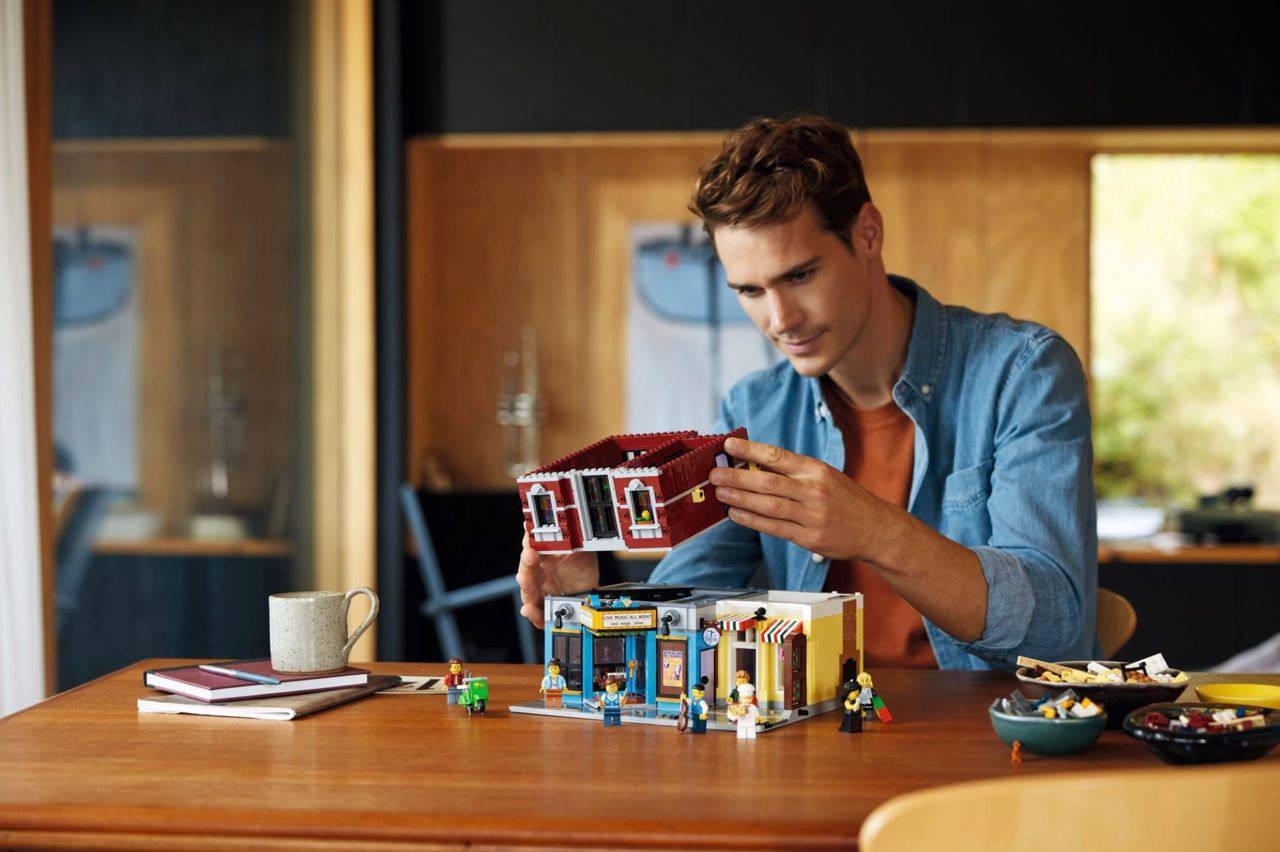 MINIFIGURES.
What would become of a Jazz Club without Jazz musicians? Not much, you would agree. That's why the Lego team took it upon themselves to include Jazz musicians and singers among other things. These are included as Minifigures and in fact, this Lego set comes with eight of them. The Eight Minifigures includes Jazz singers, a drummer, and a Bassist. These Minifigures could be arranged on the stage inside the Jazz Club, or in areas around the Jazz Club. How you display these sets is truly up to you and would depend on your personal preference.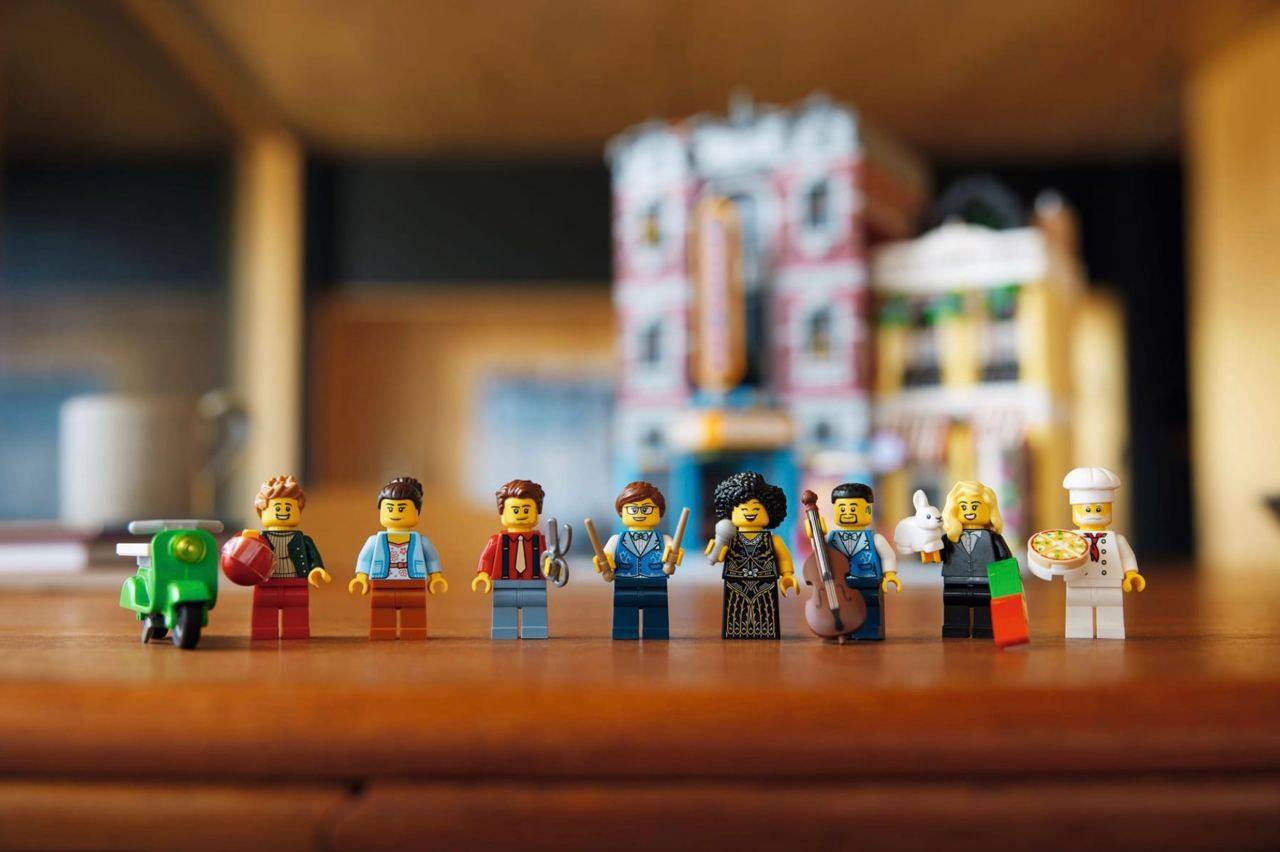 SET SIZE.
The Lego Jazz Club 10312 set comes with a total of 2899 pieces. These pieces also include the pieces used for the production of the eight Minifigures present in the set. When fully put together the Lego set measures a total of 12 inches long, 10 inches wide, and 11 inches deep. This makes this set just the right size, and also displayable wherever you choose.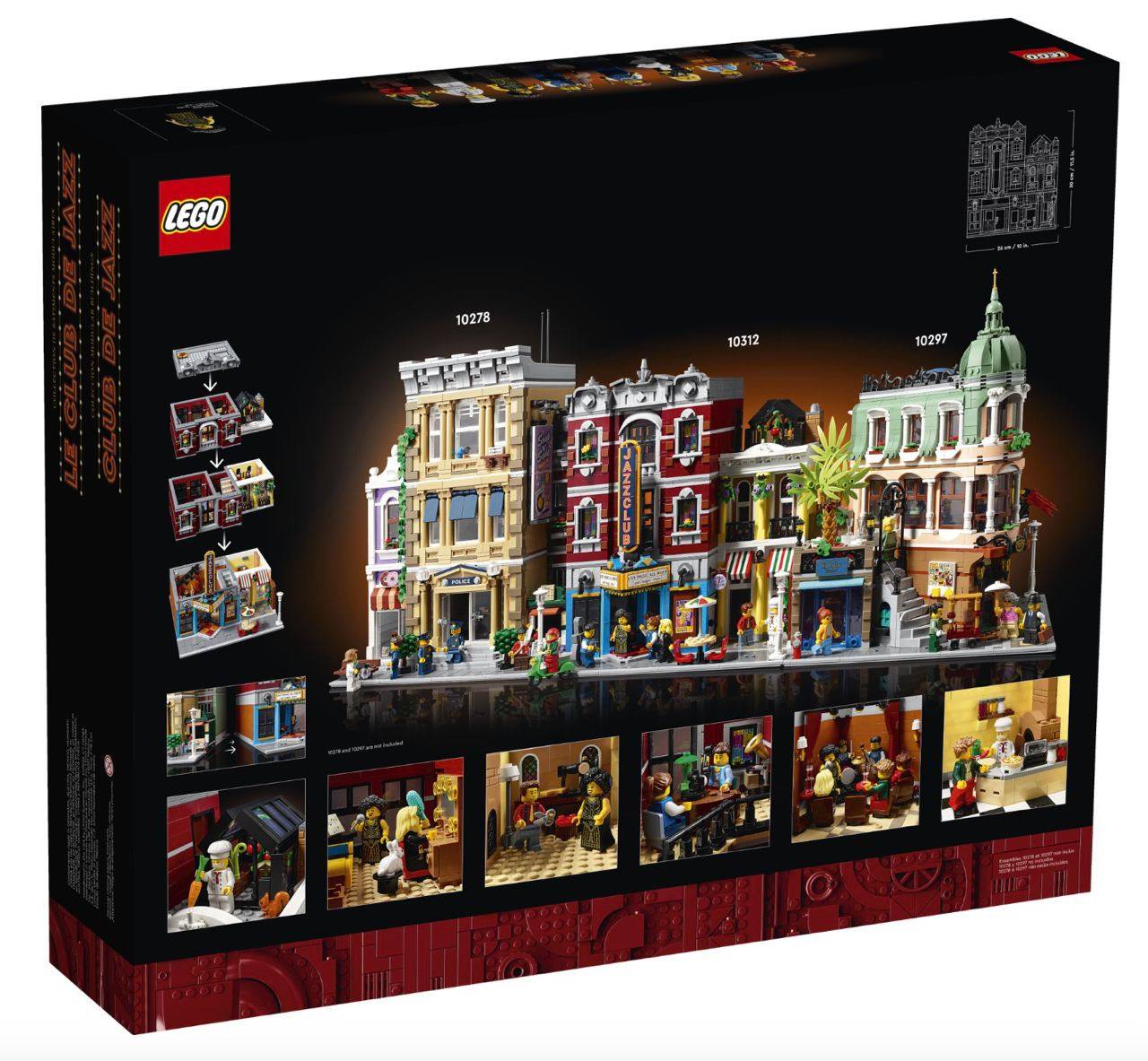 SET PRICE.
The Lego Jazz Club is sold in the US for a total of 229 dollars. This is about the same price in Europe as the sets are just about as available as it is there as it is in the US. you could buy this set from Lego stores both online and Offline. So feel free to purchase using whichever medium is more convenient for you.

MAKE YOUR LEGO JAZZ CLUB LOOK EVEN MORE FUNKY WITH OUR AMAZING LIGHT KITS.
Our Lego lights can be purchased from our stores here at gameofbricks.com. But why should you purchase our special light kits? Well, this is because they help improve the overall look of your Lego set. They are also designed in such a way that they deliver a clean look once you are done with your installation process. For more information on how to get the most out of using our light kits, we have some suggestions below.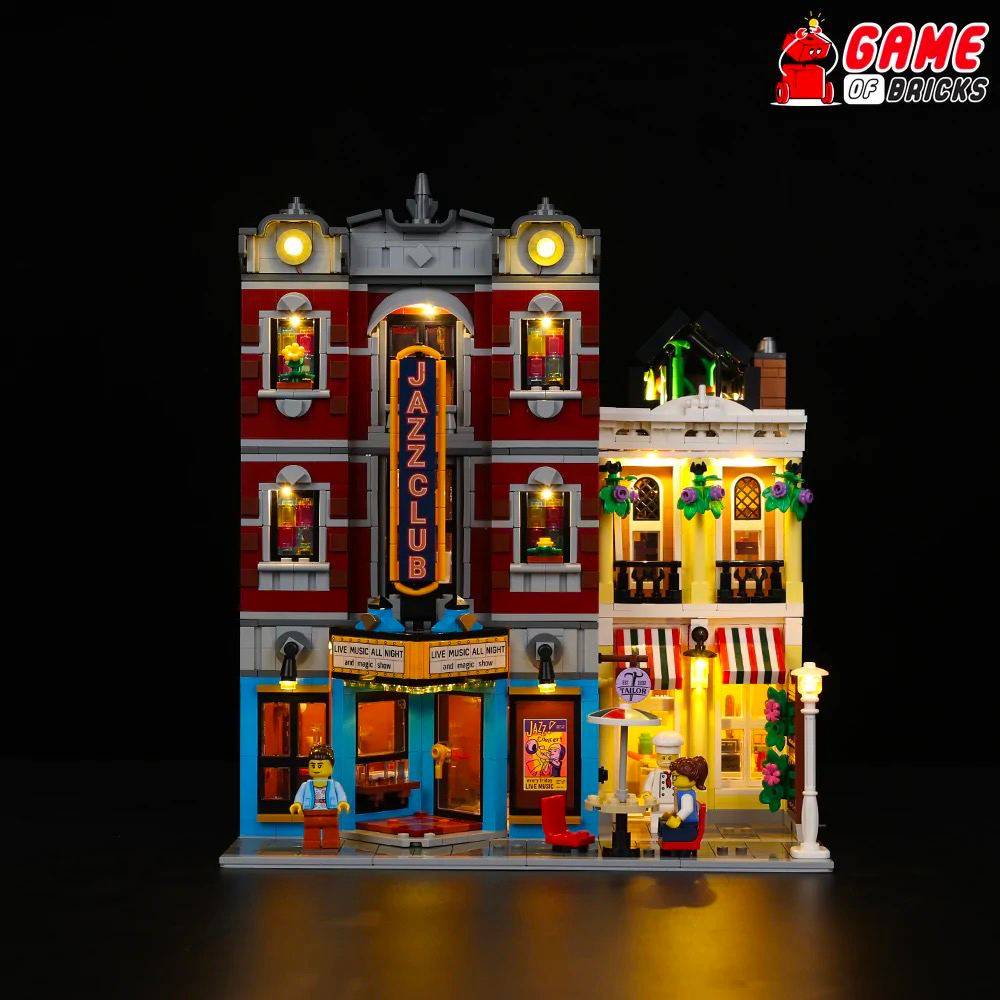 INSPECTION.
As soon as your Lego lights arrive, it would be safe for you to take a few minutes to inspect them. This ensures that all shipped lights and accessories look and are in perfect condition. It is not unusual for light kits to sustain damages during shipping. This is because our lights are very fragile. So To ensure you get premium quality Lego lights, make sure you inspect your package. If you notice any damages during the inspection, request a replacement using your 30days warranty card. Inspection should include checking the batteries, wires, and power capacity. You would also need to look out for signs of short-circuiting. If, after your inspection, everything looks good, you can move on to the next stage.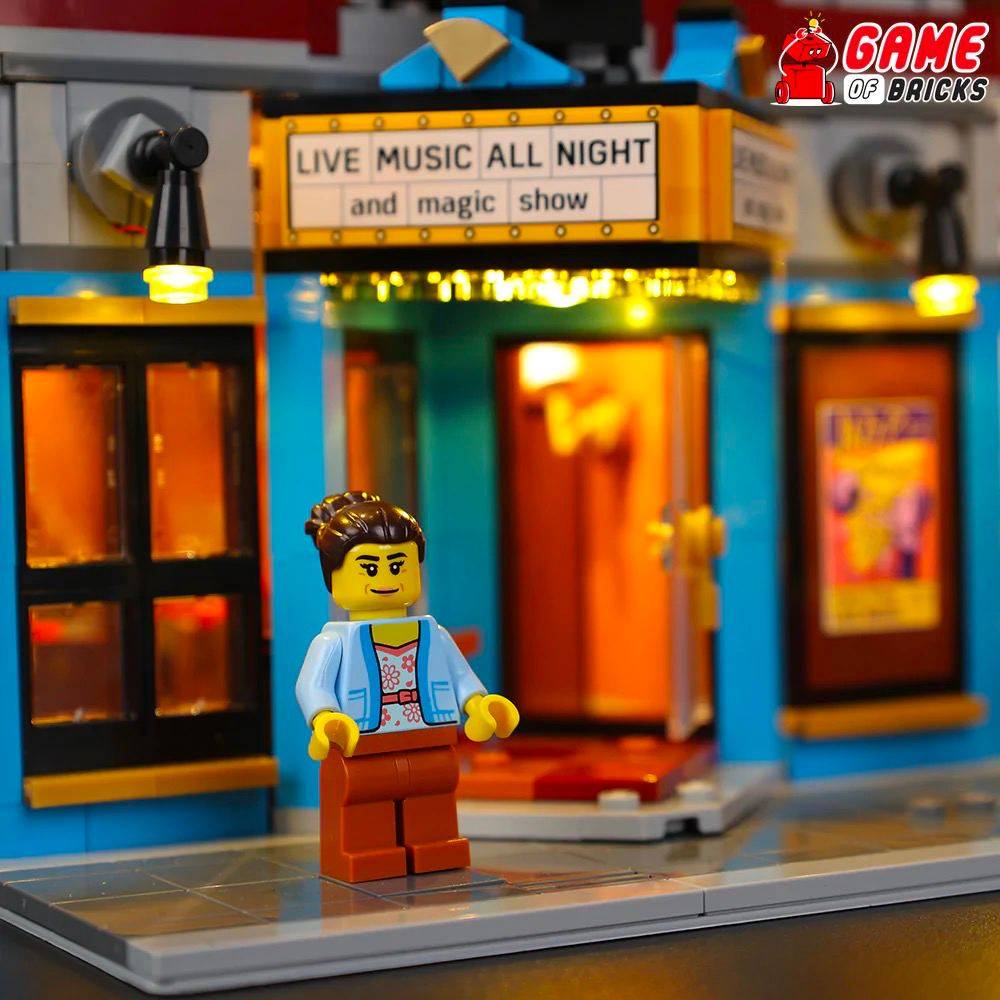 INSTALL.
You can only begin this process after completely building your Lego Jazz Club set. To do this successfully, each light kit has a special blueprint manual to help you through the process. There are also a ton of videos and articles you could watch and read on our website before embarking on this journey. Feel free to make use of all the recourses at your disposal.

TEST RUN.
Once you are done installing your Lego set, you can now take time off to test run it, making sure it is in the best condition. To do this, check for signs of short-circuiting, as this could help you quickly identify the problem. Once you have located the problem, be sure to fix it. Once you are sure that everything is in the best condition, you can finally relive your Epic Lego Jazz Club set moment in style as you put this set on display.

---