Enjoy a fun build with the LEGO APP-Controlled Transformation Vehicle 42140 Set.
The Lego ideas team is at it again by creating a beautiful two-way set. Yes, with the Lego app-controlled transformation set, you have the opportunity to build a set that is not only colorful but one that allows you to have a lot of fun while at it. The Lego Technic team has made it a point of duty to think outside the box and design a set that would be easy to build and can be built in record time by experienced Lego builders. 

Get your pleasure served in two forms when you bring this fantastic Lego set to life. Have you been looking for a set that you could buy for your kids? Then this is a set to consider. The set comes with an inbuilt battery that makes it possible for you to move the set around from one place to another. The set is also highly durable and can be ridden on any terrain. And for what it's worth, this Lego set also offers a very satisfying build. But just what do you stand to gain from building this Lego set? The following section will shed more light on that.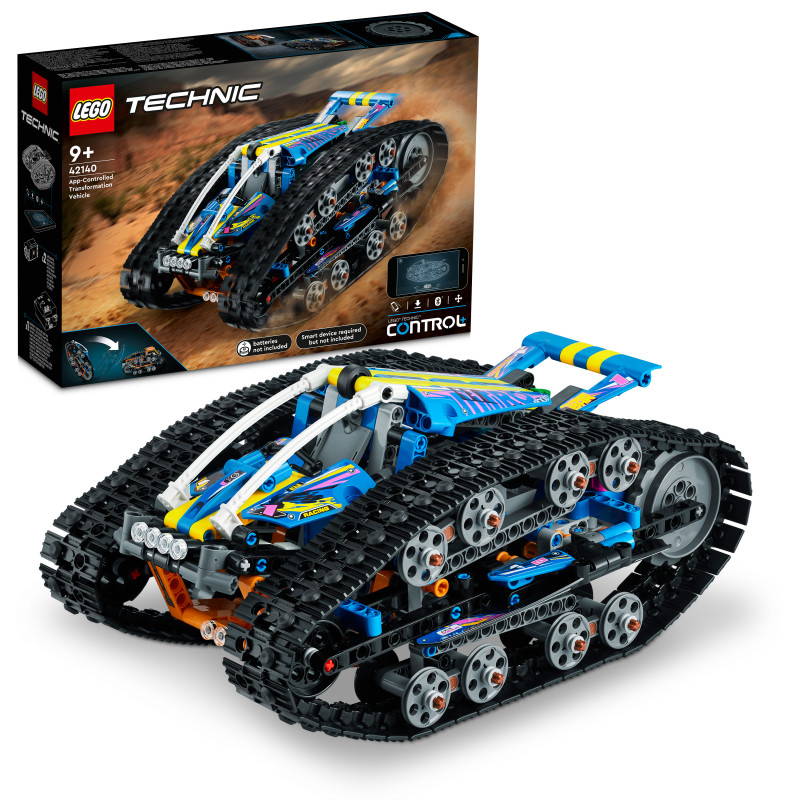 BUILDING EXPERIENCE FOR THE LEGO APP-CONTROLLED TRANSFORMATION VEHICLE 42140 SET. 
Fun would be the significant thing that comes to mind when you would later try to recollect your own experience from building this set. The Lego Ideas and Technic team have gone all out with the building of this Lego set. Aside from a fun build, you also get to play a bit of engineer in finishing this Lego set. The set offers buildable brick features that are very easy to work with. So you do not need to worry about pieces not fitting correctly because that would be the least of your worries. The set comes with a little over 700 brick pieces. So this should not take you long to put together. Even inexperienced Lego builders can try their hands on this set. To make the building of this set even more effortless, Lego has gone all out to provide you with a manual that clearly outlines all you need to accomplish.
The building of this set could be broken down into four easy stages. The manual breaks down these stages. So if you have no experience with Lego sets, the explicit pictures and illustrations from the manual will make the work lighter. When you finally decide to bring this set to life, be in a zone you are most comfortable with. This would help you savor the moment as every intricate Lego technique slowly comes to life. Once you have successfully built this Lego set, you could decide to put it on display for your friends and fellow Lego enthusiast to see. Overall, you will not regret adding this fantastic set to your collection this season. Enjoy fun rides around your Lego city, transformation vehicle. Though some of the features of this set have been touched on, let's look at other cool features.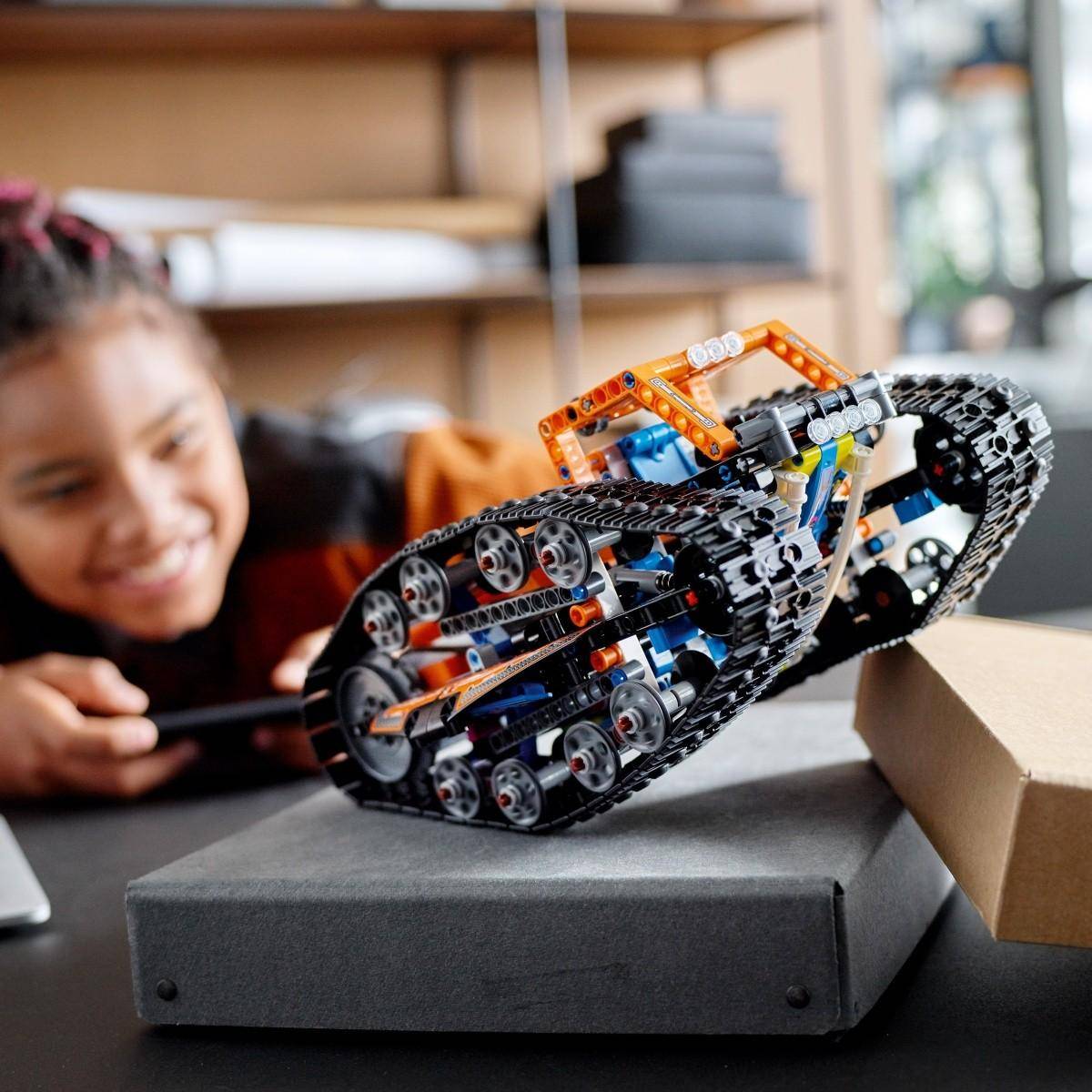 INCREDIBLE FEATURES FOR THE LEGO APP-CONTROLLED TRANSFORMATION VEHICLE 42140 SET. 
● APP CONTROLE.
Yes, this Lego set comes with an inbuilt battery and can be controlled by the Lego Technic app. You can download this app to your Android or IOS device. In fact, with this cool feature, you can handle most of the battery-powered cars under the Lego technic collection. This Lego set supports some of the controls are forward, backward, turning, and flipping over. The rules are direct and easy to understand for first-time users.
● A TRANSFORMATION VEHICLE.
The Lego app-controlled transformation vehicle is not just a name. The car is transformable. You make this possible by carefully building two different vehicles, one at the top and the other at the bottom. Once you are done building, connect to the app to control your set. Once you have gotten that control, you could transform or switch between vehicles by simply riding your Lego set up a wall; surprised? Well, as weird as that sounds, it's true. Riding your set against a wall would allow your set to flip over, revealing the other set.

● AUTHENTIC DETAILS.
This Lego set also offers authentic-looking details that would help with this set look and workflow. These details include two different vehicles, namely, an aerodynamic crawler racer on the upside and a reconnaissance vehicle on the other side. Both vehicles feature authentic-looking information, which would help make the set look as realistic as possible. Make sure to carefully observe all the pieces put together to bring this set to life. Doing so would increase your appreciation for the Lego set.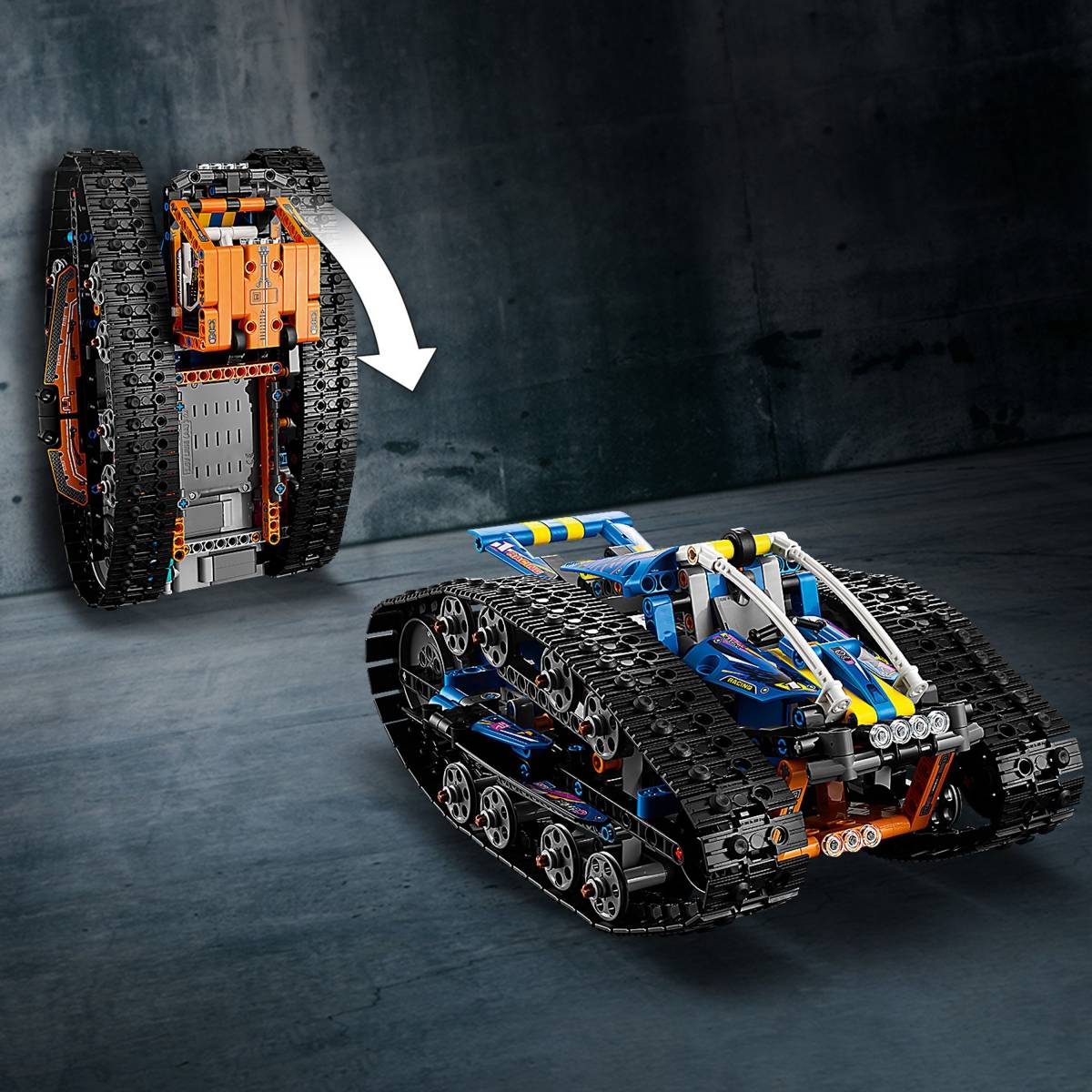 ● TOP-QUALITY MATERIAL.
This Lego set is also made from top-quality material. These materials have been tested to ensure they are working friendly and safe for use. All Lego brick pieces easily attach and detach, which helps improve your overall building speed. So if you live in a home full of kids, you do not need to worry about them when working with the set. Just monitor them and ensure non of the pieces get in their mouth.
● SET SIZE.
This Lego set could be regarded as a medium-size Technic set. The set comes with a total of 772 pieces. The set is sizeable but could also be easily driven through a Lego brick city. The size of this Lego set makes it an incredible display set. You could easily display this set on the center table in your living room or office desk. This set measures about 4.5 inches high, 10 inches wide, and 7.5 inches deep when fully put together. Include this fantastic Lego set in your collection this summer.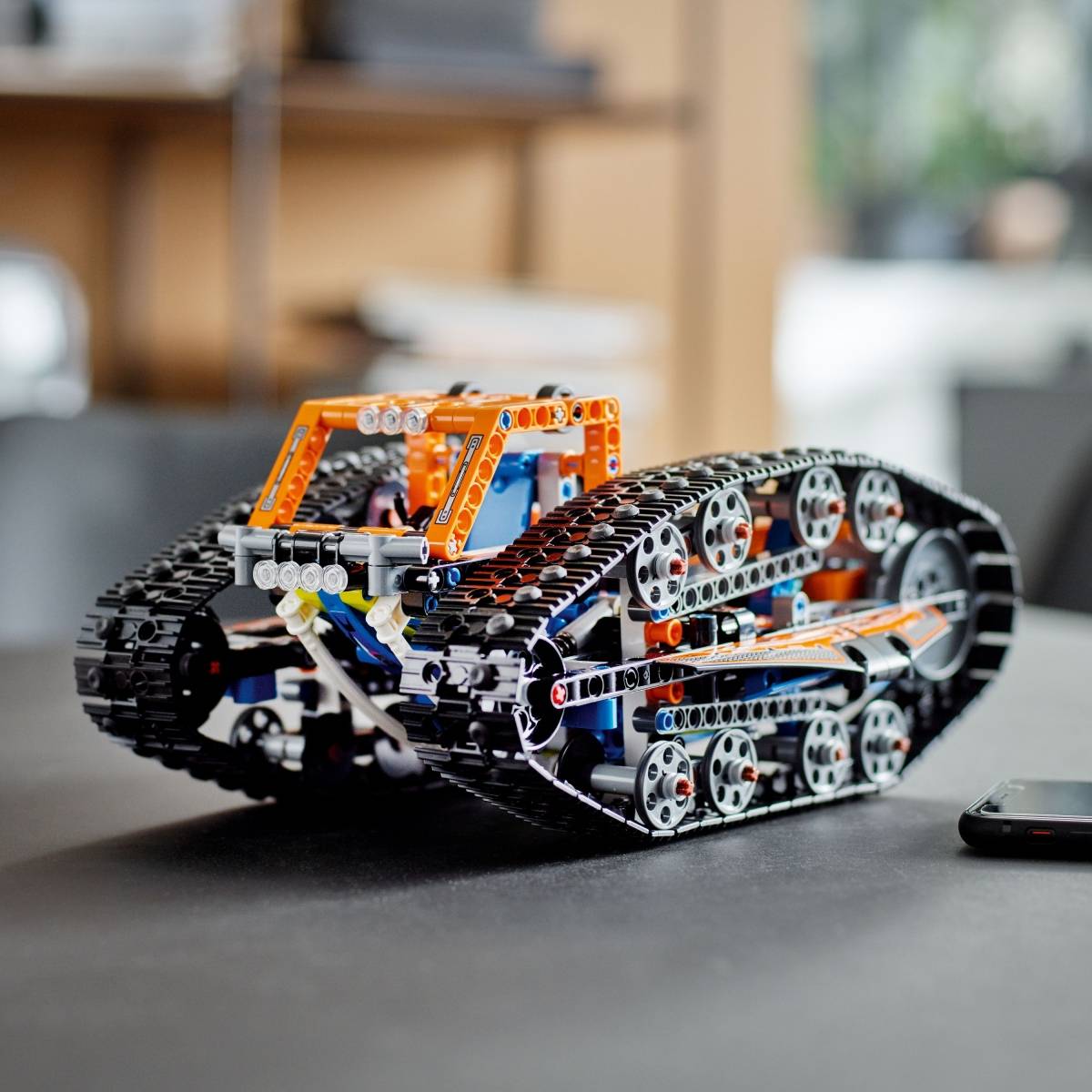 You could buy the lego App-controlled transformation vehicle from either the Lego stores in your area or directly from the Lego online website. Purchasing this set from Lego stores in your area could slightly cost higher than the website. This all comes down to the of money you would spend in safely transporting this set from the store to your home. But if you get this set directly from the website, you could expect it to cost about 139.99 dollars, plus a one-week shipping wait. If you choose to order this set now from the Lego website, you could also decide to purchase one more item - our Lego light kits. Why is purchasing this special kit so important? Let's find out.
MAKE YOUR LEGO APP-CONTROLLED TRANSFORMATION VEHICLE EVEN MORE AWESOME WITH OUR SPECIAL GAME OF BRICKS LIGHTS. 
You can make your Lego set even more captivating with the help of our special light kits. These unique light kits help you see your Lego set from another perspective. You may be probably wondering how you would be able to make this happen. Well, you can do this by carefully installing our light kit. Well, how do you go about that? You can do so by applying these easy guidelines.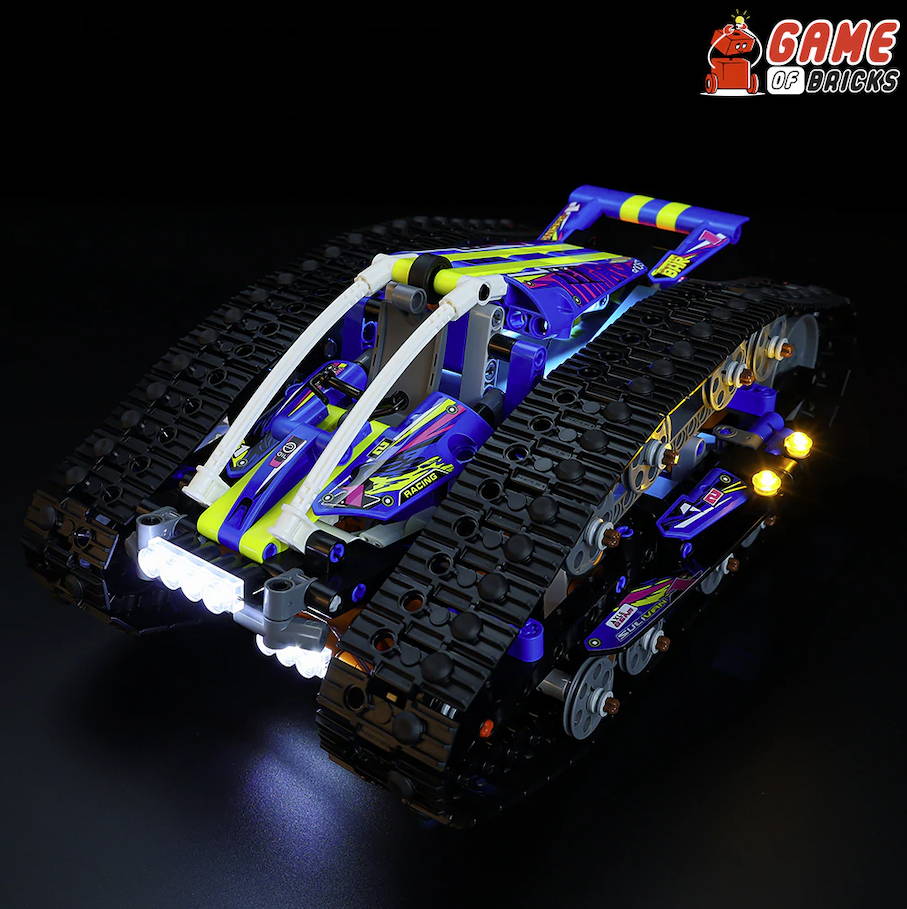 1. Inspect the light kit before use.
As soon as your light kits arrive, it would be best to scrutinize them. This is because it is common for light kits to come with some damage. The main reason for your investigation is to spot those damages. Once you spot the damage, you could request a replacement using your 30days warranty card. As soon as you are through and everything looks good, you can move on to the next step.
2. Install all light kits.
Installing your light kit has been made easy with the help of the kit's instruction manual. All you must do is apply the instructions given religiously, and you will be okay. Our light kits are very delicate and can easily sustain damage. So try your best to handle each light kit with the best care. Doing so would help increase your chances of installing the light equipment successfully.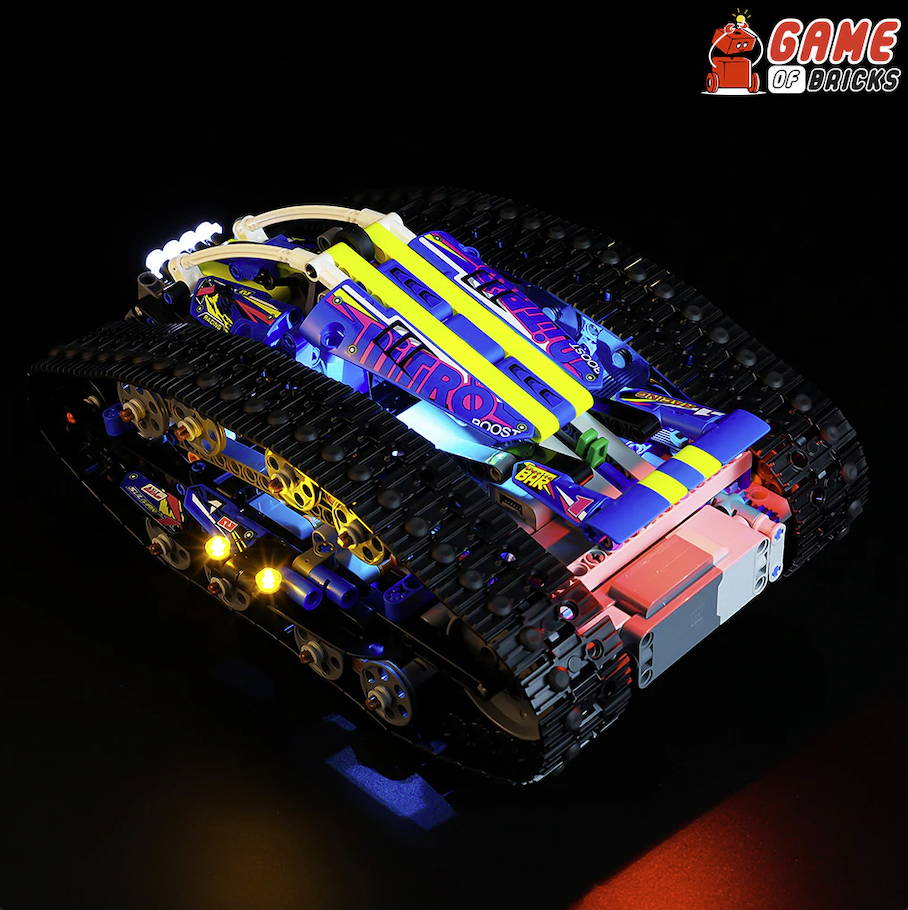 3. Test all installed kits.
Once you have successfully installed your Lego light kit, the next step is to inspect all installed light kits carefully. You want to ensure that your light kit is safe and durable enough. So, you would need to search for signs of short-circuiting and sparks. Those sighs will help you detect a problem. If you encounter any difficulties, be sure to fix them. Once you have successfully installed and inspected your light kit, show off your set for all to see!
---