An amazing upgrade for the LEGO Ferris Wheel 10247 Set.
There is nothing more exciting than a festive season full of fun and exciting adventures. A lot of centers for tourist attractions will be packed to the max. No center, though, will be as complete as the amusement park. Children and adults alike could find themselves engaging in lots of fun, riding from one side to the other. No ride, though, is as exciting as that of the ferries wheel. This famous ride has been known to be the favorite of both children and adults alike. It comes in a total of twelve seats, able to accommodate a maximum of two people. Are you among the lucky few who got to ride this awesome ride with your friend, sibling, or maybe someone you loved? How did you feel when you at the top? Well, I am sure the feeling was beyond anything you have ever felt in your lifetime. You would have had the feeling of both fear, excitement, and most especially trust. 

Would you like to feel that way constantly? Well, Lego has designed a ferries wheel that looks and feels like an actual life ferries wheel, one you would typically find in an amusement park. The ferries wheel features 12 seats, which could hold a maximum of two people each. The wheel is also decorated with flashy colors to make you feel as though it was the holiday season all over again. With this new Lego set, builders get the chance to put their Imagination to good use with the building of this set. But is that all there is to this wheel? What ells do Lego builders stand to gain with this set? Let's find out in the next section of this post.
BUILDING EXPERIENCE FOR THE LEGO FERRIES WHEEL 10247 SET.
The Lego ferries wheelset gives builders the thrill and excitement of bringing a more challenging set to life. With this Lego set, you get the opportunity to bring to life an authentic replica of an actual life ferries wheel. You would need to bring together everything, from its wheel, which holds about 12 seats, all the way to the rods which hold the seats. The ferries wheel also comes with an excellent paint job, giving off a more festive vibe. 
Do you have kids who love the ferries wheel? Then this will be an excellent way to bond. Get your family together, and bring to life your very own amusement park right in your living room, with the ferries wheel as the center of attention. This Lego set is a whopping 2000 plus pieces, which could be fun being put together by the whole family. Once you are done, you can finally help all the passengers aboard by freeing the lever, allowing the passenger to come aboard. And to make the ferries wheel look and feel more festive, you even have access to an ice cream vendor. With the Lego ferries wheel 10247 set, you are free to go wild with your power of Imagination. Now let's look into more mouth-watering features of this fantastic set.

AUTHENTIC FEATURES FOR THE LEGO FERRIES WHEEL 10247 SET.
The Lego ferries wheelset comes with a lot of cool and very insane features that will excite any festive fanatic. This section will focus on some of those cool features.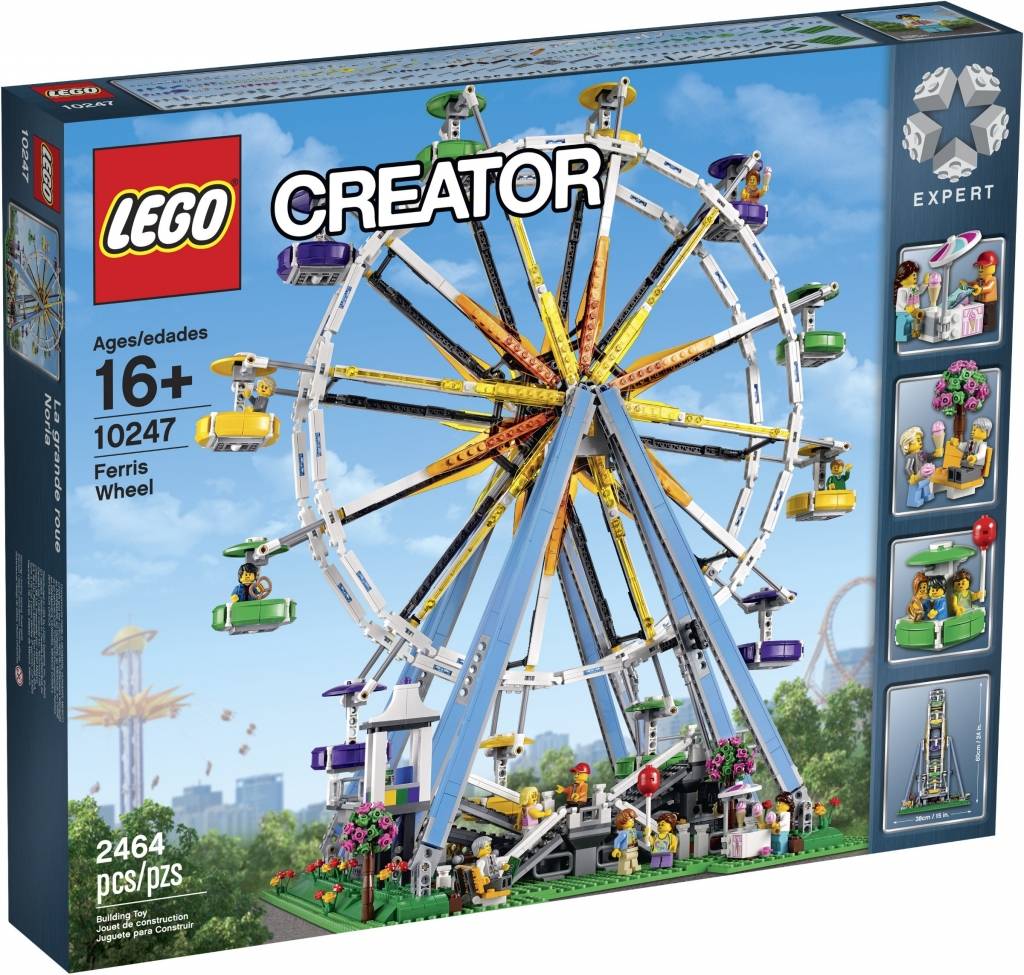 • SET MINIFIGURES.
One of the most outstanding features of this set is its Minifigures. The set itself is fantastic, but the minifigures make this look even more realistic. The set comes with ten Minifigures, which helps make imaginative role-playing a whole lot easier. These mini-figures include eight passengers, four children, and adults, with the remaining two Minifigures being an ice cream vendor and an operator for the ferries wheel. The cool part is that these Minifigures are made small enough to fit comfortably in the seats. These Minifigures also come with about 2000 plus of fun Lego accessories to accompany them.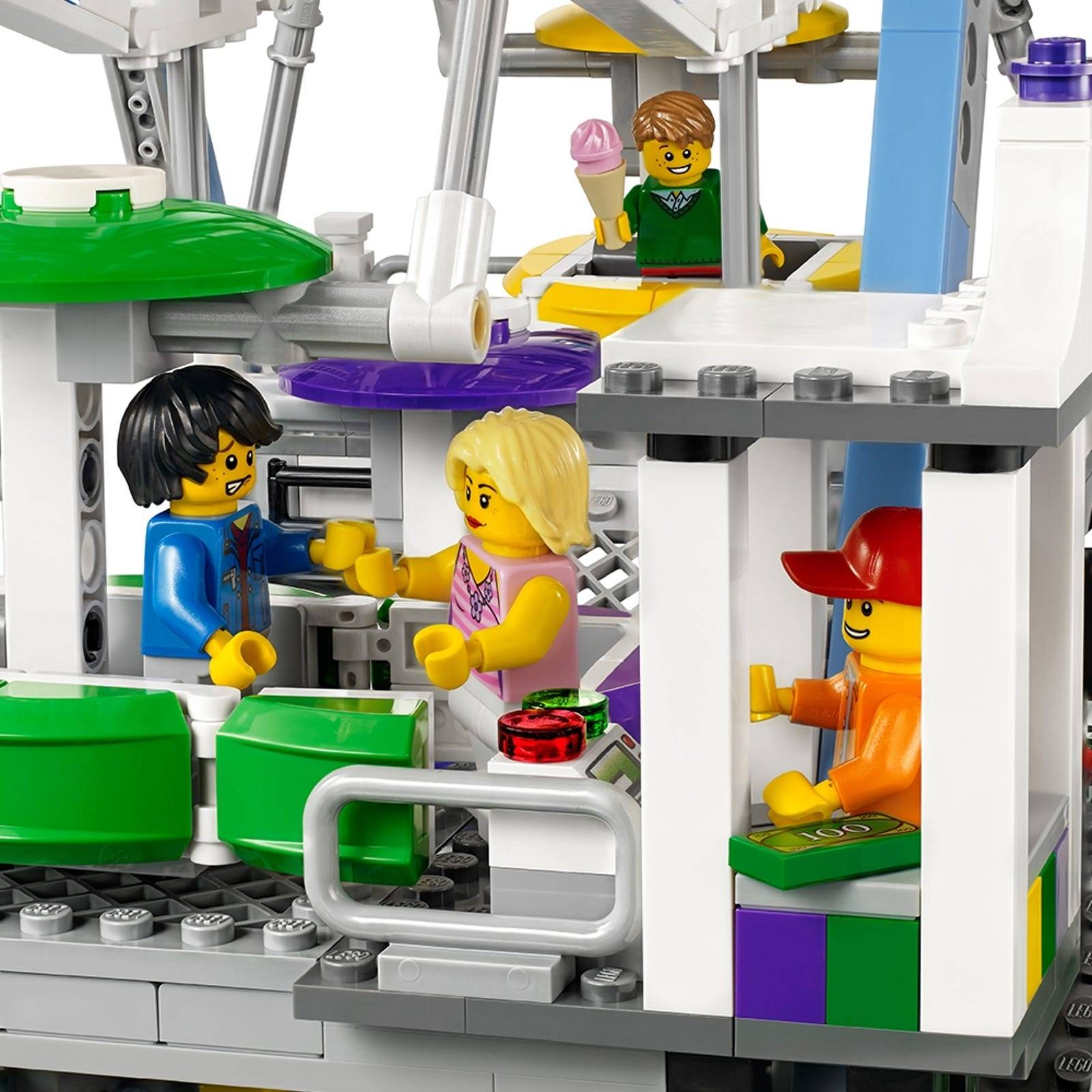 • A ROTATABLE WHEEL.
The ferries wheel not only looks and feels like the real deal, but it also is Abel to rotate and move like the real deal. This makes the experience all the more exhilarating. This is made possible thanks to a Lego-powered available medium motor and an 88000 AAA battery box. As soon as you are done building this set, you can then bring its rotational qualities to life to make the set even more satisfying to look at. Feel like you can touch the sky when the wheel rotates to the very top while easing the tension as your seat is rotated down word. With these incredible features added, you can never be bored while working with this Lego set.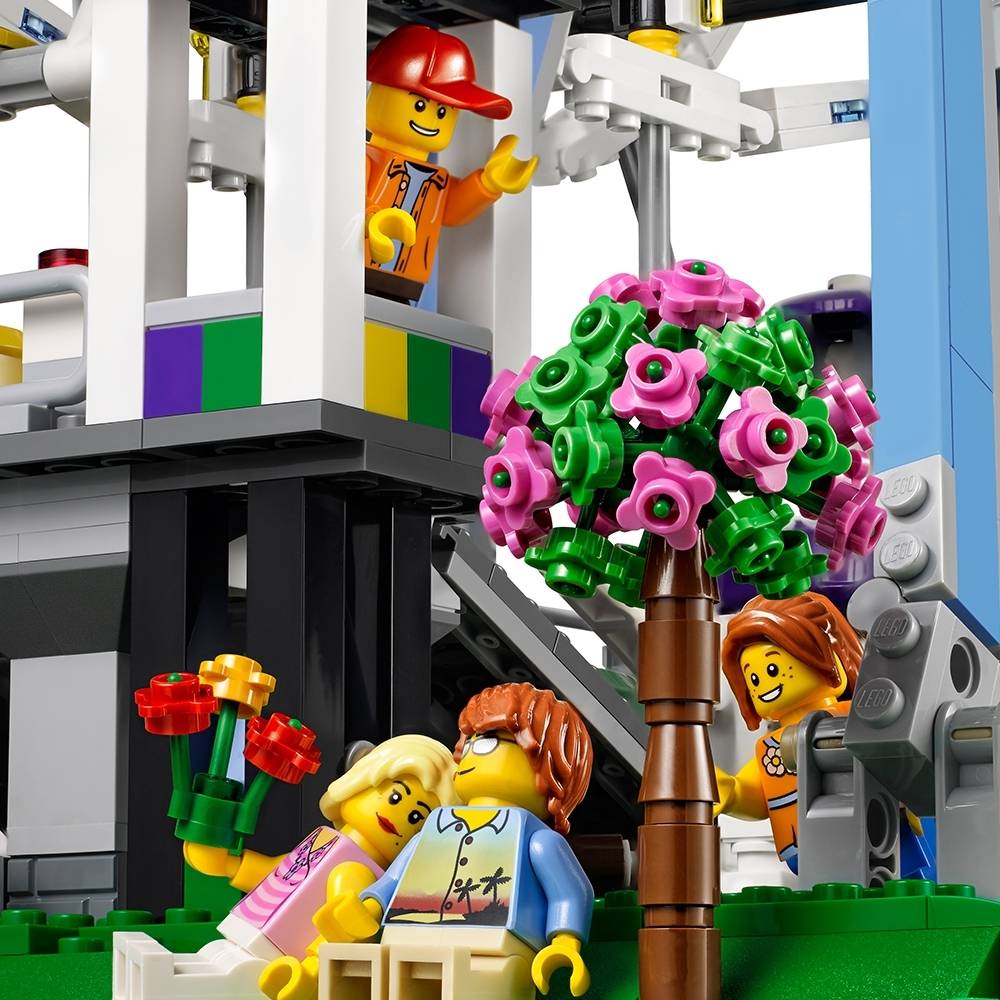 • SET SIZE.
The Lego ferries wheel 10247 set is impressive when it comes to size. This is a significant change of direction when it comes to Lego ferries wheel creations of the past. This set not only comes with much more Minifigures, but it also comes with a whopping 2,464 pieces. This means that even with a well-experienced Lego builder, it will still take an extended amount of time to complete. This type of Lego set helps inspire teamwork. Builders are coming together and working in harmony, shorting the build time and ensuring that everything is put together quite alright. Overall, this set is an impressive 23 inches high, 21 inches wide, and 14 inches in dimension. This ranks this set among the larger Lego sets both produced and in production.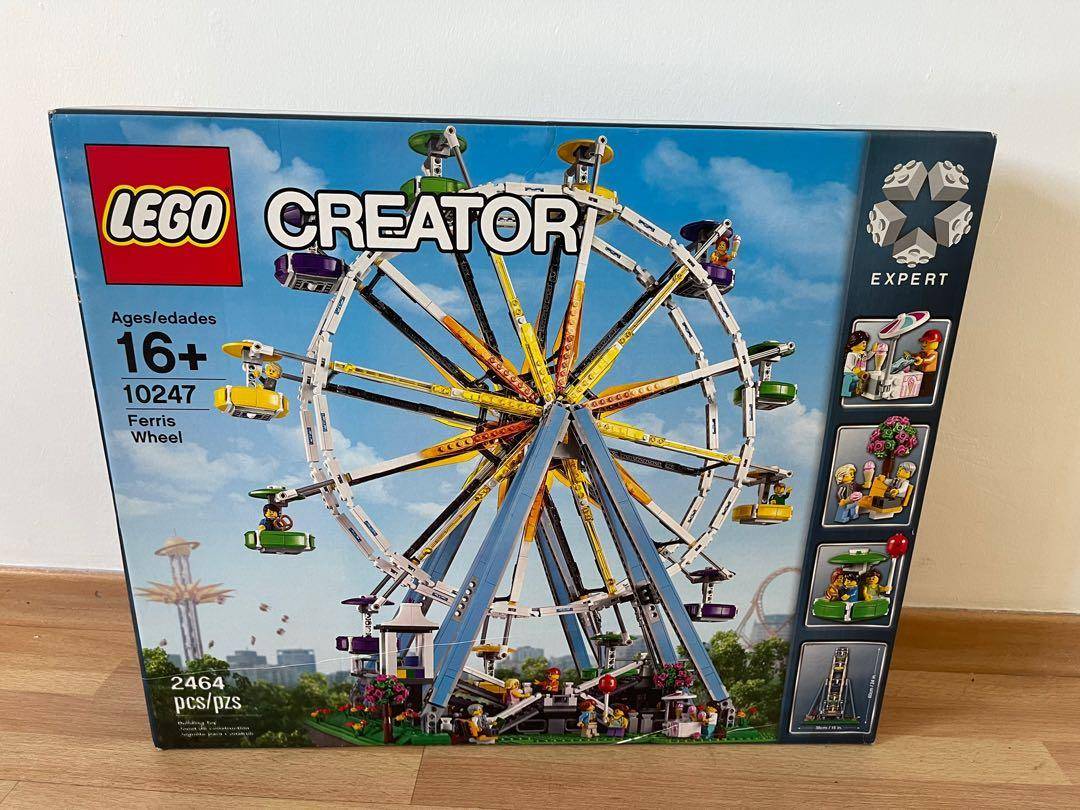 • SET PRICE.
The Lego ferries wheel 10247 set is exceptional. This is because, unlike most Lego sets, this set is a retired set. This means that it would be relatively more expensive than regular Lego sets no matter where you choose to purchase them from. Initially, this set was sold for 299.99 dollars from lego.com and Lego stores in the US. Now though, this set is sold for nothing less than 499.99 to 599.99 dollars. This depending on your location and how willing the seller is to sell. Nonetheless, this set would be a great addition to your Lego collection, as the price will continue to rise, just like other Lego sets like it.
MAKE THIS WORTH EVEN MORE WITH OUR SPECIAL LEGO LIGHT KIT.
This set is one of the most impressive works ever done by Lego. Yet you can make this set look even better and worth even more with our amazing Lego lights. Installation of our light kits could prove a challenge for Lego fans new to light kits. This section will share some universal tips to help make your installation much more enjoyable and more accessible.
1. COMPLETE YOUR LEGO SET FIRST.
If you want your installation as smooth as possible, you have first to lay the foundation. You have to ensure that you build your Lego ferries wheel 10247 set to perfection. Doing this will give you an idea of just how the light kits will look once installed and where they should be placed. It will also make the steps found in the instruction manual for your light kit easier to understand. So it would help if you had to take your time building your Lego ferries to wheel 10247 sets. Once you are through, you can now move over to the next stage.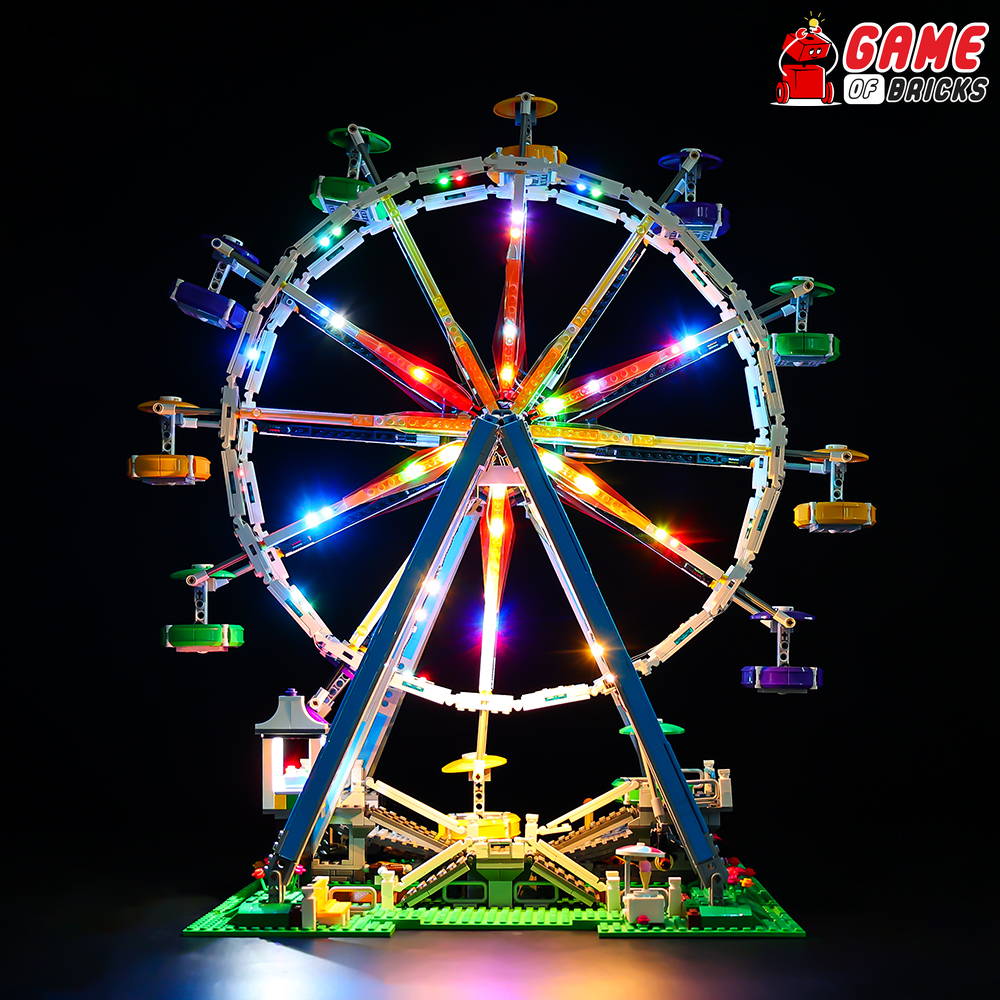 2. INSPECT EACH LIGHT KIT ACCESSORIES.
By now, you must be done building the set. This makes you one step closer to successfully installing your light kit. First, though, make sure to inspect all light kits and accessories are in perfect condition. This will involve checking through each accessory and wires of the light kits and ensuring there are no damages. This check is very vital, for its not news that light kits and accessories are susceptible to being damaged during shipment- so inspect carefully.
3. INSTALL YOUR LIGHT KIT CAREFULLY.
Now that you are done with steps one and two, you are finally ready to install your light kit. Well, the producers of the light kit, game of bricks, have ensured that each light kit comes with an instruction manual that holds all the information to ensure that you install the light kit successfully. So ensure to follow the instructions to the latter, as even omitting just a single thing could ruing all you have worked hard to achieve. So take your time and do not rush. Follow all it's the instructions listed, and you will be fine.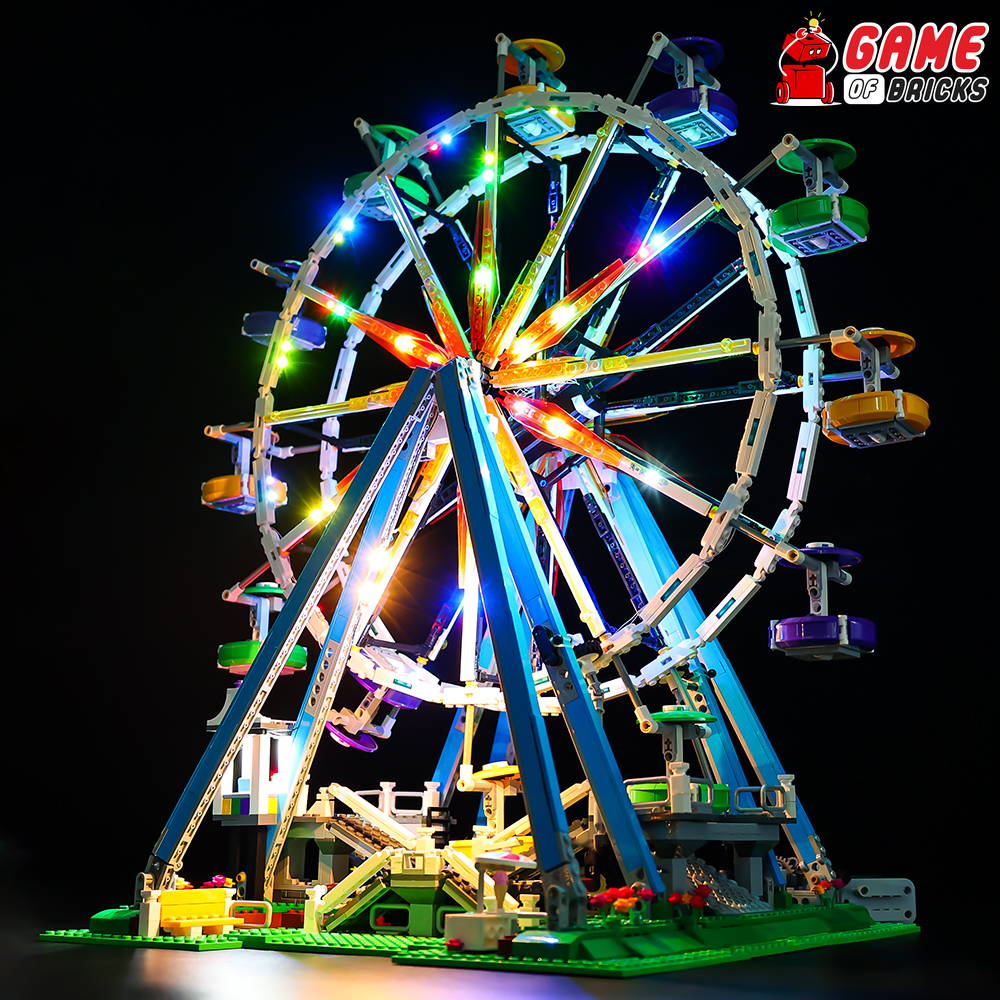 4. ENSURE YOU TEST RUN YOUR LIGHT KIT.
By now, you must have installed your light kit. Before you jump to the conclusion that all is good, first take time to test-run our special light kit. You can start by putting the light kit both on and off, ensure that the light kit lights properly. Then also, check out for signs of short-circuiting, for it could help point out a problem. Once you are done, and all looks good, ow your Lego ferry wheel for all to see.
---