2020 LEGO Technic Pull-Back Racers Review.
By

Nikita P.
/
May 21, 2020
The period of time that you are made to Talk about new LEGO creations happens to always be a time of joy and a chance to come off as a boast as a LEGO lover. We've been reviewing a lot of LEGO products lately, this is to aid you to make proper decisions when you are out to make a new purchase.

The LEGO Technic Pull-Back Racers shouldn't be a name that sounds new to you. They've been around for a while, they've been existing since 2013 and every staunch LEGO fan must have come across it.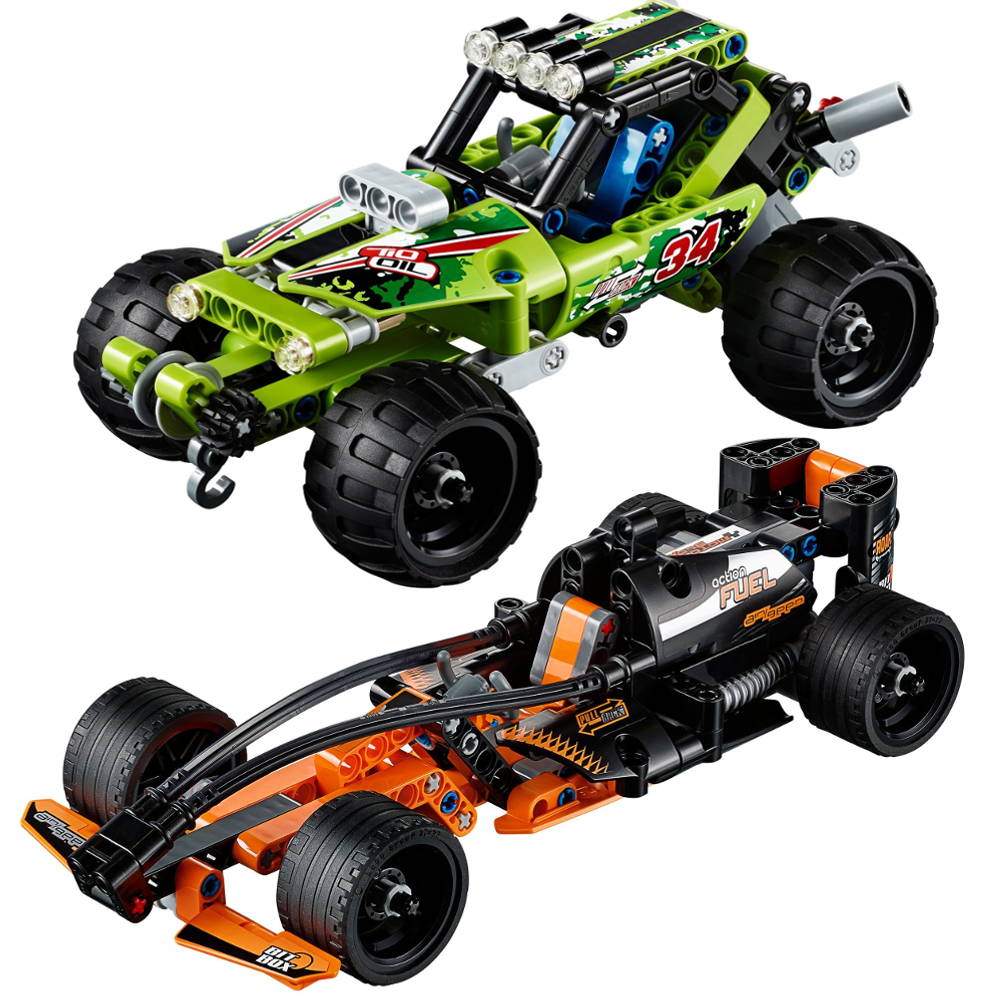 Every year, our favorite Danish Toy company gets to let out two sets from the line of the Technic Pull-Back Racers and I'm a little surprised to find out that this year, they took a whole different step as they made to release three different sets of the LEGO Technic Pull-Back Racers and this is definitely something worth talking about in the fan's corner.

Talking about the release of the three different sets of the Technic Pull-Back Racers, I will be going through each of them in this article and I'd like to request that you stick with me as we ride through this review journey together!

A Brief Run Down Of The LEGO Technic Pull-Back Racers from 2013 to date.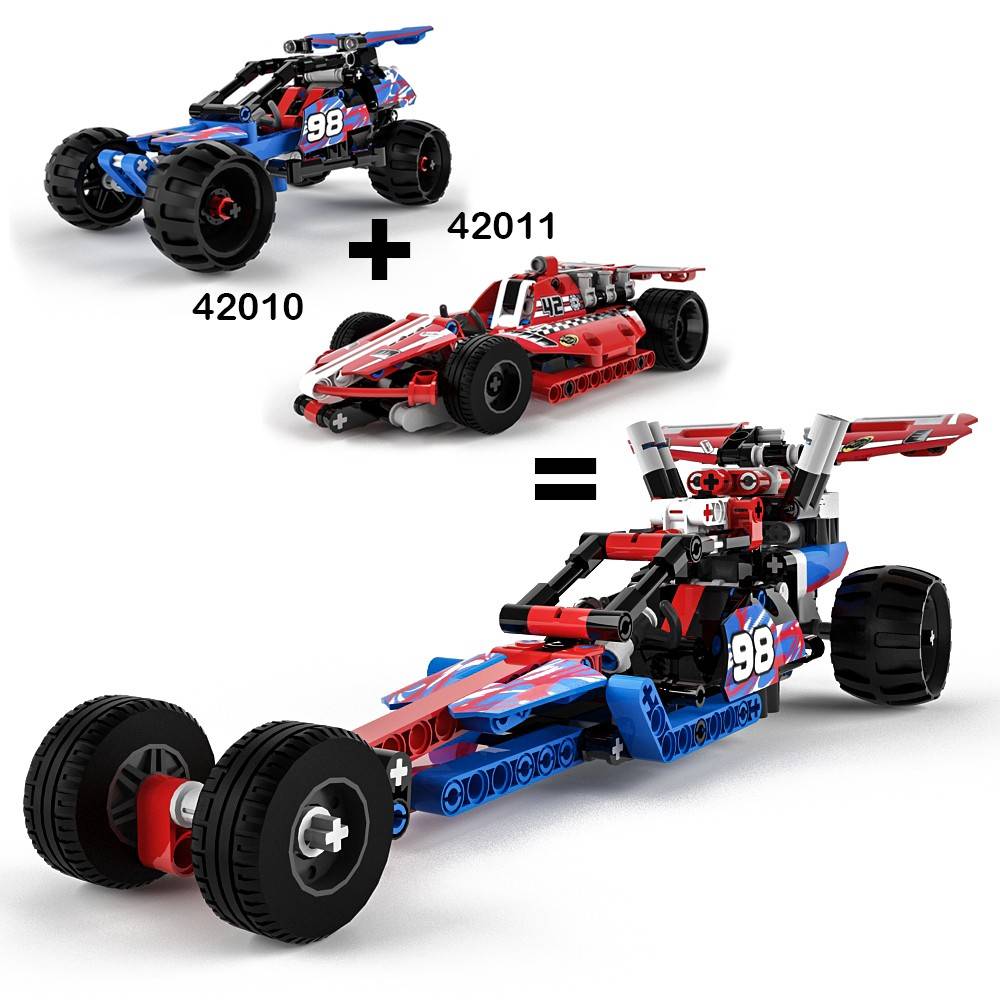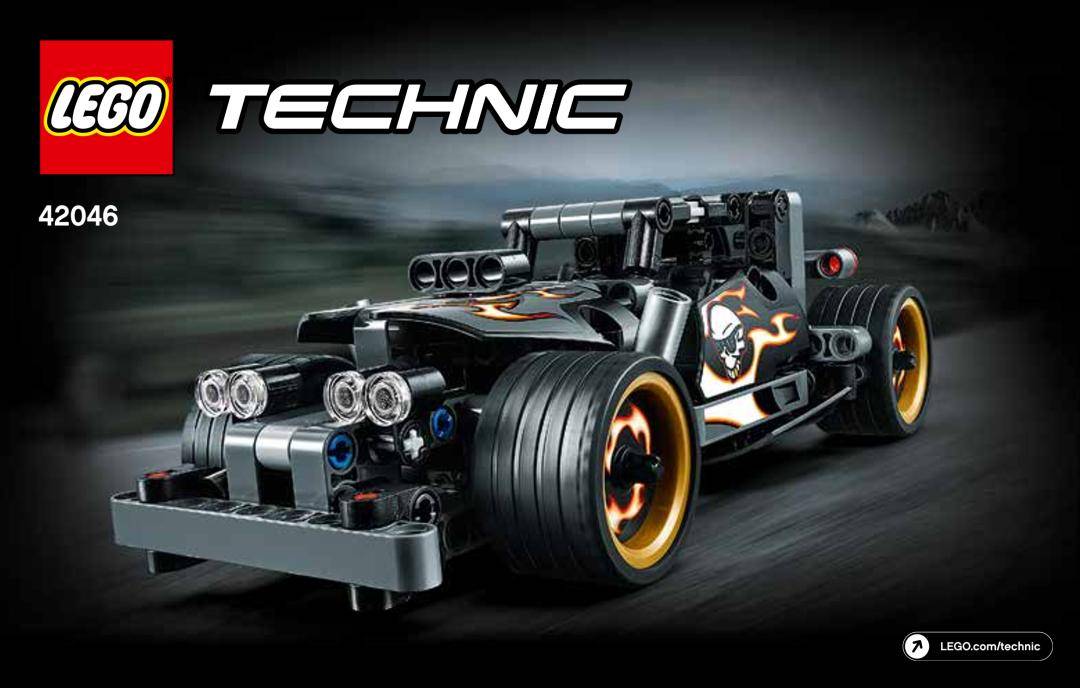 The beautiful thing about these LEGO Technic Pull-Back Racers sets that were released first is the mere realization that the everything that every makeup of these sets translates to a well-thought process from the constructions which has a very firm and strong build to the designs which is a clear depiction of beauty to the playful function which each of them possesses. Also, very beautiful decorations are part of the makeup including a better combination of colors.

Every one the car set listed among the earlier Racers creations, is laced with maximum speed, and the ability to continually jump over this is owing to the fact that it comes with the pullback feature which indeed makes them stand out graciously. You also have the opportunity of making or creating another Racer car just employing the use of the pieces of two sets. The conjoining of two different sets should give birth to something more beautiful and bigger - the earlier pull back sets are basically known for their versatility. They are sold at the cost of $19.99 per vehicle and the fact that they are worth every penny spent cannot be undermined.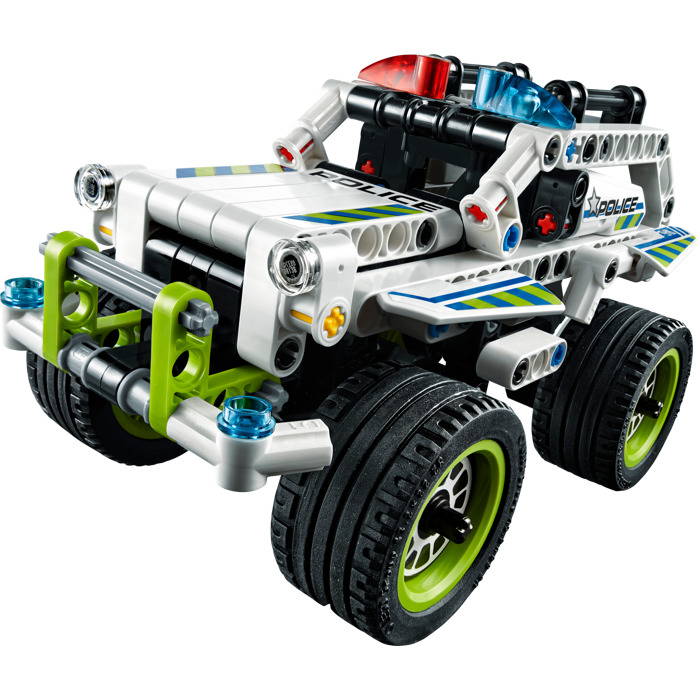 Following the release of the first sets of the LEGO Technic Pull-Back Racers which mainly falls under the big/ large category, the after Pull-Back Racer car sets came in smaller car sizes that portrayed them as the exact opposite of the earlier series. The sizes will make you rate it below real cars.

What couldn't be found in the size of these new series was made up for in the features, how? In 2017, LEGO Technic Stunt Bike and LEGO Stunt Truck - 42058 and 42059 Car Racer sets got released. The release of the later versions introduced the special feature of the pullback racers to be able to jump over things and bumps with so much ease.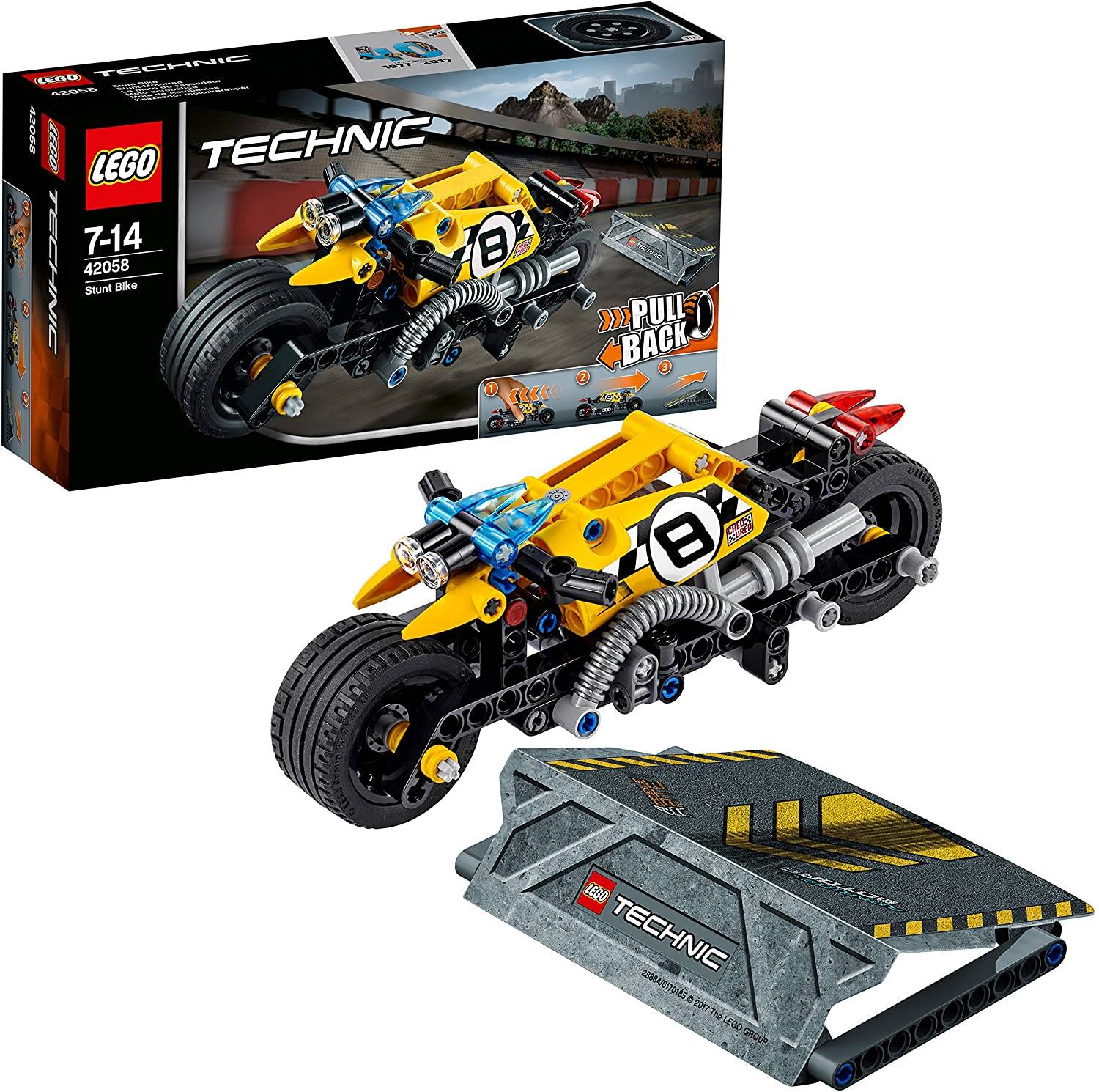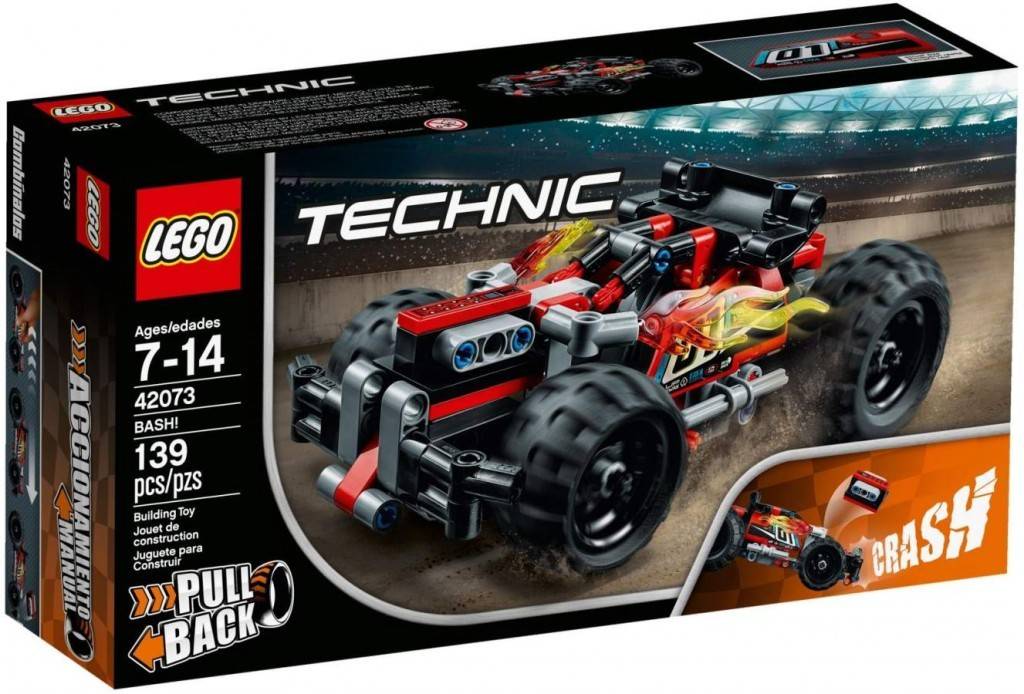 Next was the LEGO Technic Gateway Truck & the LEGO Technic Police Pursuit - 42090 and 42091 Lego Pull-Back Racers sets. They still came as the proposed small sizes for the later version and they lacked In the specialty department. There is nothing spectacular about these vehicles and that easily puts them out as the most unwanted in the LEGO Technic Pull-Back Racers series. Though it can still be combined to make another beautiful car set.

LEGO Technic Pull-Back Racers for 2020.

This year, 2020, LEGO took a new turn in their scheme of things and released to us, three different designs of the Pull-Back Racers car sets. Every Lego fan took these new vehicles in good fate. The outstanding thing about this new series is that they came with more unique designs that look like nothing you've seen before, as well as features that allow us to have a fun-filled playtime with it. With these new versions of the Pull-Back series, you are going to definitely enjoy every moment spent building or creating with LEGO! This makes a whole different since the release of the previous versions all thanks to LEGO. Like I mentioned earlier on, we are being blessed with three sets as opposed to the past years where we were always given two sets thereby creating more room for boredom. Let's meet the three of them below:

1. LEGO Technic Dragster - 42103 Car Sets

The 42103 LEGO Technic Dragster car set is a special version of the three which comes bearing two colors which are bold. Moreso, it has a driveway for bikes! The very impressive Hot Rod is the next thing after this car model. It comes with a racetrack light assembly which serves as a very unique feature that pushes this set out as unequaled. However, despite the beautiful makeup of this set, it's easily the less interactive one of the three recently released versions. Like the previous versions, this set is sold at $19.99.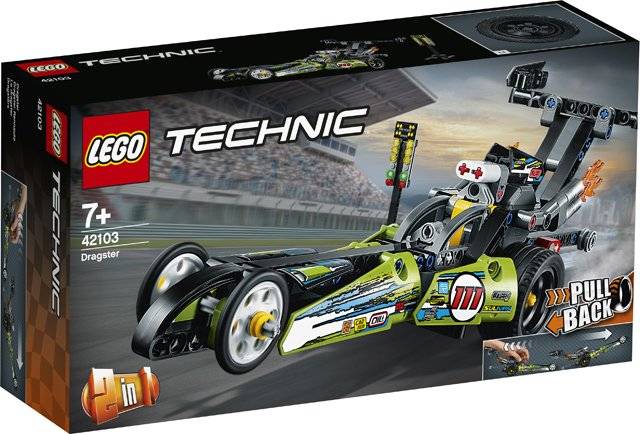 The LEGO Technic Dragster can be moved quickly alongside the Race Truck across the ring. Some car sets versions from the past years also possess this feature which poses as a great feature for a great playtime. The Racecar model which serves as an alternate version is as fun as the main version itself. This version contains 220 pieces of car building set.

2. LEGO Technic Race Truck - 42104 car sets

It comes in different colors such as - orange, black, and then a whole combination of the light. blue coupled with some silver color highlights. A lot of people already consider this set as their favorite which isn't so bad. Almost all the features that come with the set are highly functional e.g the doors and the hood. This car set is a beautiful sight to behold, it's a big vehicle that simply gases most of the fun filled features you've always looked out for in a LEGO car set with a queming design. This set is simply built but this doesn't reduce any of its special functions. The standard racecar can easily stand in place of this set because they have almost the same function. It's also affordable as it's sold at a rate of $19.99.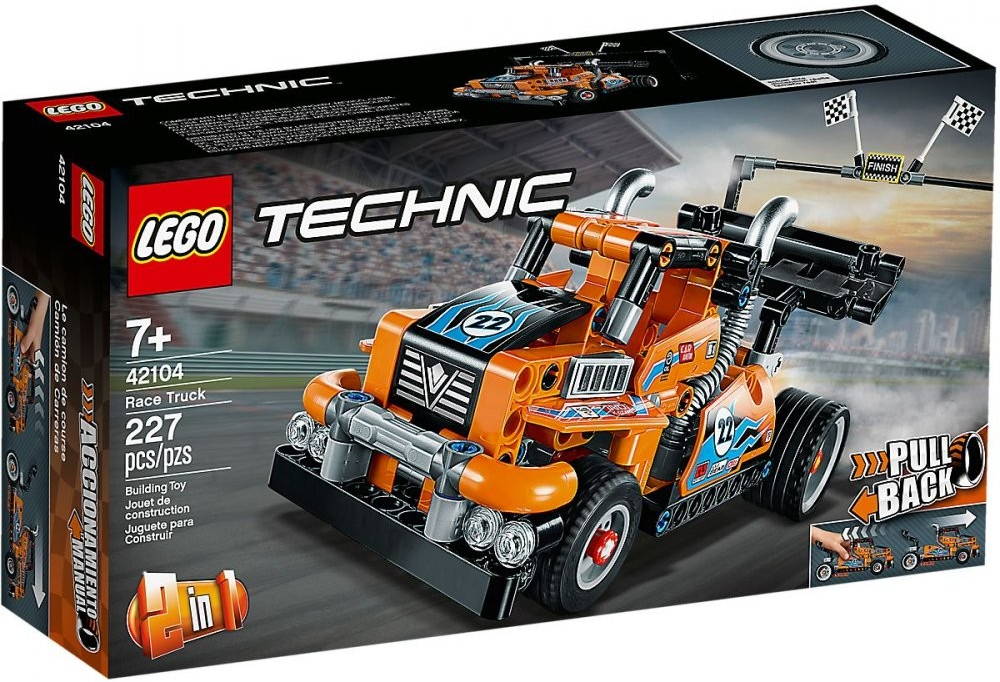 3. LEGO Technic Stunt Show Truck - 42106 car sets

The LEGO Technic Stunt Show Truck is about the largest and last of this series. The 42106 set is the first of its kind since the inception of the LEGO Technic Pull-Back Racers car set. It's a special set and should be treated as such. Personally, this set has become my favorite of all the sets. It's also affordable but costs more than the other two at the rate of $49.99.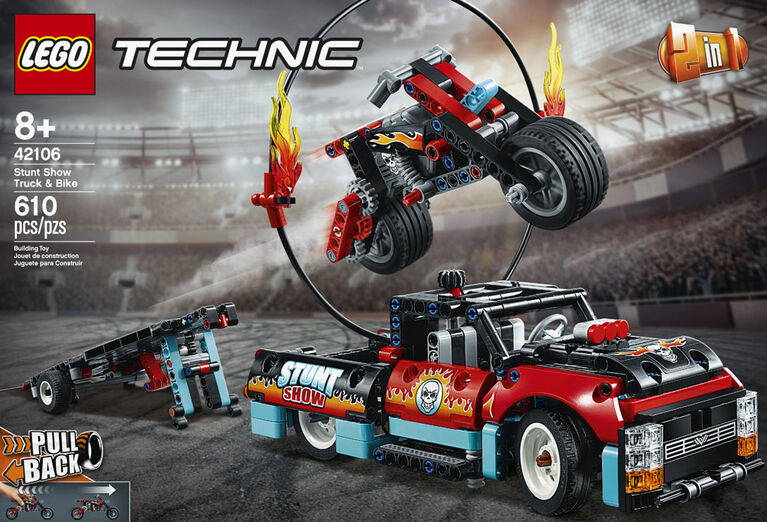 Features of the LEGO Technic Stunt Show Truck - 42106 car set

1. The vehicle comes bearing doors that can easily be opened, a no Pull-Back motor, hand-of god steering.

2. It has a pick-up truck that can be converted to a pick-up truck that has a ring of fire attached to it which enables the bike to easily jump through.

3. Most times, the pullback motor is seen on a motorbike. The motorbike is being lifted by a trailer while joined to the pickup vehicle.

4. The trailer can easily be disassembled which lists it as one of the special features that contribute to making playtimes fun with this LEGO Technic Stunt Show Truck car set. It can also be carried with a control switch to make way for its connection with the bike thereby aiding its movement across the fireplace.

Among the features of the LEGO Technic Stunt Show Truck car set, the bike seems to be the best of all, why? It forms the pull back motor into one whole and it is very good at doing this, which in turn makes the pull back motor get more real while you play with it.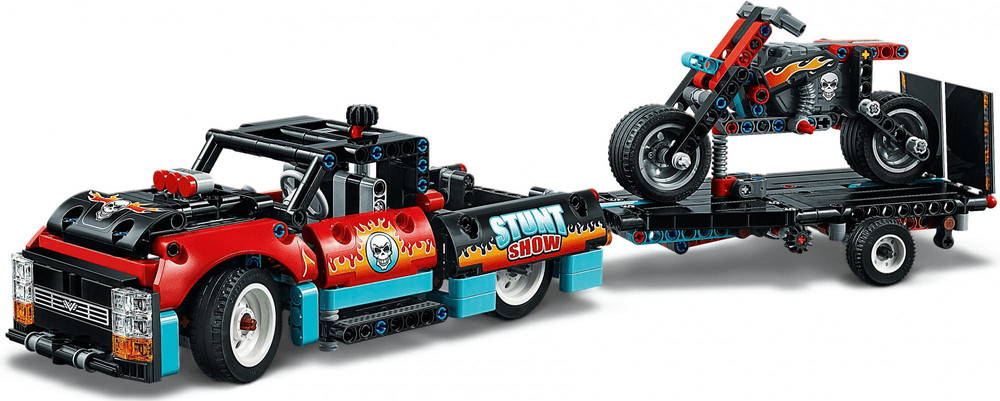 Most times, to get this feature into play, all you need to do is - to twist the pull back motor of the bike up completely, move it swiftly through the ramp. Try to run the pull back motor across the ring of fire that is obviously lit and flaming at this time. This might be hard but you need to consistently do this because this is only when you can get a lot better at implementing this procedure.

Between these three sets we mentioned, it's worthy to note that the combination of two or more sets to produce an entirely different vehicle is impossible. And I really think it's because of their several unparalleled features. But there's a way out - several versions that can easily stand-in for these sets are made Known so you can easily alternate between them.

Also, note that the three sets are usually accompanied by instructions written on a paper for each of the versions, there are also instructions found on the internet for each of the models.
Reasons Why You Should Get The LEGO Technic Pull-Back Car Racers 2020 series

1. All the sets are ideal for parents that want to groom their creativity level as well as that of their children. It is also suggested for all who love car racing.
2. Building with these sets is a quickly acquired hobby or habit. Your playtimes just got better. Also, you can easily place the alternatives.
3. Personally, I recommend it for future car engineers.
4. This is a good opportunity for young children to develop skills that will enable them to solve problems quickly.
5. Best gifts for a child around the age of 7, also ensure that you are interested in Lego as well as building with it.
all the three sets listed above have PLUS guidelines located in the LEGO life app and can be accessed for free by all interested users. Building with the PLUS instructions or guidelines is one of the most profitable decisions to make while trying to build with any of the aforementioned car sets, it's a beautiful adventure that anyone and everyone should go through once it concerns LEGO. The life app has features that include- rotate functions, the zoom function, these tend to aid you to spend less time and make the most out of the app by aiding you to get a smooth and swift understanding of the processes involved in the instructions.

From my study, I gathered that a lot of people seem not to like some of the instructions that come with the LEGO PLUS app. Instructions like the Technic axle alignment image which usually comes in handy isn't included in the time app since it's a paper instruction. Apart from this feature, the app is really great and no other issues can be found. The 2020 car sets can be found on Amazon or all LEGO accredited stores around your environment.

Adios!