Ultimate LEGO investment guide 2022
Everything began on a certain day when I gazed at my social media account and saw what my friend posted on his timeline.

This my friend who goes by the name, John, is a good Star Wars fan. I can remember vividly when I visited him at the time he just bought a new LEGO set (X-Wing). I saw how happy he was because of his new toy. At that time, he began to tell me how happy he is about the LEGO UCS Star Wars Millennium Falcon model that will soon be released in the future. That set was truly an amazing one.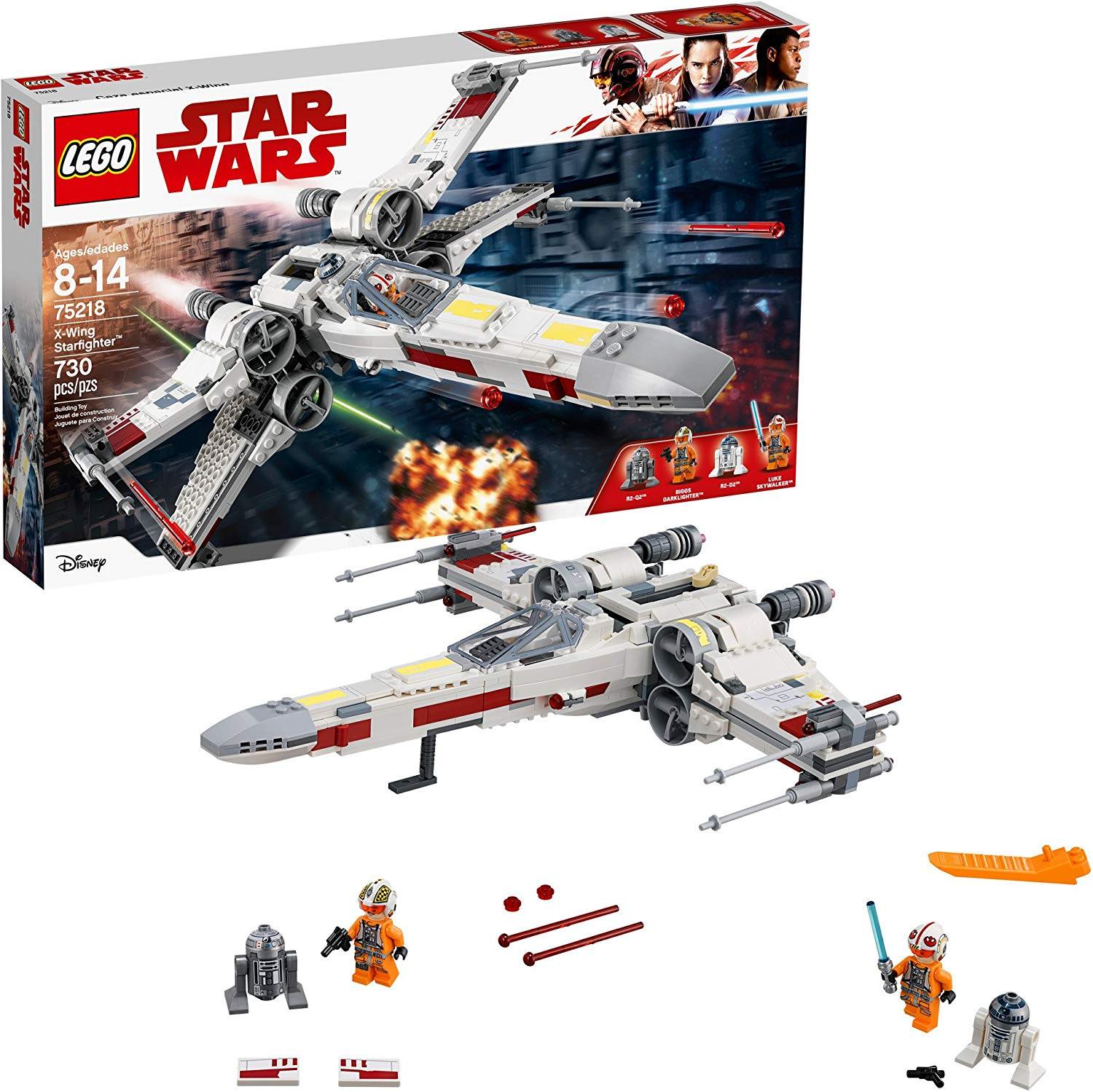 Before we knew it, we started to talk about buying so many sets in the future and invest in them, although, we were not serious about that. We were only joking. As we continued our discussion, a friend of John came by and was talking about how he feels about the topic. He also mentioned that he has a friend who has already begun to make his investment. He highlighted some of the benefits and how it pays more than the stock market.


This conversation was what helped to trigger my investing spirit. I asked myself, will it be possible for me to become wealthy by combining what I truly enjoy? This pushed me into making some research while I still reconnect with the child in me.

How making investments in LEGO pays more than the stock market – (The child in me and my love for LEGO)

My friends, I cannot hide the fact that LEGO made my childhood to be fun. When I was a child, I choose it over any other toy as I loved putting the bricks together to form an airport, a castle, a vehicle, and also disassembling them and turning them into different things. I enjoyed playing with them repeatedly.

As time went by, I already have a complete city. All thanks to my parents! From my childhood, I played with these toys until I became a teenager and by that time, that passion began to fade. But, if you check well, you will still notice that somehow, I still have that passion in me. While I was still studying, I was opportune to spend one semester in the land of Denmark. I used that as an opportunity to visit Legoland. This was amazing!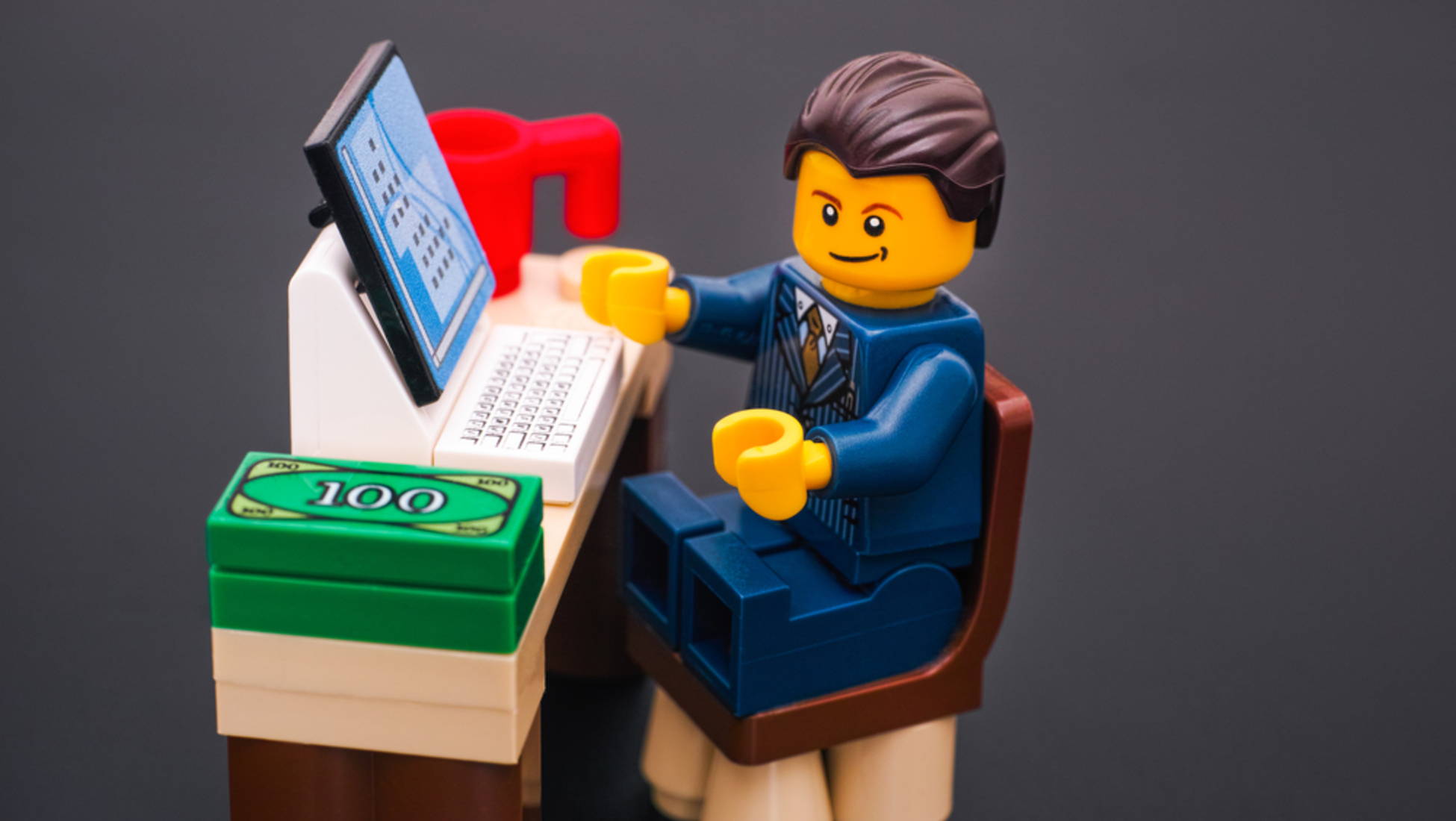 The only thing I could tell about Denmark was LEGO, but apart from Legoland, Copenhagen is a lovely city as well. That was in the year 2004. At that time, LEGO was not doing well economically, and I can remember how I discussed with one of my teachers about how LEGO was beginning to rise again after having a long run of financial setback.

This corresponds with the launching of Bionicle and other Harry Potter series. Since that time, the LEGO company has been exceptional, and they have financially grown stronger.

Recently, I have been keeping track of the company on the media and when I come across LEGO, I will always stop and get some updates on the latest LEGO developments. 

Are you one of the AFOLs? AFOL means Adult Fan of LEGO. You will be surprised to know that there is indeed an AFOL community. I came across this on the day I was watching a documentary/Brickumentary that has the title "Beyond the Brick".

It is not a surprise for me to see a bunch of dorks playing with LEGO sets (Lord of the Rings or Star Wars), but I never expected that to be a very huge phenomenon. The adults that are passionate about LEGO usually gather together to discuss, host conventions, showcase their creativity, and many more. They also have acronyms of their own.

If you like, call them dorks, nerds, geeks, or anything else, you cannot still deny the fact that they have some unbelievable and jaw-dropping creations. Some popular LEGO YouTube channels are operated by adults. You will certainly be amazed at the number of viewers which these channels have.

This may look somehow strange and weird to you, why are adults of 30 – 40 years old playing with LEGO toys? Does that not look weird? Does it mean that they are not yet matured? To get a satisfying answer to these questions, I have spent a lot of hours building a LEGO car (Ecto-1) featured in the Ghostbusters movie, and this has made me understand why the adult fans enjoy it.

Not only does it bring back one's childhood memory, but it is also an interesting and relaxing activity that you can engage in together with your children. One fun fact about building with this toy is that everyone is aiming for one goal. For many people, creativity is the main goal. As an adult, you will try to make the assembled bricks look beautiful. It is no longer like your childhood when you build and play with it. This time around, you build to admire your creativity.

It might look weird and unattractive when you go on a date and start to talk about how you love LEGO sets. To some people, they enjoy hearing about playing musical instruments, traveling, or snowboarding. But, to me, there is nothing wrong with talking about LEGO. One thing you should also know is that most celebrities also enjoy building LEGO sets.


No one would have believed that Dwight Howard loved LEGO; neither will anyone know that David Beckham enjoyed relieving himself from stress by building with LEGO sets. If you are a LEGO Adult fan or an AFOL, you should be proud of it.

In case you do not know, LEGO is derived from 2 Danish words which are, "leg godt". These words mean "Play Well". The main goal of this company is to create plastic brick toys for children – both bigger ones, to use them to "play well". The company never had the intention of making their toys to be an investment platform.

LEGO sets were of high-quality and they were also affordable toys that kids enjoyed playing with. Even till now, they are still the same. All the bricks can be combined and this makes the creativity, longevity, and playability to improve.

Do not quote me wrong, I never said that they are cheap; all I said is that they are affordable. If you feel that LEGOs have continued to become more expensive, then you might be wrong. Just recently, I found delight in giving out my LEGO Batman Car to the child of my friend because when I was his age, I also enjoyed playing with LEGO. One fear I had about investing in LEGO was that the sets would become very expensive in the future, making it hard for kids to own and "play well" with.

When I sat down and ponder over it again, I found out that some of the expensive LEGO creator models, Architecture models, and Star Wars sets are one of the greatest deals for investment. Generally, these sets are mostly purchased and used by adults compared to a LEGO Police Station set that a 6-year-old would love.

If I had invested in the LEGO sets that are mostly focused on adult fans, I would have a clear conscience in making money by investing in LEGO sets. I would have balanced both the investor in me and the child in me.

To begin, below are some of the LEGO investments I regret not making in the last few years:

• LEGO Ground Carrousel: In 2009 the retail price was 249 EUR and today, it is sold at €2000 (29,75% annual return) 
• LEGO Taj Mahal: Its retail price in 2007 was €299 and is sold today at €2000 (20,93% annual return)• LEGO Millennium Falcon UCS: In 2007, it was sold at €499 at retail price, and now, it is €2500 (17,49% annual return)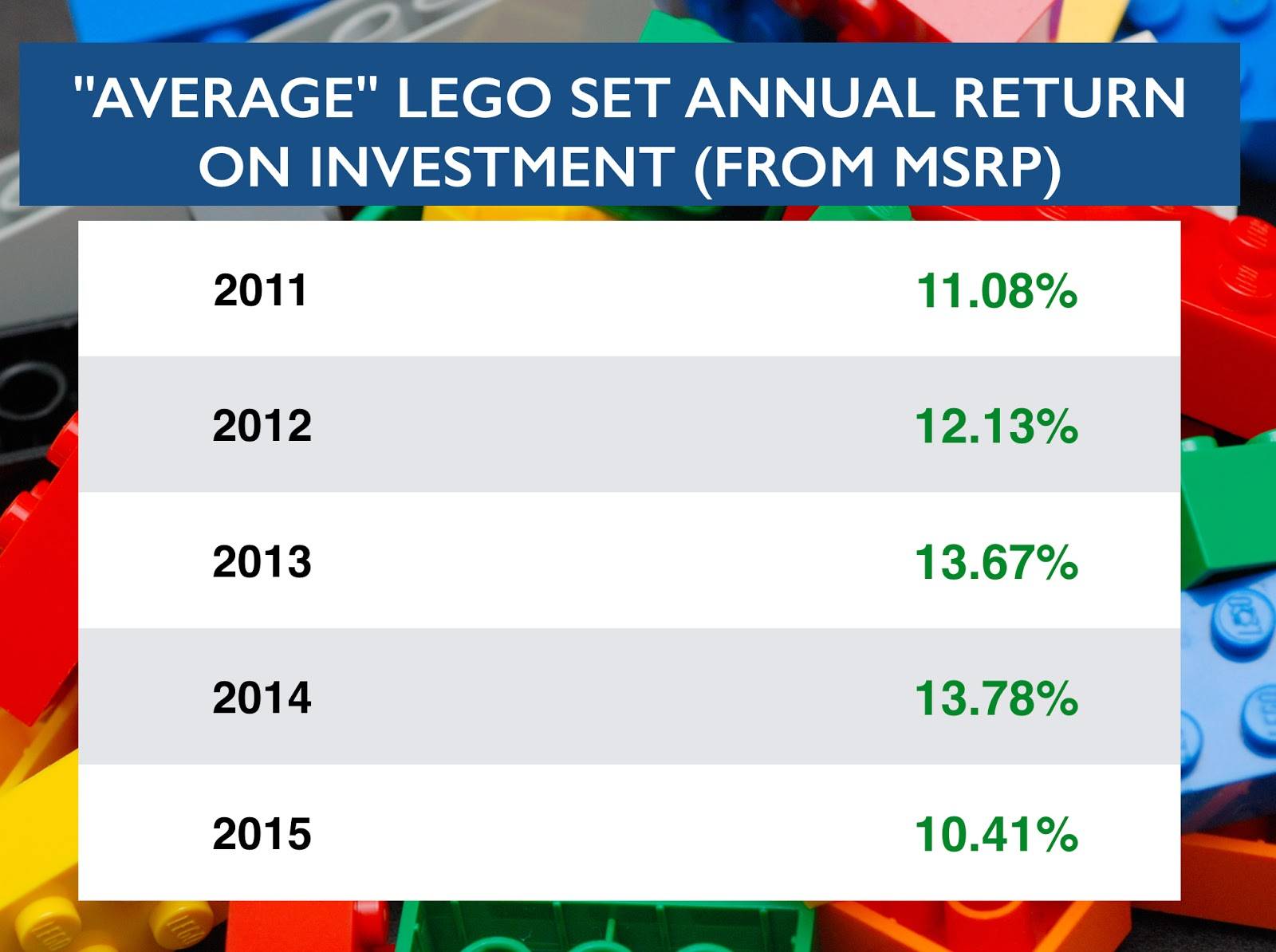 From this, you can see that the return of LEGO investment is higher than that of the stock market.

This is amazing! Now that you have made up your mind to invest in LEGO, what are the things that you should consider?

Check for the ratings via Brickpicker
The same way you would check for stocks on Morningstar.com, there is also a rating agency for LEGO which is known as Brickpicker. Here, you will see all the information about the LEGO prices that you need. There is also a live banner that displays the necessary info that will be helpful to you.

BrickPicker.com helps to keep LEGO collectors and enthusiasts updated with the whole prices of LEGO sets, both used and new ones. The website will help you to make the right choice when purchasing your next LEGO set.

Check for the ratings via Brickpicker
How would you know which set is the right one?

• Amazing Minifigures. For example, Chewbacca in Harry Potter 
• Limited editions 
• Rare items that collectors can seek after immediately after the time of production. For example. Disney Castle or Millennium Falcon UCS) 
• Sets that have timeless pieces

Do not buy from the secondary market
The only time you can make money from plastic bricks is when you buy them at retail or discounted prices from stores. So, visit the toy store in your area to get discounts and you can also buy from the official online LEGO shop. Never try to buy from a secondary market.

Just like every other kind of investment, you need to be patient. If you want to make money from a set, wait until it is no longer being produced before you sell it off. Try as much as possible not to sell it immediately. You should also be careful while waiting because LEGO can launch an updated version which will make your collection irrelevant.

Do not put the Minifigures behind
Some Minifigures are rare and are of high value. The Star Wars or Disney minifigs are good examples.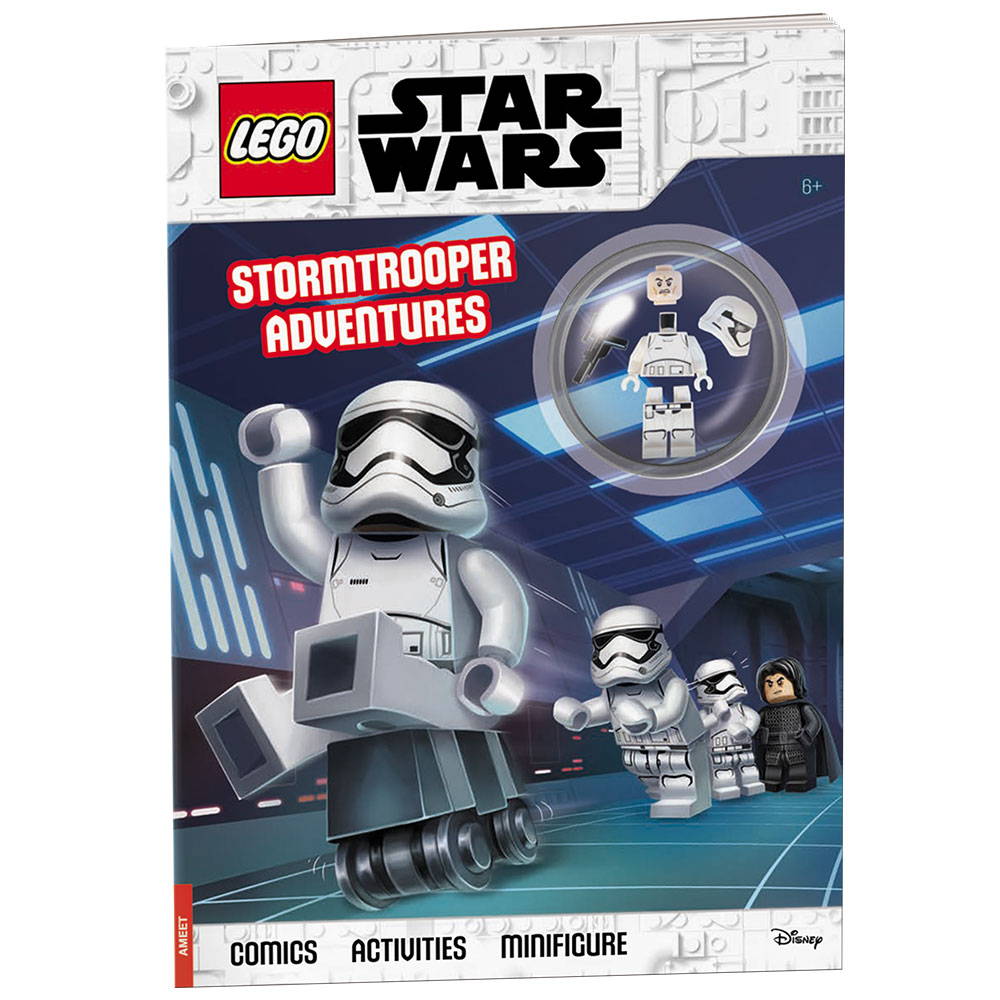 If you have planned to invest in LEGOs, you should also handle it like you would treat any other kind of investment. Avoid pleasure in the business, do not mix them. Know the objectives of your investment. If your LEGO sets have not yet been opened, they will remain valuable over the years. But if they have been used, people will still buy them, but at a lower rate because it has lost value.

This will help you if you are always being tempted to build. If you buy 2, you can use one for yourself and know that the other is for your investment.

Be conscious about storage
The more you buy the sets, the more the boxes fill up your vital space. This can be minimized by buying sets that are already retiring. Ensure that you can safely store these sets. Put simply, you must be able to protect all your sets.

Will you invest in LEGOs today? The choice is yours to make. If you chose to, then you need to be professional about that.

Just as Warren Buffett said, your investment should be in what you know. Don't just begin to store up LEGO boxes. Seek online advice and follow the above tips to be successful.

Now, will you choose to make money by investing in LEGO? Have you already started to do that? If you answer yes to these two questions, then you are on the right path to success.
---
6 comments
---
---