LEGO Disney Train and Station 71044: All Aboard for a Magical Adventure
By

Eve Alessa Arevalo
/
July 10, 2023
For decades, LEGO and Disney have been instrumental in sparking creativity, imagination, and a love for building in young hearts and minds. When these iconic brands combine, the result is nothing short of magical. LEGO Disney Train and Station 71044 is a testament to this, seamlessly marrying the distinctive LEGO building experience with the enchanting world of Disney. This review delves into the intricate design, building experience, playability, and value for money offered by this spectacular LEGO set.

Design and Features
a. Main components or areas
The LEGO Disney Train and Station set comprises two primary elements: a highly detailed train modeled after the historic Disney Railroad and an ornately designed, multilevel train station inspired by Disneyland's flagship building. The train, with over 77cm in length, features a motorized steam-style locomotive, complete with a large red parabolic smoke stack, tender, parlor car, and passenger car. The train station is an architectural marvel, replete with detailed facade, tower rooms, drapes, a ticket counter, café corner, and an array of other elements.
b. Minifigures
This set includes five LEGO Disney character minifigures: Mickey Mouse, Minnie Mouse, Chip, Dale, and Goofy. Each character is unique, exhibiting the fine detailing and distinctive characteristics expected of LEGO minifigures. Goofy, making his LEGO minifigure debut in this set, is a particularly delightful addition for fans.
c. Accessories and decorations
LEGO goes the extra mile with accessories and decorations in this set. The train station interior is a treasure trove of Disney-themed elements like draped windows, a chandelier, a wall clock, and miniature models of Disney Castle and train. It also includes tiny LEGO details such as tickets, coffee cups, and a suitcase to lend a realistic touch.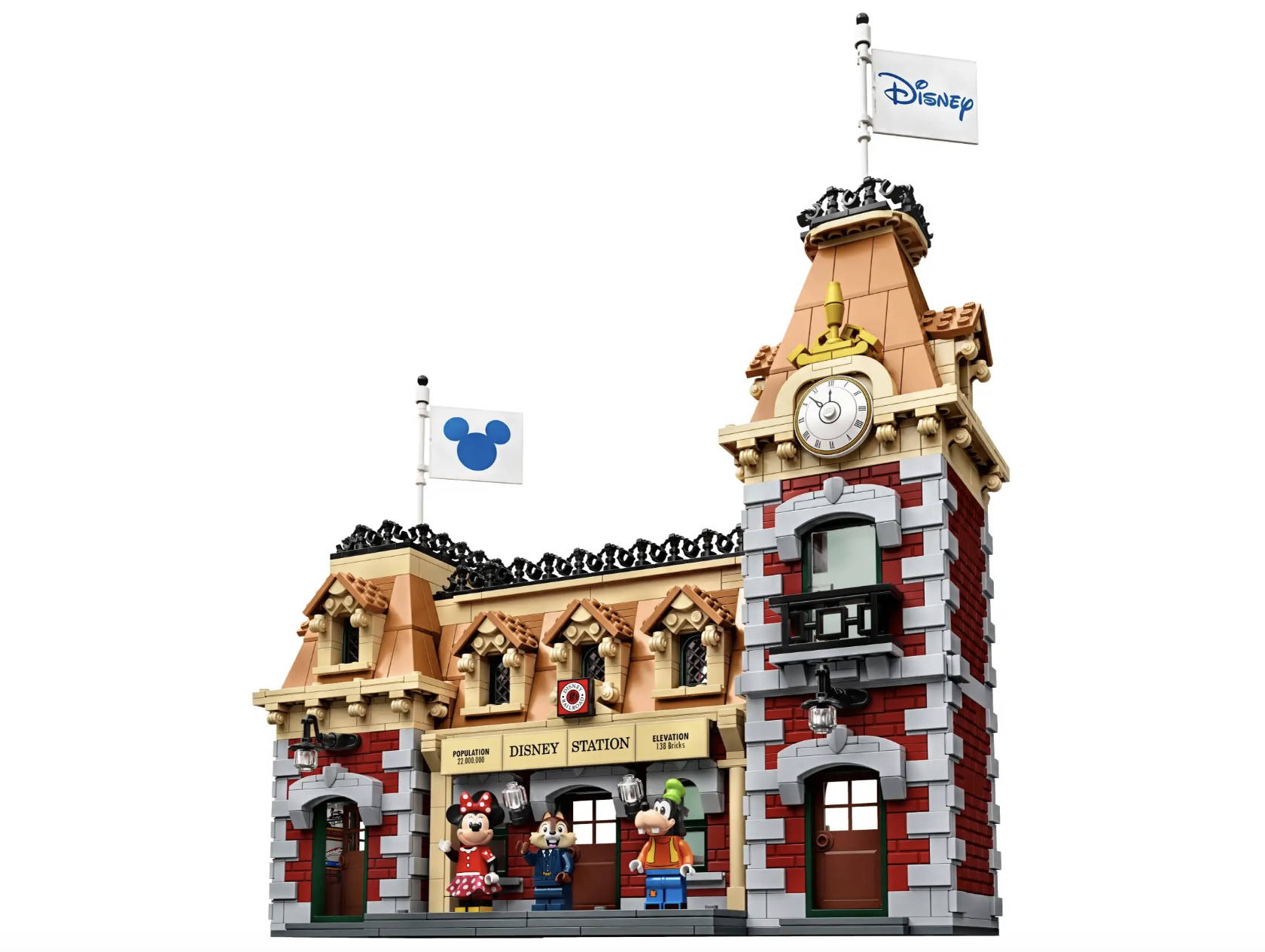 Building Experience
a. Complexity and engagement
With 2925 pieces, this set is neither for the faint-hearted nor the inexperienced. However, the complexity is part of its appeal. Building it is a long but highly engaging process, offering a mix of straightforward assembly and intricate detail work. The satisfaction derived from the building process is a journey worth taking for any LEGO enthusiast.
b. Instruction manual and building process
LEGO's instructions are commendably clear and easy to follow. The manual also includes references to the Disney Train's real-life inspiration, adding an educational aspect to the build. The use of numbered bags for each building stage significantly eases the process, making it more manageable and enjoyable.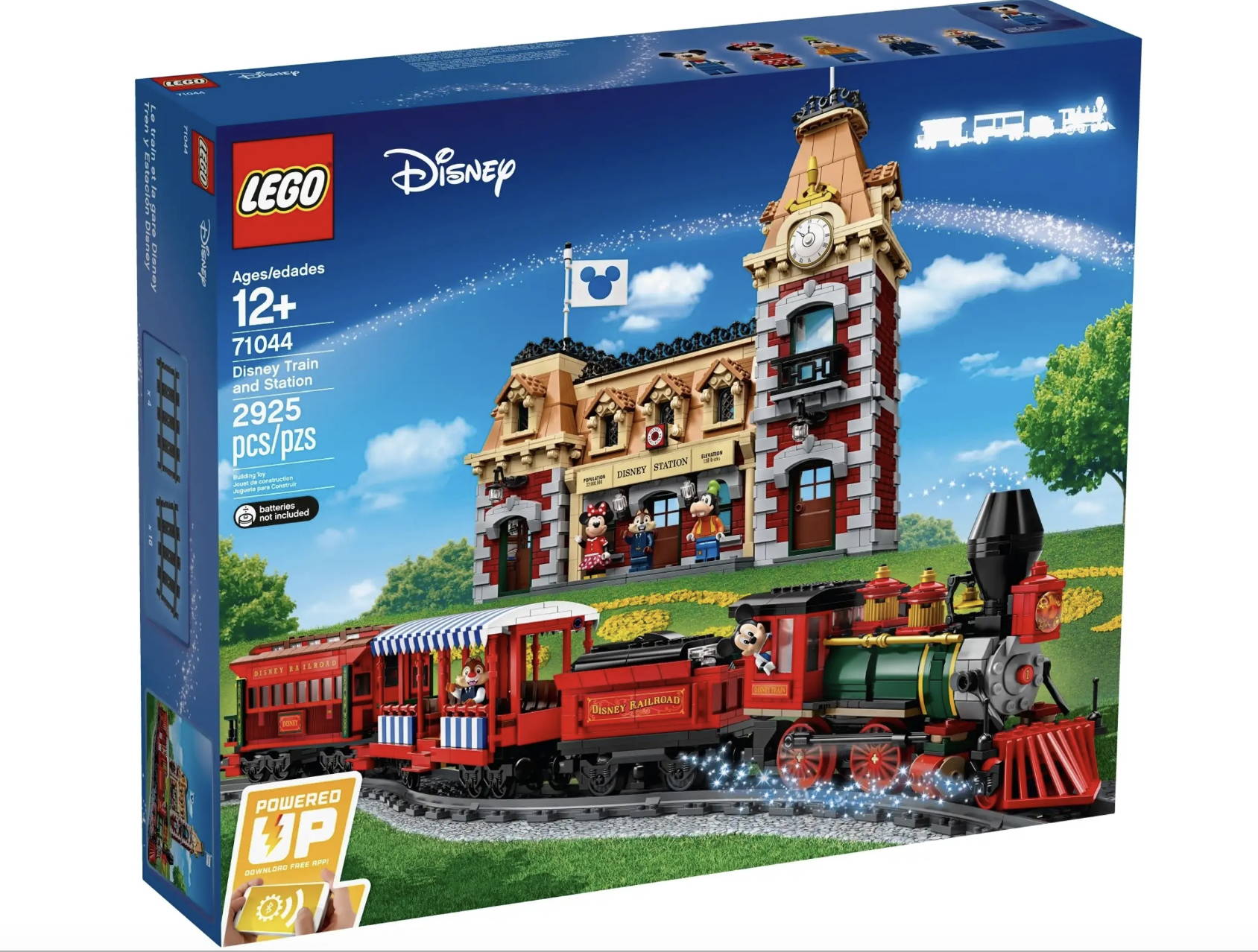 Playability and Entertainment Value
a. Interactive features
This set scores high on interactive features. The powered-up functionality allows builders to control the train movement via the LEGO Powered Up app, adding a layer of interactivity and modern technology to the mix. The detailed interiors of both the train and station invite interactive play.
b. Opportunities for imaginative play and storytelling
The character minifigures, detailed setting, and story backdrop provide a rich landscape for imaginative play and storytelling. Whether it's Mickey and friends embarking on an adventurous train journey or Chip and Dale causing mischief in the station café, the potential for imaginative play is vast.
Value for Money
a. Number of pieces and design
With 2925 pieces, the cost per brick is reasonable considering the intricate design, power functionality, and licensing involved. The sophistication of the design, the attention to detail, and the overall size and presence of the completed build offer significant value for the price.
b. Compatibility with other LEGO sets and themes
The Disney Train and Station set integrates seamlessly with other LEGO Disney sets and the broader LEGO City range, offering added value through expansion and integration possibilities. It also works with the Powered Up components from other sets, making it a versatile addition to any LEGO collection.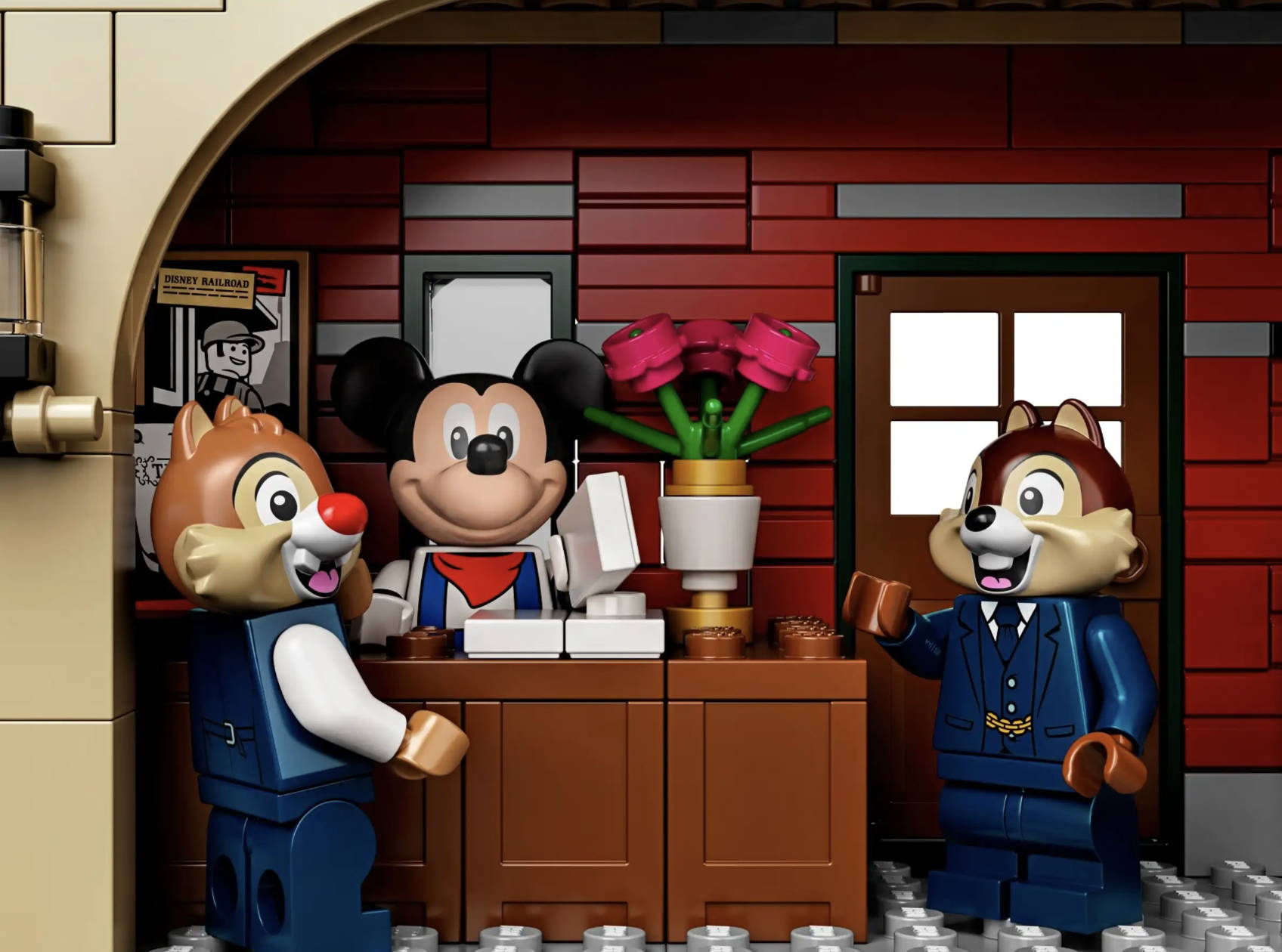 Pros and Cons
a. Pros
The set shines with its stunning design, attention to detail, and high playability factor. The Powered Up functionality takes the interaction to the next level, while the nostalgic Disney theme will appeal to both young builders and adult collectors. The inclusion of beloved Disney characters, especially the debut of Goofy, enhances its appeal.
b. Cons
The complexity and price tag might deter some, and the sheer size of the completed set could pose a display challenge. While the interior of the train is detailed, its space is quite limited, particularly for play.
Final Thoughts and Recommendations
a. Summary of the set's appeal
LEGO Disney Train and Station 71044 is a magical combination of design, building experience, and playability. It beautifully encapsulates the charm of Disney and the creative rigor of LEGO, offering a building experience that's intricate, rewarding, and brimming with nostalgia.
b. Target audience and overall value
While the complexity suggests it's geared towards more seasoned builders, younger LEGO fans with a little guidance can still enjoy the build process. This set is ideal for Disney fans, LEGO collectors, and those seeking a challenging and rewarding building project. As for its overall value, it's a resounding yes. The LEGO Disney Train and Station 71044 offers hours of building enjoyment, endless play opportunities, and a spectacular showpiece to showcase your love for LEGO and Disney. All aboard for a magical LEGO adventure!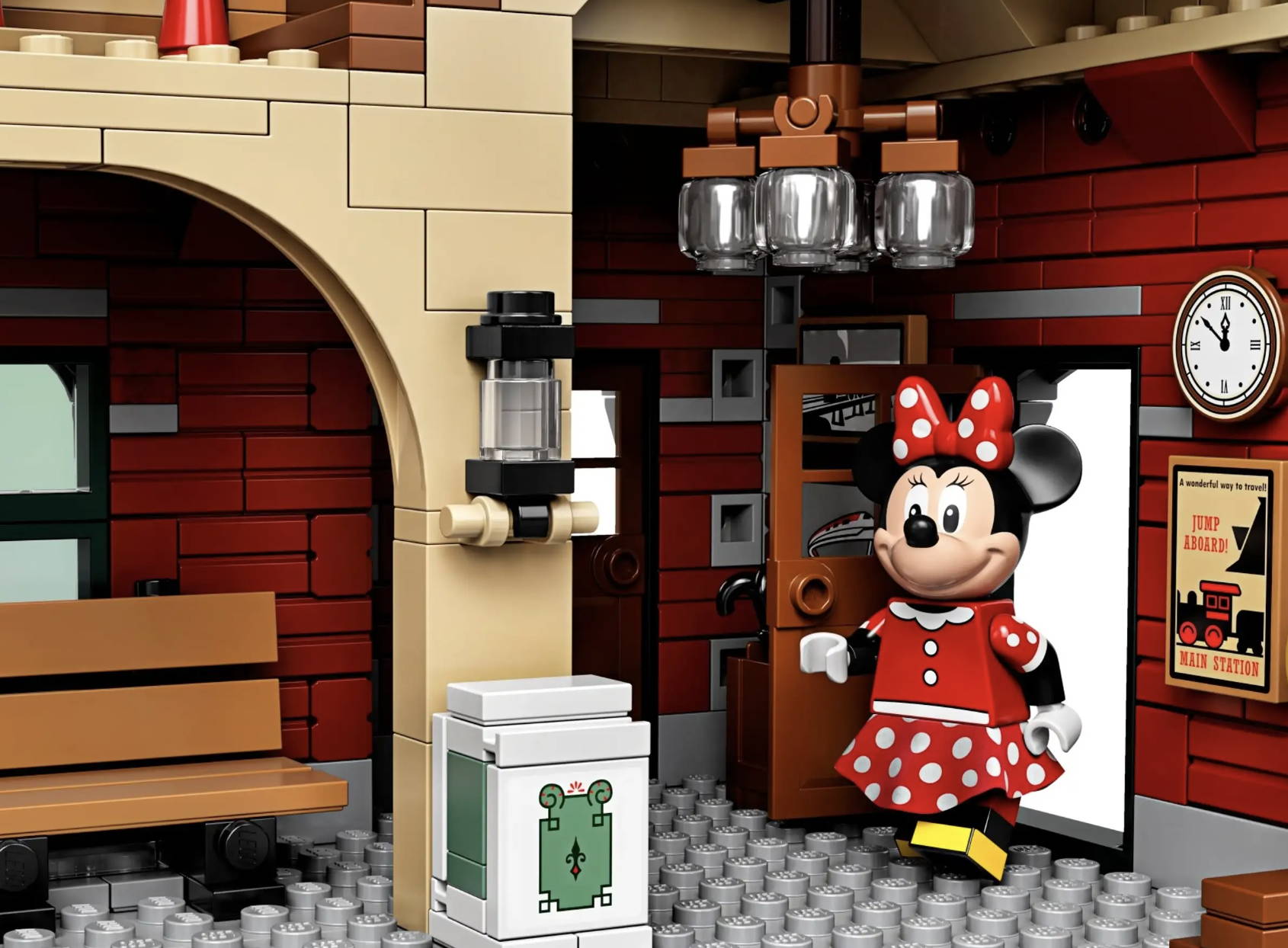 Captivating Enhancements for Your Disney Train: A Review of Game of Bricks' Light Kit for Disney Train and Station 71044
The enchanting world of Disney has always captivated our hearts, and LEGO enthusiasts have been able to recreate that magic with the Disney Train and Station 71044 set. However, Game of Bricks has taken this experience to a whole new level with their Light Kit for Disney Train and Station 71044. In this review, we will explore the various aspects of this lighting kit and how it enhances the overall experience of building and displaying the LEGO Disney Train and Station set.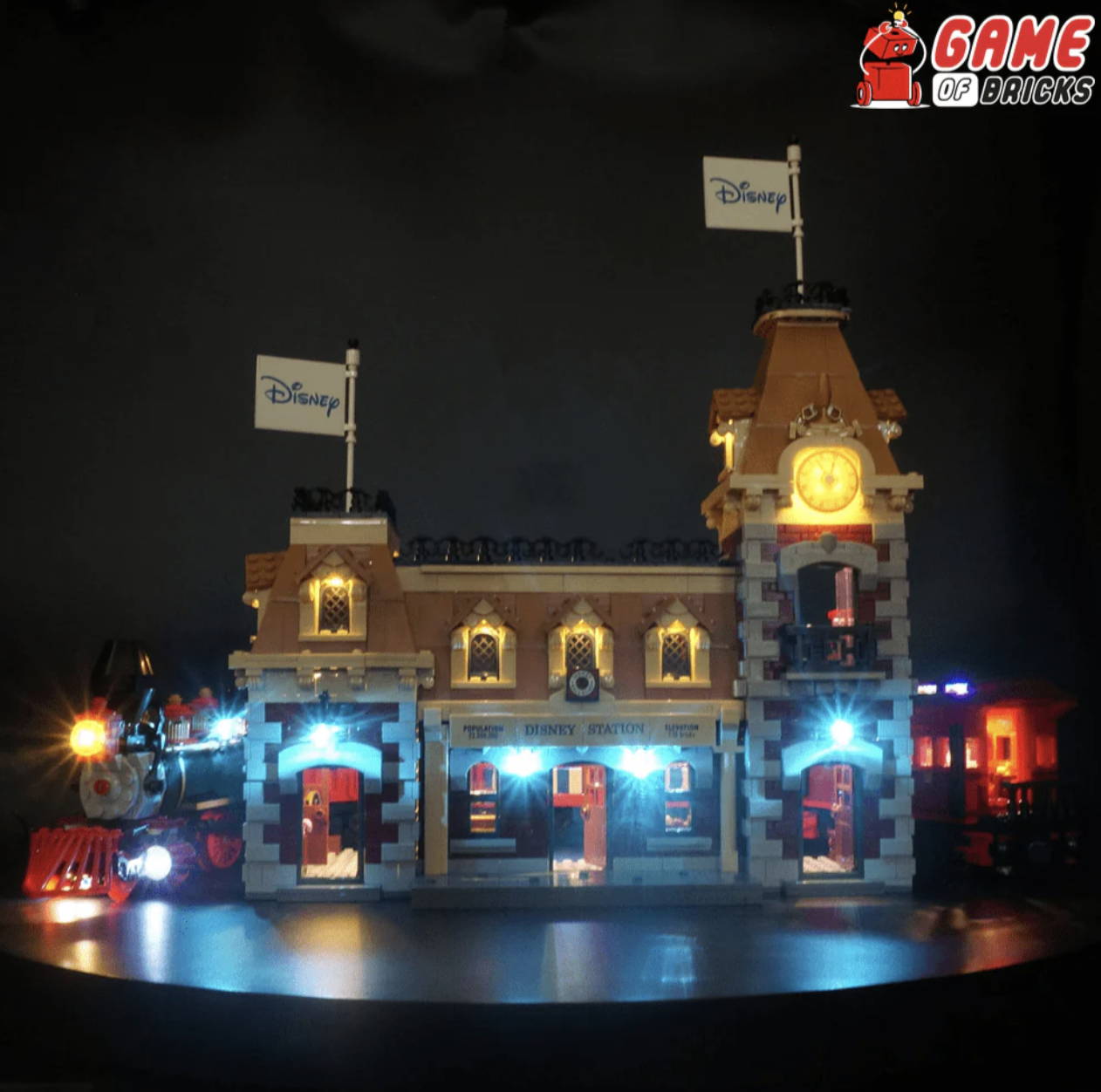 Easy Installation
One of the standout features of the Game of Bricks Light Kit is its effortless installation process. The kit comes with detailed instructions and neatly organized components, making it a breeze to integrate the lights into the existing LEGO set. The wires are discreetly hidden, ensuring a seamless appearance. Even for those with minimal experience in LEGO light installations, the process is straightforward and hassle-free.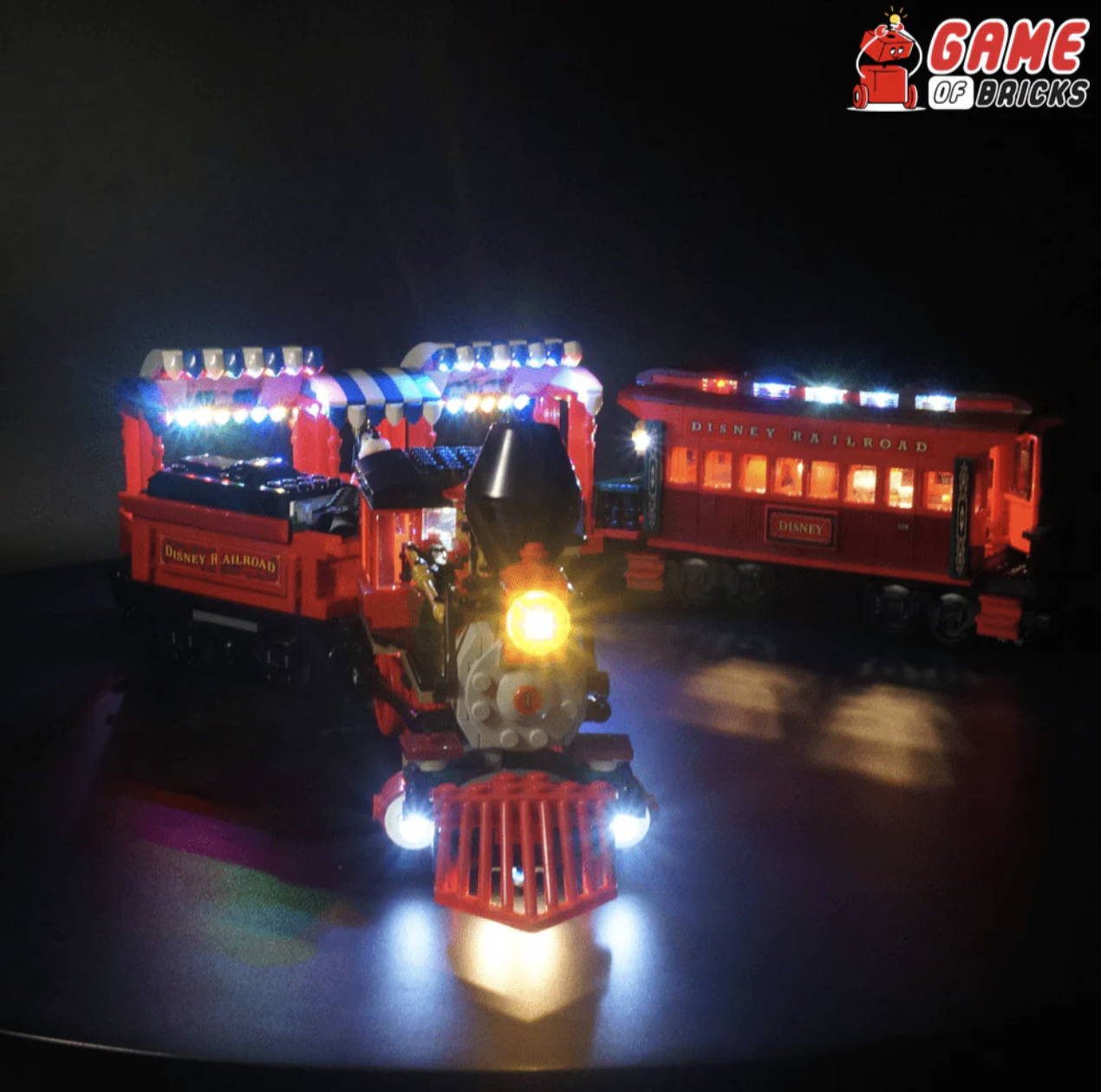 Enhanced Details
The Game of Bricks Light Kit brings the Disney Train and Station set to life by adding a new dimension of detail. The carefully placed lights highlight the intricate design elements of the train and station, such as the glowing windows, interior lights, and vibrant station signs. These enhancements create an immersive experience, transporting you to the magical world of Disney.
Customizable
One of the most impressive aspects of the Game of Bricks Light Kit is its versatility and customizability. The kit includes multiple light options, allowing you to choose the perfect ambiance for your LEGO display. You can adjust the brightness levels and even change the color of the lights, giving you full control over the atmosphere you want to create. This customization adds a personal touch and ensures that your LEGO Disney Train and Station stands out from the rest.

Durability
Game of Bricks has paid careful attention to the durability of their light kit. The components are made from high-quality materials, ensuring longevity and reliability. The lights are designed to withstand continuous use, meaning you can proudly display your illuminated LEGO set for years to come. The wires are also sturdy and well-protected, minimizing the risk of damage during installation or regular handling.
Minor Downsides
While the Game of Bricks Light Kit for Disney Train and Station 71044 is an exceptional addition to the LEGO set, there are a few minor downsides to consider. Firstly, the light kit does not come with a power source, requiring you to purchase it separately. Additionally, the installation process may be time-consuming for those who prefer a quick setup. However, considering the overall enhancement it brings to the LEGO set, these downsides can easily be overlooked.
In conclusion, Game of Bricks' Light Kit for Disney Train and Station 71044 elevates the LEGO experience to new heights. With its easy installation, enhanced details, customizability, and durability, this light kit breathes life into the already magical Disney Train and Station set. While there are minor downsides to consider, the overall impact and wow factor make it a worthy investment for LEGO enthusiasts and Disney fans alike. With Game of Bricks' Light Kit, your LEGO Disney Train and Station will become the centerpiece of any display, enchanting both young and old alike.