Have you ever heard about LEGO? Well, you probably must have heard it from a friend, family member or read about it online. It is a construction toy series created by The LEGO Group. It is a Danish company that has made building blocks so popular. After then, they made video games, kid's apparel, books, magazines and the likes of them. It is a household name because children can easily acquaint and relate with it. Nowadays, toys from this company are all over the place as children can't seem to let go of it. The Danish company never expected that the toy line will be as popular as it is now.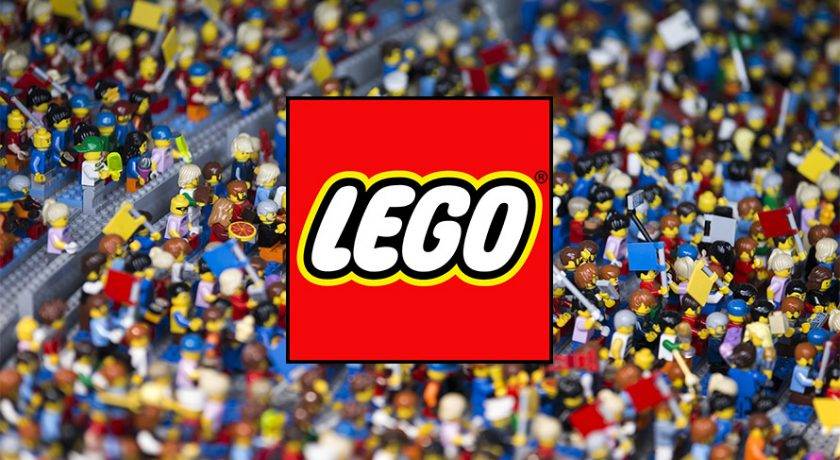 Not only has it found its way into different spheres of life such as home decoration, but it has also extended to the bakery world. A lot of birthday cakes are now LEGO-themed. Children have been requesting for themed cakes and they are not planning on stopping anytime soon. Every 8 out of 10 kids demand for a themed birthday cake.

A lot of people are now being very creative with the blocks, bricks, Minifigures and little friends. Well, this is the 21st century and artworks in our world today. Everything depends on how creative you can get and the skills you have. In this regard, people are coming up with LEGO cakes to celebrate any and everything; birthdays, weddings, anniversaries, thanksgiving and in fact, any celebration at all.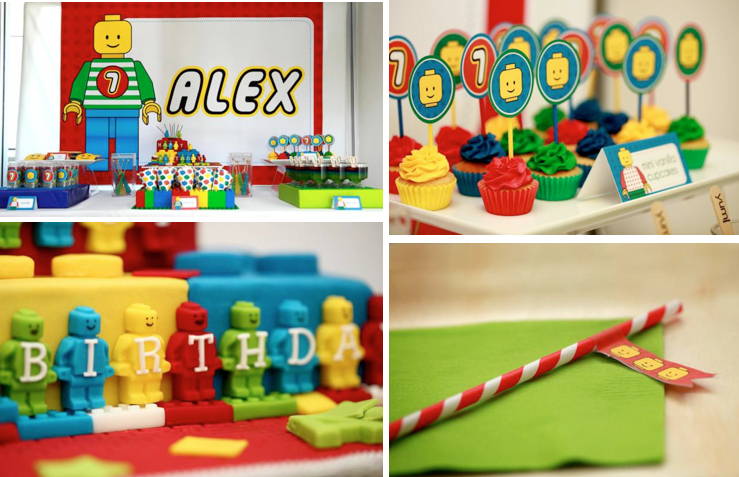 Birthdays only happen once in a year. Because of this, it has to be a day to remember. If it's your kid's birthday, then you have to try as much as possible to make it count. Celebrate the birthday with his or her friends and make it worth remembering. If your child loves LEGO, there'll be a time he or she will request a themed birthday cake. That's the time to show your creativity with colorful cake creations. LEGO cakes are exceptional and stand out as a masterpiece amongst other cakes. 

Keep the other kids at the party in awe of the birthday cake. Parents and guardians who come to drop their kids off might just decide to do something similar for their kids. And the cycle continues. 

You can make the entire birthday party themed. From a cake that the kids will cut and share, right down to playing video games. Trust me, everyone will have a great time at the party. After all, where there is LEGO, there is fun. Therefore, get up and put that themed party together. Get a cake and every other thing LEGO! Your kid would not forget such a birthday in a hurry.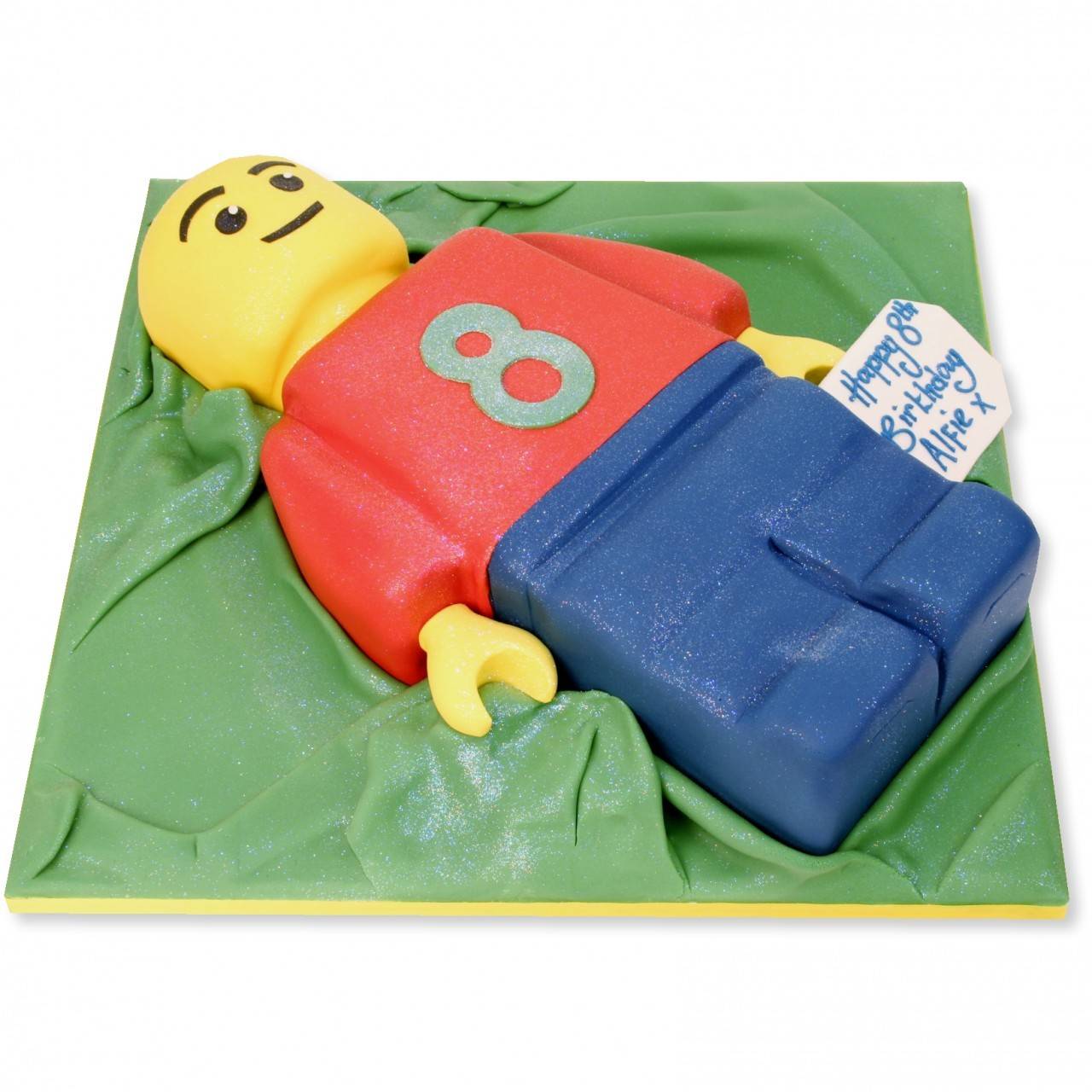 LEGO cakes are not only used for birthday parties. It could also be used for wedding after-parties. Usually, people prefer to use the traditional wedding cake. However, using a themed cake brings back childhood memories especially for all lovers of it. Cakes are exceptionally beautiful if well-baked and a LEGO cake is not an exception. Baking a themed cake for a wedding gives the baker a chance to unleash the inner creativity. Such cake for a wedding could comprise of colorful hand-molded blocks and bricks or several Ninjago Minifigures. It all depends on the creativity of the baker to put two and two together. 

You can amaze the guests at your wedding or the wedding party of a loved one by coming up with a themed cake. You will be surprised that you might start getting orders for a themed cake. Of course, everyone will be amazed at how you came up with such a wonderful creation. Well, an avenue has been created for everyone to unleash their inner creativity. You can be creative too and others can even learn from you.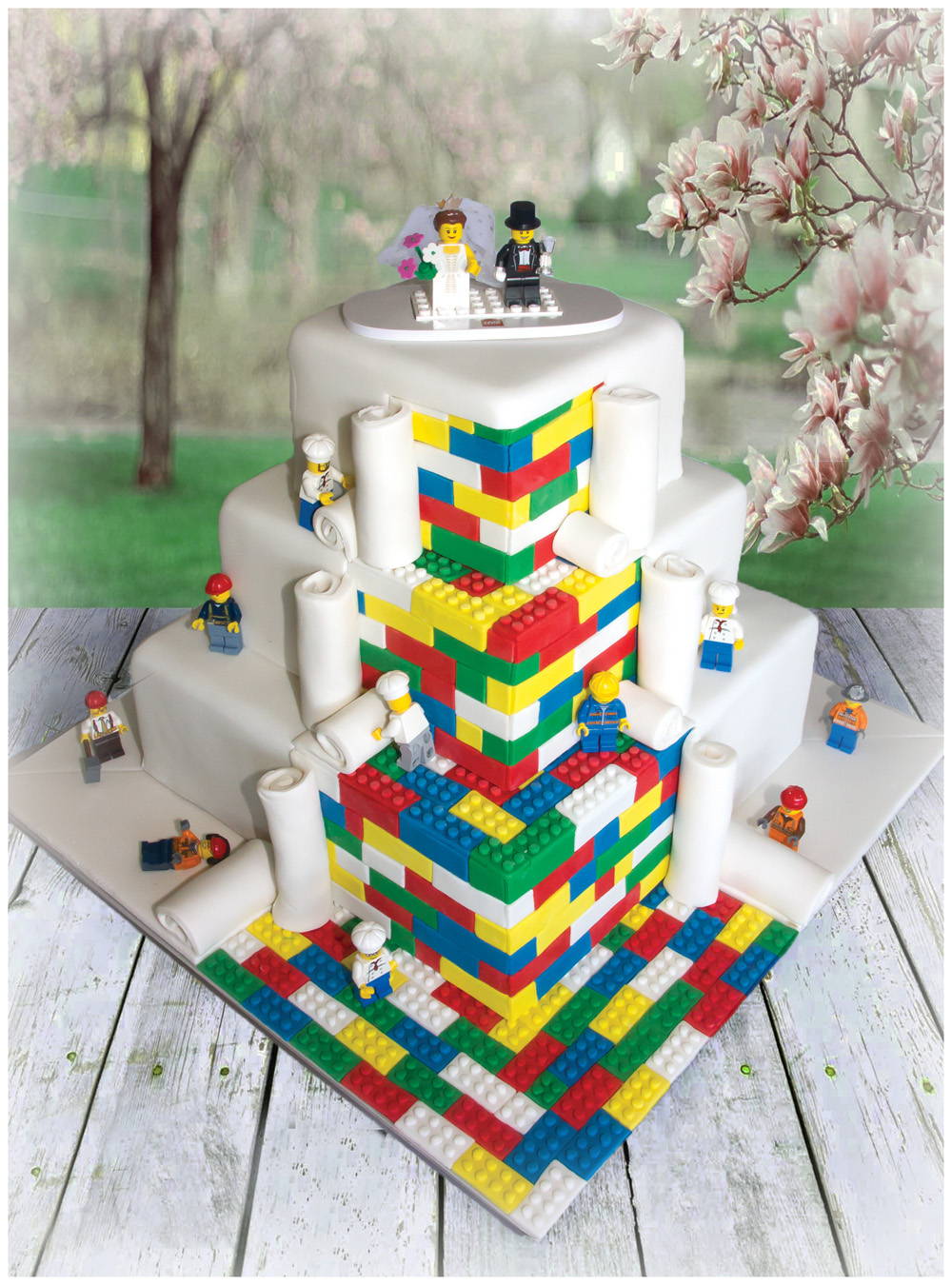 There are so many cake ideas that you can select from. A lot of people have been baking themed cakes and you can join the trend. You can use the ideas that will be listed below or you can make yours. There's no mistake in LEGO cakes as every new idea is a plus. If you are still confused about how start and which cake to begin with, here are a few ideas you can pick from: 

As tantalizing as this sounds, the look is also magical. With a cake full of colorful bricks, this cake is awesome. It would be a great delight for your child to see as well as other kids. Of course, when LEGO meets rainbow, the explosion is magical. Therefore, include a touch of magic to your kid's birthday party by making a rainbow cake. 
Make every birthday spectacular with a movie-themed cake. In this particular case, you can use a whole lot of characters on a cake. This particular cake is special especially if the kids know characters from a LEGO movie or video game. They will find cutting and eating the cake fun, as well as exciting.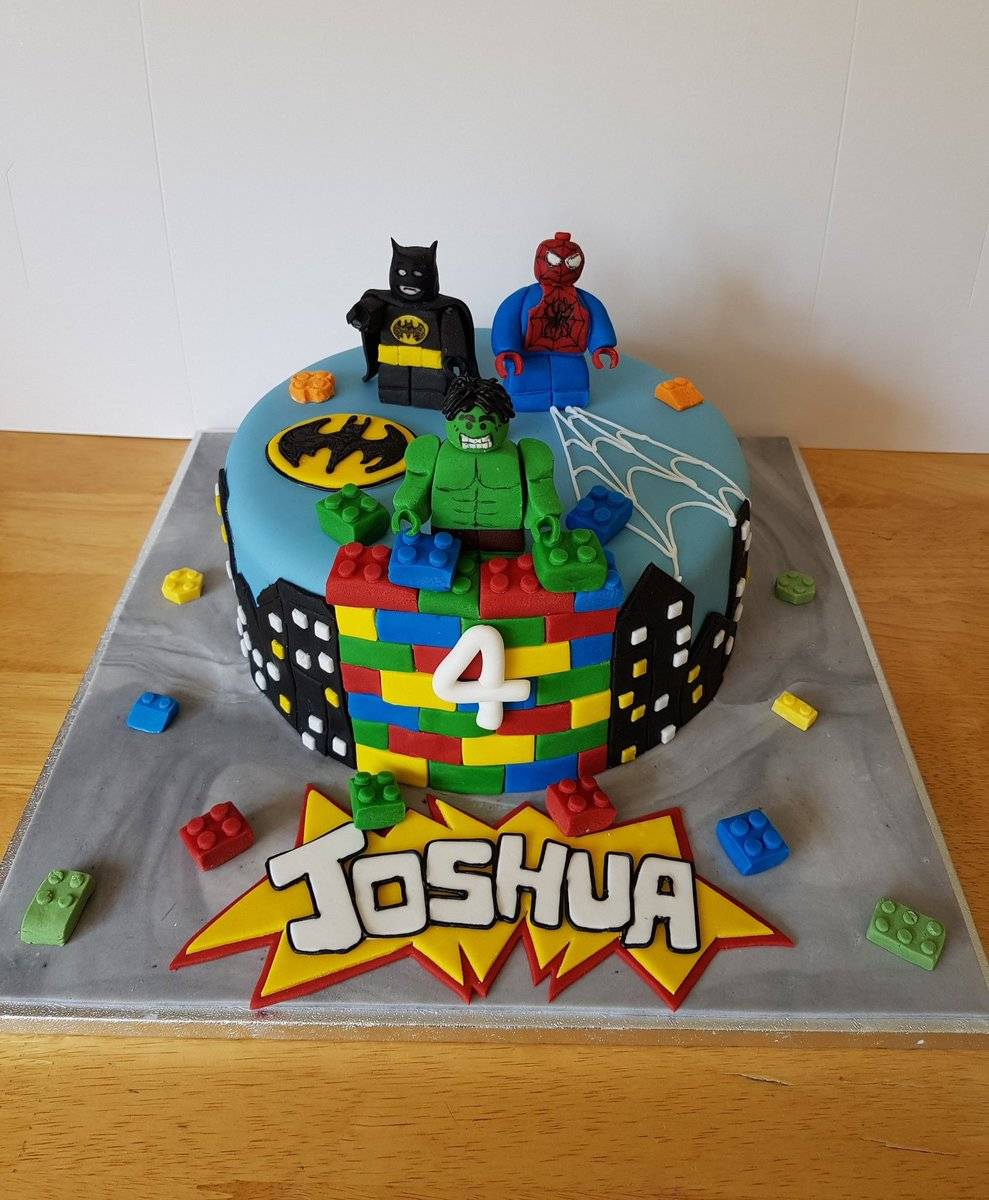 This cake needs extra time to prepare and bake because of its complexity. However, the finished cake is a bomb and will always bring attraction. If you can't make this yourself, you can get a baker to do it for you. Only ensure that the baker is experienced in baking LEGO-themed cakes. 

The star wars cake has edible mini-figures that your kids will find exciting. The characters from the star wars are complete alongside the Death Star and the Jedi master.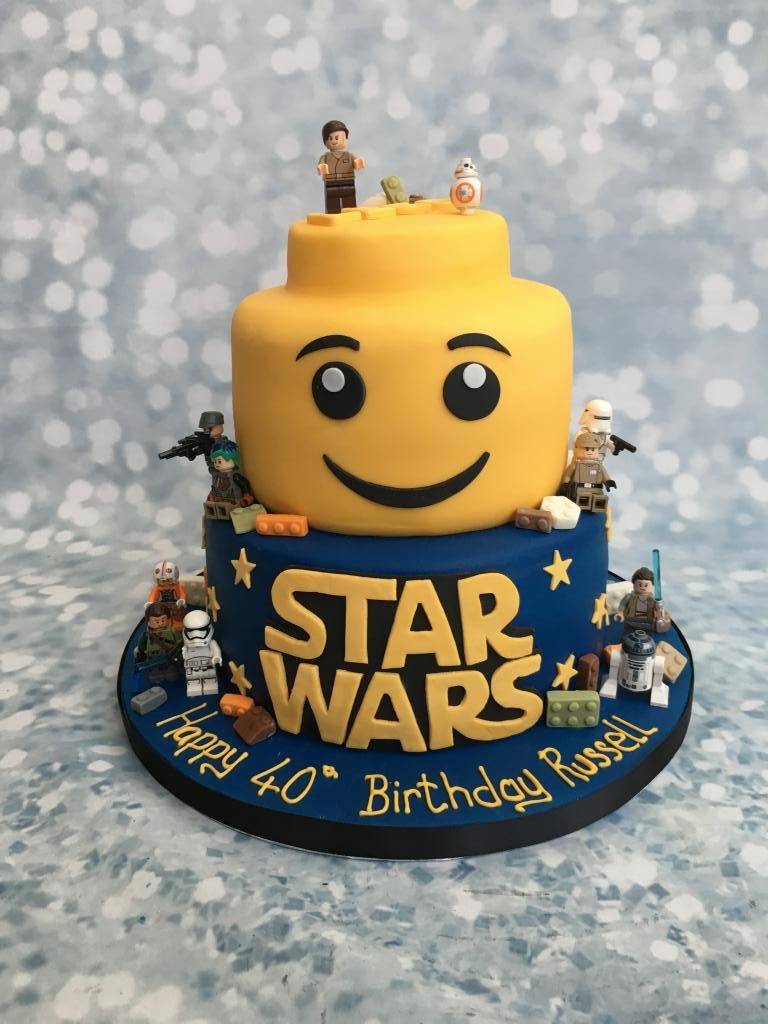 This is a very popular cake as a lot of characters are embedded in one cake. It is perfect for LEGO lovers and it is usually made with fondant icing. The popular colors for this cake are bright yellow, red and blue.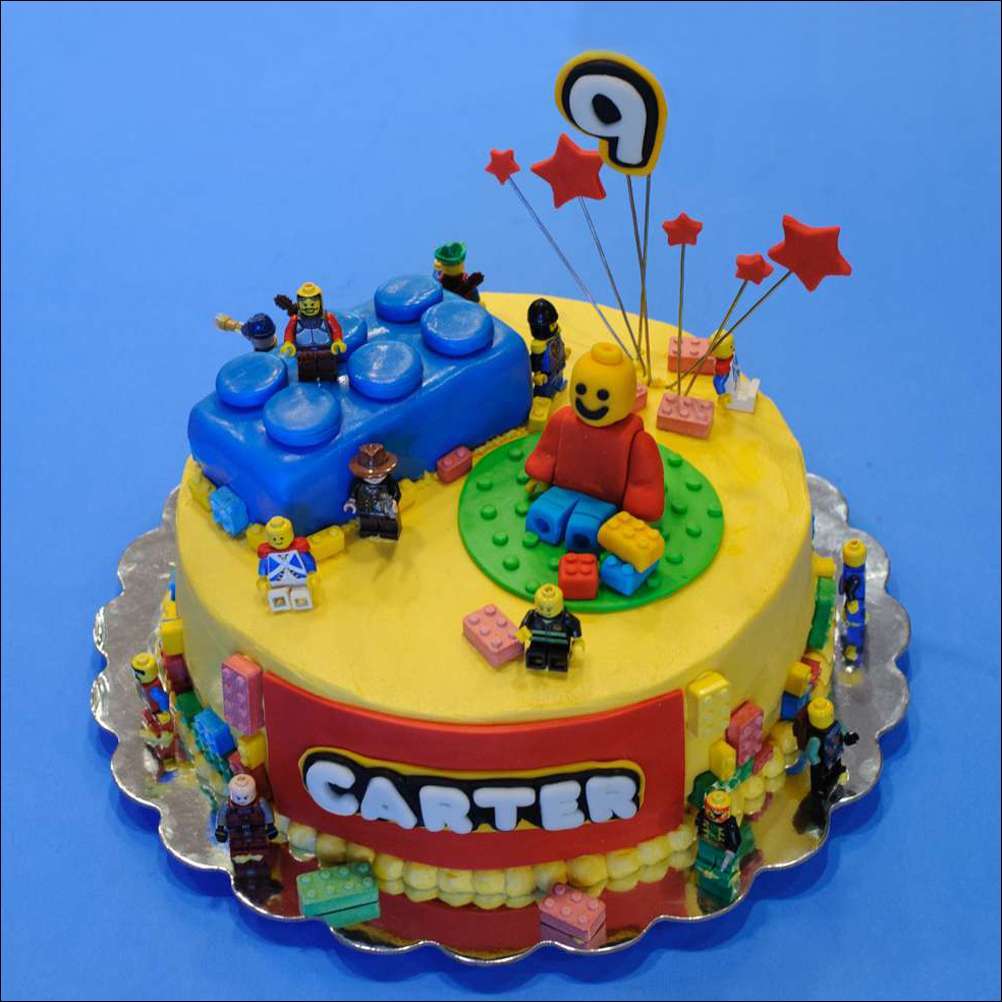 5. LEGO Construction Cake:
Imagine the kids digging into a cake. That sounds fun, isn't it? Of course! You can totally bake a cake with a surplus of construction models at work. You can check for video tutorials to see how to make this exact cake.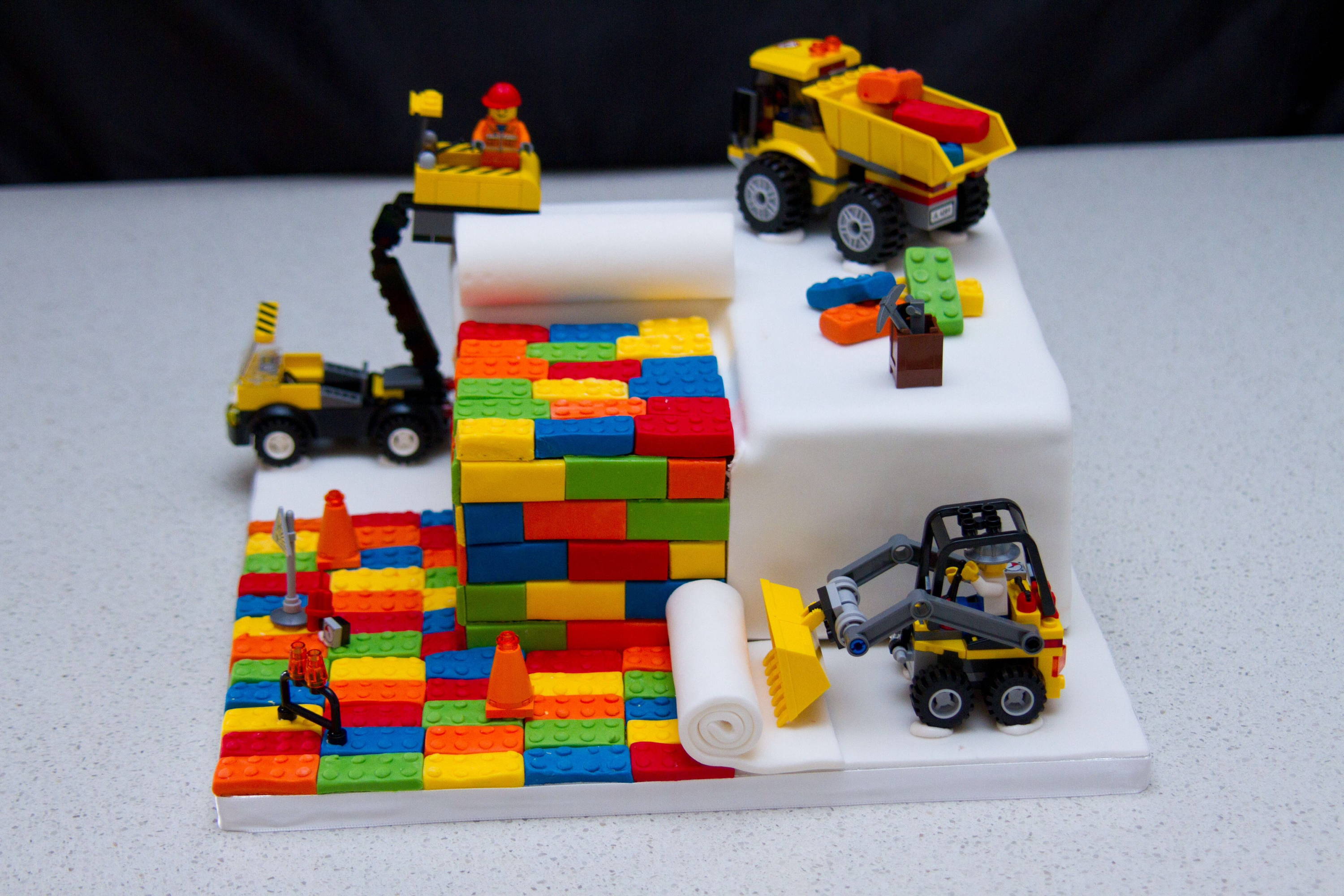 The Ninjago cake is one of the commonest LEGO cakes. This is because it contains all the exciting and rarest Ninjago Minifigures from the Ninjago Monastery. This would be all fun for the kids as they get to release their inner warriors. Also, remember that you can use the original colors of the Minifigures to spark more excitement or you can also use your preferred colors. Either way, ensure that the kids get enough fun.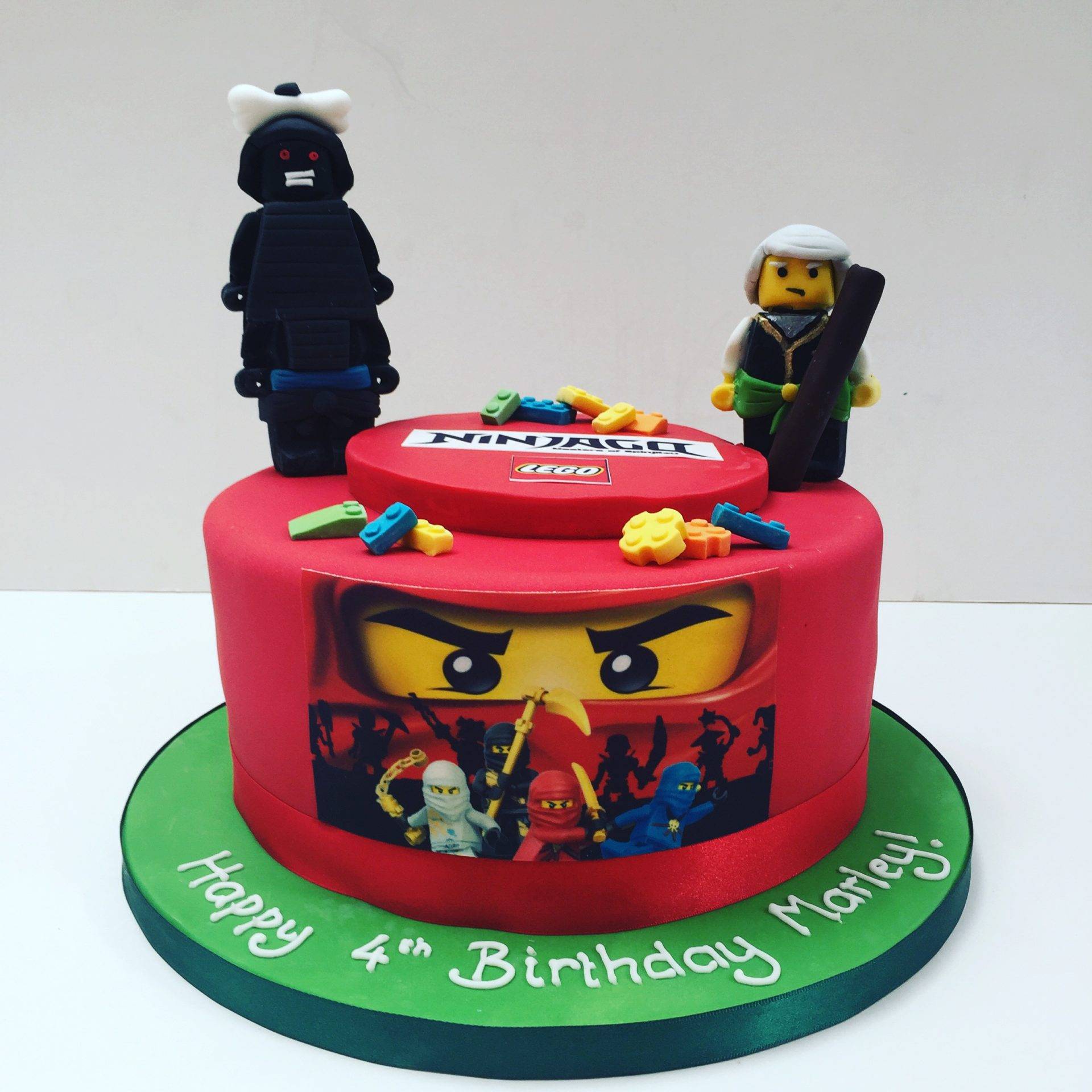 You can certainly take baking to another level on your wedding day. Yes, there are good lovers of LEGO who would want to use a themed cake for their wedding. Bring back the bricks to your wedding and enjoy an awesome wedding.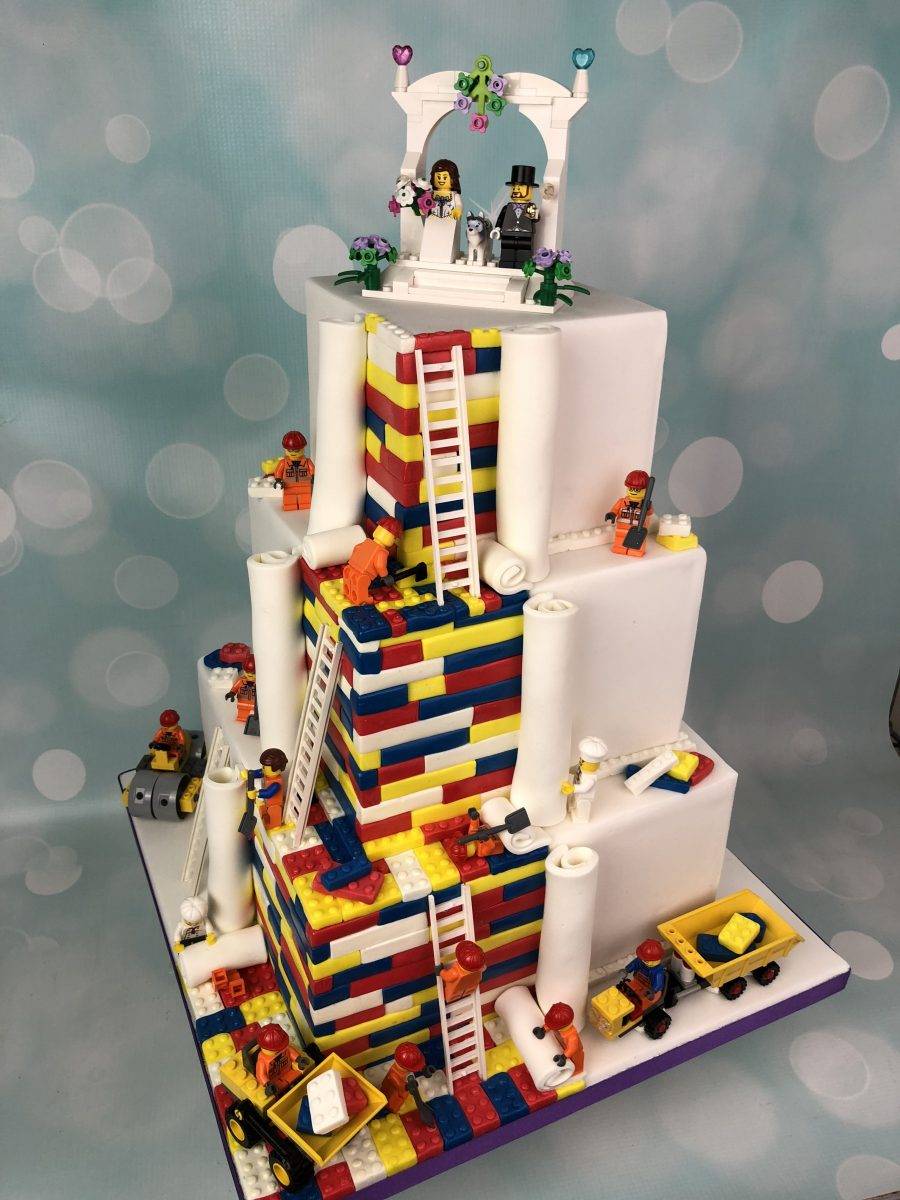 This is a very exceptional cake as you can design the figurine to either represent a boy or a girl. You only need to make your fondant right and cut it out correctly, having the figurines in mind. You could also have a picture to guide and assist you so you don't make any mistakes.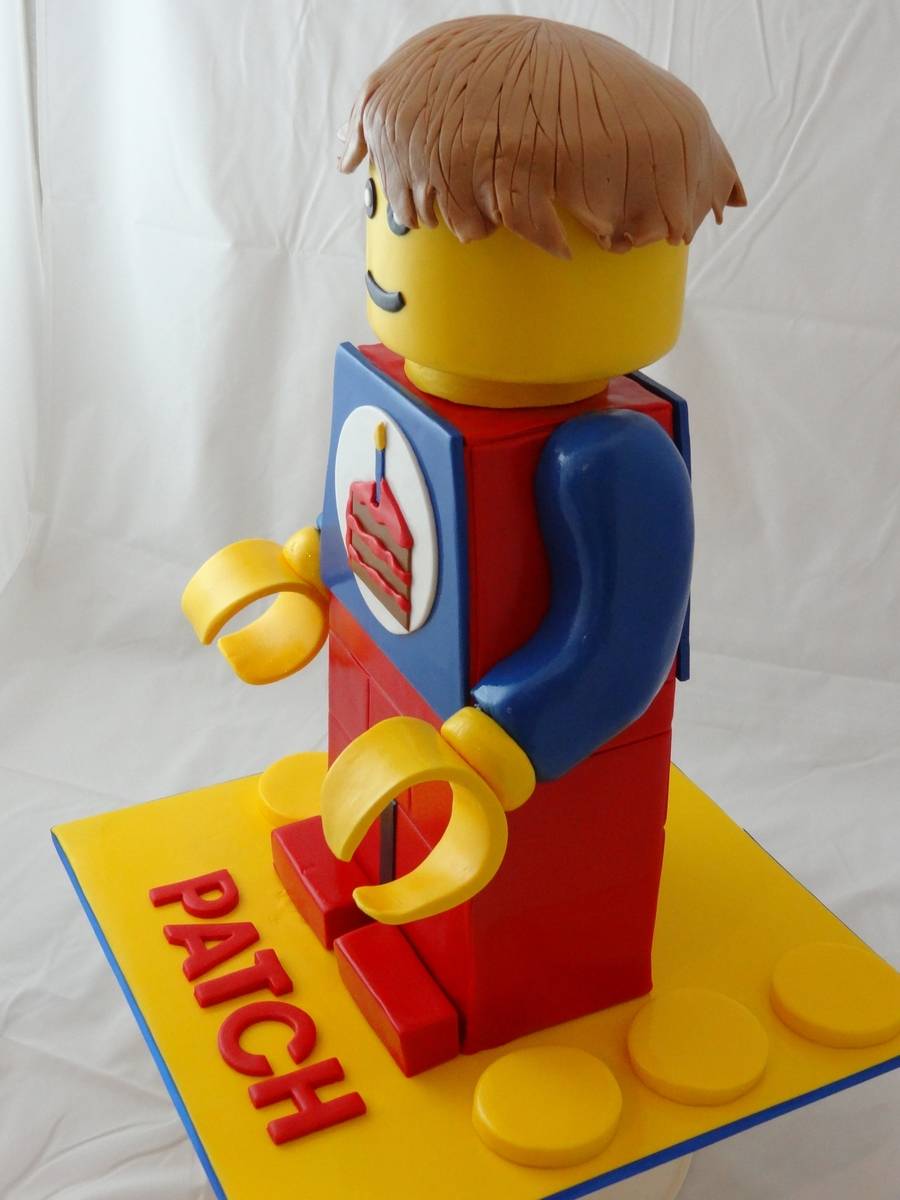 Instead of using the usual candles for a birthday cake, you can use LEGO style candles for your cake. Be creative and try out something new today.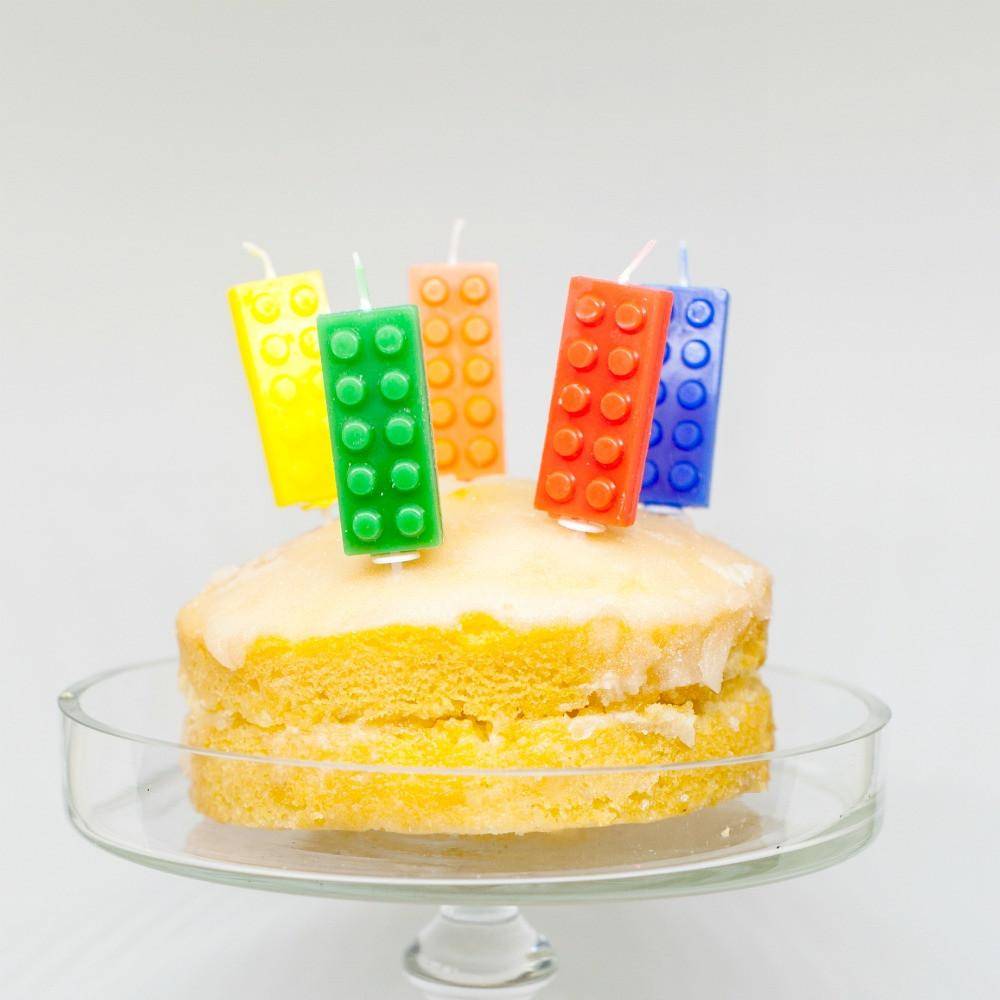 You can have lots of cupcakes to go around for everyone present at your party or occasion. This cupcake it particularly easy to make as you only need to follow the style of usual cupcakes. You can then use a LEGO theme for the toppings. People will be delighted at how beautiful it will turn out. You can try it out today. 

There are also more cake ideas but you can startup with these. Remember, there are no mistakes in making a LEGO cake. Everything you think is a mistake might just be one out of your creativity. Take control of your inner creative spirit and bake a cake today. You could surf the net for videos on how to bake a cake if it is your first time. They say that practice makes perfect. Before you know it, you'll be a professional. 

LEGO Cakes Are The New Trend 
One thing about LEGO cakes is that it requires a lot of creativity and carefulness to make it be. You can start from somewhere though to be perfect. This is why the above cake ideas have been listed to guide you. Choose one which you think will work for you and off you go! 


LEGO cake is now the new trend as a lot of people keep using its theme for their parties. You can join the trend as fast as you can. Start by making a cake for your home. Cakes are delicious and of course, kids love them. They will love them the more if they are stuck with something they can relate with, which is LEGO. 

---