LEGO Cake Ideas 2023
By

Nikita P.
/
August 31, 2020
For we lovers of LEGO and lovers of cake, we would want to find a perfect merge between these two. This article is going to talk about ideas on how you could get a cake that is made using LEGO construction toys.


LEGO refers to a group of toys that are made by the Danish company. Also known as the Lego group. They got highly popular among growing kids who made use of these blocks to build different vehicles, buildings, and working robots. It started in the year 1949. Since then, the Lego franchise has gone along to create several other things, including theme parks, video games, board games, kid's clothes, magazines, books, television series, and even interesting movies.
Lego toys since then have influenced bakers all around the world and these days, there's a high demand for cakes that are based on Lego ideas. These cakes could look like several different Lego toys, these toys could either be Lego blocks, in the shape of a robot or even the characters from Lego loved movies/series. Large pillars made using these Lego ideas could help make a beautiful cake that would look like a wonderfully made castle.


As a result of the high demand for cakes made with Lego ideas, comes the birth of this material.

This article would save you the stress of searching online for different Lego cake ideas you could use for yourself, your friend, your kids, and your family.

Now let's get into it. Showing you wonderful Lego cake ideas.
1. Simple LEGO cake idea
You could simply make this basic LEGO brick cake by making your cake normally and making use of marshmallows for the top of the brick.
2. LEGO Cake
Making use of LEGO bricks as the shape of your cake and putting in whichever colors you might like. You should make use of fondant for the bricks of your LEGO cake to be in any color.

3. LEGO Movie Cake
Remember the characters from the Lego movie. That's a wonderful cake idea, your kids are going to love this. Especially if you put it on a LEGO board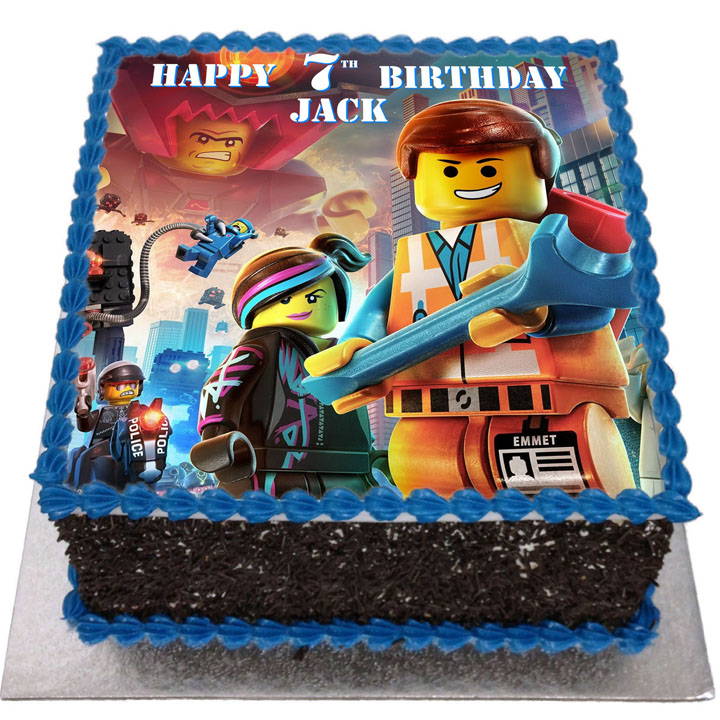 4. Emmet LEGO Cake from Movie
You could make a 4 layered cake using Emmet's head as your LEGO idea from the movies. The kids that'll attend the party would fall in love with this cake.

5. LEGO edible Cake with Bricks
After making your simple birthday cake, put lovely iced LEGO bricks around your cake to make it colorful. The LEGO brick molds would do wonders at any type of celebration.

6. Brick LEGO Birthday Cake
This basic do it yourself LEGO cake would allow your kids the fun of blowing lots of LEGO candles on their birthdays.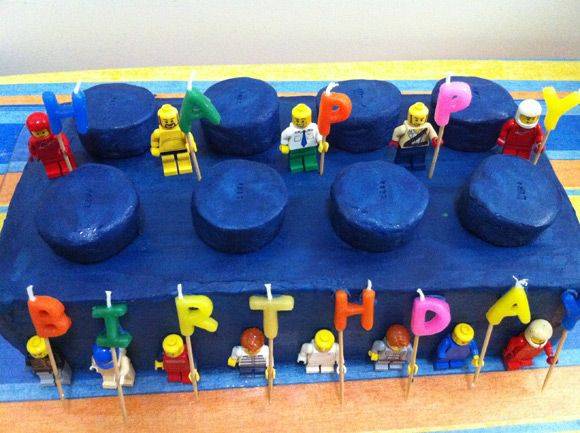 7. LEGO construction Cake
Making use of basic LEGO construction toys as your idea, create one beautiful LEGO construction cake. All kids would be envious of this wonderful cake.
8. DIY LEGO Cake
This cake design does not require any cake decorating skills or special tools to make. All you to do is think of the type of LEGO set you'll like as a cake, and carry on.
9. LEGO Large Brick Cake
For this large brick cake, it is simple, it is fast, it is easy. For a simple cake, this is the one you should go for. Just a large LEGO brick.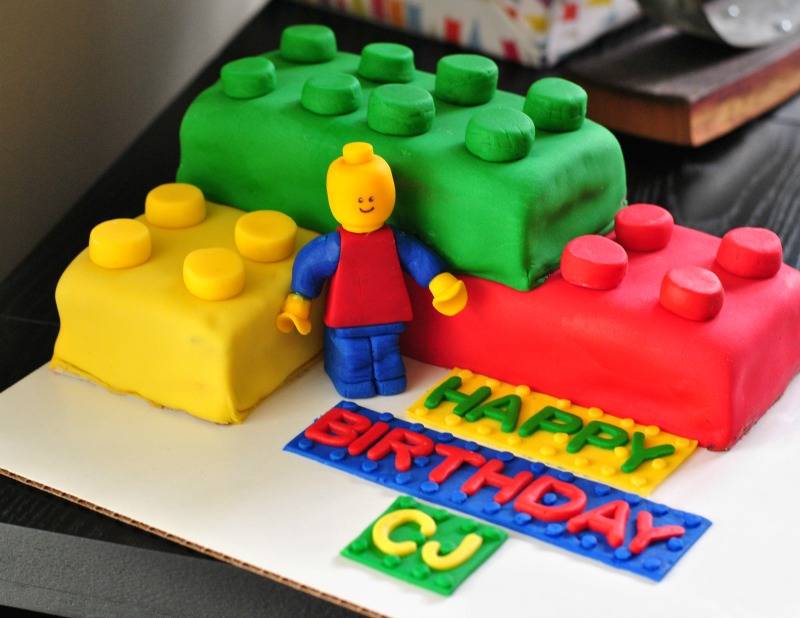 10. LEGO Cake for Superheroes
This is for those that love superhero movies made and published by LEGO. Your favorite superheroes like superman, the flash, black panther, Captain America, and lots of others could be made into a lovely LEGO cake.

11. Rainbow LEGO cake
This is for your guests and kids. They'll all be surprised after you cut this cake you made and they see beautiful LEGO rainbow colors inside the cake.
12. Ninjago LEGO Cake
Remember the LEGO Ninjago movie, you could make your LEGO cake based on these characters. Kids attending the party would have fun eating this cake as they watch their favorite LEGO movie.

13. Very Easy LEGO Cake
Making your simple LEGO cake using your kid's best color. Simply making use of LEGO bricks and asking your child the color of cake they'll like.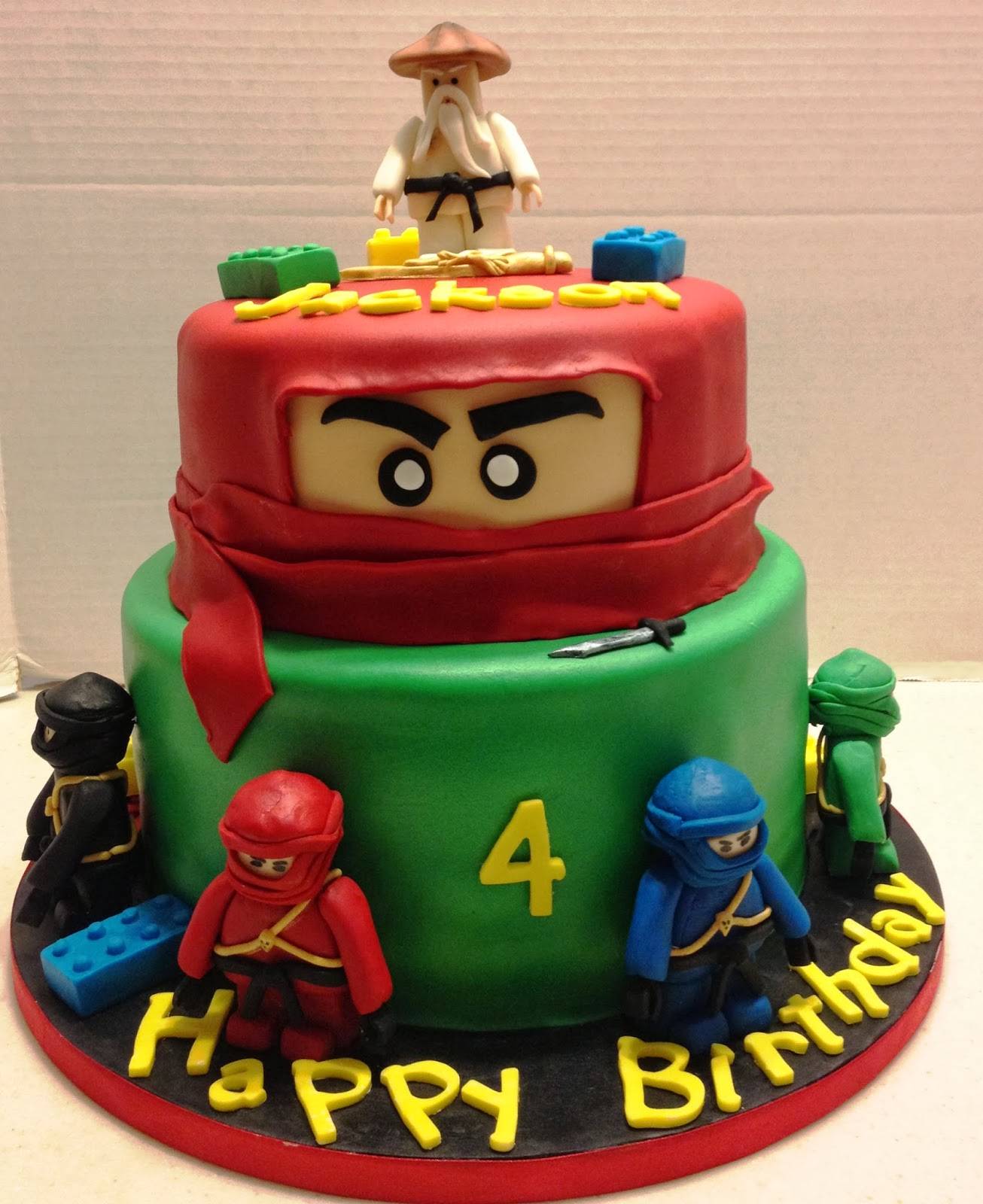 14. LEGO Cake using Brick Mold.
Making use of a LEGO brick mold. You can with ease cover your cake using colorful LEGO bricks and create a very fun LEGO cake.
15. LEGO Head Cake
Making use of the head of your favorite LEGO set characters. You can customize it for the cake faces to either be smiling, be angry, or whatever facial expression you might like.

16. Batman LEGO Cake
Every superhero star would enjoy and love this batman LEGO cake. Especially if you make one that stands.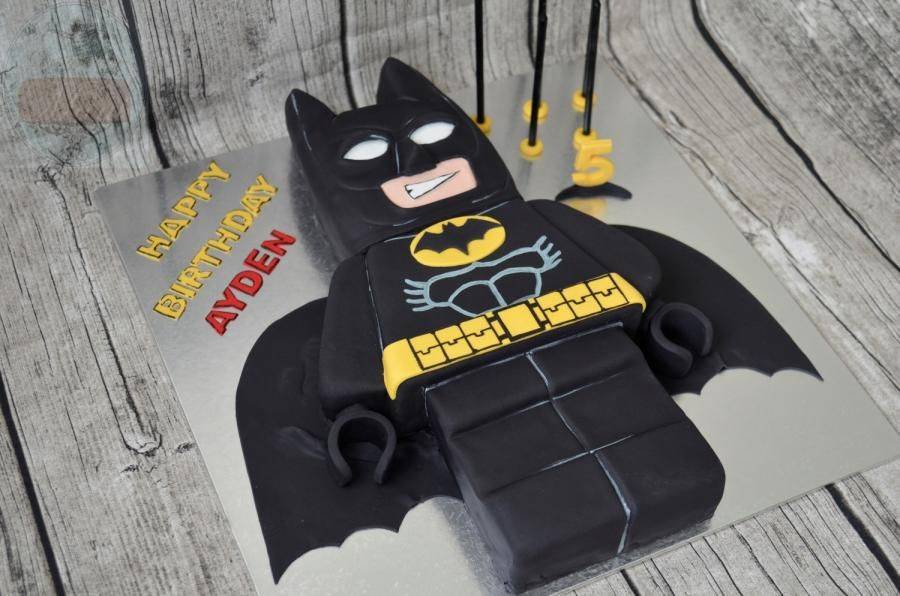 17. Fantastic easy LEGO Cake
Make your cake using LEGO brick molds to make a fantastic simple LEGO cake.
18. LEGO Cupcakes
These cakes would look great especially after you have made use of colorful frosting and you topped it using candy bricks. While making these cakes using the candy bricks, it'll be nice if the batter used in making these cupcakes would be tinted before you begin the baking process.
19. LEGO cake using Mega Blocks
Making use of Mega brick blocks to create your LEGO cakes would go a long way in creating a beautiful cake for you and your family. This technique can easily be added when you are trying to create a typical cake. Try to join the bricks into a slim sheet of the cake and use them to create the age of your kid. They're going to love it.
You could go to the store and get a cake, this is if you do not want to bake it yourself. Imagine how awesome a Duplo LEGO number train would look on top of your kids' birthday cake. You could also create this using frosting made with buttercream.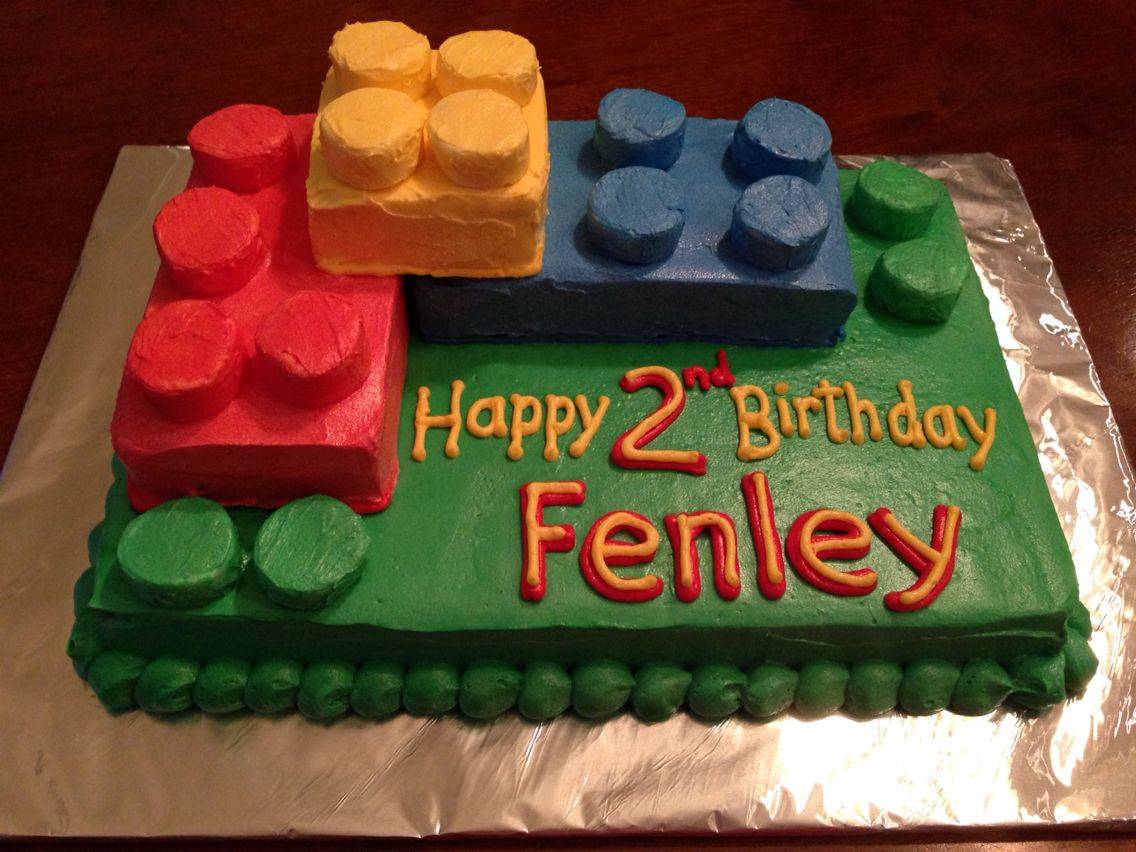 20. Jackie Chan's LEGO Cake
Mr. Chan from LEGO Ninjago movie could be customized and turned into a cake for your kids and their friends to enjoy during their birthdays. You could make it look impressive, using his hood and his staff with his arms. It isn't so difficult to make too.
21. LEGO Cake Topper
You could buy or make any type of cake you want, then build any type of LEGO little figure which could hold the LEGO banner.
22. Cake Pops LEGO
You could make use of cake pops made out of LEGO pieces. You'll see them looking beautiful with yellow melts LG candy which is used in the streamlining cake making process. It is easier to make this by using the heads of LEGO figures using marshmallow pops instead of stressing your self out to make use of cake pops.
23. Oreo Cookies with LEGO cake
This would make quite a fantastic cake. You could either make your cake using LEGO figures or making use of LEGO bricks. Either way, topping your LEGO cake off with Oreo's would make a wonderful addition.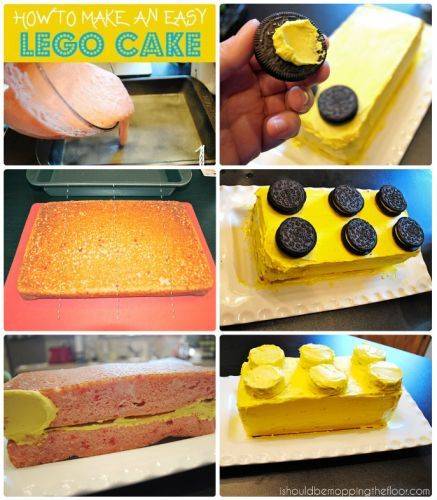 24. LEGO Building Blocks Cake Recipe
Making use of LEGO building blocks to create wonderful looking cakes that would add to the fun twist on this list of LEGO cake ideas. Make sure you make use of gel paste food coloring so you'll be able to get those colors that shine. Let everyone know that a LEGO cake is here.
You could use a simple plain cake from a store or you could make a simple cake and then use fondant to decorate it using primary colors. You should save some funds with the type of tools you use for your decoration.
25. LEGO cake using Peanut Buttercups

You could use these peanut butter cups to create the dots you could use on top of the LEGO cakes and they could be in the shape of your LEGO bricks if you desire.

26. LEGO Chocolate Cake
This chocolate cake could be created using LEGO brick candies and they could be filled with chocolate. The inside of the cake could be a usual chocolate cake then covered using colors from LEGO sets.

27. LEGO Cake with Fondant

This is a great way for you to personalize your cake and decorate it. Especially if you don't trust your instincts with fondant, frosting, or other materials used in cake baking. All you need to do is get the desired colors and design your cake with the brick color or mini-figure you desire.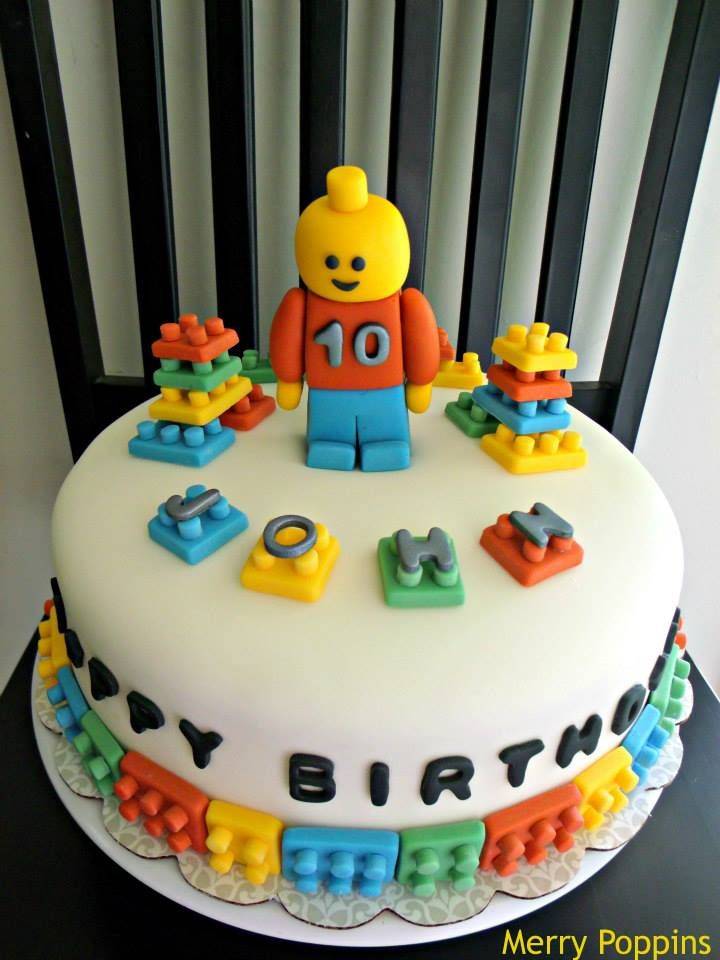 28. LEGO Homemade Cake
Using this LEGO cake design, you simply convert your normally made homemade cake into a cake made using Duplo sets that you can place over the top. You could make use of Duplo My First Garden and Duplo Number Train, and use these to put on the top of your homemade cake.
These are all simple LEGO cake ideas that you can enjoy. Great fans of LEGO and fans of cakes would truly enjoy this article. Have fun as you enjoy your LEGO cakes.