Upgrade your building skills with the LEGO Taj Mahal 21056 Set
The Taj Mahal is a magnificent crown palace, decorated with ivory–white marbles. It is located On the southern bank of the river Yamana in the Indian city of Agra. This amazing palace is the centerpiece of some 72 hectares ( 42-acres) complex.
This amazing world heritage site was built by the Mughal Emperor Shah Jahan and was commissioned in 1632 by the emperor himself. This great emperor reigned from 1628 to 1658 and was able to amass great wealth during his reign as emperor.

This great man built this ginormous structure as a tomb, for housing the corpse of his beloved wife Mumtaz Mahal, and was later used to house his very own corps. The building of this great palace was not an easy task. It was set in formal gardens, bounded on three sides by Crenellated walls.
This structure stood a sturdy 73miters, about 240 feet tall. The entire expenses spent throughout its building to its completion was an estimated 32 million rupees, which would be approximately 70 billion rupees in modern times.
Ever since the building of this great tomb place, it has been one of the greatest tourist attractions in the whole of India and has succeeded to draw millions of people, who come to see just what love can move a man to do. As a result of this building's popularity, a lot of industries have sort to recreate this iconic structure, into toy sets for kids. Most of these toy sets fail to meet the authenticity of the building's design, but not anymore!!!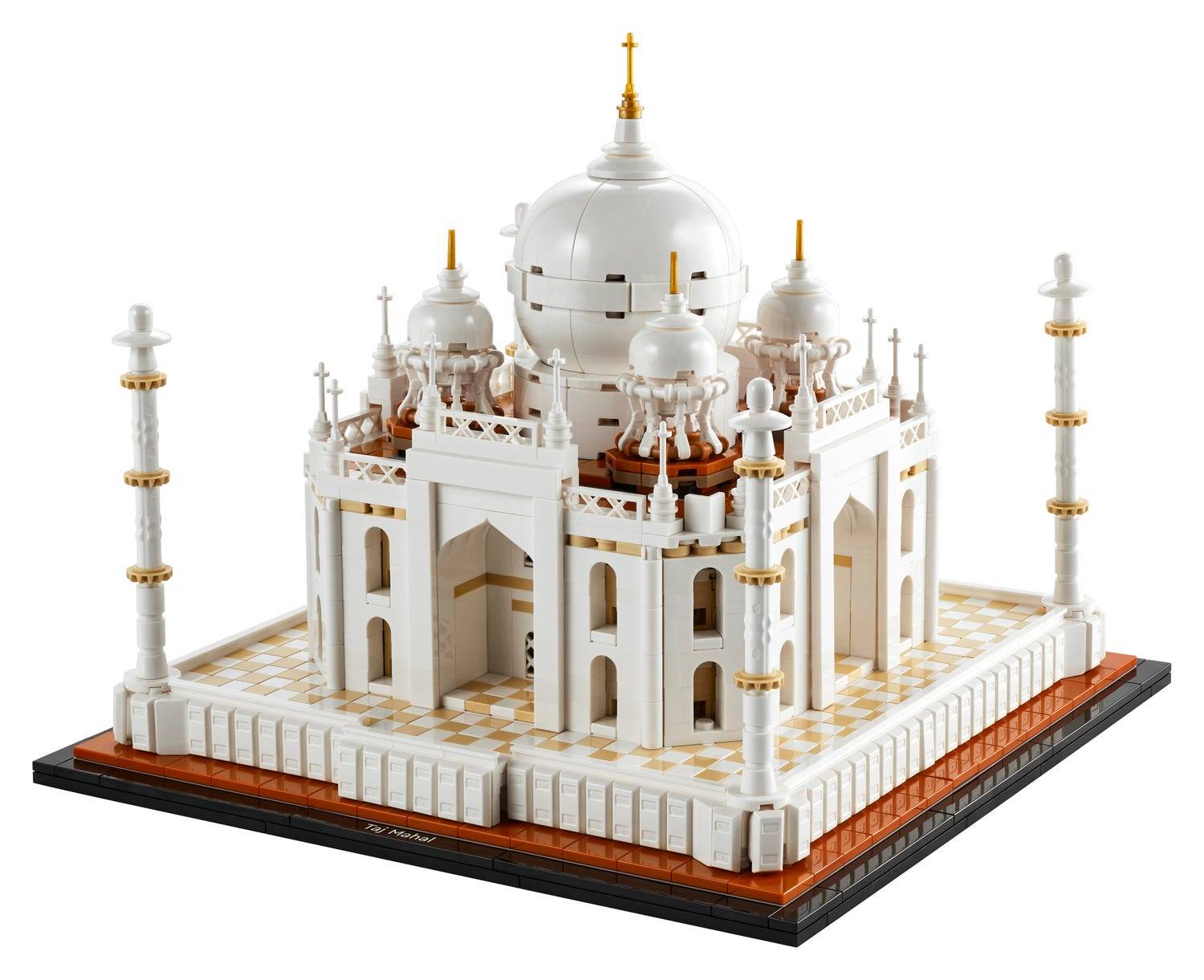 With the Lego Taj Mahal, you get the chance to not only experience the power of precision but also get the chance to recreate this great site from scratch, from its foundations all the way to its rooftops. Are you excited? You should, because this amazing set could be yours!!!
BUILDING EXPERIENCE FOR THE TAJ MAHAL 21056 SET.
This is one of the largest Lego sets out there. It comes with over 5000 pieces of pure bricks, and authentic detailing. This amazing set leaves nothing to chance and is suitable for builders from age 16 upward. This set comes with its very own blueprint, this is to enable new and inexperienced Lego builders the opportunity to build this great set.
This set is very perfect for builders who are looking to challenge their selves with a more complex Lego set. Building this set also helps create awareness, teaching each builder the very components, that make up this amazing world heritage site. This set is actually a smaller version of the Taj Mahal set released in 2008 and 2017. And though it may be smaller, it has a more satisfying build than that of its older brother.
The fact remains that, if indeed you are an experienced Lego builder, it would probably take you over two hours to fully complete this set. But you can be assured that it will be the most satisfying two hours you would ever spend on a Lego set.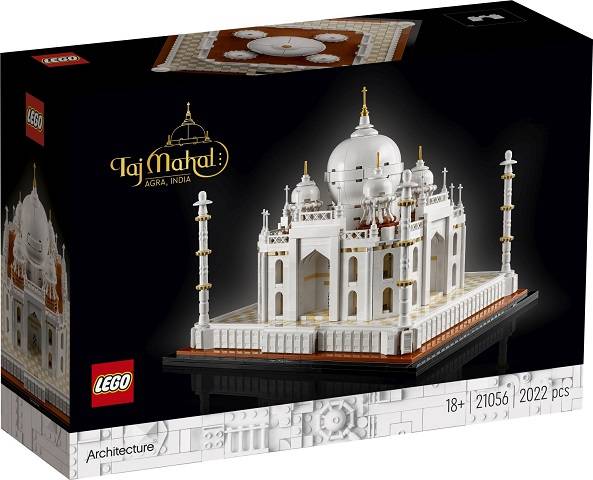 FEATURES OF THE TAJ MAHAL 21056 SET.
Most of the features of this set are purely architectural, as this is the architectural version of the set. It is also important to note that this set comes with zero Minifigures, which makes this set more of a display piece and will not do well with role-playing. Now let us look into some of the features of this amazing set.
• DETAILS ON THE SET.
The Lego Taj Mahal set is designed to replicate both the design and build of its real-life counterpart. And so its color theme, architectural design, and overall build are packed with a lot of details to make the set look not only beautiful but as close as possible to its original counterpart.
The original building is designed with ivory–white marbles and is guarded by four very well-built pillars also decorated with marble. Though this Lego set is built with bricks, it has a color theme and authentic detailing, which helps bring the set as close as possible to its original counterpart.
This famous set which has a much older set released before it is also a display set. This means that a lot of effort was put into the overall look, making it stand out in a collection of Lego sets.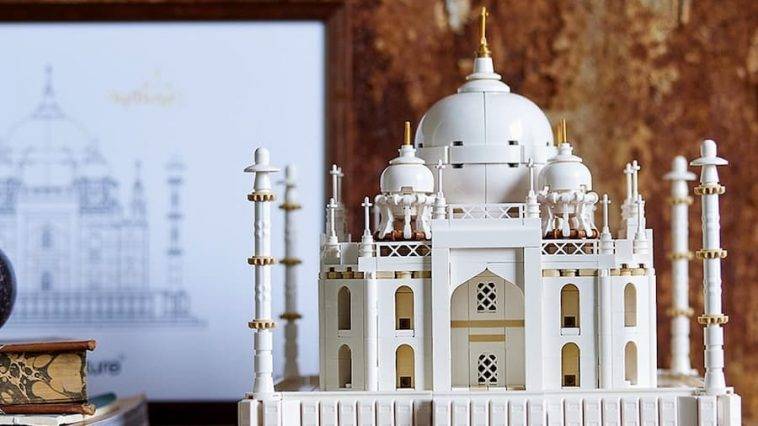 • BUILD AND SIZE OF THE SET.
This set is not as complicated in the build as its older brother before him. But yet still gives a challenging build. This set is more of an architectural set, which means that it focuses not on the freehand building, but a more structured and arranged building.
As a result, this set can take an ample amount of time to accomplish, because even the most experienced Lego builders will need to rely on the manual, in order to unlock new building styles and techniques. This set also packs an amazing 5900 pieces, which is just slightly smaller than its older brother which is about 5922 pieces. If you are looking for a set that is both time-consuming and technical to build, then this is definitely a set for you.

• PRICE IF THE TAJ MAHAL SET.
This amazing set can vary in price depending on the location and store you decide to patronize. It could also vary as a result of the set's availability in the set locations. This Lego set is mostly popular In places like the United States, the UK, and some parts of Europe.
Buying of this set from any other stores aside these, could cost slightly or even more significantly larger Than it would this set places. You can get this set at about 199.99 dollars in the US, which is approximately 89.99 Euros in the UK. Because of its scarcity in other parts of Europe, it is slightly higher, being sold at about 99.99 euros. If you wish to buy this set from other parts of the world, the best option is to order from our Lego stores In the US or UK.
PERFECTLY ILLUMINATE YOUR TAJ MAHAL SET WITH OUR LEGO LIGHT KITS
The Lego Taj Mahal's architectural set is just as beautiful and magnificent as its original counterpart. Its details and build put its well in front of any Taj Mahal replica out there. This set though could be designed to look even more magnificent with our amazing Lego light kit.
This Lego light kit could be installed to perfectly illuminate the set, revealing all its impressive features and details. But how can the installation of this amazing set be successfully carried out? This segment of this article will share with you three universal steps to remember while installing this light kit.
1. COMPLETE YOUR SET BEFORE INSTALLING YOUR LIGHTS
The very first thing to remember when installing your light kit is to first successfully finish your Lego set before installing your light kit. Doing this will help ensure that you derive a perfect plan and strategy for your installation.
Once you have been able to perfectly put together your Lego Taj Mahal 21056 set, then you can successfully move over to the next installation process.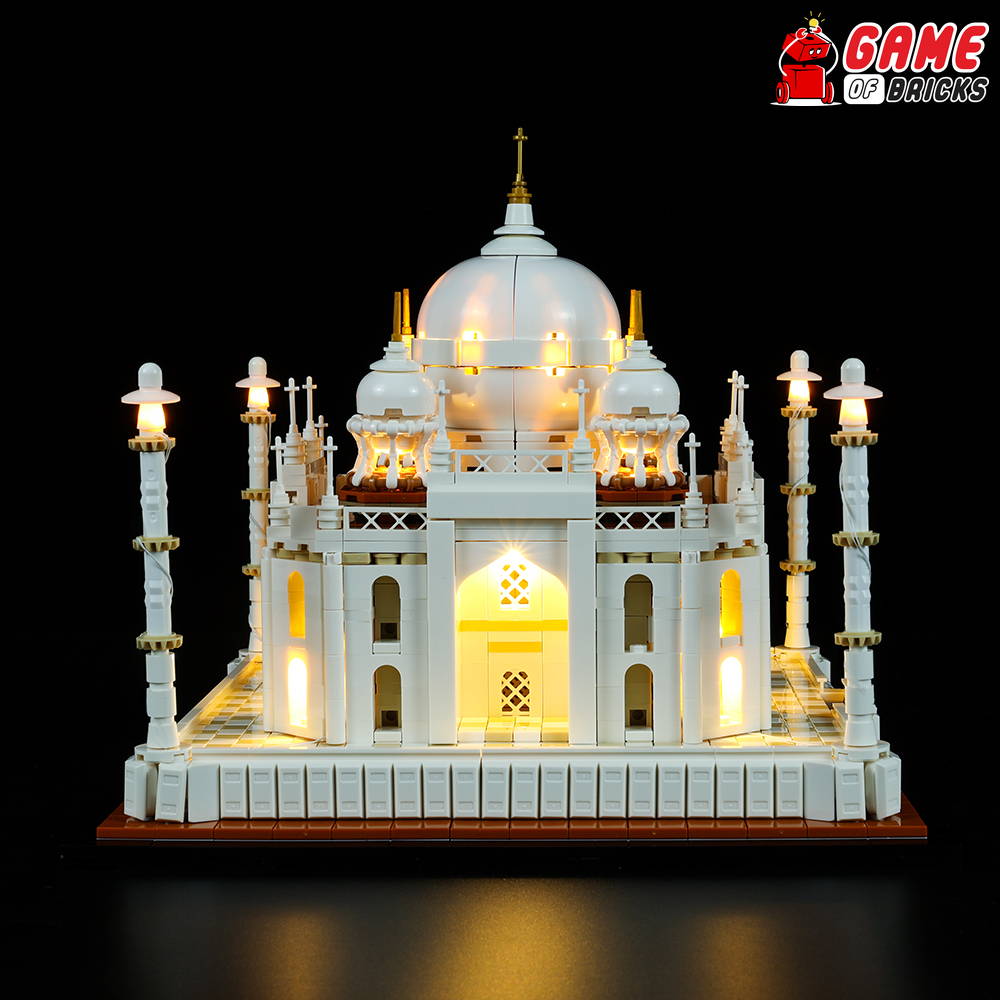 2. PROPERLY INSPECT YOUR LIGHT KITS AND ACCESSORIES.
This is another very important step worth taking as you never can be too careful. This is very important because it is very common for light kits and accessories to be delivered incomplete, most especially if you are shopping for them from a Lego store abroad. This is not the fault of the company but as a result of the amounts of hands and checks, it will have to pass through.
If you face this problem, don't panic, all Lego stores producing light kits, like game of bricks, all issue a thirty days warranty on each set which will enable you to return the kit if faced with such a situation. But if your light kit was successfully shipped and is intact, it's now time for you to move to the next phase.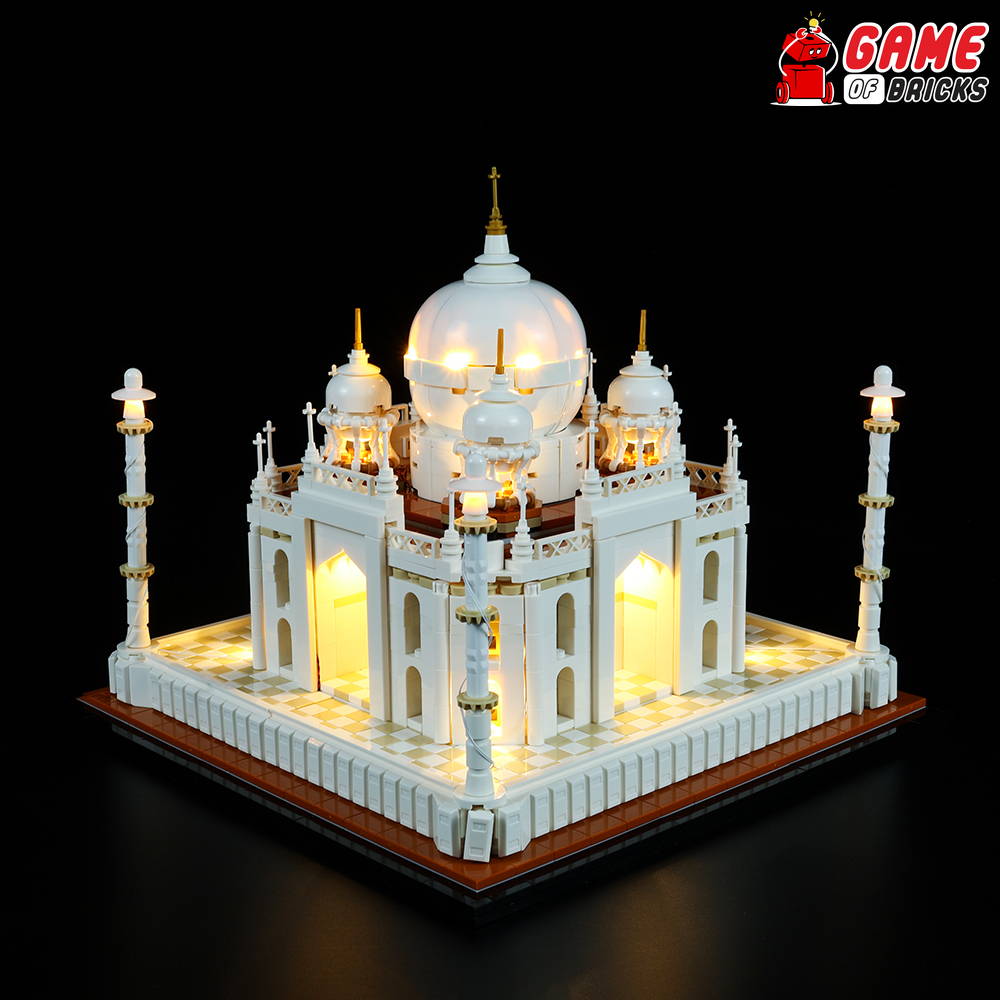 3. PROPERLY INSTALL YOUR LIGHT KIT AND ACCESSORIES.
It is now time for you to install your light kit and accessories. Installation style and technic could differ, depending on the type of light kit you choose to purchase. Still, one thing remains the same.
Each light kit and accessories should pass through the bricks and should be installed to fit perfectly. Wires should be neatly passed, avoid tangled wires for they can contribute to light kit short-circuiting. Try as much as possible to follow the installation manual given to you.
Once you have successfully installed your light kit, it's time to test it out. This is important, for it will help you determine if any improvements are needed. Don't test all lights at once for it can cause the light kit to short circuit, which further reduces the life span of your light kit.
Once all your checks are done, and all seems good, you can finally put this set on display for all to see!!!
---