Upgrade and save the world with the LEGO Infinity Gauntlet 76191
The infinity gauntlet, the only weaponstrong enough to hold all the infinity stones in place. This is what Thanosused to wipe out almost half of the avengers. But the object only became morepopular, when it was used in the Avengers End game movies, by Iron man duringthe final battle with Thanos where he used this object with all its infinitystones and just a snap of his finger in defeating Thanos and all his soldiers.

Lego finally gives you the opportunity to create this artifact, the most dangerous instrument in the whole marvel universe, and display it graciously on your very own shelf. This set has an impressive build and is designed to perfectly replicate the one used by Thanos in infinity war. 
This set to me, will get any marvel fan excited and satisfied at the end result of the project. This is because of the set's overall look, leaving no details to mind, and using the exact color combination as its original counterpart. 
The Lego infinity gauntlet also comes with compartments for all five infinity stones. This gives you the ability to create a ton of scenes, like being the hero and stopping Thanos by snapping your finger. Overall, this is a really great set that is worth your time and money.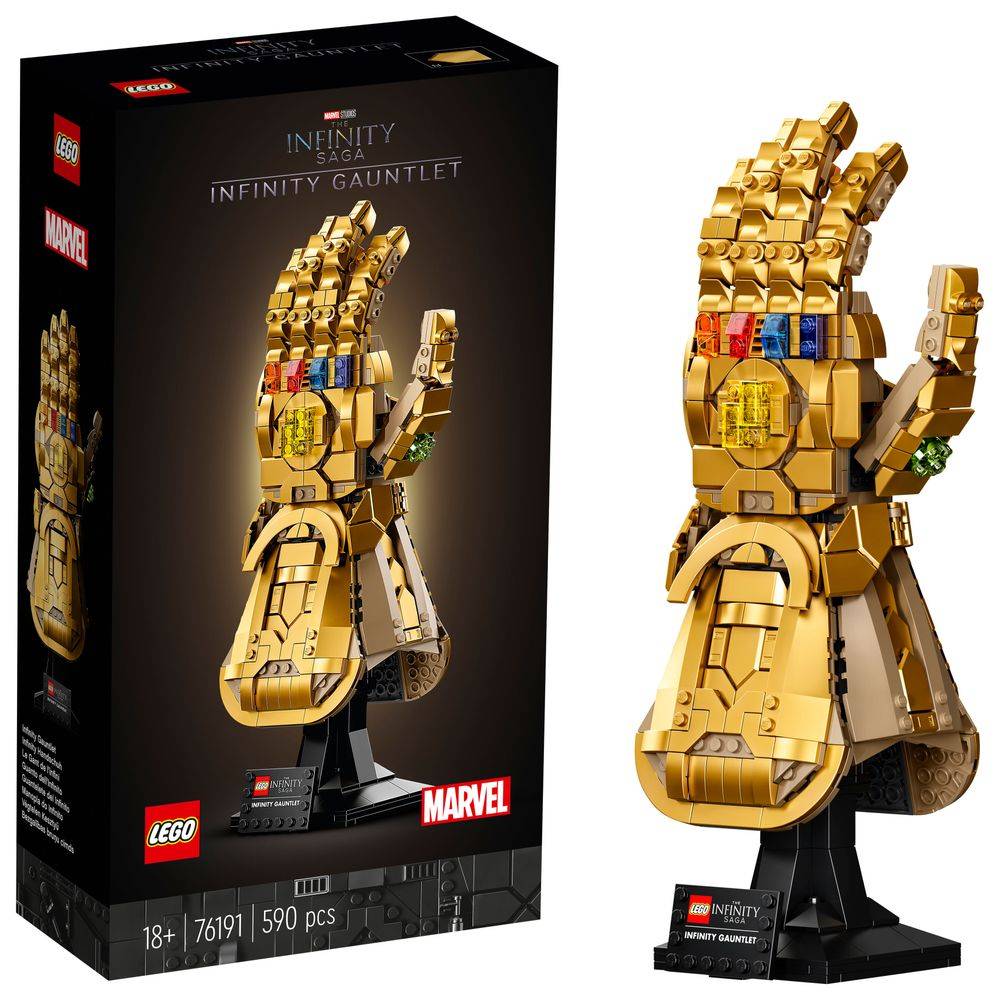 BUILDING EXPERIENCE FOR THE LEGO INFINITY GAUNTLET.
This is a medium-sized Lego set that will forever captivate the interest of any true Marvel fan. Its authentic design and builds will forever remind us of the greatest marvel movies of all time, the infinity war and Marvel's Endgame. 
This set comes with over 500 pieces, which will help complete the design and structure of this set. It also comes with five additional pieces which are designed to replicate the five infinity stones. 
What I love most about this set is its attention to detail. From the color of the gauntlet, down to the design, structure, and shape of the stones. This set is made out of purely Lego bricks, which makes the set more realistic.
Though this is a small set, with just a little over 500 pieces, it will be a bit challenging to build and will take a lot of your time. This set has a lot of minor details and will require great care and patience to fully accomplish an Infinity gauntlet worthy of its spot as a great marvel artifact.
The truth is, when building this set, you will have no dull moment. And if you feel you can not handle this task on your own, feel free to invite friends over to assist. This set could be used as a tool to bring both friends and family together.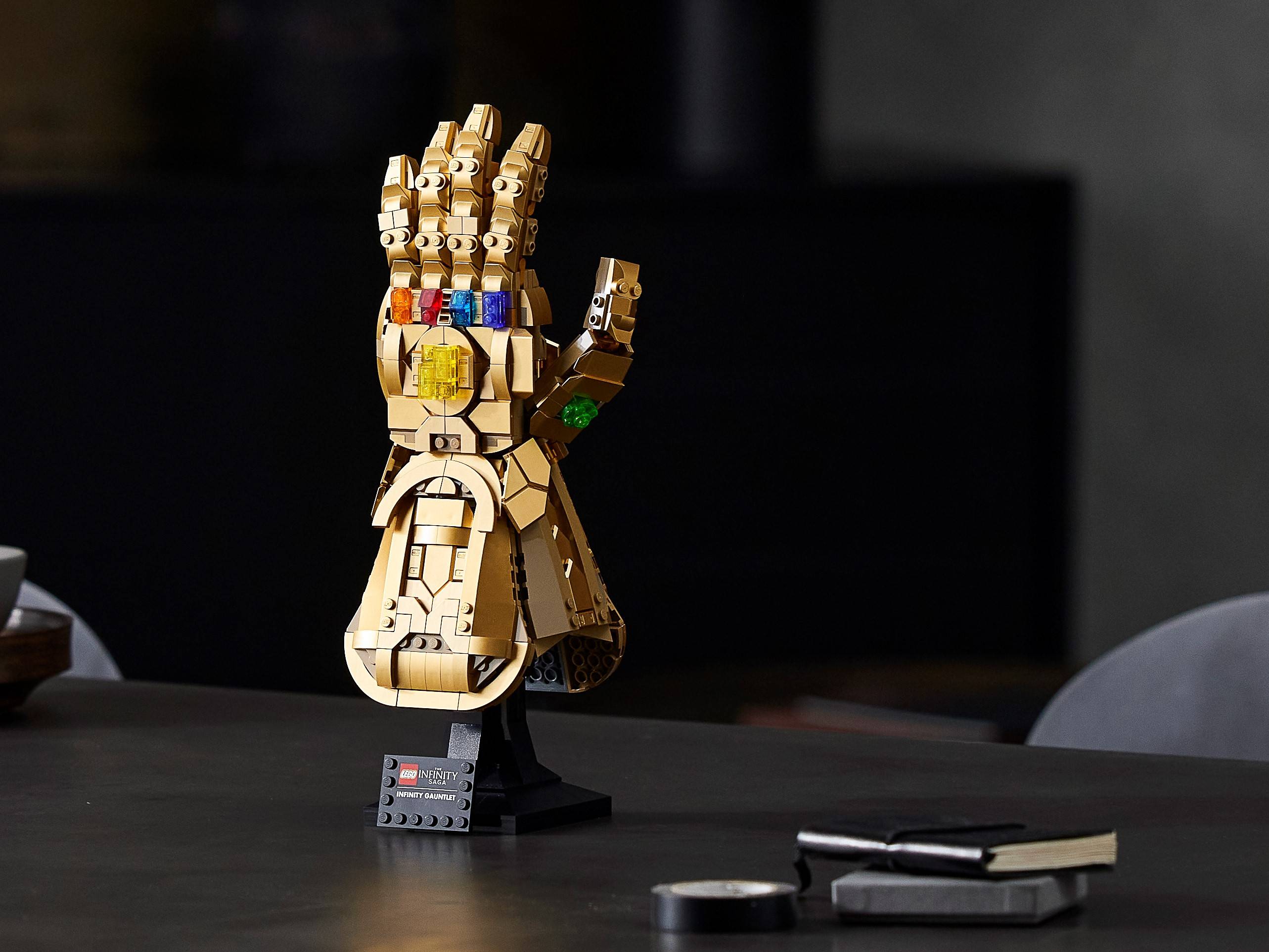 FEATURES OF THE LEGO INFINITY GAUNTLET.
This set is designed to perfectly replicate the infinity gauntlet of the infinity war and Marvel's Endgame movie. It has some very impressive and amazing features, some of these features include…
• SIZE.
This is a medium size set with over 500 brick pieces. This set will give Marvel fanatics the chance to get their creative juices flowing, in designing their very own infinity gauntlet, the most powerful weapon in the marvel universe.
This set is quite detailed and impressive in size, just the size of a small hand glove. The set measures about 12. 5 inches in height, 5 inches in with, and about 4 inches in depth.
The very build of this set will help strike a good conversation with all who see it leaving them in awe of this great marvel weapon, and also leaving proud as an owner of this magnificent set.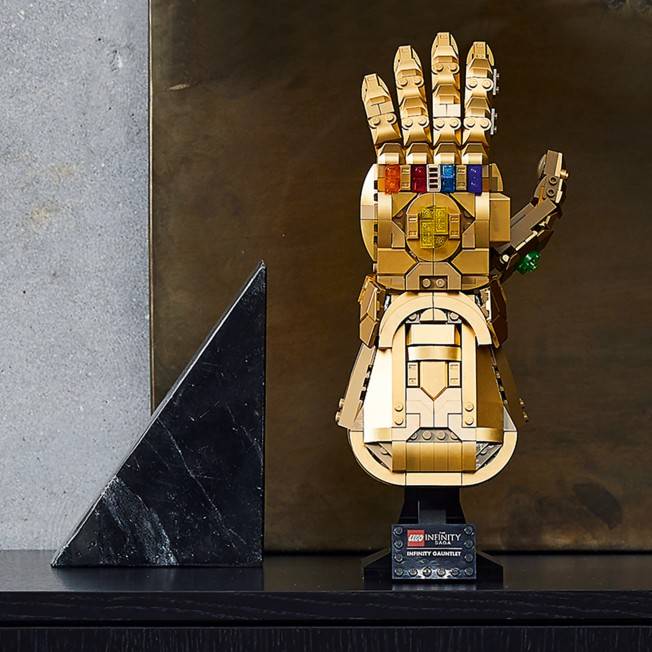 • COLOR PATTERN.
Another thing that really impressed me about this Lego set is its color. Lego really outdid their selves with this artifact.
The color is authentic, shiny gold, which is well designed, and shines in such a way that it perfectly replicate its original counterpart. This set's color is so beautiful and will leave you captivated at the end result. The set's infinity stones also take the exact colors of its original counterpart and add to the overall beauty of the set.
The overall paint job of the set is really impressive and will be a beautiful lifetime centerpiece in your Lego display collection.
• ADDITIONAL FEATURES.
The Lego infinity gauntlet is very impressive in both beauty and structure. This set is a display set, and it comes with some added features. Some of these features include a stand, which will help you perfectly display this magnificent set in a standing position, the infinity stones, which give the gauntlet its overall look, and in addition to the stand, a descriptive palette that holds the name of this great set.
All these features give this set a wonderful look and will leave you wanting more. With this set you will have the opportunity to recreate amazing scenes from the marvel movie, being in control of your own universe.
As usual, just like any other Lego set, there are varying prices, depending on the Lego store, and in what country you are buying from.
This set has is sold at about 69.99 dollars in the US, 99.99 dollars in Canada, 59.99 Euros in the UK, and about 109.99 dollars in Australia.
This set is more expensive in Australia due to the lockdown situation, and the fact that the set can not easily be accessed by the country. And so if you are really interested in the toy, and you leave in Australia, I will suggest that you place an order for it from any Lego stores in America or Canada, just to save you a few extra dollars.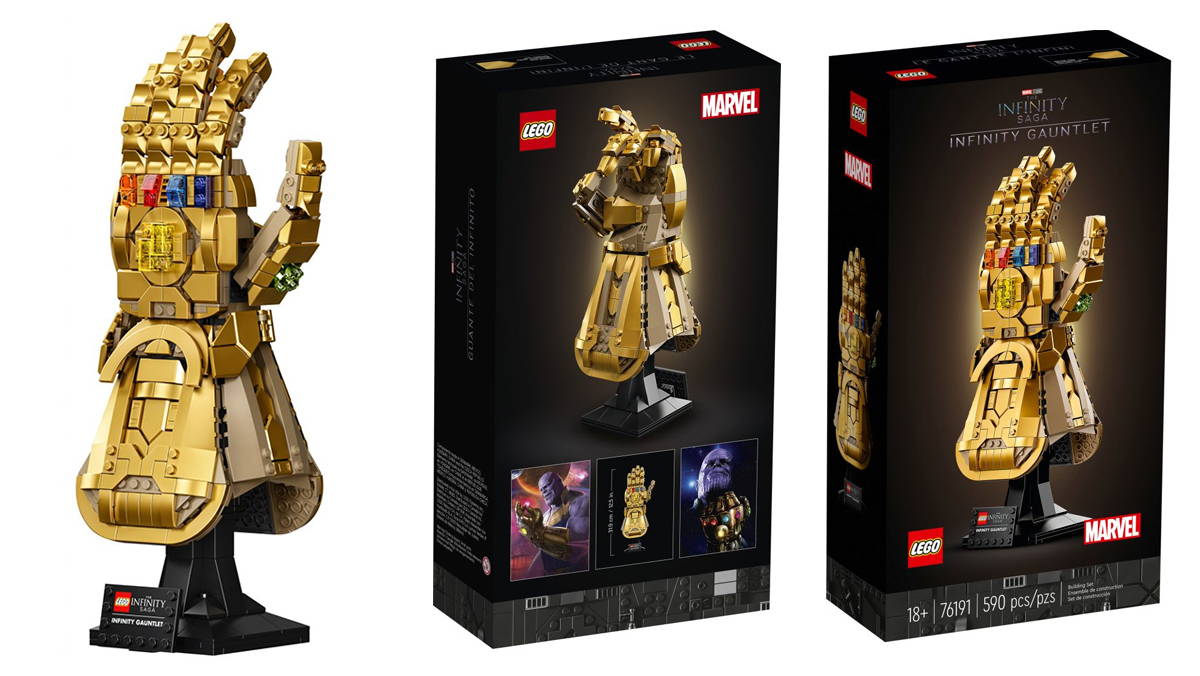 Or you could also check it out on Amazon stores. If it's there then it will probably be the same price as that of any Lego stores in the US.
You may feel as though it's a lot of trouble for just one set, well if that's how you feel, then you are not a true Lego fan. As a true marvel and Lego fan, you will see that buying this set will be worth your money and will be an amazing addition to your Lego collection.

INSTALL OUR LEGO LIGHT KIT TO MAKE THE SET STAND OUT EVEN MORE!!!
This set is already very beautiful due to its attention to detail and authentic shiny gold. But this set could be made to look even more impressive, by installing our beautiful Lego light to the set. Make the magnificence of his wonderful set emit even more with our beautiful Lego lights.
You may be wondering just how this might work. Well for those who have little or no experience with Lego lights well I will give a little general step-by-step instruction on how to successfully install our Lego lights for more beauty to your set. This Lego 
1. COMPLETE THE SET BEFORE INSTALLING THE LIGHTS.
This is the first step to a successful light kit installation. Be patient, and do not be in a hurry. Make sure that you have successfully completed the building of your Lego infinity gauntlet before installing the lights.
If you follow this first step, you will be able to successfully and accurately install your Lego lights. This is because with the set fully built, you can accurately know where each light kit goes to help give your work a standard look.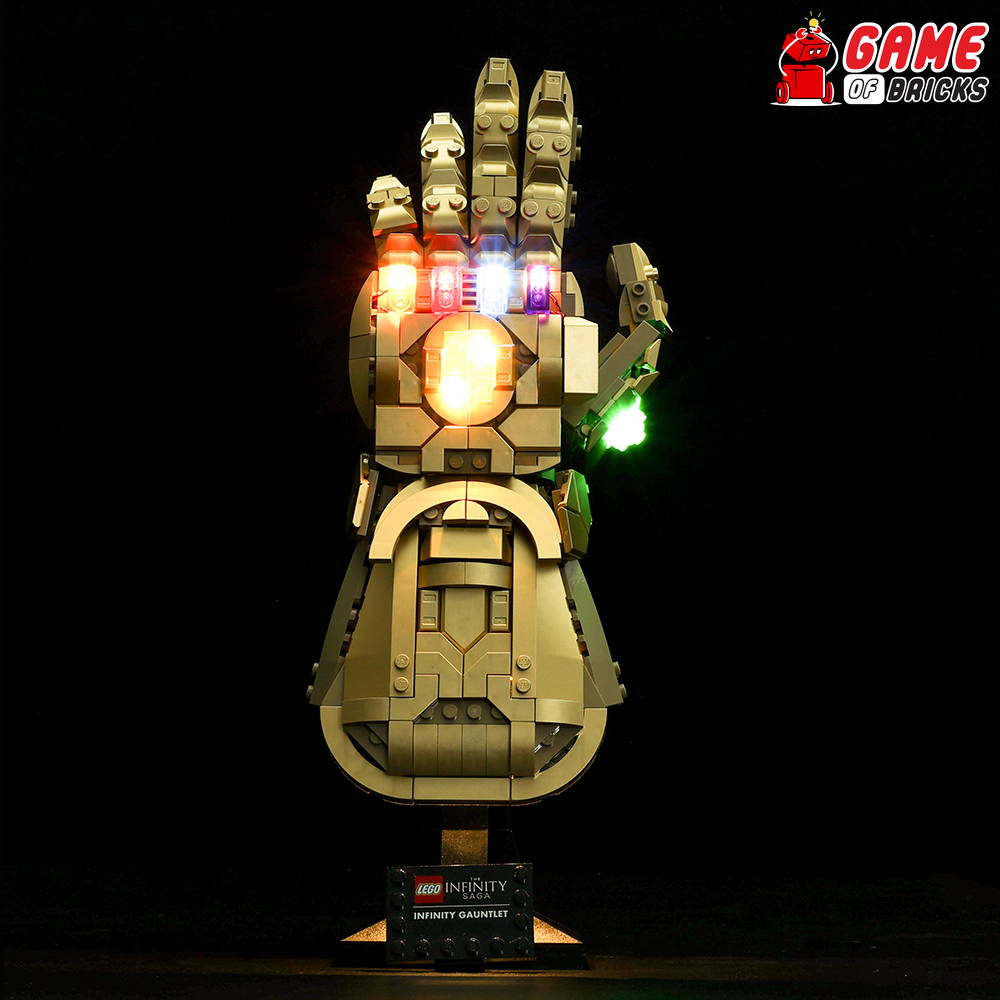 2. CROSS-CHECK ALL LIGHT KITS AND ACCESSORIES.
This is very important as well. This should be done before any installation process should be taken. This will help in ensuring that all the light kits and accessories are complete.
This check should be taken seriously because it is very likely for one or two pieces of Accessories could be miss placed during the shipment of the light kit.
If this is to happen then have no fear, most especially if you buy from game of bricks. At game of bricks, you have a 30days limit to return any light kit or accessories that are bad or misplaced.
3. INSTALL YOUR LIGHT KIT.
Installation of your light kit should not be done in a hurry, take your time and ensure that each light kit and accessories fit perfectly inside each Lego brick.
Make sure that you do not forcefully push the light kit through the bricks, for it could either damage it or cause the light kit to short circuit.
By the time you are done installing the light kit ensure that no wires are sticking out and that everything is looking smart and sharp.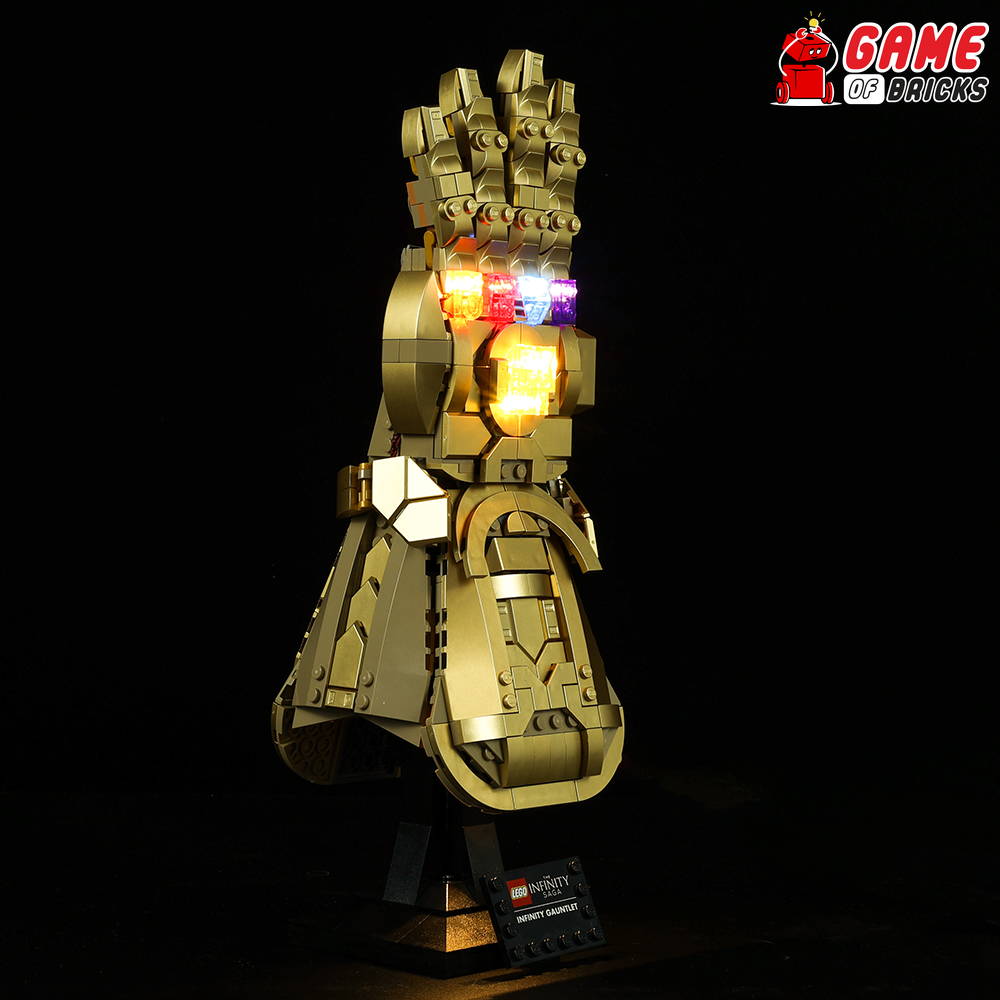 4. TEST YOUR LIGHT KIT.
This is the final step in your installation process. This is probably the one you have been waiting for. It's time to test your light.
Buy now, if you have followed all the steps I outlined, and your set is looking sharp, it is about time your test the lights. This will help you to know if you have done a good job with the lightning, and that there is no short-circuiting. If all checks out, then you can now display your Lego set in a place that its beauty will perfectly eliminate.
---