Build enthusiasm for your big day with the LEGO Wedding favor Set 2018 40197.
By

Mark Gini
/
November 21, 2021
Nothing is more glorious than the day beautiful souls decide to tie the nut, becoming one flesh. Though the day is truly a joyous one, preparations for that big day certainly aren't. Both couples would have to decide the color theme, venue, delicious cuisine, and draw out a budget. And then they both as individuals would have to also think of what they would wear for the occasion. As the man and soon-to-be husband, you would have to decide what type of suit to wear. And for the ladies, you would probably be on the hunt for the perfect wedding gown. And to sum everything up, all these preparations often is about a month or two to the wedding.

Nonetheless, when everything is done, you will have been well on your way to the happiest day of your life. Is your wedding in a few weeks, yet you feel overwhelmed with all the work still left to be done? Do you sometimes wish there was something that could help motivate you? Well, if that's how you feel, then say no more. With the Lego wedding Favor set 2018 40197, you get just the motivation you need. This set is designed to replicate the scene of two beautiful couples at the altar, ready to take their vows. With the building of this set, couples preparing for the wedding could never forget the reward that awaits them as they tie the nut. But it would be best if you were probably wondering how you will squeeze out time to accomplish the building of this set. Well, let's find out as we progress.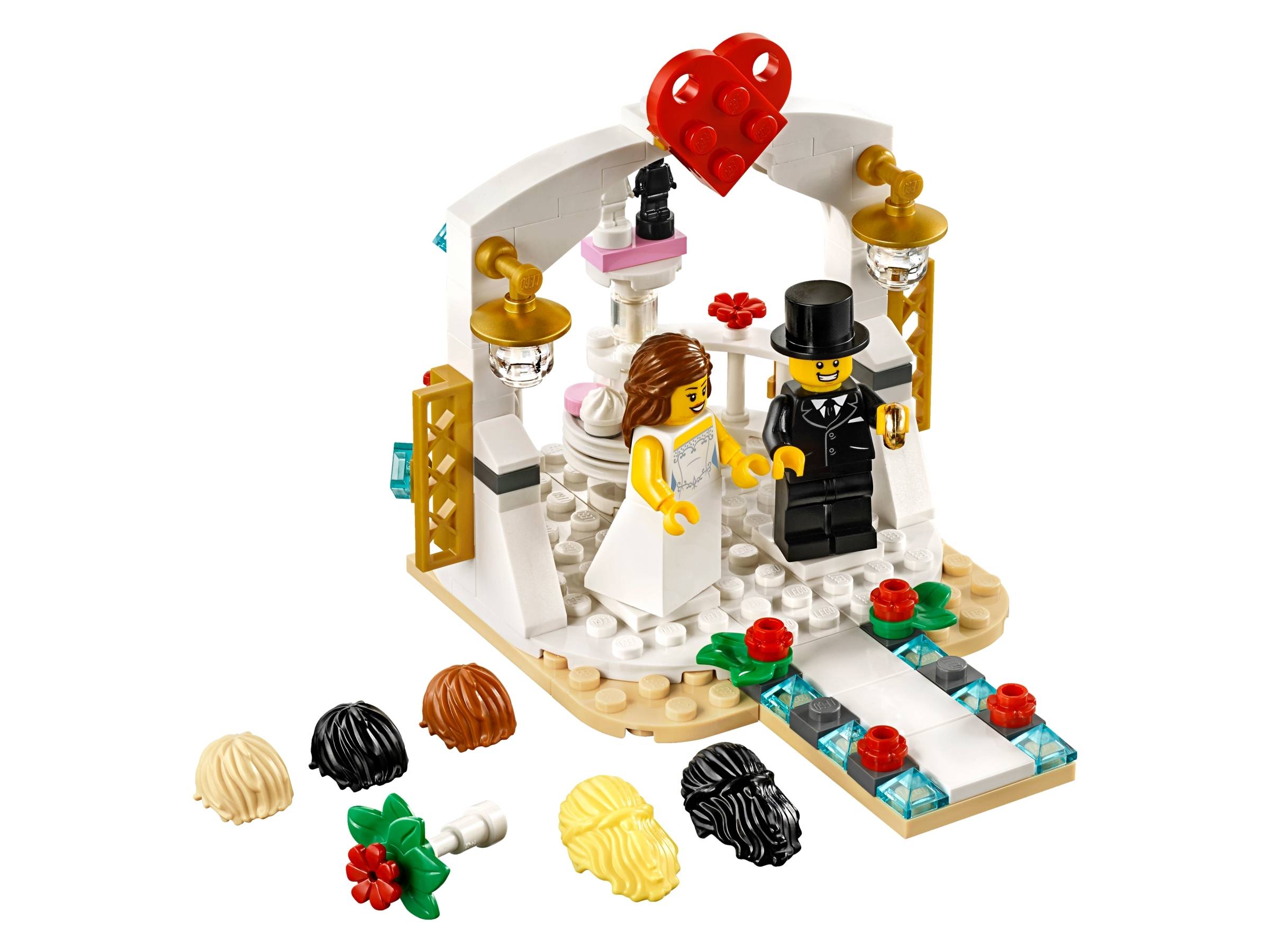 BUILDING EXPERIENCE FOR THE LEGO WEDDING FAVOR SET 2018 40197.
Yes, the wedding favor could be a great way to motivate you to prepare for your big day. But you may wonder how long it would take to build this set, And if you would even be willing to make time to take on such a task. Well, if time is what you are worried about, then you do not have to worry. Though the Lego wedding Favor set 2018 is packed with details to help build enthusiasm for your big day, it is relatively small. The set comes with a little over 100 pieces and could be built in a matter of minutes if you are an experienced Lego builder. It is designed as something that could be built in your free time.
So if you worry about time, then I guarantee you can make out the time. If you want To get the most out of this set, it's highly recommended that you take your time to bring each of its details to life. You will notice all its unique details, which help perfectly replicate the most important and most memorable day in a couple's life. This set, though, is not only restricted to those getting married. It could also be a good set for newlyweds looking to remember their wedding day. And if you are someone aspiring to get married, this set could also be good for you. The Lego Wedding Favor set is also a fantastic display set. So get satisfaction for your work by putting this set on display for all to see. But what wedding details make the set worth building? Let find out in the next section.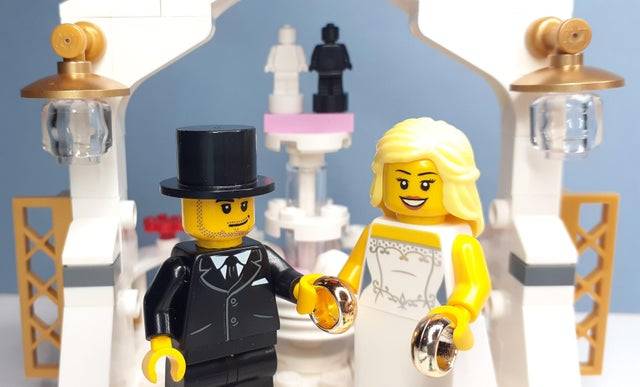 AMAZING DETAILS FOR THE LEGO WEDDING FAVOR 2018 40197 SET.
There is nothing that more perfectly replicates a wedding day feeling than the Lego wedding Favor set. But what incredible details do builders stand a chance to replicate? Let's find out.
• AMAZING WEDDING DAY FEELING.
The Lego Wedding Favor Set 2018 features so many incredible details, which help make it feel like an actual wedding day. The color of the set features realistic tones and shades, which makes it stand out. Accessories like flowers, wedding rings, the shape of a heart, and wedding cake make the set feel more realistic. You also get the chance to recreate the stand where the couples exchange vowels. So if you are looking for fantastic wedding scenarios, this is your set.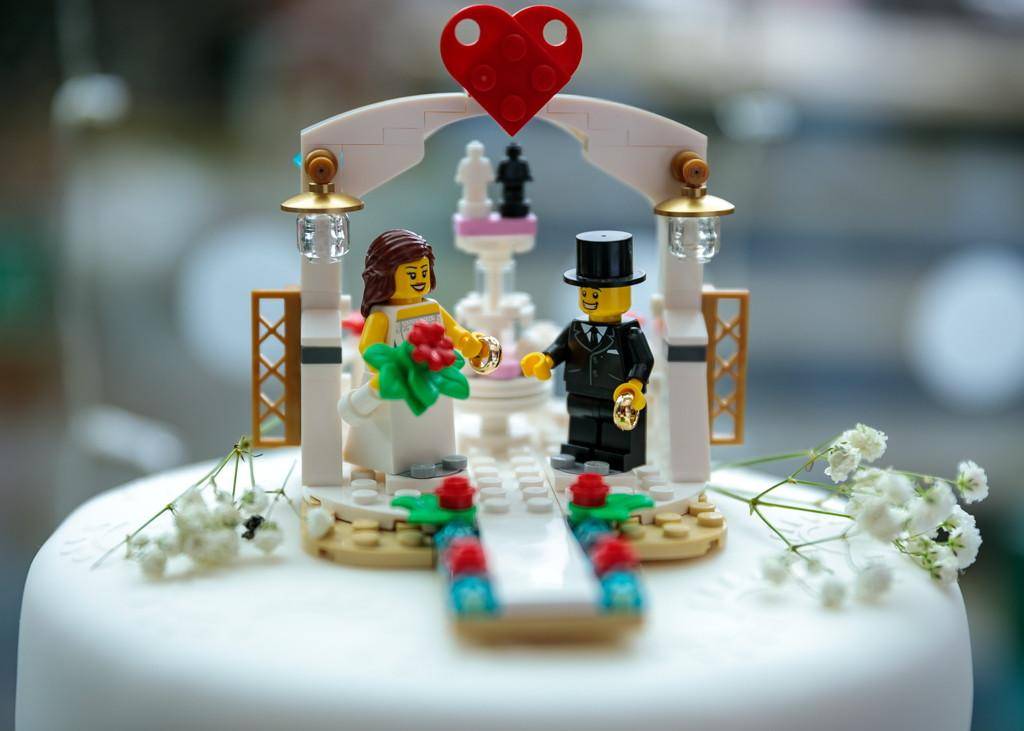 • TWO BEAUTIFUL MINIFIGURES.
The scene could not be complete without the addition of two unique Minifigures, representing couples in love, ready to take their vowels. The Minifigure of the man is dressed in a sharp black suit and is made to face his bride and wife to be with a beautiful gold ring in his hand and a warm smile on his face. His bride is also made to wear a beautiful white wedding gown and a flower bouquet in her hand. The Minifigures could also be rotated to see their beautiful wedding cake. Get yourself in the mood for a wedding with the building of the Lego Wedding Favor set 2018 40197 sets.

• PORTABLE SET SIZE.
With the Lego Wedding, Favor set 2018 40197, you get a small portable set that can be quickly built with time to spare for your wedding. The set comes with just a little over 100 pieces, about 132 pieces, to be precise. When fully built, the set would be about 3 inches high, 3 inches wide, and 5 inches in dimensions. This makes this set perfect for those new to Lego, as it does not require much experience to build.
• AFFORDABLE PRICE.
By now, you must be probably be wondering how much this set costs and just where to buy it. Well, this set could be found in any toy store in your current location, but with no guarantee as regards price or availability. But if you want stability in the price of the set, you should purchase from lego.com or Lego stores in your country. This set could be bought from Lego stores in the US and lego.com for about 9.99 dollars. So you see, it won't even get caught into your wedding budget to get one of these sets.
MAKE THIS SET LOOK MORE MEMORABLE WITH OUR AMAZING LEGO LIGHT KIT.
The Lego Wedding Favor set 2018 40197 is already so beautiful. But you can make this set even more memorable with our special light kit. Are you new to our Lego lights? Well, not to worry. Each light kits come with easy clear instructions that, if followed, will make your light kit installation very smooth. But before you rush into installing your light kit, make sure you are done building your Lego Wedding Favor set 2018 40197. Doing this will help you know just what light kit would better work for you as you decide what light kit to purchase. But what do you do next after purchasing your light kit? Let's find out, shall we?
1. INSPECT ALL LIGHT KITS.
To ensure that you don't fail from the beginning of your installation process, ensure you inspect all light kits and accessories. This is because our light kits are exceptionally delicate and could sustain an injury during shipping. So to ensure that all is good, make sure to run a thorough check on all light kits and accessories shipped. And if during your investigation you notice a fault, report it immediately to have it fixed or changed. If you find damages, then you could move on to installing your light kit.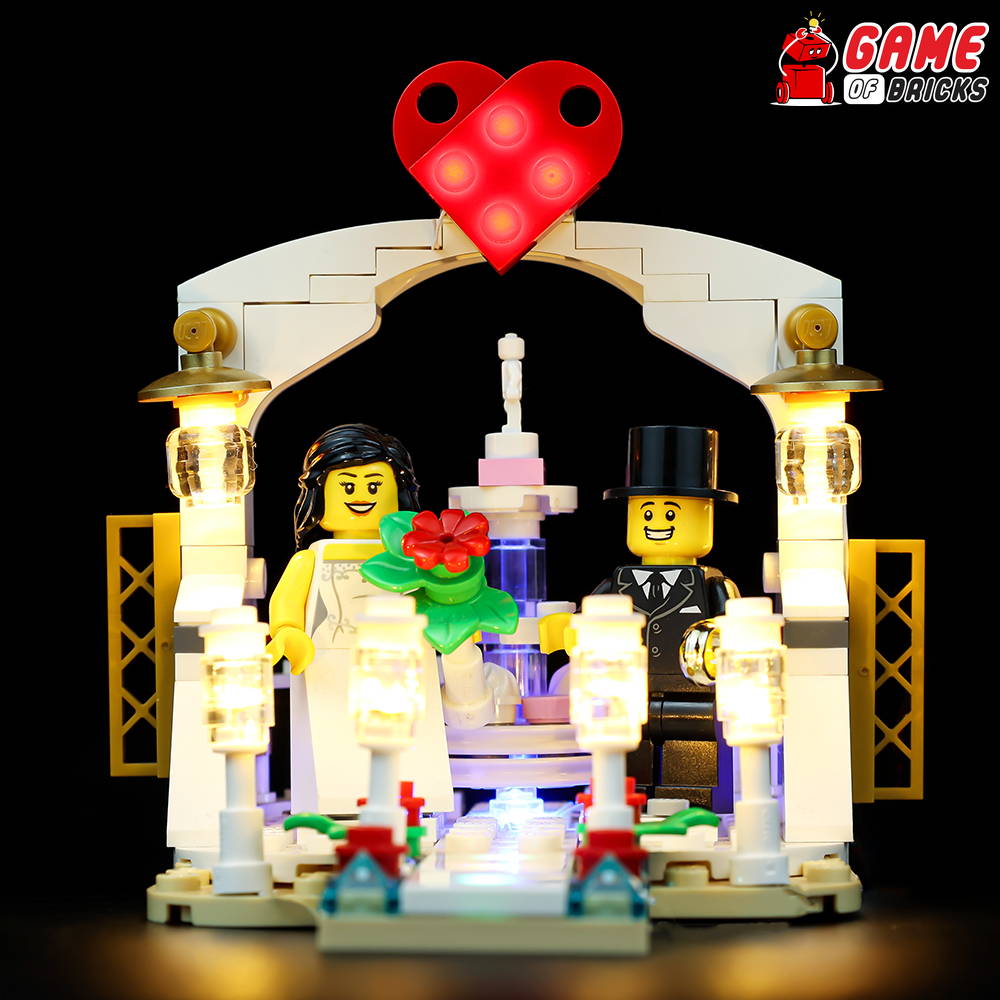 2. INSTALL YOUR LIGHT KITS.
By now, you must be sure your light kit is in perfect order. Once that has been confirmed, you can safely install your light kit. How do you do this? Well, thankfully, our game of brick, our official light kit creators. You will be successful with your installation process if you make good use of your manual. And if you are new to light kit installation, set out enough time to ensure you do not need to force your way through the process. If you take the time to follow all the instructions, you will be successful in your installation process.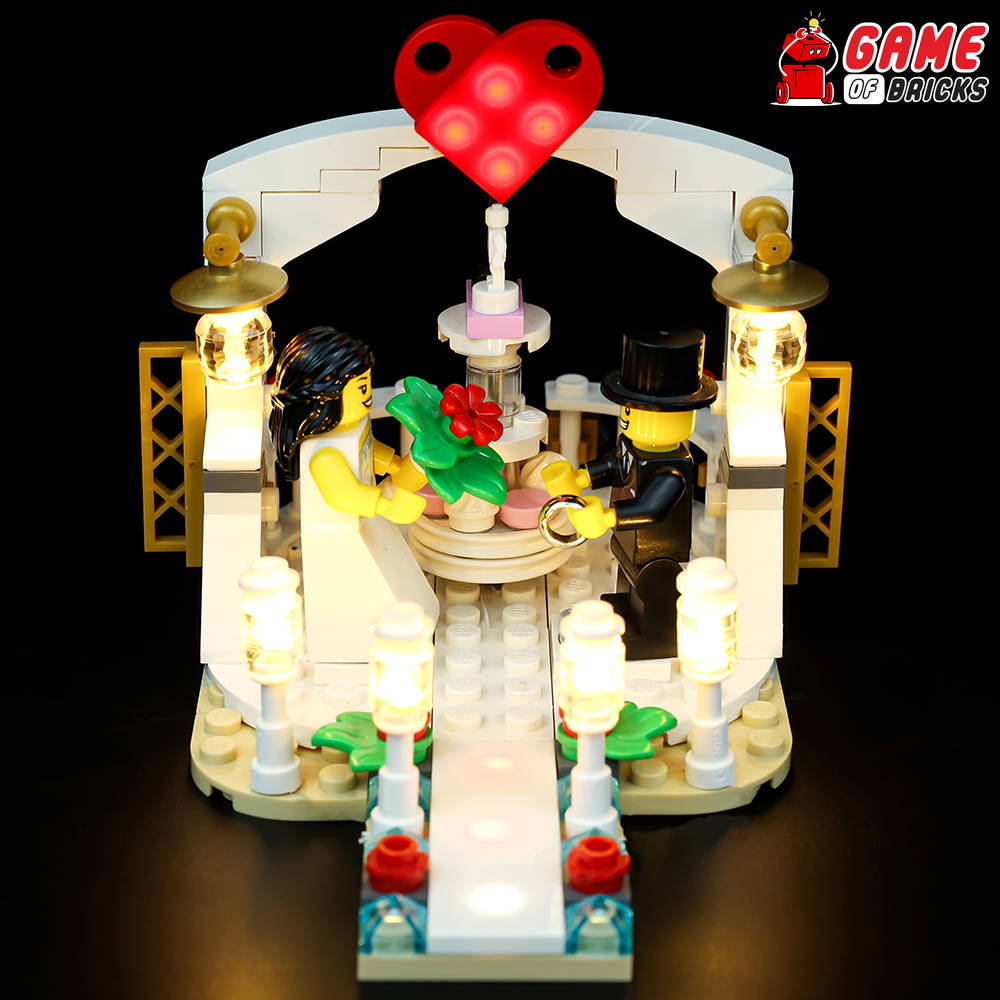 3. RUN FINAL TESTS.
Before you run off to display this set, take time to test it one last time. As you test, watch for signs of short-circuiting, sparks, and power fluctuation, as all these signs could help indicate a problem. And if you notice even one of these signs, it's best to find out the root cause of the problem. And if you find no fault at the end of your inspection, you see nothing wrong; get yourself in the mood for a wedding by putting your Lego wedding Favor set 2018 40197 on display for all to see!