Show of your great construction skills when you build the LEGO Technic 6+6 Volvo Articulated Hauler 42114 Set.
Embarking on a new construction project might seem challenging, with a lot of work. It was challenging to achieve significant construction designs in the old days. And if it were remotely achievable, it would have taken a long period to accomplish. The same can not be said in our day. Today, millions of significant construction projects are being performed in record time. This is all thanks to the producttion of tools and machines to help make the job much easier. Nowadays, machines are designed for different purposes, from drilling to digging and even grading. But aside from all this equipment, there is one that stands out as very important, the hauling machine. As its name denotes, this machine is used to transport construction equipment to the construction site. These super machine vehicles are designed to be super durable, with ground-gripping tires.

Driving one of these machines would require a tone of experience. Even if you are already a good driver, you would still need the training to handle one of these beasts. Are you a fan of this particular construction vehicle? Do you savor having one of these construction sets as a monument? You can have all you desire and more with the Lego 6+6 Volvo Articulated Hauler 42114 set. This set comes with an authentic design to help keep any Lego builder engaged. If you have seen the Volvo Articulated Hauler before, you would appreciate how closely this Lego set replicates it. You can enjoy putting this set together yourself, or you could gift it to a friend who loves Lego construction sets. The Lego 6+6 Volvo Articulated Hauler set also has a fantastic building experience. In this blog post, we will be dicussing not only at the building experience of this set but also at its unique features. Let's start, though, with the sets building experience.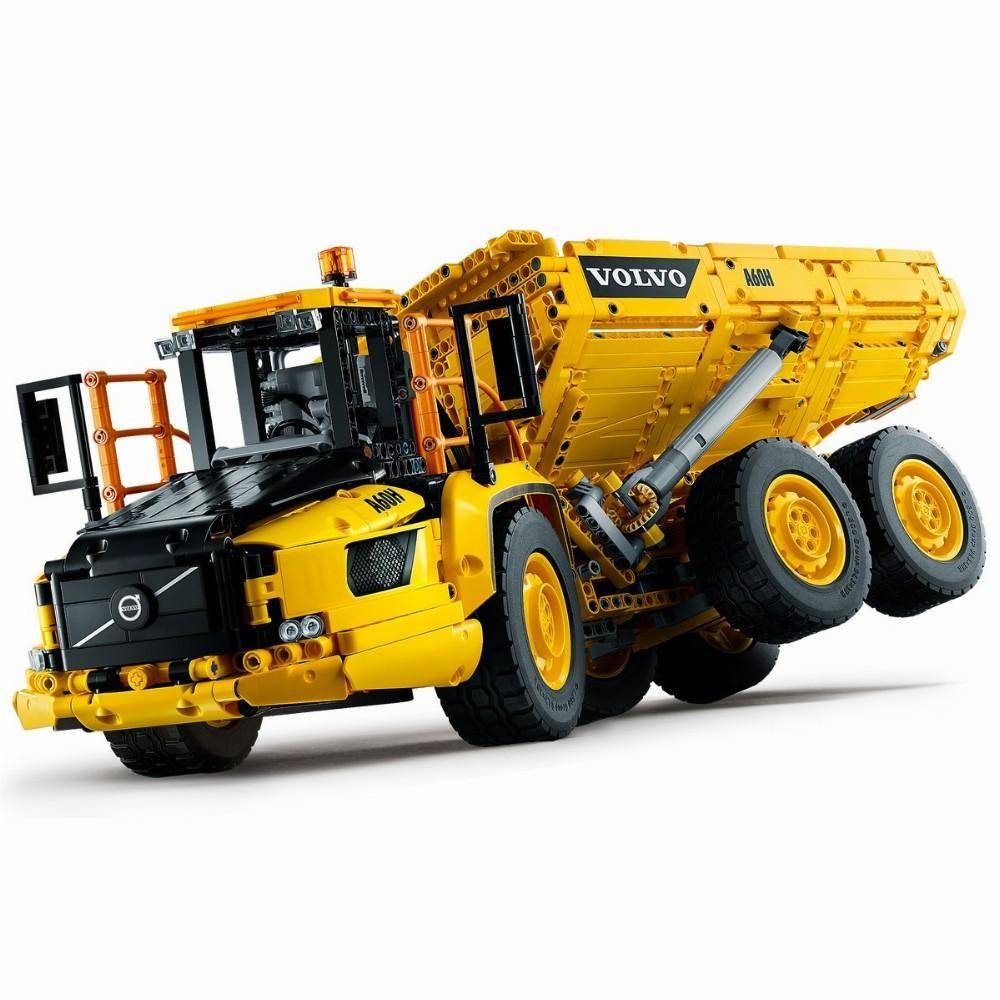 BUILDING EXPERIENCE FOR THE TECHNIC LEGO 6+6 VOLVO ARTICULATED HAULER 42114 SET.
This Lego technic construction set comes with realistic details that would be fun for kids and adults to put together. This set comes with recognizable parts that you can build with Lego brick elements. Bring the sets powerhouse to life, design the engines, and mount the tires. Make this set look as close as possible to its real-life counterpart. To get the most out of the building of this set, it would be best for you set out a specific time to bring this set to life. Also, make sure your pick a place with little or no distractions. Then carefully examine each Lego piece and know what pieces fit well. If you successfully bring this Lego set to life, you could also engage in excellent role-playing, perhaps working on your construction project.

Lego has added another cool feature to this set to help ensure your building experience is as smooth as possible. This nifty feature is a well-drafted building manual. This manual is designed to help make your installation process easy. So before you rush in and start building, take your time to go through all the Lego set's instructions. Once all the instructions are clear, you can move on to the building. If you follow all the instructions from the sets manual, you will enjoy building this Lego set. Overall this Lego set will offer you a satisfying building experience. And once you are done building this Lego set, you could also decide to put it on display on your office table or living room table. Another thing that makes this Lego set fun to build is its incredible features. The following section will shed light on what those features are.
BREATHTAKING FEATURES FOR THE LEGO 6+6 VOLVO ARTICULATED HAULER 42114 SET.
● A LEGO TECHNIC CONTROL APP.
Unlike some Lego Technic sets that only offer a satisfying build, this set does more than that. This Lego set comes with a control app that makes role-playing fun. Enjoy driving this set around your Lego city construction site with the help of the Lego Technic Control app. You can download this teriffic app from the Lego online store as you purchase the set. The app helps you take total control over your Lego set. With the app's help, you could move your set forward, backward, left, right, and even make sharp turns. You could also reverse, change speed gear, and offload your hauler bucket. Kids get the free hand to customize their dashboard on the app, making it more like them. With this cool feature, you could keep yourself and your kids entertained for hours.
● A BUILDING CHALLENGE.
Lego sets have been known to really help promote brain stimuli. And can help improve memory strength for both kids and adults. This Lego set comes with original features that could be brought to life by you. But in other to do this successfully, you would need to exert some brain function. You would be charged to get features like the engine, body design, tires, and even interior look. This Lego set is like a fun puzzle with over 2000 pieces that you could put together with effort.
● TOP-QUALITY MATERIALS.
This Lego set is made from the best quality materials and is easy to work with. All Lego bricks are tested to meet the Lego industry's high company standards. You can expect all Lego bricks to be highly compatible, easily attached, and detaching. The materials used for this set are also tested to ensure they are not a hazard. So you can rest assured that this Lego set is safe for your use and that of your children.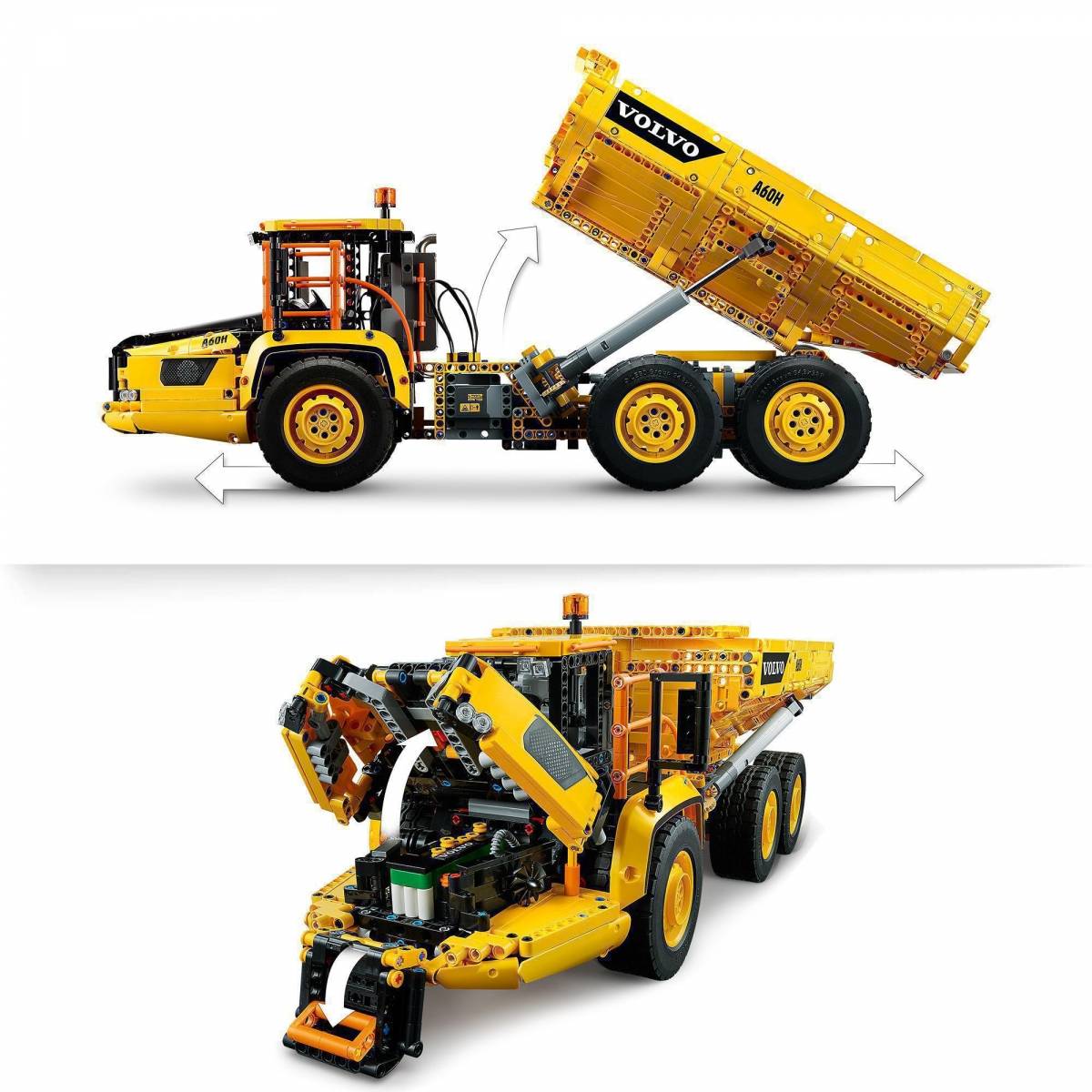 ● SET RATIO.
The Lego Volvo Articulated Hauler set could be classified as a medium-size set. The set comes with a total of 2193 brick pieces. The set also comes with other cool features that help make the set complete. This Lego set measures about 7 inches high, 23inchess wide, and 7 inches deep when fully put together. This ratio makes this Lego set good on display on your construction office table.
● SET PRICE.
You must want to get yourself one of these Lego set by now. You could purchase these Lego sets from any Lego store near you. But if you do not have access to a Lego store, you could get this Lego set directly from the Lego website, leg.com. Getting this set from the Lego website would save you a lot of money on transportation. Lego offers free shipping for each set purchased from their online store. The Lego 6+6 Volvo Articulated Hauler set is sold for about 249.99 dollars. The building instructions and access to the Lego Technic Control app. Make your set even more appealing with our Lego light kits. How? Let's find out.
MAKE YOUR LEGO 6+6 VOLVO ARTICULATED HAULER 42114 EVEN MORE ICONIC WITH OUR GAME OF BRICKS LIGHT KIT.
Make your Lego set the talk of the town by attaching our unique light kit feature to it. Our light kits are specifically designed to be compatible with each Lego set. So every Lego set has a light kit that would work perfectly; this includes the Volvo Articulated Hauler set. Visit our online store www.gameofbricks.com, to get a light kit compatible with your set. Now that you have purchased your light kit, how can you safely install them? Follow these simple steps to achieve maximum success.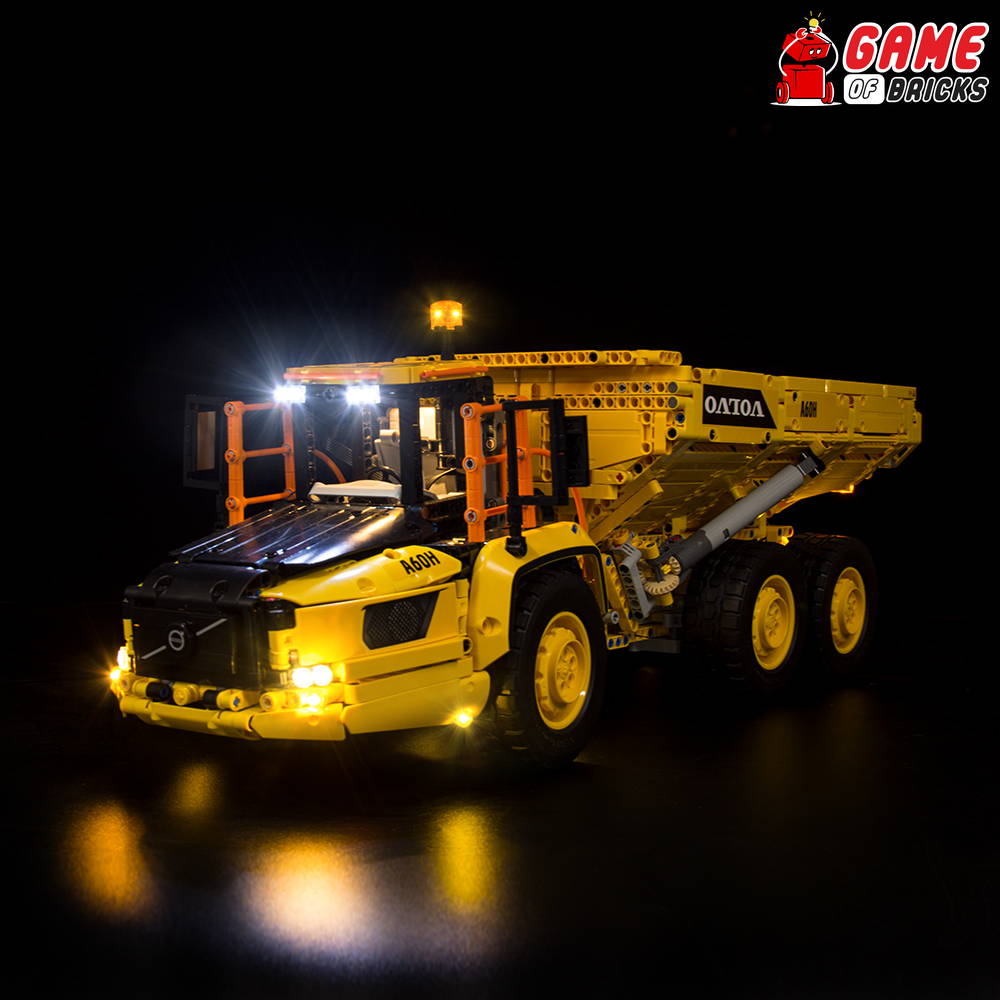 1. Inspection.
Once all your light kits arrive, carefully inspect them to ensure they function correctly. Light kits have been seen to sustain shipping damages because of how delicate they are. So if you notice any shipping-related challenge, do not hesitate to get it changed using your 30days warranty card. Once all your equipment seems to be in good shape, you can now try to install it.
2. Use manual.
As you try to install your Lego light kit, it would be best if you make good use of the set's manual. All instructions are easy and straight to the point, making understanding easy. But as you make use of the manual, remember to handle your light kits and accessories with care. Remember, your Lego light kits are very delicate and can quickly get damaged. So to prevent this from happening, make sure to be gentle with your Lego lights.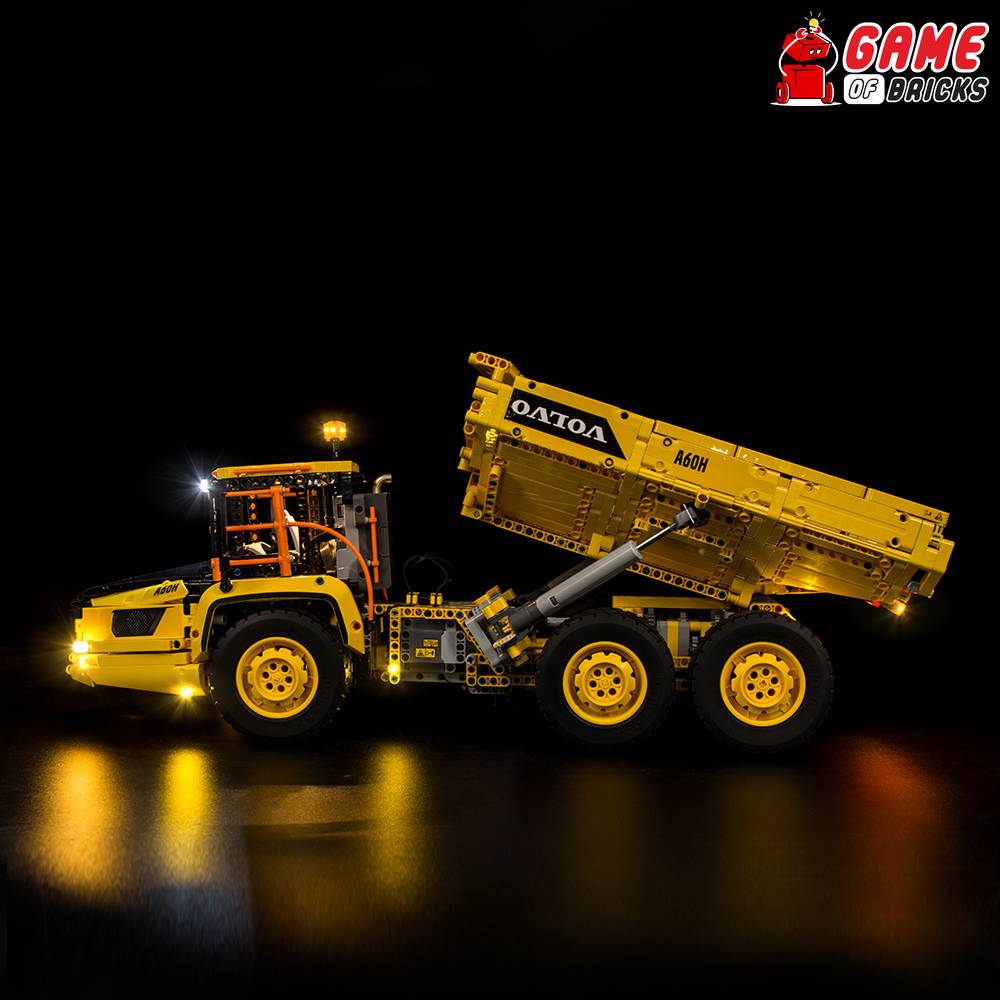 3. Test run.
Once all light kits have been safely installed, it would be best to test them out before using them. Light kits work with electricity, so you want to make sure your delicate equipment is also safe for use. As you test your light kit, search out for sparks and signs of short-circuiting, as this could help you detect where the problem is coming from. Once you discover the fault, make sure to fix it immediately. Once you have successfully tested your light kit, put it on display to see!
---