LEGO Roller Coaster 10261: An Exhilarating Build Experience
By

Eve Alessa Arevalo
/
August 27, 2023
Introduction
There's a certain allure to the classic roller coaster - a sense of nostalgia for the golden age of amusement parks, the thrill of the chase, the excitement of the ride. LEGO has captured this essence beautifully with the LEGO Roller Coaster 10261, a part of their expert Creator series. This set promises a delightful blend of building complexity, authentic details, and endless fun. Let's dive into what makes this set a standout.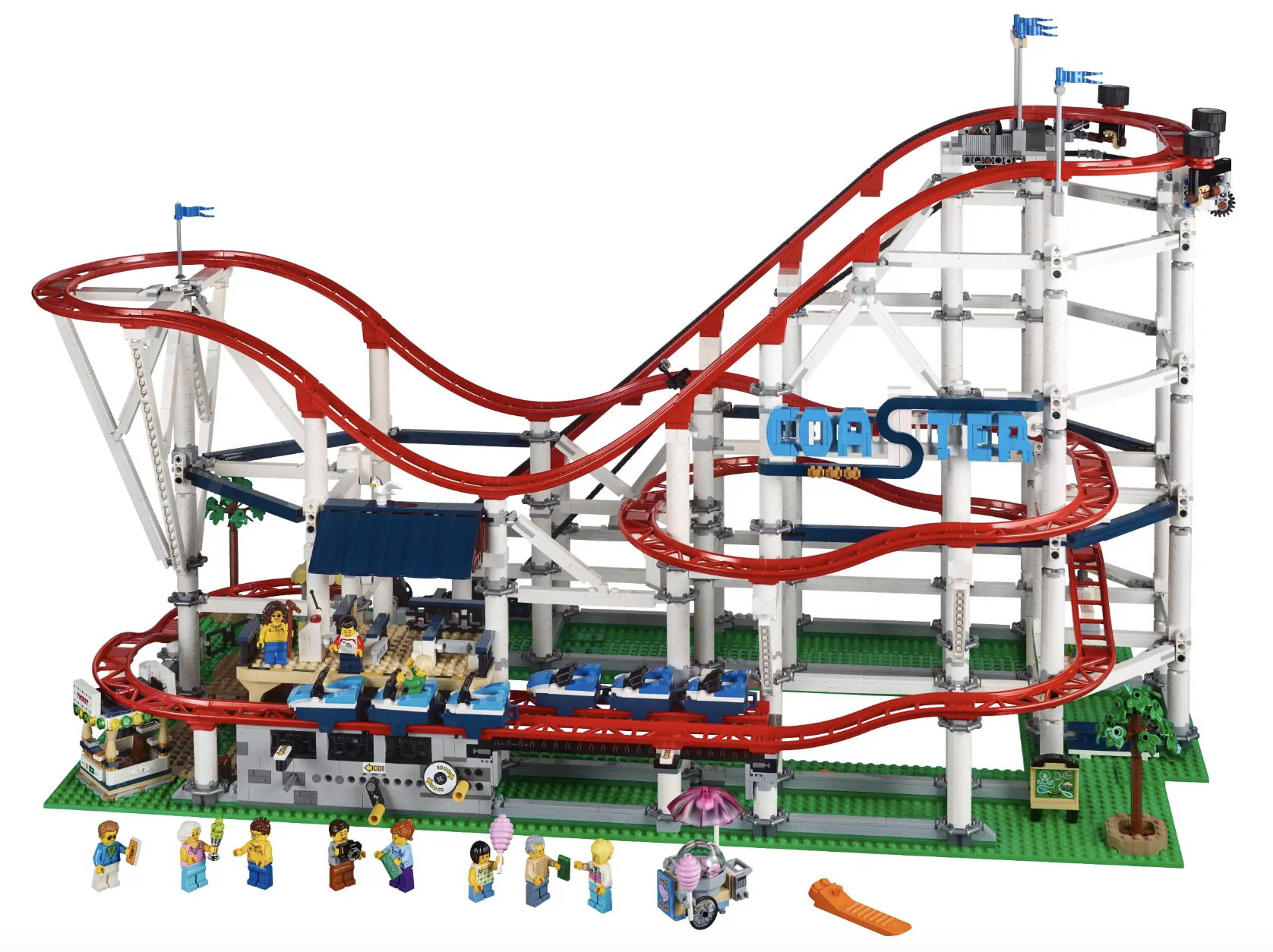 a. Main components or areas: The set is a beast, not only in size but also in design detail. Upon completion, you'll find a fully functional chain-lift roller coaster with two trains. The coaster's design is impressive with its twists, turns, and towering build. Accompanying the primary attraction are a ticket booth, a cotton candy cart, and a fountain.

b. Minifigures: To add life to the scene, LEGO has provided 11 minifigures, including riders, park attendees, and even a cotton candy vendor. The emotion-packed faces of these figures range from ecstatic thrill-seekers to a slightly terrified gentleman – which adds a touch of humor.
c. Accessories and decorations: The set's attention to detail shines in the smaller elements. The cotton candy cart with its vibrant colors, the photo booth to capture the memories of the thrilling ride, and even a height marker provide authentic amusement park vibes.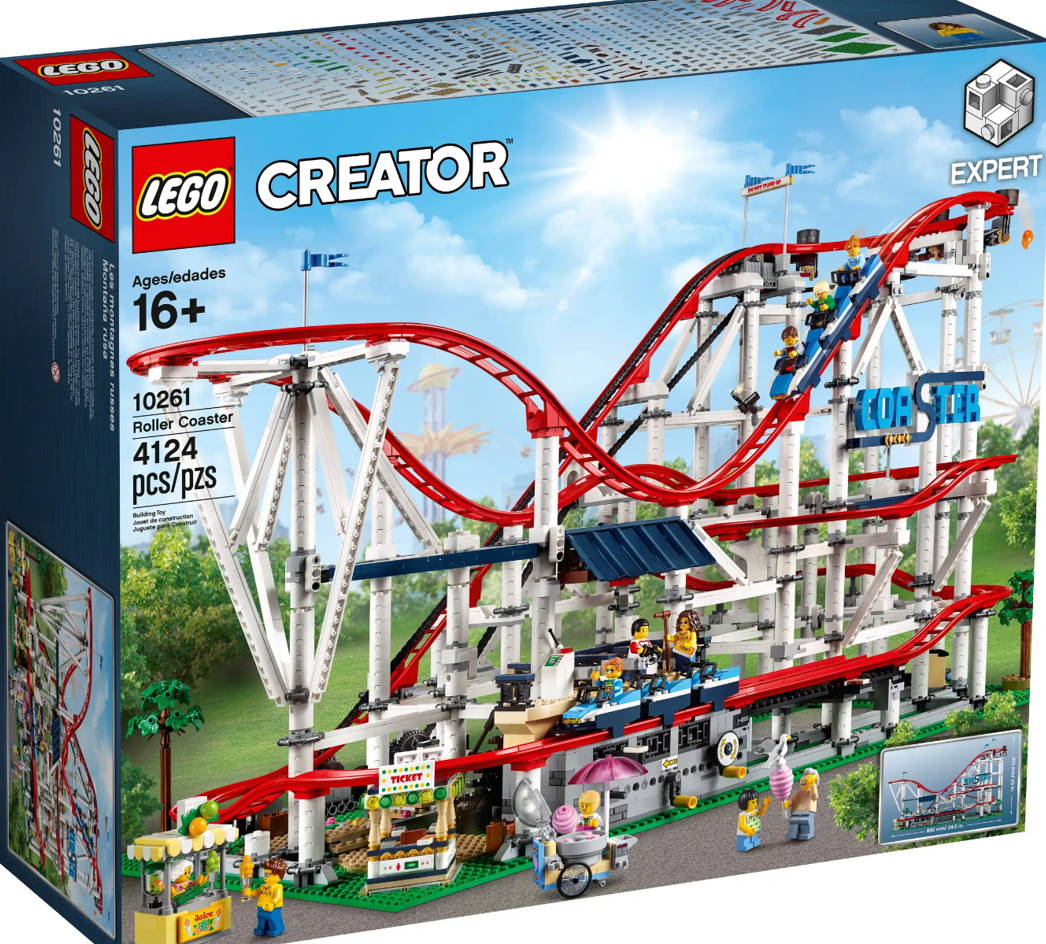 a. Complexity and engagement: The Roller Coaster 10261 isn't a beginner's game. With 4,124 pieces, it challenges builders with its intricate designs, especially in the roller coaster mechanics. But for those who thrive on complexity, this build is an engaging journey. The sense of accomplishment as the roller coaster takes shape is unmatched.

b. Instruction manual and building process: LEGO's instruction manuals have always been the gold standard, and this set is no exception. The step-by-step guide is clear and detailed, ensuring a smooth building process. The manual's clarity ensures even the complicated sections, like the chain mechanism, become manageable for builders.
Guess what? You can make the Father's Day event a LEGO-themed one! Well, how's that possible? It doesn't mean you should fill up the house with LEGO bricks? You can just give your father a LEGO-themed gift. There are several ideas you can use to make that special gift. While you can get already made LEGO-themed gifts for your dad, you can also decide to make one yourself. Sit back then, unleash your inner creativity, and get to work with these lovely LEGO-themed Father's Day gift ideas.

Playability and Entertainment Value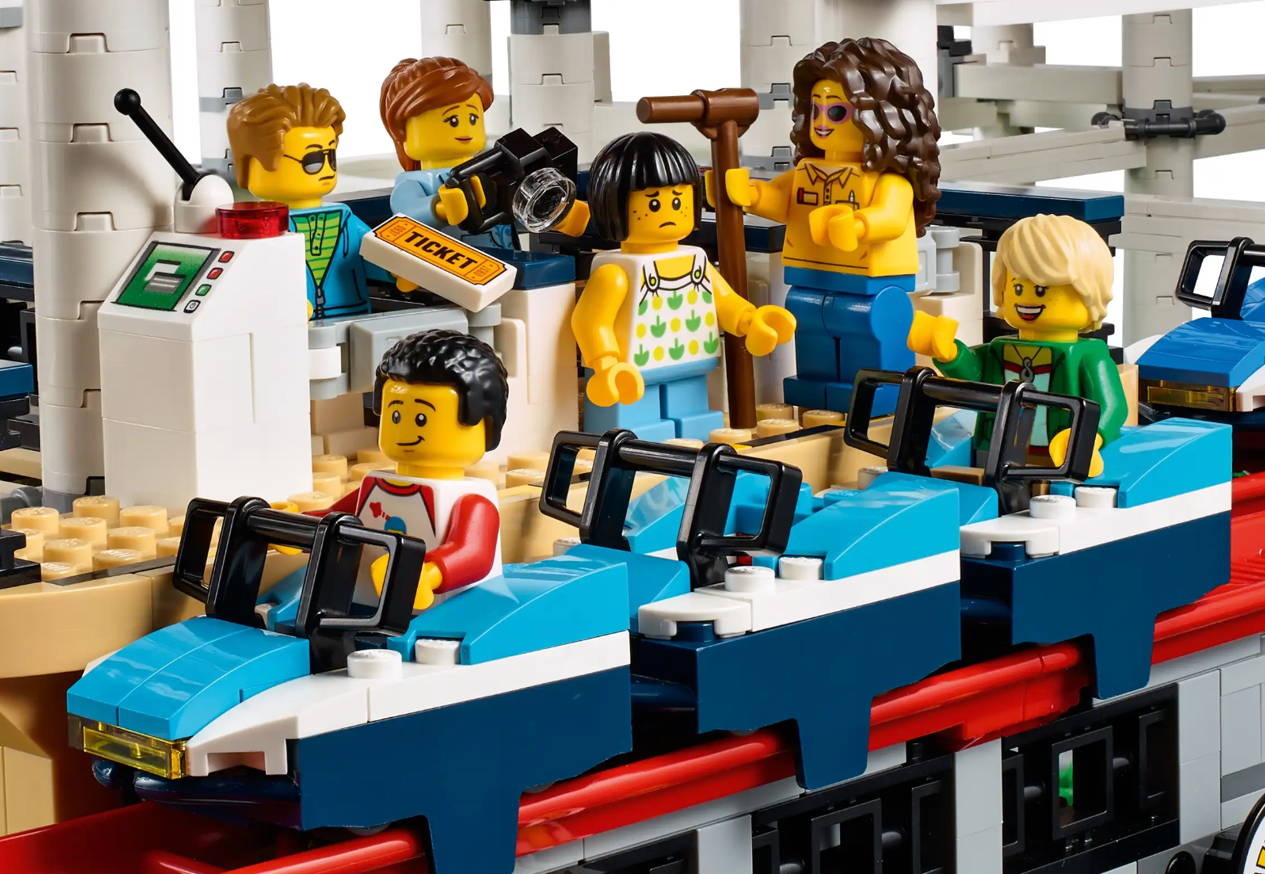 a. Interactive features: This isn't just a display model. The hand-cranked chain lift mechanism can be upgraded with LEGO Power Functions or even the LEGO BOOST for automation. This ensures the roller coaster is in motion, elevating its entertainment value.
b. Opportunities for imaginative play and storytelling: With the diverse minifigures and scene-setting components, there's ample scope for imaginative play. Children (and adults!) can concoct stories of thrill-seekers, first-time riders, or even an adventurous date!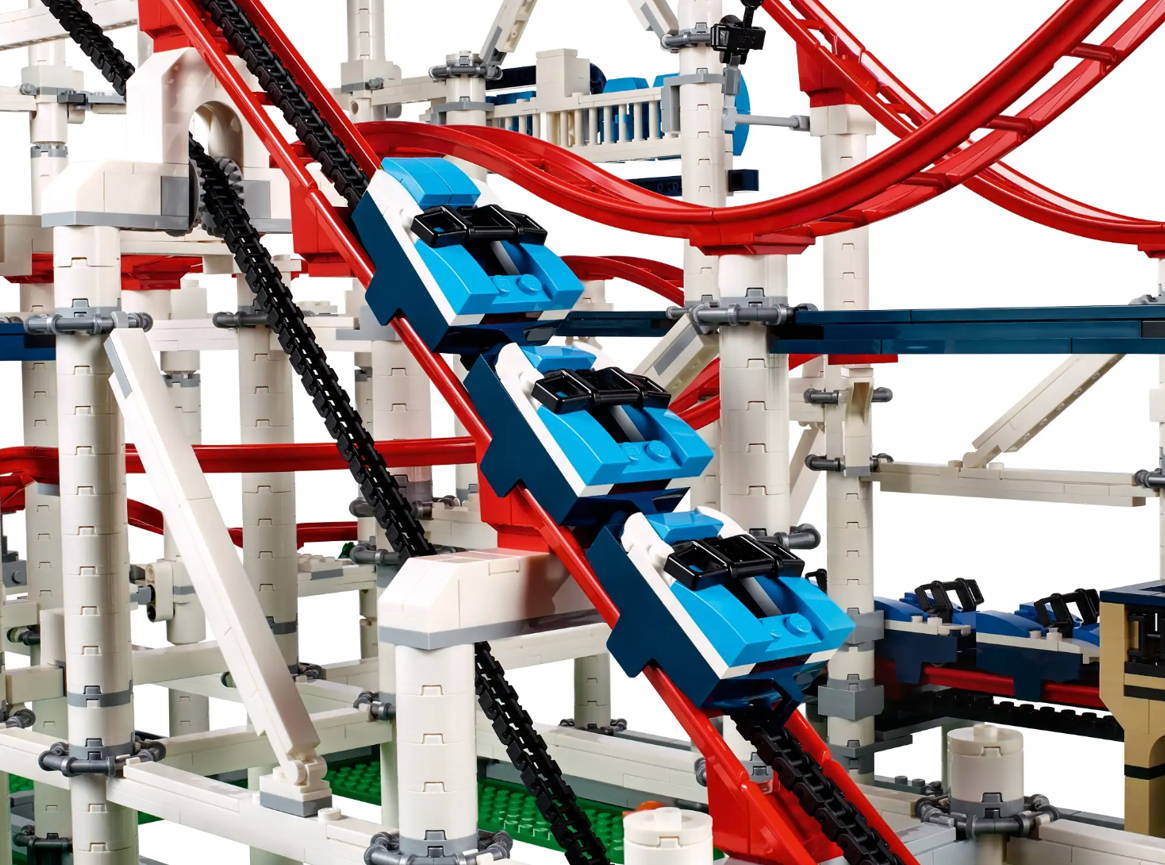 a. Number of pieces and design: With over 4,000 pieces, the set provides a substantial building experience. The intricate design and functionality justify the price. This is not just a LEGO set, but a mechanical marvel that integrates design genius with playful elements.

b. Compatibility with other LEGO sets and themes: The neutral design of the amusement park theme allows for integration with other LEGO sets, particularly City or Fairground sets. Expand the park, add rides, or even integrate a LEGO train system. The possibilities are endless!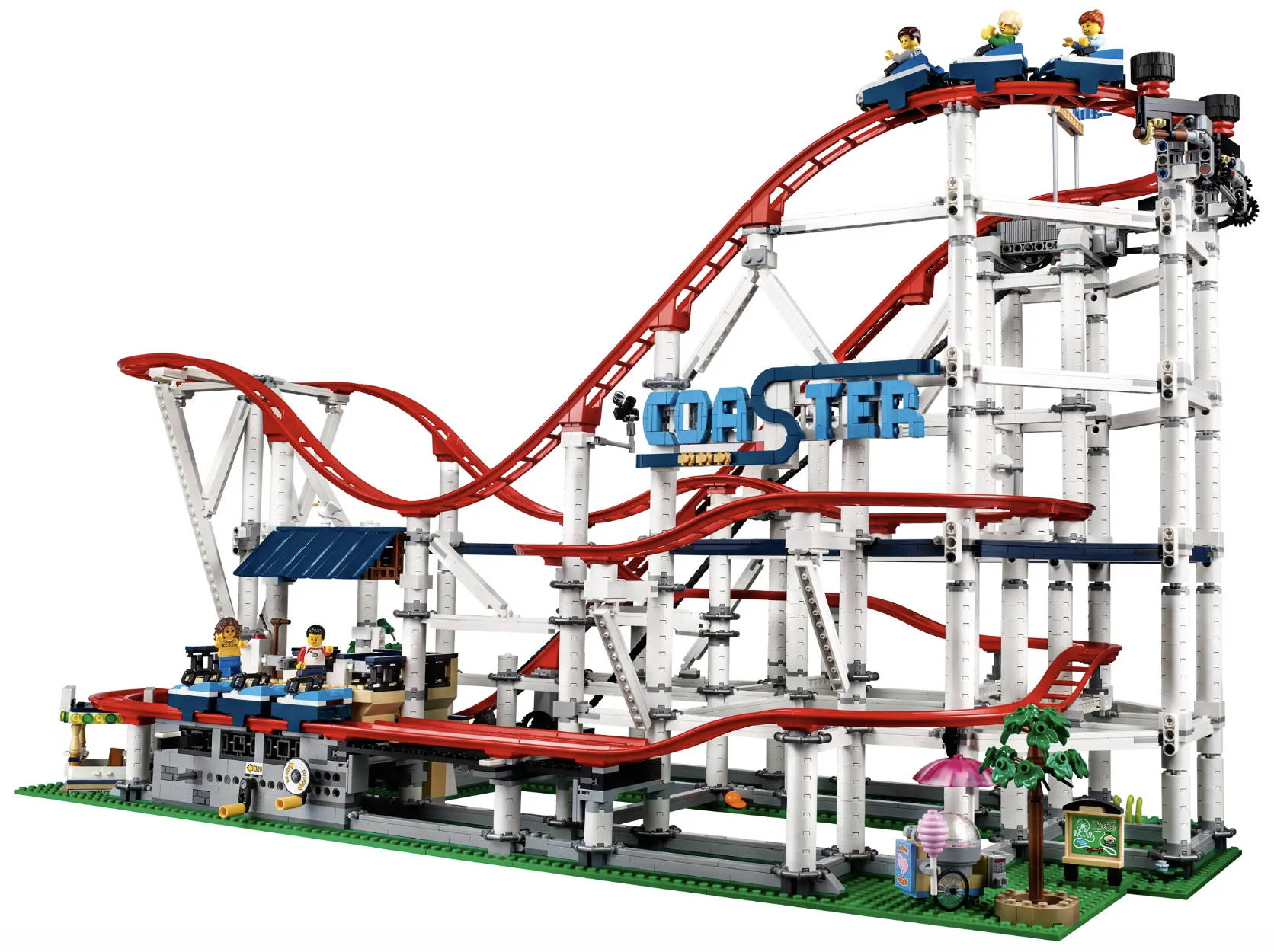 a. Pros:

• Highly detailed design and functionality.
• Offers a challenging and engaging build experience.
• Provides both playability and display appeal.
• Compatible with other LEGO sets.
b. Cons:
• The price might be steep for some.
• Requires careful attention and patience, potentially overwhelming for younger builders.
• Manual operation, though upgradeable, could have been motorized in the base set.
Final Thoughts and Recommendations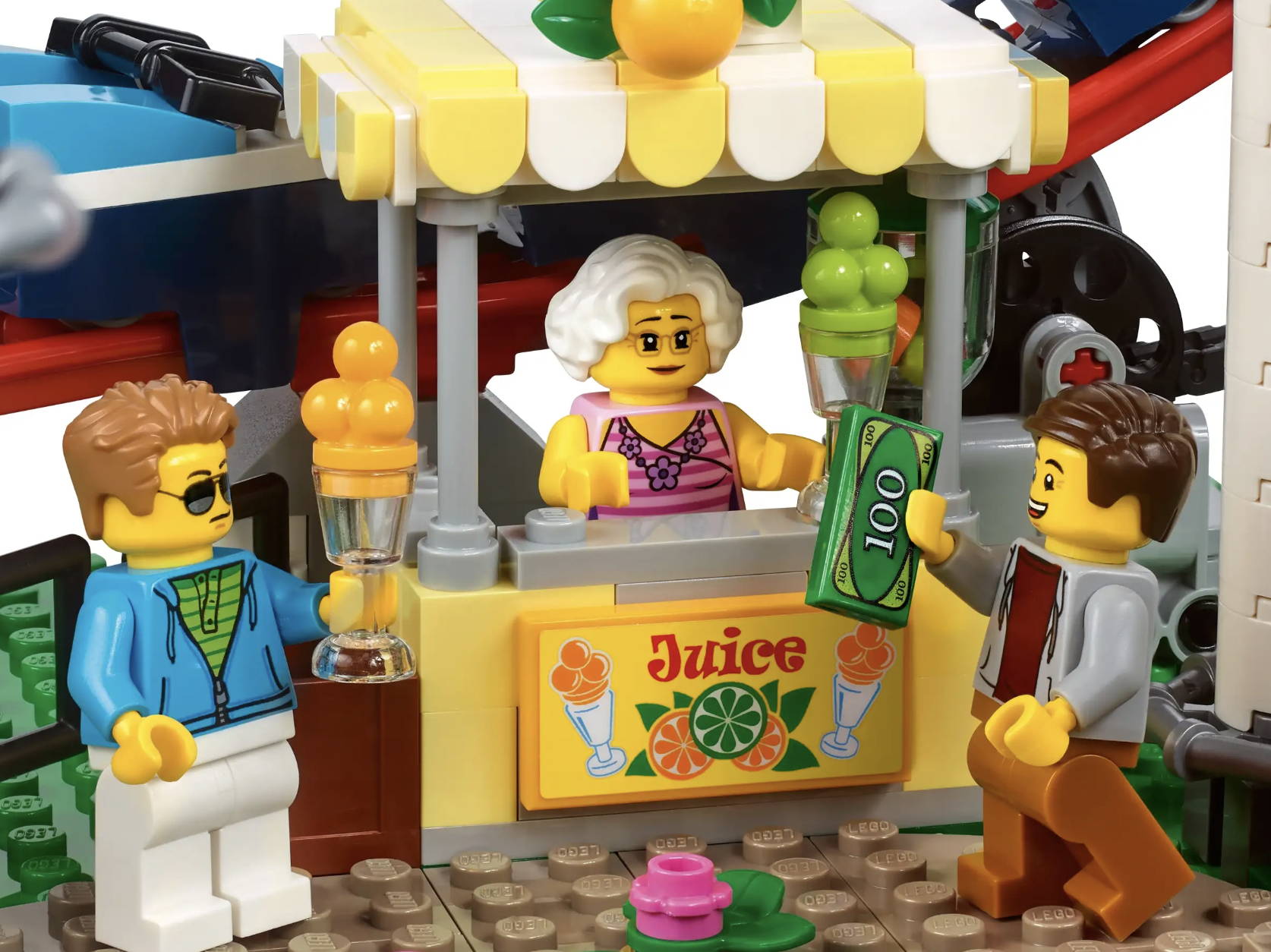 a. Summary of the set's appeal: The LEGO Roller Coaster 10261 is a perfect blend of complexity, functionality, and playfulness. For those who cherish the feeling of nostalgia tied to amusement parks or the pure joy of an intricate build, this set is a dream.

b. Target audience and overall value: While children can find endless play possibilities, this set will particularly resonate with adult fans of LEGO (AFOLs). The design, details, and the mechanical aspects offer an immersive building experience, ensuring it's worth every penny.
In conclusion, the LEGO Roller Coaster 10261 is an exhilarating journey from the first brick to the last and beyond. Whether you're building, playing, or displaying, it promises and delivers joy. If it aligns with your budget and you're up for the challenge, this set is a must-have!
Lighting Up the Ride with Game of Bricks Light Kit for Roller Coaster 10261
The exhilarating world of LEGO has long been the canvas for creative minds, and the Roller Coaster 10261 stands as a testament to such imagination. But how can we make this iconic piece even more captivating? Enter the light kit by Game of Bricks. It promises to illuminate our favorite coaster, but does it deliver? Here's my comprehensive review.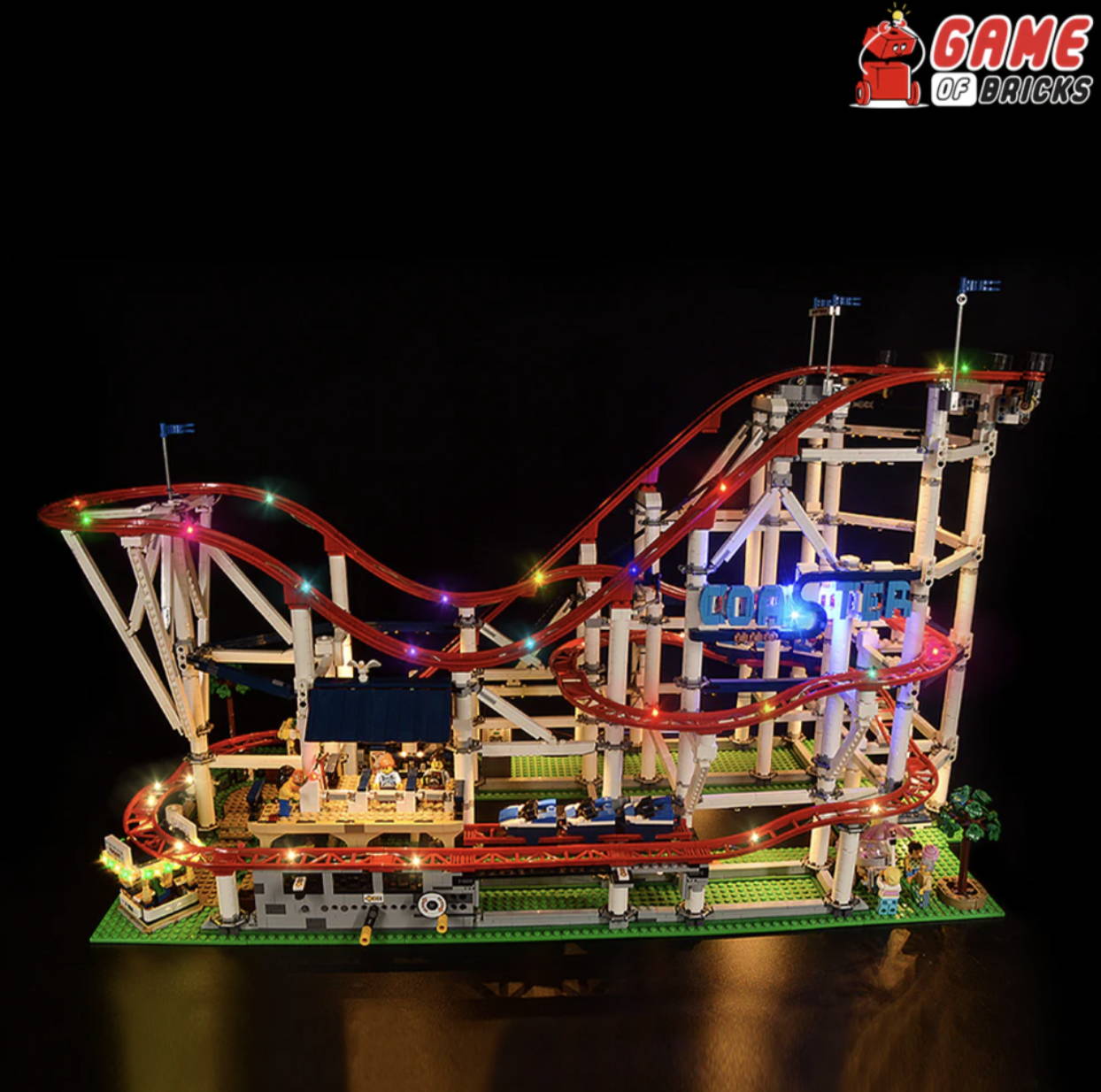 Easy Installation
One of the first things I appreciated about this light kit was its ease of installation. While the Roller Coaster 10261 itself might have been a challenging build for some, adding the lights was pleasantly straightforward. The kit comes with a clear manual, detailing each step with precise imagery and instructions. Even if you've never used a light kit before, Game of Bricks makes the process intuitive. It's evident that they have user experience in mind.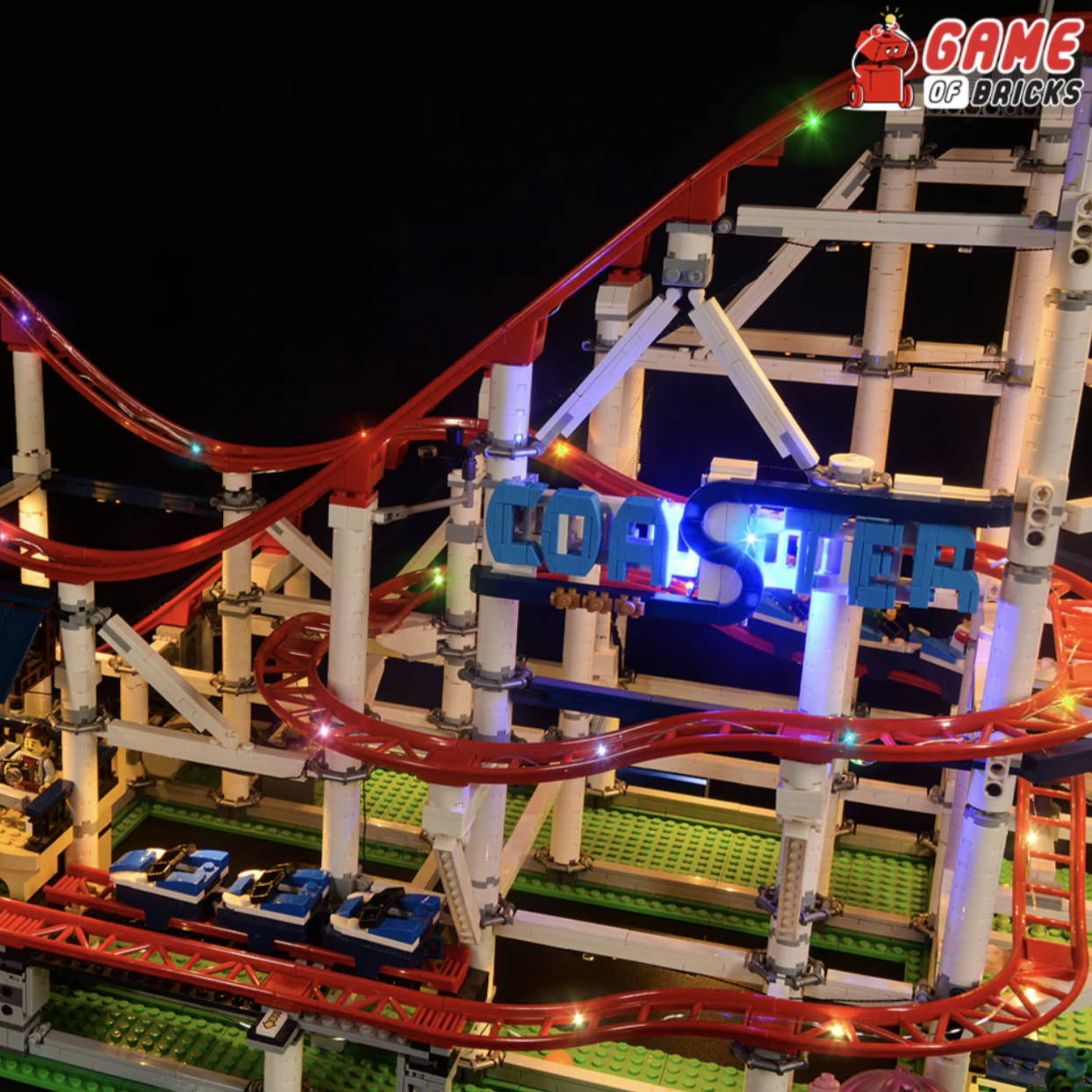 Enhanced Details
The true magic unfolds once the lights are on. The Roller Coaster 10261, in its intricate grandeur, transforms into an even more majestic model. The lights meticulously target the tiniest of details, ensuring every part of the coaster shines. From the strategic placement of lights in the coaster's cars to the ambient illumination of the track, this kit has been crafted with an eye for detail.
Customizable
An added bonus? The Game of Bricks light kit is not a one-size-fits-all package. You're given the freedom to customize the light arrangement according to your preference. Want a more dramatic effect with increased contrast? You can do that. Or perhaps a more subtle, understated glow is your thing? The kit caters to that too. The range of colors and adjustable brightness levels provide a wide spectrum of possibilities.

Durability

It's not just about the looks; the durability of this light kit is equally commendable. After several months of usage, the LEDs still shine as brightly as they did on day one. Moreover, the wires are discreet but robust, ensuring that they don't snap or fray easily. Game of Bricks seems to have invested in quality components, making sure that the lights last as long as your love for the coaster.
Minor Downsides
However, no product is without its minor flaws. Some users might find the battery pack a tad bulky, potentially disrupting the overall aesthetic. A more streamlined power source would have been welcome. Additionally, while the installation is generally easy, routing some of the wires can be a tad tedious, especially in the more cramped sections of the coaster. A bit of patience is necessary.
To wrap it up, the Game of Bricks light kit for Roller Coaster 10261 is a magnificent addition to an already impressive LEGO model. The ease of installation, enhanced detailing, customization options, and durability make it a worthy purchase. Despite the minor downsides, the transformation it brings to the Roller Coaster 10261 is nothing short of magical. For those looking to add a touch of enchantment to their LEGO creations, this light kit is a shining example of how it can be done.