Relive epic star wars bounty hunter the Mandalorian moments when you build the LEGO RAZOR CREST 75292 set.
By

Eve Alessa Arevalo
/
October 15, 2022
There have been many amazing air crafts throughout the Star Wars movie. These crafts were designed several times to help Star Wars soldiers have a better advantage over their enemies. The Razor Crest was one such Craft. It was captained by a Mandelorean Bounty hunter named Din Dujardin. The Star wars war crafts' first appearance was in Chapter one of the Star Wars movie, " The Mandalorean." The Star Wars Airship achieved lots of success in the war. The Craft also contained many cool features, making it efficient for war fairs. Were you a huge fan of this Star Wars Aircraft? Will you love to have a replica of this Craft as a souvenir? If yes, you will love Lego's new set addition, the Lego Razor Crest 75292 set.

The Lego Razor Crest set was launched on the 7th of October, 2022. The set has seen a lot of success among Lego fans who love great details and the Star Wars Mandalorean movie. The Lego set has been designed to perfectly replicate the look and design of the Lego actual Razor Crest of the Star Wars movie. The Lego set is designed to offer young and old builders a fun and engaging experience. The set also offers additional features which make it stand out as a collector set. The set can be a good addition to your Star Wars collection. And if you have kids who are huge fans of the Star Wars movie, you can give them this Lego set to help keep them engaged while participating in other activities. The Legos set also offers a great building experience. The next section will focus on that.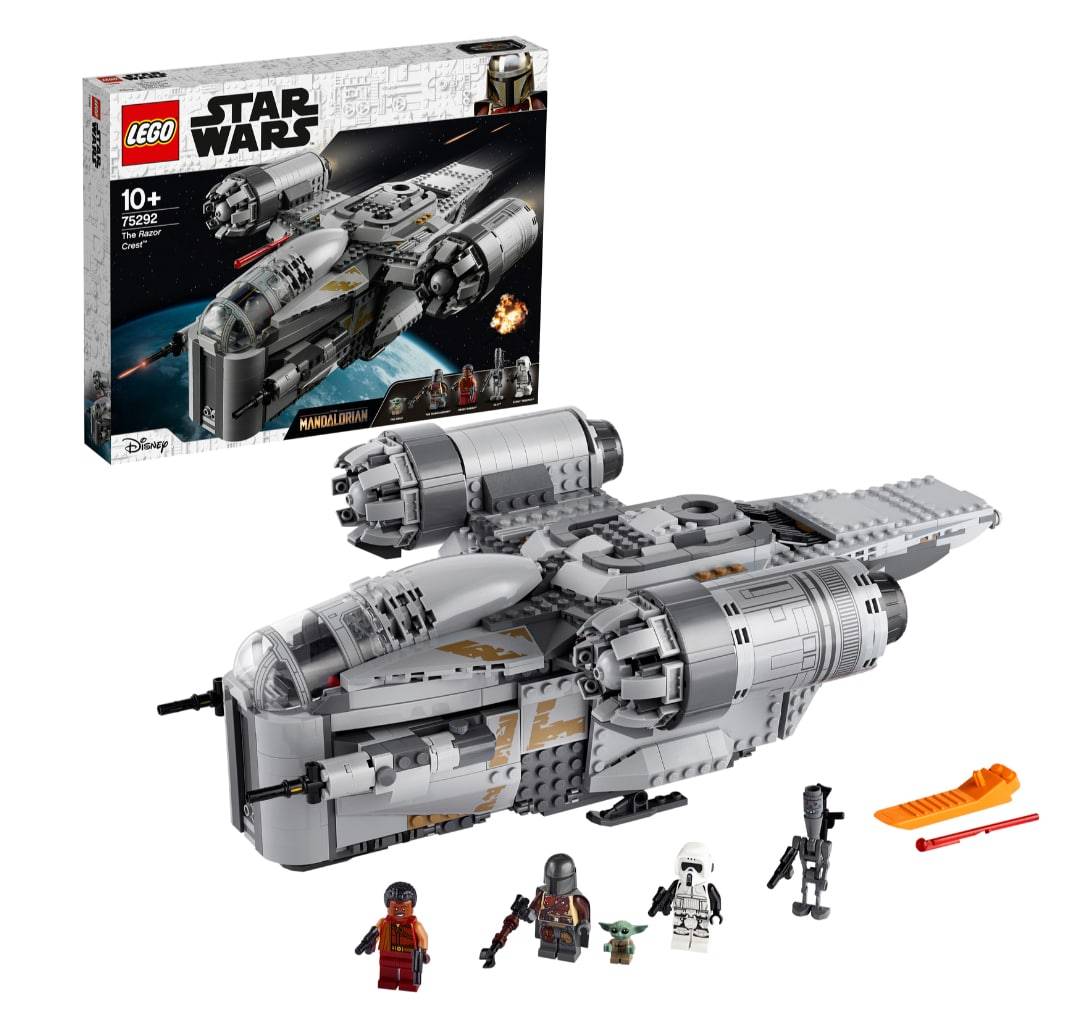 AN AMAZING BUILDING EXPERIENCE FOR THE LEGO RAZOR CREST 75292 SET.
The Lego Razor Crest set is a huge Lego project with over 1000 brick pieces. The set comes with a nice packaging style which will help put you in the mood of the building. The Lego also set well. Organized into numbered bags designed to help you know where each Lego brick piece is and which one to you at any stage of building. You will start the building of this Lego set with a brick plate which will serve as the set's base. Once you have developed the base of the set, you can now advance to building out the set. As you build the Lego set, you will notice the number of technics used to make the set building possible. These technics make the building of the Lego set fun and engaging. And to get even more out of your building experience, try playing the theme music from the Star Wars Mandalorian movie to help get you into the mood for war.
The Lego Razor Crest set also comes with a set manual. This manual contains features to help new and old builders get the best out of the set. The manual contains a lot of valuable info on the set, including all the work the Lego team put into the set to make it available for users like you. You also get information on why certain parts were designed the way they were. You also get a diagram of the set that, in detail, explains all the features and parts of the set. The information helps me understand how the building should go, and I appreciate the set even more. If you are a new builder working with Lego sets for the first time, it will be best for you to take time to read through the manual. Doing so will give you a better understanding of what you are getting yourself into, including how to bring this set to life successfully. Overall, the Lego Razor Crest set will be fun to put together. So don't let the many brick pieces intimidate you. Because with the Lego sets manual, you can bring this set to life. Aside from an amazing building experience, the Lego Razor Crest set also offers cool features. Let's find out more in the next section.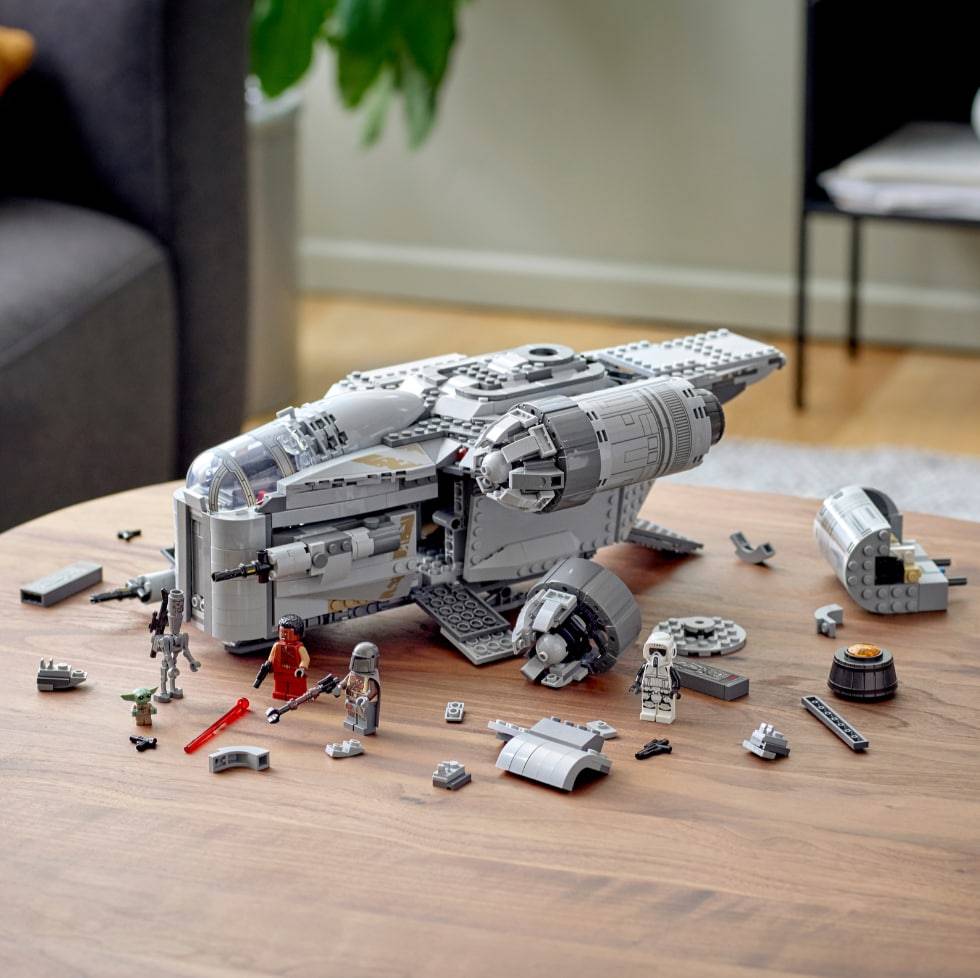 AMAZING FEATURES FOR THE LEGO RAZOR CREST 75292 SET.

GREAT DISPLAY.
The Lego Razor Crest set is well-detailed and looks exactly like its movie counterpart. The set features a sizable display with two exhaust pipes, spring-loaded shooters, a cargo holder, a carbonite, and a detachable escape pod. The set also offers internal details, which include an open cockpit that is sizable enough to hold minifigures. The Lego set also comes with a display board that features from the Lego set. All these features make this a great display set. So if you are in looking for a cool Lego set to include in your collection, you can include this Lego set in your collection.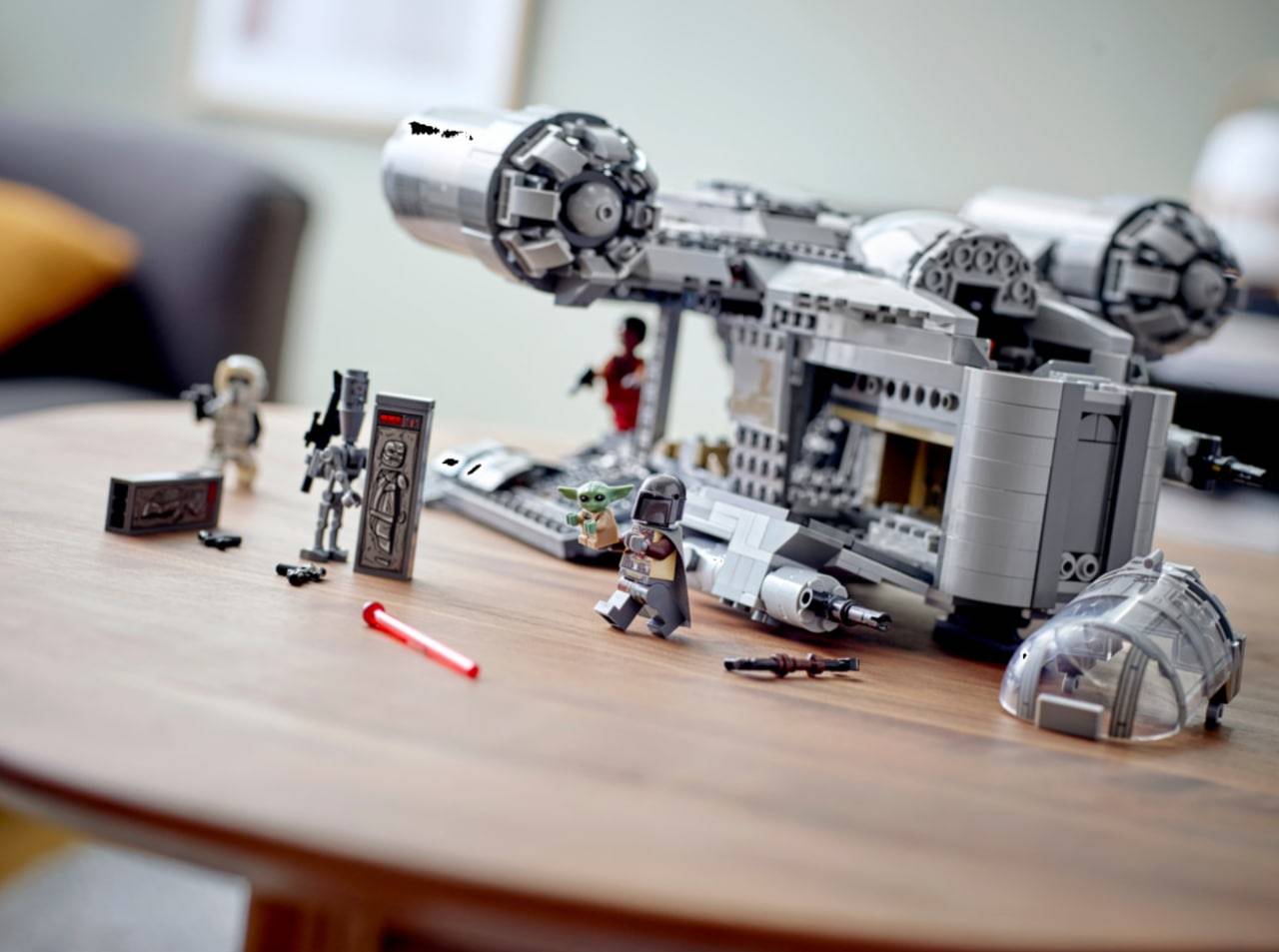 SET MINIFIGURES.
The Lego Razor Crest set also comes with Minifigures. This Minifigures set is taken from real Star Wars Mandalorian movie characters. These Minifigures include The Mandalorian, a Scout Trooper, Greef Karga, and The Child. These Minifigures all come with cool features, including cool weapons, which You can use to engage in amazing role-playing. Adding Minifigures makes it much easier to recreate epic scenes from the Star Wars The Mandalorian. So if you are searching for a set that does more than just a display set, you will surely love this Lego set.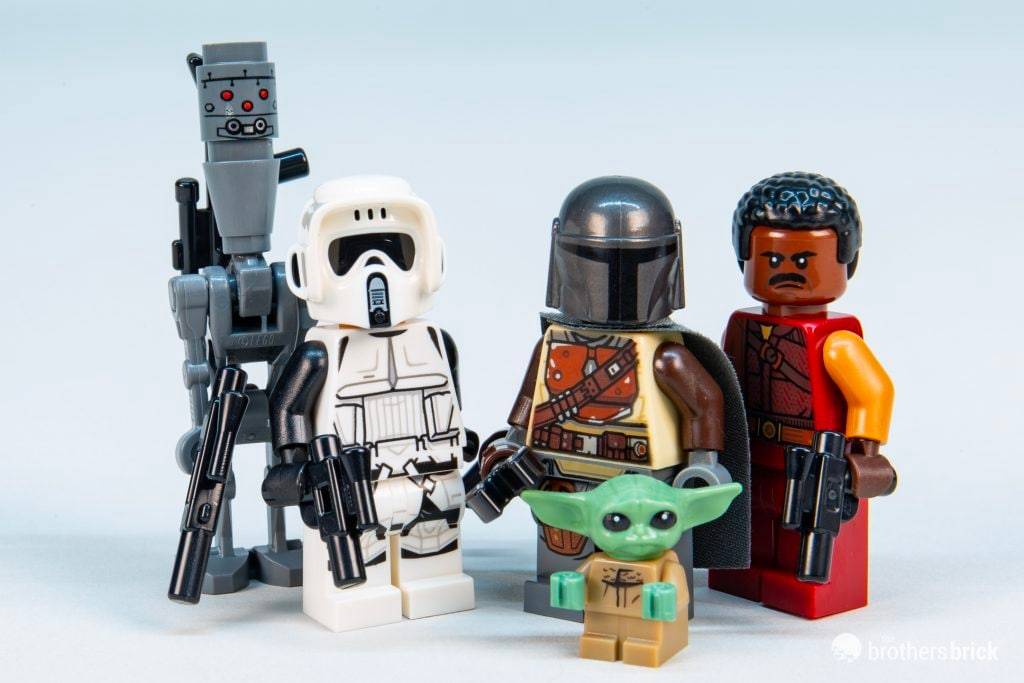 SET SIZE.
The Lego Razor Crest set can be considered a medium size set. The Lego set also comes with a total of 1023 sets. When completely put together, the Lego Razor Crest set measures about 5.5 inches high, 15 inches long, and 11 inches in dimension. This Lego set is the right size for display on your office table or your shelf alongside other Lego sets. Another amazing thing about this set is that You can easily transport it without needing to take it apart. This means you can take this Lego set for long trips for display purposes without needing to dismantle the set.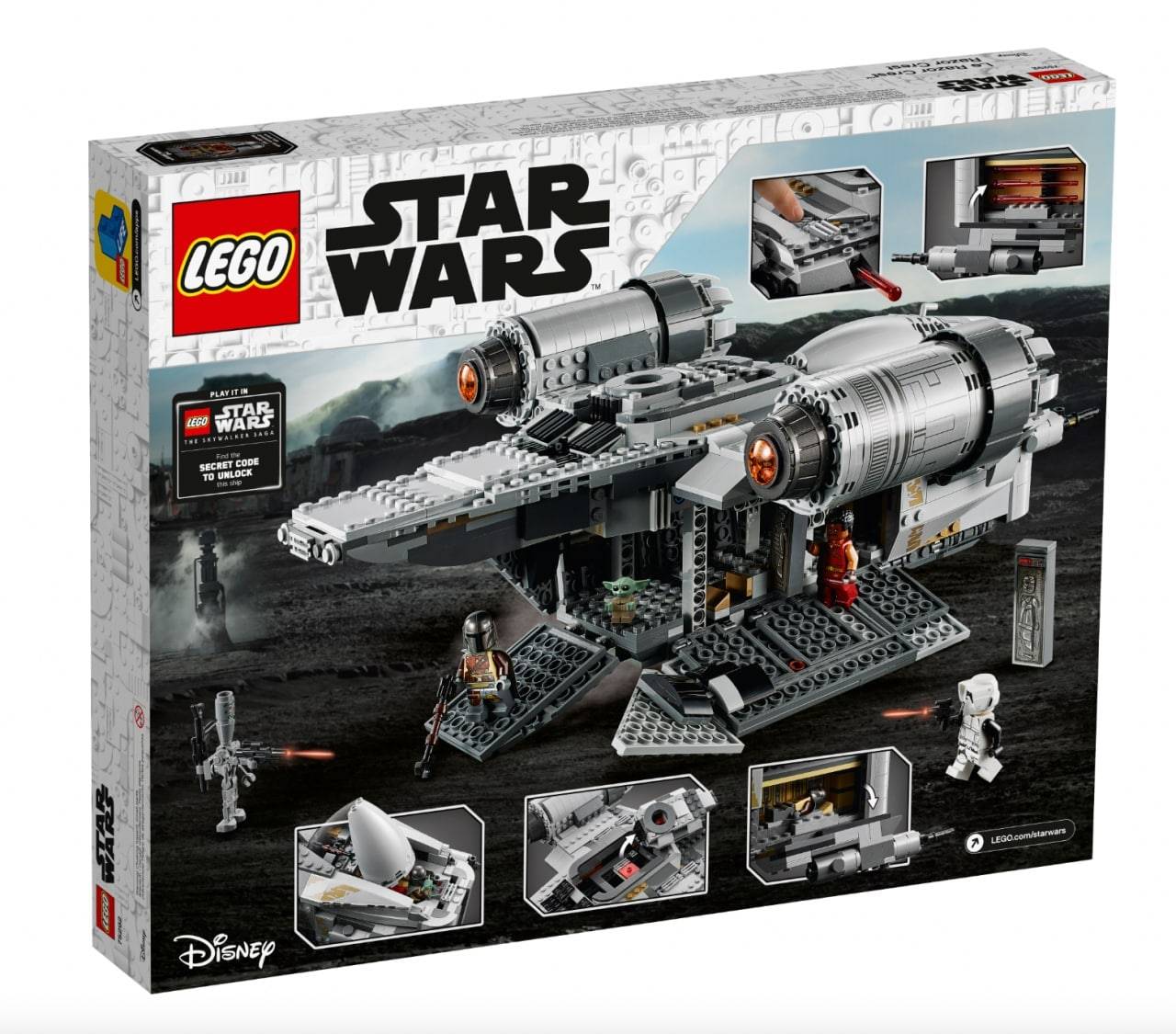 SET PRICE.
By now, you may be wondering where you could purchase this Lego set. You can get this Lego set from Lego stores in the US or other parts of Europe. You could also get the Lego Razor Crest set directly from the Lego website at www.lego.com. The Lego set is available and sold for about 139.99 United States Dollars, roughly about 140 dollars. This set is worth the price, thanks to the number of features you can access. So do not let the price discourage you because once you have successfully built the set, you will see it was worth the price. And to make the set even more valuable, include our amazing Lego lights in your Razor Crest set.


MAKE YOUR LEGO RAZOR CREST SET LOOK EVEN MORE FIERCE WITH THE HELP OF OUR AMAZING LIGHT KITS.
Our Lego lights are designed exclusively for Lego sets. The Lego Razor Crest set has its own Lego lights, which you purchase right here from our website. The Lego set may seem a bit complicated to use for new installers. On that note, we have put together three important steps to help you get the best out of your installation process. So on that note, don't go anywhere.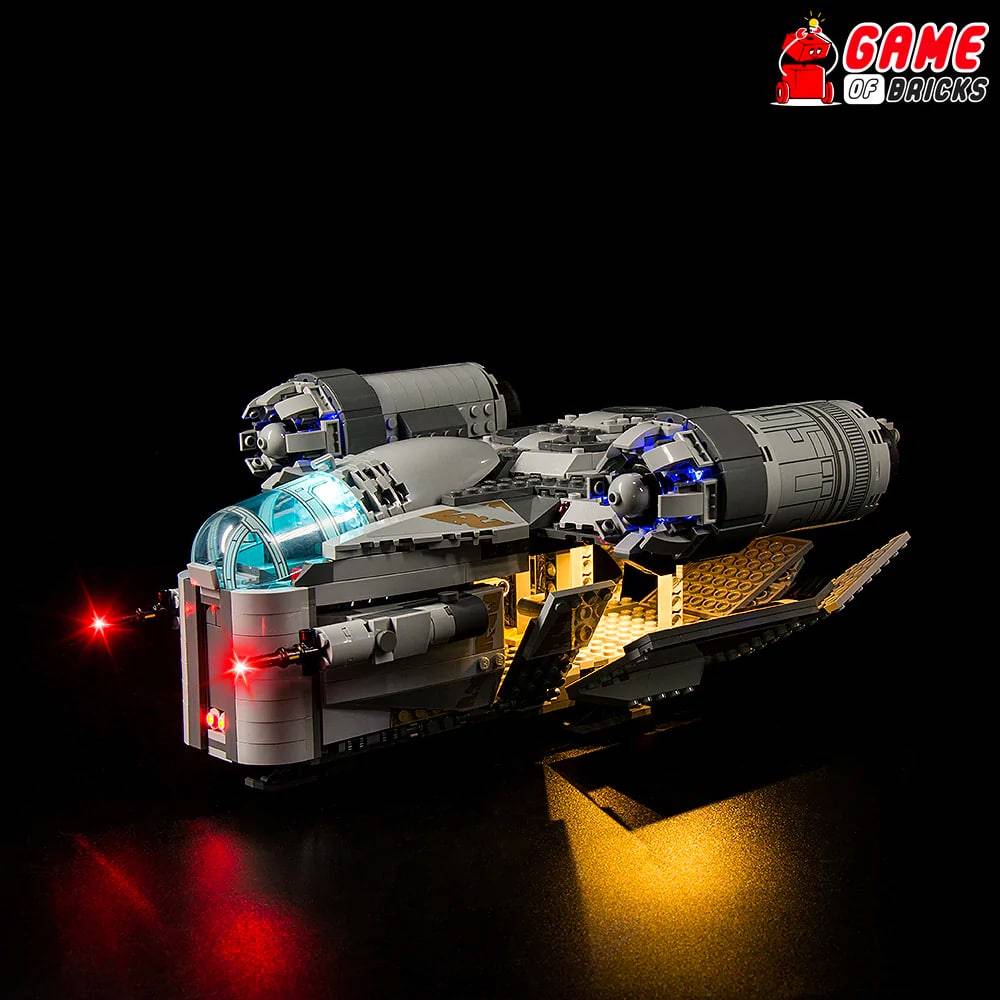 INSPECT YOUR LIGHT KITS.
Once your light kits arrive, it would be best if you take the time to inspect them all. Also, remember that our light kits are very delicate and can easily be damaged during shipment. So once your light kits arrive, check them and If you notice anything wrong with your light kit, immediately ask for a replacement.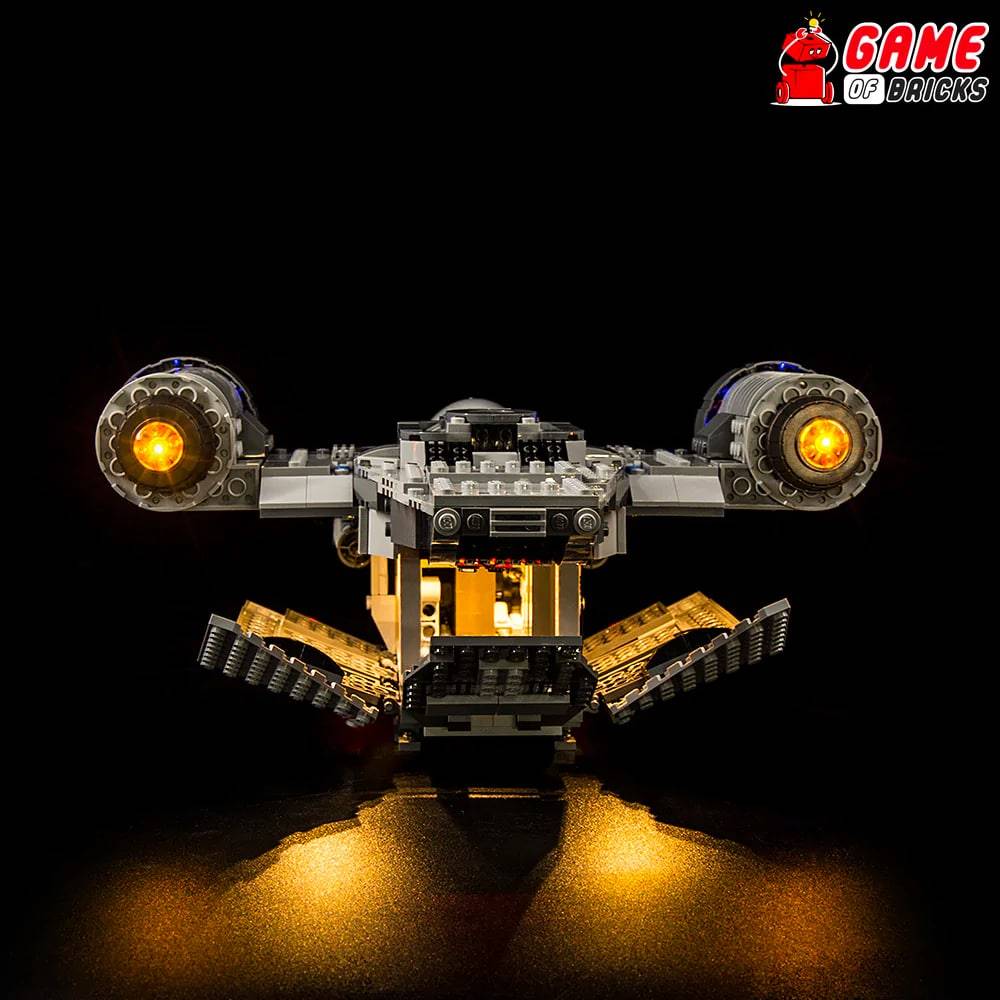 INSTALL YOUR LIGHT KIT
It's time to install them and to do this successfully. It would be better if you use the instruction manual. The instructions in the manual are very informative and would ensure you do not encounter roadblocks while installing. If you follow the steps from the manual carefully, you will surely succeed.

TEST RUN INSTALLED LIGHT KITS.
Once you are done building your Lego Razor Crest, it will be best to take time to test and run them. The reason for doing this is to make sure everything is working perfectly. So take your time with this process to look through the vital features of the light kit. Once everything works perfectly, put your Lego Razor Crest set on display for all to see.