Go on an unforgettable adventure when building the LEGO Pyramid of Giza 21058 Set.
By

Mark Gini
/
June 24, 2022
The Pyramid of Giza, or the Great Pyramid as it is popularly known, was built in the 26th century BCE. It was built to hold the body of the great Egyptian King, Pharaoh Khufu. Egyptians' custom was to bury their dead loved ones in tombs, embalming them. The height of prominence and recognition an Egyptian had often determined the size of his grave. Since Pharaoh Khufu was recognized as one of the most fabulous Egyptian kings ever to rule, he got an extravagant burial place. His Pyramid or Tomb measured over 48ft high and spanned 92 million cu ft.

This Pyramid of Giza has drawn a massive load of a tourist attraction over the past decades and even to this day. Have you desired to visit this location, but have you been unable to because of your busy schedule? You can still have the feeling it brings when you build Lego's new architecture Set, the Pyramid of Giza. This Lego Set has been designed to look as close as possible to the burial place of the great Egyptian Pharaoh, Khufu. And with the help of over 1000 pieces, you can bring this Lego Set. have you been looking for a fun and challenging Lego Set to build? If yes, then this is the Set for you. Now that we've got you thinking let's consider what you would benefit from creating this Lego Set.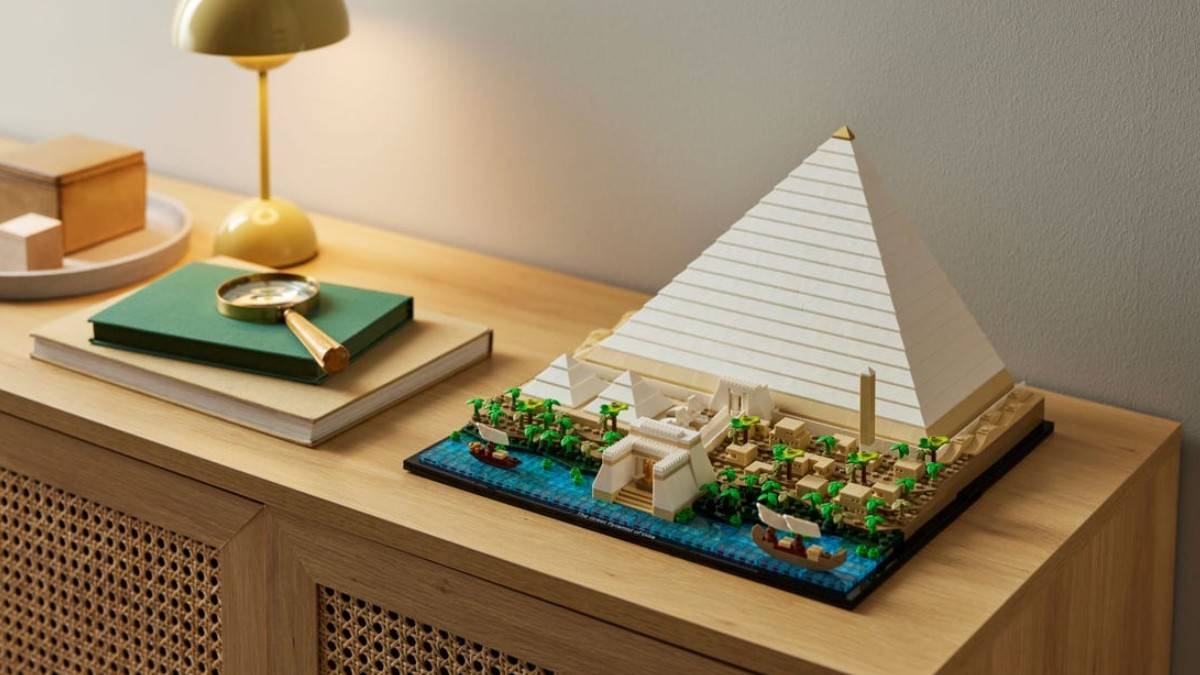 BUILDING EXPERIENCE FOR THE LEGO PYRAMID OF GIZA 21058 SET.
The Lego Pyramid of Giza set could be considered a large Lego Set. Well, it's much more extensive than other Lego architecture Sets. The Set was designed to be a pictorial representation of what ancient Eygpt might have looked like when they built the Pyramid. This Set has a total of eight building stages. The first and second stages are for making the base of the Set. With the third and fourth stages, you would be making a small village with different sizes of hots. You would also have to recreate the Nile River in Lego form. And with the fifth and sixth stage, you would build you would be putting together two smaller tombs which are probably where the relatives and family of Khufu were buried. You would also be putting together the first pieces of the main Pyramid. Building the entrance and some of the interior designs would be done in this stage. It is vital to note that the main Tomb, the most incredible Pyramid of Giza, has two parts that make up the complete building stage.
First, you would build the inner Pyramid, which is made to look like the Pyramid when under construction. But it's vital to know that it is all a guessing game by the Lego team because no one knows how to construct the Pyramid. But Lego does add some elements to make this scene as realistic as possible. Once you are done with this structure, you would now build the layer that covers this build, which is the finished Pyramids representation. Because of the magnitude of work you would be engaging in, you might get a bit confused. And at the later stages, you may even find it difficult to decipher where each piece belongs. Aside from those minor setbacks, this Set is still fun to build. If you are crazy about Egyptian culture, notably this Pyramid, then this Set is for you. Engage in hours of fun and engaging build when you bring this Lego Set to life.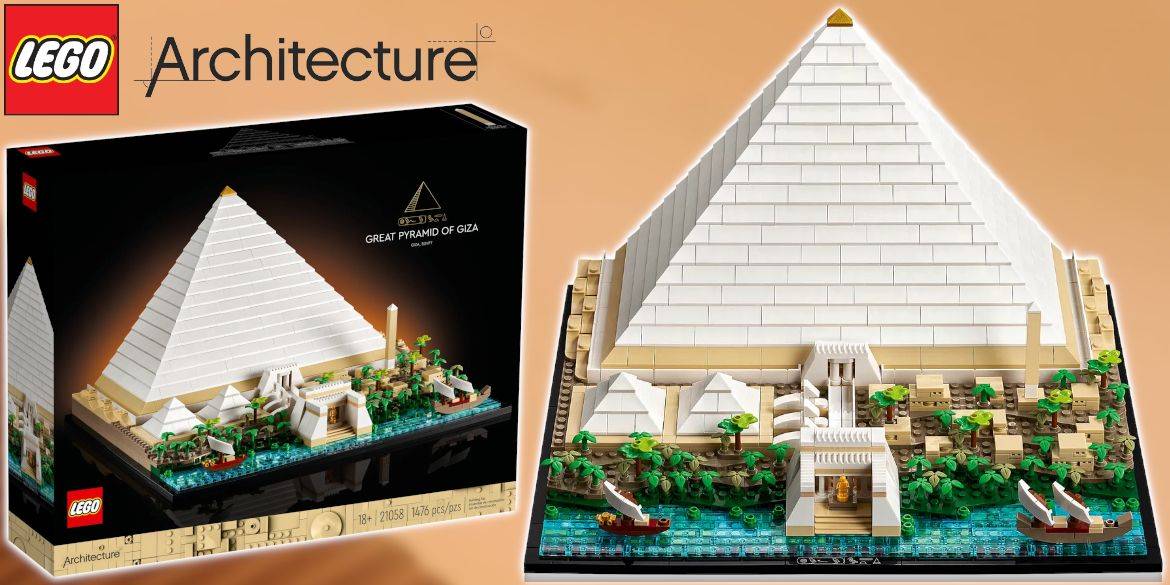 AUTHENTIC FEATURES OF THE LEGO PYRAMID OF GIZA 21058 SET.
● HALF PYRAMID.
The Lego Pyramid of Giza Set is cut in half. Yes, rather than giving you a complete Set, Lego has decided to cut the Pyramid in half. And before you get discouraged, this decision made by Lego was for a good reason. This feature allows you to access the Tomb's internal look, and all the details are hidden. Another cool thing is that if you buy two of these Lego Sets, you can connect them. So with two of these Lego Sets, you get a complete Pyramid and twice the detail. This is pretty awesome. But if you can't afford two of these sets, you could always connect yours with a friend who has the same Lego Set.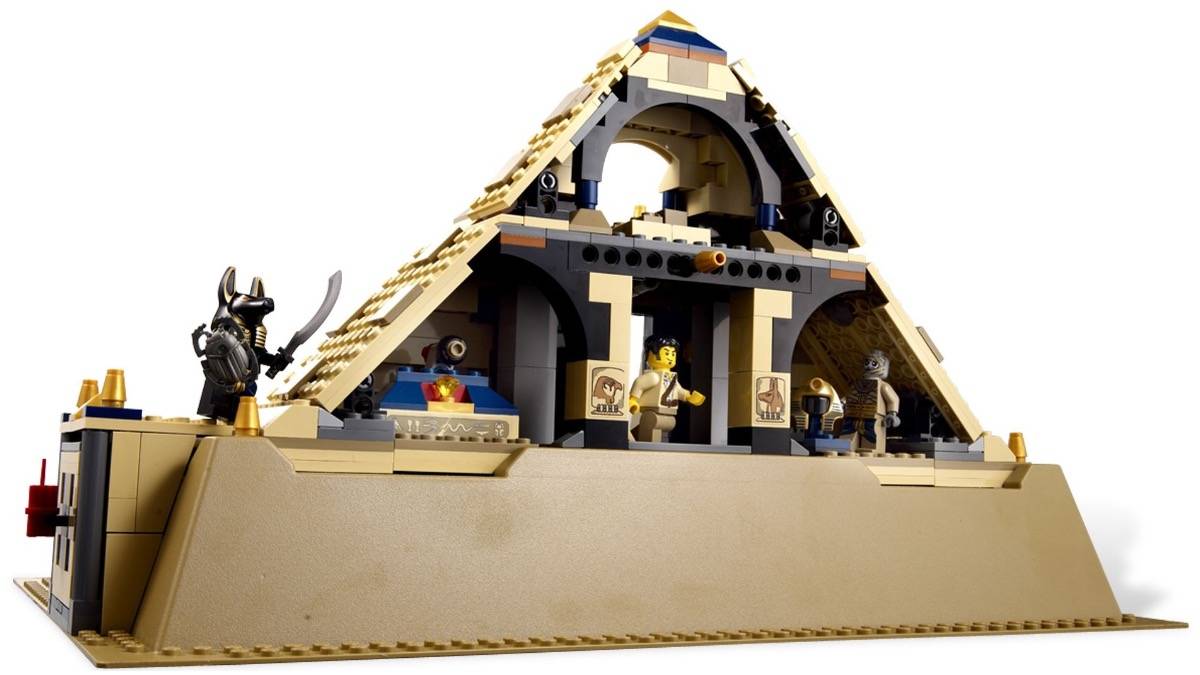 ● ATTENTION TO DETAIL.
Another fun feature of this Set is its attention to detail. Lego went out of its way to ensure that the Set looked as realistic as possible. They even went further to add a small Egyptian village with Lego elements representing trees. Lego also created an adaptation of how the Pyramid looked when it was under construction. Lego also added a brick adaptation of the Nile River, using transparent Lego bricks. There is so much to build and discover with this Lego Set.
● SET SIZE.
The Lego Pyramid of Giza Set could be considered one of the Largest Lego Architecture Sets. The Set comes with a total of 1476 brick pieces. All pieces used in creating this Set are durable and of the highest quality. The materials have also been tested to ensure they are safe for use. When entirely built, the Lego Pyramid of Giza measures about 8 inches high, 13.5 inches wide, and 12.5 inches in dimension. Enjoy endless fun as you bring the Lego Pyramid of Giza to life.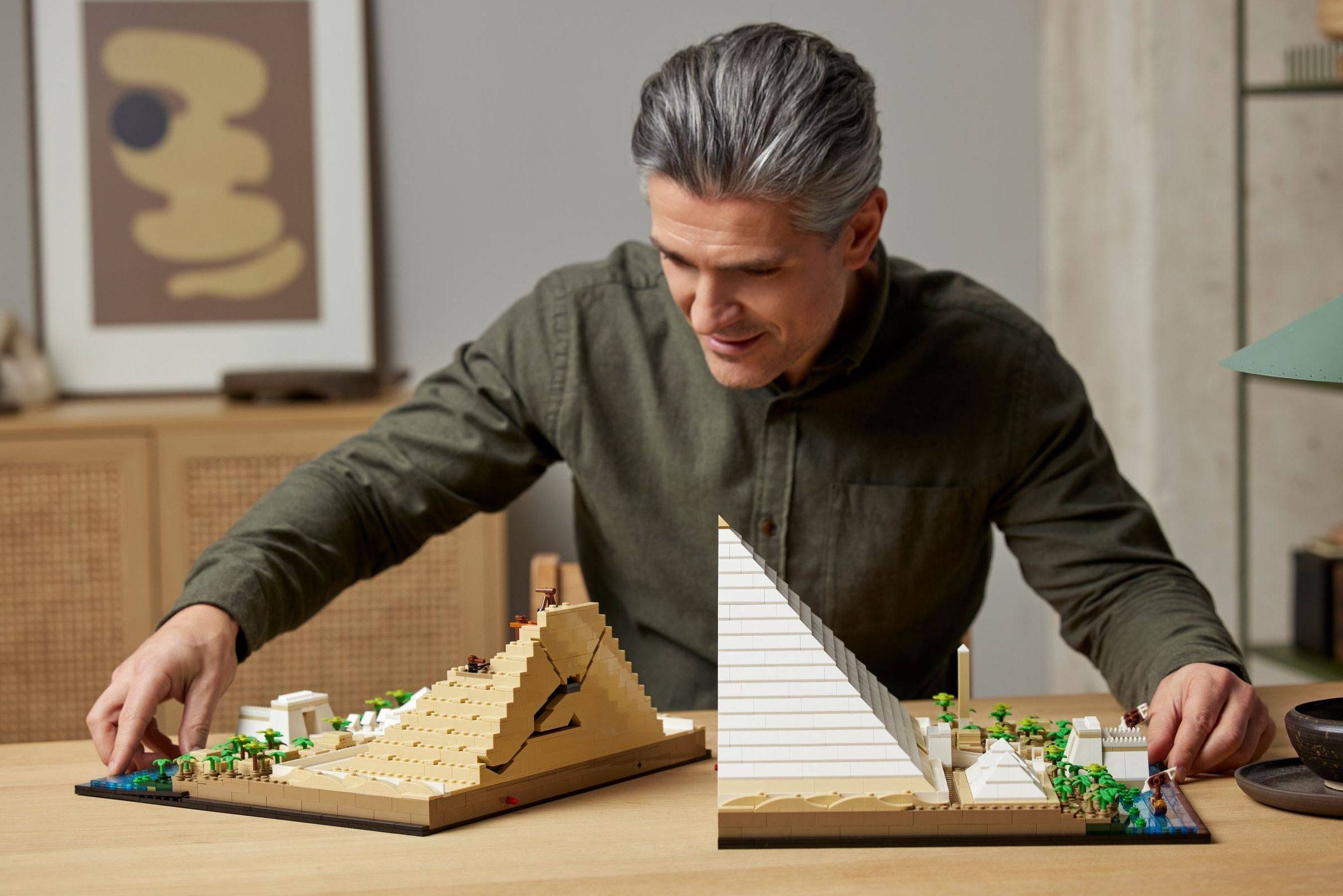 The Lego Pyramid of Giza is currently available and be bought from any Lego store in your area. If you don't have access to a Lego store, you could check out toy stores as well. You can check out the Lego online store if both options fail you. Any purchases made would be delivered within a week. The Set is currently sold at 129.99 dollars. Depending on your country and currency status, this price could be higher or lower. This price, though, is worth it when you look at the number of details and different building technics this Set allows you to explore. Another cool feature you could add to your Set to make it more breathtaking is our Lego light kits. How does it work? Let us find out.

IMPROVE THE LOOKS OF YOUR LEGO PYRAMID OF GIZA WITH OUR SPECIAL LIGHT KITS.
With the help of our amazing Lego lights, you can enhance the beauty of your Set. But what is a Lego light? These are unique lights designed for Lego Sets to improve existing features. These light kits could also be beneficial when putting your Set on display at night. These light kits could only be attached to a finished Lego Set. But now, you might wonder how to install one of these Lego lights on your Pyramid of Giza Set. Let's look at some easy-to-navigate steps to make your installation process as smooth as possible.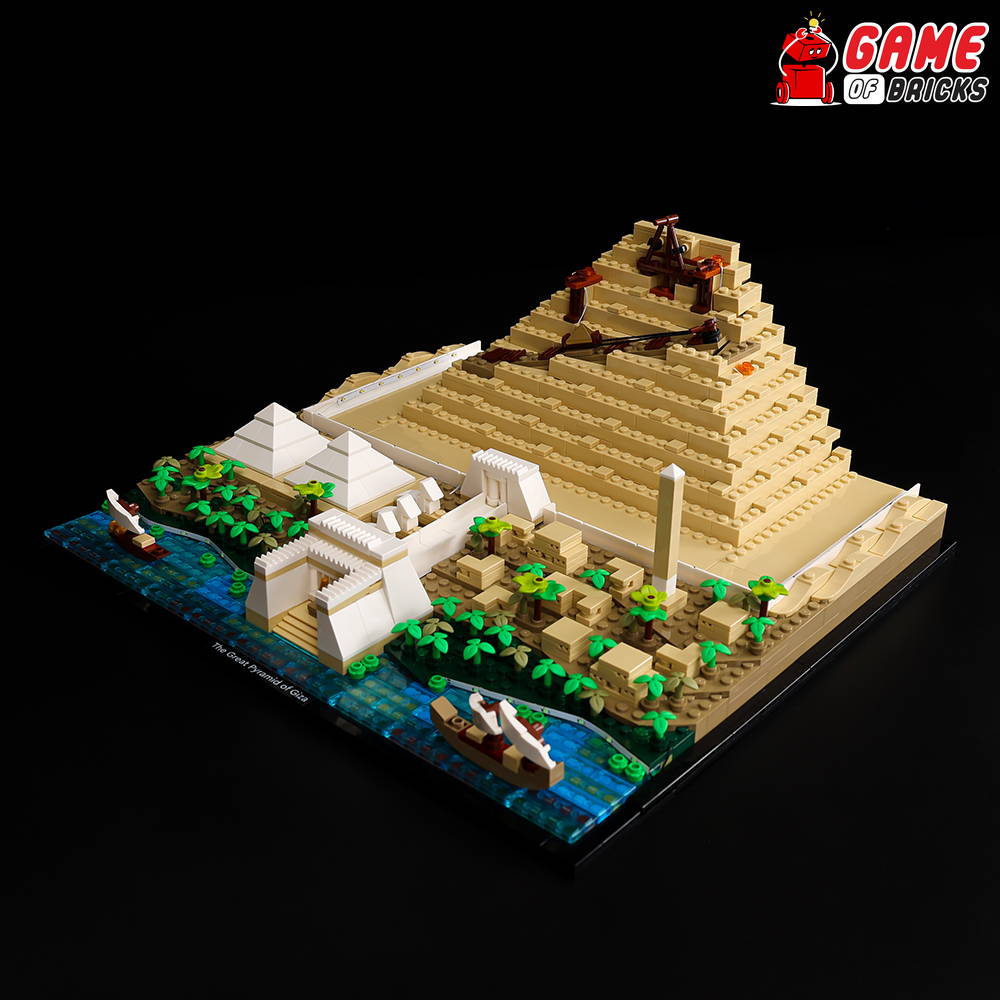 1. INSPECT YOUR WIRES.
The most delicate part of your light kit Is the wires. They can easily get cut or strained during shipment, though the light kits are packed neatly and sealed. If something is wrong with any of the wires, or maybe a sealed bag is unsealed, check for damages. Another thing that could get damaged is the bulbs. Make sure to check those as well. If you notice any damages to any of your shipped light kits and accessories, be sure to get them replaced using your warranty card. Now it's time to install.
2. USE MANUAL TO INSTALL.
If you want to install your light kit successfully, it would be best to use our instruction manual. The instructions are clear and easy to understand, even for beginners. The instructions also come with very detailed pictures and drawings to help make it much more manageable. You only need to remember to handle your light kit with care. You will indeed have a smooth and fun installation process if you do.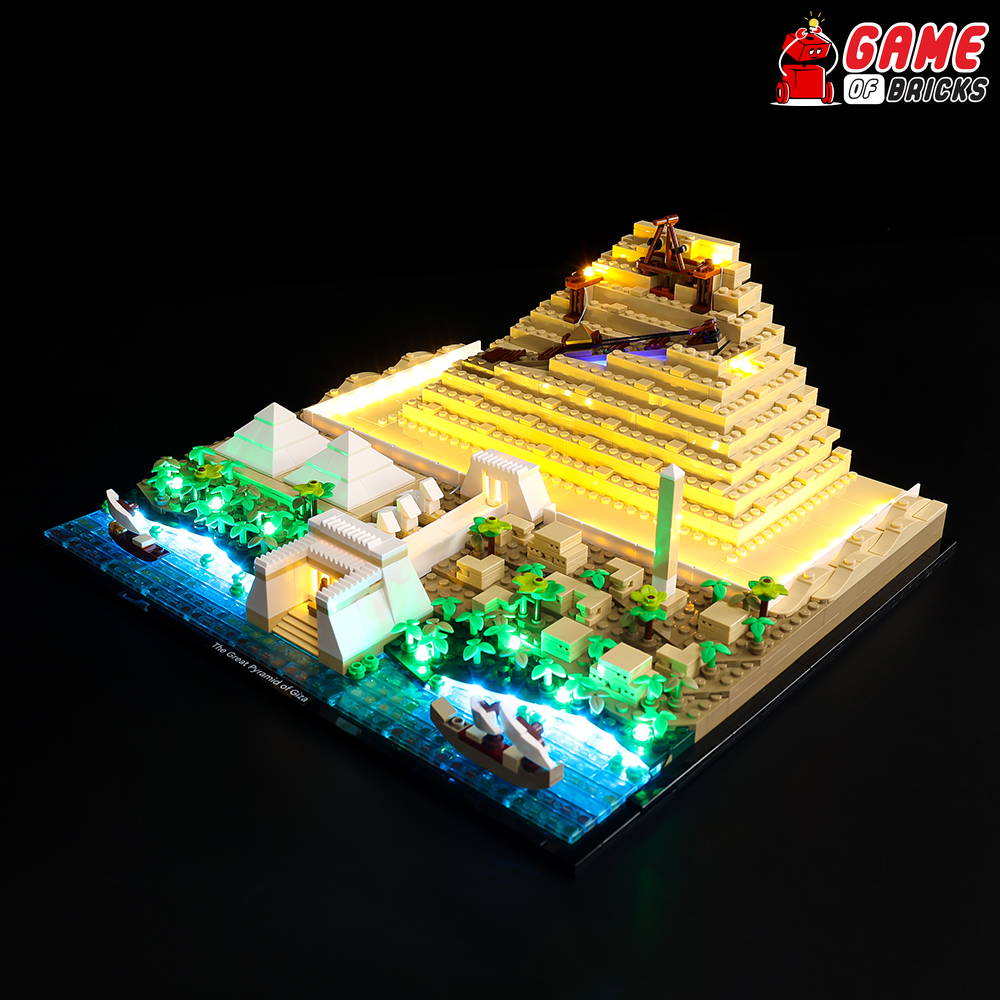 3. TEST RUN.
Once you have completely installed your light kits, make sure to test them out. The reason for this is to make sure everything is functioning correctly. Make sure to check out for signs of short-circuiting. Checking for that is a quick way to spot a problem. Also, check the batteries and ensure they have been fixed properly and are strong enough to carry the load. If you notice a problem after your test, be sure to fix it. Once you have selected the pain and everything looks good, put your Lego Pyramid of Giza Set on display for all to see