LEGO Porsche 911 GT3 RS 42056: Its Review
By

Nikita P.
/
December 28, 2019
This LEGO Technic set comes with a rear diffuser. Anyone that knows this element knows that it is an elaborate contraption that resembles a spaceship's tail fins. We couldn't get enough of this look, and we are grateful that this LEGO supercar has this feature.

Its frame is made to move out from both the back and front to ensure that the two bumpers can easily be supported.
Like always, much attention was paid to the details of the real vehicle. This is something that a lot of fans of this universe can't get enough of.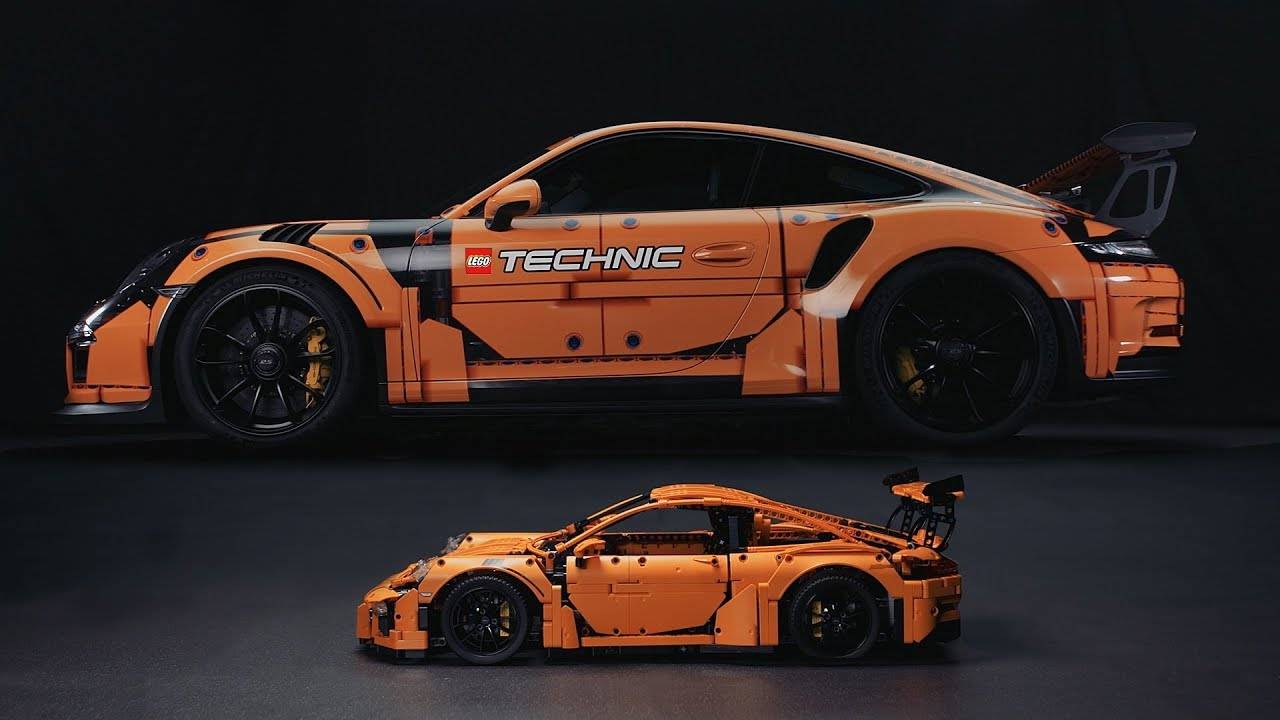 If you want to experience the fun that comes with a Porsche car, you should consider getting the LEGO 42056 Porsche 911 GT3 RS. We love the fact that it is light, though some fans may not because more attention was paid to style instead of functionality. Well, we can't have everything, can we?
If more attention was paid to functionality, there is a great chance that this LEGO car would be heavy, and not so appealing.
Features of Porsche 911 GT3 RS 42056
This set comes with 2704 pieces, which are numerous. Building this will take some hours, but when it is built with others, the experience may be a lot easier.

You can pick this vehicle with only two hands from underneath.

This vehicle is a masterpiece, we must say. You will need to bring you're a-level to the building process. We love the fact that it has close to 3000 pieces, which means that hours will be spent creating this, not minding if you are a master builder.
We can say that this set is something that can be built in one's free time, especially when you want to enjoy family time.
At the end of the day, you will notice that it has the following measurements:
6" (17cm) high, 22" (57cm) long and 9" (25cm) wide.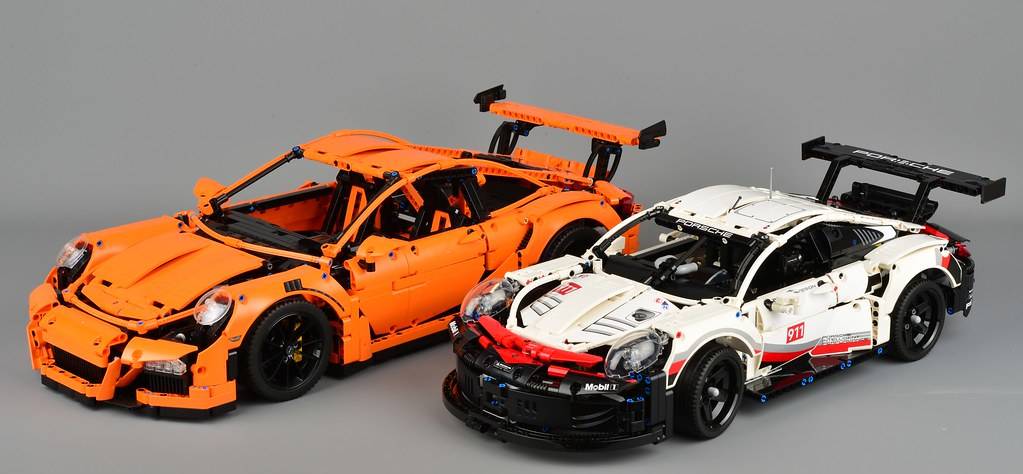 This set is great for anyone, especially adults. When you compare it to the real car, you will realize that it is in a 1:8 scale, which is intriguing.
It comes with an adjustable windshield that can be removed whenever you want. We feel that its function is to cloak much of its texture that is seen on the panel. Apart from that, it ensures that it matches other roof panels there.
This model comes with rims, bodywork that we can't get enough of, cockpit, calipers, rear lid, hood, opening doors, as well as flat 6 engine.

When you look at its bodywork, you have no choice but to notice that it has an aerodynamic feature. Have you seen its rear spoiler? It is adjustable. Its suspension springs scream of the reddish hue.
Other things that you may notice are:
Tires

Gearbox

A steering wheel that has gearshift paddles

Intricate seating

Opening doors

Opening hood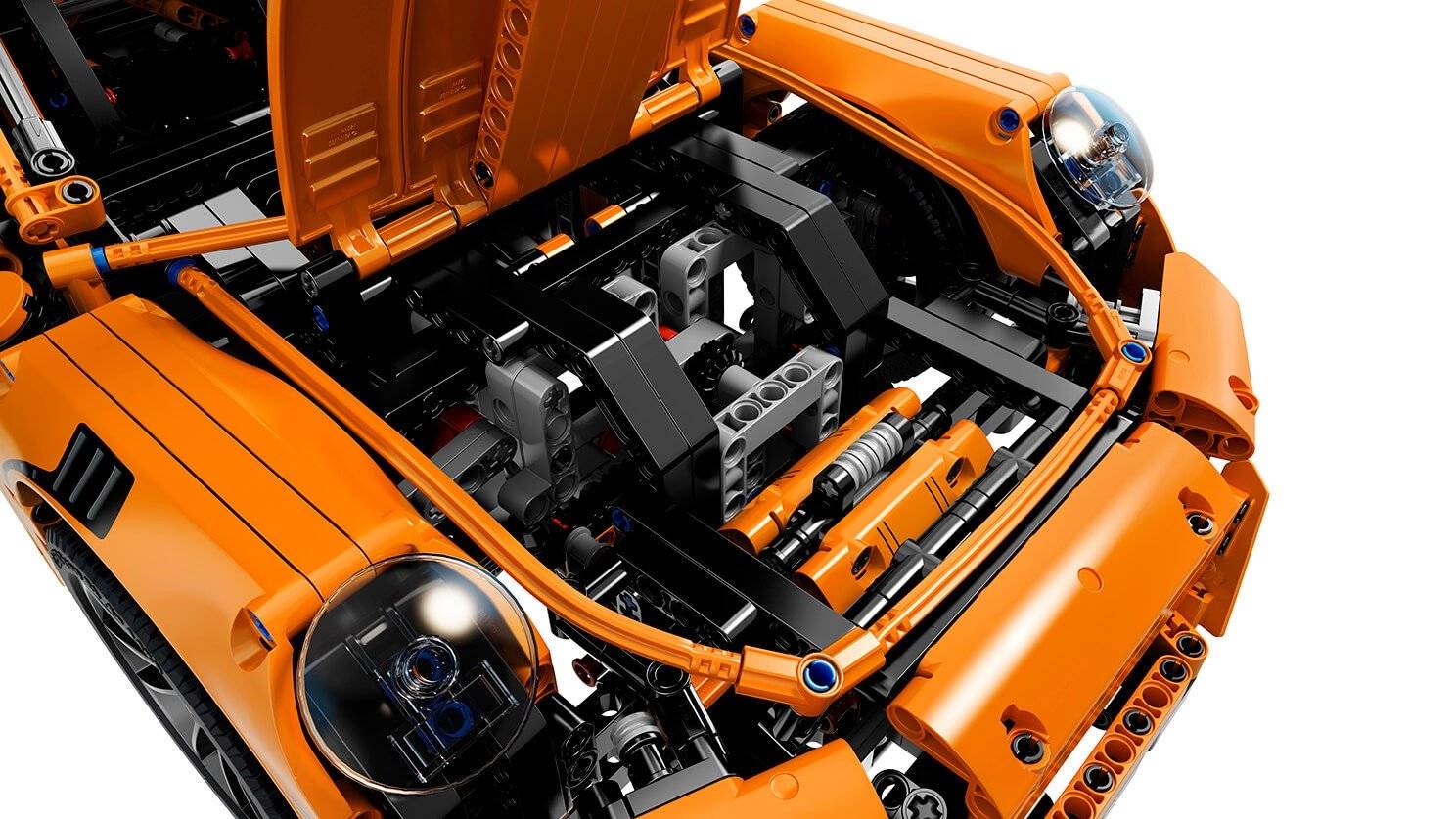 Glove compartment that has a peculiar serial number.

The number can be checked online to view more information about that particular set.

Immediately you open the door of the completed set, you will notice its state of the art detailed cockpit. We had no choice but to admire it.
If you want to see its intricate flat V6 engine, as well as its moving pistons, you should consider raising the back lid.
Like earlier mentioned, if you want to see its peculiar serial number, all you have to do is open its glove compartment.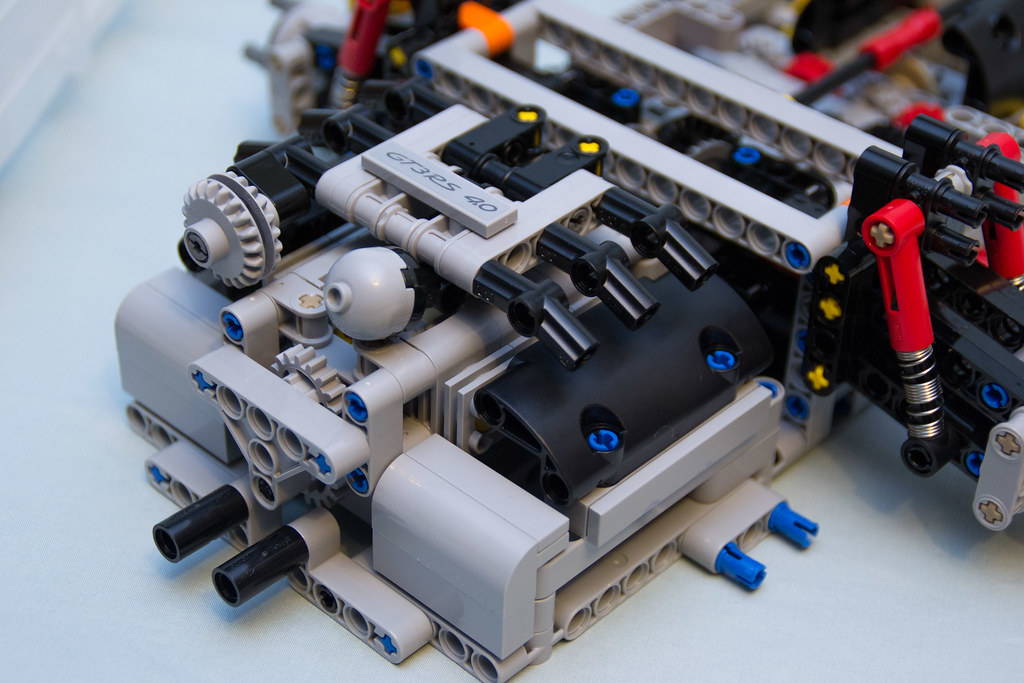 When you are done coupling the pieces together, you will realize that the general design of the Porsche 911 GT3 RS is topnotch. We love the orange hue scheme, though we would have preferred it if it had a black and white camo hue blend, which we noticed during the toy fair.

It is quite larger, larger than we thought, and it has the right scale. Apart from that, its features are intriguing. Have you seen its gearbox and the moving pistons on the engine? You will be amazed.
When you stare at this car, you will notice subtle details, which a lot of us couldn't get enough of. When you are done, stare at the glove compartment, there is a grew chance that you will see the laser engraved serial number tile.
If this set could be enlarged to the size of a real Porsche, there is a great chance you won't notice much difference in its exterior. Well, ant-man has seen the perfect ride for his minute self.
This set comes with a 1:8 scale which has the following features:

Suspension springs, which are red in hue
Rims that have the RS emblem

Back spoiler, which can easily be adjusted
Brake calipers, which had detailed elements
Rubber tires
Gearbox
A steering wheel that has gearshift paddles
A Glove compartment that comes with a peculiar serial number
A hood that has an adjustable suitcase
Opening doors, as well as
Opening back lid.
When you open the back lid, you will see its moving flat 6 engine. When the gear of the car is engaged, the vehicle can easily move. It doesn't matter if the stick is on neutral, it will still move, though the engine won't.

It offers a playing experience that anyone would love, not minding if such a person is an adult or kid. If you are looking for the perfect gift, it won't be a bad idea to get this.
One thing that every builder should do is to religiously follow the steps that were stated in its guidelines. It won't be a bad idea to consider watching its building process on YouTube. This prevents you from making mistakes that you may regret because building this is not the typical way that a normal set would be built.

The fact that it is different from the normal set means that you can't easily take the set apart to correct your error.
It can also be modified to incorporate Power Functions if you want.

Generally, you may spend an average of about ten hours to get the job done. You don't have to do the ten hours in a day, as they can be spread through different days.

We love the fact that much detail was paid to creating the packaging because when you get it, you will feel that you procured a premium set.

What about its instruction manual? One thing that we fancy about this set is its instruction manual. There are numerous details contained there concerning the Porsche GT3 RS.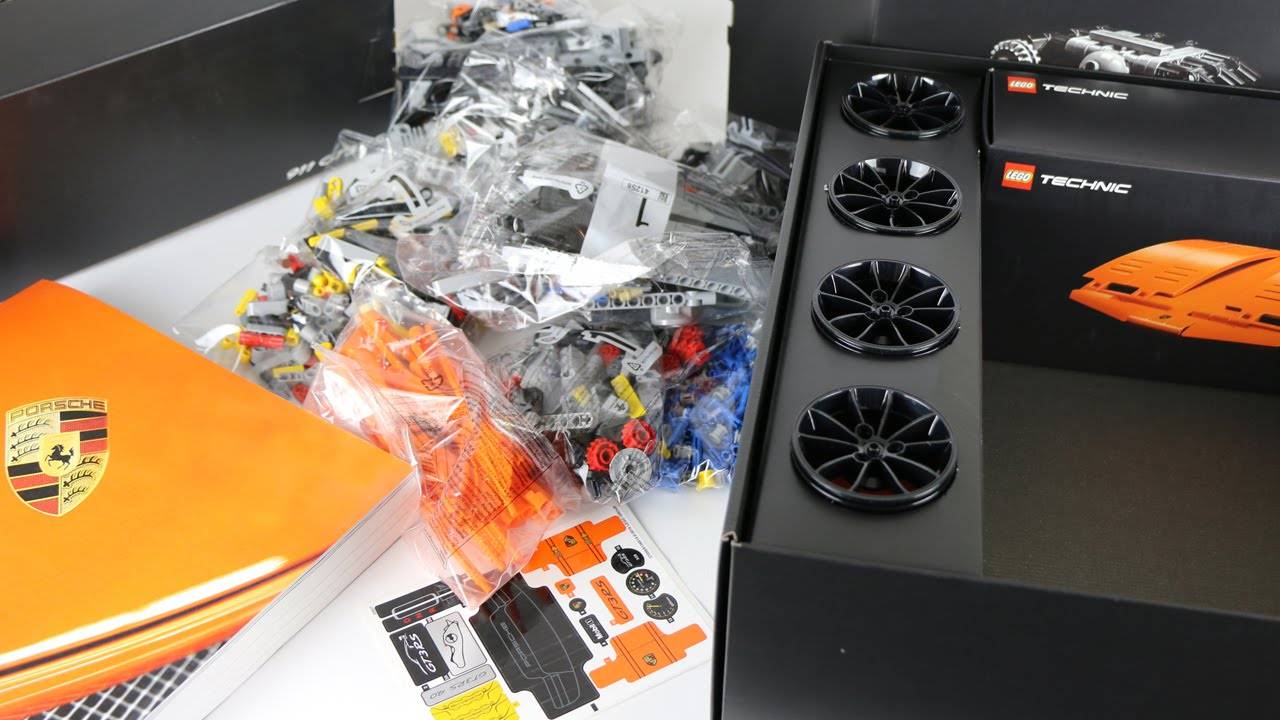 To get the first box done, you need 323 steps. By the time that you get to around step 100, you will notice that most of the gears have been coupled already. Then and there, you will notice that much effort was spent on designing the working gears.

After that, you need to couple the steering column by making use of the paddle shifters.

At the center of your steering wheel, you will see a stickered 1×1 round tile that has the logo of the Porsche logo. Close to it, you will see the PCM touchscreen.
To end the Box 1, you will have to craft up the front wheel axles that link to your steering column. You will be expected to make the back wheel axles too.
The last thing that you will be expected to build in this box is the 4.0 flat-6 engine that has moving pistons.
You will begin Box 2 by crafting up the frame of your car. When you are done with this part, you should have the rough shape of the car. Apart from that, you should also have the front bumpers, a part where the hood will fit, as well as a part to ensure that the roof is stabilized. It is easy to link the entire frame to the drivetrain via pins in your car. This part occupies more than ninety percent of the entire parts in that box.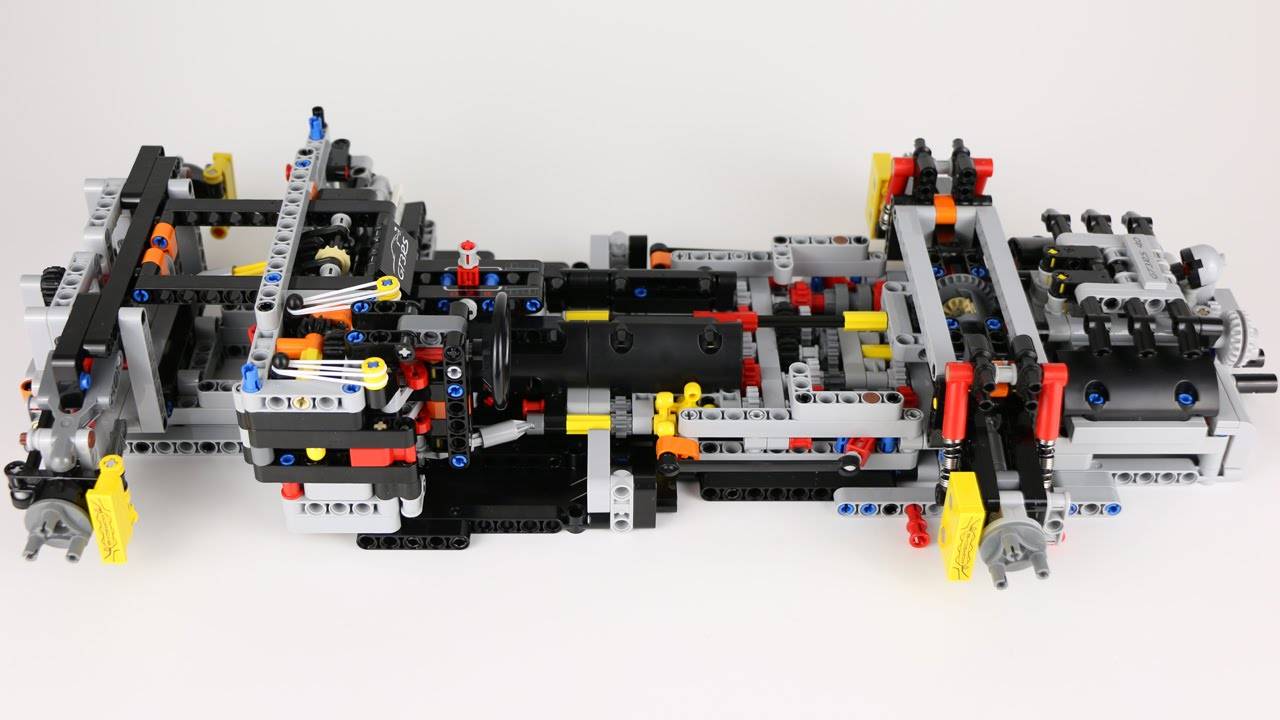 In the box 3, major parts of the rear bodywork are assembled. There, you will assemble the rear lights and so on. After which, you are expected to couple the hood. The roof is one of the last parts that you should couple together.
What makes a supercar is that extra wow it leaves everyone with when they see it. You can do the same for your LEGO Porsche 911 with our custom made Light Kits made just for that purpose. They are bright, colorful, and are guaranteed to make your LEGO collection standout from any crowd

Earlier, we mentioned that you should follow the instructions to the latter. You may have wondered why we mentioned this. It is quite simple. Initially, I decided to explore and step outside the instruction, it didn't end well. My hours of coupling were in a fail. Keep to the instructions, and save yourself the headache.

When we were done with the coupling, we were impressed with the outcome, building experience, as well as design.

This is the perfect gift for a lover of cars and LEGO, as it will leave them smiling. The issue that one may face is its pricing. It is quite expensive, but it is worth every cent.