Travel to the world of the transformers with the LEGO Optimus Prime 10302 Set.
Optimus Prime is one of the most popular and arguable most liked character of the Transformaers movie. Because of the movies great success, and Optimus Prime being one of the most loved characters, Lego decided to start a whole transformers collection, starting with him. Some Lego experts who already got their hands on this set attest to the fact that it stands undefeated as one of the best Lego sets for 2022. What most users claim to love about it is the fact that the set has an easy and smooth building experience using traditional bricks. 

The set is also designed to perfectly replicate Optimus, in all his glory. It also has the all it takes to appeal to a wide range of audience. Do you perhaps have kids into " The Transformers " movie? Or probably a friend? Giftig them this set would be the best thing you would ever do for them ths year 2022. Incase you are looking for all there is to know about this set before making a decision, stick around cause in this blogpost we are going to be looking at all there is to know about the Optimus Prime set. Lets start out now with the sets building experience, shall we?
A SIMPLE YET SATISFYING BUILDING EXPERIENCE FOR THE LEGO OPTIMUS PRIME 10302 SET.
The Lego Optimus Prime Set comes with a simple uncomplicated building experience, and yet offers so many details to help add spark to the set. Lego left nothing to chance in the building of this great Lego masterpiece. Some of ths sets brilliance is the head that rotates in moltimple directions. And for the sets design, the set is actually quite strong. Its a set you can really rely one if you want to have it for years. When it comes to building, this set offers simple Lego building steps to get the job done. So if you are not a fan of technical sets, you would definitely love this onee. Another cool thing about this set is that by building Optimus Prime you also build his truck simultaneously. Yes, you guessed right;this set can transform. So you could choose to save the world as the most feared leader of the transformers Optmus, or ride around Lego city with your amazing car. Which ever you decide to do, you would have loads of fun douing it.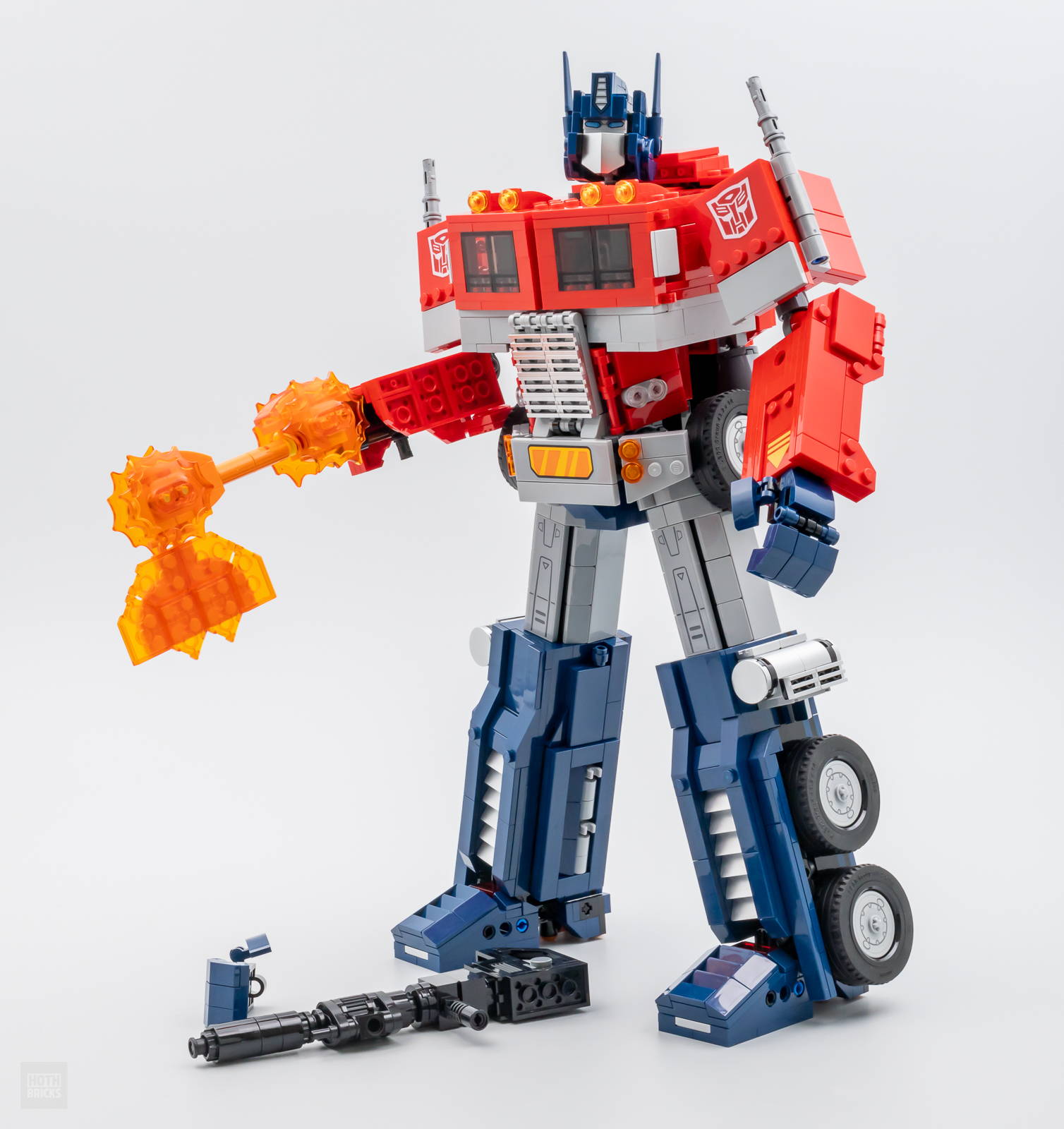 This Lego set also comes with a nice simple manual. This manual would help you with your installation process. All you have to do is follow the instructions closely and you would be sure to succeed in the building of your set. The set also comes with some few additional elements that is designed to serve as finishinfg touches to help makes the set as authentic as possible. You also have access to the famous Optimus blaster which makes roleplaying not just fun, but highly versatile. Overall, the Lego Optimus Prime Set should be one you consider getting this year 2022. Aside from the set having a fun and impressive building experience, it also has nice features to accompany it. Lets look at some of those cool features.
AMAZING FEATURES OF THE LEGO OPTIMUS PRIME 10302 SET.
● TRUE TO THE DESIGN.
The Lego Optimus Prime set is as close as possible to its original movie counterpart even down to the color theme. But it's the way the transformation happens, that's the most fascinating experience. All parts of the set are properly aline and work smoothly. The best part is that just as the transformers set transformers perfectly and leave no traces, likewise the Lego version. This feature alone could keep kids entertained for a long while. And though the transformation of the set can be a bit complicated at first, it gets a whole lot better and easier with time.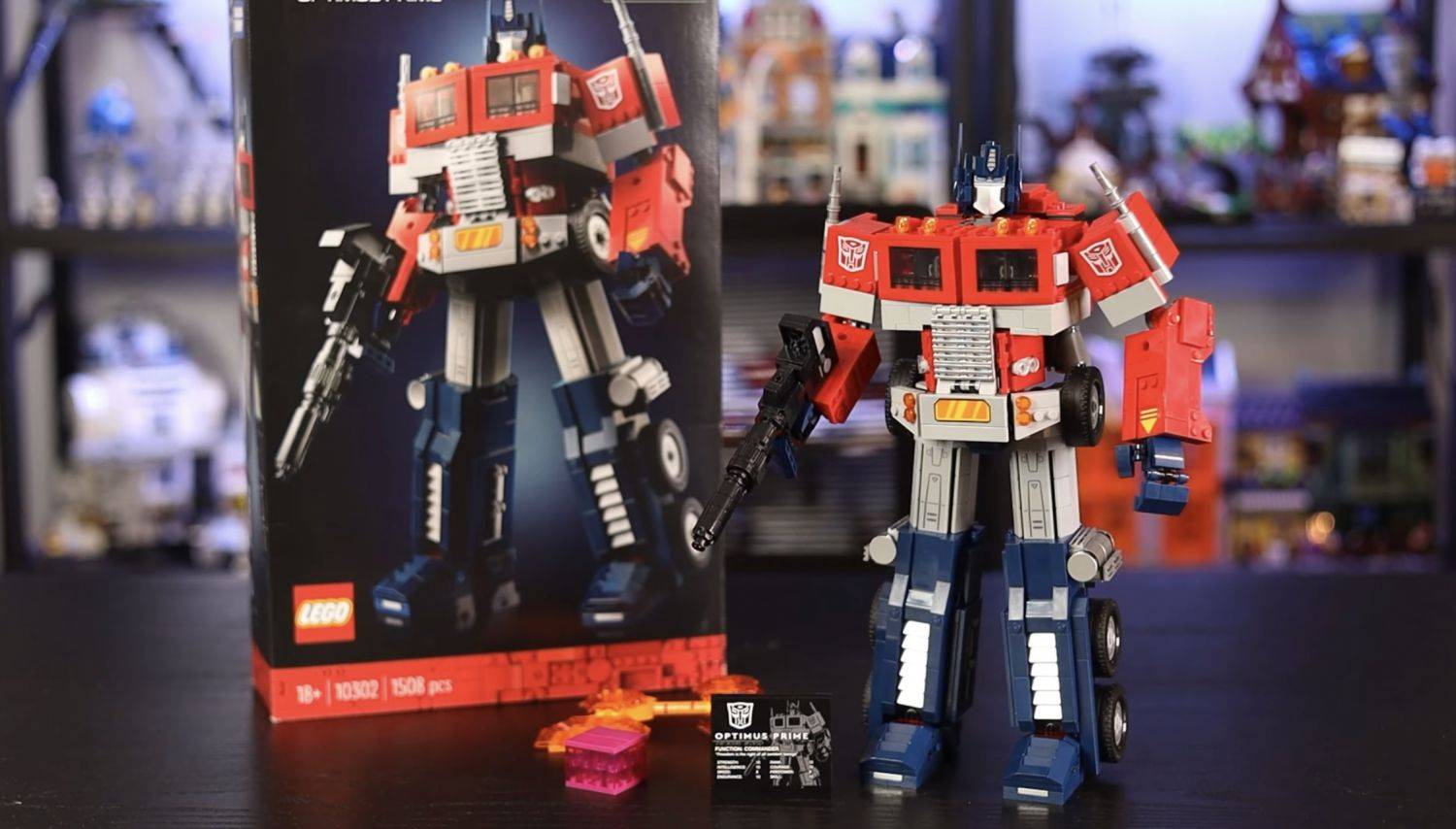 ● VERY DURABLE.
With the set's cool transformation capability, most people would think it would be very fragile and easily perishable. But that is not the case, because the set is made with traditional quality brick. But the set surprisingly doesn't use bracing. With the traditional Lego building method you do not need to worry about your set giving up on you, or falling apart when try to transform. Plus, all the bricks used in the production of this Lego Set have been tested to ensure they are not only safe but also of the best quality. Lego also often prides itself on its sets being user-friendly. So if you are looking for a set strong enough to stay on display for a lifetime, then you have definitely got your set.
● ICONIC OPTIMUS WEAPONS.
Another cool thing about this set is its representation of the weapons used by Optimus Prime. One of these iconic weapons is the Optimus blaster which he used in the majority of his battles. Another cool weapon you could attach to your Optimus Prime set is the Cross Axle. this weapon comes in a transparent orange color. In order to use this element, you would need to remove Optimus hand., while attaching the Cross Axle to his arm. Some though may argue that the set may be better without the Cross Axle attached. Another very useful piece of equipment to help battle your enemies is the Lego representation of the jetpack. Whoever owns this amazing Lego Set would be able to engage in endless role-playing. So why not gift your kid with this set this year and make his month a whole lot brighter

● SET SIZE.
The Lego Optimus Prime Set could be considered a medium size Set. So if you are an experienced builder, you should be able to put this set together in about an our. The set comes with a total of 1508 pieces. It has a very decent hight amd would stand pretty well as as display set. When fully built, as Optimus the set stands about 14inches high, 5inches wide and 11inches in dimession. This set also comes with a bored with all of Optimus Stats.
● SET PRICE.
The Lego Optimus Prime set could be bought from any Lego stores near you. And it could vary in price depending on where you choose to purchase it. But if you are worried about the price you would get it locally, why not purchase it directly from the Lego website. One the Lego website the set is soled at 169.99 dollars. What are you still waiting for? Get yourself a set, becuse the next feature can only be fixed if you have one. " Whats that? " you may wonder. Well, yes, you guessed correctly, our Lego light kits.
GIVE OPTIMUS ADDITIONAL POWER WITH OUR LEGO LIGHT KITS.
Make your Lego Optimus Prime set a whole lot beautiful with our soecial light kits. Do this by installing them to your set, to help bring out that additional detail. You can do this successfully following these simple steps.
1. INSPECT AND INSTALL.
Once you have ordered your light kit directly from our website Game of Bricks, you would need to inspect them. Inspection should be done carefully and not in a hurry. Make sure they are no damaged sets. If you discover that some of the sets have sustained damages as a result of shipping, be sure to message us and we would get it all sorted out. Once you have successfully inspected your set and all looks good, you can now install using the manual.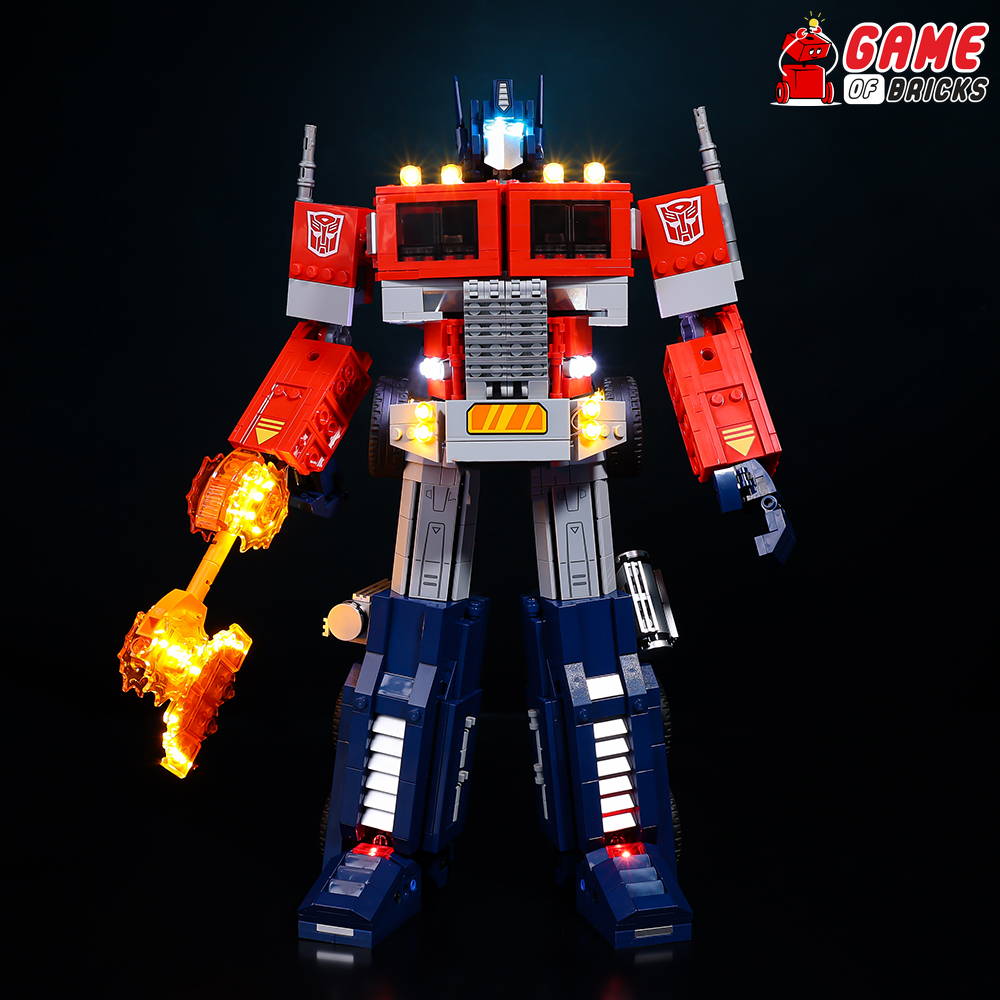 2. INSTALL WITH THE MANUAL.
The next stage in this journey would be to install your set. Remember that your light kits are very delicate and can sustain damages. So as you install using the manual, be sure to handle the kit with care. Once you are done putting all the light kit wires through the bricks, be sure to maintain a clean finish to improve the whole beauty of your set. Make sure that there are no wires exposed at the end of your installation process.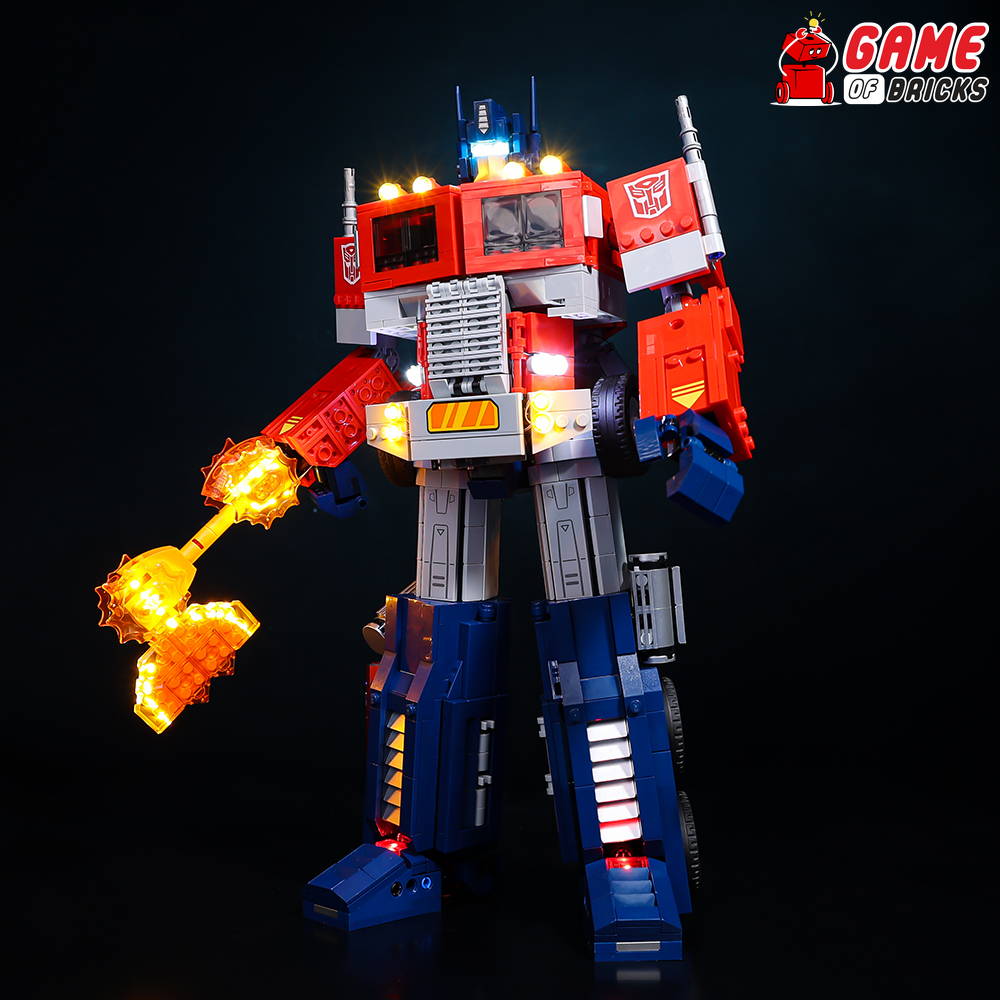 3. INSPECET YOUR LIGHT KIT.
Once you are done installing your light kit, be sure to inspect them thoroughly. Make sure every step was properly followed and that you missed nothing. One thing you can check out for is signs of short circuitig. You could also check your batteries to be sure they are connected properly. Once you are done and everything looks good, go ahead and save the world with the greatest Transformer of all time, Optimus Prime.
---