Show undying support by building the LEGO Old Trafford Manchester United 10272 Set.
Manchester United, one of the greatest clubs in the Premier League, has one of the greatest stadiums in the world, Old Trafford. This famous Stadium is also known as the Theater of dreams. This grand Stadium has been the birthplace of some of the most iconic matches in football history. Are you a Manchester United fan? If so, you must have been present at one of these great games. You must have also been there with your team as they carried some of their most iconic trophies, including winning their local league countless times. 

Most of the success of this great club was achieved in this grand Old Trafford stadium, which is now celebrating over 110 years of existence. Would you love to show your support for your wonder club while reviving your love and undying support for the club? You can do this by building the Lego Old Trafford 10272 set. This great Lego set is made to perfectly replicate the real Manchester United Stadium. The set goes as far as replicating even the most minor details from the Theater of dreams, the famous Old Trafford. This set is perfectly designed to make every Manchester United fan want more. So if you are looking for the perfect set to get your creative guise flowing, this set is just the perfect gift.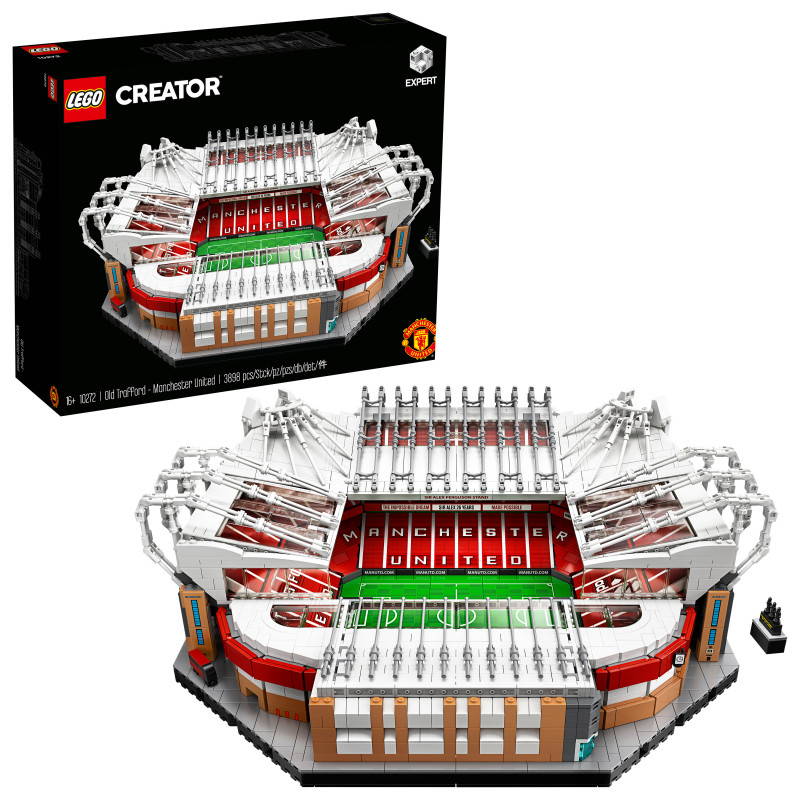 BUILDING EXPERIENCE FOR THE LEGO OLD TRAFFORD 10272 SET.
The Lego Old Trafford set is designed to replicate the good looks of real-life Manchester United Stadium perfectly. It features many details from the actual Stadium and will be a good present for any Lego Manchester United fan. This particular set is an extensive Lego project and will take a considerable amount of time to replicate perfectly. As a Lego builder looking to build this set, you need to have great concentration and time. So you would need to set out to time to bring this excellent set to life. If you are a builder new to Lego, you should start with a smaller set. This set has a complex building strategy and will require skill and experience to complete. So if you are not familiar with Lego, you should start with a smaller, less complex set to help build your experience. Once you have successfully built your experience, you could then try building this Lego set.
This fantastic and iconic Lego set also comes with clear and explanatory building instruction, designed to make your building experience all the more satisfying. Are you and your household Manchester United fans? Then why not build this set as a family? Doing so will make building the set, not just fun but also engaging. As a family, recreate the iconic Trinity statute and sir Alex Ferguson. Then recreate iconic moments from your best Manchester United matches. All this and more can be done with the Lego Old Trafford 10272 set. And once you are done building this set, you could also put it on display for all to see.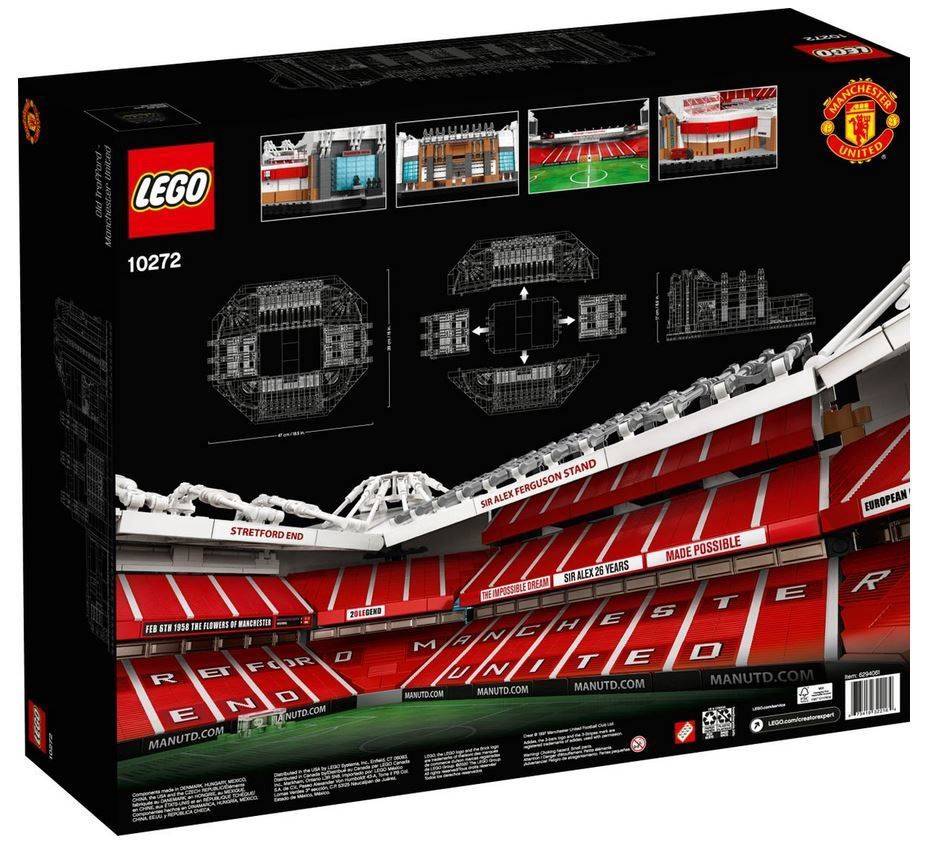 FANTASTIC FEATURES OF THE LEGO OLD TRAFFORD 10272 SET.
This festive season, the Lego Old Trafford set could be an excellent gift for Manchester United lovers. This is because of its realism and attention to detail. Then we have the remarkable features which could spark the interest of any Manchester United fan out there. Let's see what some of those cool features are.
• REALISTIC DETAILS.
The Lego Old Trafford set has some of Lego's most realistic details ever done. If you are a Manchester United fan who has been to Old Trafford, you would not be disappointed with Lego's representation. The set considers even the most minor details, like the pitch, entrance, Stadium sits, tunnel design and location, and even the goal post. Just outside the Stadium sits three great and iconic statues of Manchester United Legends dear to the club. If you are looking for a set worth building, then the Lego Old Trafford 10272 set is just perfect for you.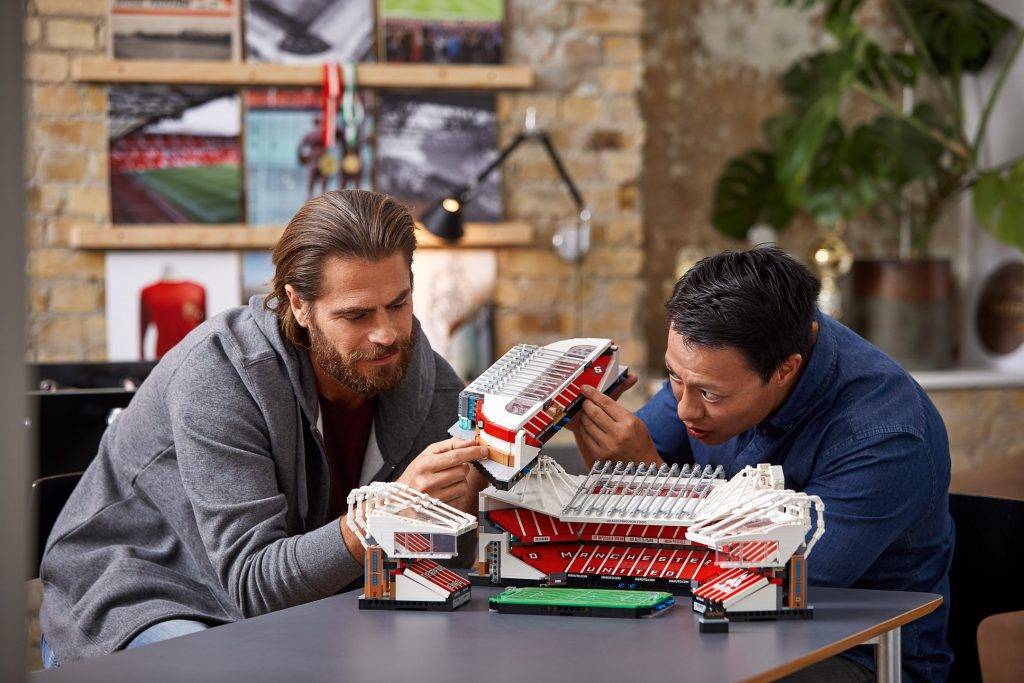 • SET SIZE.
This fantastic Lego set is a masterpiece. It's tagged as one of the Lego ideas team's most significant sets ever made. A team charged with building brain-tasking sets to help challenge the minds of adult Lego builders. The set is about 1600 pieces of top-quality Lego bricks. The set stands about 6.5 inches high, 18 inches long, and 15 inches wide when fully installed. This set is designed so that it is easily attachable and detachable. This makes it easier for builders new to Lego to easily correct mistakes during the build.
• HEART WORMING AUDIO SOUNDS.
Once you are done building, bring the entire Stadium to life with various audio sound recordings. The set comes with an audio recording of fans chanting during a big game, heart worming commentary from iconic Manchester United games, and the Manchester United club anthem. And the cool thing is that you build this feature as part of the set, and a battery doesn't power it. This means you get more time to play and don't have to worry about power failure due to low battery. With this feature, you could feel well connected to your club with a Lego set than ever before.
The Lego Old Trafford Manchester United 10272 set can be easily purchased from lego.com and Lego stores in your country. The price for this set could vary, depending on your location and what part of the world you're from. If you live in a country with no Lego stores, it would be best to purchase this set online. But if you reside in the United States, then a Lego store could probably be the best option. The Lego Old Trafford Manchester United set is sold at about 269.99 at lego.com and Lego stores in the United States.
MAKE UNENDING GAMES POSSIBLE WITH OUR SPECIAL LEGO LIGHT KITS.
This fantastic set comes with lots of cool features which help make this set unique. But with the addition of our Lego Light kits, you could take your building experience to a whole other level. With our light kit, you could light up your set at night and even create different light effects like that of a Champions League night. Are you new to Lego? Then you must be wondering how you could achieve all this to your Lego set. Well, before any of this can be achieved, you would first need to have successfully built your set. After you have done so, following these few universal steps could help make the process a whole lot easier…
1. INSPECT AND INSTALL.
As soon as your Lego sets arrive, it would be wise to run specific checks on all your purchased and chipped light kits. This is very important due to consistent damages that sometimes result from chipping. So as soon as your kits arrive, take your time to inspect each light kit and accessories shipped. If you find something damaged during inspection, then make use of your thirty-day warranty card that comes with each shipped light kit. But if all is good, then you can move on to installing your light kit.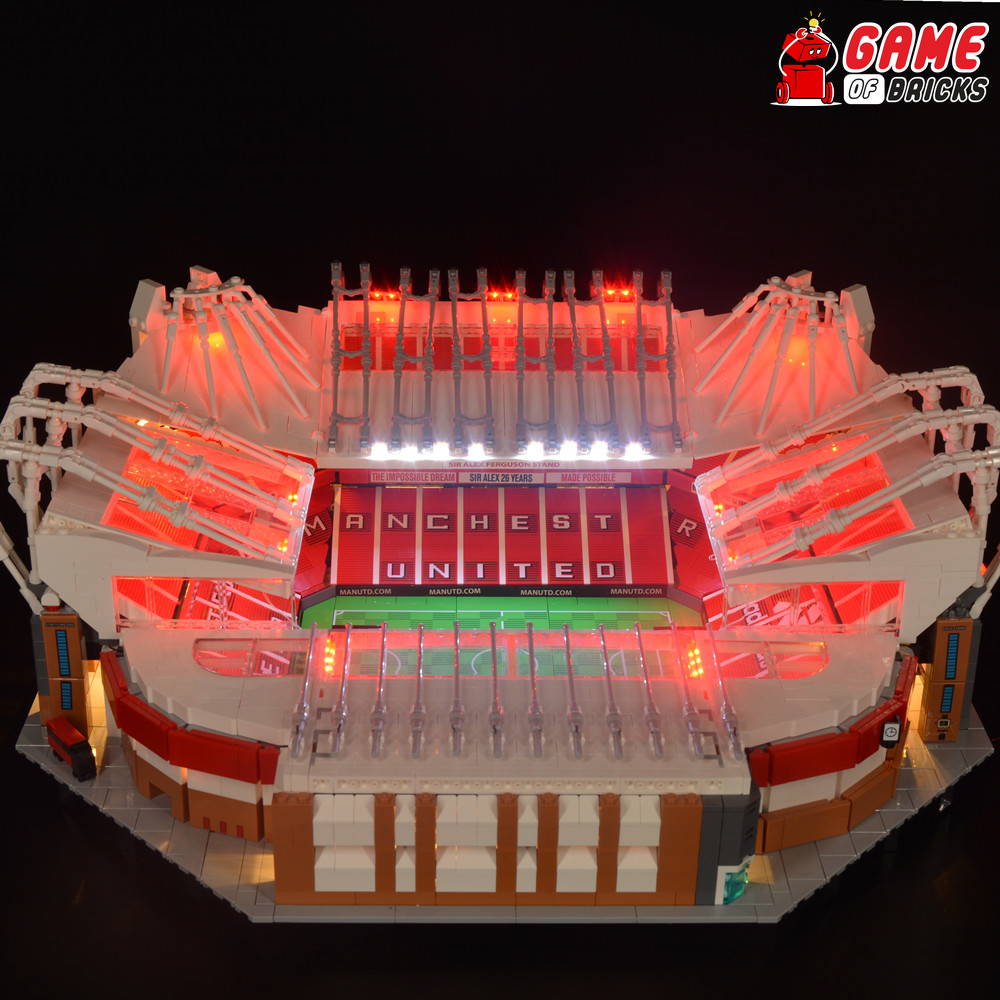 How to install: To install your light kit has never been easier with the inclusion of a clear, easy-to-understand building manual attached to each set. As you use the manual, remember that all light kits and accessories are delicate and require lots of patience to install successfully. So do not rush the process because you risk damaging your light kit if you do. If you can successfully follow the instructions from the manual, you would safely and neatly Install your light kit. 

2. INSPECT YOUR LIGHT KIT.
Before you run off to display your Lego light kit, take your time to inspect all light kits that have been successfully installed. As you inspect all light kits and accessories, check out for traces of short-circuiting, sparks, and even cut wires. Also, endeavor to check your battery capacity to ensure it is perfect for the load of lights it is carrying. If you have done all this inspection and look good, put your set on display for fellow Manchester United fans to cheer at its awesomeness.
---