LEGO Minifigure Collectibles: Series 20
When talking about LEGO Minifigures, almost if not all LEGO lovers will be able to relate to it effortlessly. Every LEGO fan loves the Minifigures because of the way it tends to make you feel like there is a presence of live characters in your game of bricks. LEGO Minifigures has always been in existence since 2010, this means that you don't have to introduce anyone before one can know what you are talking about. Every once in awhile, LEGO tends to introduce a new collection of mini-figures to us and you know what? They are always something to be on the lookout for. On the 19th of April 2020, the 20th series of LEGO Minifigure collection was released. This means that once again, more spice has been added, and more spice, equals more fun!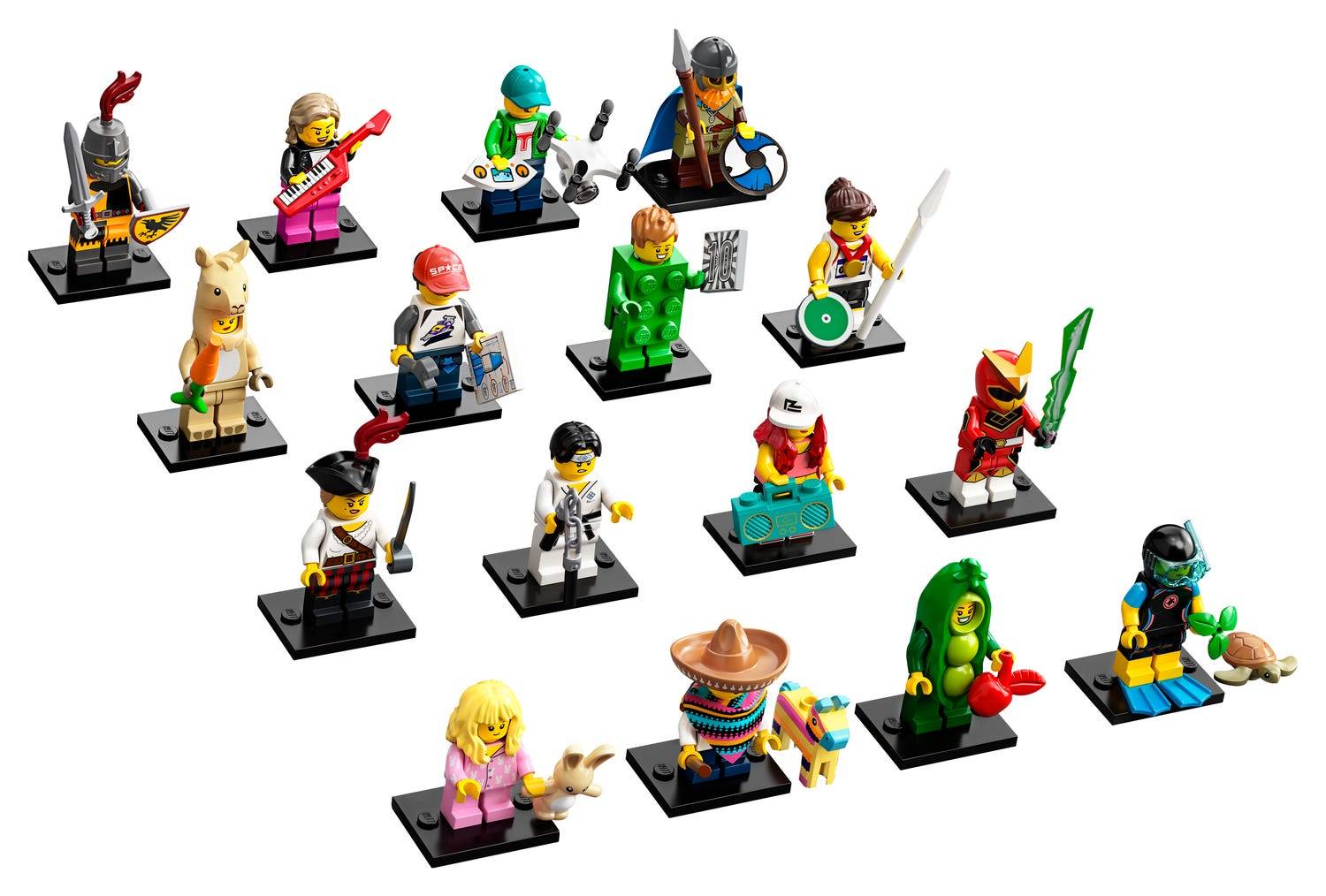 Let's have a look at some of the recently released LEGO mini-figure sets below;

The tournament Knight happens to be the first on our list. The Knight has a black, dark red and orange body theme color -- dark red hands, legs are light orange. He's seen wearing a grey colored helmet, it's plume is dark red. He has a shield that is somewhat shaped in a triangular form to ensure his safety. Yes, he's equipped. The tournament Knight is a very beautiful mini figure, excluding the hypes and all.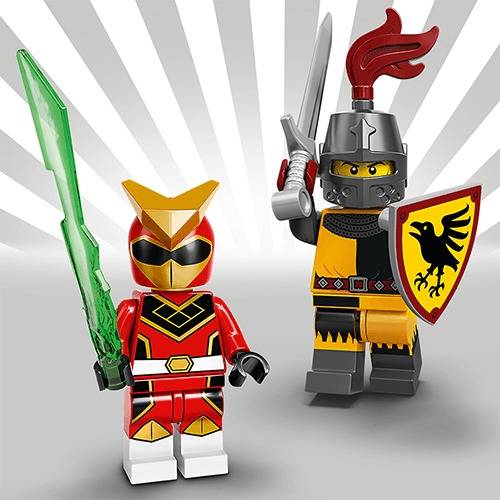 Secondly, the series 20 Minifigure collectibles features an athlete. Apparently, the athlete is an expert In the field of javelin and discus. The gold medal hanging around his neck goes to show us how he has excelled perfectly in the field. This is the first time this classical will be earning a gold medal going by the last time it featured in the 2017 Minifigure collection.

The athlete is a female, her Javelin and her discus are her major companions that are shaped like a spear. It's a white javelin which is a first in white, and the discus which is grey Which measures about 2×2. It has its tile's print in grey and green respectively also having a small dot in the center of the discus.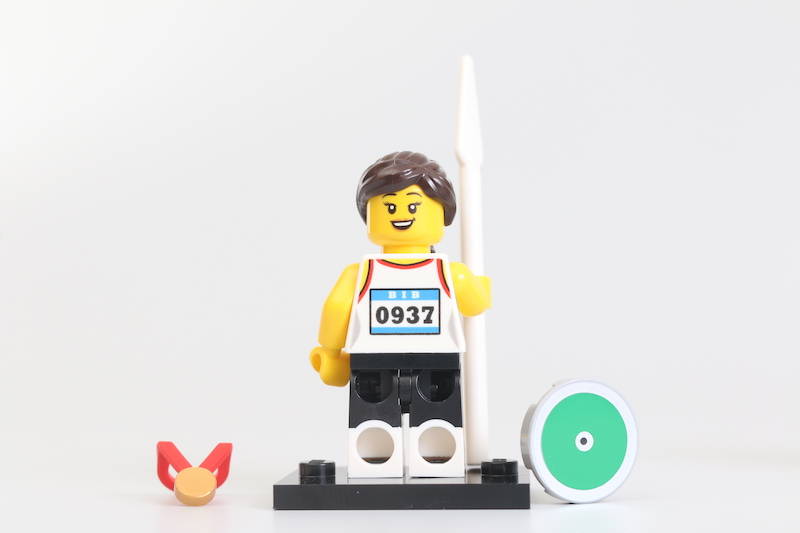 With the presence of the pirate girl, you can go on new adventures and mark the return of the pirates. Just like every other Minifigure, the pirate girl seems to make a debut entrance by coming in the Robin loot, the pirate's first barracuda bay. She also features her long hair. She was crafted wearing a black hat and some nougat hair that's of medium size. 

Apart from using red plumes to give the pirate some color highlight, a color known to be a pirate's thing, we still hoped that there could be a way to change the color some time. The pirate girl is graced with a tiny gap tooth, a white printed leather belt torso and she's so attached to her pirate sword that you hardly ever see her without it. The pirate girl is a different kind of Minifigure that introduces a different kind of vibe to your brick game.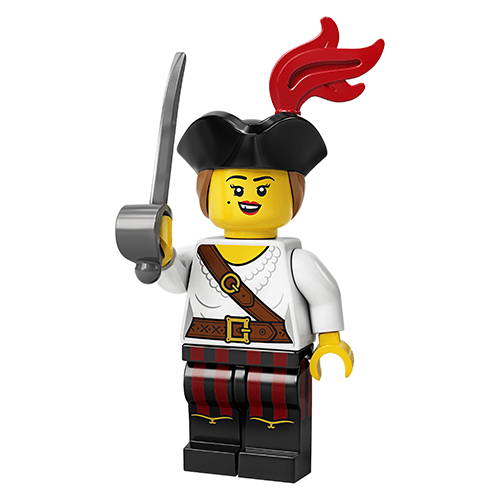 Of course, when you hear the term "Breakdance" the picture of the late Michael Jackson should run through your mind. The Breakdancer Minifigure reveals the very first flat bill baseball cap of LEGO and somehow, this was joined with a hairpiece that's colored dark red and flowing. 
Moving on to the body features of the breakdancer, you could describe his coral torso as being printed on both sides having her legs jointly molded and painted In the black and white strategically highlighting the details of this Minifigure at the front. She has a boombox with her which has a different color from the rest, it's in real and then something is written in gold font and a wavy pattern somewhere in between the speakers. The breakdancer serves its purpose, she's ready to have parties and go out with you.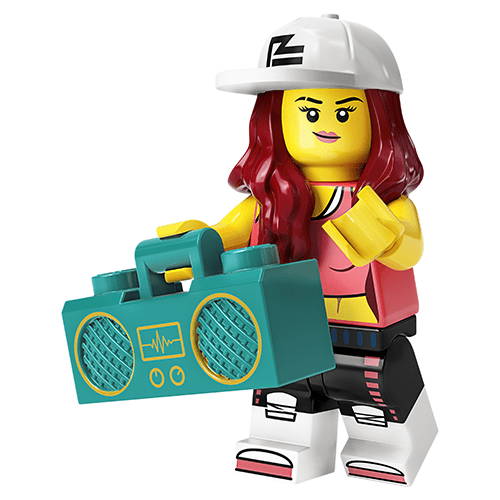 5. The Pea Pod Costume Girl

Most of our favorite LEGO mini-figures are usually costumed. On number 5, we have the pea pod, costume girl. She's spotted wearing a light green pea pod costume which has a hole on the upper part that enables us to see her face clearly. Underneath the pea pod costume, the girl is seen wearing a green colored shirt and also, a kind of bowl that looks like it has the content of a salad. She's also having a red Apple with her while having a grin and a funny expression of one who has her mouth filled with edible contents.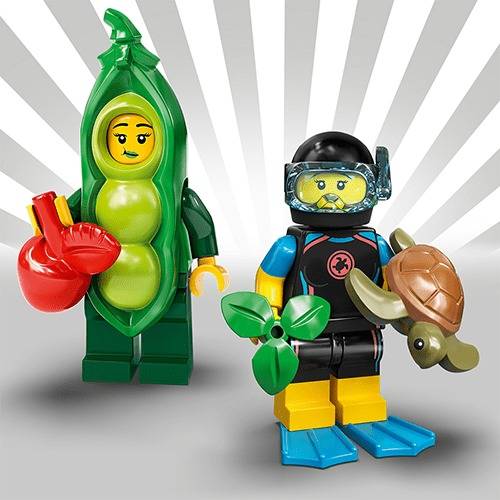 6. The Llama Costume Girl

phew! Recently it seems like LEGO got into some covenant to give us LEGO-themed Llama products and they are doing just fine after all, It's 2020! The Llama Minifigure is such a cute little adorable thingy that you would love to carry and play with all day. The Llama costume has to be the simplest I've seen or am I mistaken?

The Minifigure is beautiful and it's seen wearing a brown head to toe tanned cover all that simply provided a little space for her face to catch some air. When you try to observe well, you'd see a spot on the belly of this beautiful Minifigure that indicates where the torso is located. Also, when she turns to her back, you can see clearly that she has a zipper provided for easy pulling of the tanned clothing. She has a grin on and she's carrying a very big carrot.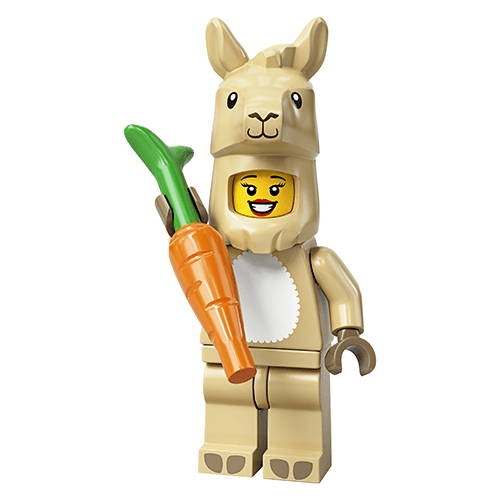 Now, when I say that LEGO has a way of getting into our hearts you should believe me entirely. What else could be more exciting for action lovers other than a Martial arts Minifigure? And, the majority loves action so, (your guess is as good as mine). 

The Martial Arts boy seems to be a really happy Minifigure going by the smiles that are plastered on every corner of his face. He's held onto a chain with so much awareness. He's also wearing a belt that's common with people into Martial Arts, the belt is printed somewhere around the torso and it's been made to run down to his legs and around the hips. His hair is a black short, center-parted just a little below his head and then, there's a white headpiece, sitting beautifully on his forehead. He also comes off as determined and willing to kill the enemy.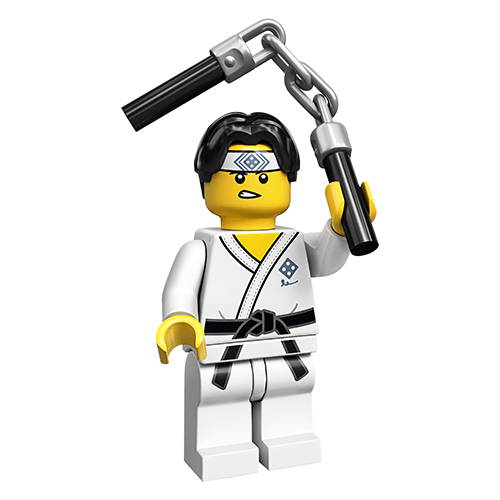 How about having a super warrior minifig in your closet one more time? The series 20 seems to be a thoroughly planned one and I can tell the results are great! The super warrior is seen wearing a bodysuit that's all painted in red, he's wearing a pair of neat white boots that are being dual molded. Also, his helmet has the same red color only that this time some part of it is being designed with gold and black color. He's all covered in such a way that it's impossible for anyone to see his face, but then the helmet is removable.when you pull the helmet, you'd notice that the super warrior has a one-sided face. He's always carrying a sword that's jagged edge and in a trans green color, and a white color which is said to be a new one for the element. Children are one of the biggest fans of the super warrior minifig.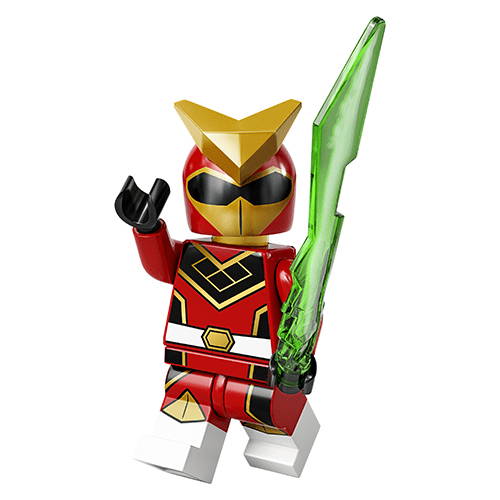 Ever since we started a highlight of the series 20 mini-figures, we've not mentioned any sort of animal included and that's because no animal was included by LEGO. 

The Sea rescuer consists of olive green and a medium nougat figure having some sort of an anti stud somewhere at the bottom and they all went through the process of dual molding. This Minifigure set reveals a tiny lovable sea turtle that is being attached to the Sea rescuer, the turtle measures about 3 studs in terms of width and also 3 studs in terms of length.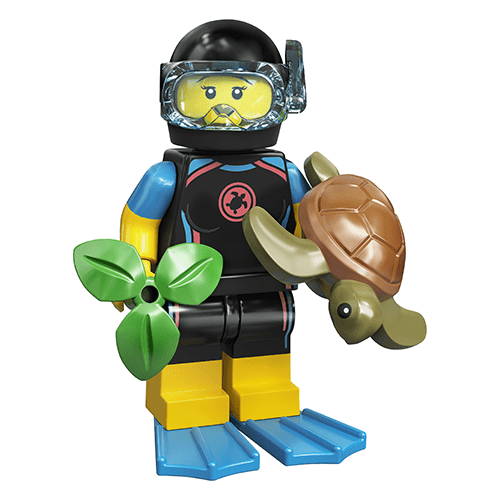 The Sea rescuer doesn't swim professionally because we can't see anything that indicates that. She is seen rather, wearing a black bodysuit which has a Lego of a little turtle ( it seems like a logo). 

The Sea Rescuers sleeves are colored In yellow and black colors respectively and also, they are dual molded. Her helmet is of standard and also her snorkel mask. She's seen carrying a bright light green stem. Her body is molded in bright yellow color then she carries out her daily activities while having her dark blue flippers. The Sea rescuer is a good addition to your collection of Lego mini-figures.

Apart from letting you know the Minifigure collectibles in the series 20, it's important to note that you still have your favorite picks to make and we can't and don't intend to force choices on you. All the series 20 Minifigures can be found and bought from Amazon or some other LEGO stores (could be either offline or online). And we hope you have fun with your favorites!


---