Transport construction materials like a pro with the LEGO 4x4 Mercedes Benz Zetros Trial Truck 42129 Set.
The Mercedes Car company is known for making top-quality cars. Cars designed for families, single persons, and even Racecar fanatics. There is just about a car fit for every type of person and every type of work. Are you a construction worker or own a construction company? Of so, you know of the 4×4 Mercedes Benz Zetros Trial Truck. This fantastic truck is built to be both strong and high-powered. The most prominent features of this set are the enormous tires and the body elevated to be high above the ground. The car also comes with a strong exhaust pipe. The textures of the tire make it able to be driven under any circumstances. 

Did you have the privilege of riding one of these construction cars? Did that grow your love and appreciation for the car? Would you love to build this car from the ground up, getting better acquainted with its overall look? Well, if that's your feelings, then you would love the idea of building the Lego 4×4 Mercedes Benz Zetros Trial truck. This truck is designed to replicate the look and build of its real-life counterpart perfectly. This includes its bodywork and even tire size and texture. This fantastic set could be a perfect gift for a construction car fanatic. This set also has a terrific building experience, which would keep builders on the edge of their seats. What was the experience like? Let's find out.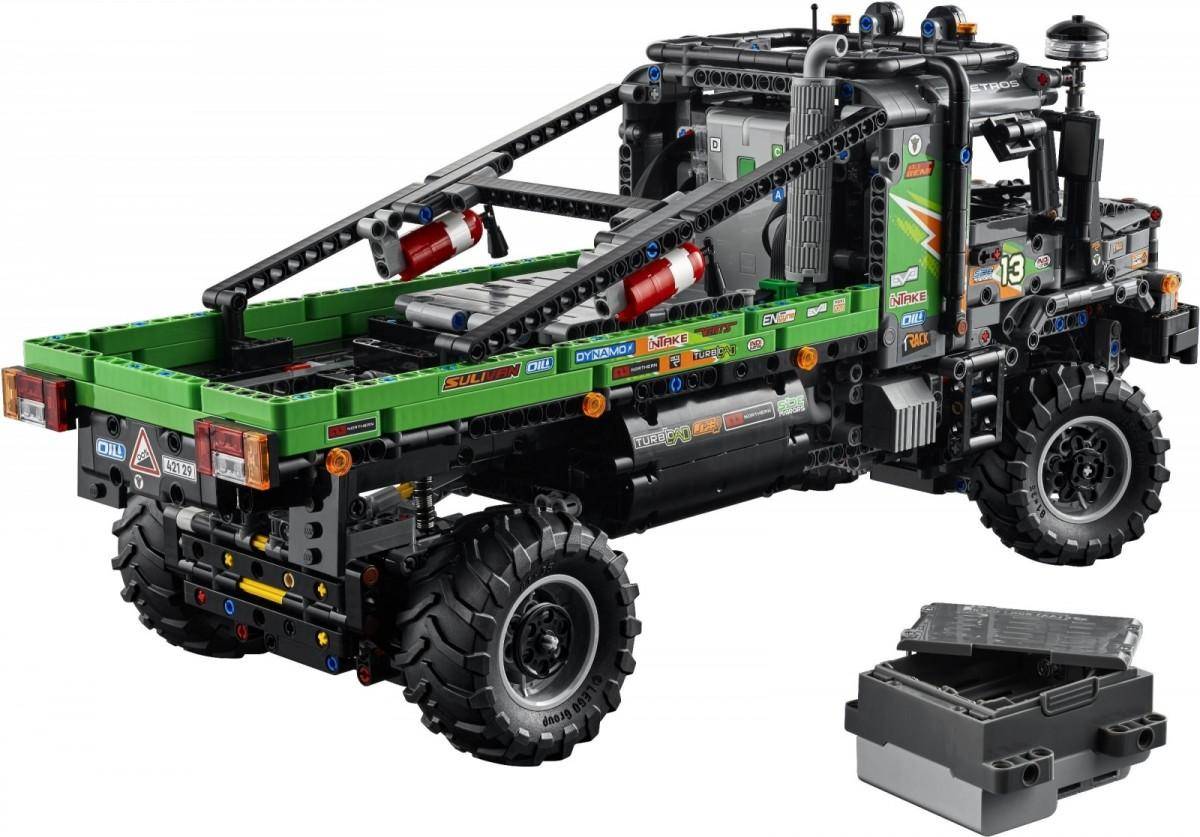 BUILDING EXPERIENCE FOR THE LEGO 4×4 MERCEDES BENZ ZETROS TRIAL TRUCK 42129 SET.
The Lego 4×4 Mercedes Benz Zetros Trial Truck keeps builders engaged and feeling like engineers. It contains realistic details of the Construction truck and offers a new and unique way to tackle Lego building problems. It comes with more than 2000 brick pieces, which means that you would not be building this set in a hurry. To get the best out of the building of this set, you would have to set out a specific time. A time for you and your Lego set. Doing this would improve your chances of getting yourself immersed completely In the building, as there would be little or no distractions. Also, add something to lighten the mood, like good excellent music, or maybe a snack that keeps your mouths busy. The Lego 4×4 Mercedes Benz Zetros TrIal Truck is part of the Lego Technic collection, so you can expect to have a set that challenges you as a builder.
Are you new to Lego? If so, this set probably isn't the right way to kick start your building career. You could create from a much smaller set and slowly work your way through the top. Try your hand on this set once you feel you have got what it takes. Do so using our instruction manual that is easy to understand. This manual is not only easy to read and understand but also offers a detailed step-by-step solution to all problems you are likely to run into while building. So feel free to make good use of the manual when you seem to have encountered a roadblock. Overall, with the Lego 4×4 Mercedes-Benz Zetros Trial Truck, you get a set that is not only a correct replica of its real-life counterpart but also offers a very satisfying building experience. And for what it's worth, you also get excellent features along with a fantastic building experience. What are those cool and authentic features? Let's find out.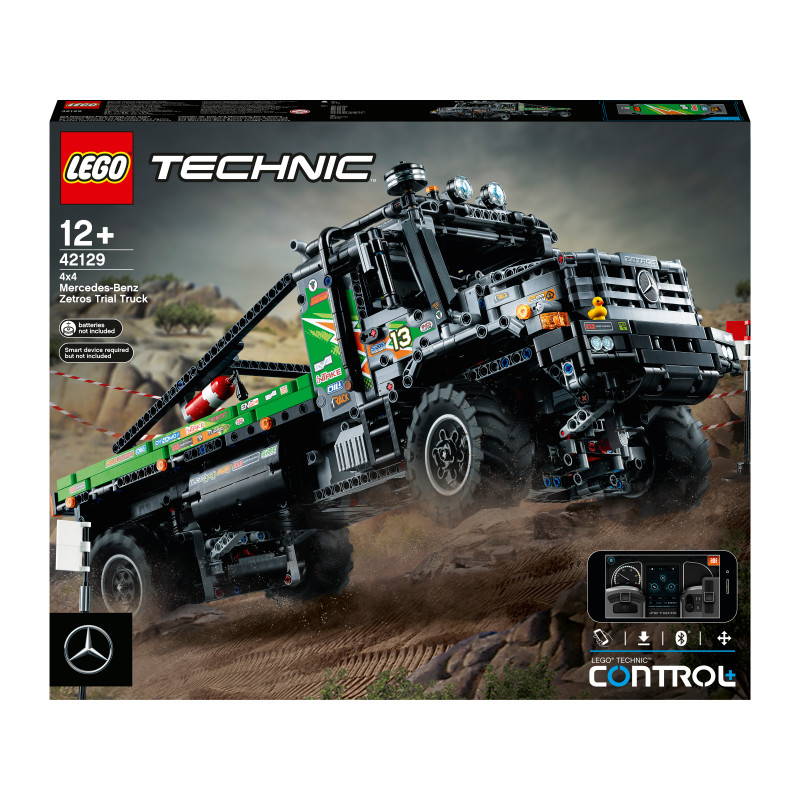 COOL AND REALISTIC FEATURES FOR THE LEGO 4×4 MERCEDES BENZ ZETROS TRIAL TRUCK 42129 SET.
The Lego 4×4 Mercedes-Benz Zetros Trial Truck is packed with many realistic details that can keep builders engaged for hours. Let's find out what those details are.
• A REALISTIC LOOK.
The Lego 4×4 Mercedes Benz Zetros Trial Trucks differs only in size from its real-life counterpart. This means it has some details perfectly captured and replicated in this set. This feature includes 2 Fire Extinguishers, high elevated four-wheel suspensions, a gearbox, and differential locking. You would also require 6× AA batteries to help power the set. These batteries do not come with the set but can be acquired separately at any convenience store near you. And as a bonus, the set also offers a Race themed sticker to help get your grove on. With the successful implementation of all these fantastic features, you would have built a set worthy of admiration.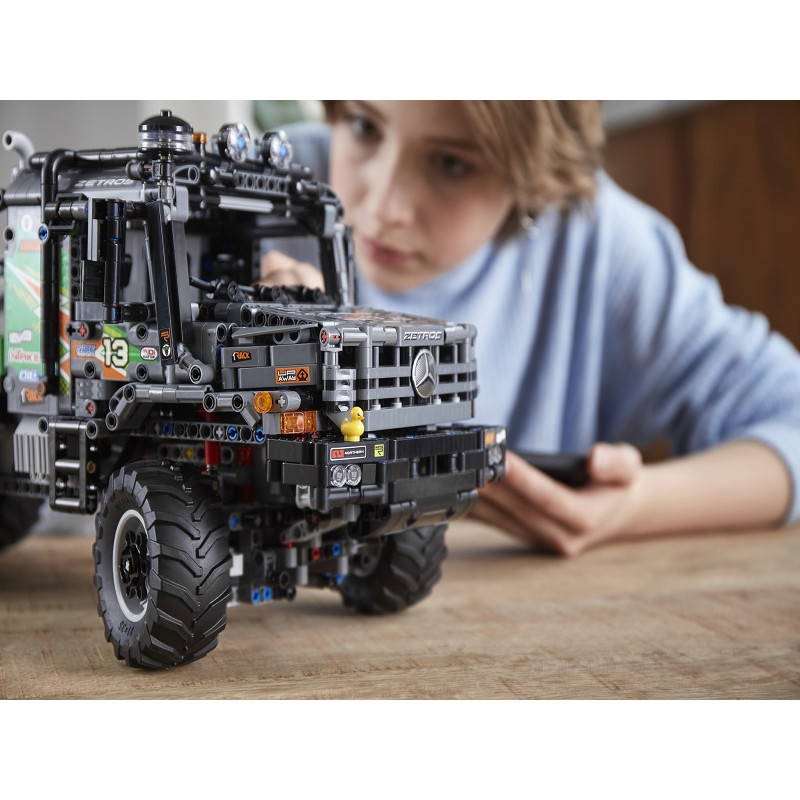 • A PRODUCT OF TOP QUALITY.
The Lego 4×4 Mercedes-Benz Zetros Trial Tuck is a product of top-quality materials. Each material has been adequately tested and has passed through vigorous twists and turns to deliver a safe set for builders of all age groups and could be used in the presence of kids. This means you do not have to send your kids away as you build. You could have your kids right by your side for motivation. The Lego quality control team has also tested the set for compatibility and durability and has also passed. As a result, you have a set that is safe, durable, and easy to work with.

• SET SIZE.
This set is also relatively modest when it comes to size. To be precise, it is a product of over 2000 pieces, about 2129 pieces. This set has no Minifigures, just as other sets under the Lego Technic collection. This gives you more time to bond with the set, not distracted by the amount of roleplaying capabilities. When fully put together, you would have a set about 8 inches high, 19 inches long, and 7 inches wide. This makes this set perfect as a display masterpiece.
This fantastic Lego set could be easily purchased from Lego stores in your area or directly from the Lego website. Buying this set from the website lego.com gives you a fixed price range. The only thing to be about would be converting your country's currency into dollars. If you choose to buy this set directly from the Lego website, you should have an estimated budget of about 300 to 350 dollars. This is because the set could range anything from 299.99 to 350 dollars. This price is worth a feature you would be getting. And you could even enhance your sets looks even more, how? Let's find out!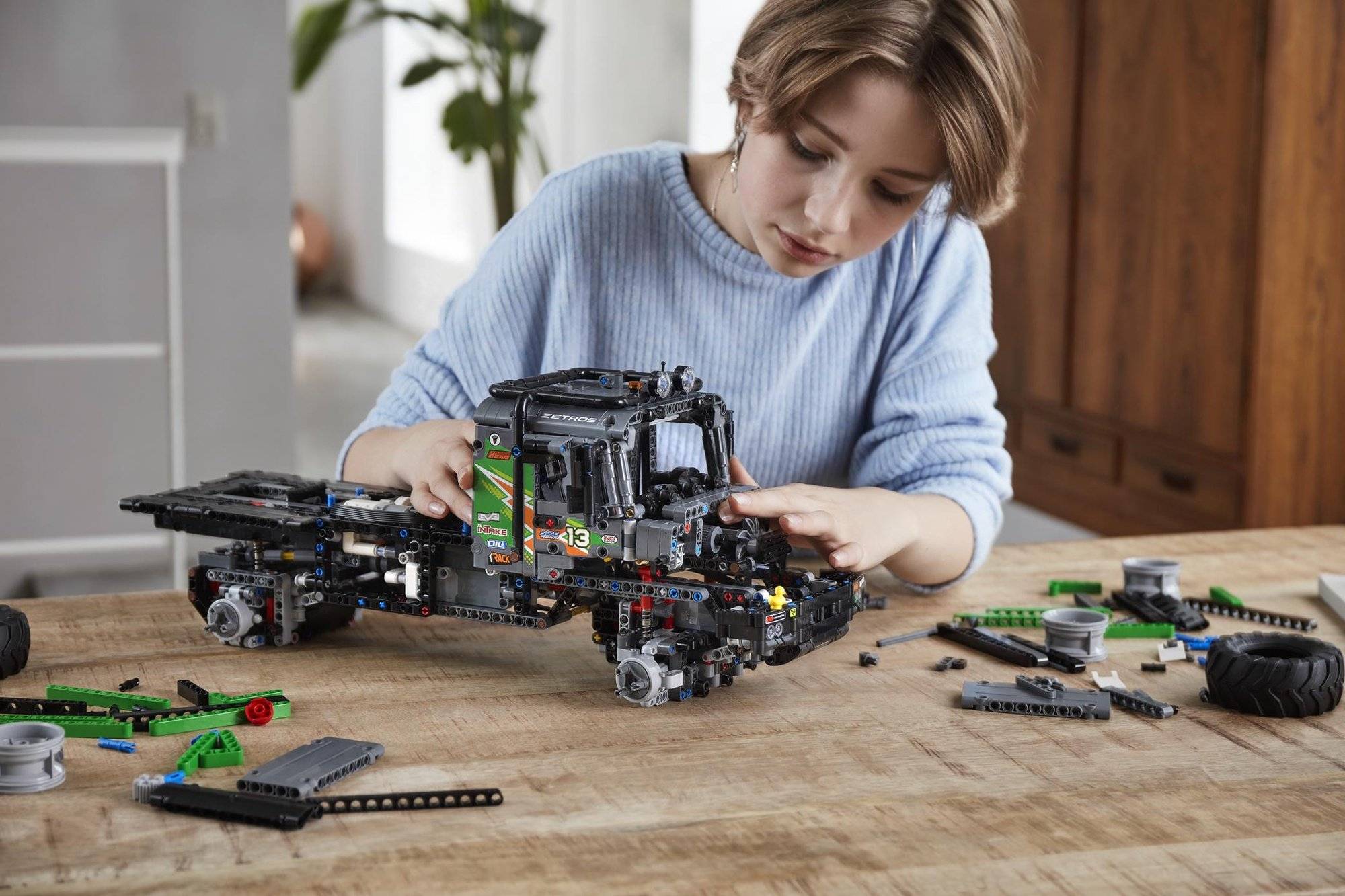 ENHANCE YOUR LEGO 4×4 MERCEDES BENZ ZETROS TRIAL TRUCK SET WITH OUR SPECIAL LIGHT KITS.
Looking to make your Lego 4×4 Mercedes-Benz Zetros Trial Truck set more fascinating? Well, you can do this by including our Lego light kits in the mix. Our light kits do not come with your set but can be bought separately from our website, game of bricks.com. Are you new to Lego lights? Then you are probably wondering how it works. Well, you would need to finish the building of your set. Once you are done, purchase your very own light kit from our website. You could decide to go for either the basic or the standard version. Once all that is done and your light kits arrive, inspect them all and ensure no incurred damages on shipment. Once that has been sorted out, you can now move on to installing your light kit. As you aren't all, keep these minor suggestions in mind.
1. USE THE MANUAL FOR HIGHER SUCCESS.
As someone new to Lego, you must have many questions and confusion. This could draw you back and make installation a difficult process. We at game of bricks share your pain, and as a result, we have included instruction manuals in each purchased light kit. This manual contains step-by-step instructions to help make your installation as smooth as possible. Also, remember to treat all light kits and accessories with care. Our light kits are very delicate and should be treated as such. So as you work with your light kit, make sure the environment is neat and well organized. A table would be best, along with all the items and equipment you need. If you follow these best practices as a new light kit installer, you are bound to succeed.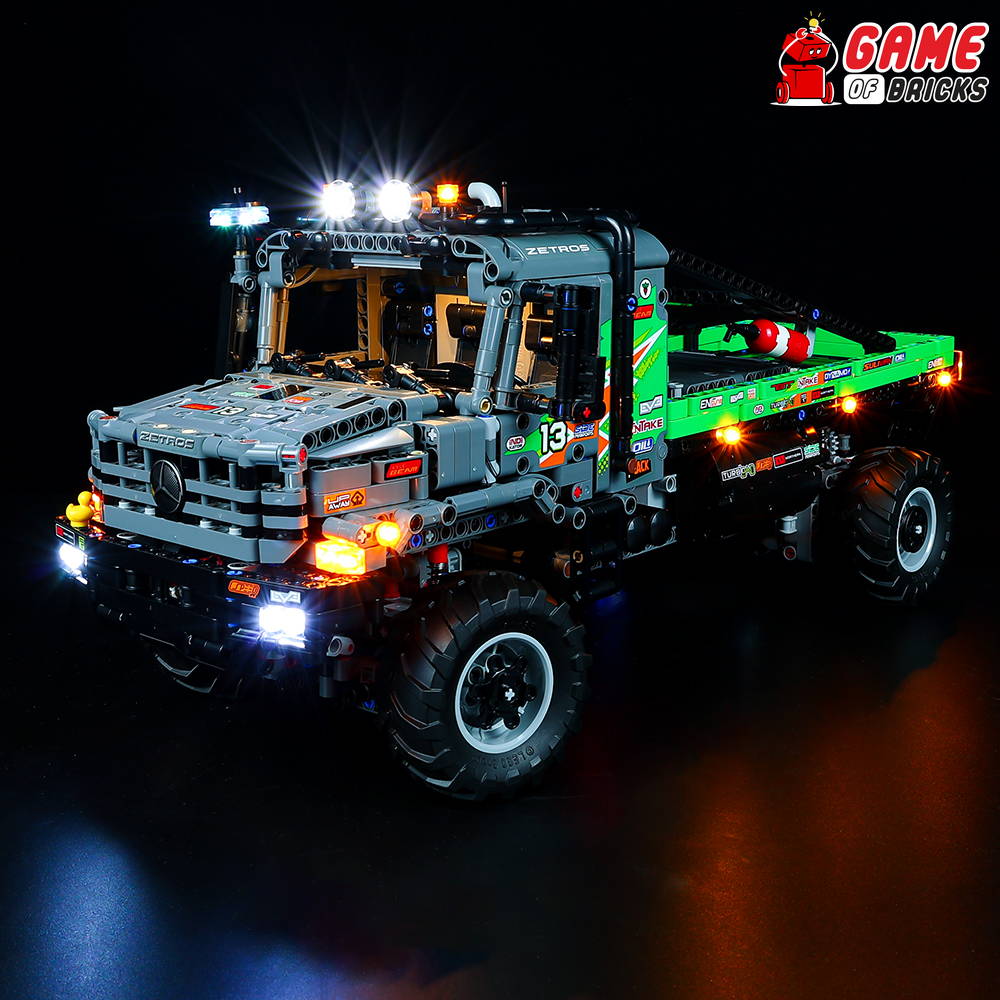 2. TEST WITH CARE.
As soon as the installation of your light kit is a success, then ensure also to take time off to test your newly installed lights. Make sure it is safe to be in the presence of both children and parents alike. Checking for sparks and short-circuiting could be a good and quick way to spot a problem. If all looks good and safe, put your amazing Lego 4×4 Mercedes-Benz Zetros Trial Truck on display for all to see!
---