The championship title just got easier with the LEGO Lamborghini Countach 76908 Set.
We all want and love exotic cars with style and finesse. But a vehicle that combines finesse with speed, well, that's the ultimate champion. Ultimately, the Lamborghini automobile has done a great job in delivering both. They have done this with a series of cars/ sports cars that offers riders overwhelming speed and comfort to go with it. Then to rap it all up, the Lamborghini automobile provides a nice-looking build and paint job. These and many more are among the many reasons why we love Lamborghini. The Lamborghini Countach of 1970 was one of those cars outdone by Lamborghini. 

This unique car was the hot topic of the 1970s and for good reasons. The car was not only fast and luxurious, but it was also fascinating to look at. It was amazing to look at from every angle. Are you a fan of the Lamborghini automobile? Maybe it has been your lifelong fantasy to drive around this iconic race car, but you never got the chance? Well, you could now. Lego bricks company presents to you their latest masterpiece, the Lamborghini Countach. This fantastic Lego set is a replica of the 1970s sports car. Lego has done its best to ensure all parts of the set do natural justice to its 1970s counterpart. This may not be all it takes to convince you, but this set offered an intriguing building experience. What does that involve? Let's find out.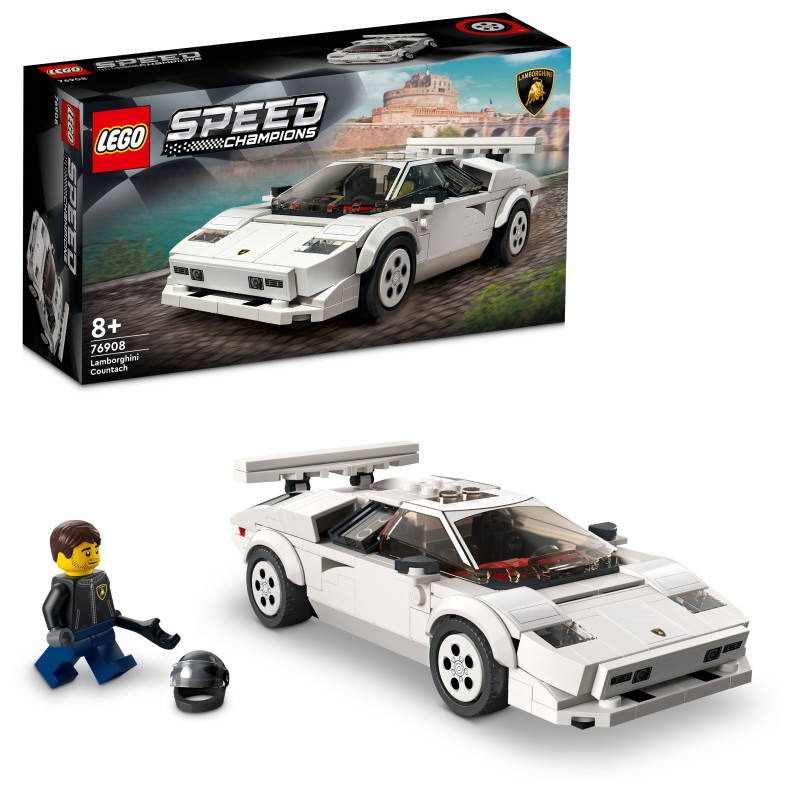 BUILDING EXPERIENCE FOR THE LEGO LAMBORGHINI COUNTACH 76908 SET.
Though this set comes with a little over 200 pieces, it does not stop it from having a fantastic building experience. This iconic set is part of the Lego technic collection. It replicates genuine car parts with Lego elements. Feel like an engineer as you bring this fantastic Lego set to life. Do you have a friend who perhaps would like to join you in building this set? Make your building experience more fun by creating this Lego set together. As you bring each element together, notice how they connect smoothly to eliminate joining lines. And if you make a mistake, there is no need to worry. Disconnect the pieces and try again. The Lego Lamborghini Countach offers you a workflow that is as smooth as possible.
This Lego set also offers a paper and digital building manual. This means you get the opportunity to choose which would work for you. Both have their advantages, maybe one more than the other, but are both helpful to you. So if you run into any hiccups as you bring this set to life, feel free to consult your manual. The information is simple and easy to understand. You also get access to clear pictures that help illustrates how each step should be carried out. This fantastic feature also helps ensure that you do not run into any troubles bringing this set to life. So as you build his unique Lego set, enjoy the ultimate satisfaction that comes from creating something worthwhile—still looking for reasons why you should include the Lego Lamborghini Countach in your collection? Well, the set is also a fantastic display piece. Oh, and it also offers original features you wouldn't want to lose out on. What are some of these features? Let's find out.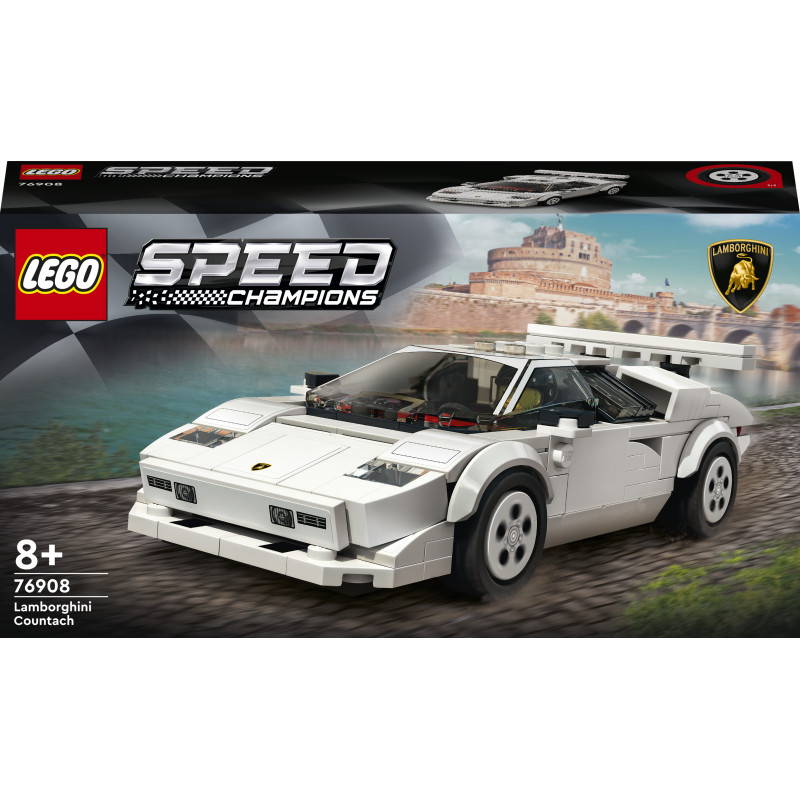 AUTHENTIC FEATURES FOR THE LEGO LAMBORGHINI COUNTACH 76908 SET.
The features of this set may seem basic, but it's part of what makes this set amazing. This section would shed more light on what some of these features are.
• ICONIC DETAILS.
This unique Lego set more than did justice to the 1970s Lamborghini Countach set. One detail that stood out with this car was that it was beautiful from every angle and had a fantastic paint job. Lego well expressed these two features in this Lego set. Aside from these, the set also comes in brilliant white color. This set's beautiful and authentic features make it a fantastic display masterpiece. Brag about this set with your friends and all who wish to hear.

• A DRIVER MINIFIGURE.
Well, other than serving as a good display set, the Lego Lamborghini Countach also stands to encourage imaginative role-playing. This makes it an excellent set to help keep kids engaged after building. The Lego set does this perfectly with the addition of a driver Minifigure. This Minifigure is well detailed with a suit, helmet, wig, and wrench. Enjoy long racing hours. Fix your car at every stop to prepare it for the next race. And, the set has doesn't use a battery. This means your kids could enjoy endless hours of racing.
• AN INTERACTIVE MANUAL.
The Lego Lamborghini Countach also features interactive digital building instruction. This building manual contains valuable information and pictured illustrations to help you with every step. You could even zoom in and rotate each 3D image to get it from every side. This feature allows give you a more comprehensive understanding of each step. This also helps ensure you get maximum success from your building together. You could download this digital manual ed to your Android or IOS. This means you have close access to the instruction every time you build.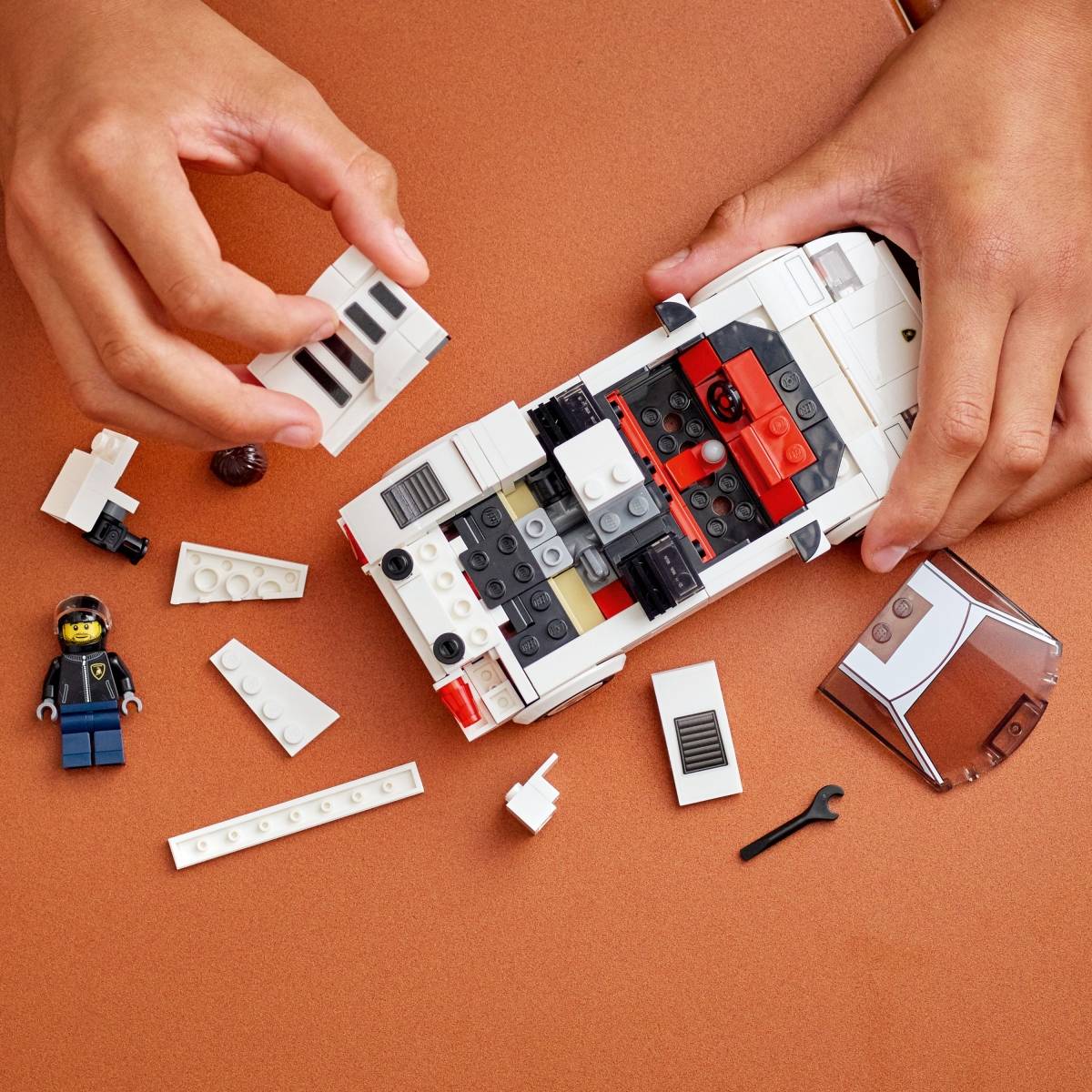 • SET SIZE.
This Lego set is relatively small in size. But is just large enough to be seen from a distance. Its ratio is about the size of a regular toy car but slightly larger. Because of the size of the set, it could be built in record time by expert Lego builders. It could also be easily played with by kids, moving it back and forth on the ground. The Lego Lamborghini Countach comes with 262 pieces of pure perfection. Each brick has been tested and ensured it meets the Lego industry standard. So be assured of top quality with this fantastic Lego set.
• SET PRICE.
The Lego Lamborghini Countach can be purchased at any Lego store in your area. If you can not have access to a Lego store in your place, you could buy this set directly from the Lego website. And if you still can't seem to get your hands on this set, feel free to search other online stores like Amazon. Note that the price of this set could be slightly higher if bought from any different retail store. The Lego Lamborghini Countach is sold at about 19.99 dollars. This is very affordable when looking at the number of details you would be getting with this set. Gift a Lego Lamborghini fan with this fantastic set. You could also add our Lego lights for double the fun! What are Lego lights? Let's find out.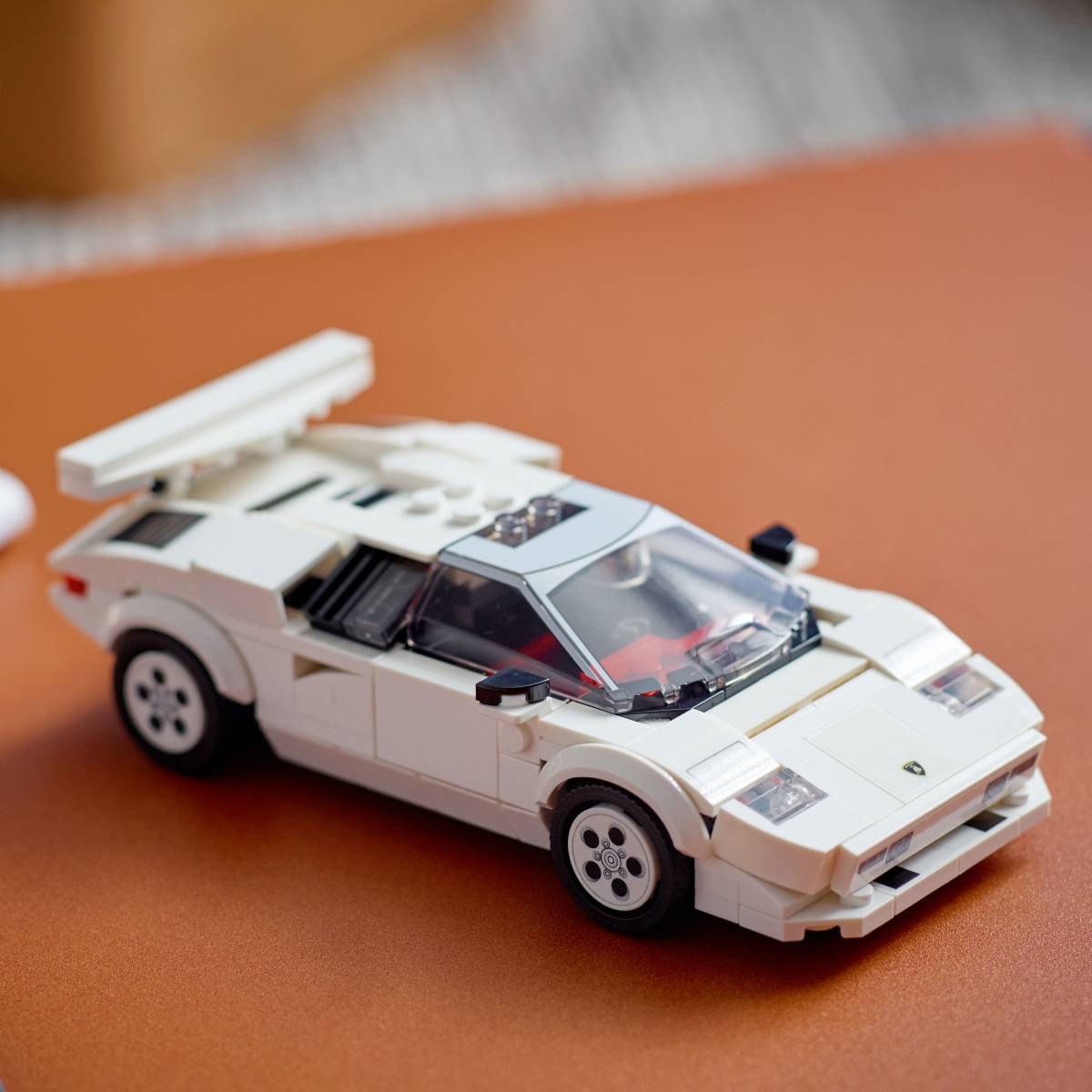 MAKE YOUR LEGO LAMBORGHINI COUNTACH EVEN MORE BREATHTAKING WITH OUR SPECIAL LIGHT KITS.
You can make your Lego Lamborghini set look even more intriguing with the help of our light kits for just a few extra costs. Think your Lego set is fantastic? Just imagine what our special light kit would improve upon. Each Lego set has a unique light out, including your Lamborghini Countach. Purchase the light equipment of your choice from our website, www.gameofbricks.com. You are visiting our website today to unlock a world of opportunities for you and your Lego set. But purchasing our light kit should only happen after you are done building your set. Once each light kit arrives, ensure to inspect for damages. Immediately report and request a change using your warranty card if you find any. We will be happy to help. If you find nothing wrong with your set, you could move to installation. But how do you install it? Let's look at some helpful advice that could improve your chances of success.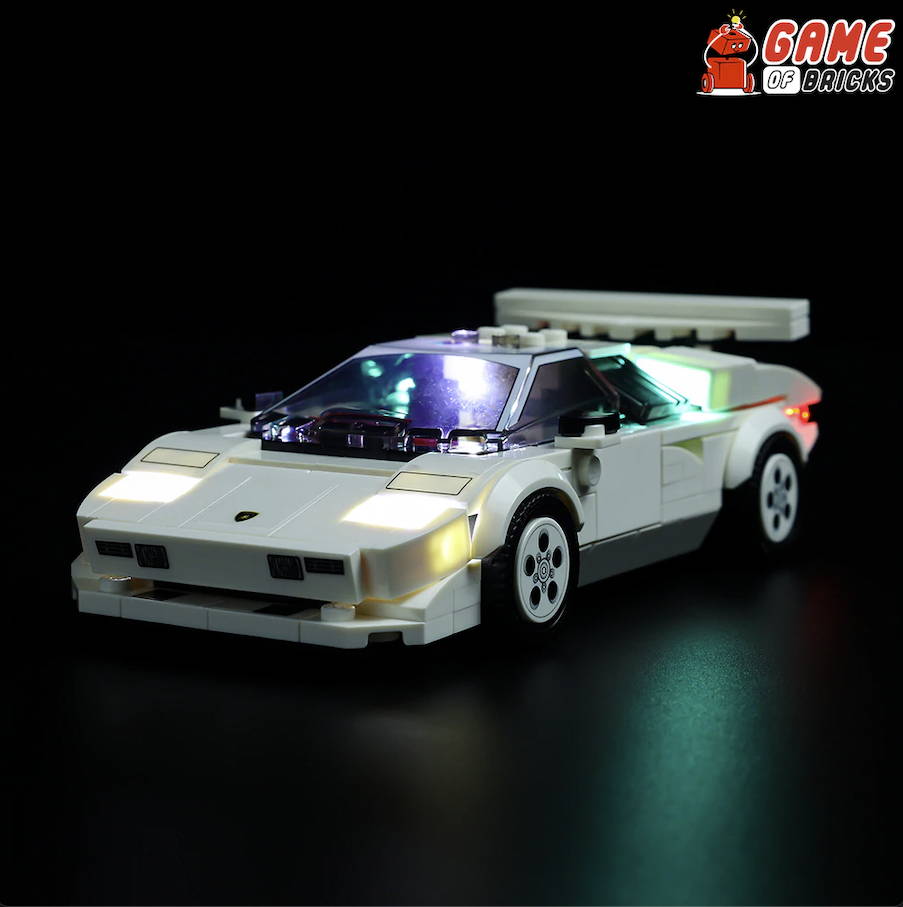 HOW TO INSTALL.
Each of our light kits comes with easy-to-understand manuals that would help guarantee maximum success. Ensure to follow all the guidelines from the manual, and you will be okay. Make sure also to handle each of your light kits and accessories with care. They could get badly damaged if you take them roughly. So make sure you run them properly. If you do, you will achieve maximum success with your installation.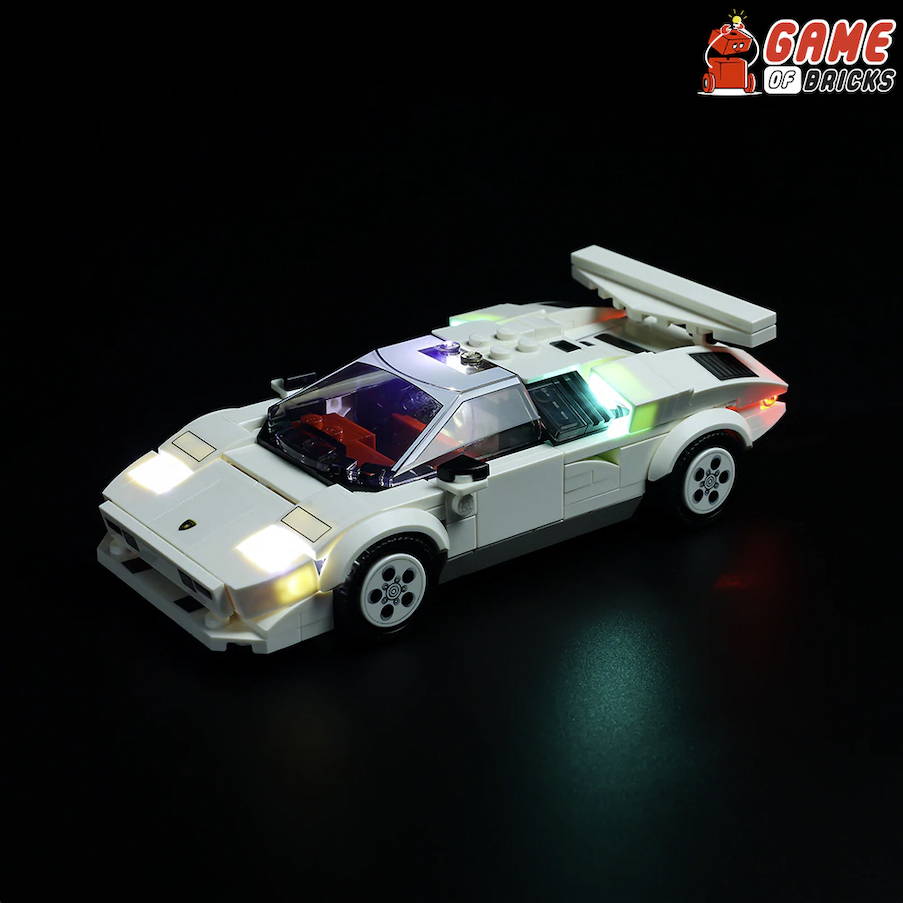 INSPECT ALL INSTALLED LIGHT KITS.
Once you are done installing your set, you need to inspect your set. You want to make sure everything is in order. So search carefully to ensure you did not miss anything. Also, make sure your light kits are safe by checking for sparks and signs of short-circuiting. Light up the track for your Lamborghini Countach if you don't find any using our amazing Lego lights.
---