Feel a wizard in the making when you build the LEGO Hogwarts Moments Herbology Class 76384 Set.
The Lego Hogwarts Set collection continues to grow, with new sets added by Lego now and then. Among all the set adaptations from the Harry Potter movie, the Hogwarts Moments collections stand out as one of the most famous. But what makes this set so renowned. Well, it's because sets under this collection are designed to recreate memorable moments found in the different classes taken by Harry Potter and his team. Locations under this collection are well designed and could serve as a good collector set. Thanks to their signature BOOK design, you could easily recognize sets from this collection. 

Are you a Harry Potter fan? If so, you are surely going to love working with this set. The set has an excellent design and is very colorful and well packaged. The collection is designed to appeal to builders of all age groups. Do you have kids who won't give you an ounce of space? Why not get them doing something more productive with their time by gifting them this set. You could decide to get your kids this set as a nice birthday present. Aside from this, it sets authentic design and offers an excellent building experience. In the below sextion we will look at details of this set-building experience that would bring you and your kid great satisfaction. 
A SATISFYING BUILDING EXPERIENCE FOR THE LEGO HOGWARTS MOMENTS HERBOLOGY CLASS 76348 SET.
A lot of original features make up this fantastic Lego set. to begin with, the entire set is built as though being inside a book. Once you open the book, you have a great story told inside, with the skillful arrangement of bricks and pieces. These details are to be built by you, with only a few of the details given to you as Lego elements. The brick pieces used in the building of this Lego set are all neatly arranged in transparent plastic bags. Each plastic bag is well placed to help you quickly identify which brick pieces are for each building stage. To start the construction, you would be building the booklike cover first. After which, you would need to make the distinctions and separate them. You would also utilize lots of stickers to add life and color to your set.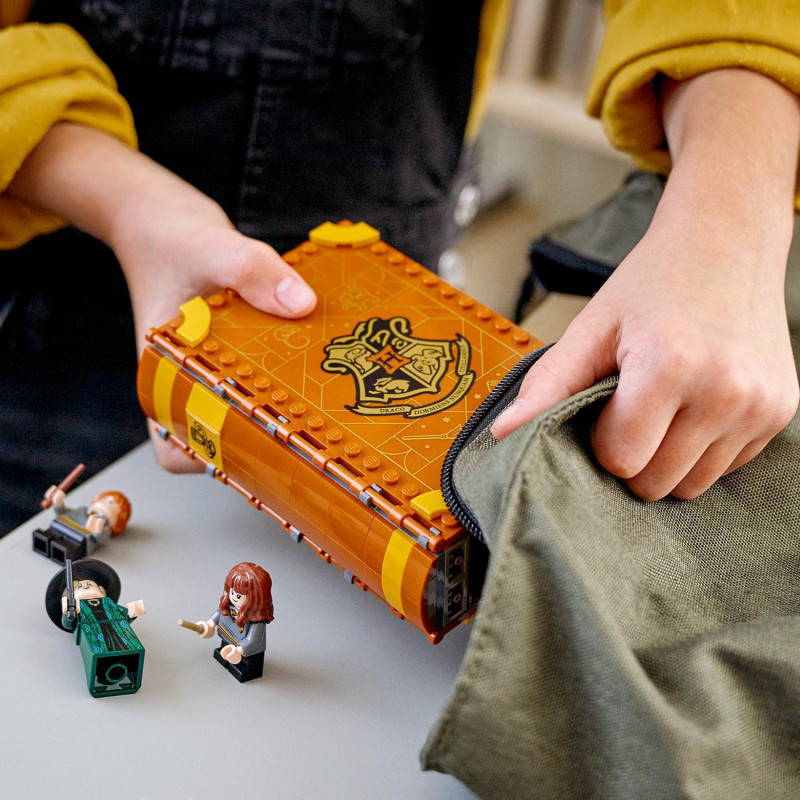 Another cool feature ofthis set is that you are given access to an instruction manual to help you every step of the way. So if you are new and working with Lego for the first time, this shouldn't discourage you. The manual contains diagrams and pictures to help make the installation process much more manageable. The set manual also includes valuable information about the Hogwarts Herbology class. And suppose with all these resources you still run into some difficulties. In that case, you could watch instructional videos that would give you clear directions on what steps you would need to take to build your own Hogwarts Monments Herbology class successfully. Overall, this Lego set would bring satisfaction to the hearts and minds of all those willing to make it. Aside from a fun, well-organized building experience, this Lego set also offers excellent features which promote further gratitude. Let's look at what those features are. 
AMAZING FEATURES OF THE LEGO HOGWARTS MOMENTS HERBOLOGY CLASS 76348 SET.
● LOOKS LIKE A PLAYBOOK.
One cool feature of this set, seen in other Lego Hogwarts Moments sets, is its booklike design. This set is designed like a children's playbook and can be flipped to close and open. Once you fill open the set, you are greeted with a beautiful moment cut out of the Harry Potter movie, of them in an herbology class. Both the exterior and interior of this Lego set are well designed. Have you already started piling up your own Hogwarts moments collection? Well, you could increase it by adding this set to your collection.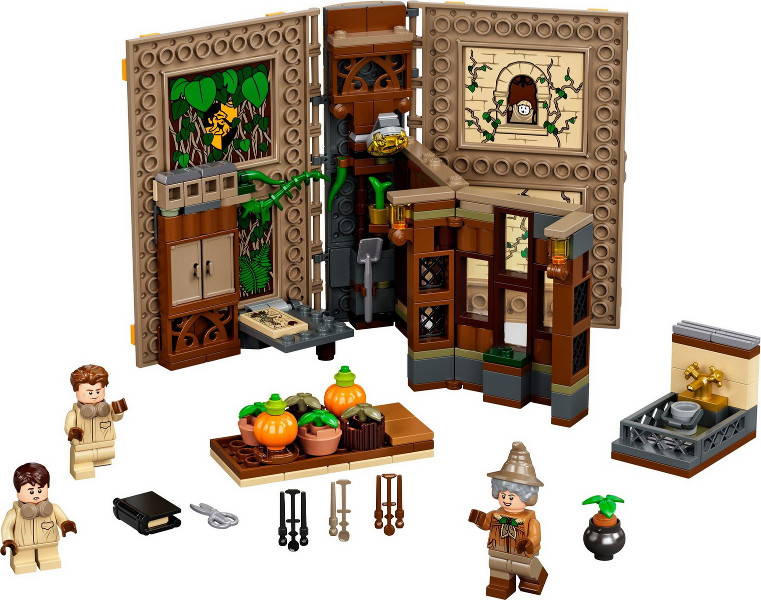 ● AWESOME DISPLAY.
Another cool feature of this set is its display capabilities. Yes, this Lego set could make a fine addition set and be covered and tucked away neatly on your bookshelf. You could also decide to display it at the center of your living room table. You could also put it on display alongside other unique sets in the collection. There are a lot of display opportunities for this set. You also have the flexibility to display the scene however you please. This in itself makes this Lego set a lot cooler.
● THREE MINIFIGURES.

This set is built in such a way as to inspire roleplaying. If you have kids with active imaginations, they will benefit from this set the most. Aside from the set's look, design, and being part of a collection, the set also comes with three minifigures. These minifigures help make the set more appealing to the kid. The minifigures are easily recognizable as representing real characters from the movie. You have the Minifigure characters of Neville Longbottom, Cedric Diggory, and professor sprouts. Help kids put their imagination to the test when they bring this Lego set to life.
● TOP QUALITY MATERIALS.
Like other Legos, this Lego set is known to be highly durable. This means you could expect to keep this set for a very long time. All materials used for this Lego set have been tested to ensure they meet Lego company's strict standards. Since this set is also designed for younger ones, Lego has done all it could to ensure that the set is also safe for kids. If you have kids younger than eight around, be sure to keep a close eye on them.
● SET SIZE.
This Lego set could be considered a medium size set. It is designed to look like a children's playbook. It is also the size of a small book and can fit perfectly on a bookshelf. The set comes with a total of 233 pieces. The set measures about 5 inches high, 3 inches wide, and 1.5 inches deep when put together. This makes it an excellent display set.
● RETIRING.
If you are still thinking of getting yourself one of these sets, now is the time because this Lego set is retiring soon. Once the set is retired, Lego would stop all productions of the set, limiting the number of sets in circulation. This would make the price of this Lego set to skyrocket. So be sure to get the set now it's still very affordable.
Are you looking for where you could purchase this Lego set? You could get it at any Lego store in your area. You could check a toy shop if you don't have access to one. If you dont like of going to the store, you could order it from the Lego website. The set is now sold at 69.99 dollars. Since the set will soon be retired, it may not be available on the Lego online store. There is one more cool feature you could include in your Lego Hogwarts Moments Herbology class set. This is our unique light kit. How does it work? Let's find out.

MAKE YOUR SET EVEN MORE ENCHANTING WITH THE HELP OF OUR AMAZING LEGO LIGHTS.
Our Lego lights are fun and very easy to use. Once installed, it would make your Lego set look even more beautiful. You may be thinking how you could go about installing one of our light kits. Let's look at some suggestions.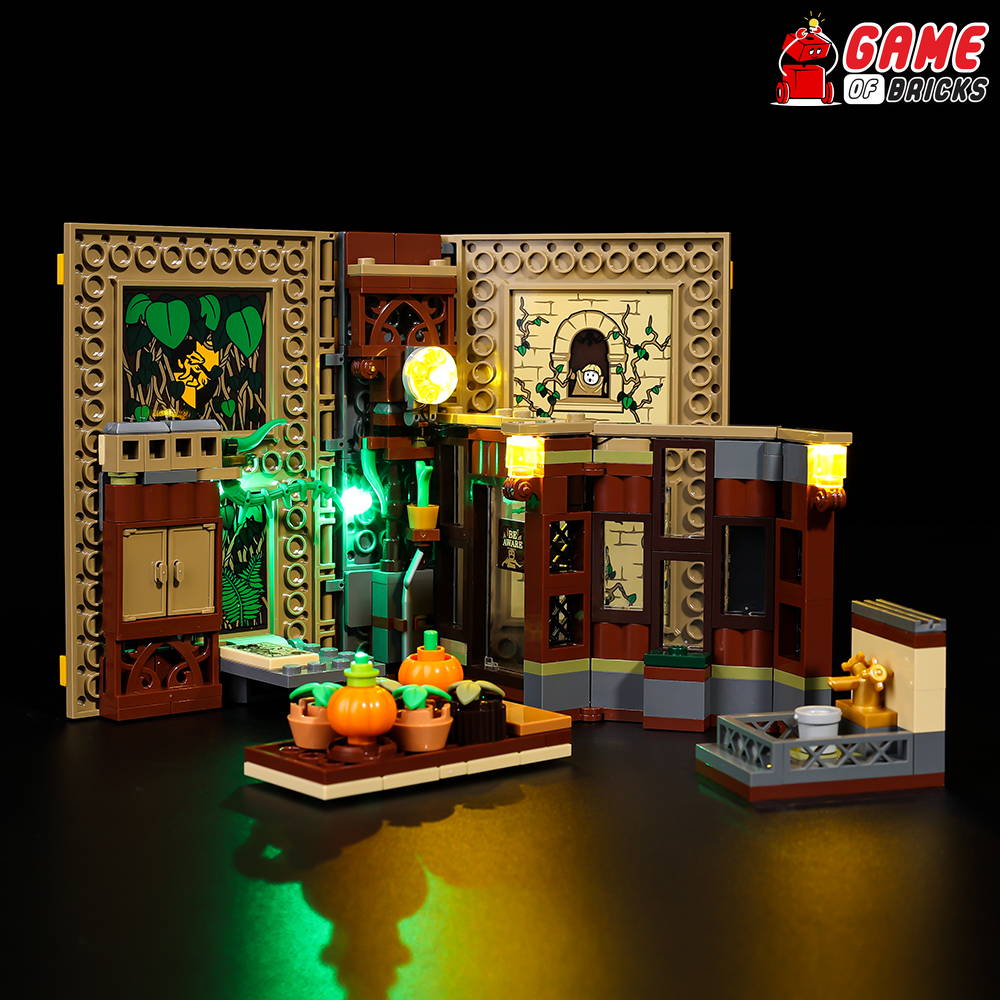 ● INSTALL WITH THE MANUAL.
When you get something new, you are always going to need guidance. To get the best out of your light kit, it would be best to study it carefully. Make use of the manual when building. This is very important to ensure you do not damage your light kit. It would also help make the installation process straightforward. So if you want an installation that is as smooth as possible, it would be best if you used the manual.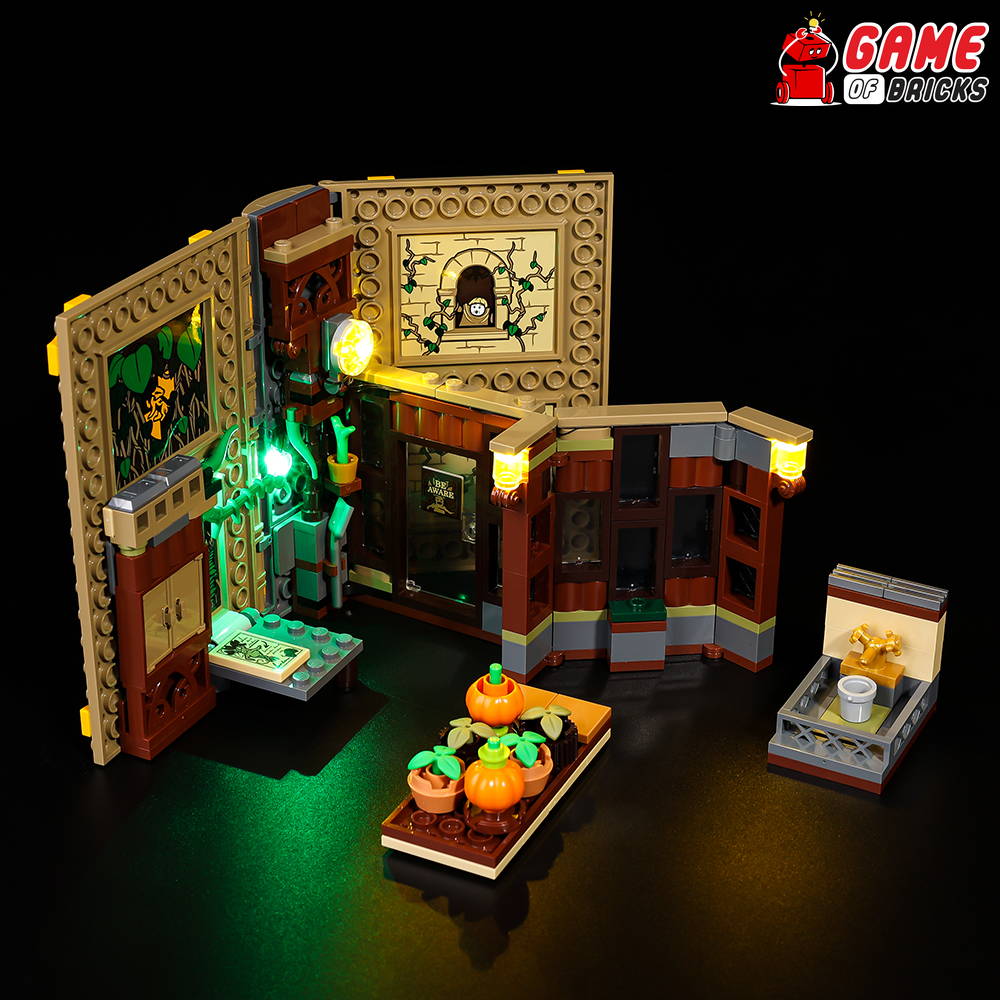 ● TEST YOUR LIGHTS.
Once you install your light kits, it would be wise for you to test them. Chances are that the light kit you installed isn't working correctly. Search out for signs of short-circuiting. This sign would quickly help you detect a problem. Once you notice any issue, be sure to fix it. Once you have successfully installed your light kits, put them on display for all to see!
---