Build strong bonds and friendships with the LEGO Friendship Treehouse 41703 Set.
When it comes to building bonds and great friendships, there is no more significant way to achieve this than with the Lego Friendship Treehouse set. This Set comes with more than 1000 fun, easy-to-use brick pieces. The Set has been perfectly designed with many breathtaking details that would keep any builder engaged for hours. Yes, you read correctly, any builder. This means that the Set has been designed to be comparable with builders of all ages. So whether you are an adult looking for something nice and fun to keep yourself and your guest entertained, or maybe your kids, this is the Set for you.

So what are you still waiting for? Hop on to any Lego store and get yourself one of these sets. You will not be disappointed. Or wait, it seems like you need a little more convincing. If that's the case, stick around as we will be exploring all the unique features and details of this Lego set, starting with its building experience. So what makes this Set, so fun to build? Let's find out. 
BUILDING EXPERIENCE FOR THE LEGO FRIENDSHIP TREE HOUSE 41703 SET.
The Lego Friendship Treehouse is truly a unique set. The Set has been designed to teach kids a fun and valuable lesson – the importance of friendship. The Set features endless details that are fun and exciting to bring together. The Set encourages kids to tap into the power of friendship and teamwork. It helps kids from ages eight and up learn the importance of friends. The Set also features a scene that teaches giving as an essential aspect of friendship. Kids could engage in this habit by helping their tree house friends build and sell products to raise money for charity. The Set also offers many other ways for children to learn and grow virtues that would help them become mature adults.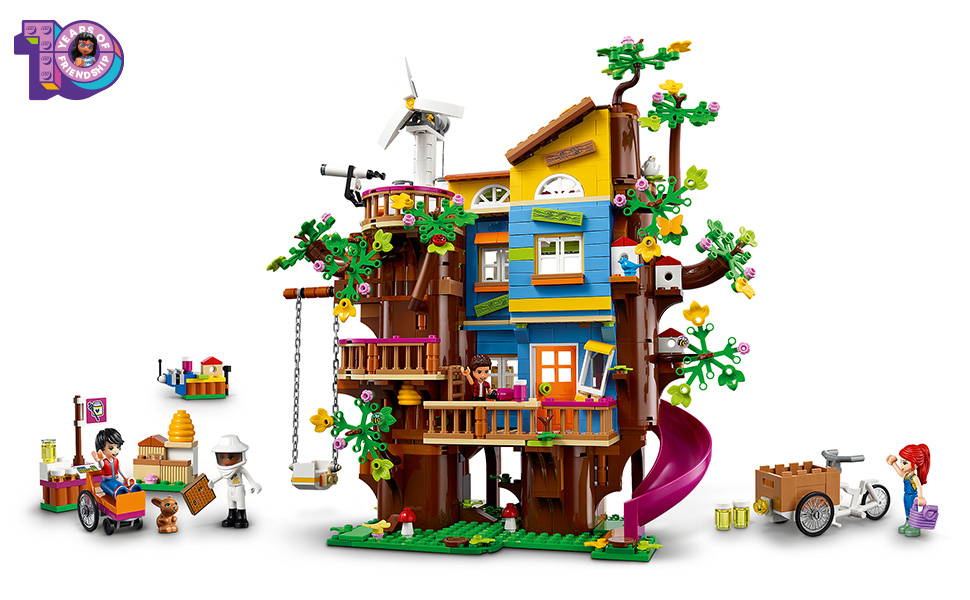 The Lego Friendship Treehouse comes with a bonus aid to the building. This is a digital building guide. You can find this electronic guide on the Lego building instruction app. This guide not only helps make your children building fun and easy but also gives them a mental picture of what to expect from this Lego set. So if you would love to make your kid's building experience twice as fun, why not try granting them access to this new and innovative approach to building with Lego. And who knows, maybe you would unlock your child's love for art and architecture. The Lego Friendship Treehouse set is remarkable and should be on every kid's shelf. Getting your kid this excellent Lego set with marvelous features would help contribute to a growing generation of young creatives and brilliant elites. Aside from a fantastic building experience, this Lego set also includes features that inspire endless build. What are some of these features? Let's find out. 

AMAZING FEATURES OF THE LEGO FRIENDSHIP TREE HOUSE 41703 SET.
● REALISTIC DETAILS.
Aside from this Lego set is fun and easy to work with. It also comes with realistic details. One of these features is a realistic-looking tree with detailed elements of leaves and tree back texture. Lego chose the color for the tree also adds a different feel to the look. Another great detail, of course, is the tree house itself. The tree house comes with lovely color combinations and several compartments. Lego took a lot of time to produce exterior details that are realistic looking and very satisfying to build. Other incredible details are found in the interior of the Set. So with this Set, your kids have a fantastic exterior to bring to life and a cool interior. So not only do your kids get to bring to life a great body, but they could also enjoy benefit a lot from the interior build and design.
● MINIFIGURES.
Nothing inspires roleplaying more than cool Lego minifigures; fortunately, this Set comes with lots of them. The Set comes with five friends Minifigure characters that your kids could play and engage with, making the Set one of a kind. The minifigures are clothed in recognizable clothes from the friend's movie, with Mini Dolls of River and Mia. The Mini Dolls both come with changeable expressions. In addition are a Bunny Minifigure, Beehive and Carpentery vice, and a Cargo bike. With this many minifigures, your kids and their friends would have a lot of room for a more imaginative roleplaying. Add laughter and fun to your kids' lives by gifting them with this Lego set.
● A NICE BIRTHDAY PRESENT.
This Set has all it takes to be a nice birthday gift for your kids this year. Have you been racking your head for a percent that would help make your child's special day special? Well, look no further. With this Set as your kid's percent, you have all you need to make this Set that bit more special. Another thing that makes this set a great gift is because of the hidden gem hidden within. This unique gift is given in celebration of the tenth anniversary of the friend's TV show. What hidden treasure awaits your kids as they explore this Lego set? Get them one of these sets, and you can find out with them.
The Lego Friendship Tree House is currently sold for about 79.94 dollars. This is affordable considering the number of accessories and details the Set has. You can now get this Set directly from the Lego website or any Lego stores in the US and Europe. If, for some reason, you can not get this Set in your area, purchase the Set directly from the Lego website. Our unique Lego light kit is another feature that would help make your Set even more breathtaking.
MAKE YOUR LEGO FRIENDSHIP TREE HOUSE SET EVEN MORE ELEGANT WITH OUR SPECIAL LIGHT KITS.
Our fantastic light kits have fast become a trend in the Lego space. Your Lego Friendship Tree House would not be complete without our light kits lighting up the way. What are Lego lights? These are special light kits designed by Lego partners Game of Bricks. How do you get started with these special light kits?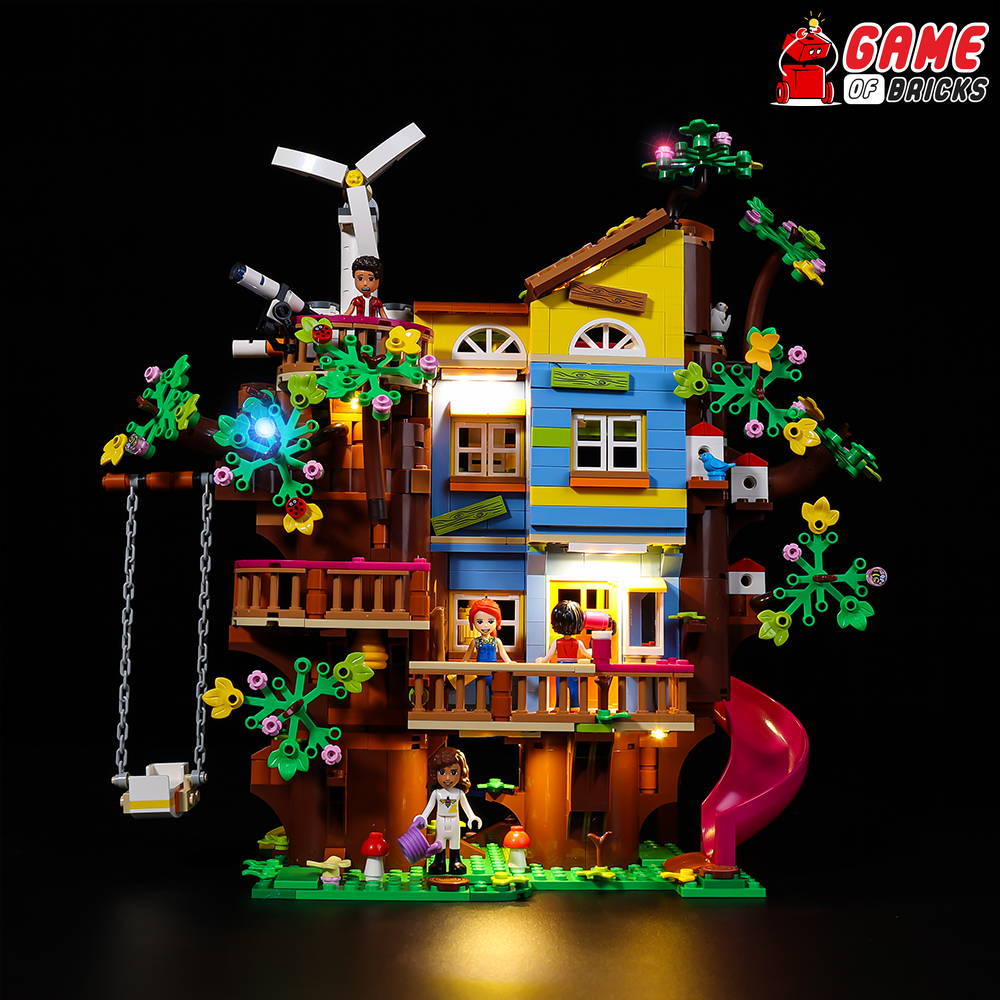 1. CREATE AN ACCOUNT.
This is the first and probably most crucial step. Sign-up opens up to more significant opportunities and recognition even if you have been shopping with Game of Bricks for years. So visit www.gameofbricks.com and Sign up.
2. SELECT A LIGHT KIT.
On our website, you will see a series of sets with their light kit options. You also have a search bar at the top of the page. This makes it easier for you to quickly search for your desired Set and pick out your light kit options. For example, if you are searching for the light kit for the Friendship Tree House set, go to the search bar and type in " Friendship Tree House " or the specified number " 14703," and if we have the Set, it will pop up.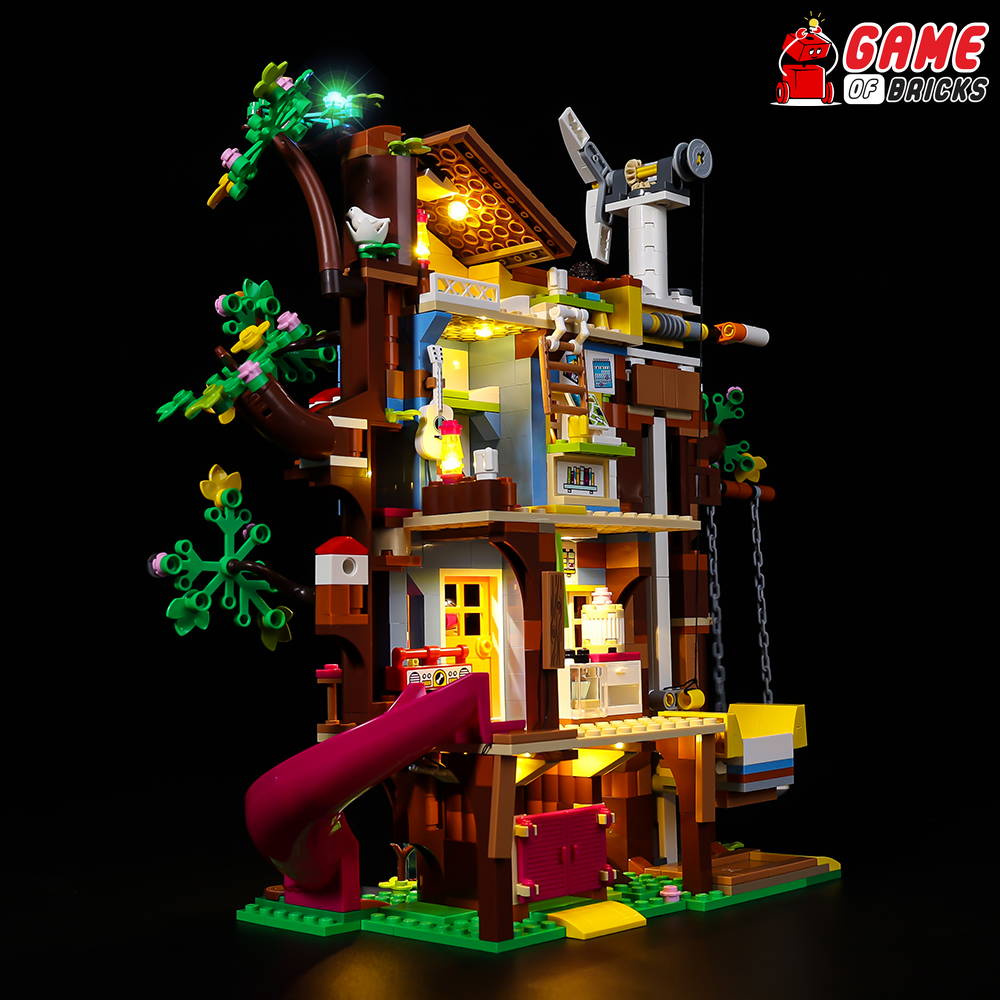 3. INSPECT AND INSTALL.
Once you have successfully ordered your Set, inspect them once they arrive. Our light kits are delicate and could get damaged during shipment. If you notice any damages of that sort with your Set, make sure to request a replacement using your 30days warranty card. If you see no harm with your Set, feel free to install it. You can be successful as a beginner only by using the Set's instruction manual. Once you have understood the principle, you may not need to go through the steps whenever you want to install a new set.
4. TEST RUN ALL LIGHT KITS,
Once you are installing your light kits, inspect them and ensure they are safe and lit perfectly. Suppose you notice any problems be sure to fix them. If not, show off your Lego Friendship Tree House set for all to see.
---