Recreate epic Star Wars movie moments when you build the LEGO Dagobah Jedi Training Diorama 75330 Set.
By

Mark Gini
/
June 09, 2022
We are pleased to introduce to you Star Wars set. Yes, another set is designed to build nostalgia as you walk on it. The Dagobah Jedi Training Diorama was featured in the Star Wars movie "Empire Strikes Back. "it was where Luke Skywalker received his primary Jedi training from the Jedi master Yoda, who was around 900 years old at the time. The scene around Dagobah was electric and serine, making it the ideal training ground for Luke Skywalker, the galaxy's last hope. Luke's training at Dagobah was instrumental in his overall development as a character, making the scene at Dagobah one that Star Wars fanatics would not forget in a long time.

No Star Wars fan would turn down the opportunity to bring this incredible Lego set to life. This Lego set contains many realistic-looking details to keep any Star Wars fanatics engaged for hours. Do you have friends who love and have been devoted to the Star Wars franchise? Then why not try brightening up their day by gifting them this unique Lego set. Doing so would help show your love and support for your friendship. You could also take one of these building challenges yourself. Doing so promises to be truly worth doing. Today, in this post, we will cover everything there is to know about this Lego set, from its building experience to its features and other fabulous accessories you could add to your set. Let's start with what the building experience of this set promise to offer.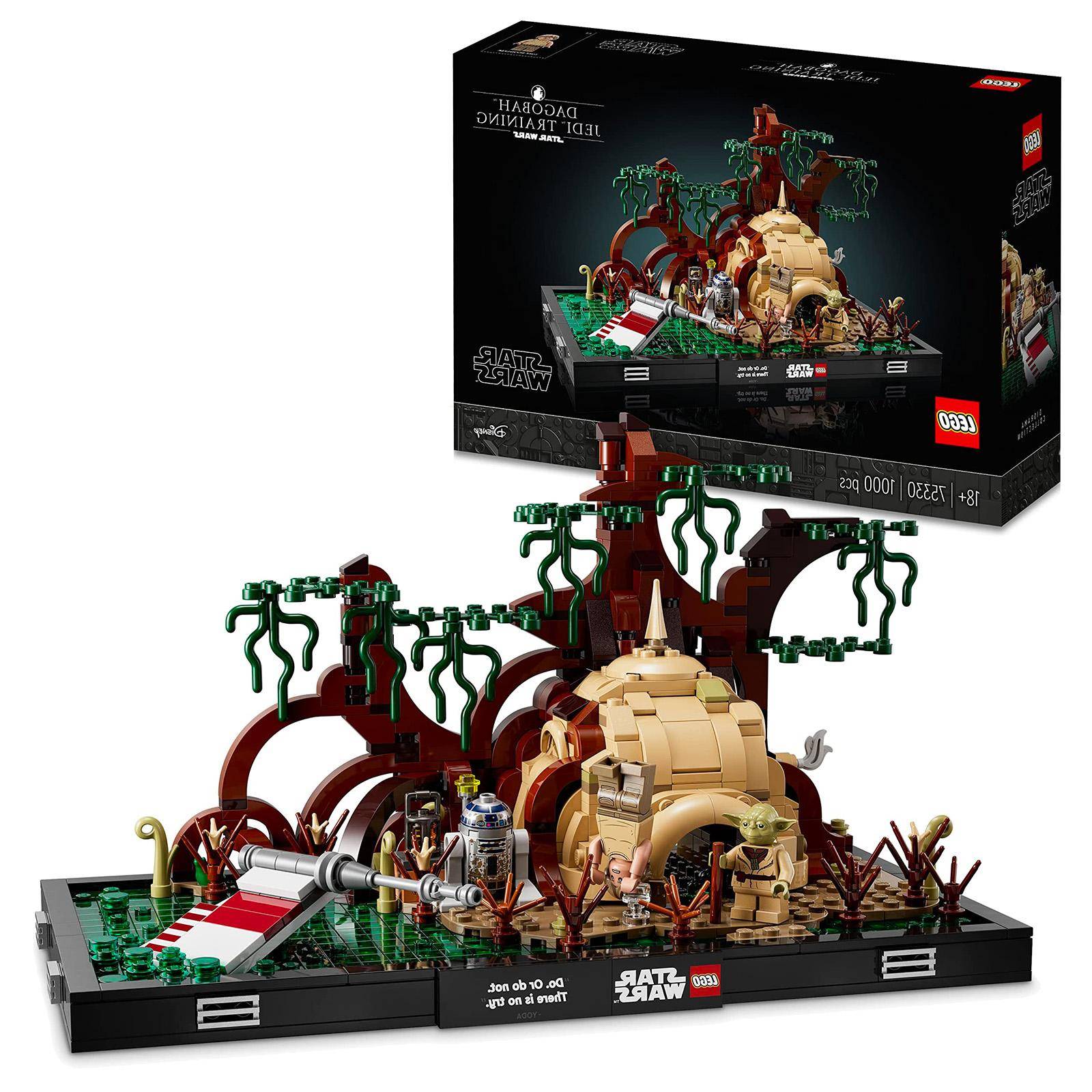 BUILDING EXPERIENCE FOR THE LEGO DAGOBAH JEDI TRAINING DIORAMA 75330 SET.
Like Luke Skywalker felt at Dagobah, where he received his Jedi training. Carefully bring each brick together, recreating the scene around Dagobah. Accurately position the trees and surroundings and get the training ground ready. If you desire to create the best scene replica at Dagobah, you need to ultimately set out time to emerge yourself in the project. This set offers a unique approach to its building, so you would need to have some knowledge about Lego Star Wars sets to enjoy walking with this set truly. And for the ultimate fun, build this incredible Lego set with the support of your family and friends. The Lego Dabobah set also comes with building instructions that would help make the building of this set a lot easier.

The instruction manual contains clear diagrams and step-by-step instructions. They are clear and would make your installation process way more accessible. So if you encounter any roadblocks, make sure to consult the sets of building instructions as a solution to your problem. The Lego Dagobah Jedi Training Diorama set is perfectly designed to be good as a display set once you are done building this set. Overall, the Lego Dagobah Jedi Training Diorama set offers a satisfying building experience. It also allows builders to recreate epic Star Wars scenes from the movie "Empire Strikes Back. "This set is also part of the Lego Star Wars collection and can offer you the opportunity to recreate epic Star Wars Movie moments from one Star Wars movie to another. Plus, this set could also serve as a good display centerpiece. Now let's look at some unique features you would be bringing to life with this Lego set.
AUTHENTIC FEATURES FOR THE LEGO DABOBAH JEDI TRAINING DIORAMA 75330 SET.
RECREATE THE SCENE.
This Lego set is designed to recap perfectly the scene at Dabobah, which you can bring to life yourself. Recreate scenes like Yoda's house at Dabobahs wetlands, Luke Skywalkers Suken X-wing. You also get cool minifigures of Luke Skywalker and Yoda to help finish off the stage. You also get an R2D2 Minifigure to help add to the overall nostalgia of the scene. Authentic Star Wars fanatics would appreciate the beauty of this Lego set.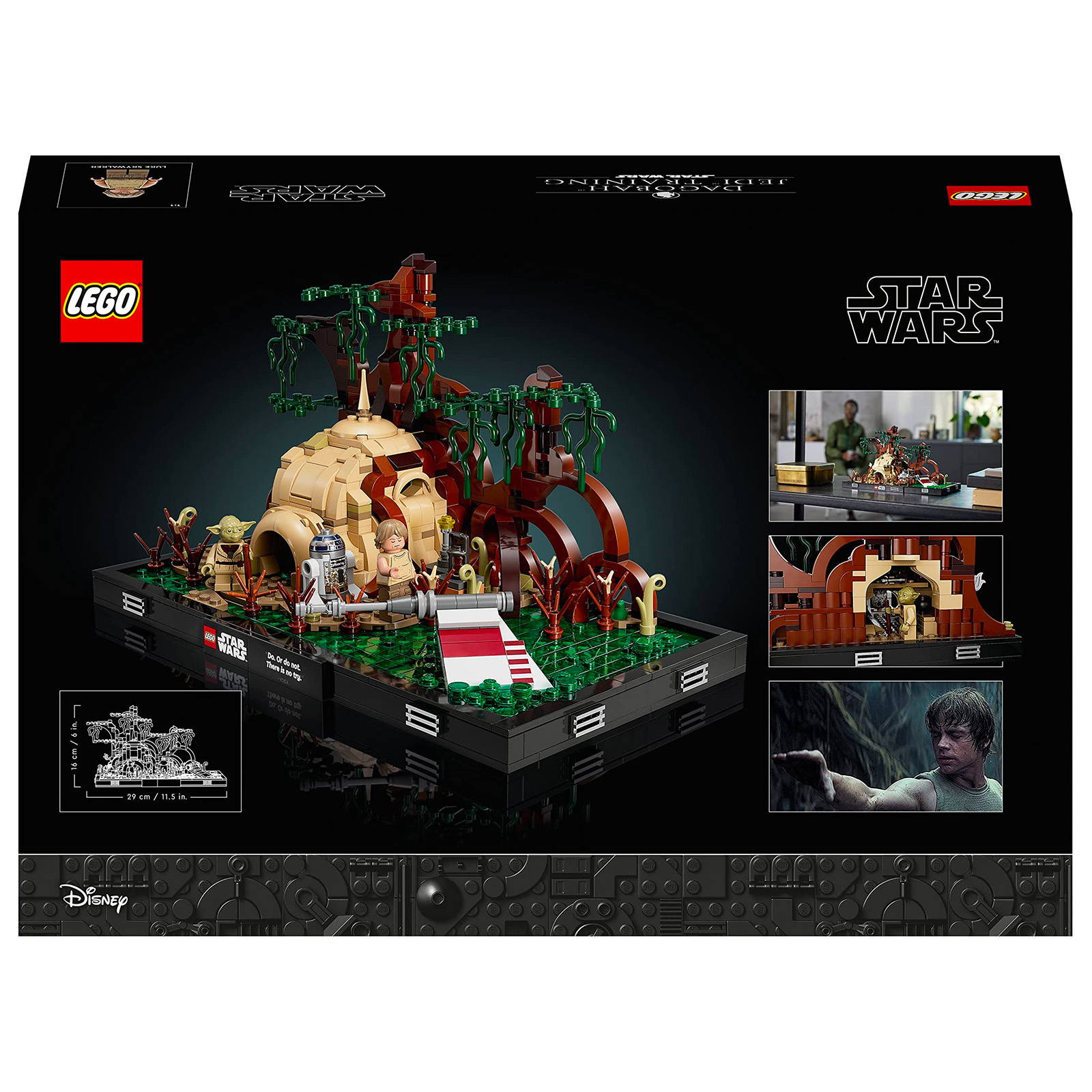 MINIFIGURES.
To help improve the feelings around the Lego set, you also get three Minifigure. These Minifigures include Yoda, dressed in the same attire as when he trained Luke Skywalker, Luke Skywalker Minifigure, and an R2D2 Minifigure. Your Lego set would come alive with the already epic scenes and these Minifigures.
MADE WITH DURABLE MATERIAL.
This Lego set is also made with the best quality materials. All materials used in the production of this Lego set have been tested to ensure they are very durable. So you do not need to worry about your Lego bricks becoming challenging to work with or perhaps losing their efficiency years after use. This is because all materials have been tested to ensure they can stand the test of time. So no matter how long you want to keep this Lego set, it will always remain new, just how you bought it. Lego has also ensured that the Lego set is safe and highly compatible. This makes this Lego set very easy to work with.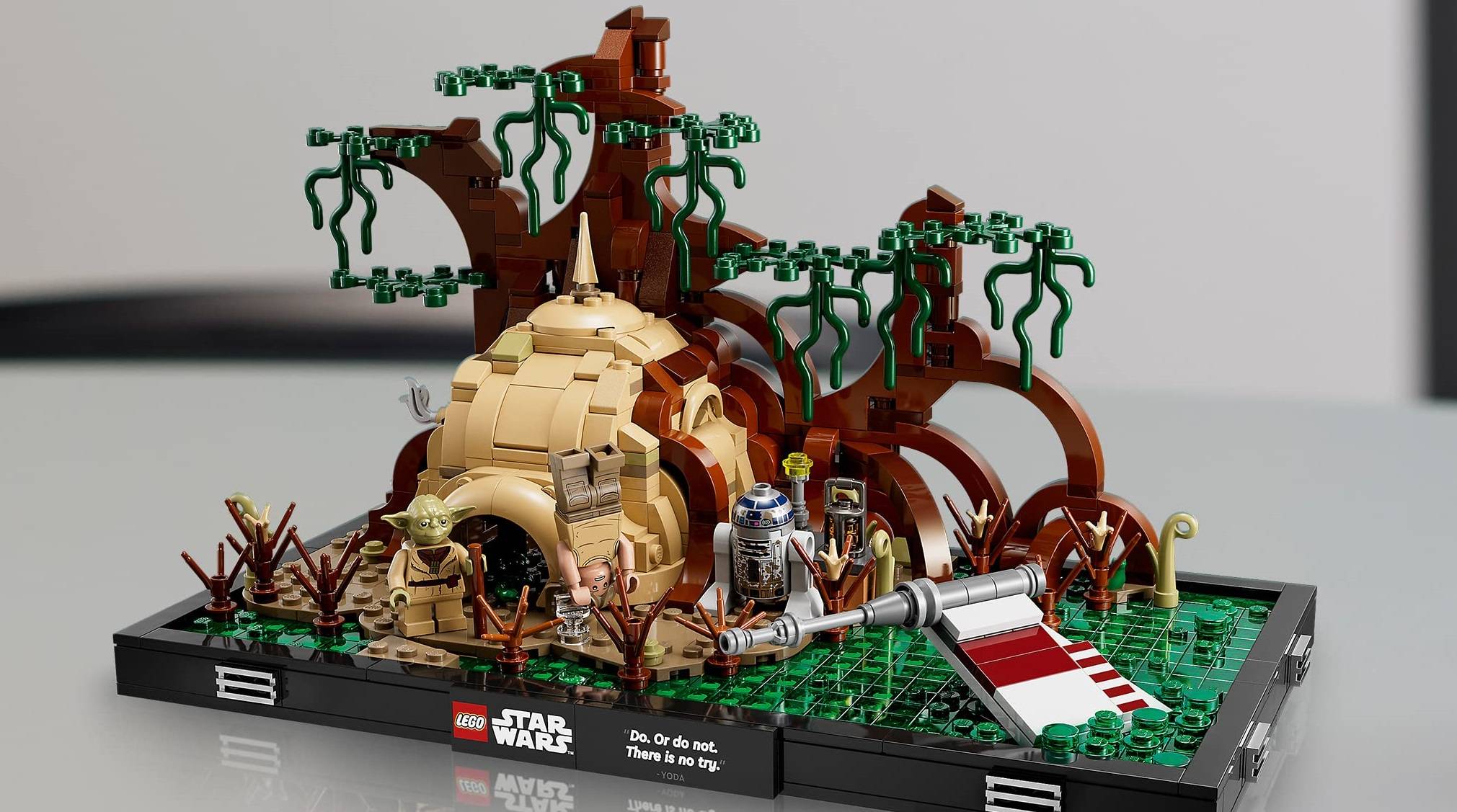 SET SIZE.
Since this Lego set is a remarkable display centerpiece, you can expect the set to be very sizeable. To fully accomplish the building of this Lego masterpiece, you would be working with a total of about 1000 brick pieces. The set also has a good display ratio, making it difficult to miss. Overall, the Lego Dagobah Jedi Training Diorama set measures about 6 inches high, 11 inches wide, and 6.5 inches in dimension. And since this Lego set is part of a collection, enjoy including this set in your never-ending Lego Star Wars collection.
SET PRICE.
You can purchase this Lego set at any toy or Lego store in your area. Unfortunately, if you can't access one, you could get this set directly from the Lego website, www.lego.com. You can expert an exact price from the Lego website, but the same can not be said about any toy stores you may find around. You can expect to get this set from the Lego website for 79,99 dollars. But hurry and get one before the set goes out of stock. If you already have this set and are looking for cool ways to improve the set's overall look, you could add our amazing Lego lights; if you wonder what the benefit of using our light kits is and how you can install them, the following section will cover that.
MAKE YOUR LEGO DAGOBAH JEDI TRAINING DIORAMA SET LOOK EVEN MORE FASCINATING WITH OUR UNIQUE LIGHT KIT.
Make your Lego Dagobah Jedi Training Diorama set look authentic with our special light kits. Our light kits bring out the beauty of your set and help reveal hidden set details that onlookers would not initially see, making them applicate more to the hard work you put into building the set. You can get yourself our light now by visiting www.gameofbricks.com. Clicking on this link would lead you to the homepage. Once you get there, type In the name of the set light kit you want to purchase, in this case, the Dagobah Jedi Training Diorama, and it will appear. Once your light kits arrive, what should you do next? Let's find out.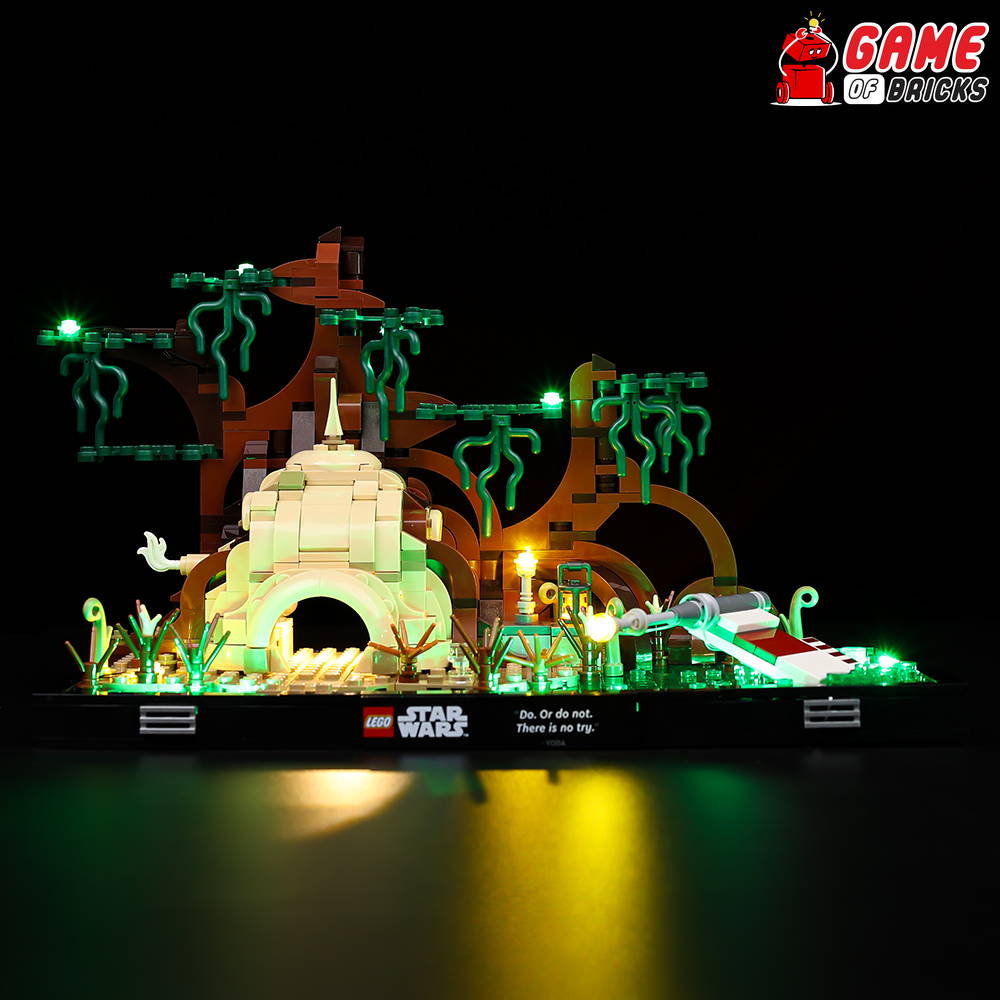 Inspect.

Once your light kits arrive, it would be best if you take the time to inspect them all. This Is because your light kits are very delicate and can easily sustain shipment damages. So once your light kits arrive, be sure to inspect them. If you notice anything wrong with your light kit, immediately request a replacement. But if everything looks good, you could then install it.
Install using the manual.
You do not need to worry if you are new to our light kits and do not know where to begin. Our light kits come with simple instructions that can make your installation a walk in the Park, so feel free to use the instructions the manual provides. Doing so would make your installation a success.
Test run all installed light kits.

Once your installation is completed, make sure to test run it. This is because you can never be too careful, and all you want is for your light kits to be safe and function properly. You can not know this unless you test run your light kits. You would need to check for sparks, signs of short-circuiting, and any areas you forced through the light kit manual. Those areas you notice any of these could be areas where the fault is most likely to develop. So if you find any issues with your light kits, be sure to fix them. Once you are confident that everything is good, put your Lego Dagobah Jedi Training Diorama on display for all to see.