Dive into the world beneath the ocean with your LEGO Creators Fish Tank 31122 Set.
The Ocean is a beautiful place packed with bubbling life and beautiful scenery. This environment is very different and even more beautiful than life on the earth. The Ocean never fails to amaze all those who take their time to explore through its vast ecosystem. As a result, ocean lovers have gone out of their way to provide miniature but authentic replicas of ocean life on earth, utilizing fish tanks. These fish tanks have become grander and more popular among fellow ocean fanatics. 

Do you have kids who, like you, love the Ocean? Well, then they have probably been pressuring you to get a fish tank. But you resist because you know that they can't handle the responsibility. But the pressure keeps piling up, and it just doesn't seem to end. Well, Lego feels your pain and has decided to bring an end to your pain – how? With the launch of the Lego ideas fish tank! This fantastic Lego set is designed with many unique details that would help keep kids and young adults engaged for hours. It also contains replicas of real-life fishes. And for what it's worth, you don't have to worry about feeding them or cleaning up. This realistic set also comes with an engaging building experience fit for kids – how? Let's find out.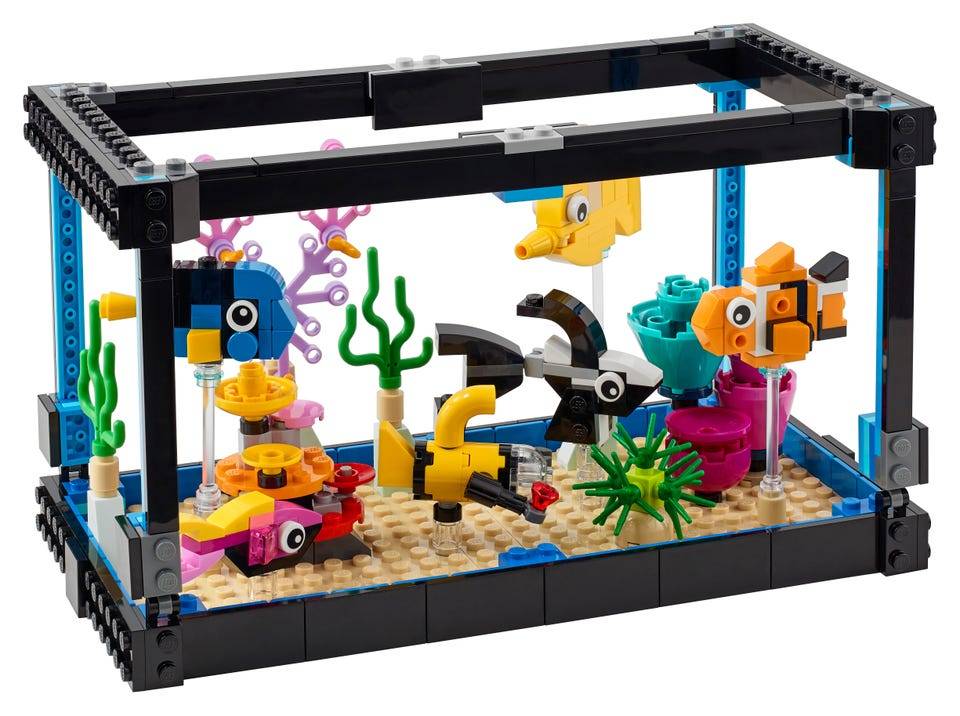 BUILDING EXPERIENCE FOR THE LEGO CREATORS FISH TANK 31122 SET.
The Lego creators fish tank set is a fantastic gift for kids with a flair for the Ocean. It is packed with authentic details, which helps keep builders engaged for hours. Children can tap into their creative flair and problem-solving skills by bringing this set to life. The building of this set is straightforward. This makes it an perfect way to help build your kid's confidence and brain function. If you are not familiar with our Lego and looking for a set to help kick start your Lego journey, then this fantastic set is a great place to start. The Lego Creators fish tank set also comes with clear, easy-to-read building instructions. This means that no roadblocks are building this set. So if your kids hit a roadblock, use the building manual to help get them on the right track.

The Lego creator's fish tank set also has another cool feature that helps make building fun. The set is the best of three worlds, literally. This means with this set, you are not limited to building a fish tank but have the opportunity to challenge your building strengths by investing the fish tank in an Easel or Treasure chest. And if that's not satisfactory enough, you could go crazy and test your imagination by building anything of your choice. With the Lego Creators fish tank set, the sky is the limit. The Lego creators fish tank set also comes with special features unique to it. Let's look into some of these features.
WORTHWHILE FEATURES FOR THE LEGO CREATORS FISH TANK 31122 SET.
The Lego creator's fish tank is no exception as far as fascinating features go. These unique features make this set stand out as one of the best for kids to engage with. Let's see some of these terrific details.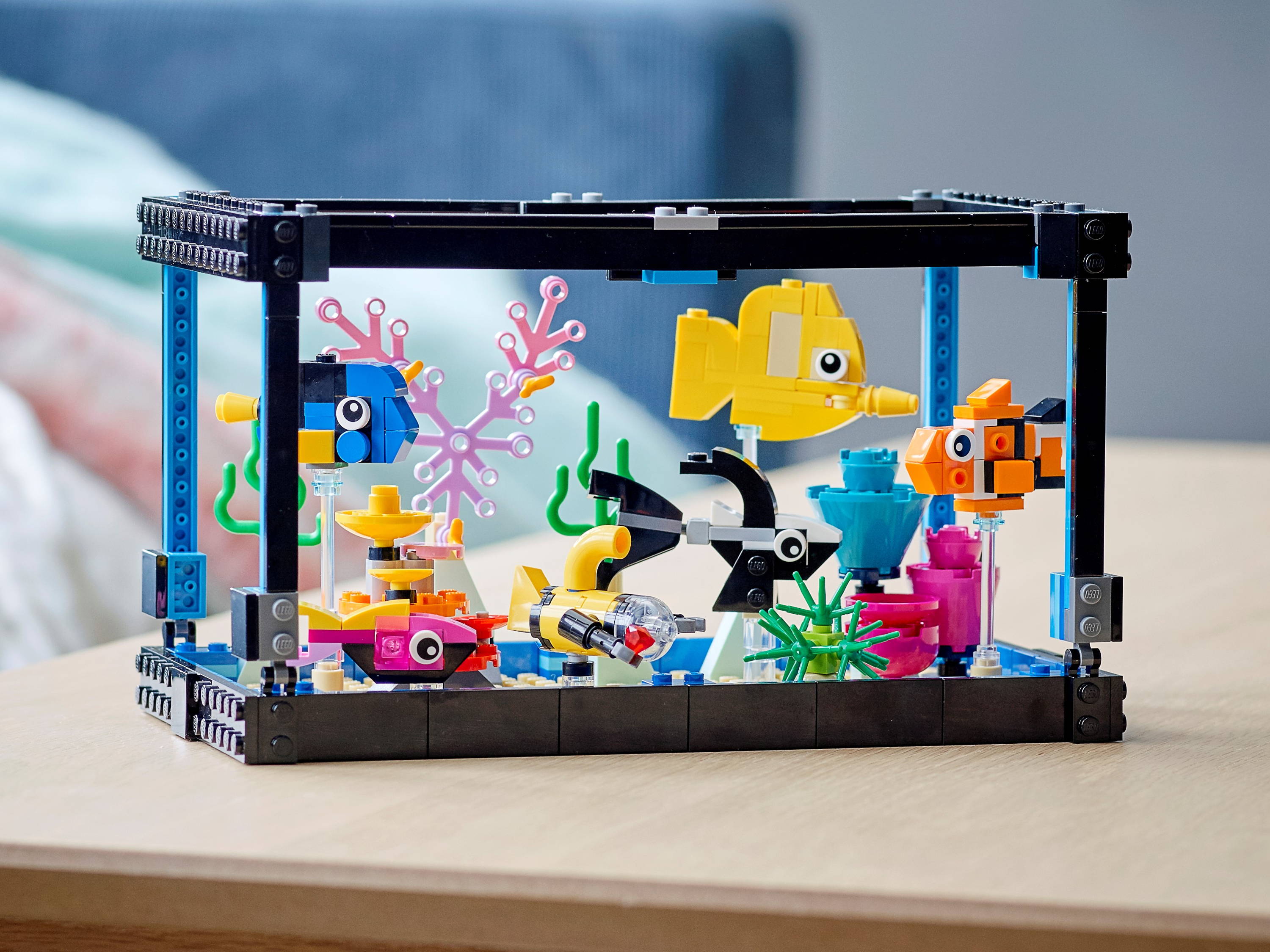 • AUTHENTIC UNDERWATER DETAILS.
This fantastic Lego set is no exemption, as real-life fish tanks are designed to replicate the Ocean perfectly. The set is packed with decorative details which would bring satisfaction to the hearts and minds of young Lego builders. The collection features corals and other aquatic plants. You also get a variety of fishes commonly found in fish tanks of this nature. These fishes include the yellow tang, clownfish, cardinalfish, and regal blue tang. All this makes this Lego fish tank look and feels like a real-life fish tank.
• ENDLESS BUILDING OPPORTUNITIES.
Kids gifted with this set would be open to a world of building possibilities and endless roleplaying. The Lego creator's fish tank can be converted from its original form, which is a fish tank, to a mini treasure chest or even an easel. But there is more! This set is designed to interact nicely with other Lego sets from the Lego creators world. Some of these sets include the Lego space shuttle and fun-filled fairground. This unique feature is designed to help keep your kids engaged and happy for hours, and you, enough time to relax and breathe.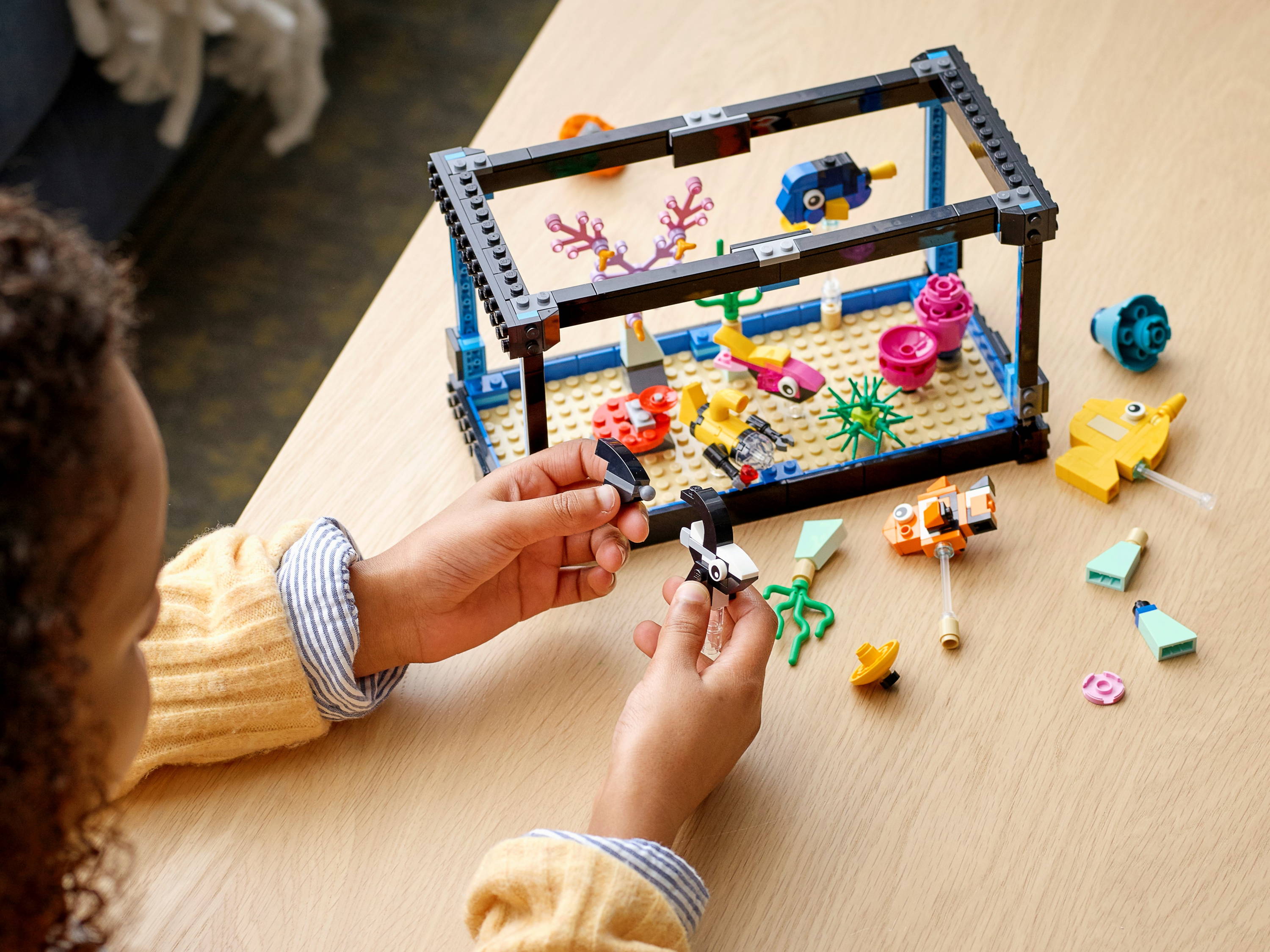 • MADE WITH TOP-QUALITY MATERIALS.
The Lego creators fish tank is a product of top quality material. Lego has expanded itself to ensure that all materials used for this set go through a quality assurance test. The Lego team also gives significant consideration to safety and makes sure that all Lego sets, like this one, are safe for both kids and adults to engage with. So no need to worry, for your kids are safe using this set.
• PORTABLE SET SIZE.
This incredible Lego set also has a very portable size and can easily be moved from one place to another by your kids. The overall set is just a little over 300 pieces, about 352 pieces, to be precise. The Lego set is nearly 5inches high, 8inches long, and 4inches deep when fully built. This makes this set highly portable and suitable as a display set.
The Lego creator's fish tank set could be bought either from the Lego website or if you live in the US or Europe, Lego stores. This set is way more affordable than a real-life fish tank, only costing approximately 30 dollars. However, this price could change depending on your area and the product's availability where you live. But just be assured that the price won't hit the 50 dollar mark. So let nothing stop you from gifting your lovely kids with this fantastic Lego set. And for what it's worth, you could even add extra features to make your set shine! What feature is that? Let's find out.
MAKE YOUR LEGO CREATORS FISHTANK 31122 SET SHINE WITH OUR SPECIAL LIGHT KIT.
The Lego creator's three-in-one treehouse set is designed with many authentic and even realistic details. The details of the Lego Lamborghini Sian could enhance these details to look even more magnificent with our Lego light kits. Our light kits are sold separately and can be bought from our website here at the game of bricks. Are you wondering how light kits operate? Well, they help light up your set. But what steps can be taken after purchasing this light kit? Well, make sure that you have finished building your Lego fish tank first before diving into the installation. And the good news is that our light kit is comparable with this set's three-in-one feature. So you don't need to purchase three different light kits. So how do you install our special light kit? Let's find out.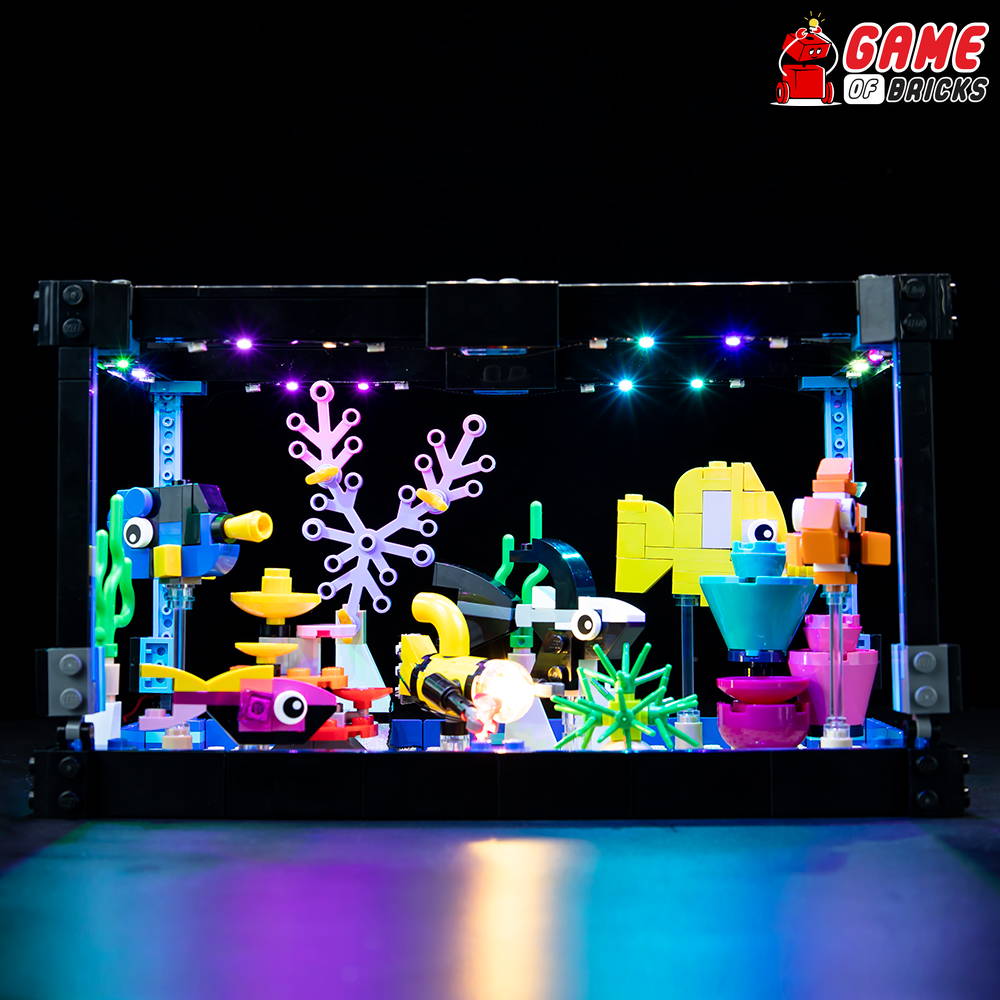 1. USE MANUAL TO INSTALL.
All light kits come with clear, easy-to-understand manuals that make it easy to install your light kits. Son of you are a beginner, pay close attention to the instructions given in the manual. Diagrams accompany these instructions to help you get a clearer picture. So make good use of them to ensure you get one hundred percent out of the installation process. Also, remember that our light kits are very delicate and should be handled with great care. If you take your kits roughly, you risk them getting damaged. So make sure not to mishandle them. Never force your light kit through a Lego brick. Your light kit is designed to pass neatly through each brick. So if one part needs pushing, why not try another. Following this little advice would guarantee the success of your installation.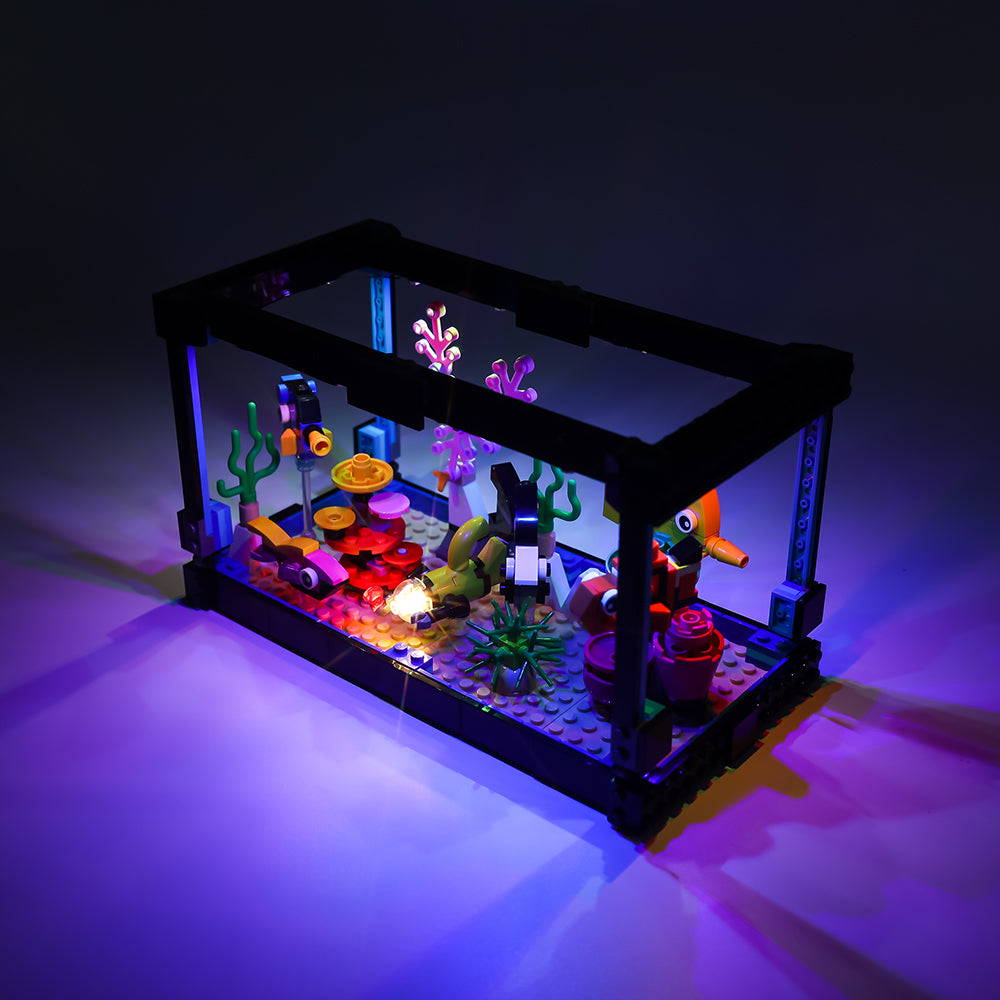 2. INSPECT ALL INSTALLED LIGHT KITS.
After installation, the final step is to ensure that all installed light kits function correctly. This would require that you take time to test your already installed kits. As you do, check out for sparks and signs of short-circuiting. And if none, check out for glitching or twitching of lights and battery capacity. If all looks good and there are no problems, show your set to your friends and family. But if you notice any alarming signs, fix and ensure it's safe before showing it to the public.
---