Recreate amazing vacation moments at home with the LEGO Boutique Hotel 10297 Set.
As a tourist, you enjoy visiting different towns and villages, searching for their most delicate and captivating tourist centers. But there is another reason why we visit this destination. It is because of the fantastic hotels provided by this beautiful destination that gives you luxury and comfort. And for what it's worth, each town and village offers hotels which help provide comfort and beauty. But among all these hotels, there is none more intriguing than boutique hotels. These hotels are usually located in the center of the city. It is generally in busy areas where it is happening. These hotels are tourist attractions on their own. They are well decorated, with each room giving the resident the type of feeling he is looking for, thus providing the comfort and homey vibe needed.

Have you had the opportunity to lodge in a Boutique hotel on one of your travels? Then your love for such hotels must have been awakened. Well, if that's the case, would you love to own one of these great hotels one day in the future? Or probably you would love to have something close to it. If that's how you feel, then you're in luck! Lego, always knowing what you like, have once again come to the rescue. With the Lego Boutique hotel 10297 set, you not only get to dream of owning one of these hotels but to turn your dreams into a reality. The set offers well-founded details, which perfectly replicate the structure and build of a real-life Boutique hotel. Do you have Someone who is a hotel fanatic? This set would be a perfect gift to help put a smile on his face if you do. But is this sets look as fun as it's built? Let's find out!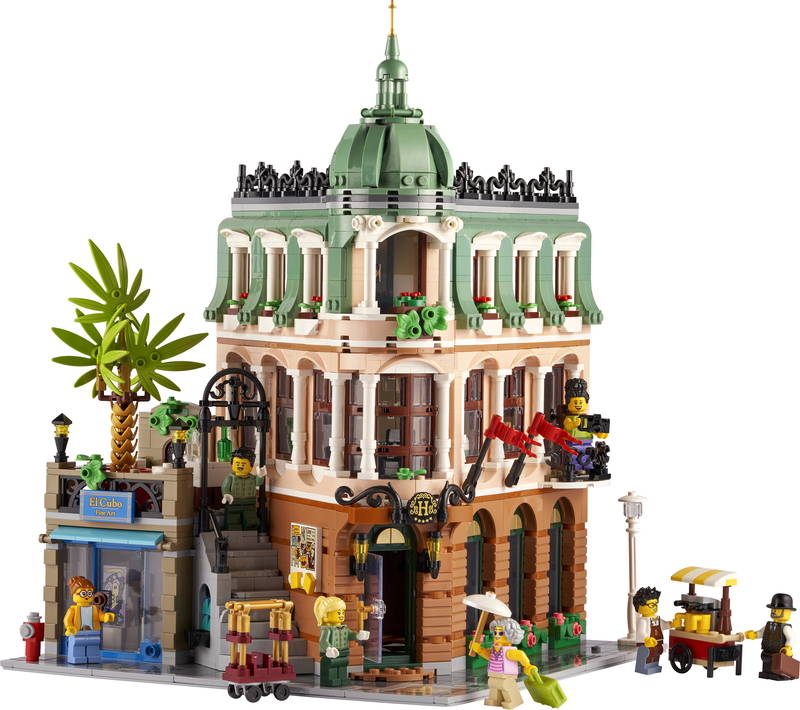 BUILDING EXPERIENCE FOR THE LEGO BOUTIQUE HOTEL 10297 SET.
This fantastic Lego set is part of the Lego creator's expert collection. That alone tells the story of just how unique and authentic the set should be. The set offers remarkable realism and pays close attention to even the most minor details. The set provides a more realistic approach to building. Starting from the foundation to the pillars and dividing of rooms. Everything is just perfect and makes you feel like an actual architect. This set allows you to build your ideal hotel and could be your family's next project. It comes with over 3000 pieces of bricks which could be fun to make as a family. And if your kids love to build, this could be a great way to bond with them.
This incredible Lego set also offers explicit, easy-to-understand building instruction. This building manual covers all areas of the set build and also provides some safety measures that can be taken to achieve a successful build. Overall the Lego Boutique hotel set offers builders the opportunity to build their dream hotel, one that helps satisfy the needs of its residents in style. It also serves as a great masterpiece and could be displayed on your center table or among other Lego collections. This set also offers impressive features. Let's find out what those cool features are as we progress.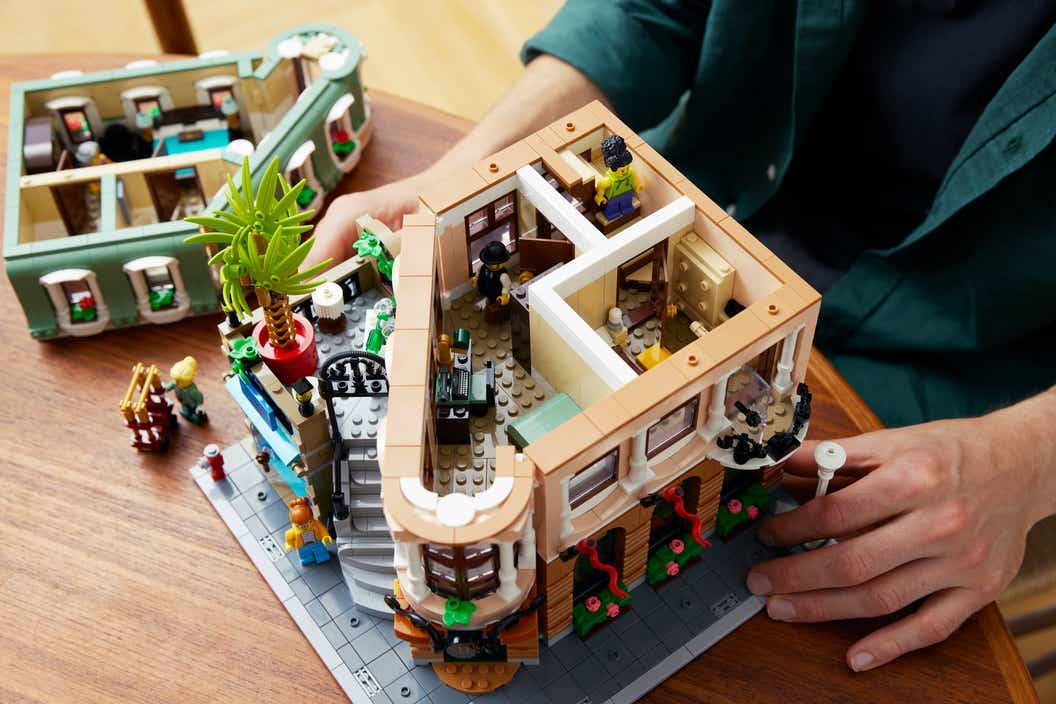 INSANELY REALISTIC FEATURES OF THE LEGO BOUTIQUE HOTEL 10297 SET.
Well, as far as unique features go, the Lego Boutique hotel surpasses it all and more. Most of these fantastic features are much better seen in real life. But let's look into some of these cool features to help whet your appetite.
• ATTENTION TO DETAIL.
This set is designed to help builders pay attention to even the most minor details. This is what makes this set so unique. It includes authentic and professionally done décor, with fantastic features in an actual luxury hotel. This includes room service, a dining area, and other places for recreation. This set also allows you to create the type of interior suitable for you. And to make your work a lot easier, you can use the sets manually.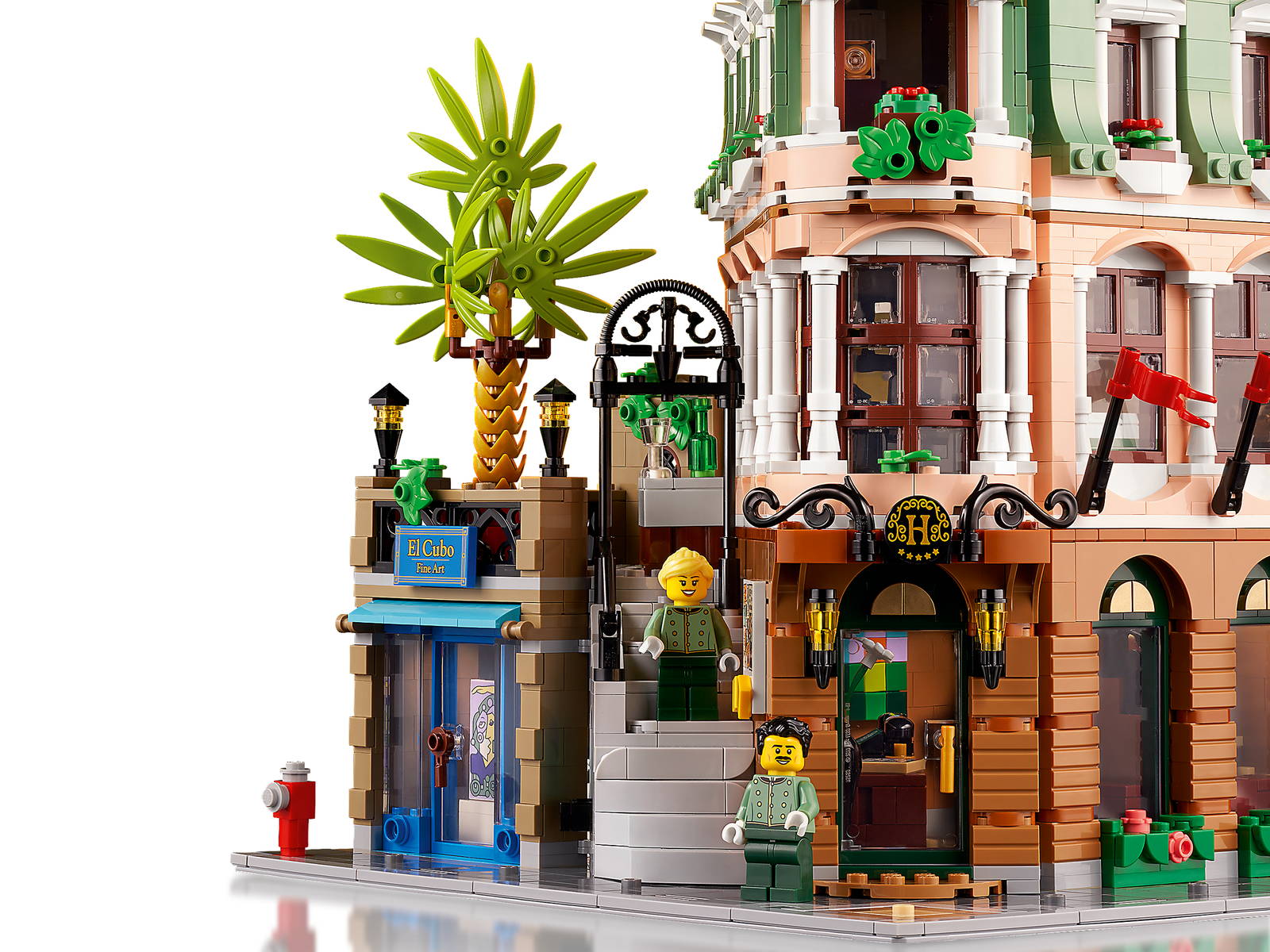 • MINIFIGURES.
Aside from a beautiful and authentic set look, this excellent Lego set also offers builders an opportunity for amazing roleplaying with set Minifigures. This Minifigure is seven in number and could be used to create as many scenes as possible. If you have been searching for a great way to test the power of your imagination, then this set is an excellent place to start. The Minifigures have been kited up and serve different roles in your hotel, which you could interchange as you deem fit.
• SET SIZE.
The Lego Boutique hotel comes with an impressive 3066 brick pieces. Each brick piece is made with the best material and is easily usable. It also comes in different colors, which help add to the overall beauty of your set. The set is about 13 inches high, 10 inches wide, and 10 inches in dimension when fully built. This makes this set easily movable. So if you are the type who loves to show off your great Lego masterpieces, then this set could be just what you are looking for. This set is also the right size for a great display piece.

Though this set is very extravagant and impressive for building, it is also very affordable. The set only cost about 199.99 dollars. You can purchase this from either Lego stores in your area or the Lego website, lego.com. This Lego set could be slightly more expensive or less expensive, depending on your country and the availability of the set. So if you are not someone who loves the stress that comes with calculating and getting a basic rundown of how much the set costs in your currency, then it would be best to purchase the set straight from the Lego website.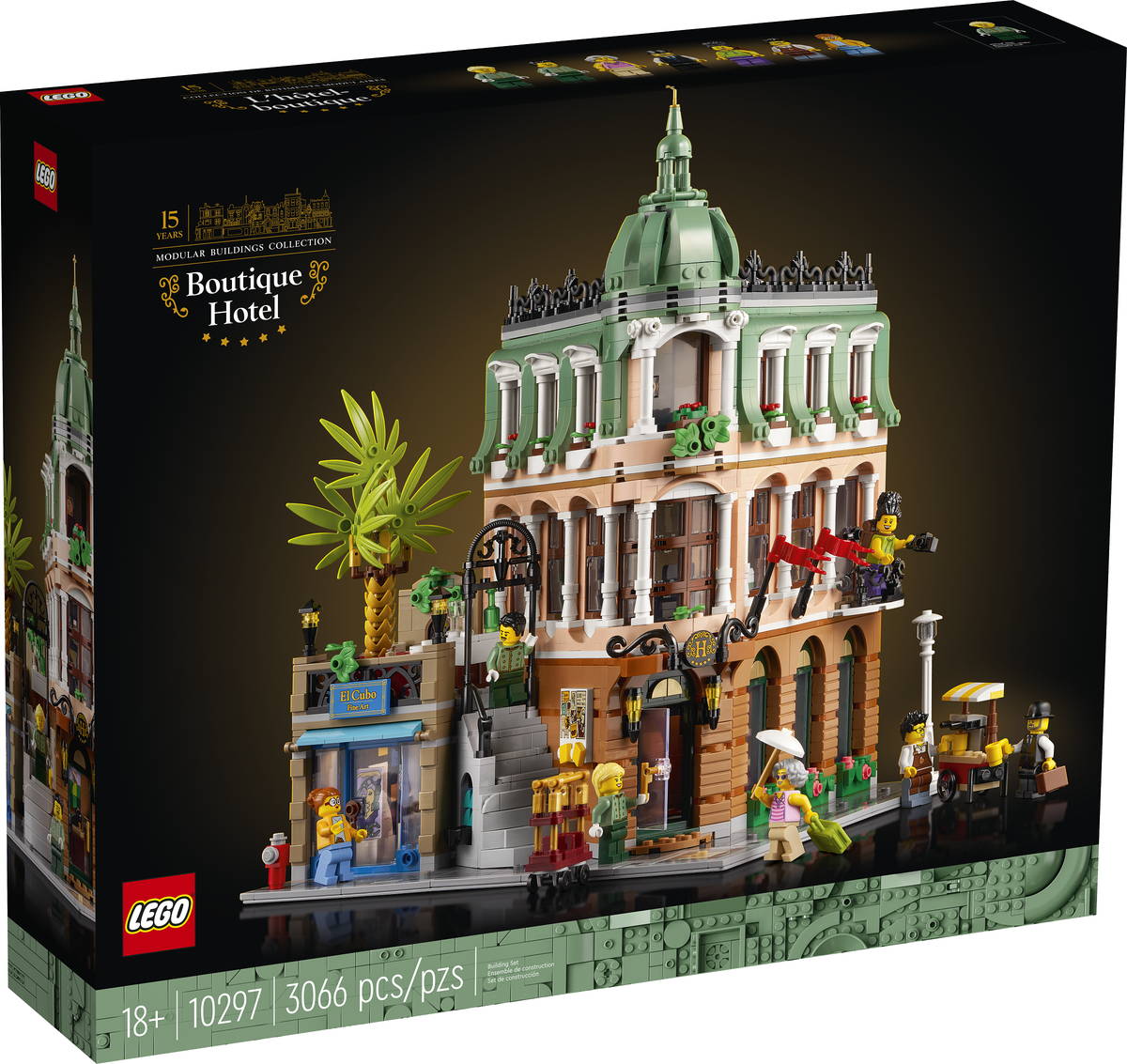 MAKE YOUR LEGO BOUTIQUE HOTEL SHINE WITH THE INCLUSION OF OUR SPECIAL LIGHT KIT.
The Lego Boutique hotel is packed with unique details, making this set stand out. But you could make this set look way more impressive by adding our special light kits to it. With the inclusion of our Lego light kit, you not only enhance the set's overall build but you make the set stand out even more. Are you new to our Lego light kits? Then not to worry. Our unique light kits come with a clear, easy-to-understand manual that would help install your light kit a lot easier. But before you install, make sure to finish the building of your Lego boutique hotel set first. Once you are finished with that, you could follow these simple universal steps.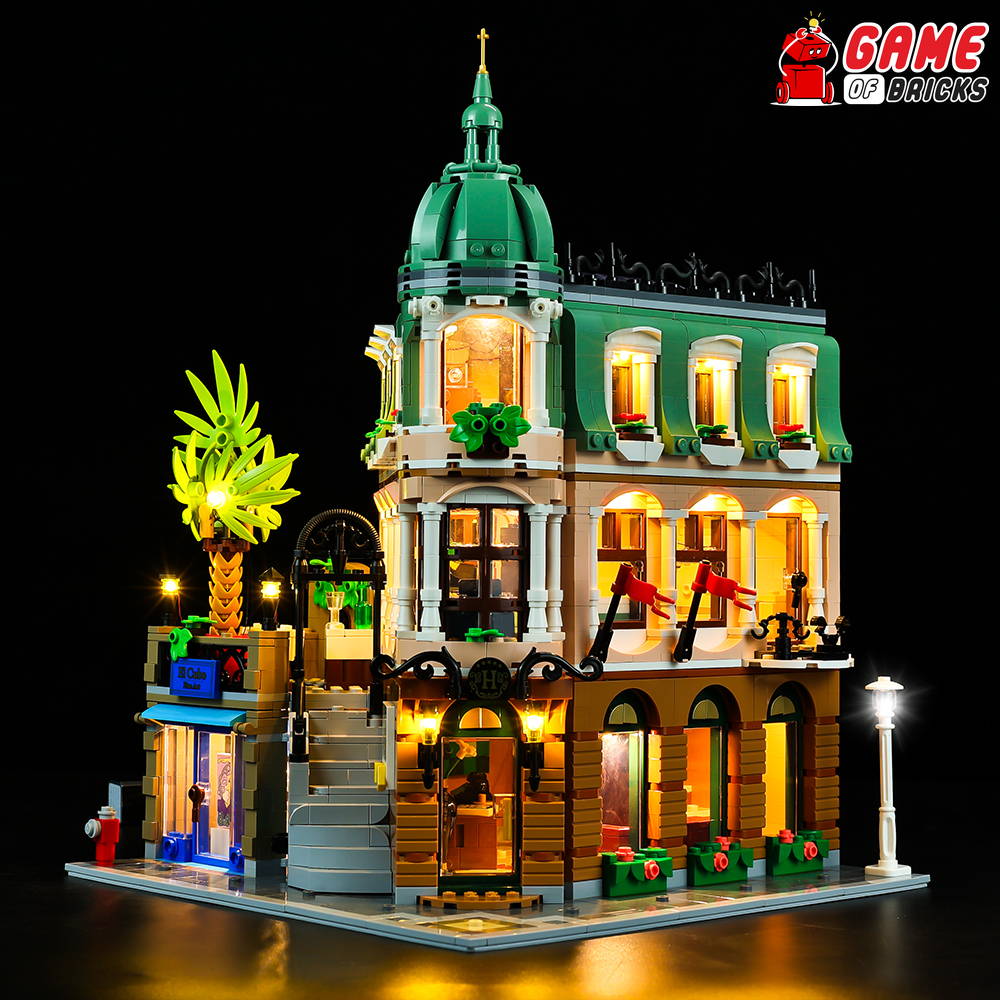 1. INSPECT AND INSTALL.
Once all your light kits have arrived successfully, make sure to take your time to scrutinize all of them. This is very important because it is prevalent for your light kits and accessories to get damaged during shipment. If they do, make sure to make good use of your light kit warranty card to request a replacement. But if all looks good after your inspection, you could go forward with installing.
The installation process has been made a whole lot easier with the inclusion of an instruction manual. If you apply the instructions from the manual carefully, you will complete your light kit's installation. As you install, make sure to handle each light kit and accessories with care. This would help ensure that each light kit and accessories don't sustain any damages during installation. Our Lego light kits are straightforward to install, and with the help of the manual, shouldn't take you much time.
2. RUN TEST ON INSTALLED KITS.
Once you are done installing all light kits and accessories, make sure to run tests on it to ensure it is safe for all to see. As you inspect, watch out for signs of short-circuiting. Also, investigate to make sure you have installed works properly. Check the battery life and make sure it is strong enough to support the running of your light kit. Once all your checks are completed, and all looks good, you could finally show off your Lego Boutique hotel for all to see.
---