Celebrate ten years of modular building when you build the LEGO Assembly Square 10255 Set.
The Lego team has designed some amazing and well-detailed sets under their modular building collection. These amazing sets were known for their beautiful and realistic designs. Some of these sets over the years include The Café, Cofee Shop, Home Alone House, and so on. These buildings have been designed so collectors can display them together, slowly building their own Lego city. Have you been collecting these sets? If yes, then you must have a Large Lego set by now. This Lego set has come a long way and has surely packed a crowd of fans. This Lego collection has already been celebrated ten years since its launch as a Lego creator set. And, of course, every collection celebrating an anniversary must always feature a nice and well-detailed set to accompany it. The Lego Creators, Modular buildings collection is no different. So, what set was Launched alongside the party and fun? Well, you must have guessed it already! It's the Lego Assembly Square 10255 set. 

This Lego set is truly a fascinating sight to see. It is designed like a big complex building with about two stories. The set features internal and external details and design, making it a fun experience. The Lego set also comes with lots of cool Minifigures, which help bring the scene to life. The set's design is not taken from a specific movie, so you are free to engage in roleplaying, creating the scenes that best appeals to you. If you have kids into construction Lego sets, you could get them this set to keep them engaged for a long time. Well, this little paragraph may not be able to convince you to get this set, but that is understandable. By the end of this post, you will have no reason not to buy this set. So please stay with us as we look at first the Lego sets building experience; second, its amazing features. And three, how our Lego lights help bring all its amazing details to life.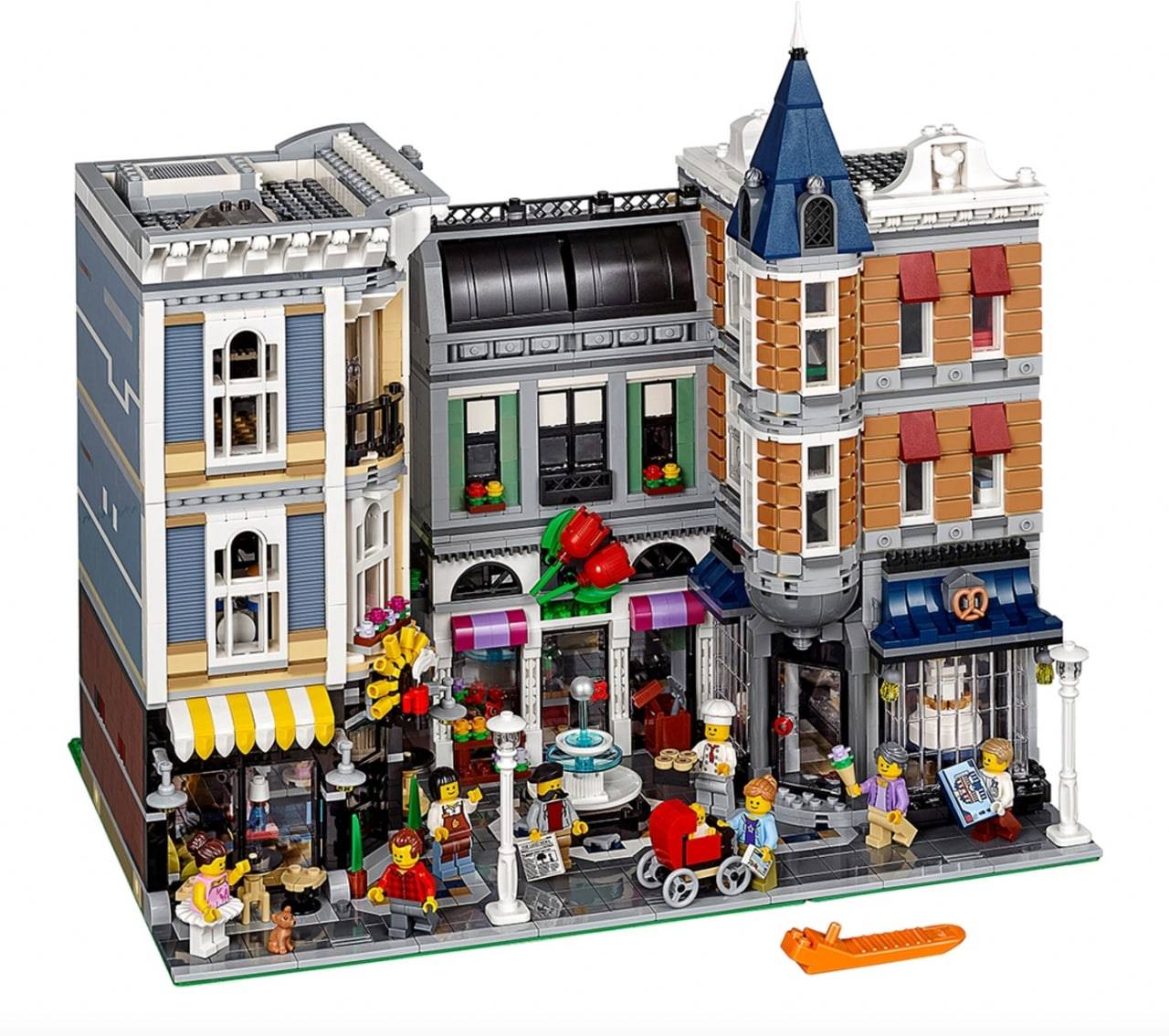 A DETAILED BUILDING EXPERIENCE FOR THE LEGO ASSEMBLY SQUARE 10255 SET.
The Lego Assembly Square sets offer a very immersive build. It comes with over 4000 pieces which are divided into numbered bags. The building of this set is divided into six stages. And to start your building, the Lego set offers a flat base plate. The brick bags one, two, and three are used in the building the foundation and first floor of the Assembly Square Building. At the end of bag three, you would have also built about five Minifigures. The brick pieces are used for the rest of the building and Minifigures. It's important to know that you must set a time for this building project because it is very large. The set has internal and external details, coupled with many cool-looking accessories like flowers and cupcakes, tables and chairs, etc. So make sure you have time set aside because that is only when you can get the best out of this set.
The building of this set may pose a challenge to new builders. The Lego team is well aware of that and has gone the extra mile to ensure that all builders get the most out of their buildings. They achieve this by including a very informative manual book to accompany each set. The manual contains easy-to-understand step-by-step instructions, which will help any builder get the best out of the Lego set. Do you own one of these sets? If yes, you could engage in a fun and rewarding build as you bring this Lego set to life. Once you have successfully built this set, you will begin to notice all the amazing features included in the Lego set. So without wasting much time, let's look at a few features this set offers.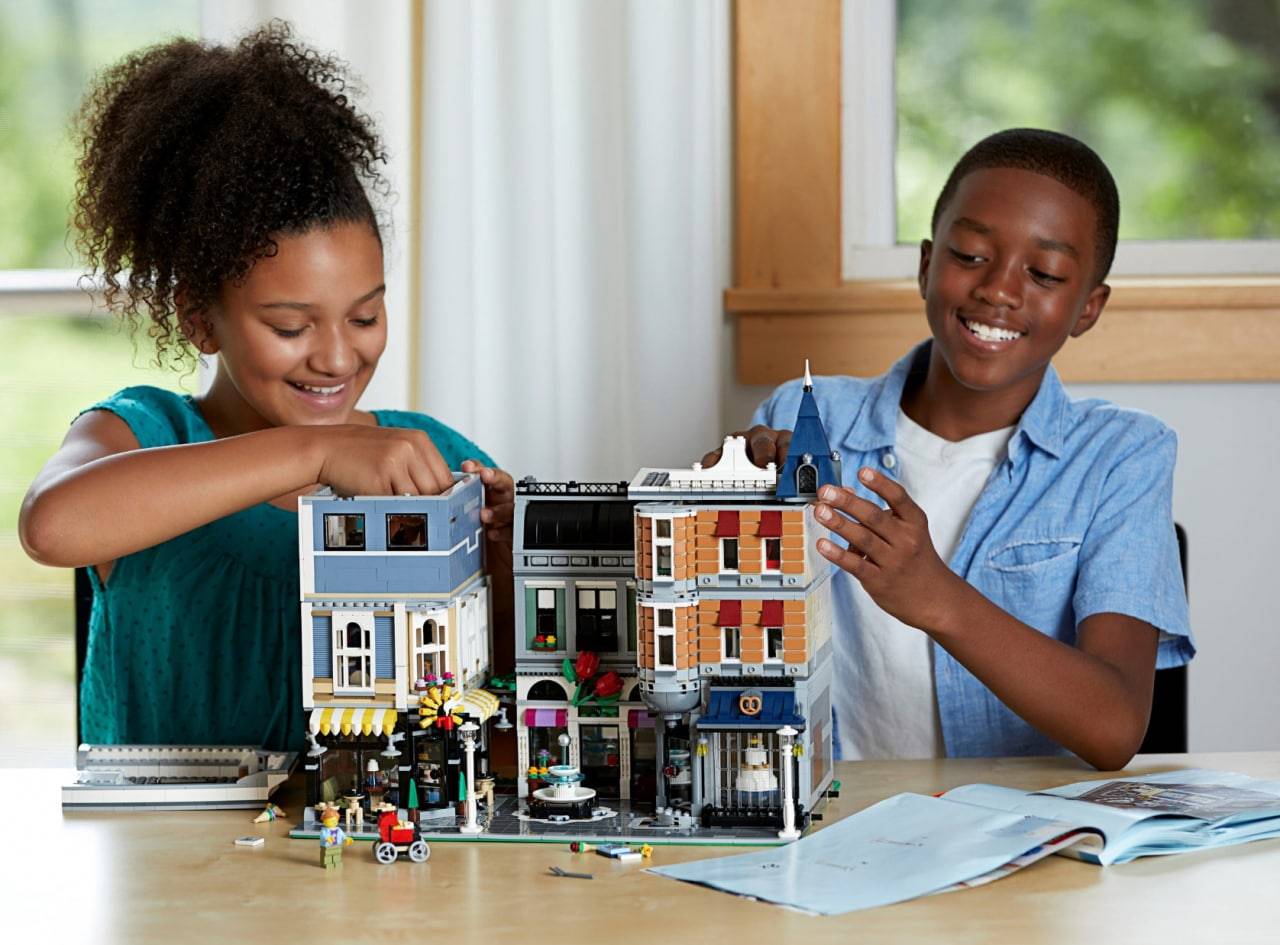 AMAZING FEATURES FOR THE LEGO ASSEMBLY SQUARE 10255 SET.
INTERNAL DESIGN.
The Lego Assembly Square looks fabulous from the outside. This is what makes it an amazing display set. But the inside of the set is truly a phenomenon. The well, You can easily access designed rooms by removing each section as a whole to Peirce in deep. The fun part is that you could remove a whole section without fear that the pieces will fall apart, which is a bonus. This Lego set includes accessories representing flowers, tables, chairs, Counters, a Spar bed, and even tiny little cakes and Cupcakes. And not to mention the fact that you could also have Minifigures displayed there. All these cool features make the set stand out as special, both in and out.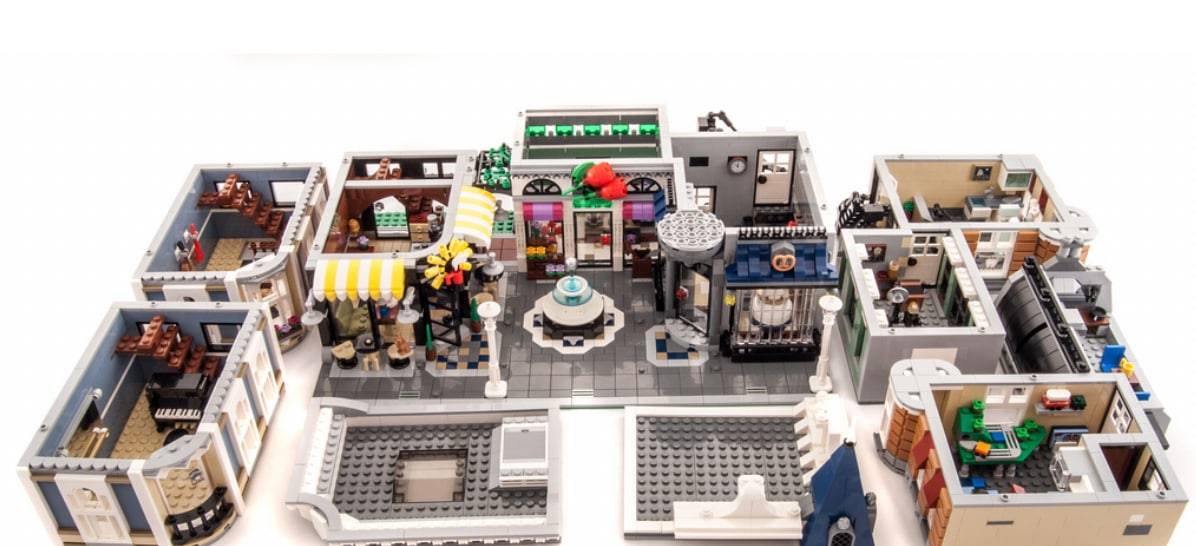 TOP QUALITY MATERIALS.
The reason why this Lego set is so amazing is the fact that it is made from the best materials Lego has to offer. These materials are sourced from trusted manufacturers to ensure they are of the best quality. The Lego team also goes through tremendous efforts to ensure that all the sets pass the quality assurance test. This means that you are guaranteed a lifelong set. You are also guaranteed the best building experience known to Lego. So you can rest assured that getting this set is a good use of money.

SET SIZE.
The Lego Assembly Square comes with a total of about 4002 pieces. These pieces include peace for the Minifigures. This set will be noticed, even in a crowd of other Lego Modular sets. When fully put together, the Lego set measures 13 inches high, 14 inches long, and 9 inches deep. The set is deep and spacious enough to harbor the almost nine Minifigures the set comes with. So you can be sure to have unlimited ideas about what you can do with this set.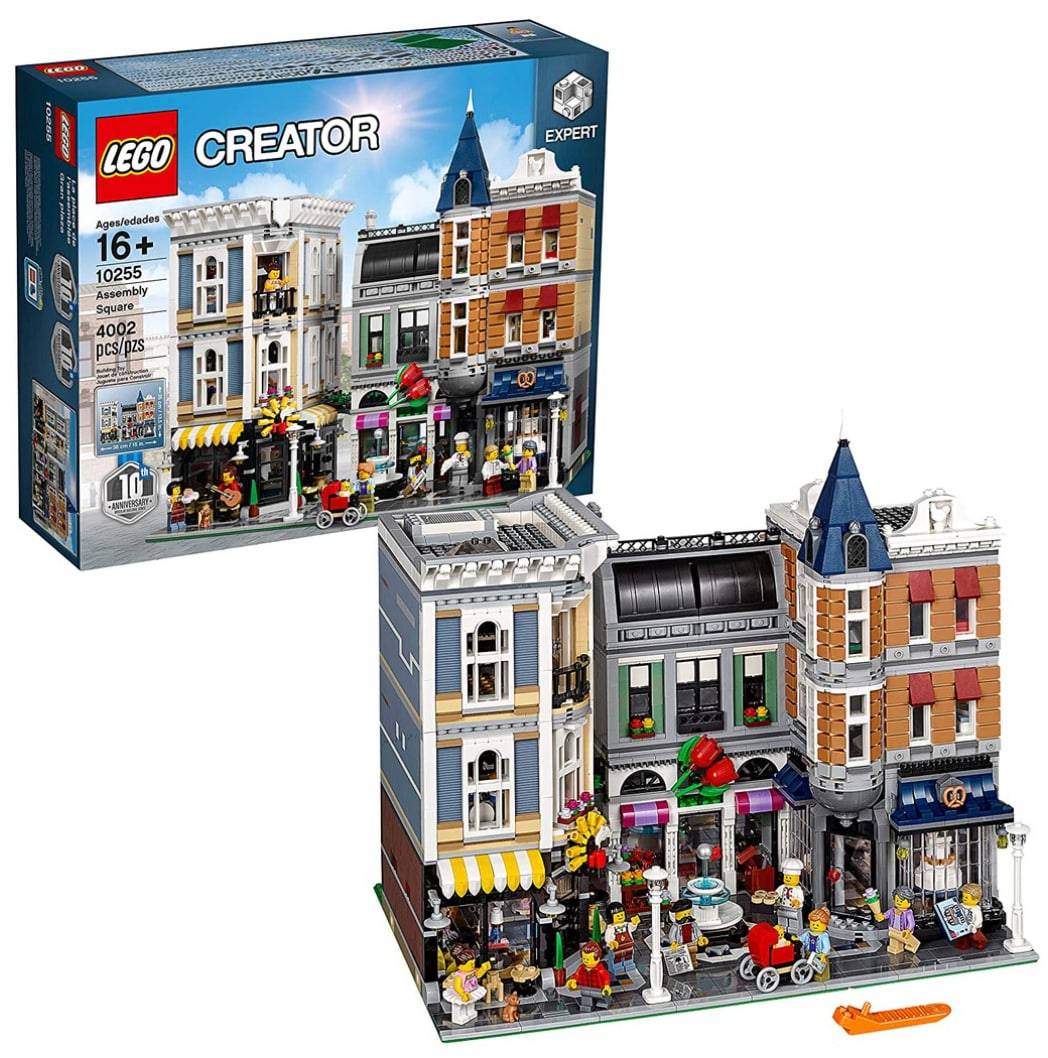 SET PRICE.
The Lego Assembly Square set is still available on the Lego website. So make sure to take the time out of your busy schedule to get one. You could purchase this set directly from the Lego website or check other online stores. You could also see this set when you walk into any Lego store in the US or UK. If you live in other counties where the Lego team has yet to get a Leg, you could only purchase it directly from the website, or people have and are willing to sell it. The Lego set costs about 300 dollars in the US. It could cost more depending on your location and product availability. Once you have finally gotten this amazing set, attach our amazing Lego lights to make it look more glamorous.

ENHANCE THE OVERALL LOOK OF YOUR ASSEMBLY SQUARE WITH OUR AWESOME LEGO LIGHTS.
Our Lights are called Lego lights because they are designed especially for the Lego team. So they have been we'll be sized to ensure they are compatible. The installation of our lights could be difficult for beginners. Here are a few helpful tips to get started.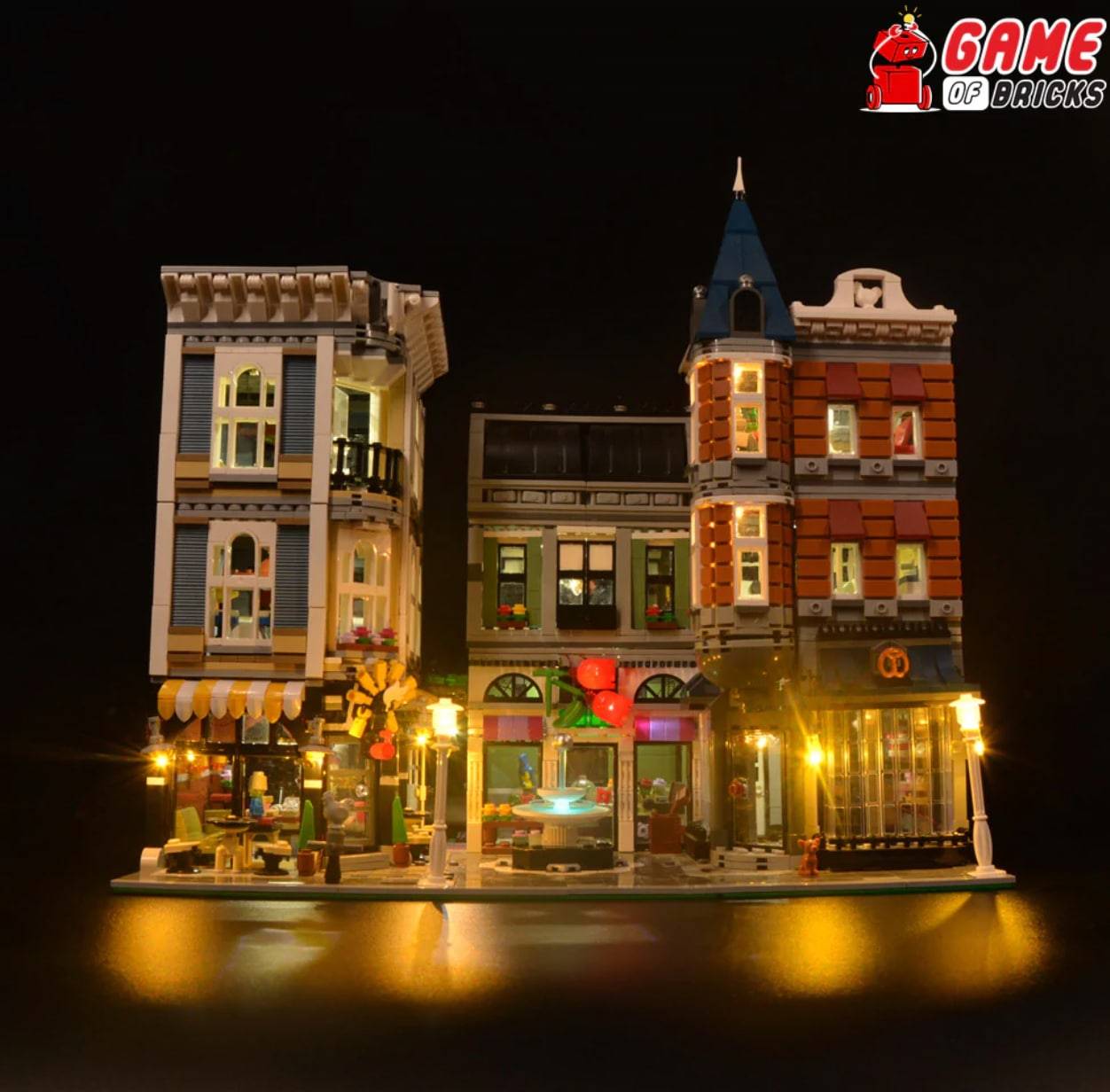 COMPLETE YOUR CHRISTMAS WREATH SET FIRST.
Before you move on to installation matters, it's best to put together your Christmas wreath set first carefully. Failure to do so would be like wiring an uncompleted building. So you now see the importance of completing your set first. Doing so will help you know what type of light kit to use for your set. It would also be best if you ish your set before even purchasing any light kit. This will help you to give one hundred percent of your time to your Christmas wreath set.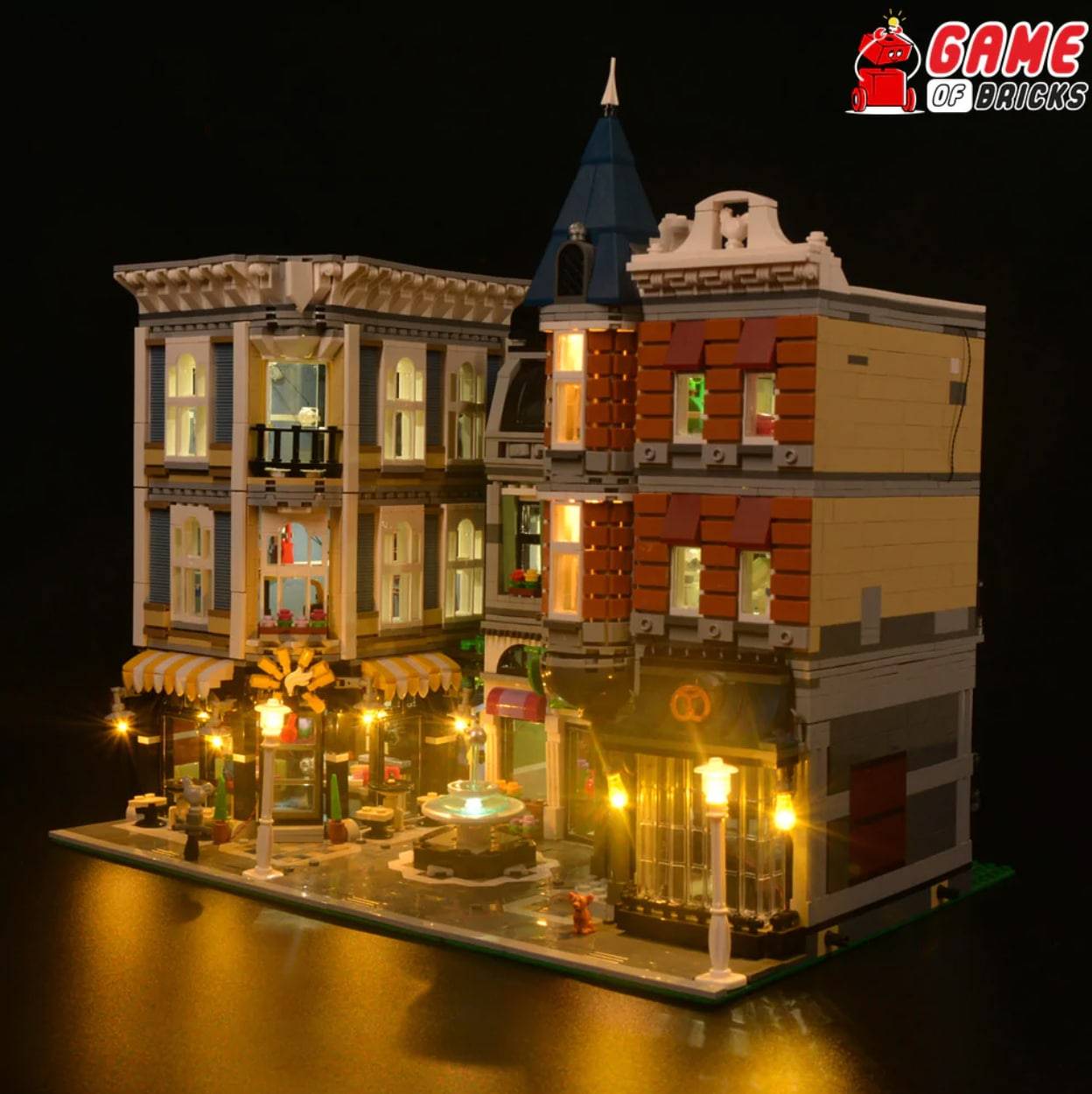 INSPECT ALL LIGHT KITS AND ACCESSORIES.
After you have been done building your set and ordering your light kit, it would be good to inspect each light kit and accessories appropriately. Check out any broken parts or cut wires in your kit. It is important to check for any damages before you install your kit. This will help save you time and money. Figuring out these damages on time can help you take full advantage of the warranty card with every light kit. Once you have done all inspections and everything looks good, you can install your light kit.
INSTALL YOUR LIGHT KIT.
Now, if you are new to this, you may wonder how? Well, fortunately for you, each light kit and accessory all come with easy-to-understand, step-by-step manuals on how to safely and neatly install your light kit and accessories. So, do well to follow those instructions to the letter. You are less likely to run into trouble if you install our light kits and accessories. As a tip for new light kit users, please take your time and follow it one step at a time.
TEST-RUN YOUR LIGHT KIT.
As soon as you are done installing, ensure you test-run it first. Doing so will help you know whether or not it is safe for all to see and will cause no harm to those that will come in contact with it. As you test run, watch out for Sparks and short-circuiting, this will help you identify the problem. Also, ensure you are using a powerful battery to hold your light kit. Once all checks are done and all looks good, hang this set on your wall as it shines to wish you a happy, everlasting life.
---