Show your racing superiority by building the LEGO Formula E Porsche X99 Electric 42137 Set.
By

Mark Gini
/
February 06, 2022
Nothing says professional racing other than a Formula One race car. These cars are hybrid cars built for fast-speed races. And are built to endure the most intense racing experiences. The Formula One race cars are among some of the fastest cars globally. But the Formula E Porsche X99 Electric takes racing to another level. This car features an intriguing Formula car design, is solid for gripping tires to support intense racing, and is powered by electricity. This fascinating race car is part of race cars for the Formula E series. This series is slightly more different and is unique because it is built for a world of electronic race cars.

Would you love to be a part of this new revolution? And perhaps you would like to show your support for Formula E race cars? Well, you can do this by joining millions of other race car fanatics in the building of the Formula E Porsche X99 Electric 42137 set. This set results from the partnership between the Formula E car series and Lego bricks. This helps give this car a more authentic look and makes it perfect for any race car fanatic. So if you long of a set to help inspire racing in the hearts of young minds, then this fantastic Lego race car set would be perfect for the job. The set also features an intense but fun building experience. Let's find out just how that feels.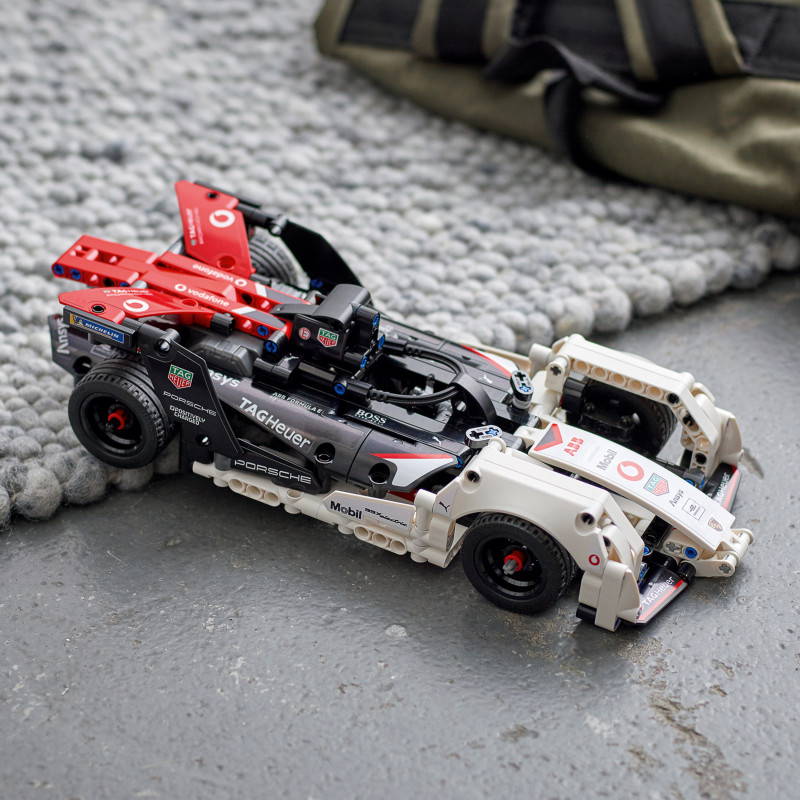 AN IMMERSIVE BUILDING EXPERIENCE FOR THE LEGO FORMULA E PORSCHE X99 ELECTRIC SET.
The Lego Formula E Porsche set is designed to be both complex and simple at the same time. It contains realistic details which help make the set stand out in a world of Lego sets. The set has a simple building, including features quickly built by even those new to Lego. If you are new to Lego and have been looking for a set to help kickstart your Lego journey, this set is an excellent place to start. But new Lego builders would do well to set out a specific period to build this set. This would help you get the best out of your building experience. As you make, notice the amount of work put in by Lego and the Formula E car series to bring you a set that reasonably represents a Formula E car.

The Formula E Porsche X99 Electric 42137 set also contains a building manual that helps bring this set to life more effortless. So if you encounter any problems, do not hesitate to use the instructions from the manual to solve your problem and keep your building experience fun. This manual could also be an excellent way to help your young Lego builders get the best out of the building of this set. This is also great as a display set. So once you have concluded the building of this set, you could decide to put it on display in your workplace or at the centre of your dining table. Doing so will help increase the overall satisfaction from building the set. This incredible Lego set also contains cool features which help set it apart. What are some of those cool features? Let's find out as we progress.

VERY ECCENTRIC FEATURES FOR THE LEGO FORMULA E PORSCHE X99 ELECTRIC 42137 SET.
The Lego Formula E Porsche X99 Electric set has some worthwhile details which make building it a world of fun. Let's see what some of those fun details are.
• AUGMENTED REALITY.
This set is part of the Lego Technic collection and not only offers a realistic Formula E car set but also offers a fun way to engage with your set. You can unlock this excellent feature by downloading the AR app. Once you download the app, scan the set and get started. With the AR function, you had the opportunity to participate in virtual races and test the limit of your car. Explore the AR world to get more fun ways to race and fun games to play. This function could help keep kids and adults engaged and immersed in the whole experience.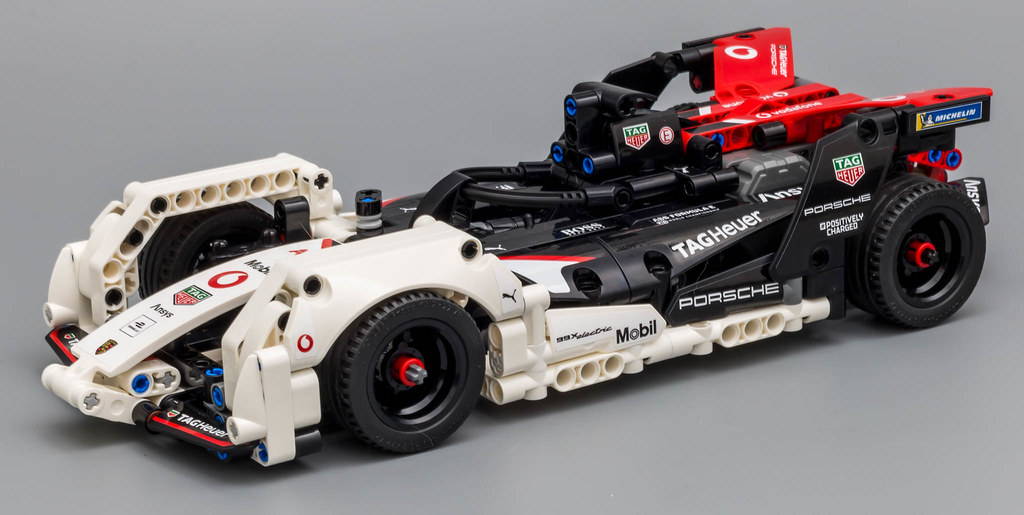 • PULL BACK FUNCTION.
This fantastic Lego sets also support more direct play. With the pullback function, supported by two pullback motors, you get the opportunity to test the speed limit of your race car. It also puts gives you control and allows you to dictate how fast or slow your set would go. The more pressure you add as you pull back your set, the faster the set would run once you let go. Once you pull back, activate the launch of your set with your foot. This function could be an excellent way to keep your kids engaged for hours.
• PERFECT SET SIZE.
The Lego Formula E Porsche X99 Electric is designed like a toy race car. This makes it very easy for your kids to control and carry about easily. It comes with a little over 400 pieces, about 422 to be precise. This set of brick pieces is of the best quality and can withstand a little rough handling from kids. The Lego Formula E Porsche X99 Electric set is about 2 inches high, 12 inches long, and 4.5 inches wide when fully built. Enjoy bringing this set to life with your kids.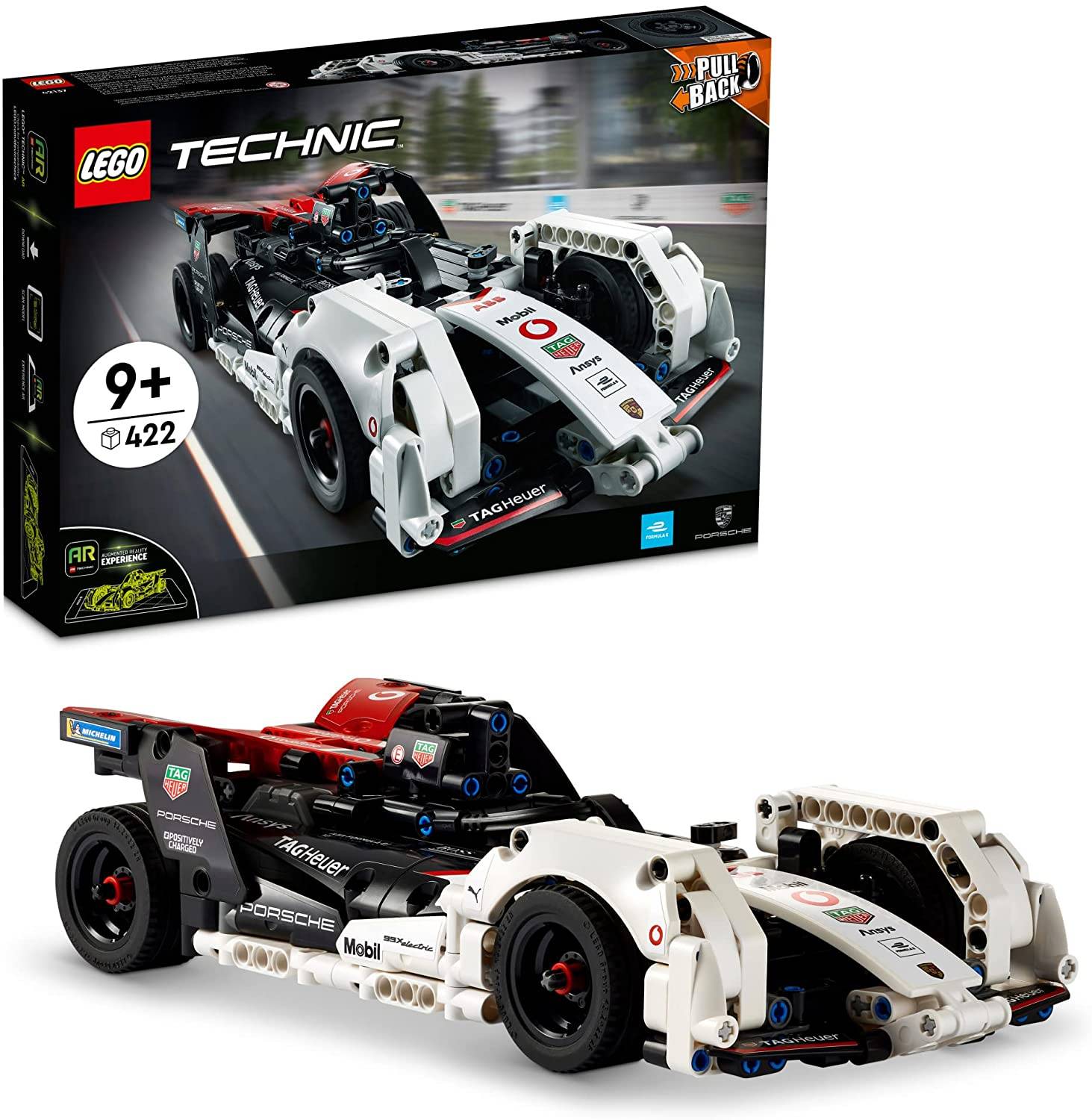 If you desire to buy this set by now, you can purchase the set from any Lego store in your area. And if you don't know of any and are too lazy to make inquiries, then you could buy this set from our Lego website lego.com. Now just how much does this set cost? The price could vary depending on the store and just how many of it is available. If the set is rare, then expect it to cost high. But if you are to get the set straight from the website, you could expect the purchase it at about 50.00 dollars. This is very affordable compared to other Lego sets.
MAKE THIS SET SHINE BRIGHT WITH OUR SPECIAL GAME OF BRICKS LIGHT KITS.
As impressive as the Lego Formula E Porsche X99 Electric set is, you could make it look even more captivating. This can be achieved by installing our Lego light kits on your set. This kit is perfectly designed to add to the beauty of any Lego set, including your Formula E race car set. Are you new to Lego light kits? Well, not to worry. The steps to installing this set are pretty straightforward and could be done successfully with the help of a well-detailed instruction manual. Make sure that you complete the building of your Lego Formula E Porsche X99 Electric set. Once that has been accomplished, you can safely order our Light kits from our website, game of bricks.com. Once the Light kit arrives, you can move on to installing. Here are some things to take to heart as you install.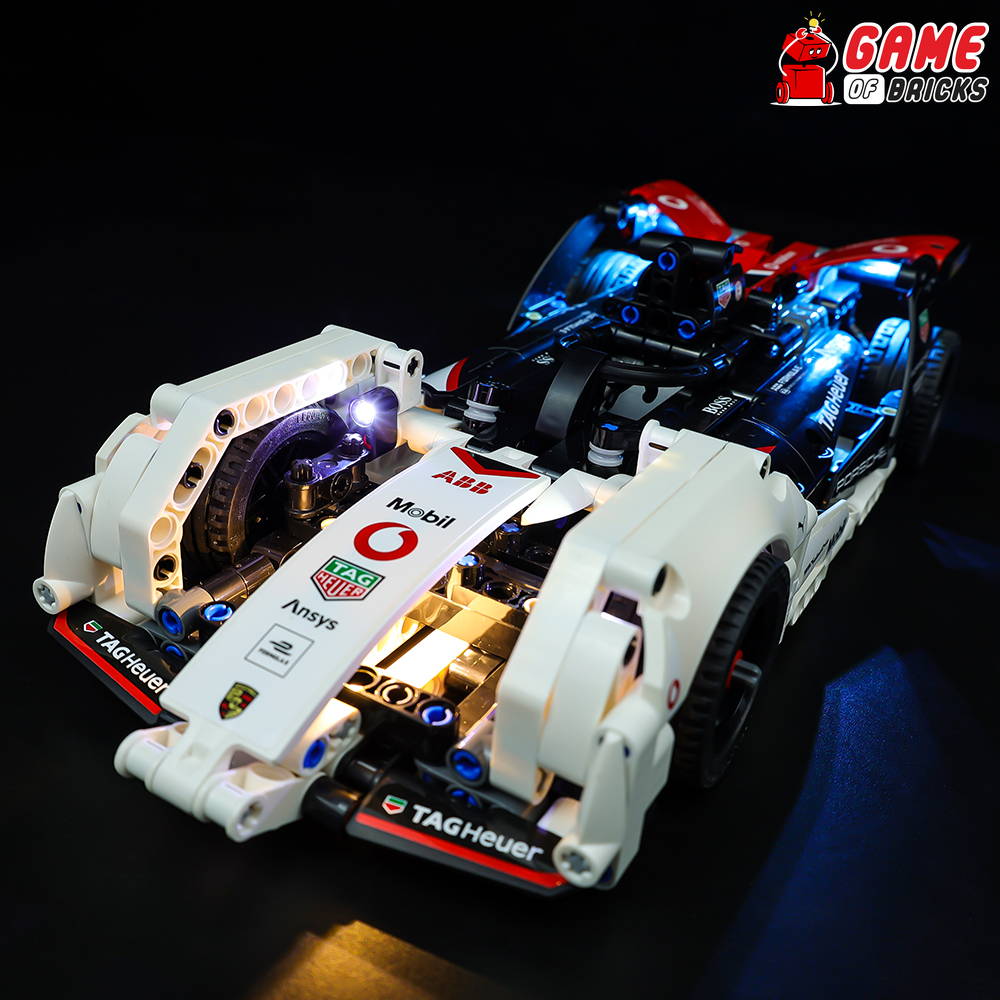 1. INSTALLATION TIPS.
Following these tips and advice would help contribute to your success as you install.
• Handle light kit with care: As you install your Light kit, make sure to handle each accessory with care. Your Lego lights are very delicate and could easily get damaged if you handle them roughly. So, as you install, try not to force light kits into bricks that do not support the kit. Ensure that all bricks the kit pass through, allowing for easy access.
• Take your time: New light kit installers may be tempted to rush through the process. Doing so would be preparing yourself up for failure. So if you desire to hit maximum success on your first attempt at installing, make sure you set out a specific time for the process. This would help you relax and give one hundred percent of your time.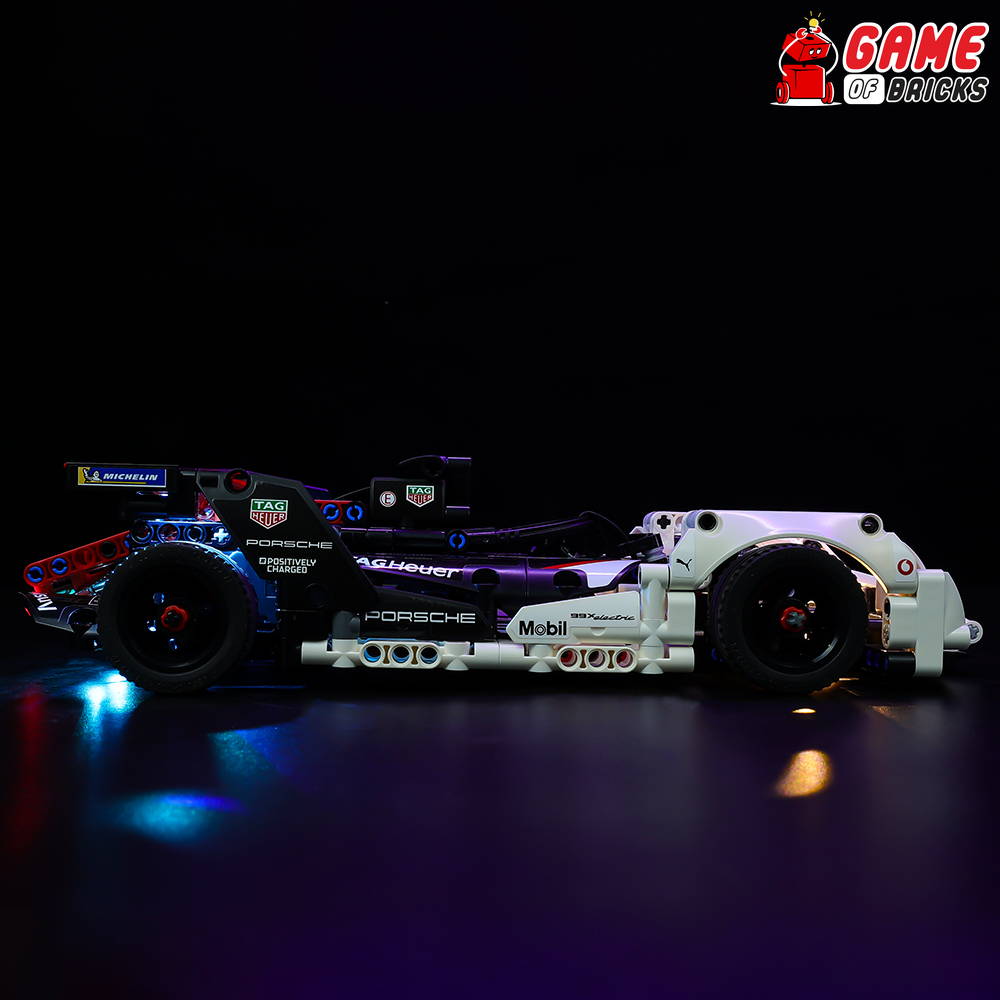 Add Tip: Make sure to follow the instructions from the manual. Instructions are clear and step by step. Following it closely would ensure you get one hundred percent out of the installation process. It would also help maximum guarantee success.
2. RUN FINAL TESTS.
As soon as you have concluded installing your set, take time to run an extensive final test on your installed light kits. This check would help you guarantee the overall success of what you have done and whether or not it is safe. Look out for signs of short-circuiting, and check the battery power. Gage the overall kit durability. Once all these checks are done, and all looks good, show off your Lego Formula E Porsche X99 Electric race car set for all to see!