MAGICAL BUILD WITH THE LEGO SANTA'S SLEIGH 40499 SET
By

Mark Gini
/
November 04, 2021
Christmas is just around the corner! And for most of you, it is bound to be the most exciting time of year. Have you been nice this year? Perhaps lovely enough to enter Santa's nice list? Or have you been naughty? Hopefully not. What is your favorite time during Christmas? Is it the night before Christmas? Or probably the very night of Christmas? Or the morning after Christmas? When do you think the magic truly happens? Well, it is on the night of Christmas when Santa travels round with the help of his adorable reindeer and sleigh to satisfy the desires of all the lovely children, gifting them what they do desire.

Are you ready for Christmas this year? What steps have you taken to ensure you remain on Santa's good side? Or perhaps you are not quite feeling the Christmas spirit yet. What can you do to get your spirit burning for Christmas, or is all hope lost? Thankfully, the answer to that is no! All thanks to the release of the Lego Santa's sleigh 40499 sets. This fantastic Lego set would help revive the dying Christmas spirits of thousands worldwide and will be an excellent gift for any Christmas and Santa fanatic. Remember the strength and speed of Santa's magic depends on how strong your Christmas spirit is as an individual. So, how will the building of this set help revive your Christmas spirit? Let's find out in the next section.
BUILDING EXPERIENCE FOR THE LEGO SANTA'S SLEIGH 40499 SET.
The Lego Santa's sleigh is the ideal setting for any individual looking to revive the Christmas spirit in their heart. The set helps depict the true magic behind Christmas, which includes sharing gifts and spending time with those we love. So building this set will help you feel like you have a hand to play in the success of Christmas on a global scale. The set is not so large, with the entire piece being a little above 300. Lego builders will be responsible for putting together a 345 set featuring Santa and his adorable reindeers. You will also get the opportunity to recreate the most fantastic smile on Santa's face, which helps show what Christmas is all about.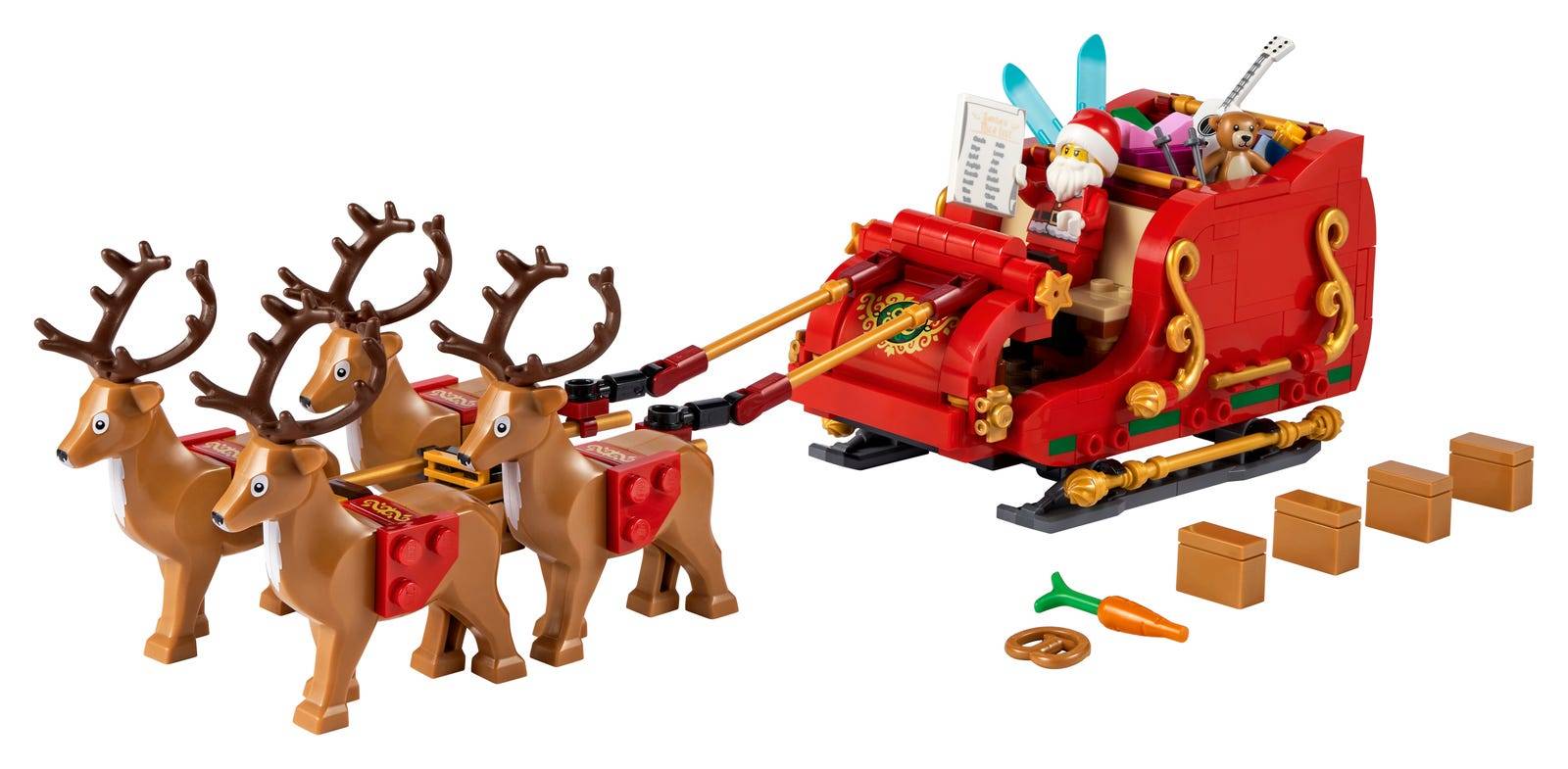 The fun part is that you do not have to do this on your own! Though the set is small, this set's true magic and joy are building it with close friends and family. Use this fantastic set to show your children the true meaning of Christmas and what it symbolizes. Test your kids to see if they were nice enough to make Santa's nice list. Then as Christmas gets closer, help Santa load up the sleigh with extraordinary gifts, groom and feed the reindeers, and then join him as he spreads unique gifts all around the world. The most fantastic thing about this set is the satisfaction derived from building this set. The set's structures and design make it perfect as a display set. Make your center table more beautiful on Christmas day with the inclusion of this set as a centerpiece.

FEATURES OF THE LEGO SANTA'S SLEIGH 40499 SET.
The Lego Santa's sleigh set comes with a lot of great details that make this set special and make this set worth building. Let's now consider some of these fantastic features.
• SETS APPEAL.
The Lego Santa's sleigh set appeals to all builders to awaken their Christmas spirit. This set does this by its fantastic color scheme that screams Christmas, with its red and white color scheme. The set also features Santa in his signature outfit and a bag full of gifts, and of you, use a beautiful magic sleigh. This set could be just what you need to get you excited and ready for this fantastic festive season if you are preparing for Christmas.
• SCREAMS ADVENTURES.
The Lego Santa's sleighs scream adventure! Engage your kids with the building of this fantastic Lego set. Make sure they take their time to savor each moment as they put this set to life. Kids can take turns playing Santa and gifting friendly and kind kids worldwide with unique gifts. After the set's building, kids could also set out to search for those unique gifts that have been stored away by Santa. In the end, everyone will be left smiling, happy, and enthusiastic for Christmas.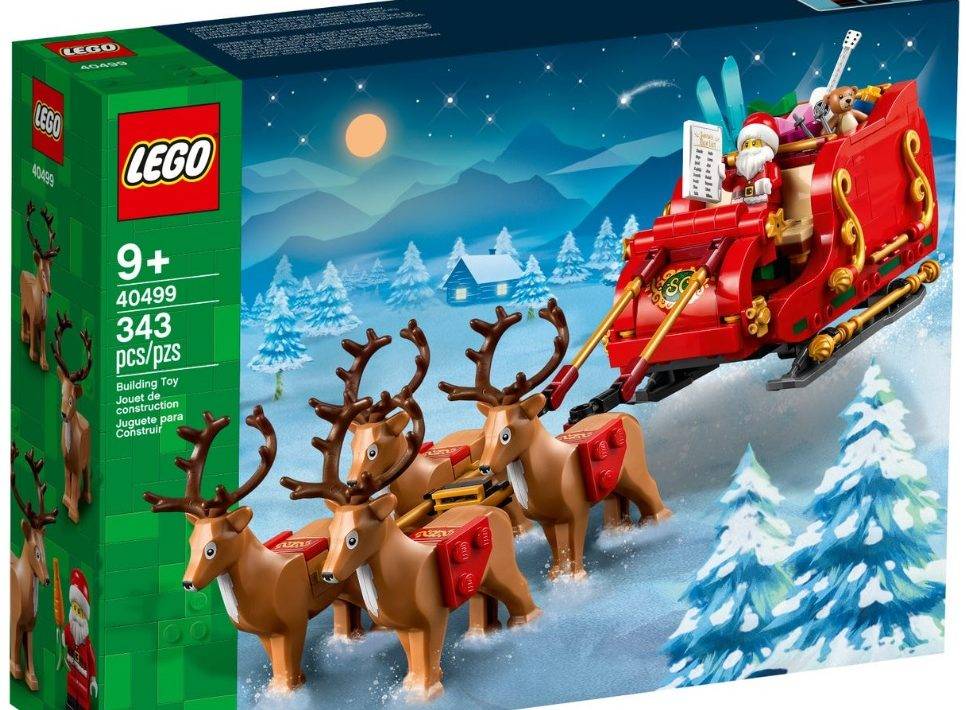 • AMAZING FEATURES.
The Lego Santa's sleigh is built with lots of unique features. These features aid in the beauty and magic this set possesses. Some of these features include four magical reindeers, which is familiar with Santa, lots and lots of gifts, including a guitar, set of skis, and a teddy bear. This set also includes a list of those worthy of Santa's visit, making role-playing a lot easier.
• SET SIZE.
The Lego Santa's sleigh could be considered a small size set that can quickly be completed in under an hour by an experienced builder. It could also be a perfect way to start for those not familiar with Lego sets. The set consists of 345 pieces of high-quality bricks. This set would be 3 inches high, 11 inches long, and 2.5 inches wide when put together. This makes this set perfect as a display set and will look so magnificent as a centerpiece.
Lego sets could cost price could stager based on a lot of underlined factors. The fact remains, though, that this set is one of the most affordable you would find. The set is available on lego.com and Lego stores in the US for about 38.99 dollars. This price could either increase or decrease. This depends on your location and the availability of the set in that area. Non the less, the fact remains that for a comfortable purchase, accompanied by free shipping and a 30 days warranty card, it is much better to get this set directly from Lego.com and Lego stores in your designated region.
MAKE YOUR LEGO SANTA'S SLEIGH LOOK EVEN MORE MAGICAL WITH OUR AMAZING LIGHT KIT.
The Lego Santa's sleigh is already a fantastic set. But you can make this set more astonishing and magical with our fascinating Lego light kits. Are you new to Lego? Well, our light kits are very affordable and durable. Most importantly, they are safe and help bring out the unique beauty each set possesses. But you must probably be wondering just how to make use of this unique feature. If that's how you feel, please sit tight as I bring to you universal rules that will help make your installation process all the more satisfying.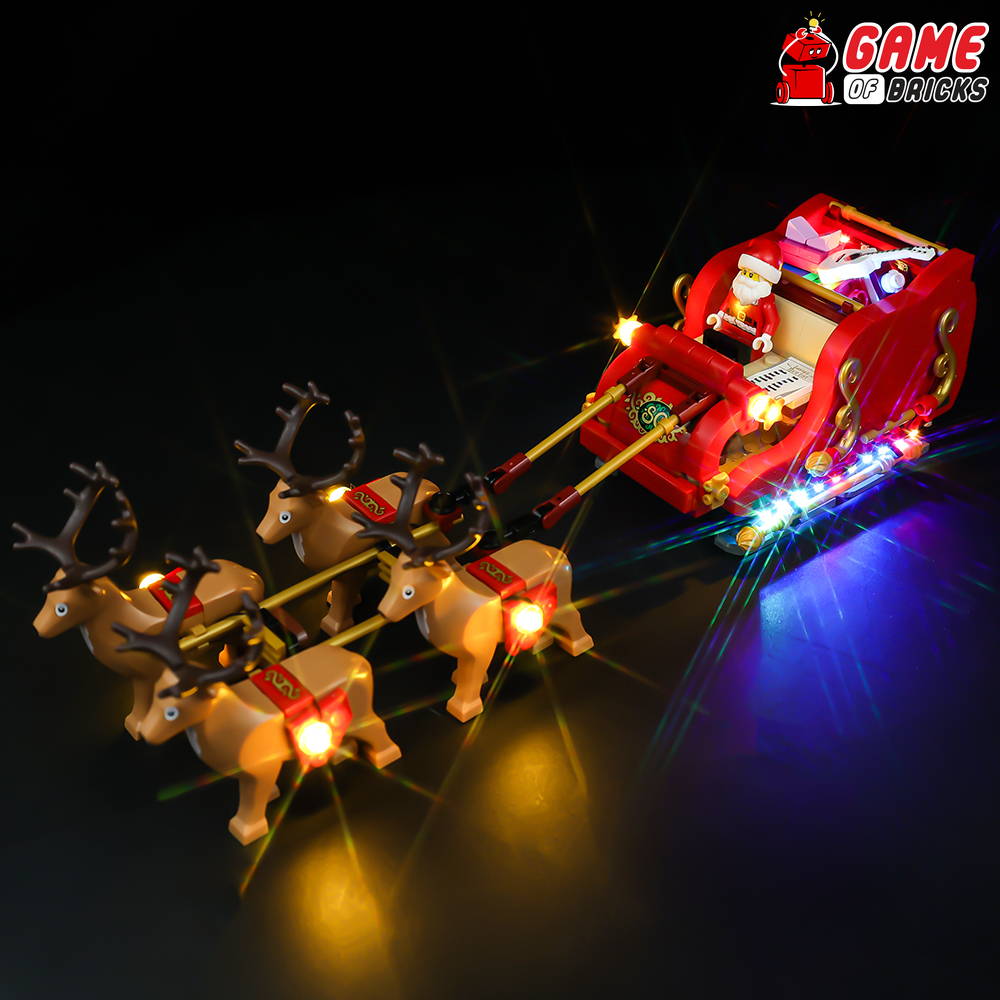 1. COMPLETE YOUR SANTA'S SLEIGH SET FIRST.
Installation of our light kits helps enhance the overall look of the designated set. So it is only proper that you take your time to put together a befitting set. Doing this will help you figure out what type of light kit will best suit your set. So ensure you take your time in the building of this set. And once you are done one building, ensure to cross-check your set and ensure that everything is in order.
2. INSPECT ALL SHIPPED IN LIGHT KITS.
After finishing the building of your Santa's sleigh set, the next thing would be to order your light kit from the game of bricks .com. Once this is done and your light kit arrives, take your time to scrutinize each light kit and accessories. You are doing this to ensure that all light kits and accessories are in perfect order at their arrival. This means no cut wires and broken bulbs. It would be nice to do this inspection as soon as the light kit arrives. Doing so will save you from an unnecessary headache that finding out much later would incur. Once your checks are complete, and all looks good, you can then install the kit.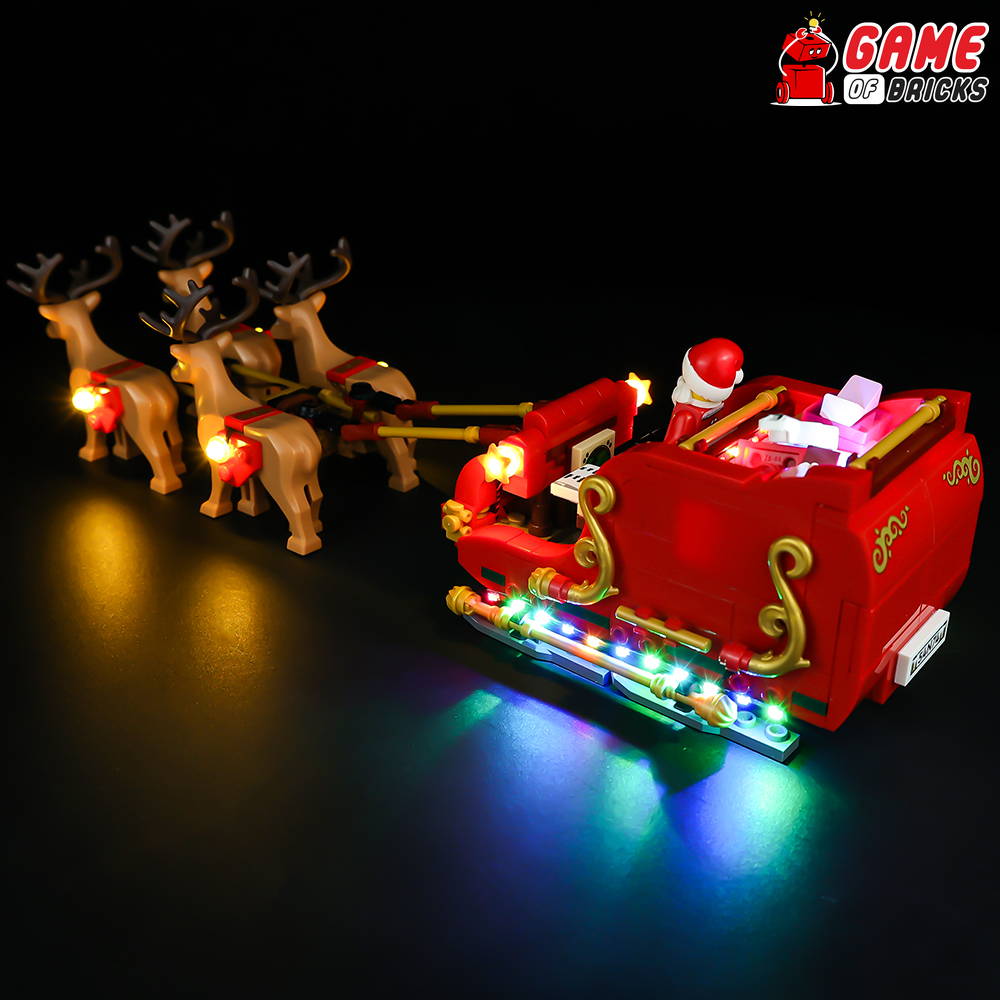 3. INSTALL YOUR LIGHT KIT.
The time to install your light kit is now upon you. Doing this will involve much more than just guesswork. Light kit installation is a very delicate and tricky procedure. Thank God game of bricks sends each light kit with a step-by-step manual to go with it. Builders who take advantage of this feature have a much better chance of installing your light kit successfully. Remember, though, that the light kits are very delicate and should be handled with care. Doing so will help reduce the risk of damaging your light kits. But once you are done building, what's next?
4. TEST RUN YOUR LIGHT KIT.
To help ensure that all is good, you should take time to test run your light kit. Doing so will include testing it to ensure it is safe and can be displayed around children and ensure that it is durable enough to stand the test of time. So basically you are the goal when testing is to find and pinpoint the problems of your light kit-if any. The best way to do this is to search for signs of short-circuiting, which could quickly help identify a problem. Once all test has been done and all have been fixed. Make your set aluminate the room with all its magic.