Feel like a tourist in your bedroom by building the LEGO Singapore 21057 Set.
By

Mark Gini
/
February 13, 2022
Have you ever dreamt of visiting Singapore before? Well, if you have, you must have an excellent reason for having that thought. Singapore is packed with lots of beautiful structures and eye-catchy scenery, which helps make it perfect for tourists. And if you need somewhere nice, comfy, and classy to rest your head, why not try The Fullerton Hotel Singapore? This is among of the most impressive hotels in town. This, among other things, makes Singapore a good place to visit. And for this very reason, Singapore has been able to generate a large number of tourist attractions.

Do you happen to have the desire to visit this fantastic city? What's holding you back? Well, is it because of the trip costing a fortune, or maybe you can't seem to get time out of work? Well, if any of these is the reason, you don't need to worry. You can visit Singapore or anywhere you are by building the Lego Singapore 21057 set. This set is designed to make you feel like you were actually in Singapore and could be an excellent way to develop your imagination. This fantastic set could be perfect for builders into collector's items. So what type of experience awaits you as you bring this set to life? Let's find out together, shall we?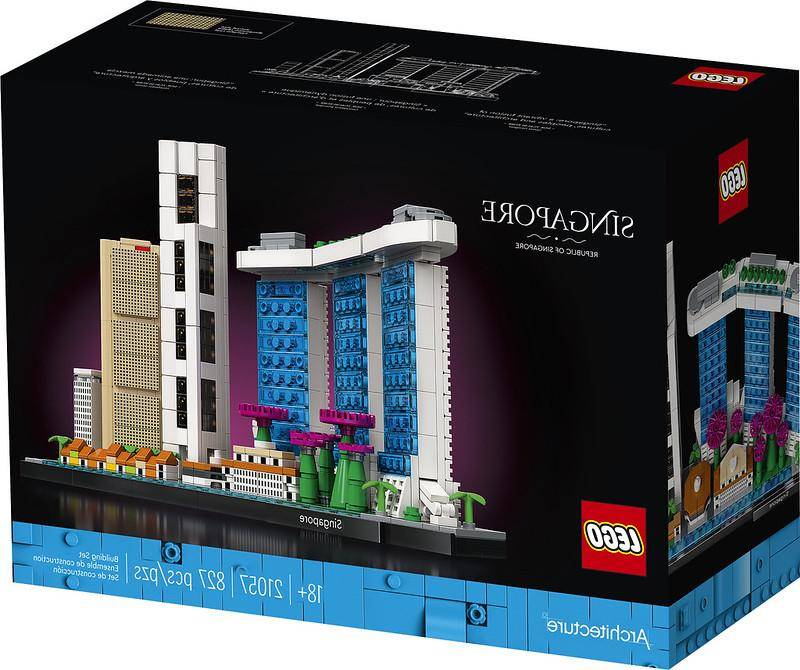 A CHALLENGING BUILDING EXPERIENCE FOR THE LEGO SINGAPORE 21057 SET.
The Lego Singapore set is indeed a challenge. The amount of realism it offers is almost unreal. If you are not suttle, you might feel like you are actually in Singapore while building. But that is the whole fun about this fantastic set. But this set does more than look amazing! It offers builders the chance to challenge themselves by testing out a much different building technique. Build your city from the ground up, enjoy laying its foundation, and setting it the cornerstone. Then finish off by rebuilding some of the most iconic locations in Singapore. And you get to do all these with our incredible, high-quality Lego bricks. These bricks are made with the best materials and have been tested to ensure they are safe for builders to make use of.
Another fascinating thing about this set is that it offers builders a clear, easy to read and understand manual. This manual provides step-by-step instructions that would be very helpful for those not so familiar with Lego. If you are still struggling around Lego bricks, make this manual your compass to help work you through the building process. And if you are seeking to get better with your building skills, this set is just what you need. It would help you be a better problem solver and a fast thinker. It also gives you fresh new ways to handle brick attachments. All this helps give you a better, well-rounded experience. This set is part of the Lego architectural collection. So expect it to be packed with lots of realistic details, which help perfectly represent the beautiful city of Singapore. But with this set, there is more than meets the eye. Let's find out what those are.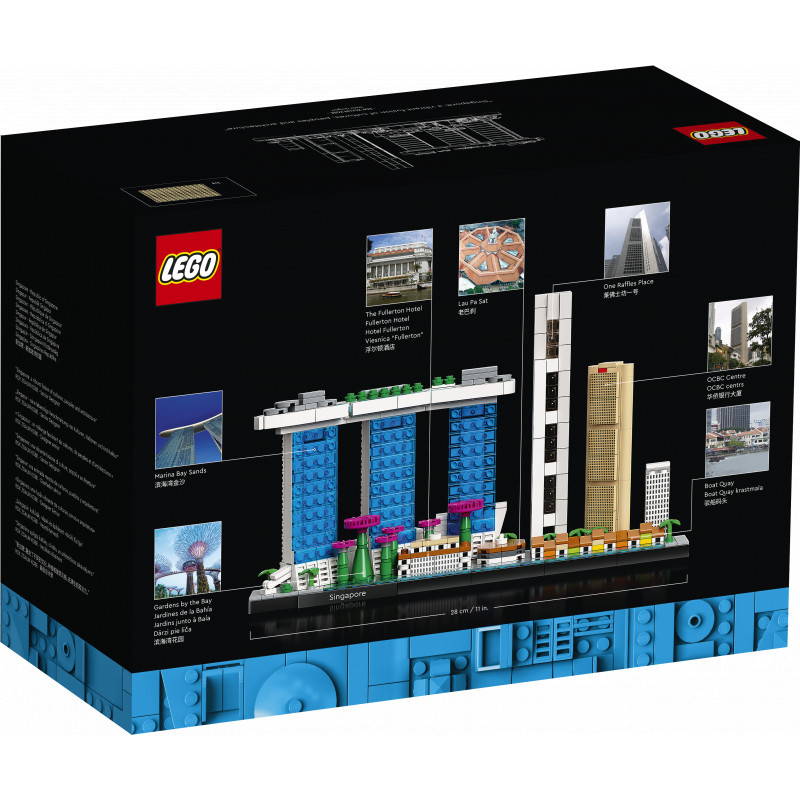 AUTHENTIC FEATURES TO DISCOVER IN THE LEGO SINGAPORE 21057 SET.
The Lego Singapore architecture set is packed with hidden gems and impressive details. These great details could keep you fully immersed in the overall set. What are some of those intriguing details? Well, this section will touch most of them.
• AUTHENTIC CITY REPRESENTATION.
Although the Lego team would have loved to bring the whole of Singapore to you, that is not reasonably realistic. Singapore is a big city, so it would be too overwhelming to build and are carefully represented by the Lego team. So as such, Lego decided to bring to you some of the most iconic and relatable places you think of about Singapore. This is why paces like The Fullerton Hotel Singapore, Supertree Grove at Garden by the Bay, and The Marina Bay Sand were among the building carefully and authentically represented by Lego. Of course, other significant locations are described, like The OCBC Center and One Raffles Park. All these details make the set stand out as realistic and authentic as it can be.

• ATTENTION TO DETAIL.
Lego does not just stop adding recognizable locations and buildings to the set. They take it way better by paying attention to even the most minor details. Details like how the river flows, roads connect, and positions of trees and terrain. The set uses Lego elements to represent these features perfectly. This effort contributes to Lego having the most distinct representation of Singapore ever on the brick build. Watch yourself in the streets of Singapore as you build this incredible Lego set from the ground up!
• A DISPLAY MASTERPIECE.
As far as display sets go, this Lego set is a masterpiece. The set has a unique and well-measured ratio, making it easily displayable anywhere. You could decide to display this set on your Center table or at the desk of your office. Enjoy the thrill of workers coming in and being completely blown away by the splendour of your Lego set. And so, it does not look like an exaggeration. Let's look closely at the set size. The Lego Singapore 21057 set comes with a total of 827 set pieces. The set is about 6.5 inches high, 11 inches wide, and 3.5 inches deep when fully built. This scaled ratio makes it a perfect display set.
Reading about this set's cool features may get you worried about the pricing. But no need to worry! Getting this set from Lego stores or the Lego website, lego.com, save you the trouble of fluctuations in price. If you live In the US or some parts of Europe, you would probably have access to Lego stores. Feel free to visit them and make inquiries about this set. If you live in other parts of the world where there are no Lego stores, it would be best to consult the Lego website direct. In Lego stores or websites, you are most likely to get this set at a price ranging from 59.99 to about 65 dollars. And with the addition of a unique accessory, our Lego light an additional 49.99 dollars.
MAKE YOUR SINGAPORE SET SHINE BRIGHTLY WITH OUR SPECIAL GAME OF BRICKS LIGHT KITS.
The Singapore set has been perfectly represented in the daytime by Lego. Let our light kit help being your set to life at night. Light up the streets of Singapore with our unique and affordable light kits. Are you new to our fantastic light kits? Do you like what you are reading and want to implement it? Then you are probably wondering how to get started. Well, you can easily do so by first purchasing our light kit from our website, game of bricks.com. Once on the website, search out the name of the Lego set whose light kit you want to purchase, and then click order! But before you jump to installing, make sure to inspect the shipped-in light equipment and all the accessories that come with it. Also, ensure you are done with your Singapore set. Light kit installation can not be done while building. Remembering this would be very helpful if you succeed in the installation process.
After all, this is done. What's next? Well,jump right in and install!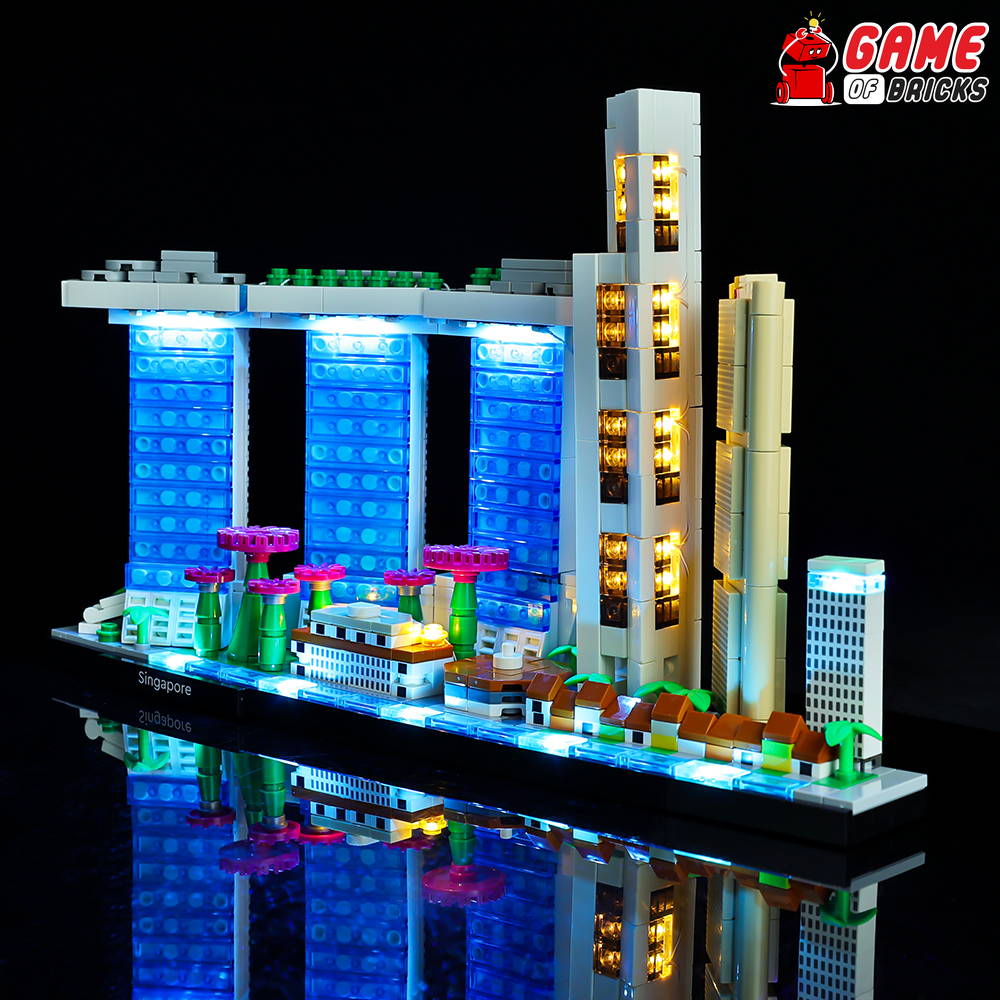 • How to install.
To help make your installation process smooth and steady, make sure each purchased light kits come with clear and understandable instructions to help get a beginner on the right track. Following this instruction carefully and to the last would significantly impact your installation process. Just a reminder – your light kits are very delicate and should be handled with care. Using your light kits roughly and forcefully could damage them. So make sure not to use your light kits forcefully. To help ensure that this principle is carried out, try as much as possible to only work with your light kit when you are relaxed and not on a time crunch. So only use light kits at the specific time you have allotted for the work.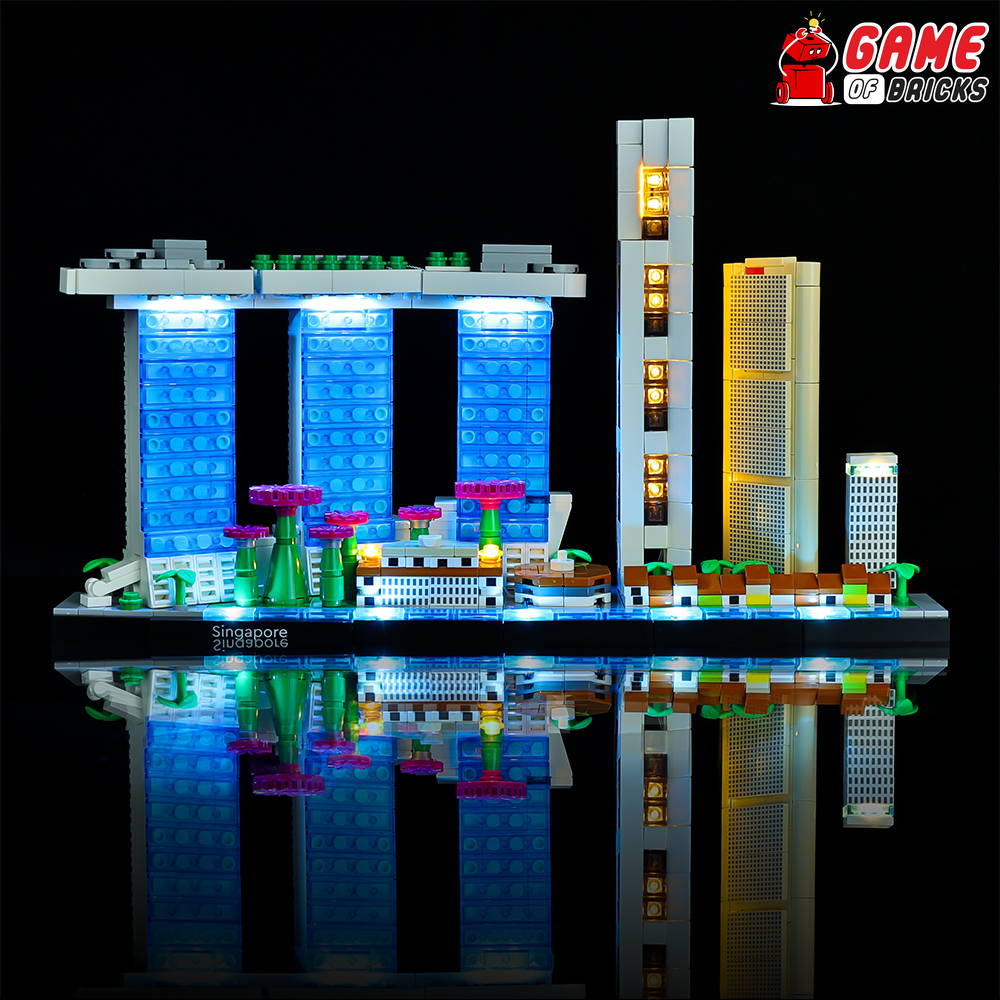 AFTER INSTALLATION COMES INSPECTION.
As soon as you install your light kits, take time to run final checks on them. Make sure everything is in order. Watch out for signs of short-circuiting and battery life. Also, ensure there are no cut or lose wires. Make sure you do not skip through this process, for this process helps guarantee the safety of the overall set. Once all checks are done and look good, feel free to show your set to all who are willing to see it!