Travel back to your best James Bond movie when you build the LEGO 007 Aston Martin DB5 76911 Set.
Are you a huge James Bond fan? You will be familiar with his signature ride, the 007 Aston Martin DB5 car. This car was featured in the primer of the James Bond movie in 1964 and soon became associated with the character. This car was known for its durability, extraordinary speed, and all the cool features. 
As the James Bond character likeness grew among fans, so did their love and appreciation for his signature ride, the Aston Martin BD5 car. Fans loved seeing James Bond in this car. It featured in the newest and maybe final installment, " No Time To Die." In the movie's intro, we see a spectacular display as James Bond uses it to escape his enemies and protect Madeleine. 

For years, Lego fans have longed for a set featuring a James Bond Minifigure. This year, fans can be thrilled because the new Lego Speed Champions set features our very first James Bond Minifigure and Lego's latest adaptation of his signature ride, the 007 Aston Martin BD5 car. If you love the Lego Speed Champion collection of sets, then you would love this set. 
Not only do you get the chance to bring the Aston Martin to life in Lego form, but you also have a James Bond Minifigure to help you relive epic movie moments, like when James Bond realizes he has been played by the woman of his dreams, Madeleine. 
This set also offers a mouth-watering building experience and other cool features. Let's deep dive into all you stand to gain with this set and how our light kits can give you the desired finish you seek.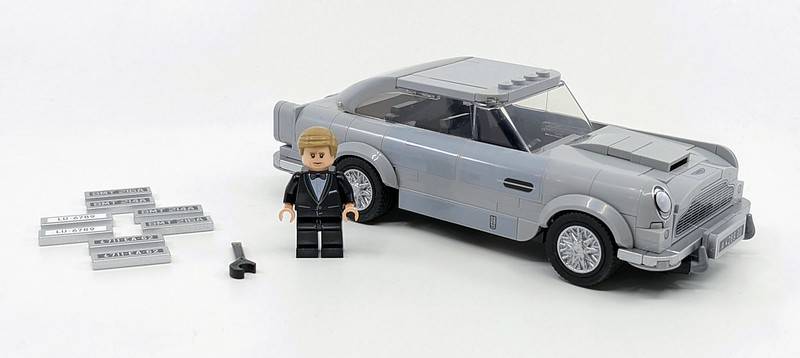 BUILDING EXPERIENCE FOR THE LEGO 007 ASTON MARTIN DB576911 SET
Though the Lego 007 Aston Martin DB5 set is small, it's really fun to build. Because of the set's small stature, you don't get to repeat the same building technic more than once. So each building stage introduces a new technic to help pass that stage. So as you build, you do not only get originality in every build, but you also experience consistent fun with every build. 
The Lego Aston Martins set is very fun to build and would keep both old and young builders engaged for hours. You can get the best out of this set by really focusing on the build and how every brick comes together to give you a set that overall looks amazing. 

The Lego Aston Martin DB5 set also comes with an instruction manual that clearly explains all you need to know about the set and accomplishing your desired finish. The set also includes detailed instructions on how to approach each building stage. With this amazing manual to guide you, roadblocks would be the least of your worries. 
Because of this Lego set's simplicity, both old and new to Lego could successfully build this set. And to help give this Lego set authenticity, Lego included stickers. You would have to attach all these stickers to your Lego set to give it a nice finishing touch. 
The Lego set also includes number plates to help make the set look so much more authentic. Overall, the Lego 007 Aston Martin DB5 set is really fun to build and a great addition to your Lego collection. The set also comes with some cool features, which the next section will cover.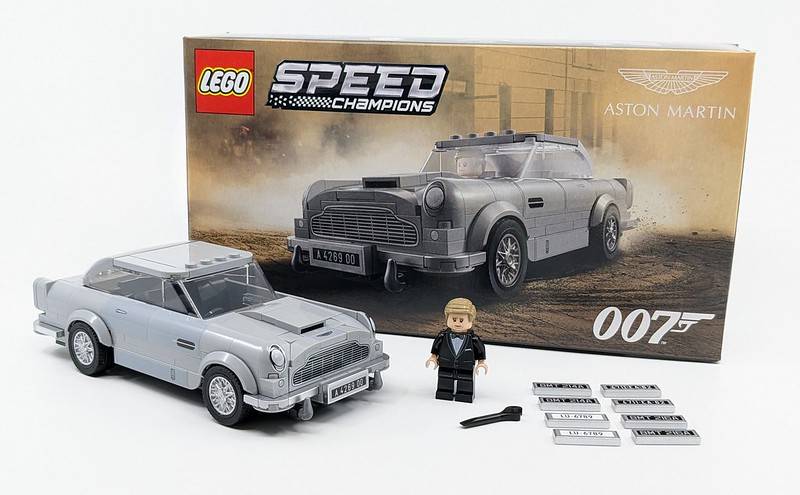 COOL FEATURES OF THE LEGO 007 ASTON MARTIN DB5 76911 SET
FIVE SETS OF NUMBER PLATES
The Lego 007 Aston Martin DB5 set comes with five different number plates, which you could fix on both the front and back of Lego sets. We believe that each of these number plates is taken from one of each of the James Bond movies. So you could enjoy relaying epic James bond movie moments from whichever year while changing the number plates to add authenticity to the look. 

You could even do research to uncover which numberplate was for which year. This research could be fun and give you an extra appreciation for the efforts put in by the Lego team to give you a set that stays true not just to the most recent adaptation of the movie but also to much older James Bond movies.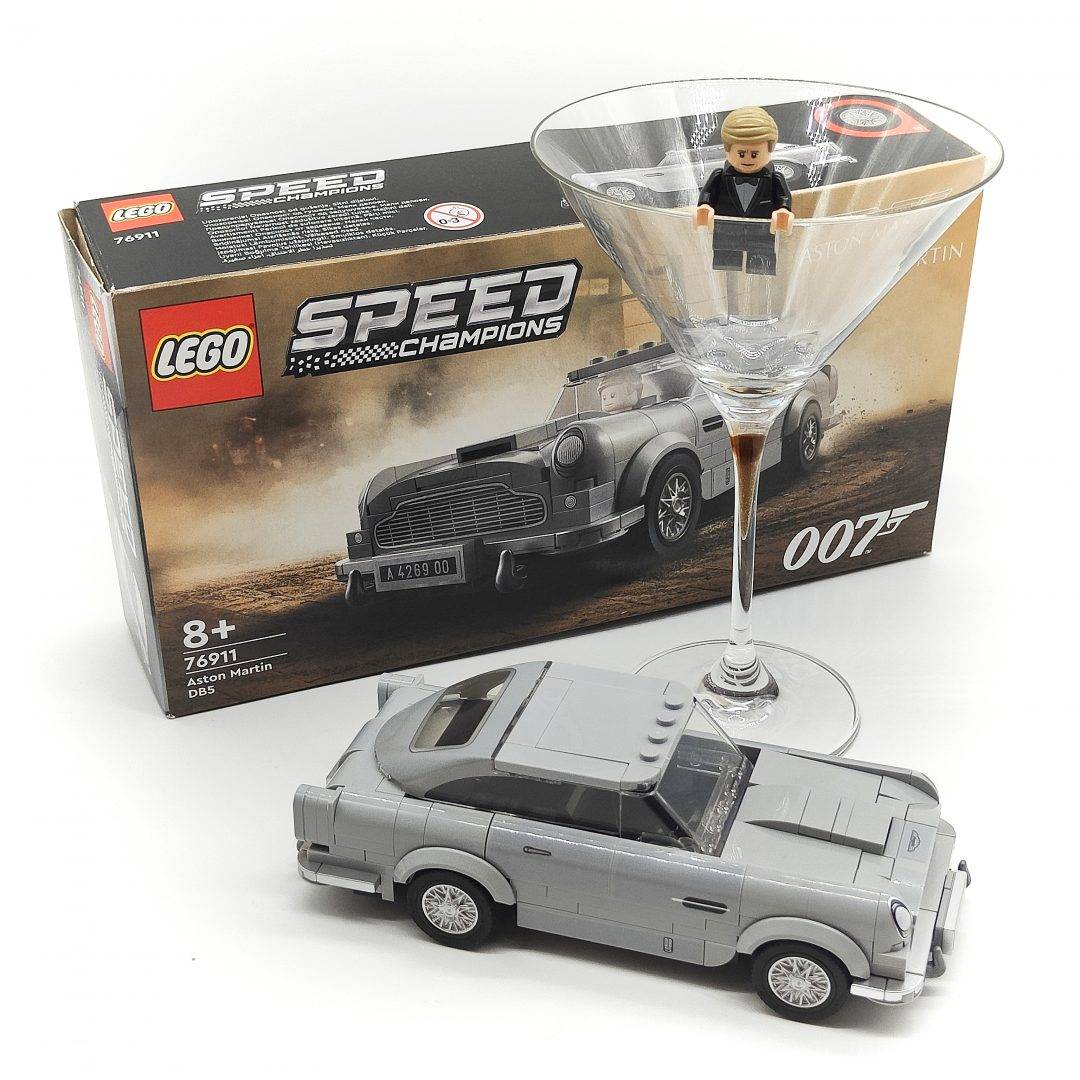 ●     Undoubtedly the best part of this set is the very first James Bond Minifigure which seems to replicate the most recent James Bond adaptation, the Daniel Craig version. The only thing a  bit off about this Minifigure is the hair that does not look like the movie character. Nonetheless, this Lego Minifigure still looks pretty amazing with his nice suit exclusive to the Lego set. This Minifigure is a cool addition to the set and looks pretty amazing when put behind the wheels. 
●Lego has been the custom to ensure that all their sets are made3 of the best material possible. All materials passed through the Lego company's quality assurance test needed to be released. All sets also go through a compatibility test to ensure they are user-friendly. All the efforts put in by the Lego team make the set not only easy to use but fun to use. The Lego set is also very safe to use and can be worked on with children.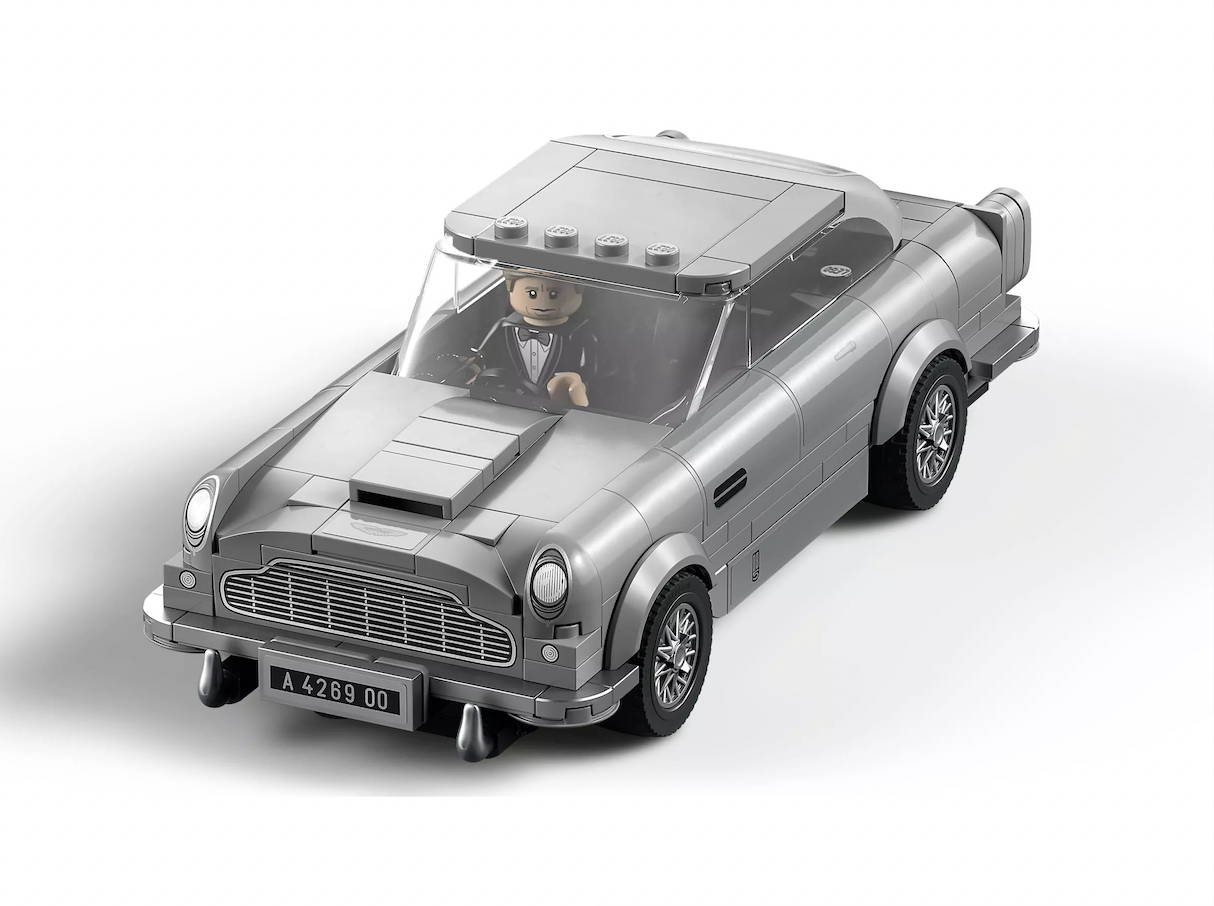 ●     The Lego 007 Aston Martin Db5 set could be considered small, just like other Lego Speed Champions sets. The Lego set comes with a total of 292 pieces. The Lego set measures 2 inches high, 6.5 inches long, and 2.5 inches deep when fully put together. The ratio of this set makes it a perfect display set. The size also makes it a great set for kids to engage with because of its portable size. 

●      You can buy the Lego 007 Aston Martin DB5 set from any Lego store in your area. You could also try toy stores if you do not have any Lego stores in your area. If you do not have time for that stress, visit the Lego website and place an order. The Lego set costs 19.99 dollars in the US but could cost way more in other countries depending on the availability of the set. 
Once you have purchased this Lego set successfully, you would need to include another cool feature to complete your set's overall look. That feature is our Lego light kit. The next section will help explain why our light kits are a must-have with your set. 
MAKEYOUR LEGO 007 ASTON MARTINS DB5 SET LOOK EVEN MORE AUTHENTIC WITH OUR AMAZINGLEGO LIGHTS.
You would need our Lego lights to help improvethe overall look of your Lego set. Our Lego lights add to the overall look ofyour set and make it all the more authentic. Our light kits are also very easyto use. But before you begin to install your already purchased light kits, hereare a few things to keep in mind. 
Make sure to inspect all your Lego light kits and accessories. You are doing this to ensure that all installed light kits are in the best condition. So make sure to inspect this Lego set carefully. If you notice any damages with your Lego set, make sure you request a replacement using your 30 days warranty card attached to each set. Once all damaged kits have been replaced, and everything looks good, you can go on to install your light kit.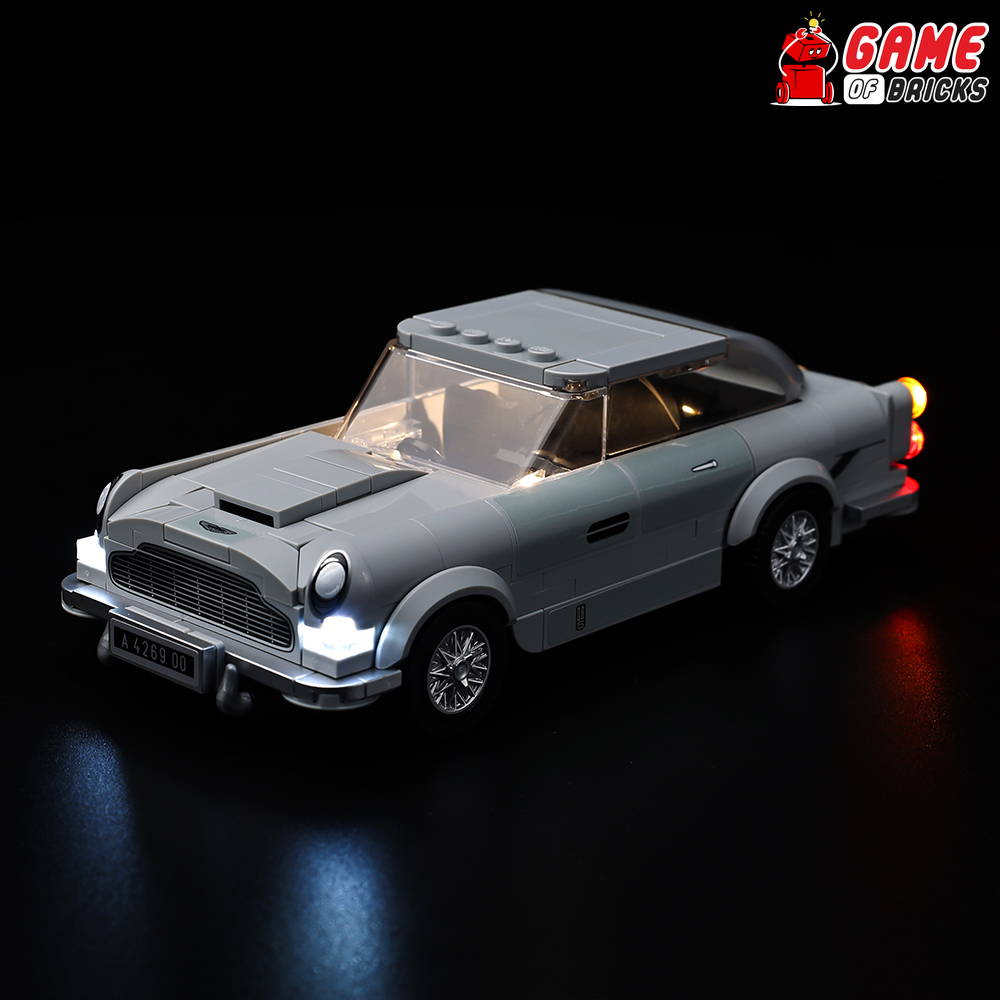 If you are unfamiliar with our Lego light kits, use the kits instruction manual. The manual is clear and very explanatory. So take your time to study each installation step. Also, ensure to handle your Lego set with care because our kits are delicate and could get badly damaged if not handled properly. If you follow all the instructions in the manual while handling your set with care, you will surely experience success.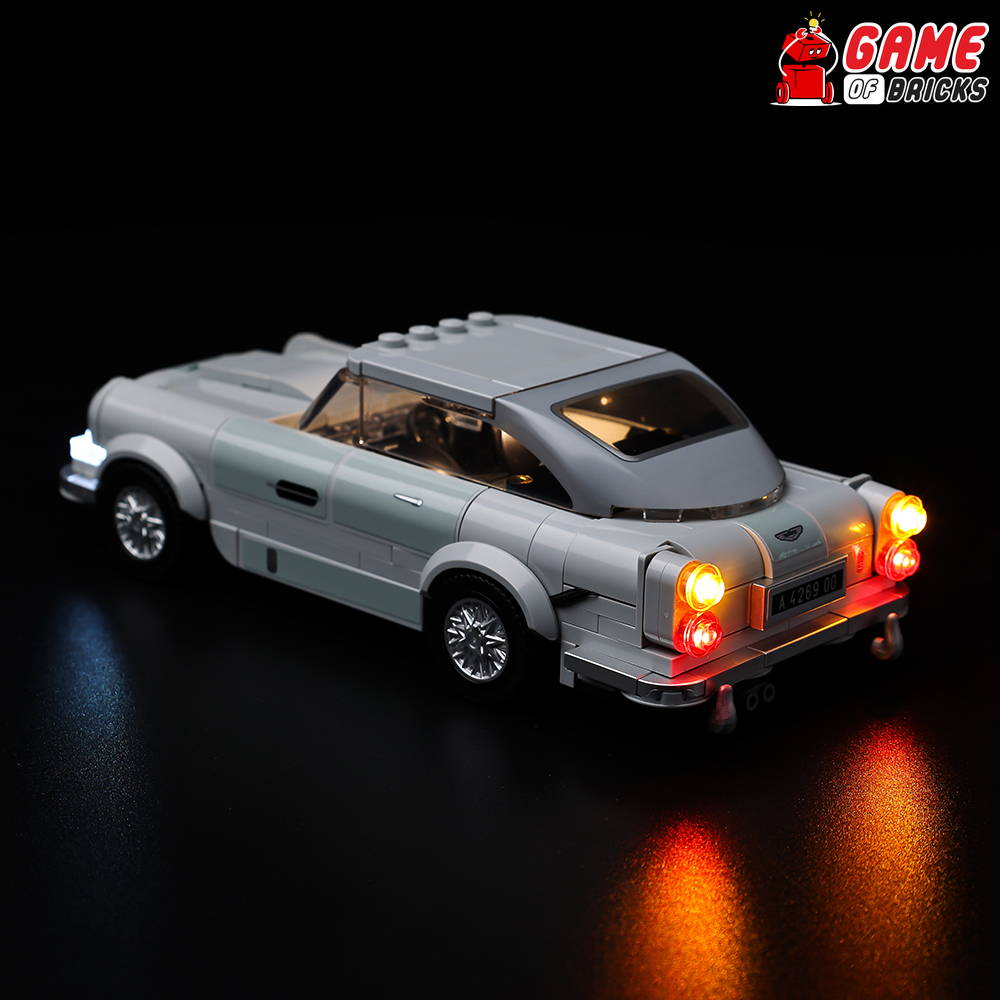 Once you have concluded the installation of your Lego set, make sure to test run it after. This should ensure your light kit is well installed and safe to use. So search out for signs of damage, may be a cut wire or spark. You could also check for signs of short-circuiting. If you notice any damage to your set, get it fixed. Once your inspection is done and everything looks good, put your set on display for all to see. 

---